While I'll always love Dahlia Bakery, we skipped visiting them this time around to check out someplace that's new to us – Deep Sea Sugar and Salt. This hole-in-the-wall bakery specializes in a seasonal selection of inventive cake flavors, selling them whole, by the slice, and as cupcakes.
If you ask how I found out about Deep Sea Sugar and Salt in Seattle's Georgetown neighborhood, I couldn't tell you. If I had to guess, I probably saw them in an Eater article. But once I did find out about them, I knew I had to give them a try. Despite not being much of a cake person, their flavors spoke to me. Get my hands on their cakes, however, proved to be more of a challenge than I thought it would be. Such is life when you're trying to obtain coveted foodstuffs in Seattle, it seems.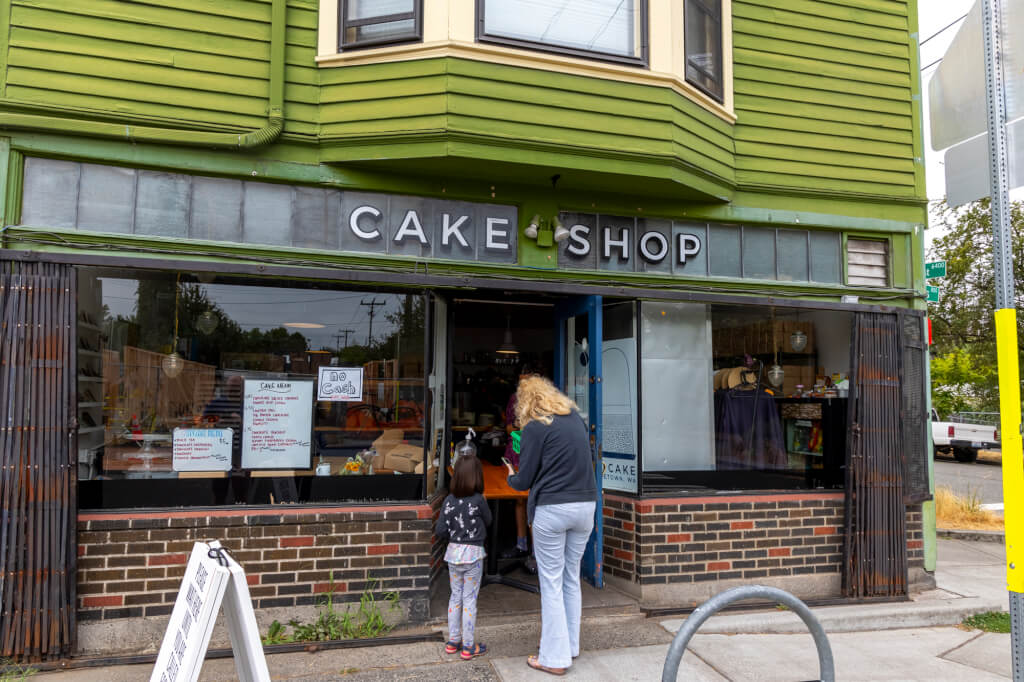 Ordering with Deep Sea Sugar and Salt
For most of us visiting Deep Sea Sugar and Salt, we're looking for slices to try. To order slices, you need to place a same-day order via their Toasttab site, which goes live Thursday thru Sunday from 8 am to 11 am for pick-up from 11 am to 6 pm. For us, this meant I had to wake up early on the day of to place the order, then plan the rest of our morning around the pick-up. It's worth noting that once you get to the shop, there's a single line for all pre-orders and walk-ups – there's no jumping ahead for anyone. Because of this, I'd suggest scheduling your pick up as early as possible.
If you're local to the area or, for some reason, are a visitor looking for a whole, gigantic cake, you need to place an advance pre-order at least seven days out. You'll likely need to do so even earlier, though, as prime dates tend to sell out quick. This can also be done via separate advance order Toasttab site, which also serves as a preview for the upcoming month's flavors!
What We Ordered at Deep Sea Sugar and Salt
We ended up getting three MASSIVE slices of cake. The first one is the one I had been eyeing for a while – the Chocolate Blackout Cake. Consisting of dark chocolate cake, chocolate pudding, chocolate cream cheese frosting, and and chocolate ganache, this slice promised to be a chocoholic's delight. While chocolatey, the Blackout wasn't as chocolatey as I had hoped it would be and was a bit too sweet for my liking. Then again, when I make chocolate cake at home, I go VERY dark with everything to the point that more normal people don't like it.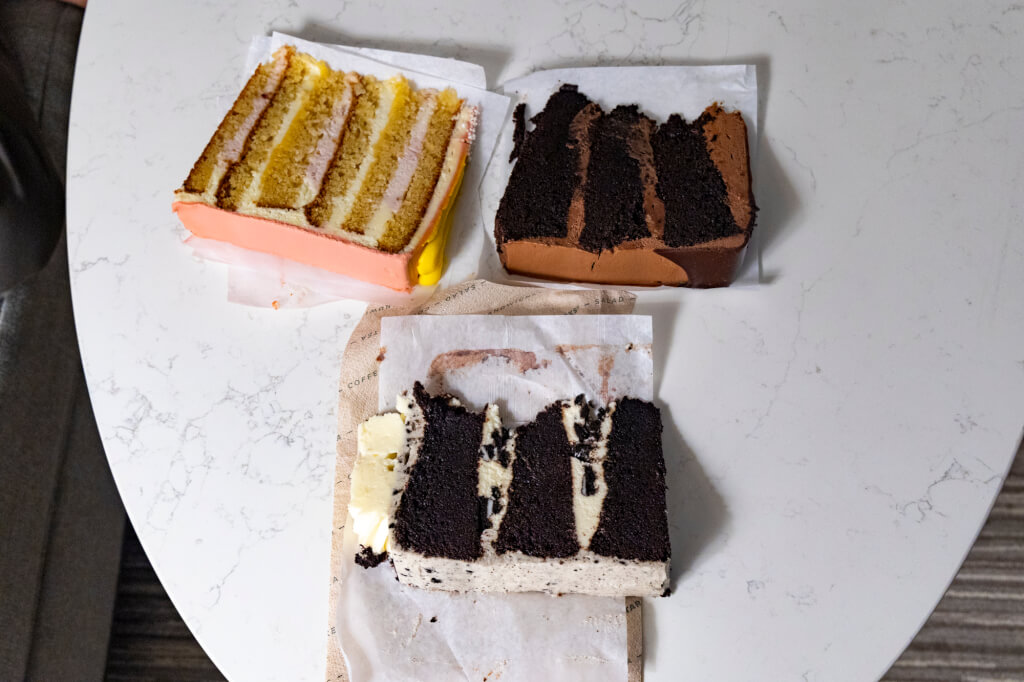 For her slice, Mrs. Island Miler chose the Raspberry Lemon cake. I wish I had snapshotted the description of this one, but the best I can surmise is it's composed of a lemon cake, cream cheese frosting, raspberry pastry cream, lemon preserves, and raspberry frosting. This was a bright, summery cake with loads of fruity flavors. This one was still a little sweet for my liking, but it was quite tasty. I wish it were a bit tart, but I'm weird.
The last slice we ordered was the Cookies & Cream. This ended up being the best one, too, combining dark chocolate cake and Oreo cream cheese frosting. Surprisingly, this one wasn't too sweet for me and even had a hint of saltiness to it. While sweet, I found it to be perfectly balanced and had excellent cookies & cream flavor. I'd totally order this one again without hesitation.
Final Thoughts
We were a bit crazy in trying Deep Sea Sugar and Salt. Not only did I wake up early to place this order, but we drove from the Hyatt Regency Seattle to Georgetown, then back to throw the cakes in our fridge. Then we headed out for the day before coming back to the hotel to catch a Lyft to our dinner at Kamonegi. It was only after our very filling dinner that we eventually tried our cakes. And that was rough, as we had to consume them all that night since we were checking out and heading to Oregon the next day. But I'm glad we did give them a try and will certainly return in the future.
Labor Day 2022 PNW Adventure