Last updated on April 3rd, 2023 at 06:04 am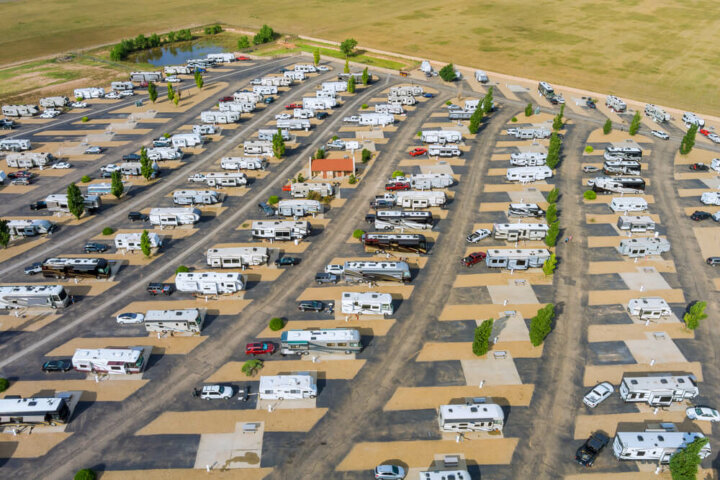 All of our reviews are based on exhaustive research, industry experience and whenever possible, hands-on testing. When you make a purchase using one of our chosen links we'll get a small percentage of the proceeds. This supports the site and keeps Jeffsetter running. You can read more here.
Living and traveling in an RV is continuing to grow in popularity with more people wanting to hit the open road every year with the comforts of home on board. The RV industry is huge and in 2021 it grew to over $55 billion, so it's no surprise keen RVers are getting interested in RV parks and whether it's worth setting one up themselves.
So, is owning an RV park profitable?
Owning an RV park can be very profitable with successful parks making anywhere from $50K – $100K annually. Depending on factors like location and amenities, an RV park can make far more than this. It's also important to consider the costs involved in building an RV park, such as land, employees, maintenance, marketing, and legal fees.
If you're considering starting up an RV park, there's a heck of a lot to think about in order for it to thrive and be profitable. Let's look at RV parks in a bit more detail so you can get the whole picture and make up your mind if this is the right avenue for you!
Is Owning an RV Park Profitable?
RV parks can be profitable, but a lot of effort must go into them first to make this happen. It's a good idea to have a mixture of temporary customers who stay for a few nights, long-term customers who stay for several weeks, and returning customers who specifically come back to your RV park for their holiday.
It's important to consider the upkeep and management of the RV park since campers that have a negative experience, are unlikely to return.
I mean, we all know how powerful word of mouth can be, so if campers have a fantastic experience at your RV park, they will likely spread the word to friends and family. Therefore, it's best to make a good impression with a lasting impact and keep campers happy!
How Much Do RV Parks Make?
An average RV park brings in a minimum of around $50K a year, but if a park is popular and is in an ideal location, it can bring in much more. Many RV parks aren't open year-round, and this can reduce the overall profit of the park.
If you're looking to make some serious profit from an RV park, living on-site can keep personal costs low, and being open all year round will allow your income to grow exponentially.
What is the Cost of Building an RV Park?
There are several different costs to think about before building an RV park. It may at first seem as though all you need is a plot of land and some basic facilities, but to create a successful RV park, there's a lot more to think about.
1. Land
Arguably one of the most important aspects of building an RV park is the land you choose to build it on. Location really is everything when it comes to RVing, and usually, those traveling around in their rig are looking for the perfect place to stop and set up camp for a few nights.
It's essential to consider if the area you want to build your park is desirable and if people will want to come and stay there for several days at a time.
If you want to create a calm, peaceful environment for campers, setting up a park near a city isn't the best idea. However, if you want your park to be a place for campers to visit and explore the local area, building a park in the middle of nowhere wouldn't make much sense either.
RVs can take up considerable space, especially Class A RVs so you'll need to work out how big you want your park to be and how many campers you want to fit inside it. You'll also need to consider the space needed for amenities such as shower blocks, RV dump stations, and maybe even laundry facilities.
Purchasing land for an RV park can cost as low as $15K, but depending on location and size, could rise to more than $50K. So, before you settle on a place, it's worth looking around, comparing prices, and hitting up private sellers too for to find the best deals.
2. Utilities
Although most RVs are self-sufficient and have gray waste, black waste, and sometimes even showers on board, campers still need to empty these in appropriate places and refill their freshwater too. At an RV park, campers expect to have these utilities available to them, and often they can be disappointed if, for whatever reason, they aren't there or aren't useable.
Electricity is also an essential component of an RV park, as campers will likely need to plug into an electric hook-up during their stay. All of these amenities cost money but they're more of an investment, as when campers pay to stay at a park, part of their fees will be used to cover the expenses of electrical hook-up, water, Wi-Fi, etc.
Rving is far more luxurious than tent camping, and RVers expect to have access to a wide variety of amenities when they stay at a park that is suitable for their type of RV. Often travelers will pay more if the internet is good, laundry facilities are high quality and everything is kept clean, fresh, and in the best condition possible. Depending on how many campers you have staying, these costs can be upwards of $5K per month.
3. Legal
The legal side of starting up an RV park can be a little daunting at first, but if you're like me and like to do things right the first time, it's important to get clued up. When you want to build an RV park, you'll need to register yourself as a business, LLC (limited liability company), or corporation. It's crucial to make your RV park legal and have the correct insurance and regulations to run a successful park in the right way.
Although seeking legal aid can be expensive, it's a good option if you are completely new to the business world. If you don't have the correct license or paperwork for your RV park, hefty fines could come your way. Different permits may be needed for different states, so you'll need to research this and get the right one for your area.
4. Employees and Maintenance
It would be near impossible to run an RV park without a good team behind you. You will need employees that will be responsible for welcoming guests onto the site and managing the admin side of the business.
You will also need a cleaning team to keep toilets and showers sparkling, along with a potential maintenance team to cut grass, deal with any flooding heavy rain could cause, and make sure the plumbing and sewerage systems are working correctly.
Hiring a team can take a chunk out of your RV park's profits, however, they are an essential component of an RV park and can't be forgotten about. Personally, I would rather pay a little more per night to stay on a site with clean, functioning facilities, than go to a cheaper site that's bogged out and dirty!
5. Entertainment
Having entertainment on-site isn't a must, but it can help attract customers, especially those looking for a little extra during their stay. When exploring ideas for your RV park, it's worth deciding who your target audience is. If you want to create a family-friendly site, having a playground or maybe even a swimming pool can be a fantastic addition, especially for the spring and summer camping season.
Maybe you want to instead have an RV park that's quiet, child-free, and for adults only. If this is the case, a playground would be a waste of money, but a hot tub area could instead be a better option. Entertainment is an additional cost but could be a unique selling point that sets your RV park ahead of others in the area.
6. Marketing
Nowadays, it's simple to start an account for your RV park on social media, take great videos and photos and get the word out. This can work really well and generate interest online for your RV park, but it doesn't necessarily mean that every like and comment will be from a potential customer.
It's wise to run marketing campaigns in the local area of your RV park, as people may be more likely to check it out if it's on their doorstep. The old-school way of advertising in newspapers, magazines, and on the radio still works well and could be an avenue to explore.
Spreading the word about your RV park online on various social media channels is free, and is worth considering to get the word out fast to a large audience. Marketing in local media outlets, however, can rack up costs but may also bring in customers and support from the local area.
It's worth creating a budget for marketing and hopefully, in time, positive word of mouth will mean you no longer need to worry as much about posting regularly on Instagram!
The video below gives a well-rounded insight into everything involved in starting up an RV park, as well as the various aspects to think about before going ahead and purchasing land.
If you're an RV lover and want to create an environment for fellow campers to enjoy and thrive, owning an RV park might be the right step forward for you.
When getting together ideas for your RV park, it's worth thinking about the parks you visit and the reasons why you always return to them. This can help you consider the type of park you want to create and the features you want to offer.
Closing Thoughts
Owning an RV park can be extremely profitable if it's done the right way. It's important to consider all the costs involved in building an RV park as costs can quickly rack up, but if your park is in a popular location with spotless utilities and maybe even some activities for families, you're likely onto a winner!