Last updated on October 13th, 2023 at 05:41 pm
Trip Summary: In January, 2013 Delta was offering very reasonable fairs from Minneapolis to Istanbul. My dad, brother and I decided to go to Istanbul when tickets were available under $800. Part mileage run, part tourism, part amateur archaeologist and part bonding experience, this trip involves 3 nights in Istanbul and 2 nights in Athens. Stay tuned as I review Delta's economy comfort product, three hotels, and talk about everything else we see along the way. Turkey and Greece (instead of Ireland this time) here we come!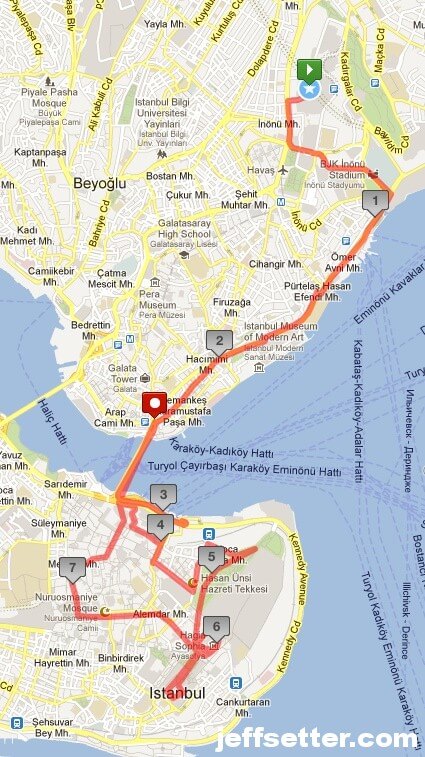 After nearly 24 hours of travel from Minneapolis to Istanbul, we were all excited to get out and see what Istanbul had to offer. Fortunately, our hotel was located in an area that allowed us to conveniently walk to historic "old town" Istanbul in about an hours time. And so began our Istanbul Walking Tour. We didn't realize it at the time, but our entire walking route ended up being around 8 miles. We definitely were tired when all was done, but the sights were well worth the walk.
Since the
Hilton Istanbul
is located on the top of a hill, our first order of business was getting down the hill. The concierge at the hotel recommended that we head directly east from the hotel down a large hill as the easiest way to get down to the Bosphorus river. While we also had the opportunity to go through town to get to the river, he said that this was the faster option and it was easier to navigate.
On our way down the hill we saw several other major hotel brands along the way, starting with the Intercontinental hotel and then passing the Ritz Carlton tower that was highly visible along the Bosphorus river. Within about 20 minutes we reached the bottom of the hill and were ready to walk south and west to old town Istanbul.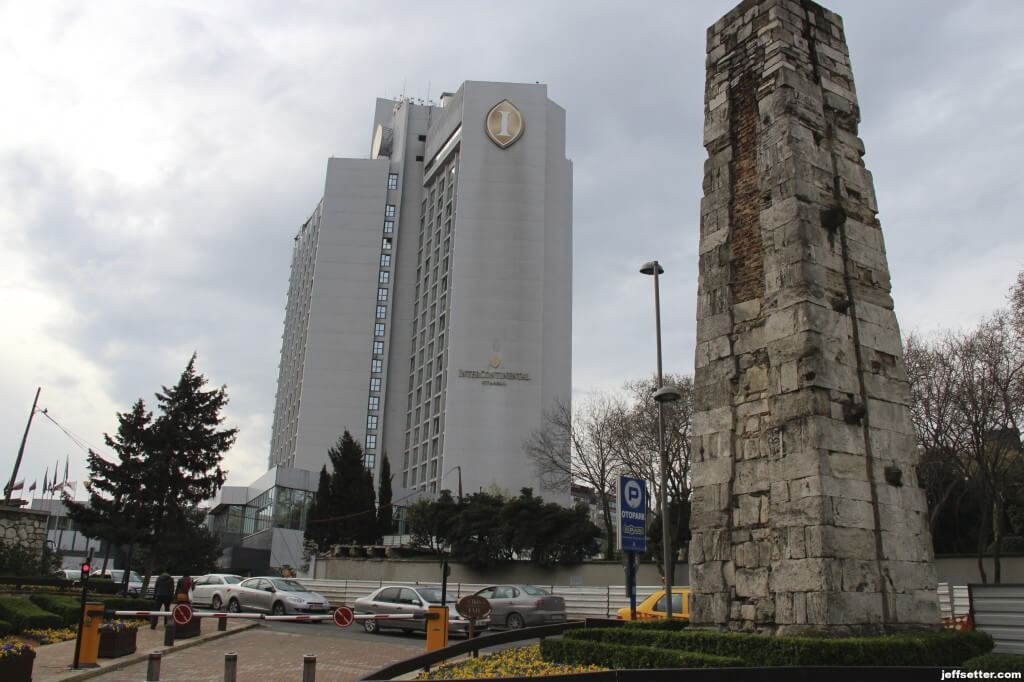 As we walked down the hill we saw some landmarks in Istanbul, including a football stadium and a mosque beside Dolmabahce palace. We decided not to visit Dolmabahce palace at this time because we still had about 40 minutes walking to get to the Galata bridge. It turns out that Dolmabahce was closed on Thursdays anyway, so we wouldn't have been able to visit even if we wanted to.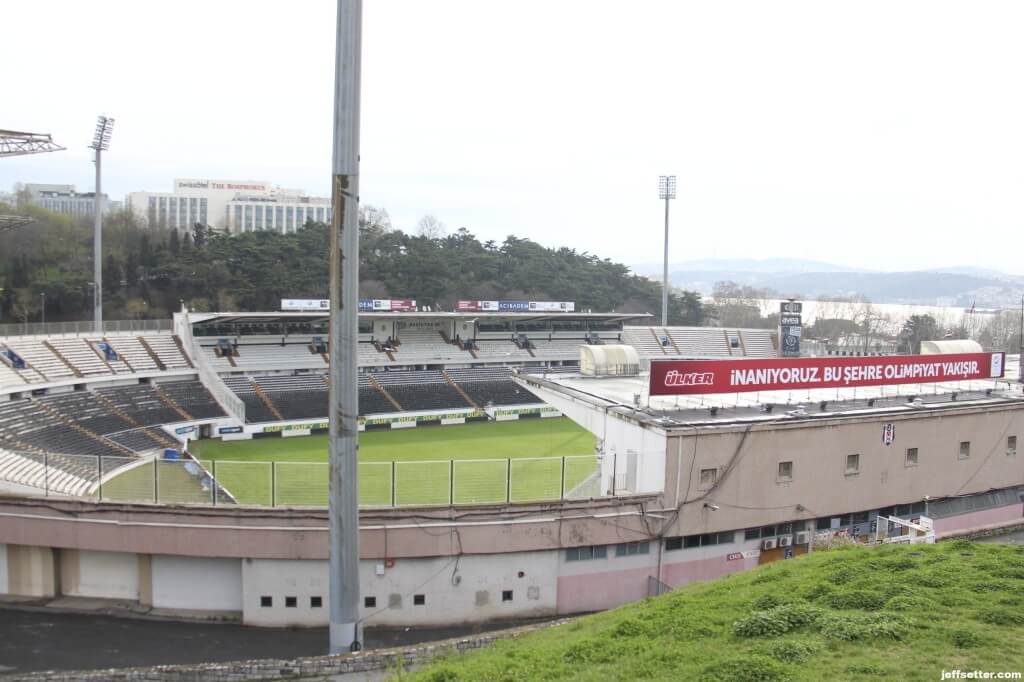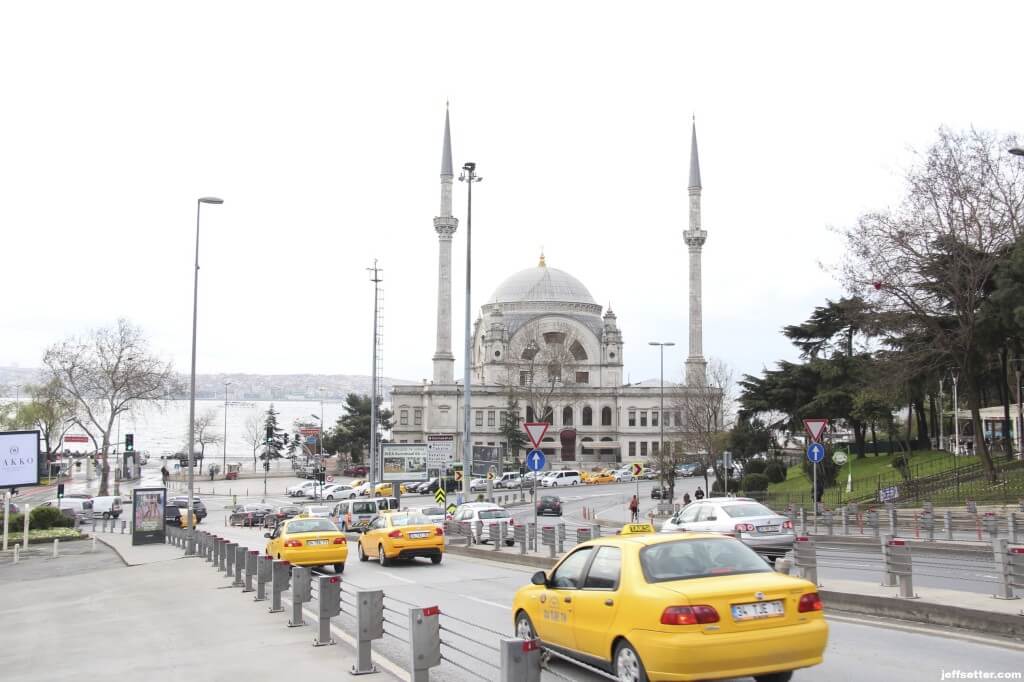 Right as we neared the river I took one of my favorite pictures of the trip. A candid shot of several turkish workers getting ready for the day ahead. There is so much going on in this photo while also being so innocent that it is a favorite of mine.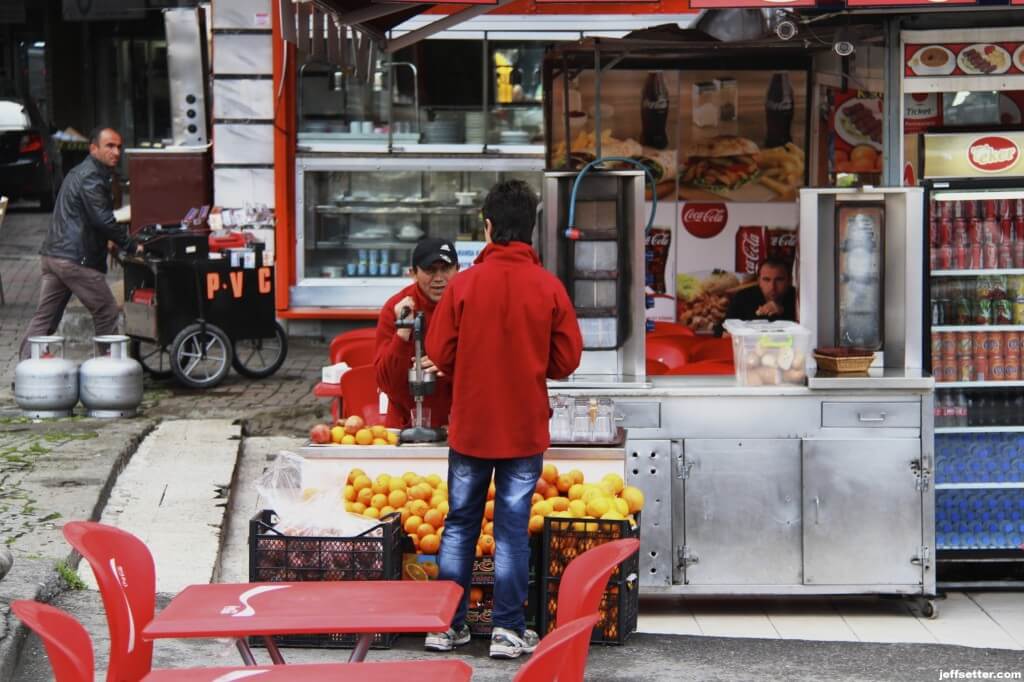 Galata Bridge
I also loved the Istanbul 2020 Olympics signed plastered throughout the city. While are trying to bring the Olympics to Istanbul in 2020, I wonder how the city could ever sustain even more traffic coming in. It doesn't seem plausible to me that they could host such an event without some major investments in infrastructure.
As we crossed the famed Galata bridge on the Bosphorus river, I took some great photos that showed the contrast between eastern and western cultures that were represented throughout Istanbul.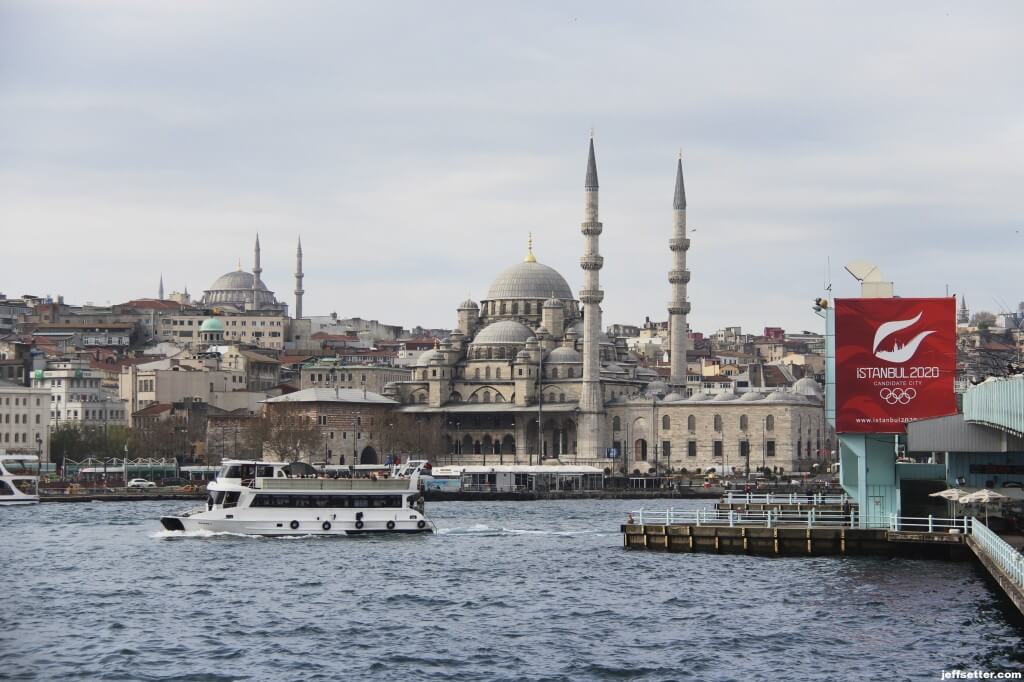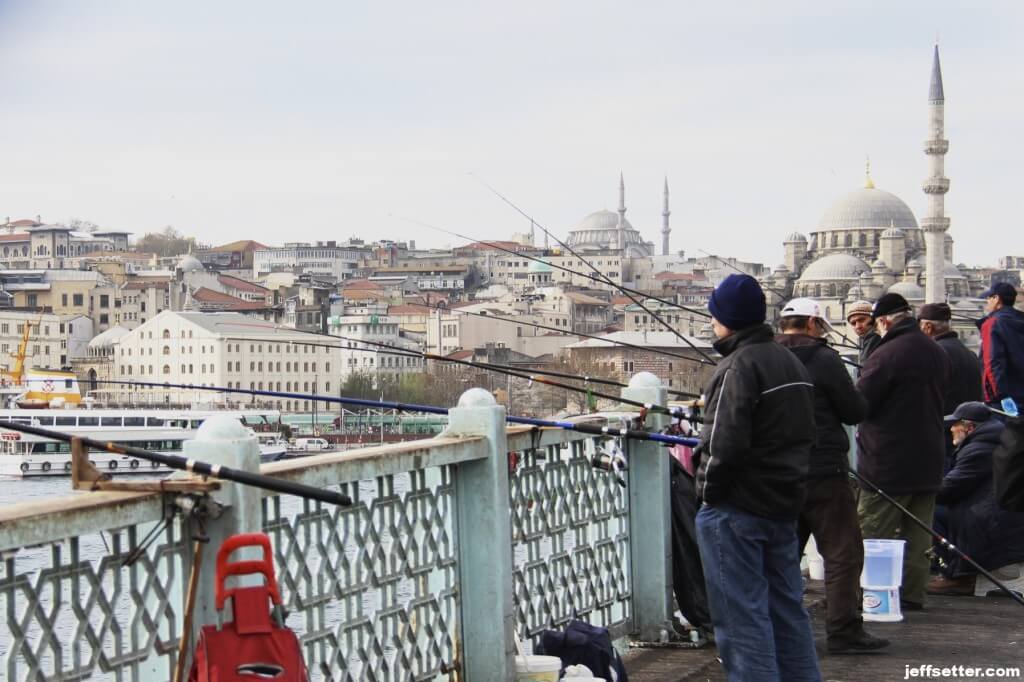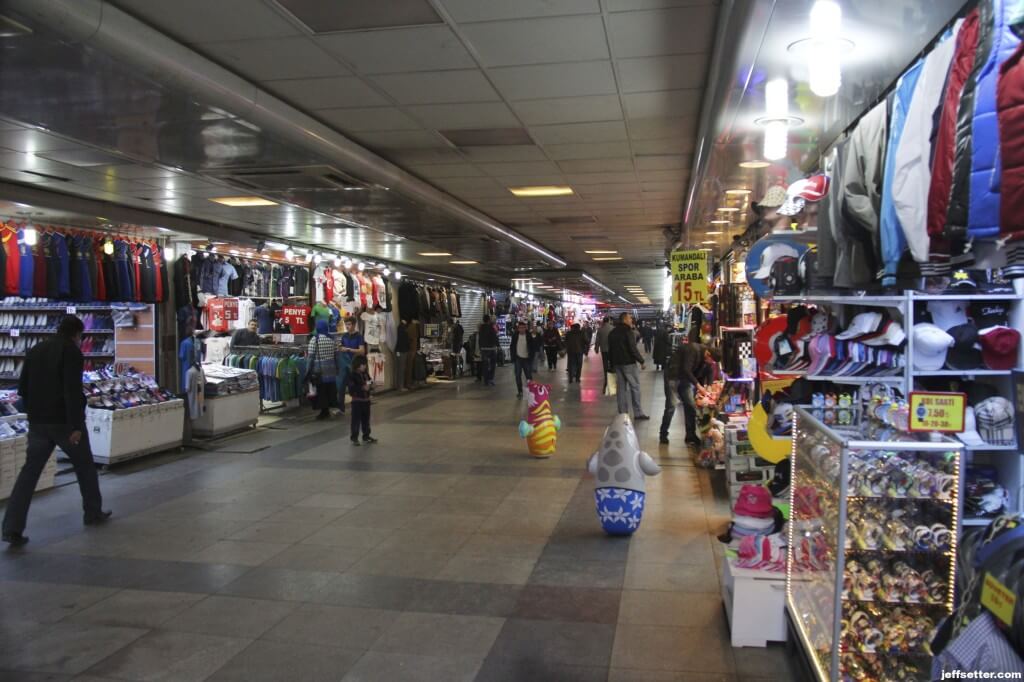 Once we crossed the Galata bridge our first mission was to find the famed Spice market. As an avid cook, I was excited to see all of the spices that they had available and purchase some for my cooking at home.
We arrived at what looked like the Spice market on the map and I started taking pictures.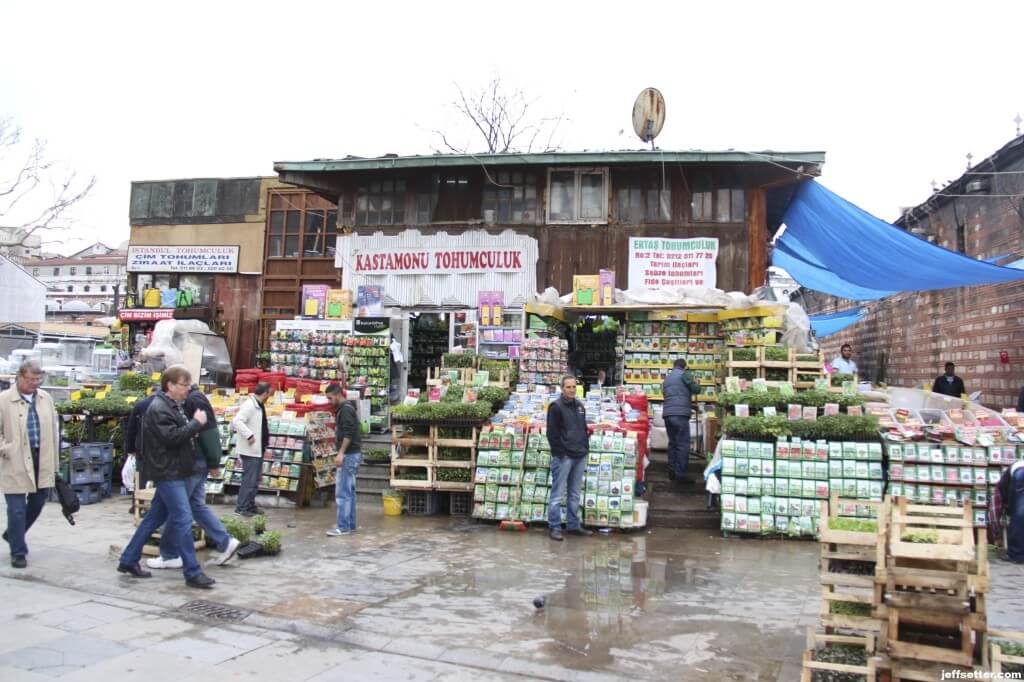 It wasn't until I looked more closely that I realized I was taking pictures of a pet food market! Back to the drawing board.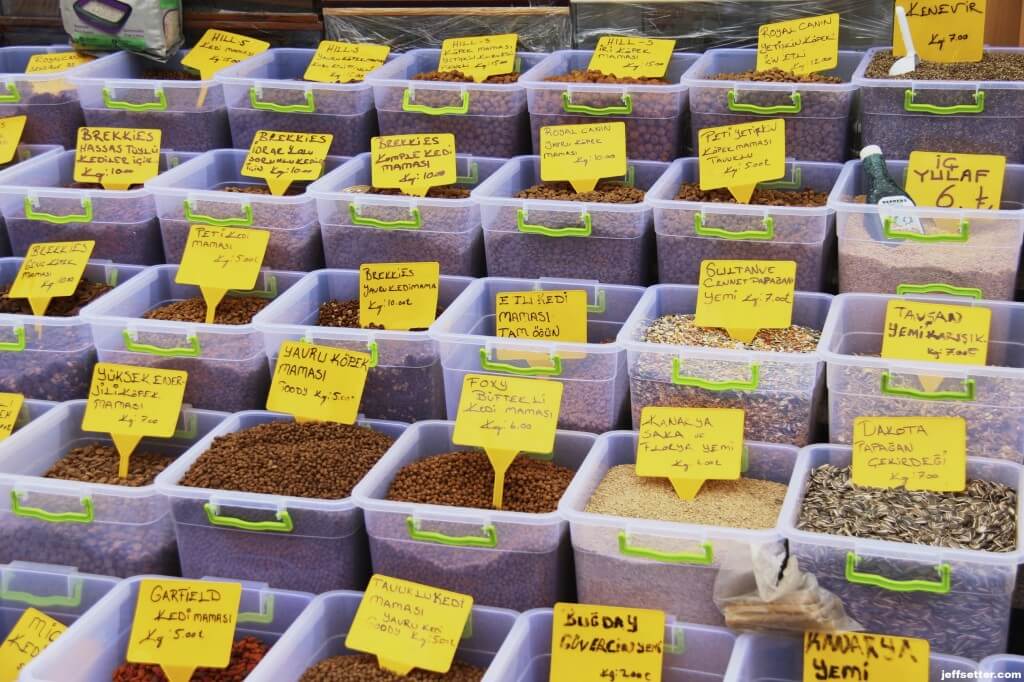 The Galata Spice Market
The Galata spice market itself was fantastic and I snapped many great pictures of the colorful spices on display.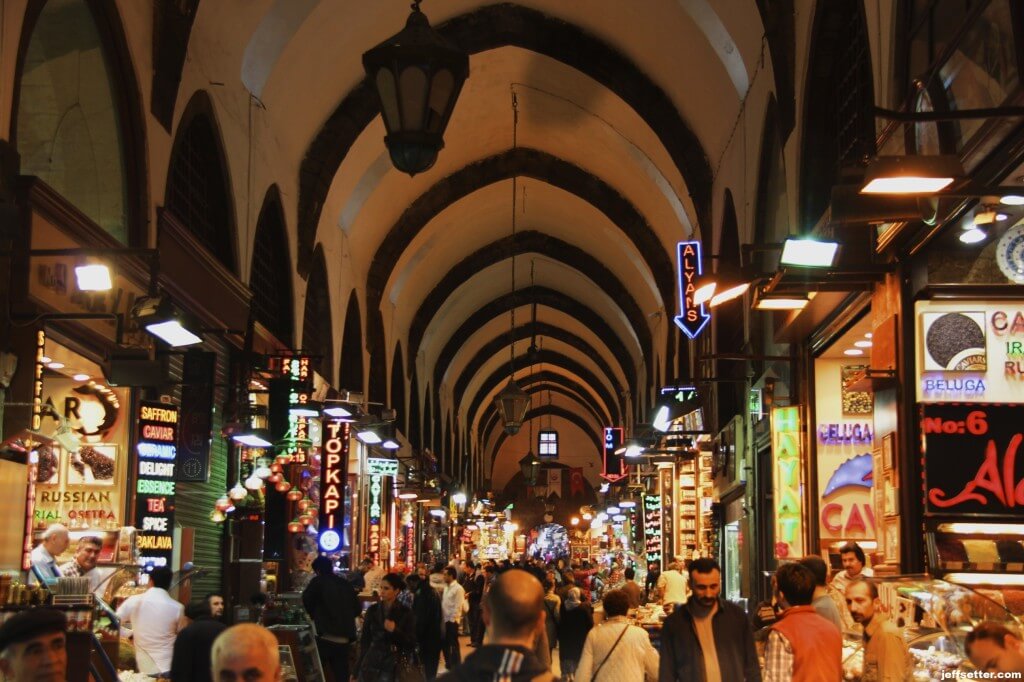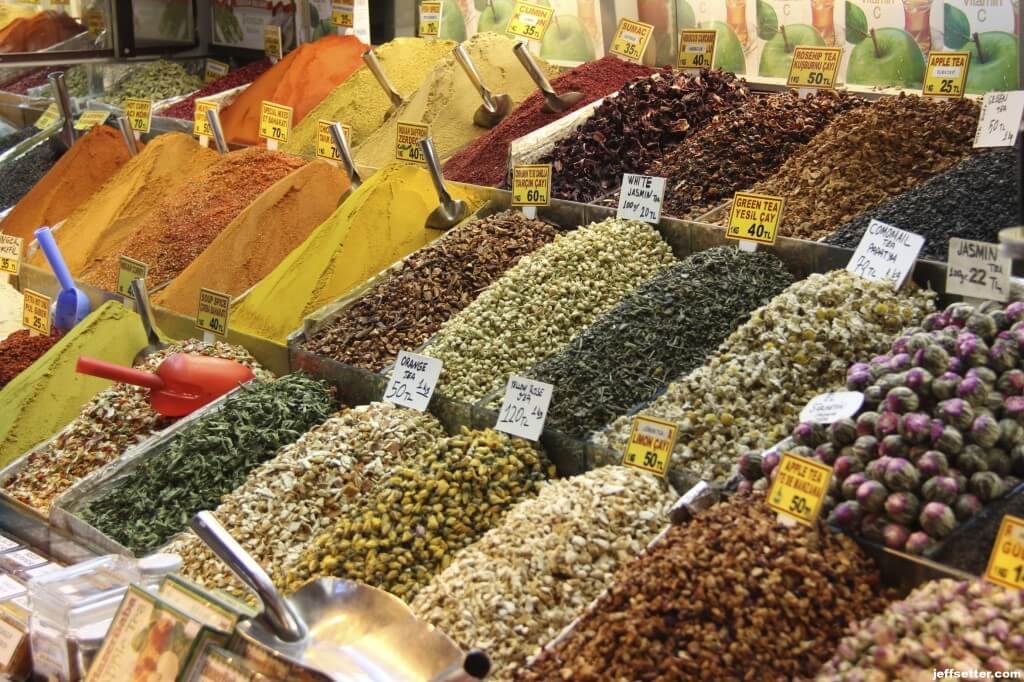 Istanbul Walking Tour Continues
I even bought some spices to bring home. 0.5kg of Paprika, 0.25kg of meat spice and some Iranian saffron. I'm told all I need is a little saffron to go a long way.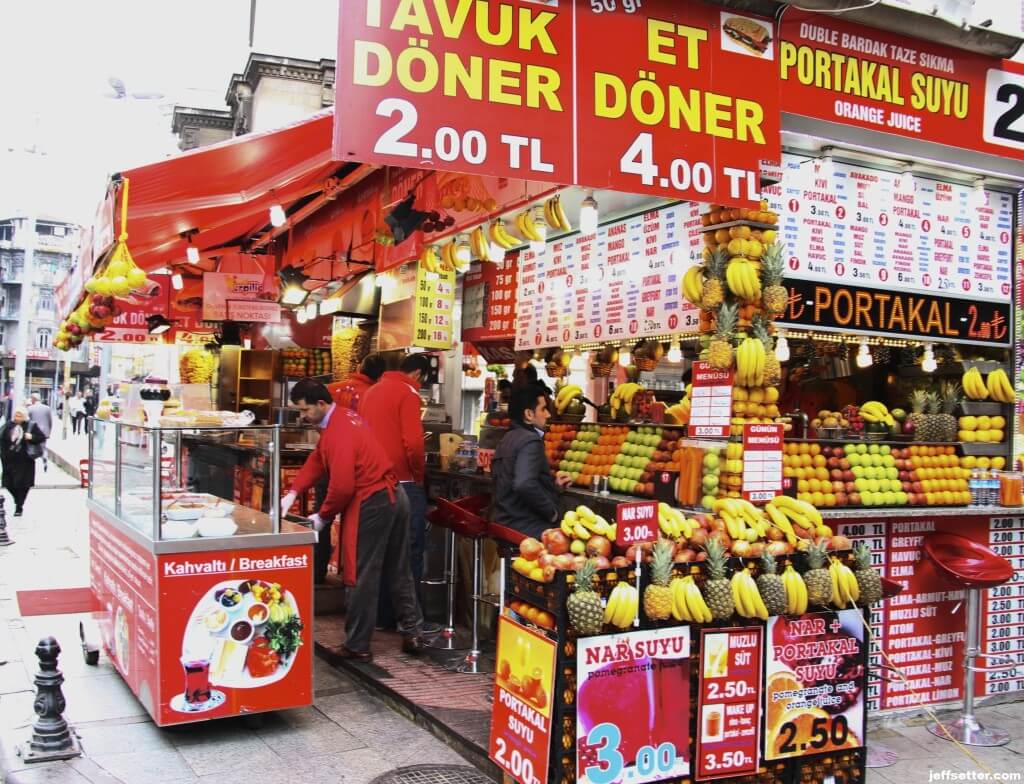 As we left the spice market I saw some fun colorful carts and city streets ready to open for business for the day. It was still early in the morning, so the streets were not packed with people like they would be in the afternoon.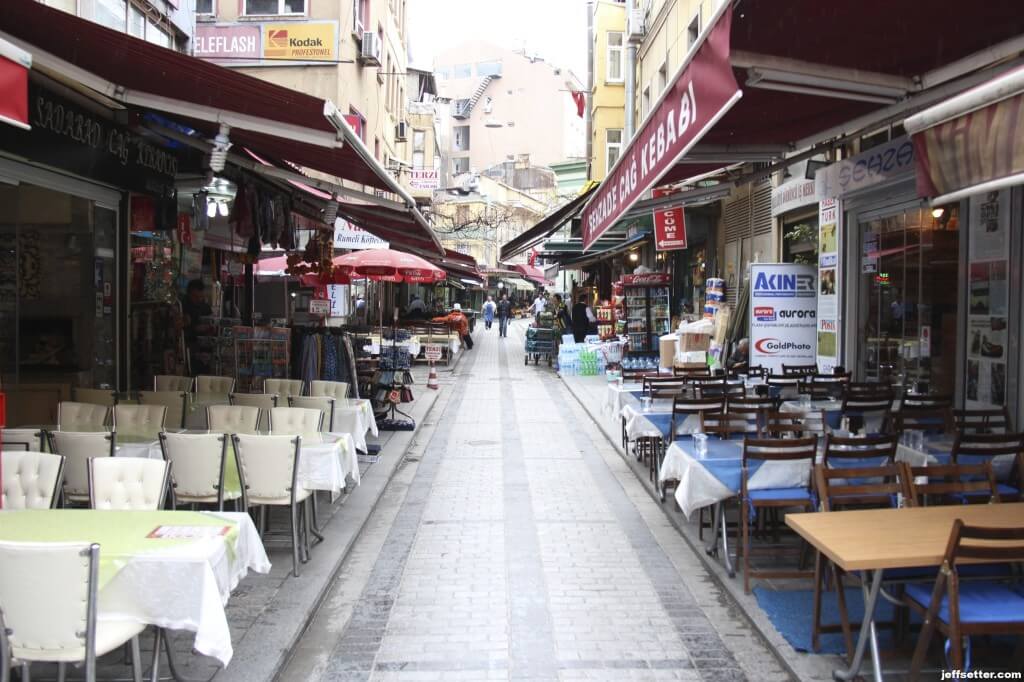 Next we walked into the area around Topkapi palace and saw many flowers in bloom. April was a beautiful time to see flowers in Istanbul.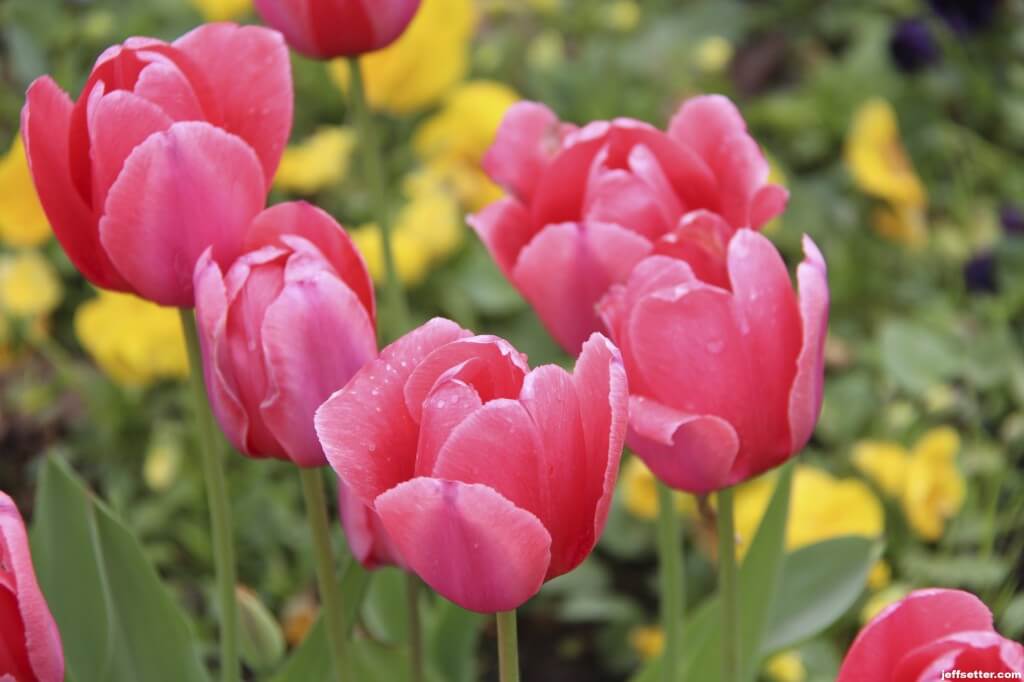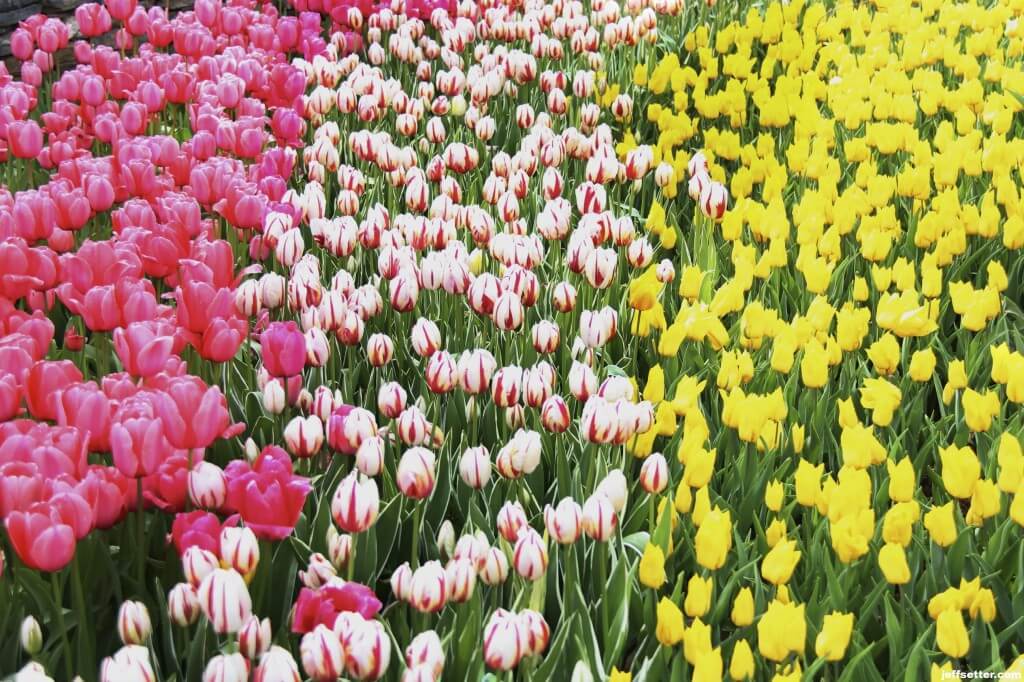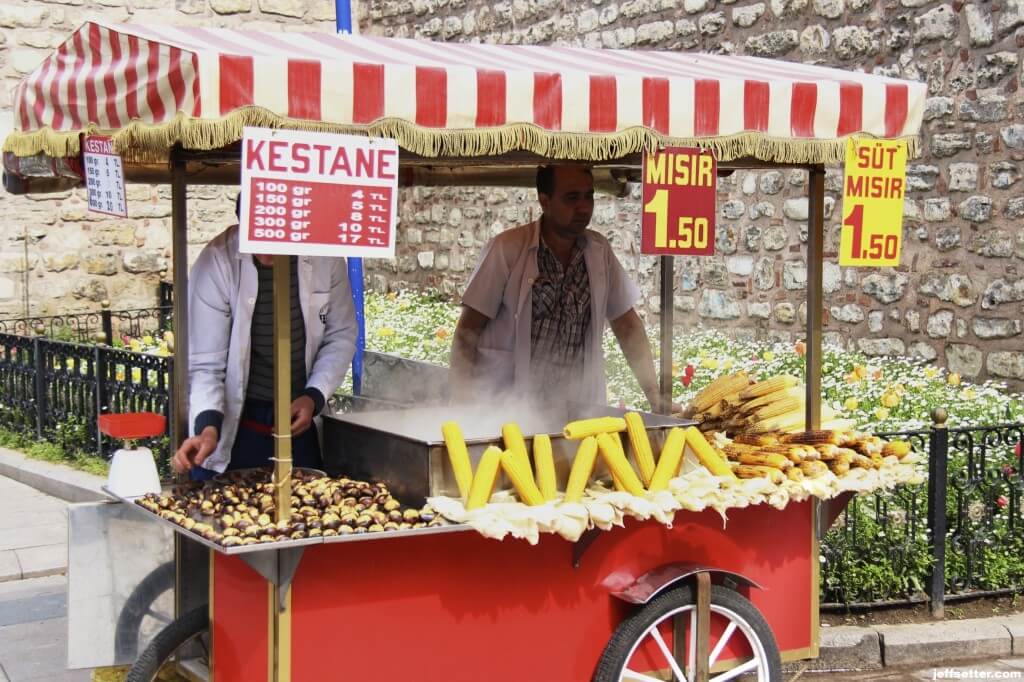 Blue Mosque
After walking the palace grounds we made it to two of arguably the most known monuments in Istanbul; the Blue Mosque and Hagia Sophia.
We chose to go to the Blue Mosque first because we wanted to enter before prayer time, when no cameras are allowed in the building.
The inside of the Blue Mosque was very pretty and I really enjoyed snapping photos of the walls and ceiling with my new DSLR Camera. I appreciate how well the camera picks up low light situations.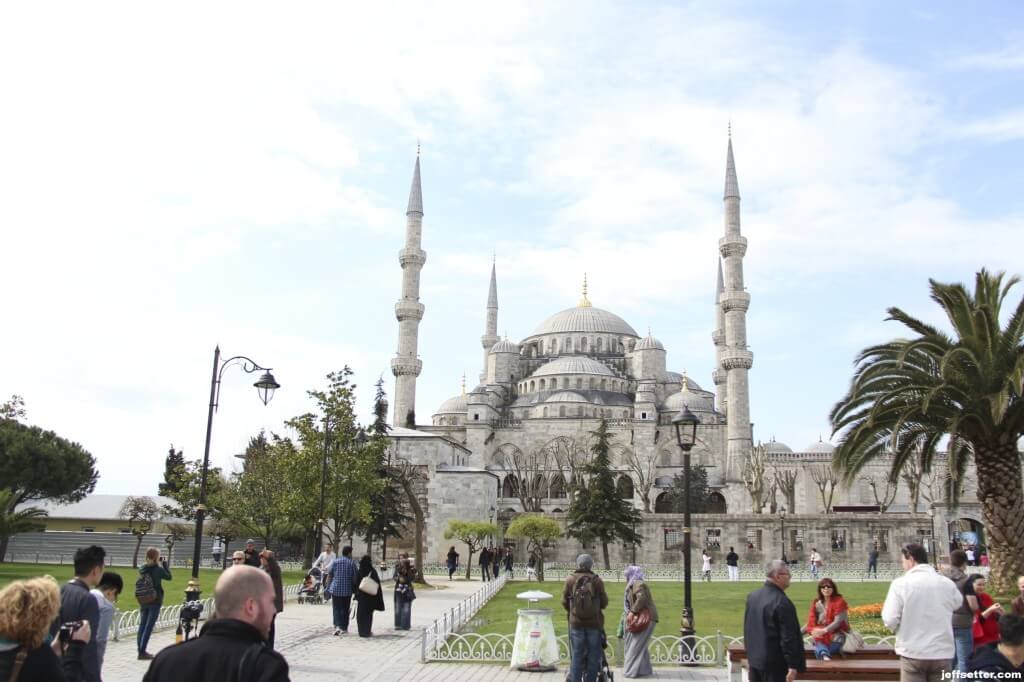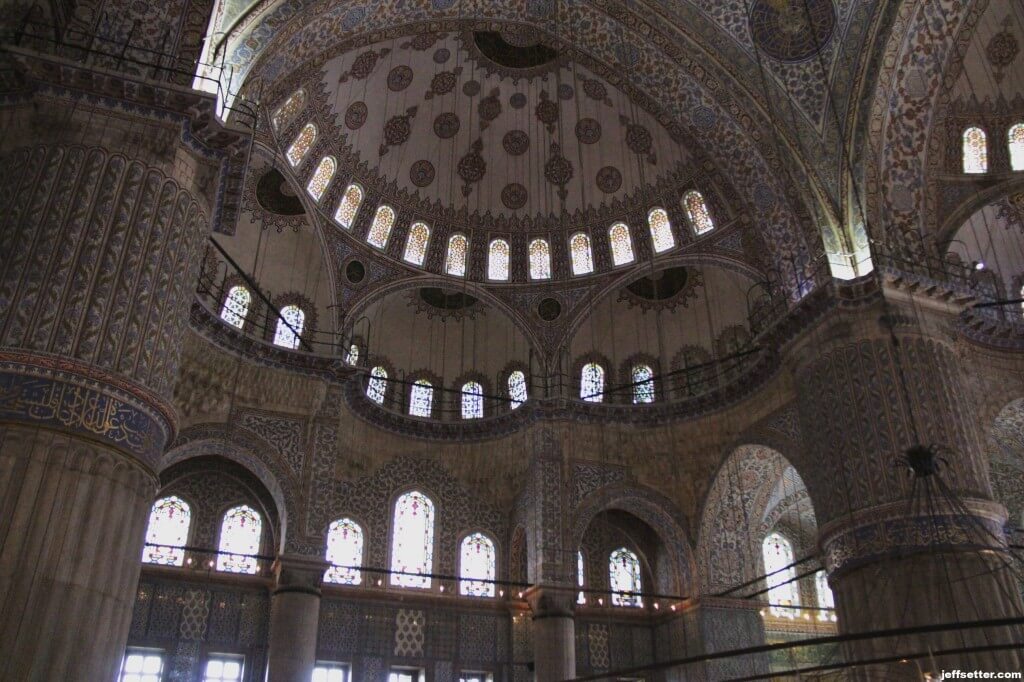 Hagia Sophia
Next we made it to the Hagia Sophia. Even though we needed to wait in line for about 30 minutes, this was well worth the wait as well. This 1,800 year old cathedral/mosque that is known by some as a wonder of the world. It was so beautiful that I took hundreds of photos of the inside. I even managed to get a photo of a person taking photos with an iPad. Who takes photos with iPads? Seriously!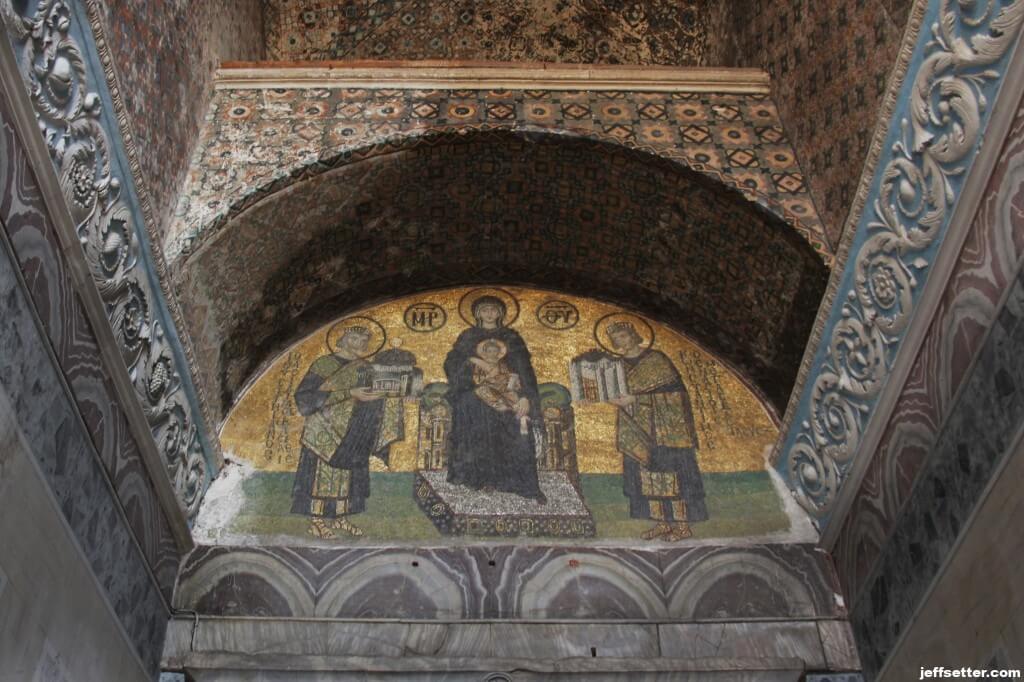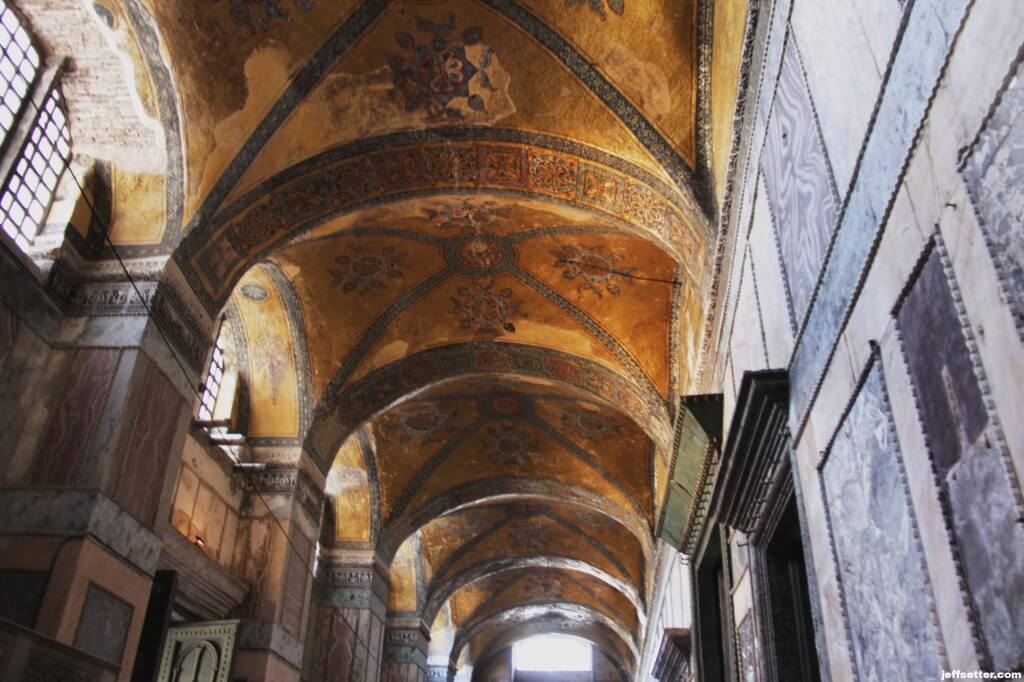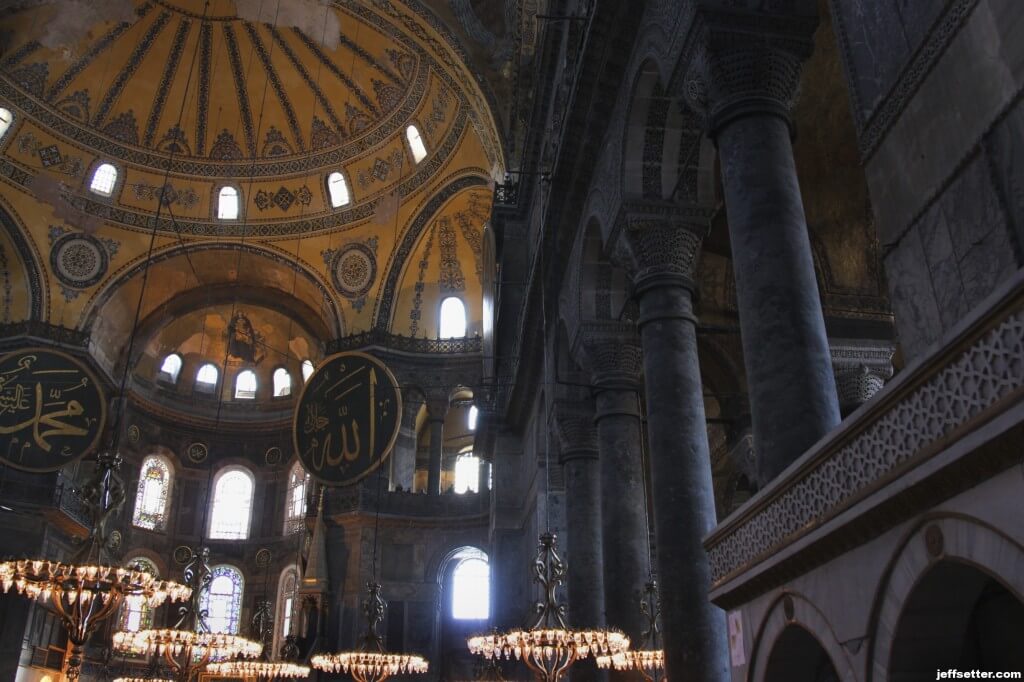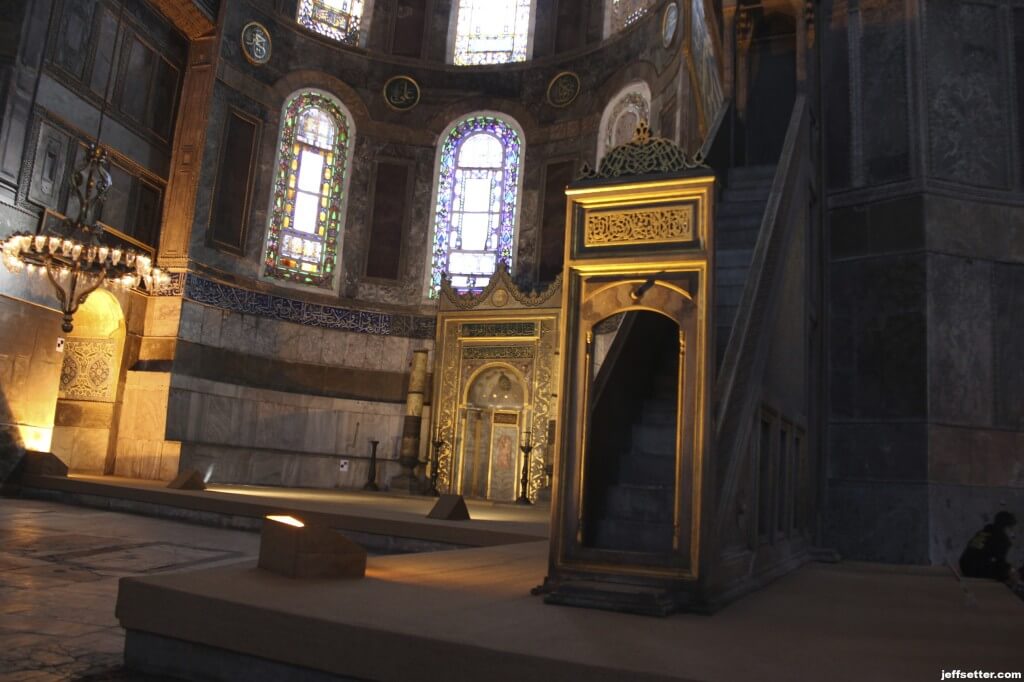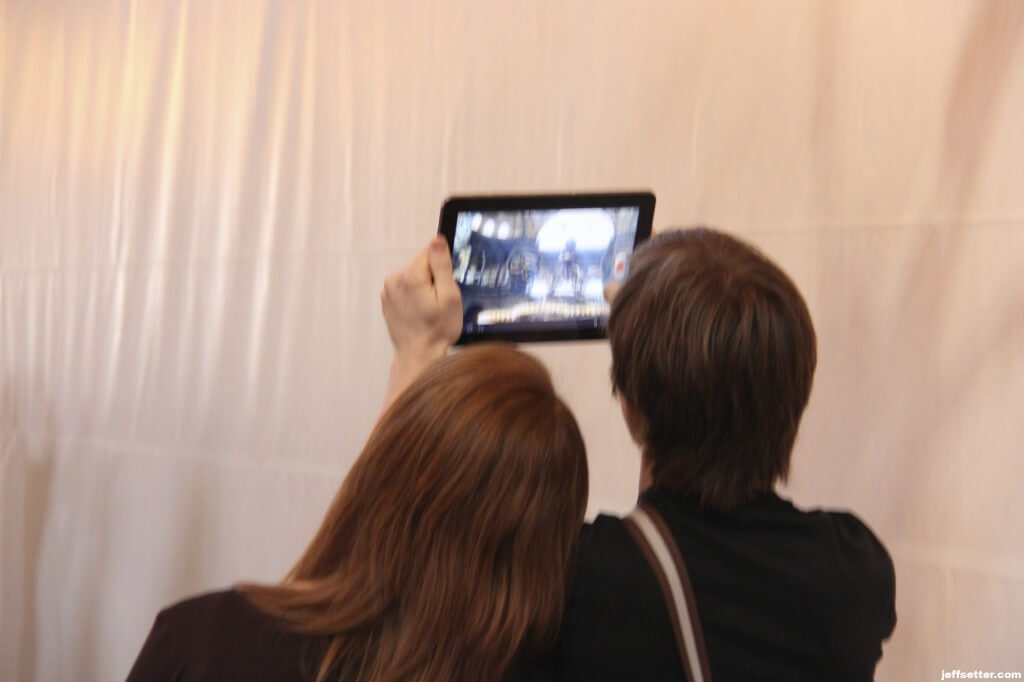 Basilica Cistern
Next, we made a quick stop at Basilica Cistern, where we spent about 30 minutes taking photos of the columns and Medusa statues in the ancient underground basilica.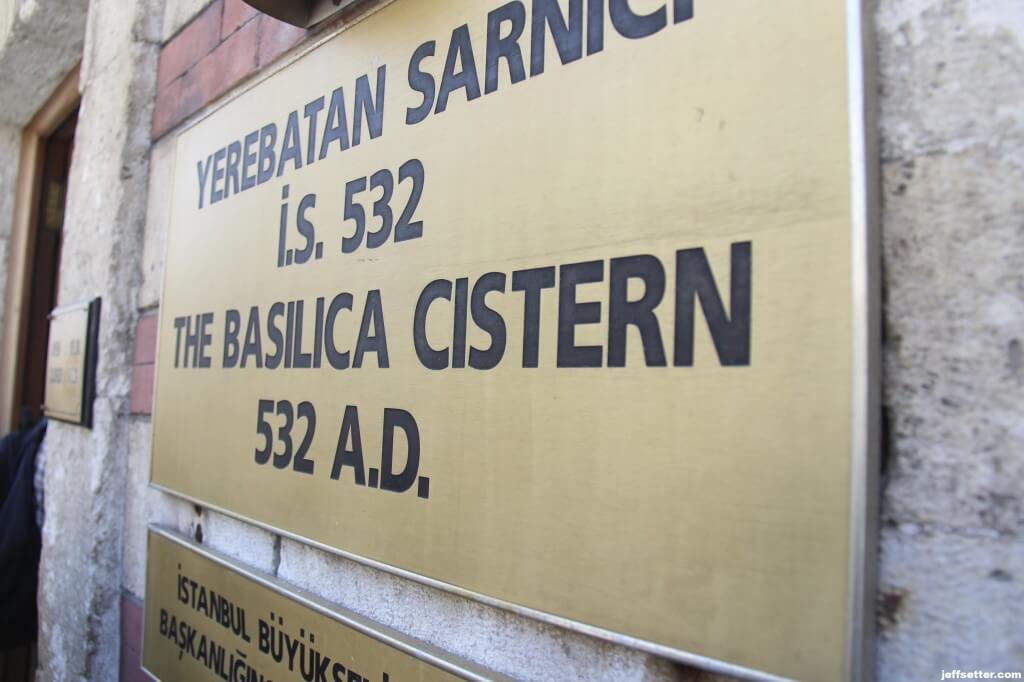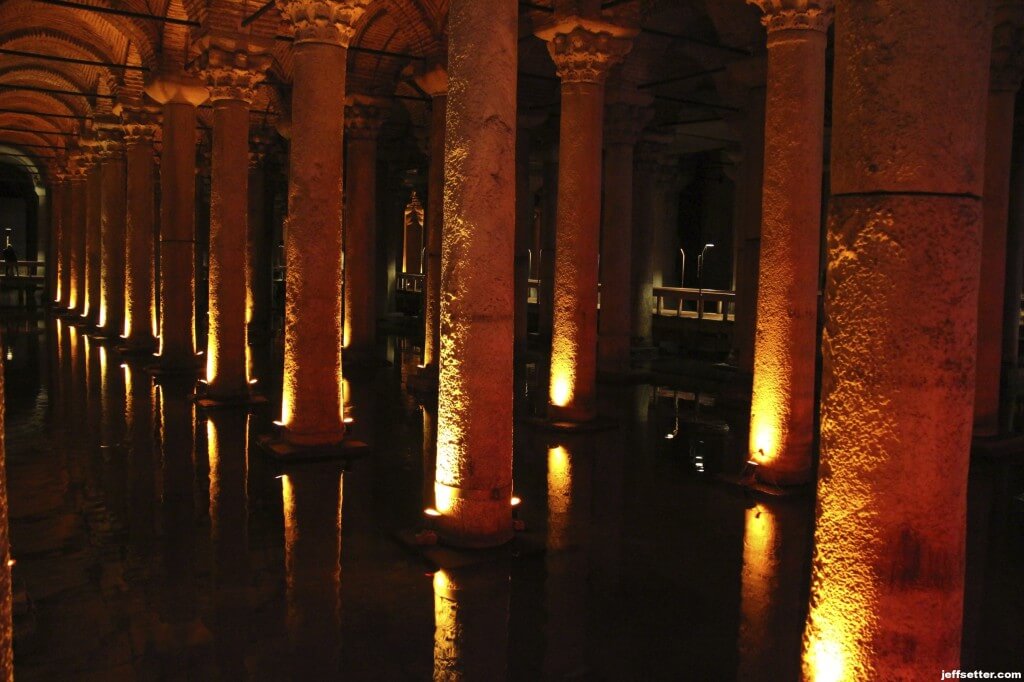 Lunch Time
By then it was time for lunch. We ate at a cozy cafe not far from the Basilica and I ordered Moussaka for lunch. It was a fantastic combination of eggplant, beef and peppers. Highly recommended.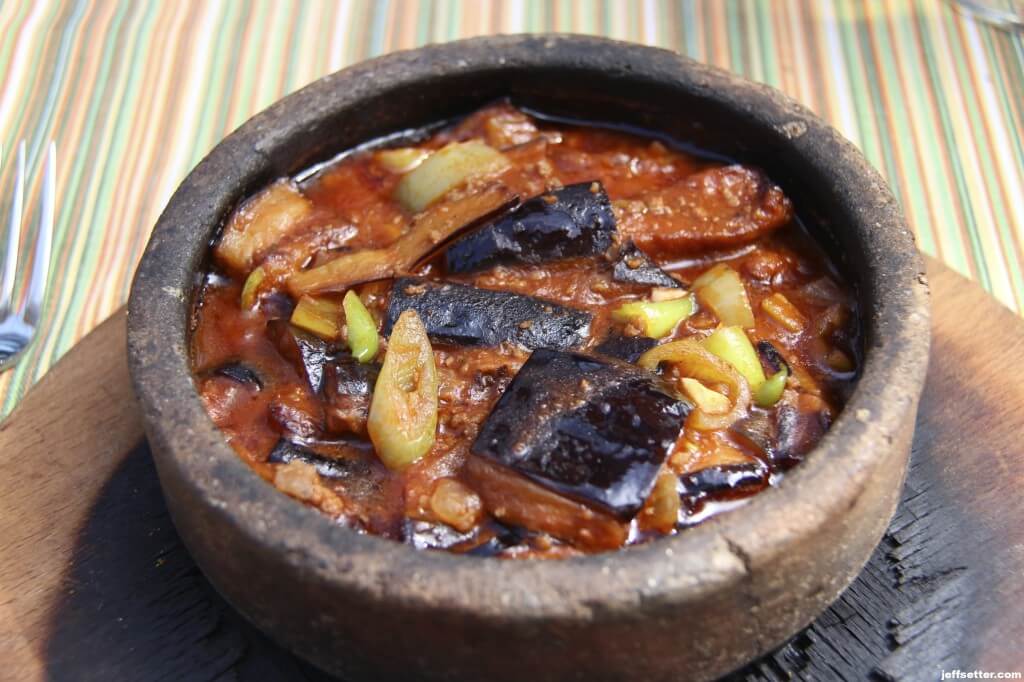 Grand Bazaar
After lunch we walked to the Grand Bazaar and admired the vastness of the shopping center of Istanbul. While there weren't many things we wanted to buy, we appreciated the beauty and sheer massiveness of the shops within.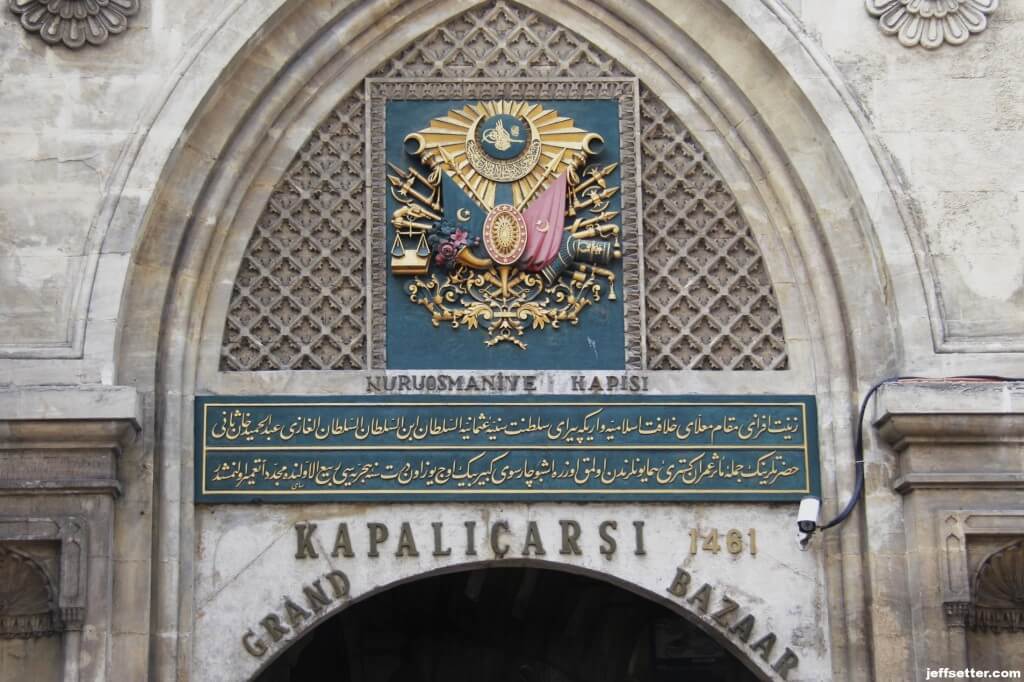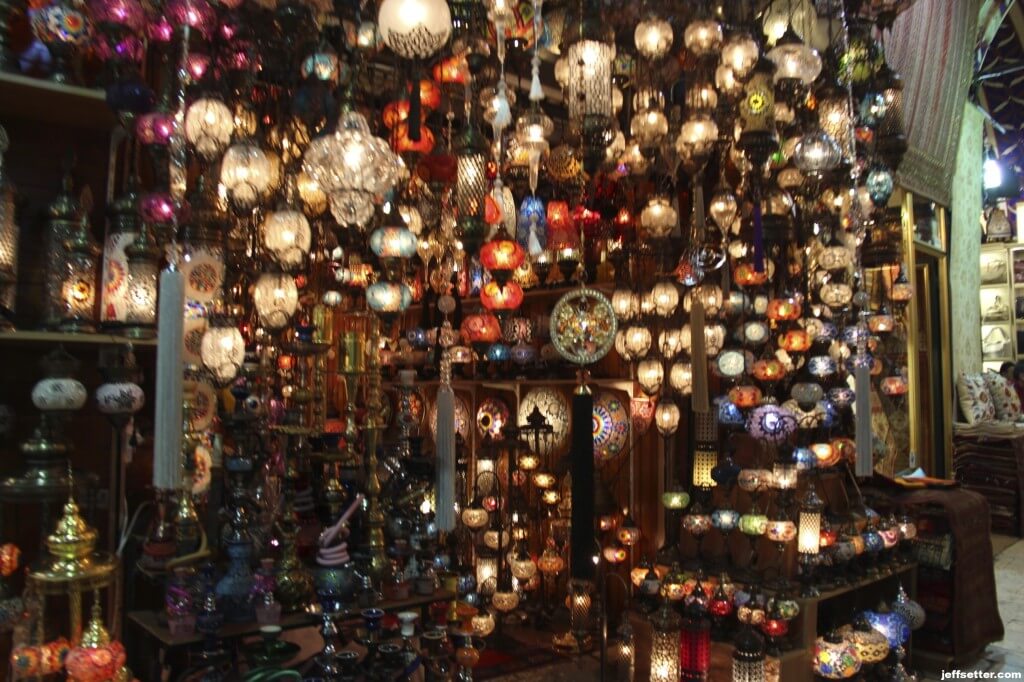 Bosphorus River Cruise
Our final stop of the day was to head back to the Bosphorus river to take a cruise along the river. This allowed us to view both the European and Asian sides of Istanbul while also soaking in the sights and differences in architecture.
The European side of the Bosphorus river definitely had more interesting buildings and appeared to have more commercial activity than the Asian side.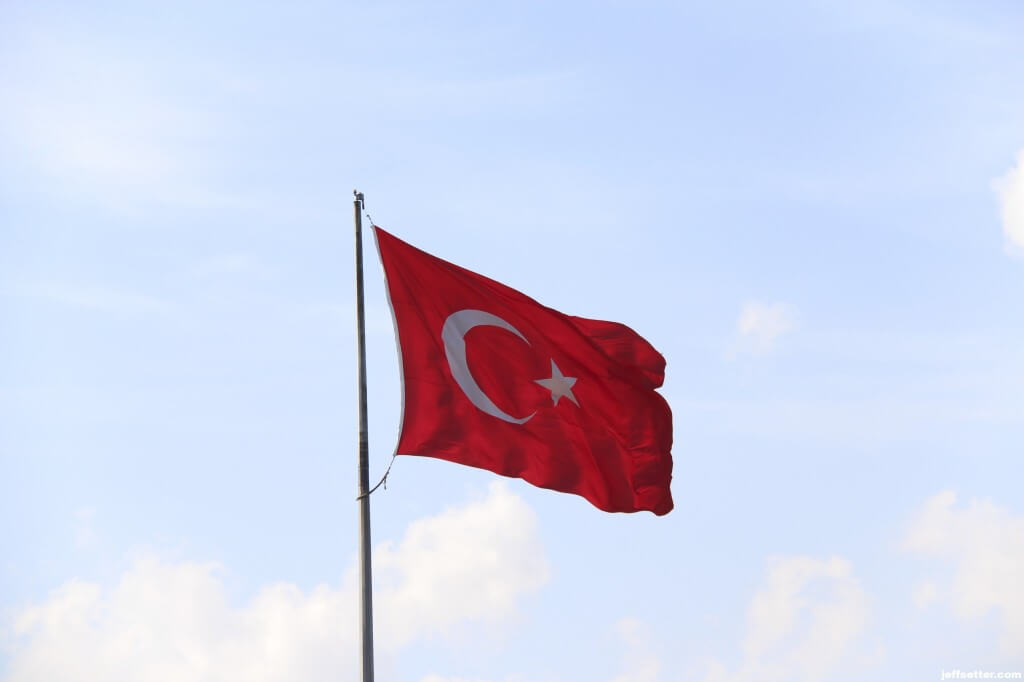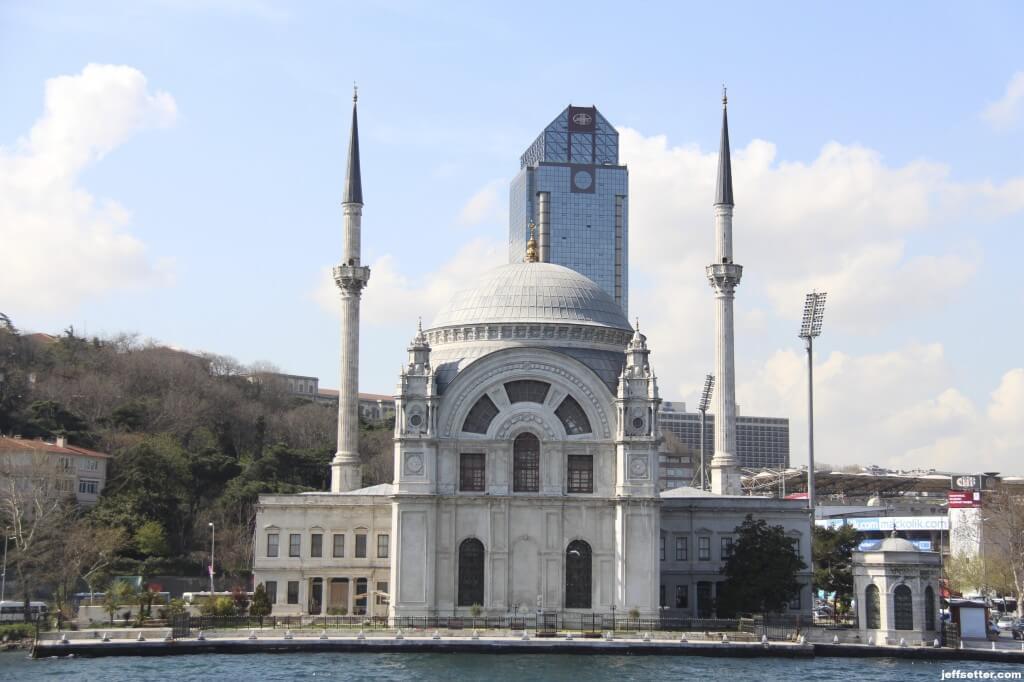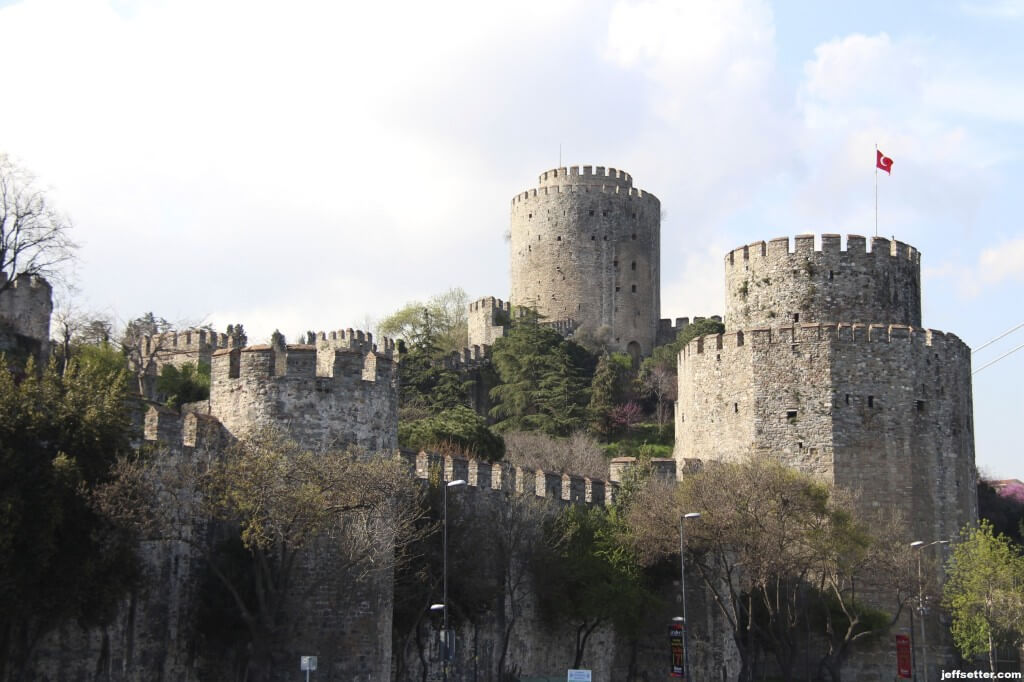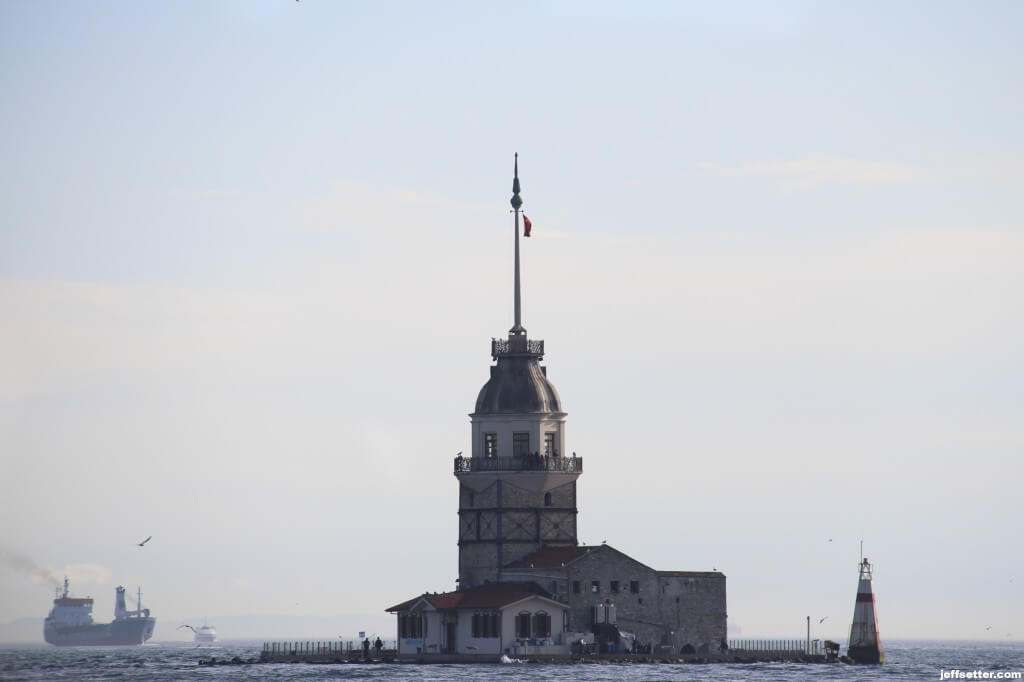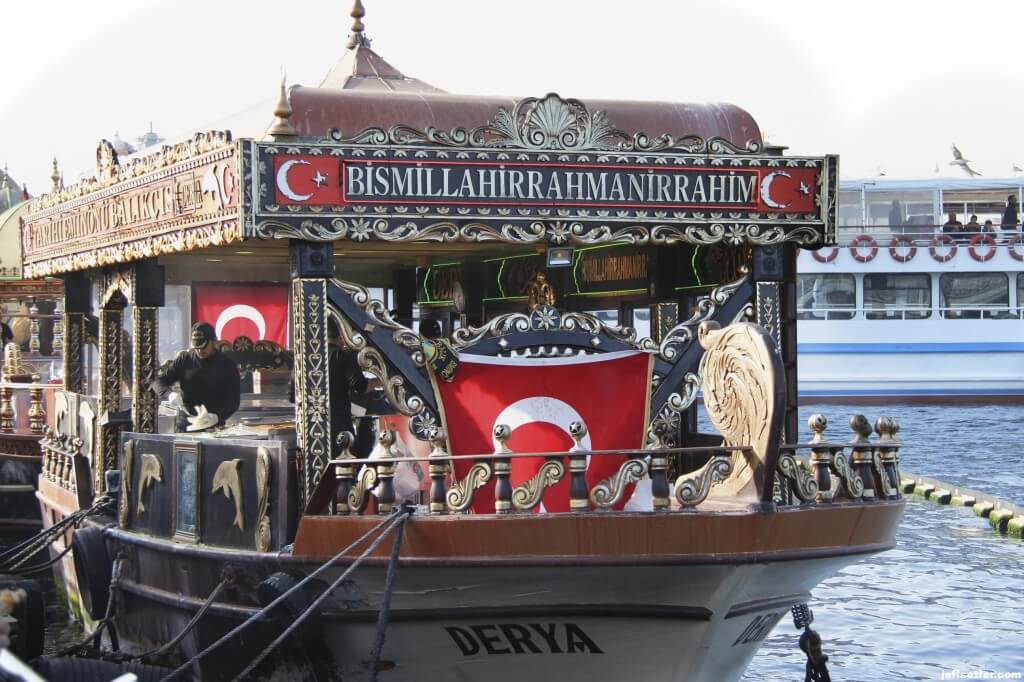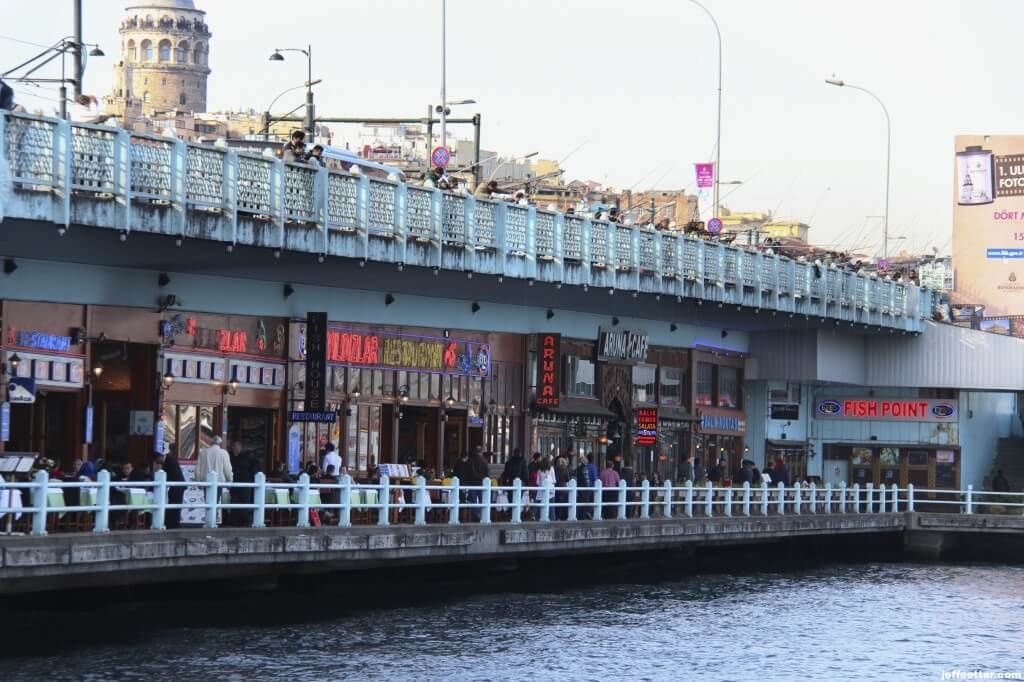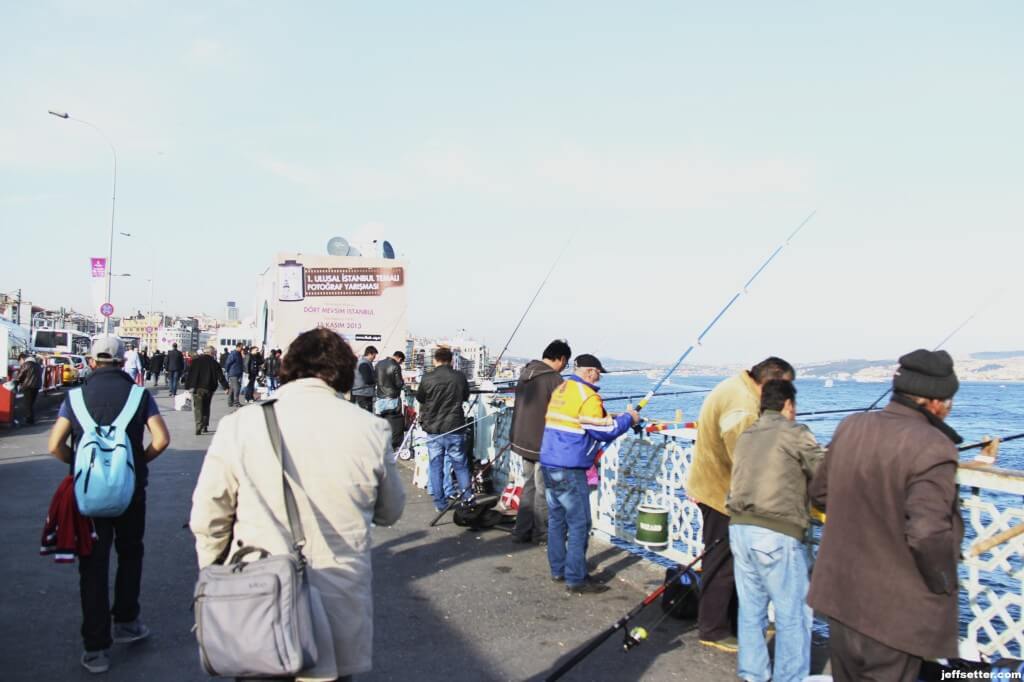 Seeing Istanbul in a Day: Worth It?
Since we only had a day to see much of Istanbul, we packed a lot of sights into a small amount of time. Was it worth it? Absolutely! While I think you could easily spend 2 days viewing these sights, if you are not big into shopping or learning every bit of history about a place, one day allows you to see much of the city.
I was most excited about seeing the major parts of old town Istanbul in a day because that meant the next day we could enjoy our morning. That allowed me to drink coffee on our patio and take photos of the sunrise on the Bosphorus. Absolutely beautiful wake up in Istanbul!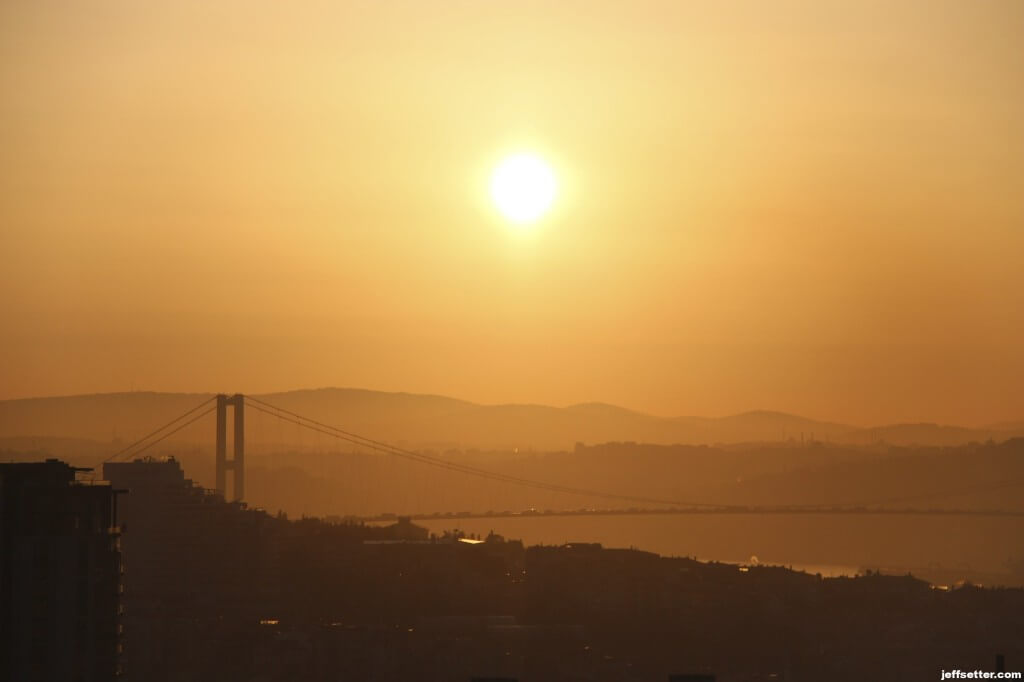 While there may be more to do in a day in Istanbul, I feel that our Istanbul Walking Tour was about as much as one can see in a day without feeling over extended. We walked about 8 miles to see the city and were tired enough at the end that we took a cab back to our hotel to end the day. That cab ride took about 60 minutes to go 2 miles.
Istanbul is a great walking city because traffic is so bad that cabs are almost completely useless. If you visit Istanbul, make sure to bring some comfortable shoes and navigate your way to old town for some amazing architecture and culture!