I'm a big fan of Chef Ed Kenny. His mantra is local first, organic when possible, and always with Aloha. And his newest restaurant brings that style into Waikiki. So let's checkout Mahina and Suns brunch.
Ok, so Mahina and Suns has been open for a while now. I just haven't been able to get there for a meal for a variety of reasons. But our recent stay at the Courtyard Waikikigave us an excellent opportunity to give the restaurant a try.
Location + Service
Mahina and Suns is in one of Waikiki's newer hotels, the Surfjack Hotel. Much like The Laylow, the Surfjack Hotel follows a mid-century Hawaii motif, which translates into the restaurant too. But more on that later.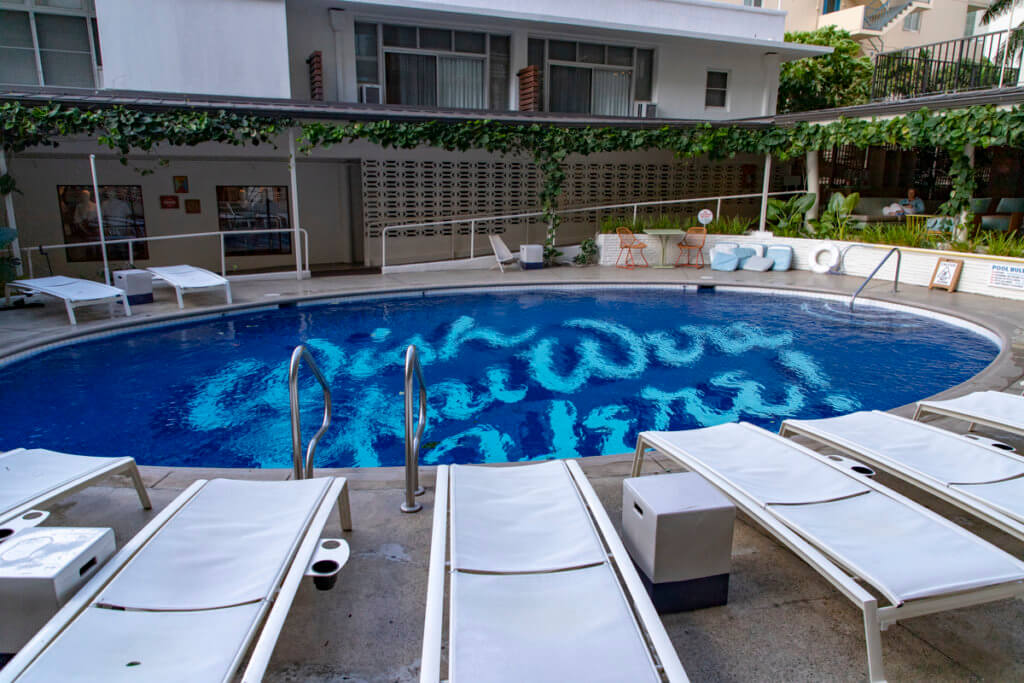 You'll find the restaurant itself on the hotel's ground. Specifically, it's on the other side of the pool from the lobby.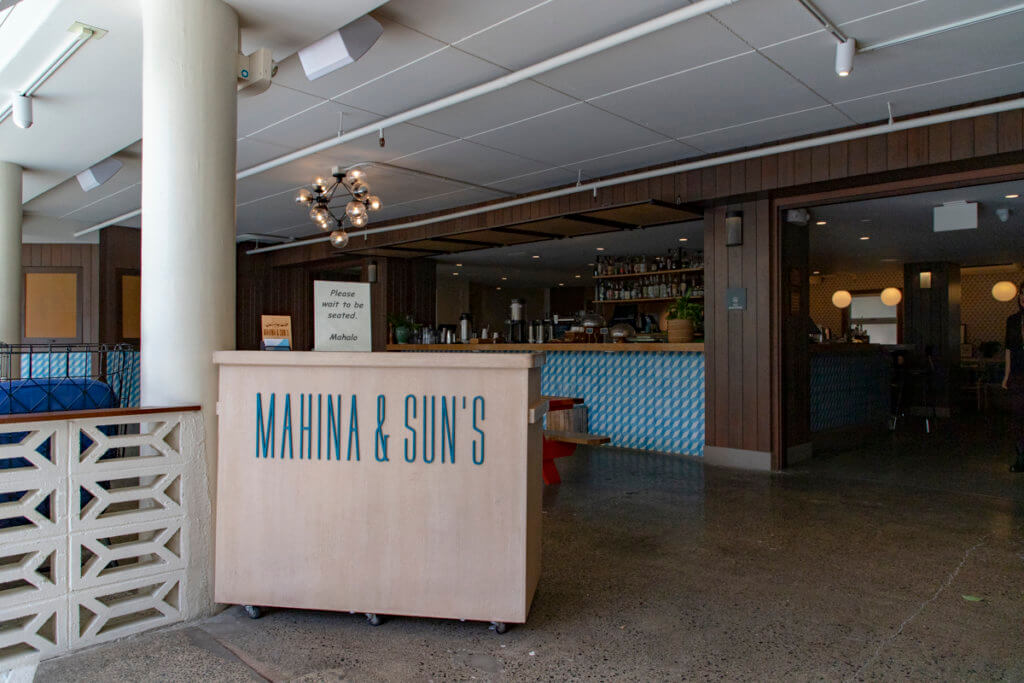 Both indoor and outdoor seating is available, though we opted for indoors thanks to the weather that day. And as I mentioned earlier, inside, the restaurant features a mid-century Hawaii inspired design.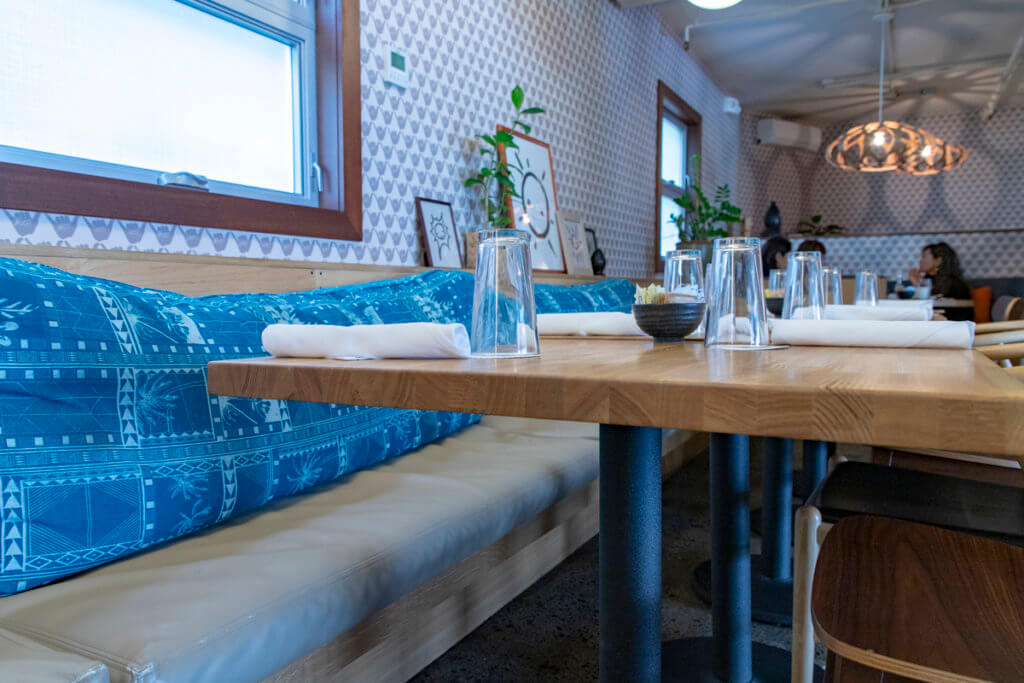 It's a great design if you ask me. I love the color combos, the lighting is a mix of modern and retro, and the bespoke shaka wallpaper is pretty cool. It's too bad they use split-air systems to cool the space, as it ruins the aesthetic a bit. Also, the restaurant is on the smaller side and can get a bit noisy.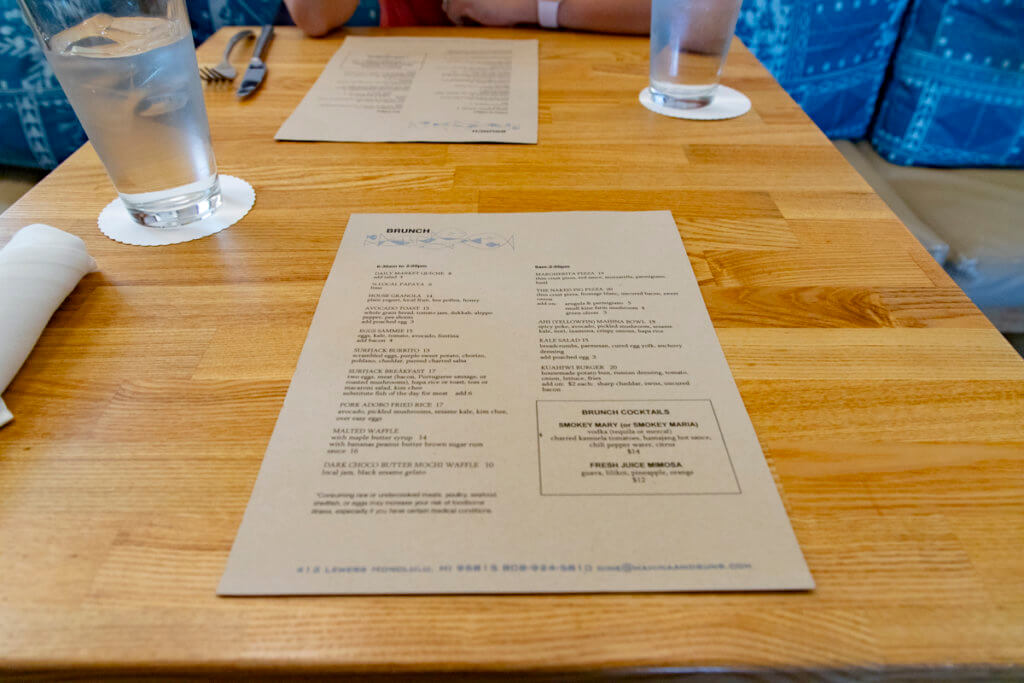 As far as service goes, our server was great; he was friendly, knowledgable, and patient. The host on that particular day? Not so much.
Cuisine
Mrs. Island Miler and I had a hard time deciding on what to order. But since she's a fan of the (virgin) bloody mary at Mud Hen Water, Mrs. Island Miler got one here too. It was similar, but not quite the same. She did like it, though!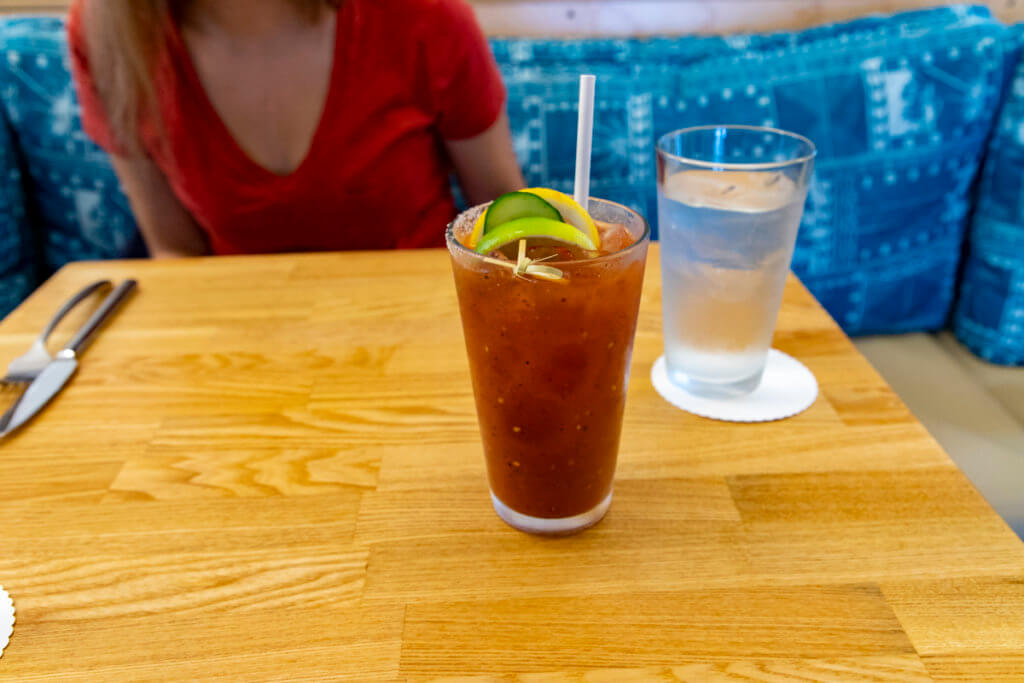 As far as food goes, Mrs. Island Miler decided to give the Au (Kajiki) Mahina Bowl a try. Basically, this is a spicy marlin poke over hapa (white + brown) rice, avocado, pickled mushroom, sesame kale, inamoa (roasted kukui nut), nori, and crispy onion. The portion is a little small, but Mrs. Island Miler liked it.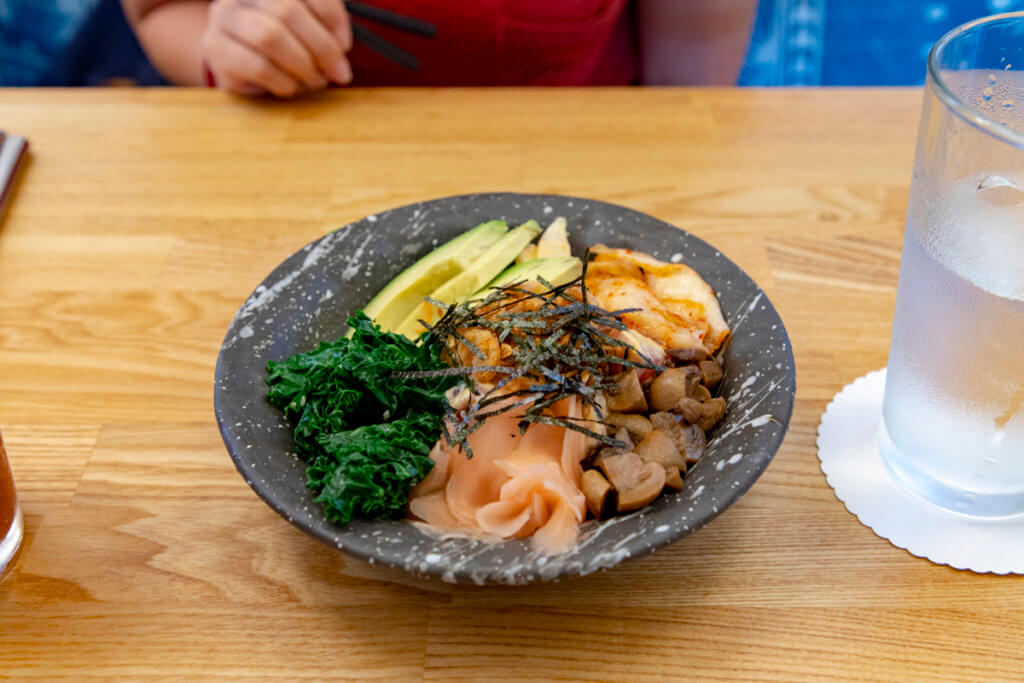 For my order, I went with the Pork Adobe Fried Rice. This intensely savory dish came with avocado, pickled mushrooms, sesame kale, kimchee, poached eggs, and a wedge of pineapple. If I'm honest, it was a little salty for my liking (and I like salty) and the use of hapa rice threw the texture of a little, but it was delicious. Would definitely order again.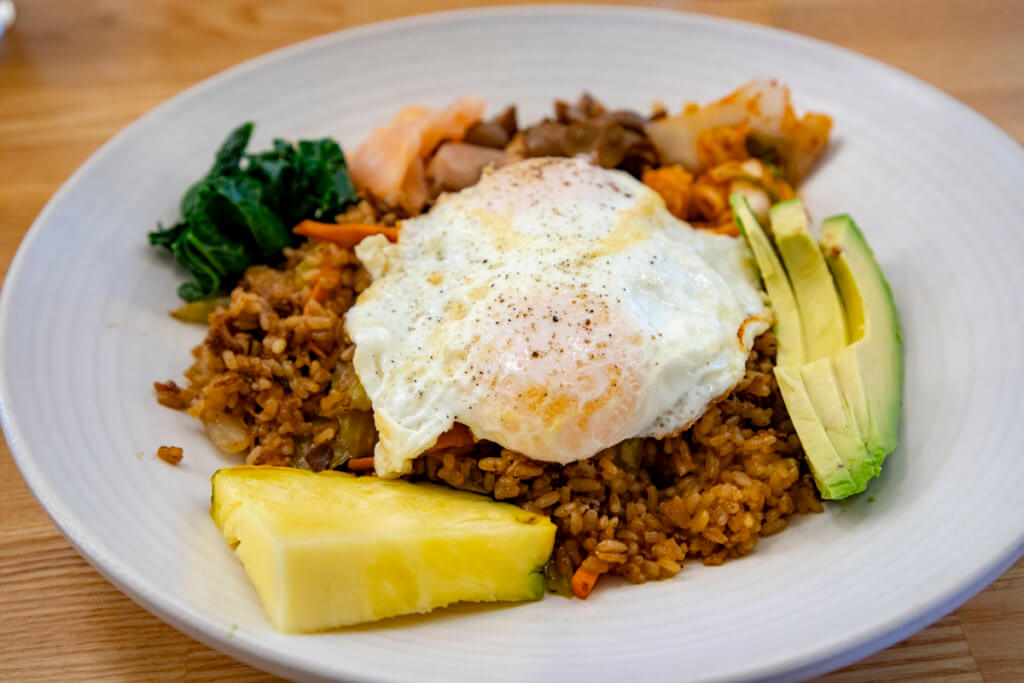 To close out the meal, we decided to give the Dark Chocolate Butter Mochi Waffle a try. And it's a good thing we got it as a dessert, because, man, is it small! The portion is a single quarter of a standard round waffle. It does come with local jam and black sesame gelato too, though I think it could do without the jam.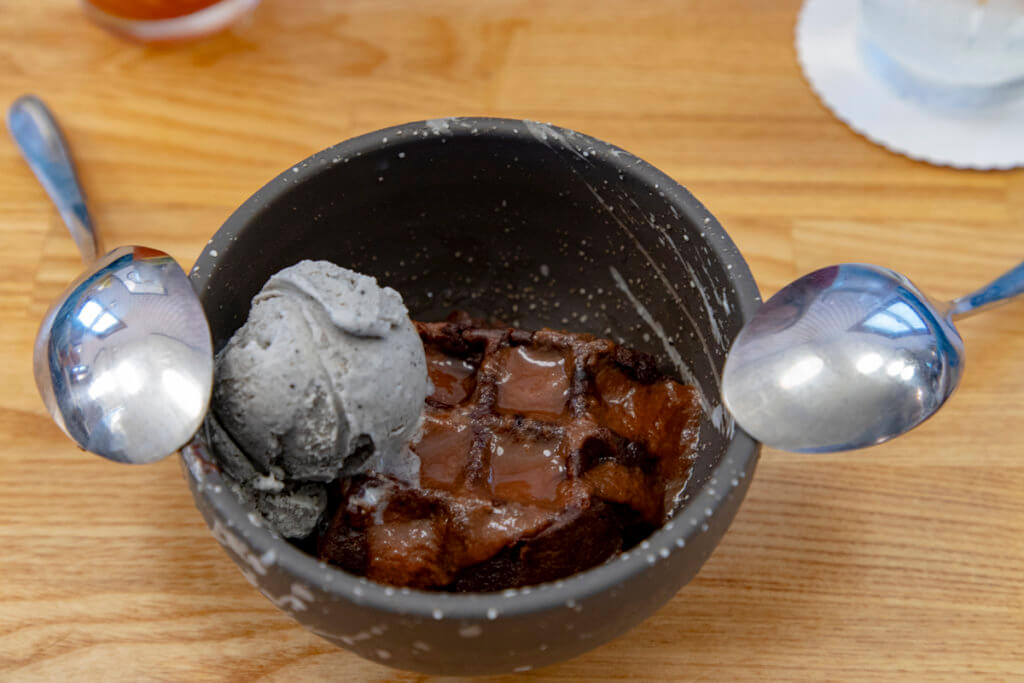 Mahina and Suns Brunch, Final Thoughts
The food at Mahina and Suns is good and is a lot different from what you'd find at other restaurants in Waikiki. However, it isn't as good as the food you find at Mud Hen Water. But that's by design, as Mahina and Suns is meant to be more approachable to those from out of state. So if you're willing to trek outside of Waikiki, go there instead. But if not, Mahina and Suns is a solid choice, and I wouldn't hesitate to return. Oh, and the price? I spent about $64 all-in with tax and tip.
A Waikiki Wedding Weekend