After getting back to our car from the Lanikai Pillbox Trail, the wife and I took a 15 minute drive into Kailua town to have breakfast at Moke's Bread & Breakfast.  Kailua is actually home to many famous breakfast places, the more well known ones being Cinnamon's and Boots & Kimos, but in my opinion, Moke's is the best.
Located in a side street in central Kailua, Moke's is a kind of a hole in the wall.  It's an interesting, small space, though there's no a/c.  They may not have the notoriety of the other breakfast spots, but they do get crowded, so reservations are recommend.  No reservations?  Go at opening to secure a table.  Service can be a little iffy, especially during peak times, but is generally good.  Parking is also pretty bad, as it's street or a pricey abandoned strip mall private lot across the street.
The wife and I have been here twice so far, and both times she's ordered an omelet.  The first time was Ko'olau (Bacon, tomato, onion, green onion, and cheddar cheese) with a hash brown.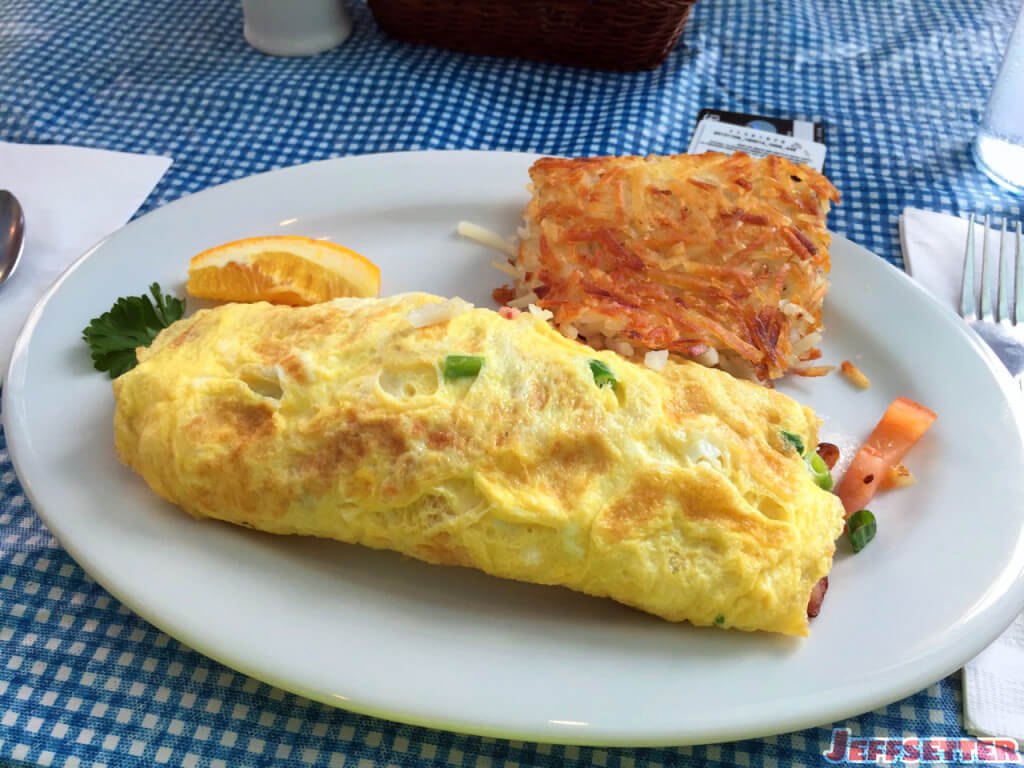 The second time around, she ordered the Ko'olau again, but had it with fried rice instead.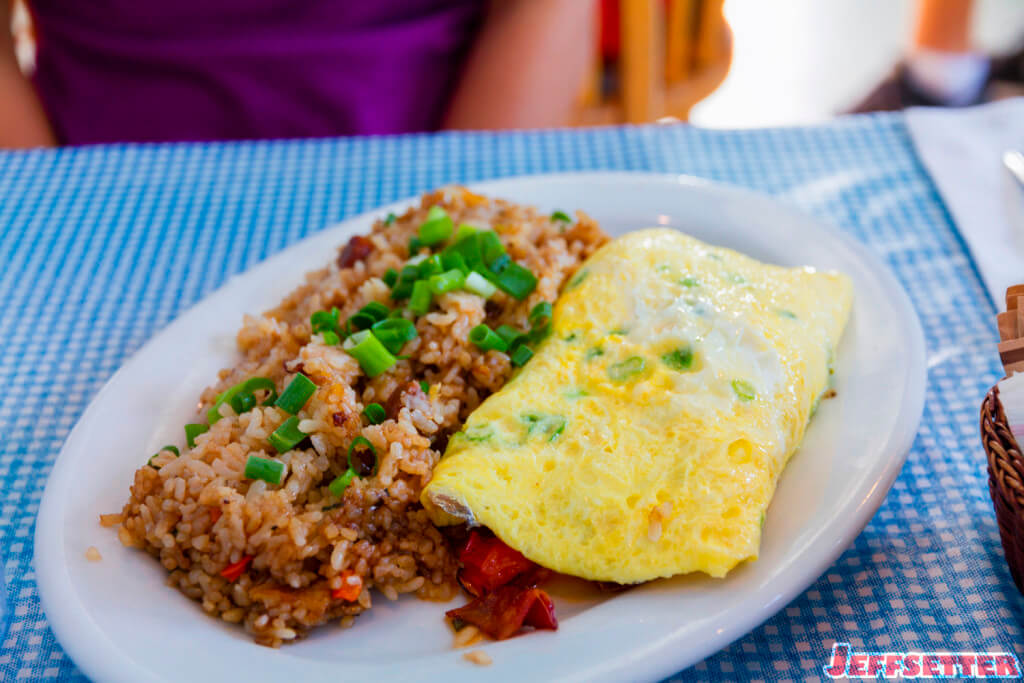 I'm gonna go out on a limb and say she really like the omelets!  The filling was fresh and substantial, though the egg was cooked a little too hard in my opinion.  The fried rice was pretty good too, as was the hash brown.
The first time we visited, I ordered a pretty unique dish, the Rabbit Moco.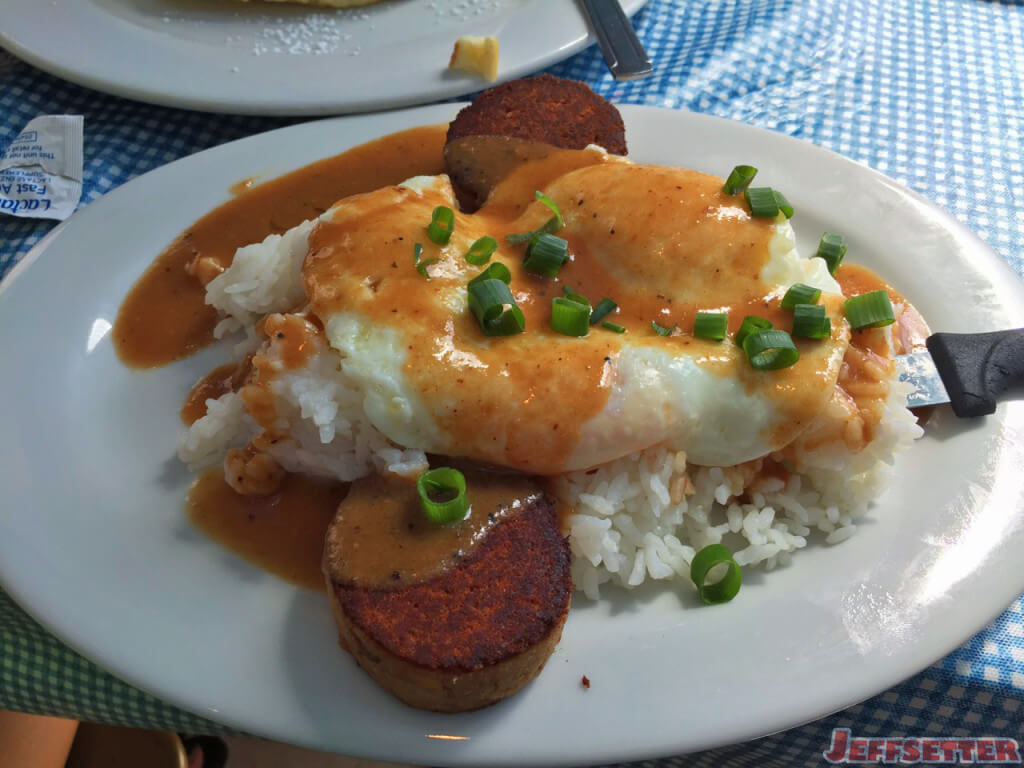 The dish was ok.  Basically it's locally raised Shinsato Farm rabbit with rabbit gravy.  Eggs are cooked to ordered, and as tradition, it's all served over white rice.  The rabbit was just the two small patties on the sides of the eggs and rice.  To me, rabbit is a really neutral flavor, and I won't say it tastes like chicken, because I think chicken has more flavor.  The gravy was good, but I wouldn't order this again.  For the same price, I'd rather go for the Loco Moke, which subs in a slice of prime rib for the burger.
On our second visit, I ordered the restaurant's signature dish, the Lilikoi Pancakes.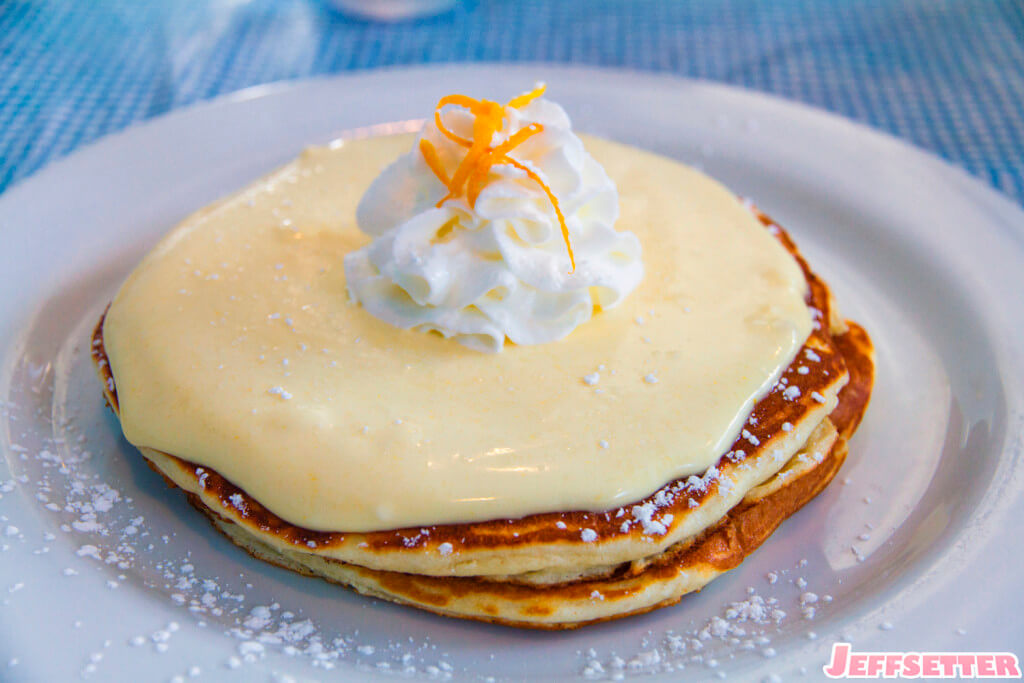 These are fluffy, homemade pancakes with a sweet/tangy lilikoi cream sauce on top.  The sauce is really what makes this and is, by far, my favorite pancake dish around.  Honestly, I'm not really even a fan of pancakes, but these?  I love.
So if you're in the area, don't mind driving around for great food, or even planning some activities on this side of the island, be sure to check out Moke's.  This brunch spot is open till 2pm and has a fairly large menu of breakfast and lunch items.  But whatever you do, try the pancakes!