Momofuku has long been on my restaurant wishlist.  And because of a missed opportunity in New York, Momofuku Las Vegas became a must try restaurant during our Vegas trip.
When Mrs. Island Miler and I went to New York in December 2016, Momofuku was on my list of to-try restaurants.  I've wanted to sample the cuisine of Chef David Chang since I saw him on No Reservations years ago.  And despite this, our schedule in New York just didn't allow time for this, so Momofuku sprang to the top of my list for Vegas.  In fact, we ended up choosing Momofuku for my father-in-law's birthday dinner.  No, we didn't choose it because I wanted to dine there.  Rather, Momofuku became our top choice for its casual atmosphere and diverse menu options.
Location, Ambiance, and Service
Momofuku is located in The Cosmopolitan on the second floor.  It is just down the hall from Eggslut and around the corner from the parking garage elevators.  And while it looks small from the outside, the restaurant is actually quite large once you walk in.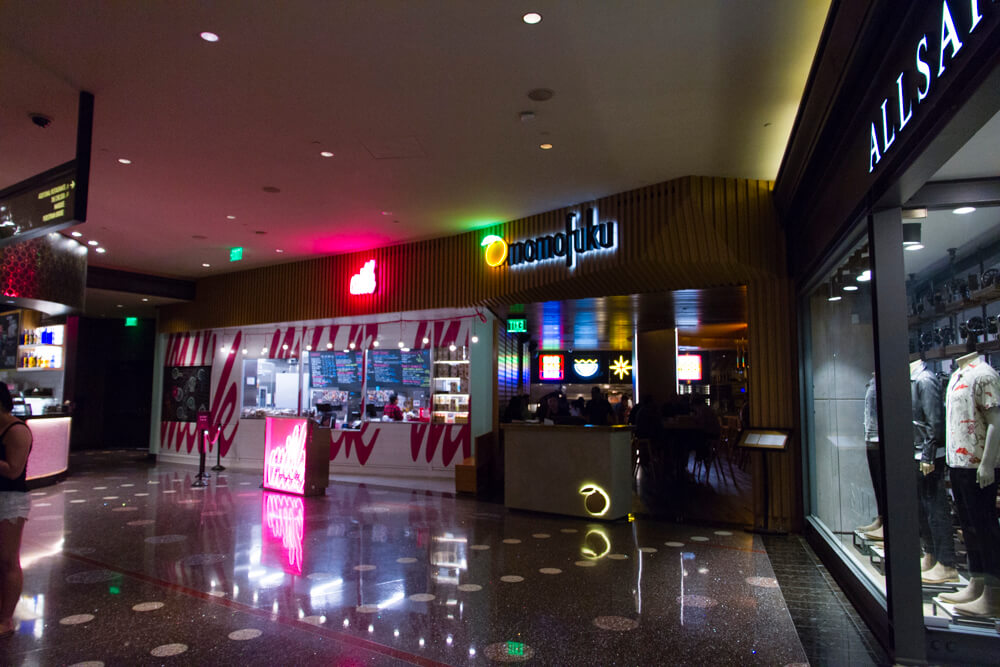 It is important to note that Momofuku will only seat parties that are mostly present.  And reservations will not be held longer than 15 minutes past your original time.  We ended up running a little late thanks to the parking at the Cosmo, but once we arrived we were promptly seated.  Our table was located towards the back, right-hand side of the restaurant.  The restaurant itself was fairly dimly lit and was, unfortunately, very loud.  I knew going in that Momofuku would be popular and would be crowded, but what I hadn't anticipated was the volume in the restaurant.  This isn't their fault, of course, and I don't fault them for it.  But it is a consideration, especially if you'd like to be able to comfortably hold a conversation.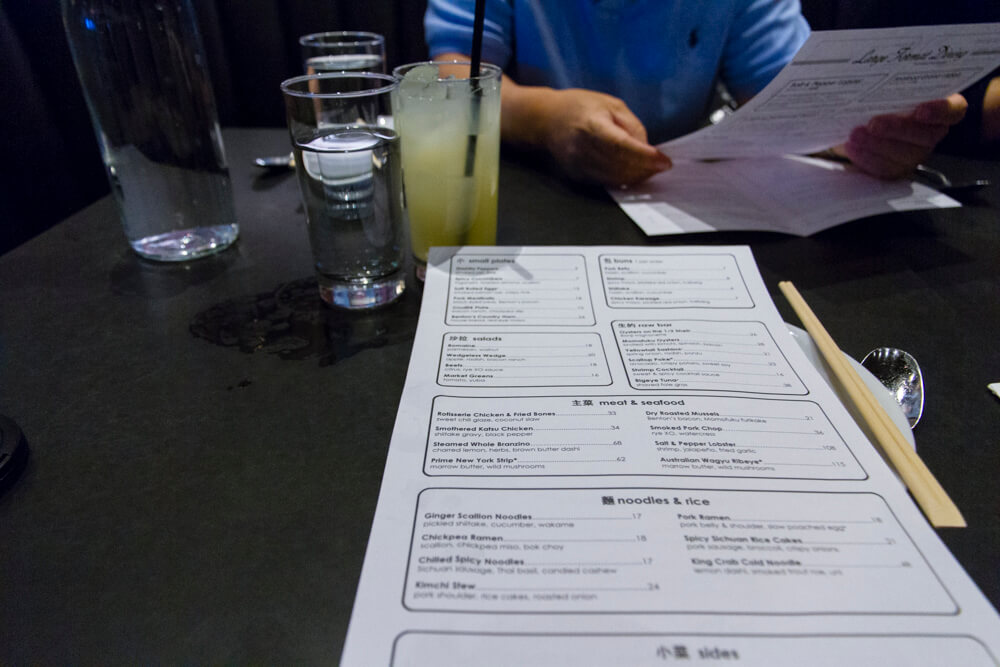 That being said, service throughout our experience was good.  Everyone from the hosts to our waitstaff were friendly, professional, personable, knowledgable, and patient.  Even when we couldn't hear or understand them because of the overall ambient volume of the place.
Small Bites
To keep things simple, our dining party decided to order a few shared small bites to start.  First up for us were the soft boiled eggs.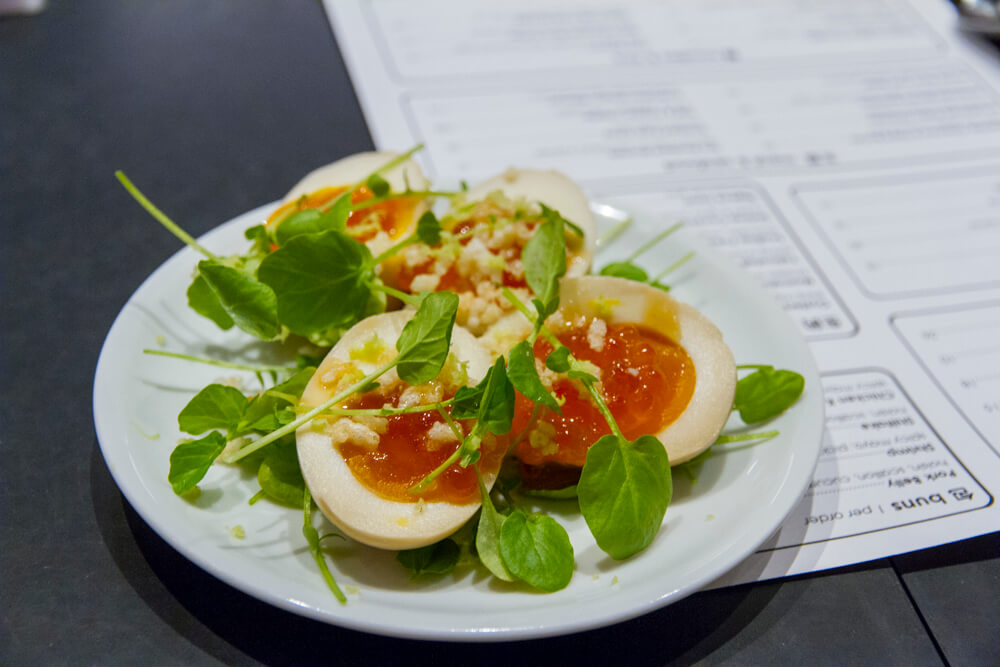 A single order will get you egg halves with smoked trout roe and crispy puffed rice.  They taste pretty much exactly like you'd imagine them to; ajitama (marinated egg in ramen) topped with ikura and puffed rice.  It's a nice little bit for sure.
Next up were a few buns.  Specifically, we ordered two pork belly, one shrimp, and one shiitake.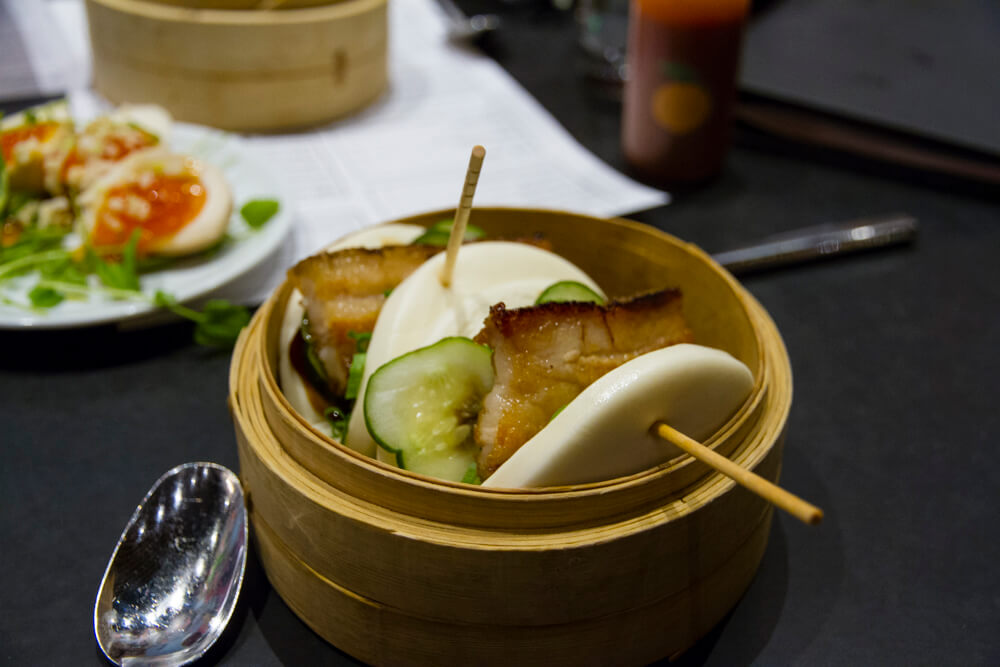 The pork belly buns came slathered in hoisin sauce and topped with some green onions, and cucumber for crunch.  The pork was melty, fatty, meaty deliciousness, as you'd expect from Dave Chang.
The shrimp bun was actually was more of a crispy fried shrimp patty inside a steamed bun.  The bun was smeared with a spicy mayo and topped with pickled onions and iceberg lettuce.  This one was definitely Mrs. Island Miler's favorite.
The shiitake bun is basically the same thing as the pork belly bun, but with sliced, roasted shiitake mushrooms in place of the pork.  Kind of an umami bun if you will and a great option if you want something lighter/vegetarian.
Large Plates
I wanted to try the ramen, since its what Momofuku built its reputation on, but our server swayed my decision.  His recommendation of the Steamed Whole Branzino was a winner.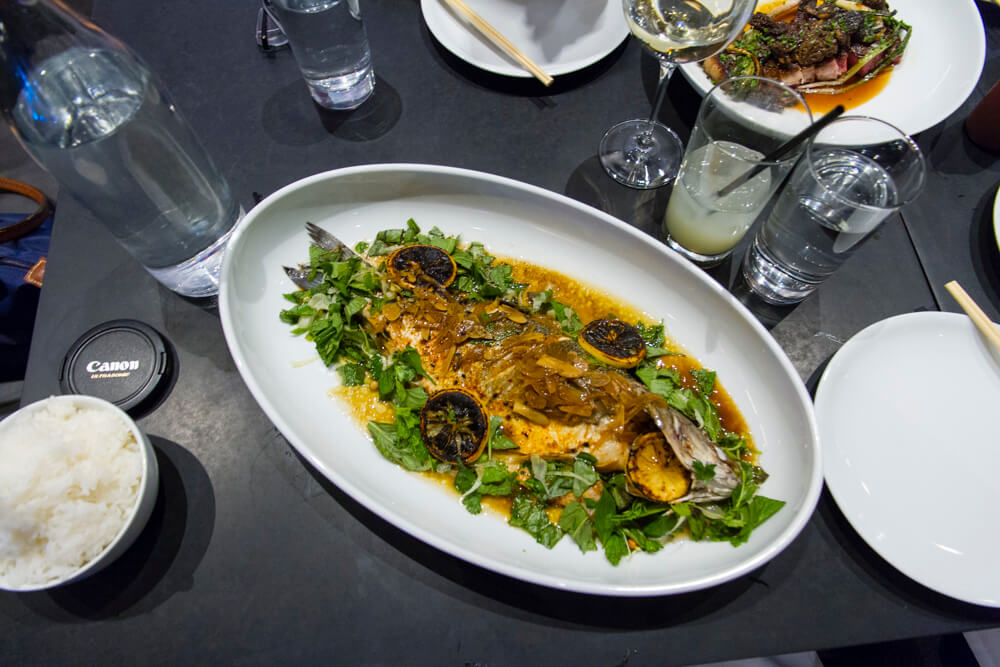 The branzino is definitely one of the best fish dishes I've ever had.  The brown butter dashi adds umami and a nice richness,  while acid from the charred lemon and green notes from the herbs helped to keep things balanced.  The fish itself was clean and moist with a  perfect flake.
For his entree, my father-in-law opted for the Dry Aged Prime New York Strip.
The steak comes topped with some marrow butter and a mushroom melange.  Since the steak was so large, he had us all try some.  And let me tell you, that steak was also one of the best steaks I've ever had.  It was perfectly medium-rare inside, while the outside had an incredible, perfectly seasoned crust.  This time around it was topped with sautéed green onions and morel mushrooms.
My mother-in-law like spicy, so she opted for the Spicy Sichuan Rice Cakes.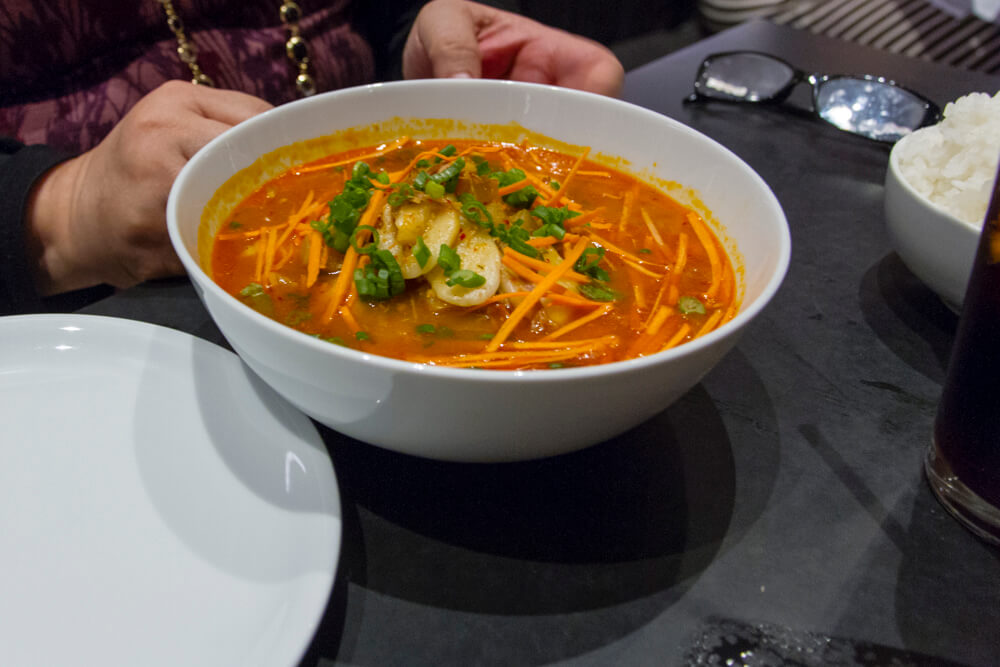 As you can see, this dish is a soup.  It contained a heaping of veggies, pork sausage, and those long, flat Korean rice cakes.  Unfortunately, this dish was probably the most disappointing one.  The soup was thin and bland, with very little kick.
Mrs. Island Miler, as is often the case, opted for the special of the night, which was a cold noodle dish.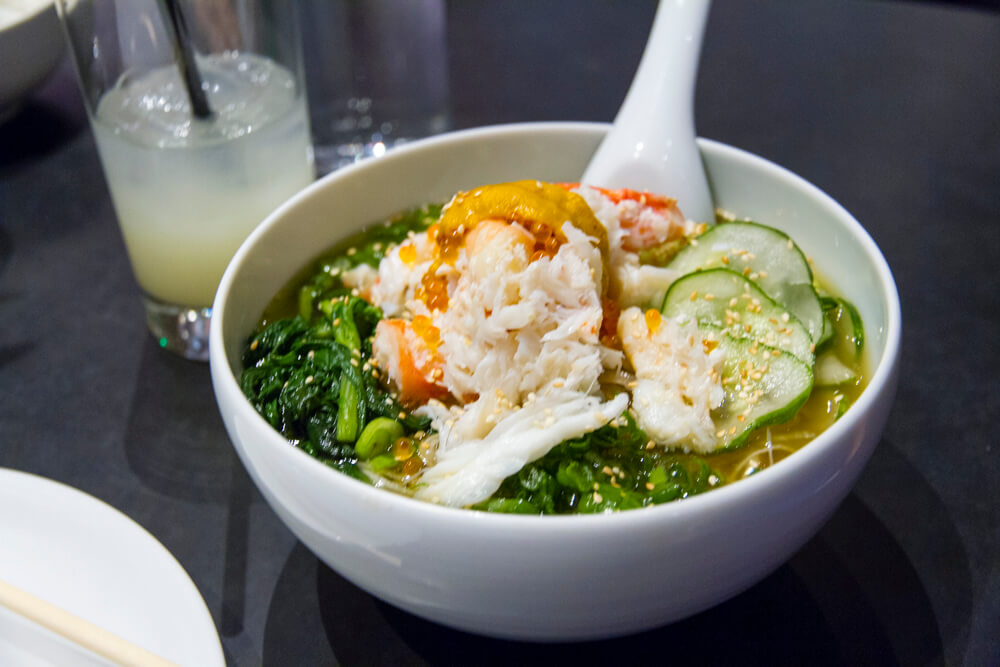 I can't really recall what this was exactly, but it was a Korean-style chilled noodle dish.  The the clear, light broth contained noodles, choi sum, chopped green onion, and some (I think) picked cucumber.  And on top of that was a mound of king crab, uni, and trout row.  Needless to say, she was very happy with this too.
Desserts
Because we notified the restaurant that we'd be celebrating my father-in-law's birthday, they presented him with a few Milk Bar Birthday Cake Truffles with a candle.  My mother and father-in-law were too full to order a dessert for themselves, so just Mrs. Island Miler and myself did.  And for her dessert, Mrs. Island Miler went with the Birthday Cake Soft Serve with Sprinkles.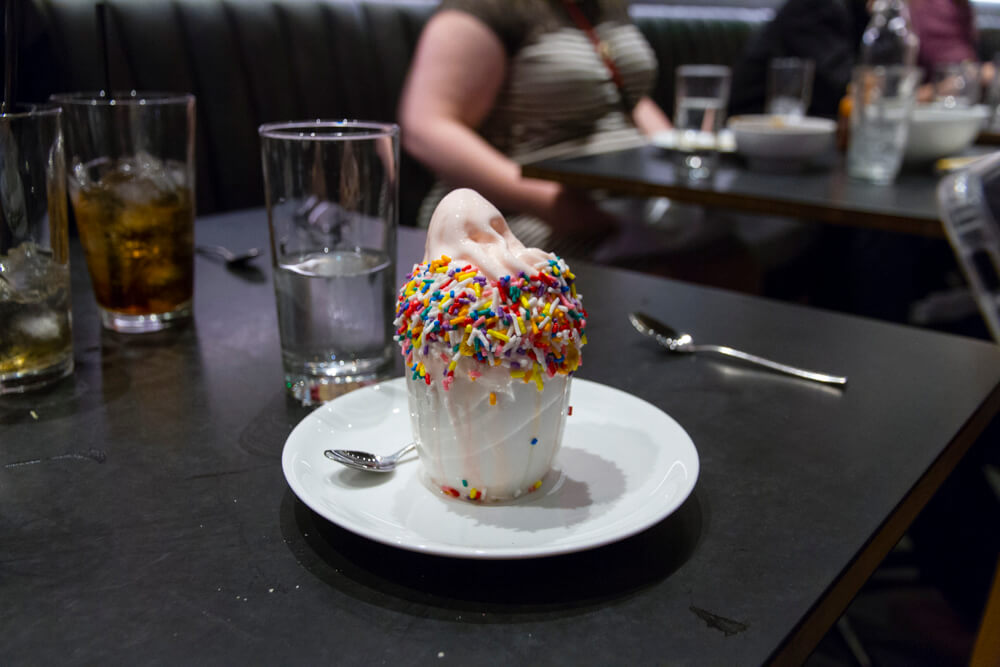 I'm not a fan of sprinkles, so I didn't try, but she liked it a lot.  She actually wanted to get it again before we left Vegas, but as was often the case here, we simply didn't have time.
Me?  I went with the Crack Pie Soft Serve with hot fudge.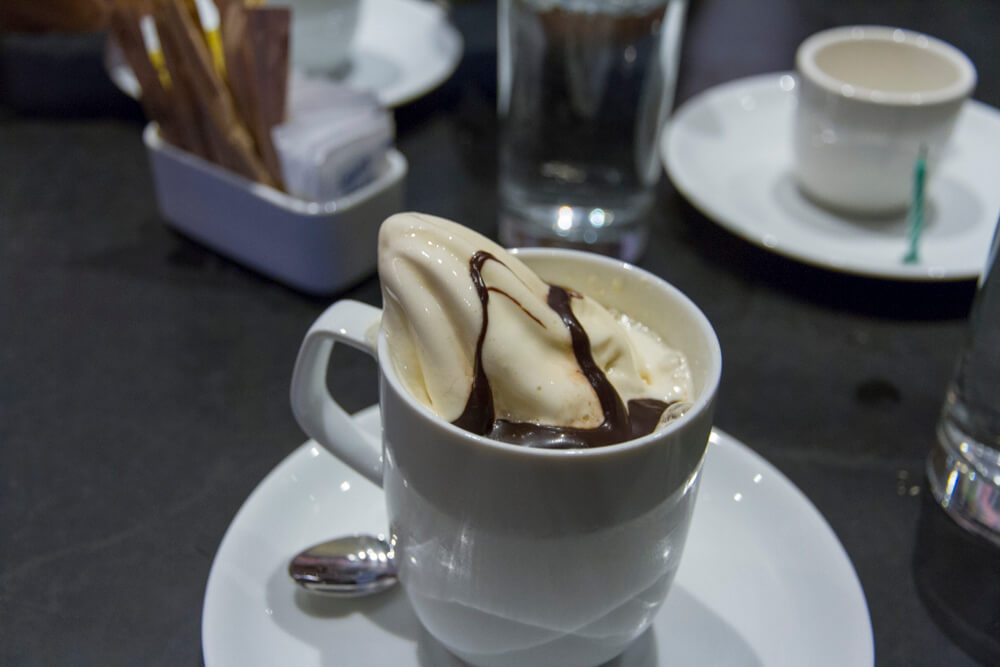 The soft serve very vaguely tastes like the Crack Pie.  I'm not sure if that's a good thing or a bad thing since the actual pie is incredibly rich.  But what I did LOVE was that gooey, deep, dark chocolate fudge.  I could eat that by itself!
Momofuku Las Vegas Final Thoughts
For the most part, Momofuku Las Vegas lived up to my expectations.  Most of the dishes we had were good, and some were even exceptional.  And yes, the prices are a bit high, but I do think the value is there.  Momofuku is definitely someplace I'm comfortable recommending to others and is a restaurant I look forward to returning to in the future too.  That being said, keep in mind the high ambient noise level.  If an intimate dinner is what you want, you may want to look elsewhere.  But if the noise doesn't bother you and you're looking for an excellent, casual meal, then consider Momofuku.
My First Las Vegas Adventure
Flights
Car Rental
Hotels
Dining
Momofuku Las Vegas
Activities/Sights