A couple of months ago, Mrs. Island Miler took me to MW Restaurant for my birthday. So, naturally, I'm going to review our MW Restaurant Dinner experience for all of you!
As you'll recall from my post on
BuzzFeed's Worth It Seafood
video in Hawaii, MW Restaurant is one of the more iconic restaurants to open in the past decade. And, for good reason too; the husband + wife team that heads the restaurant once worked for Alan Wong. So, naturally, the duo likes to put on a modern twist on local food favorites, while also blending the many cuisines of modern Hawaii.
Location
MW Restaurant is centrally located off of Kapiolani Boulevard across the street from Ala Moana Center. That puts it within close reach to those of you staying in Waikiki, but also means the restaurant has no views. But that's ok! Many of Honolulu's great restaurants, such as Senia, PAI Honolulu, etc. don't have any views either.
Service
Our service experience at MW was, putting it bluntly, a bit odd. Don't get me wrong, it was well-intentioned, but came across as borderline offensive. For example, our server would talk directly to only me, and rarely ever address my wife. She also spoke so softly that we could barely hear her. Beyond those issues with our server, though, service was generally what you'd expect from an upscale restaurant.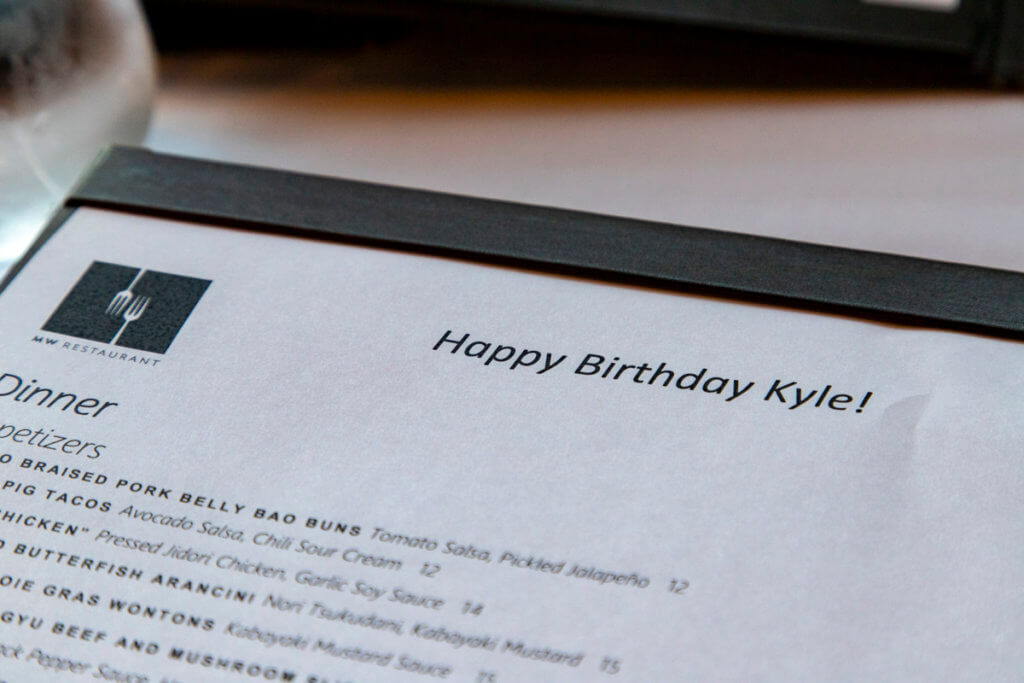 Starters
MW Restaurant Dinner service has a few options as far as menus go. You could order ala carte, as we did, or you could order one of three prix fixe menus. The prix fixe menu, might I add, is the only way to order MW's signature mochi crusted fish at dinner. But that's ok because going ala carte meant we could order exactly what we wanted, including what I think are MW's best starters.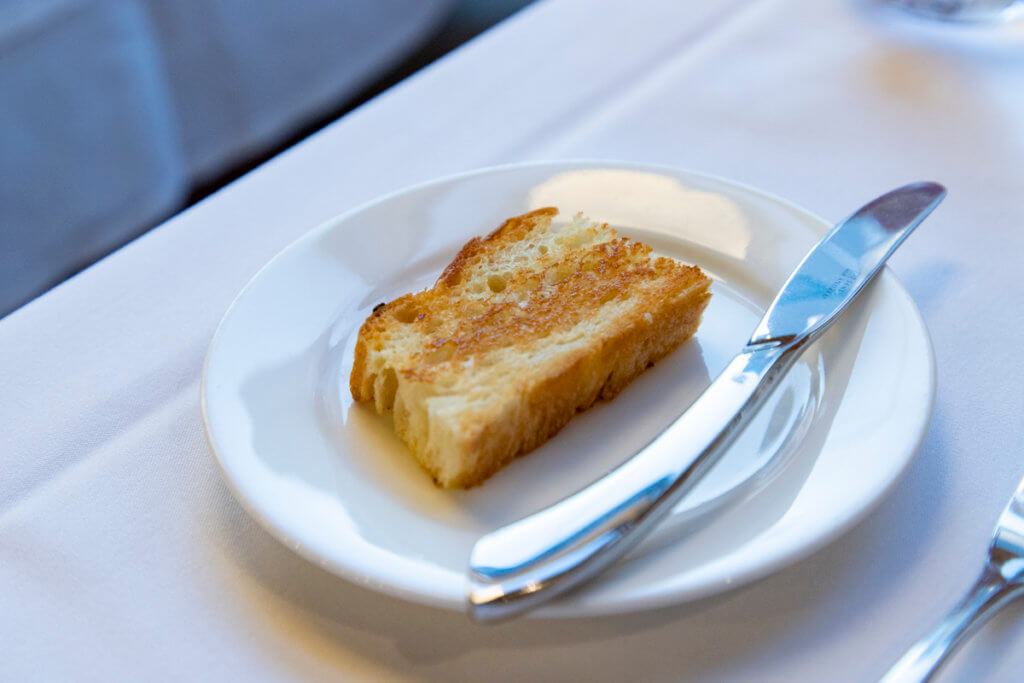 So, first up, we have the "Fried Chicken." This deceptively simple sounding dish takes pressed Jidori Chicken, fries them up, and tosses them in Korean Chicken sauce. Then, the chicken is plated with fresh lettuce, red onion, and some banchan. The result is a juicy, meaty, crunch, fresh handheld starter with a slight kick and deep, complex flavors.
For our second starter, we got what was probably my favorite dish of the night, the Unagi and Butterfish Arancini. This riff on the Italian classic uses Japanese ingredients and flavors to make crispy, yet creamy bombs of starch. The flavor is further taken up a notch with nori tsukudani, which is an umami-rich seaweed paste.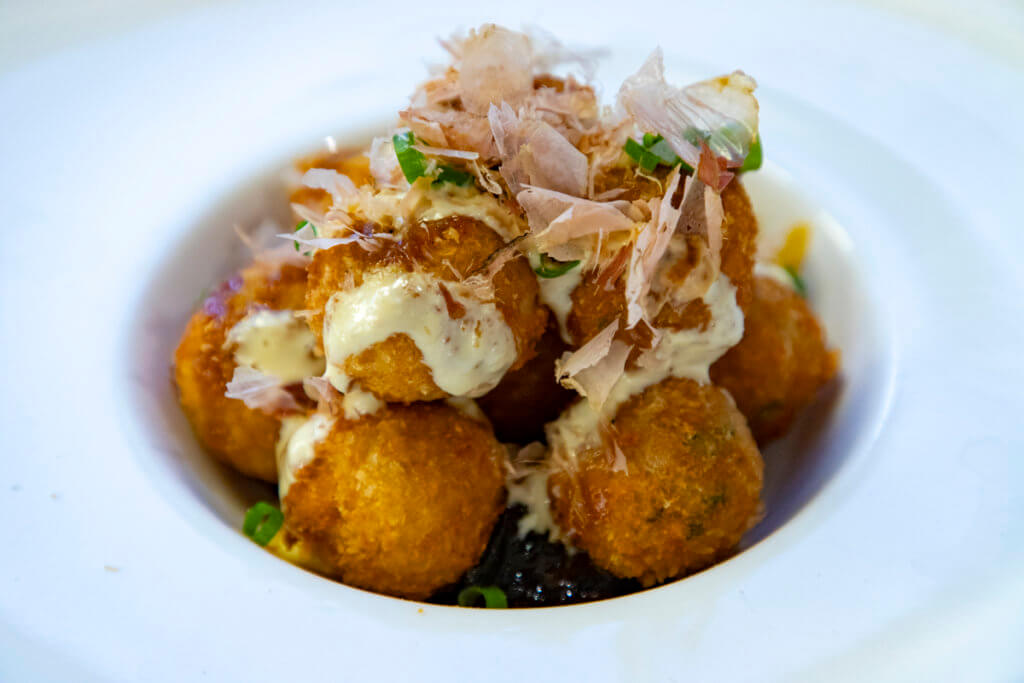 Our third starter isn't something we ordered, but something my chef buddy sent us, which is Ahi Poke with wonton and shrimp chips. Nothing special, really, but the ingredients are all high-quality, making it an excellent dish nonetheless.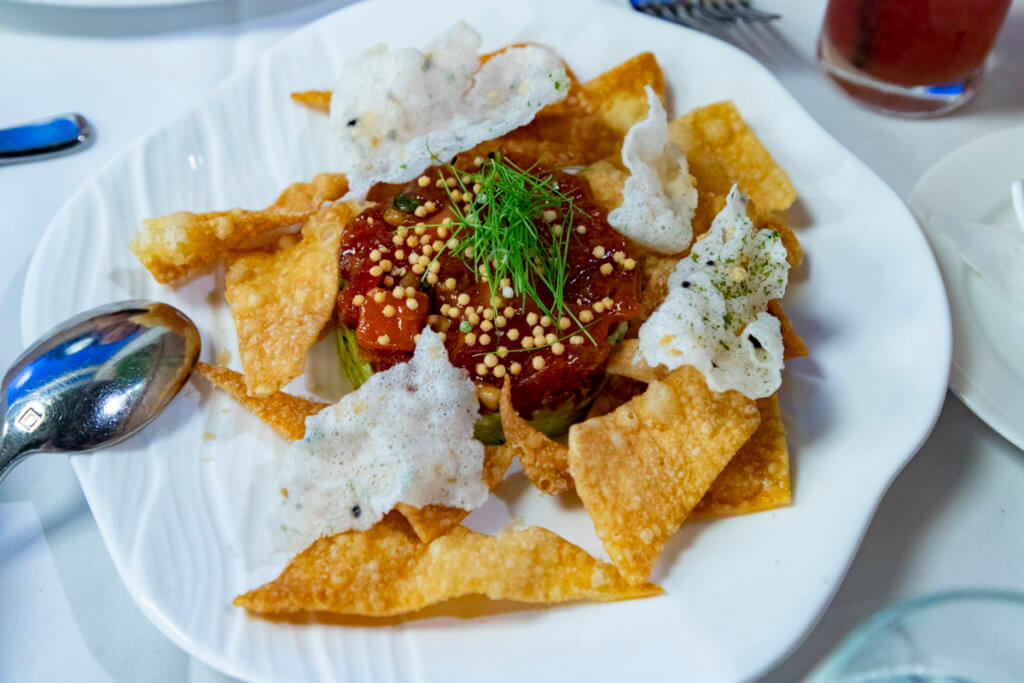 Mains
While you can't order the signature Mochi Crusted Fish at dinner, you can order the tofu version. And that's exactly what Mrs. Island Miler did. It's exactly the same dish as the original, but with, you know, tofu, instead of fish.
Me? I ordered a special of the day, which is the Paella. Yeah, the version at Jaleo is better, but this was a solid one too. More importantly, all of the seafood in it was cooked to perfection.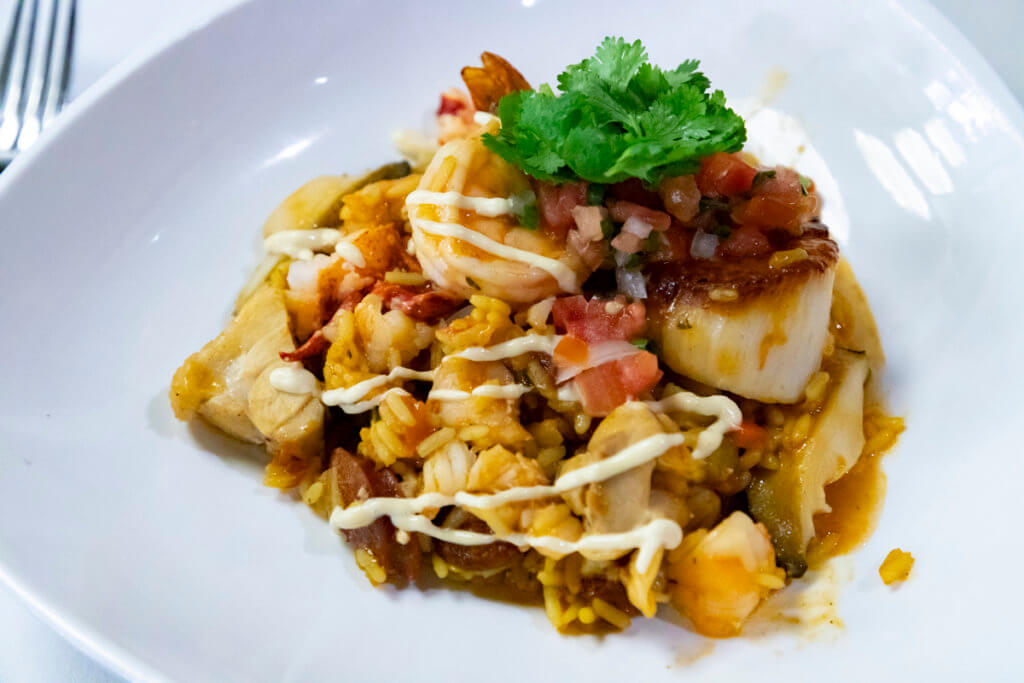 Dessert
As good as the regular food is at MW, the dessert is worth a visit all on its own too. So, despite being too full to eat anymore, the Mrs. and I ended up ordering a couple of desserts. For her selection, Mrs. Island Miler chose the Sampler. I don't remember what was on the sampler plate, but everything was good.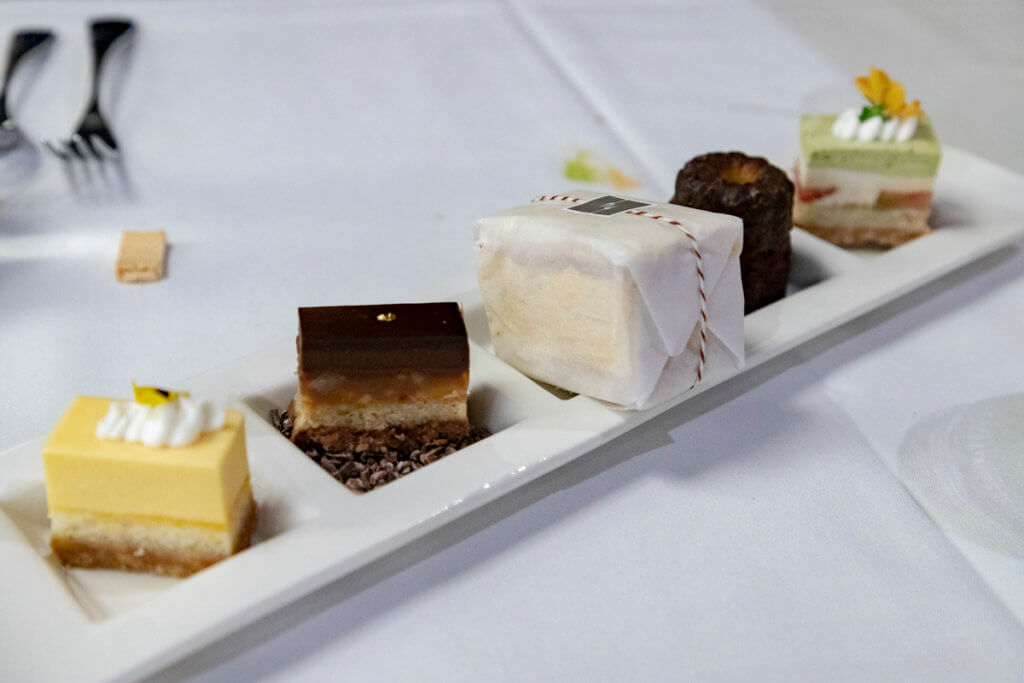 Me? I ordered the Tropical Fruit Creamsicle Brûlée. This is MW's signature dessert and includes Lilikoi Sorbet, Tapioca Pearls, Tropical Fruits, Lilikoi Custard. It's easy to see why this dessert is so loved by all; it's sweet, tart, creamy, chewy, and fruity all at once. All of those flavors and textures make it an interesting, balanced, and refreshing dessert.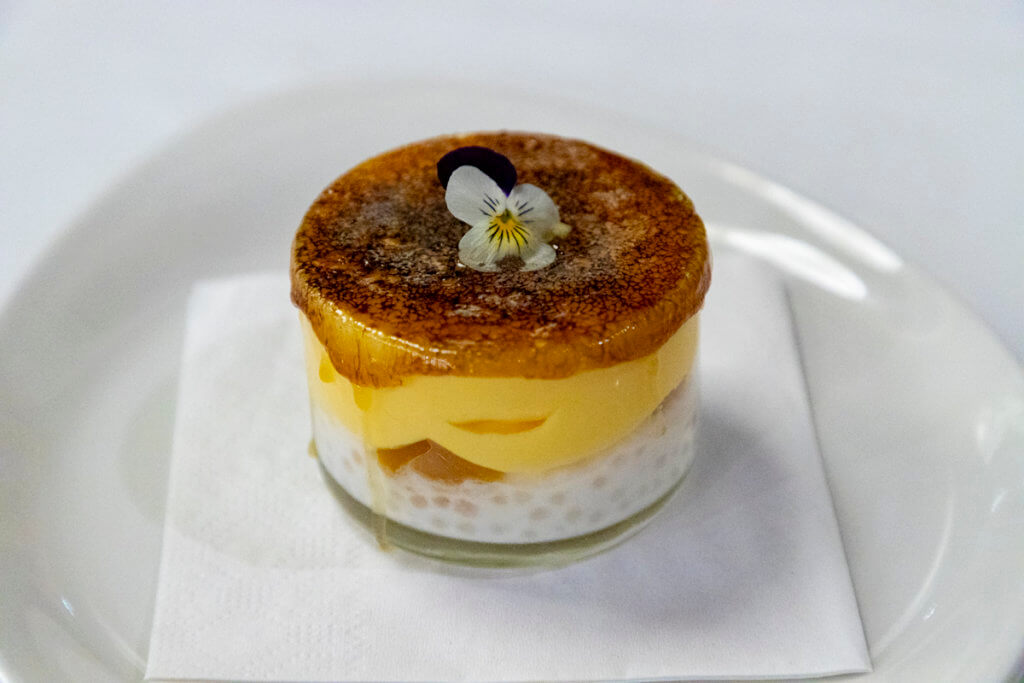 Gifts
As is usually the case, at the conclusion of your meal, you'll receive a parting gift from MW. This time around, we got a pair of Michelle's famous oatmeal chocolate chip cookies and a bag of granola.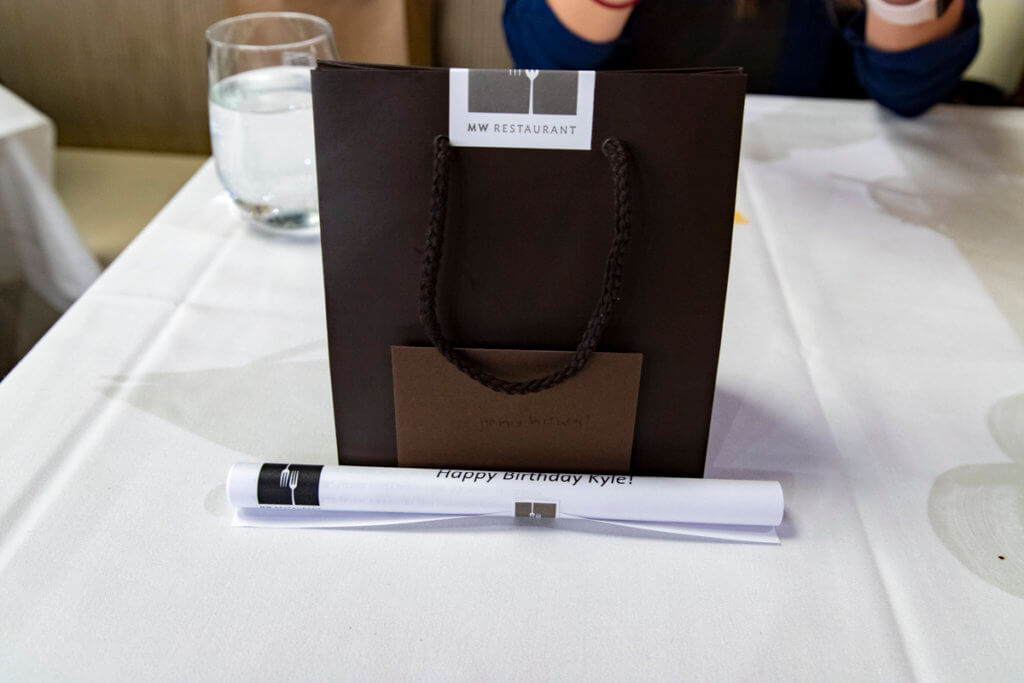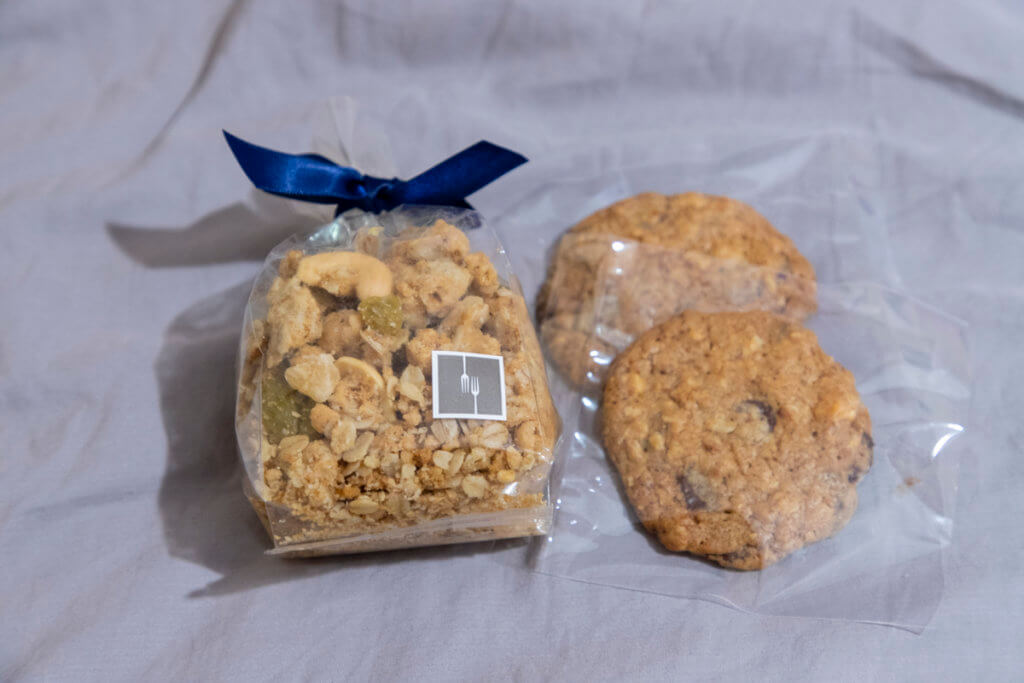 MW Restaurant Dinner, Final Thoughts
As expected, our meal at MW Restaurant was a good one. And I'm not saying that just because my friend is a chef there. I genuinely liked everything we had during our visit. From a value proposition standpoint, though, is where I kind of have an issue. Don't get me wrong, the overall experience is worth paying extra for, I'm just not sure it's worth the prices they charge. But, that's likely due to my own preferences and point of view.
To me, MW is an upscale comfort food restaurant. There isn't really anything that surprises me here because all of the flavors are familiar. And that's probably why I get hung up on the value. When paying fine dining prices, I want an experience that's surprising, different, or somehow blows me away. For visitors to the island, I'm certain MW will accomplish that for you. For Hawaii residents, though, MW is a place to go for good service and an excellent meal while playing it safe. And, there's nothing wrong with that at all, especially after recent disappointments like at Yamada Chikara.