As you all know, because of the pandemic, I've had to cancel two trips (so far). But, only recently, did I cancel my last remaining flight. So, here are my airline pandemic cancelation experiences and how they compare.
Of the two trips I canceled thus far, I had five different flights on three different airlines. The first trip, a weekend getaway to Kauai, was the easiest to cancel, as was my flight between Las Vegas and Los Angeles. The other two flights, of course, were my flight from Honolulu to Las Vegas, and the one from Los Angeles to Honolulu.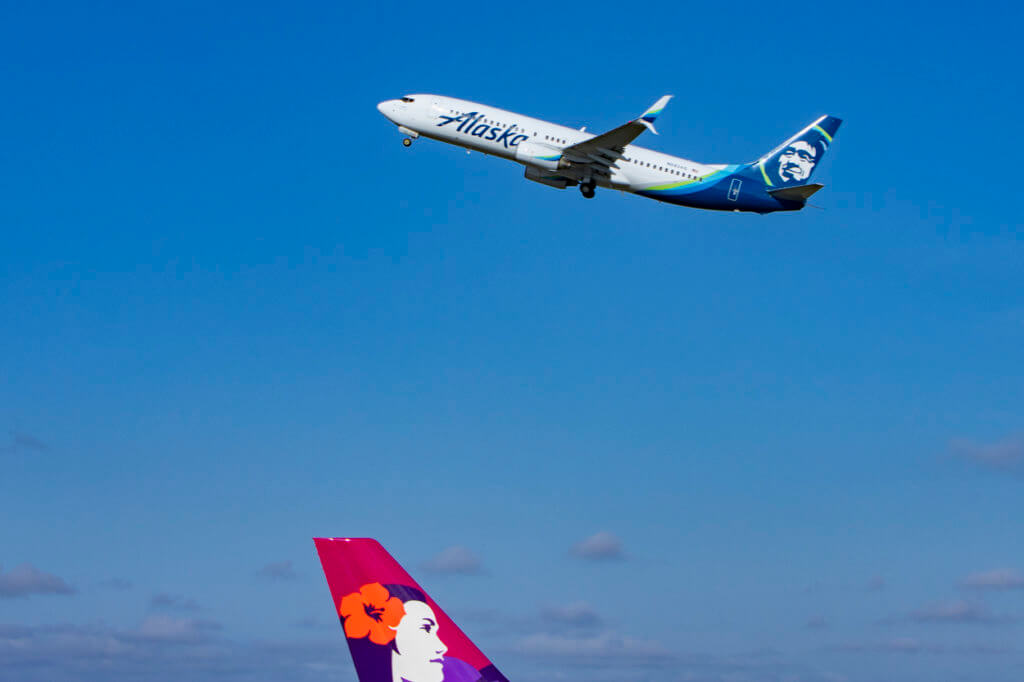 Southwest Airlines
I booked flights on Southwest for both my Kauai trip and my Las Vegas to Los Angeles flights. And, because of Southwest's standard no cancellation fee policy, they were, by far, the easiest to deal with. But, both trips differed ever so slightly.
My first Southwest trip was booked on points for roundtrip flights between Honolulu and Lihue. For that trip, the points immediately redeposited into my Rapid Rewards account, and the taxes were refunded to my Sapphire Reserve.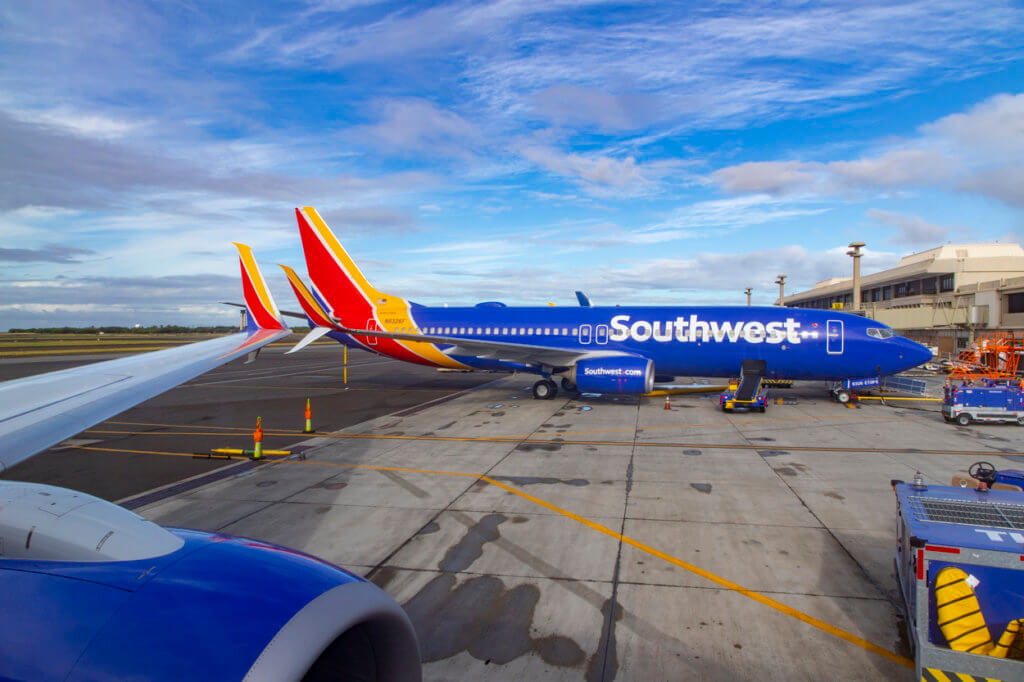 The second trip flight was paid for with cash for a one-way flight between Las Vegas and Los Angeles. For that trip, the cash value was deposited into my Rapid Rewards account, inclusive of all taxes. And, per Rapid Rewards normal rules, those funds were available for use for one year.
Of course, I didn't need the one year to use the funds, as I ended up booking roundtrip flights between Honolulu and Kahului with my credit. The cost for two roundtrip tickets came out to exactly what I had in my account. Win! I'm just hoping I don't have to cancel that flight.
Hawaiian Airlines
Now, my being in Vegas was for work, as it was last year and the year before. And, like the past two years, I was to fly Hawaiian to Sin City. Well, Hawaiian proved to be the most difficult to deal with in all of this. You see, back in mid-March, we requested a cancelation via their online form. Then, a couple of days later, they announced you could request a refund of your ticket. So, we completed yet another online form.
Fast forward another week, and I get an email from Hawaii saying that my flight has been canceled. Of course, the email said I could cancel my ticket and retain the funds to rebook later, or I could request a refund. Of course, I already did BOTH of these a week ago anyway.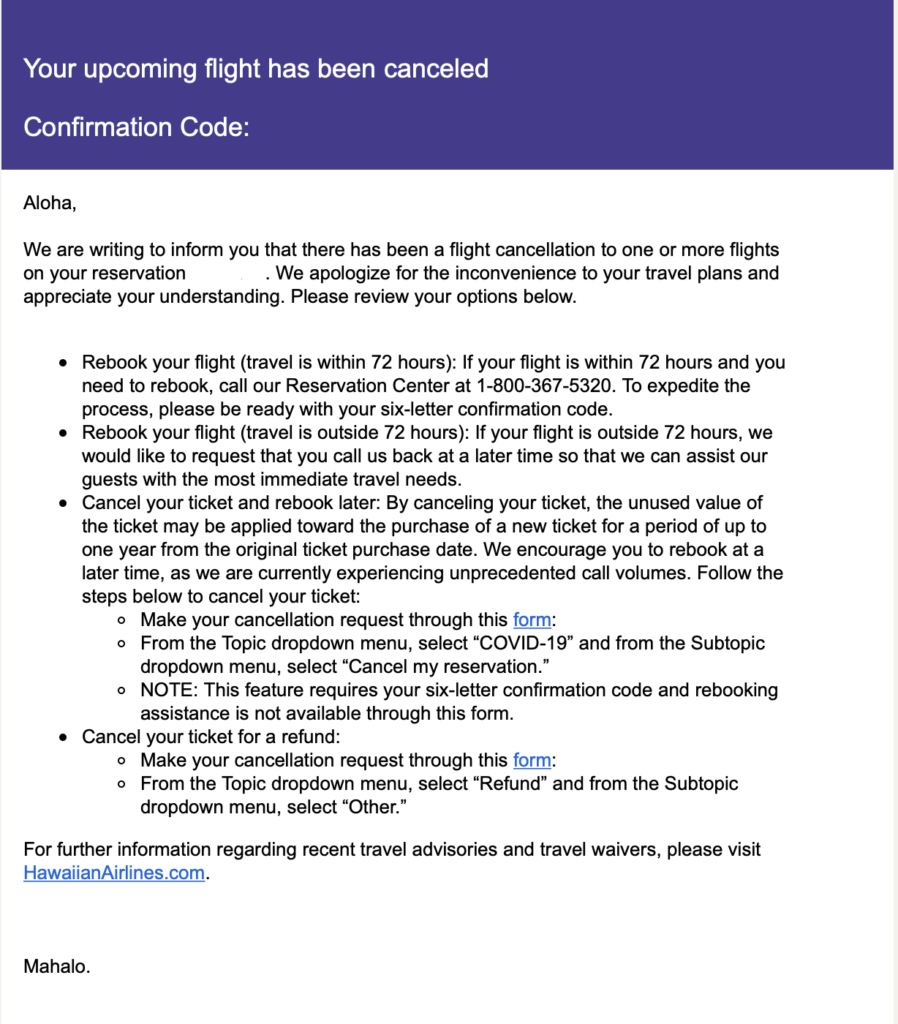 That, of course, was the last we heard from for nearly a month. In fact, it wasn't until a few days after my flight was originally supposed to depart that I got a refund notification and saw the refund post to my card. Interestingly enough, the week before, I saw the seat upgrade fees post to a separate credit card. Weird, right? Oh well, at least I got my money back.
Alaska Airlines
My final flight, the flight home from Los Angeles to Honolulu, was the last I ended up canceling last. In fact, I canceled it just last week, while my flight home was supposed to be this past Sunday. Thankfully, though, this ended up being the second easiest cancelation I made – sort of.
Because I had a companion certificate attached to this reservation, I had to call Alaska to cancel the flight. The wait time with a call back was MINIMAL, and the agent was as friendly, personable, and helpful as ever. Heck, the whole call took, probably, about five minutes.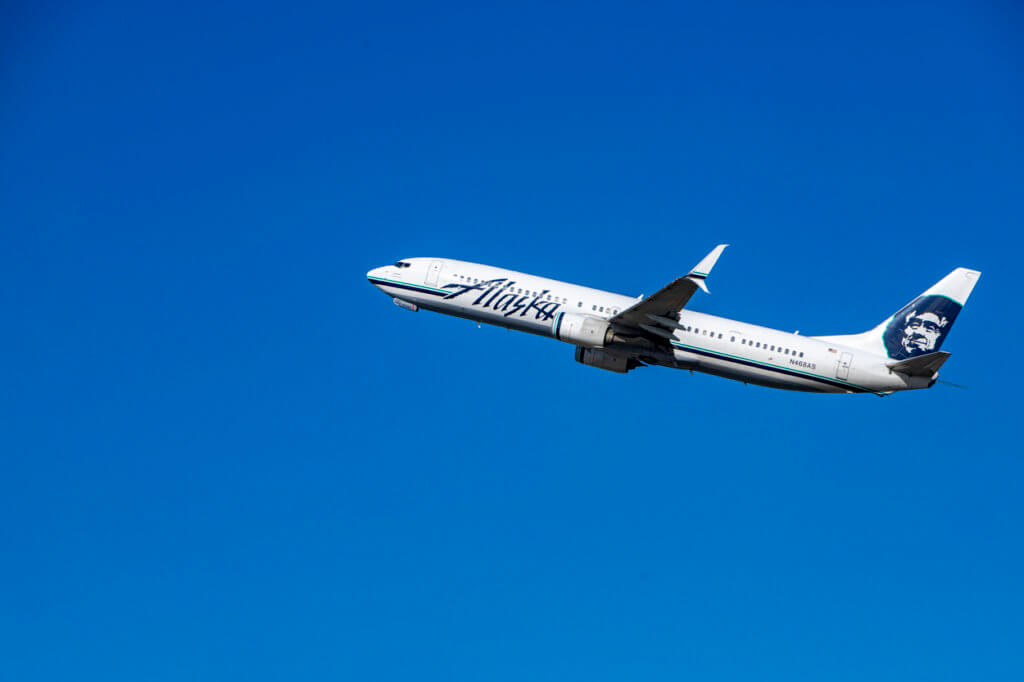 Unfortunately, Alaska doesn't allow you to refund your canceled ticket if your flight wasn't canceled by them, which my flight wasn't. But, they did deposit the value of my and my wife's tickets to my Alaska Wallet. Plus, they gave me back my companion certificate, which was supposed to have expired already, and extended the expiration date to December 31, 2020. Nice.
The only hiccup is that I didn't get my Premium Class upgrade fees returned to me. I need to call them and ask about this again, but I'm hoping to get them back. After all, that's just under $200 for a Los Angeles – Honolulu flight!
My Airline Pandemic Cancelation Experiences, Final Thoughts
In all honesty, I'm not surprised that things turned out the way they did. Southwest always had a free cancelation policy, so it makes sense that they were the easiest to work with. Hawaiian, on the other hand, is notoriously difficult to work with, so the fact that things took so long and were so vague didn't surprise me one bit. And, of course, Alaska, which has been my preferred airline for nearly half a decade now, usually does right by its customers. Yeah, there was a little hiccup there, but things are weird right now, so I'll give them a pass and get in touch with them when I have a little time to do so.
How have your flight cancelation experiences been? I'm sure as hell glad I didn't have any flights booked with United.