The Cosmopolitan of Las Vegas was the hotel I've wanted to review the most in Sin City.  And, recently, I got the chance to stay there.  But, instead of being a fantastic experience, the Cosmo ended up being very underwhelming.
Perhaps I built this property up too much in my head?  Or maybe it was just sheer poor luck?  After all, the Cosmopolitan of Las Vegas is the property I lusted after most in Vegas.  And, so, when I got to attend a conference (for work) there earlier this year, I was really excited to give them a try.  But from very early on, the experience was a mixed bag.  And by the time I checked out, I was sure I'd never stay there on my own dime.  Here's why:
Reservations
As previously mentioned my stay at the Cosmopolitan of Las Vegas was for a conference.  And because of this, I had to go through the conference-specific channels to make my reservations.  I called in rather than making arrangement online, as I wanted to see if I could attach both my Identity and Marriott Rewards number.  And the first guy I spoke with was super friendly, patient and helpful.  But, on subsequent calls, the reps I spoke with came across as if I were bothering them.  And I did have to make calls to make any changes to my reservation as reservations for conferences cannot be pulled on their website.  They use "different" confirmation numbers for group rates, apparently.  Oh, and every time I did a transaction (pre-pay) with them, I'd ask for an e-mailed receipt.  But guess what?  I never got one.
In fact, we later found that my e-mail was input incorrectly.  And every time I asked to verify my e-mail address, the same thing always happened.  Finally, a week before check-in, I got my e-mail corrected, and my reservation became visible in my Marriott Rewards account.
Check-In
The front desk at the Cosmo was a zoo when we arrived.  Chaotic isn't even an overstatement, though fortunately, I didn't have to deal with that mess.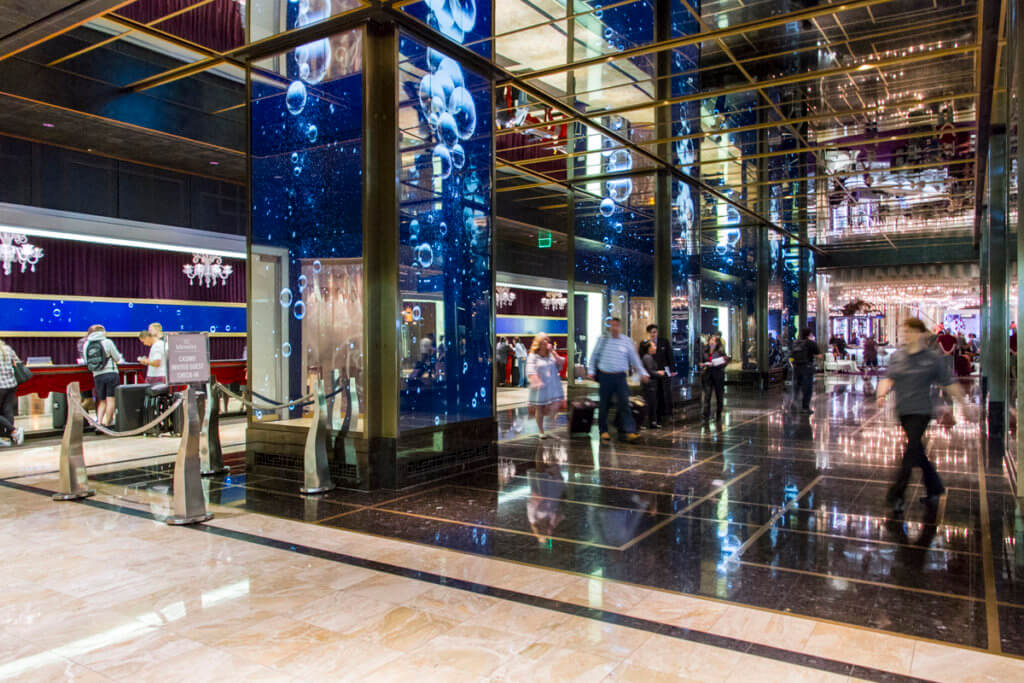 Instead, Marriott Rewards Gold, Platinum, and Platinum Premier Elite members get to use the Autograph Lounge to check-in.  And, no, mobile check-in wasn't an option.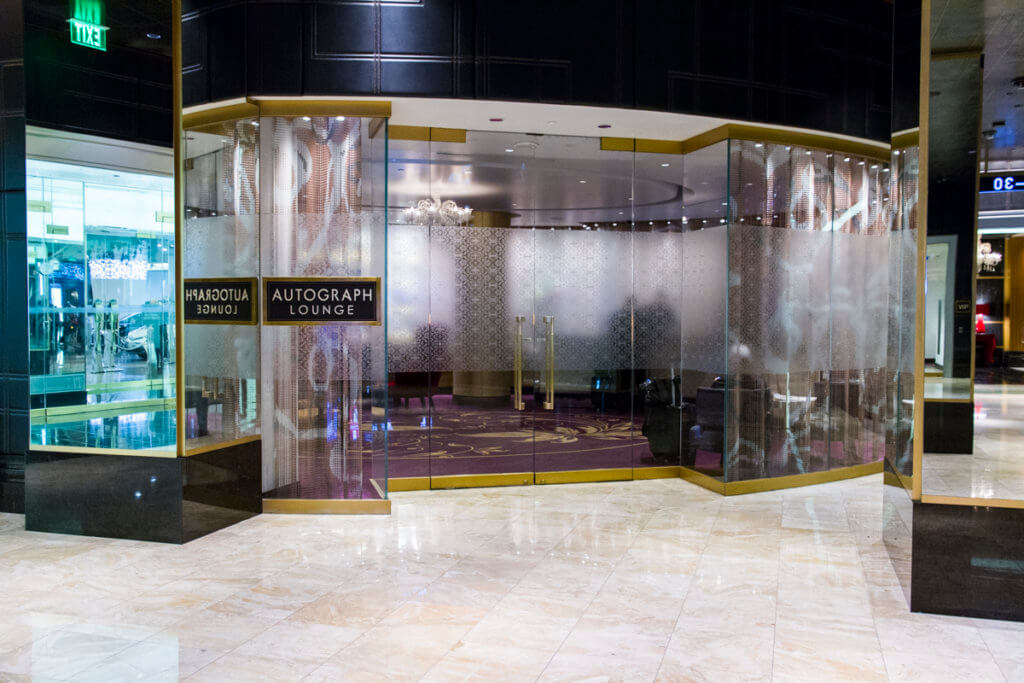 Inside the lounge are a few seats, a coffee machine, and a TV.  But for assistance, you'll still need to stand in line for the lounge's reception desk.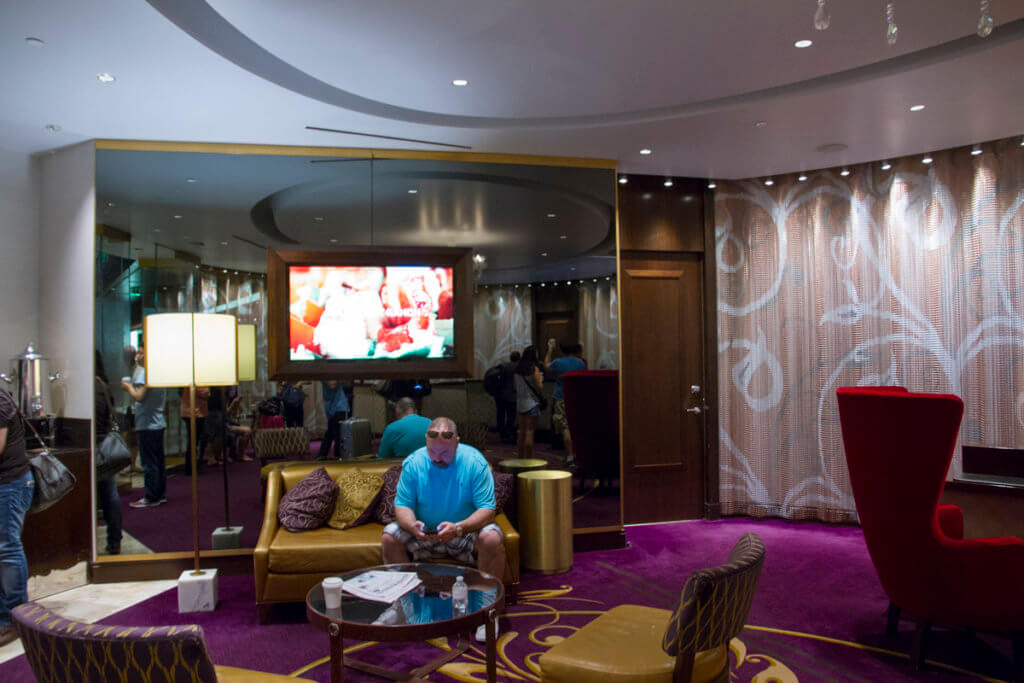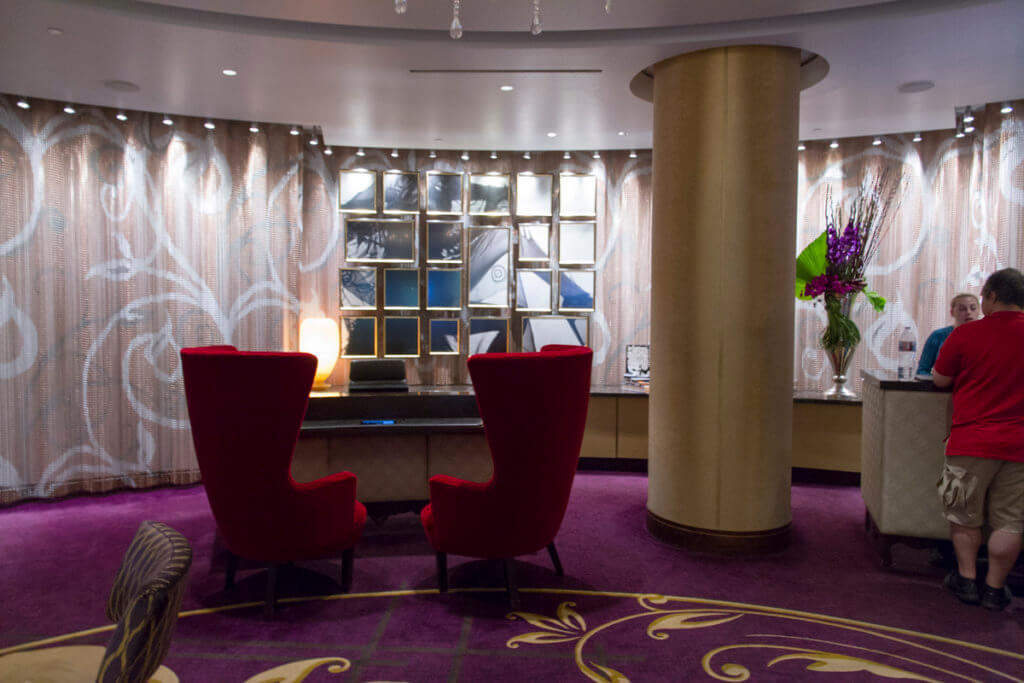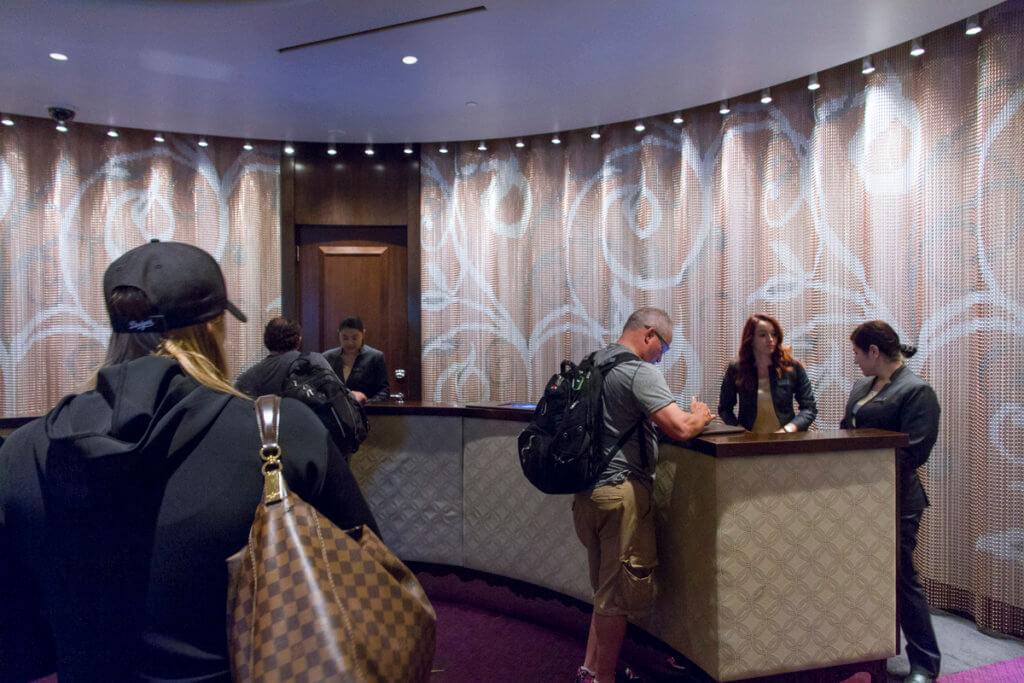 Despite the shorter line in the lounge, it was still around 15-20 minutes till someone got to me.  And then it was another 5-10 minutes to process the check-in.  No rooms were available at the time, though I was given my room keys and welcome packet.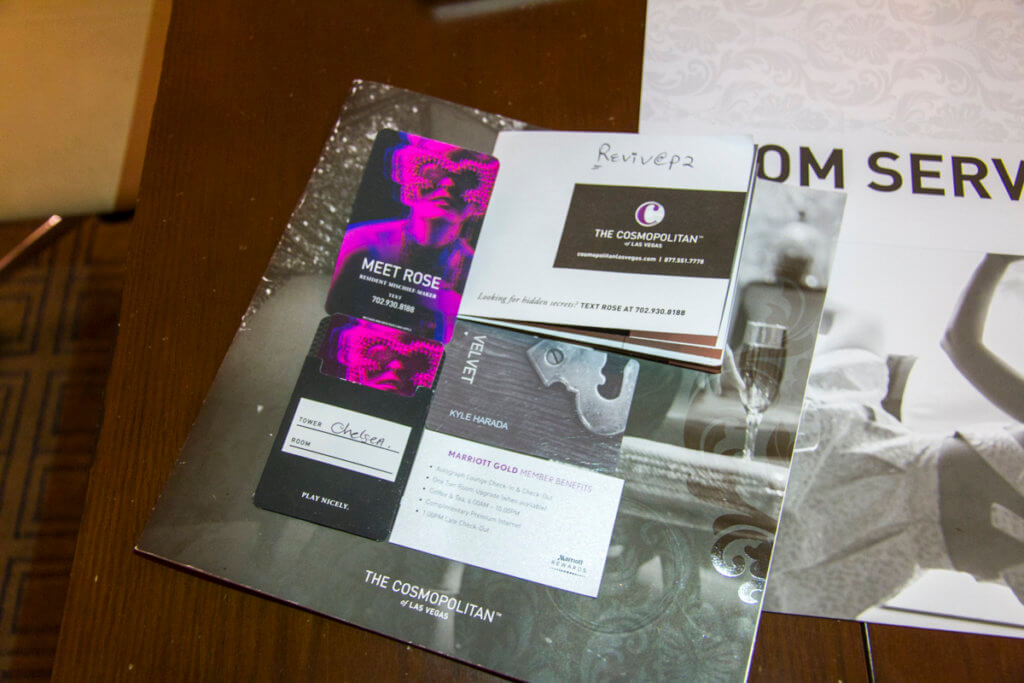 I was then informed that I'd receive a text or a call when my room became available.  In the meantime, we were invited to leave our bags with bell while we explored the property.  And we did just that, but instead of staying in the area, we headed out to Seven Magic Mountains.
Key Issues
Our room keys were quite an experience in themselves.  After checking-in, we left the property, using the keys to exit the parking garage.  Upon our return, my key was able to open our room without issue.  However, our other key wouldn't open the door.  Then, later that night, as we tried to leave the garage, both keys wouldn't open the gate.  Oh, and when you press the call button, no one answers.   So we had to back out of the exit, park the car, run back up to the lobby, and stand in line.  Turns out, both our keys just stopped working, and we had to be issued new ones.  And, no, I didn't have my key next to my phone or something magnetic.
Room
We were assigned a standard room in the Chelsea Tower on the 17th floor.  No upgrades here, which is a given, thanks to the property's popularity.  And while the public spaces of the property are fabulous, the towers look worn and tired.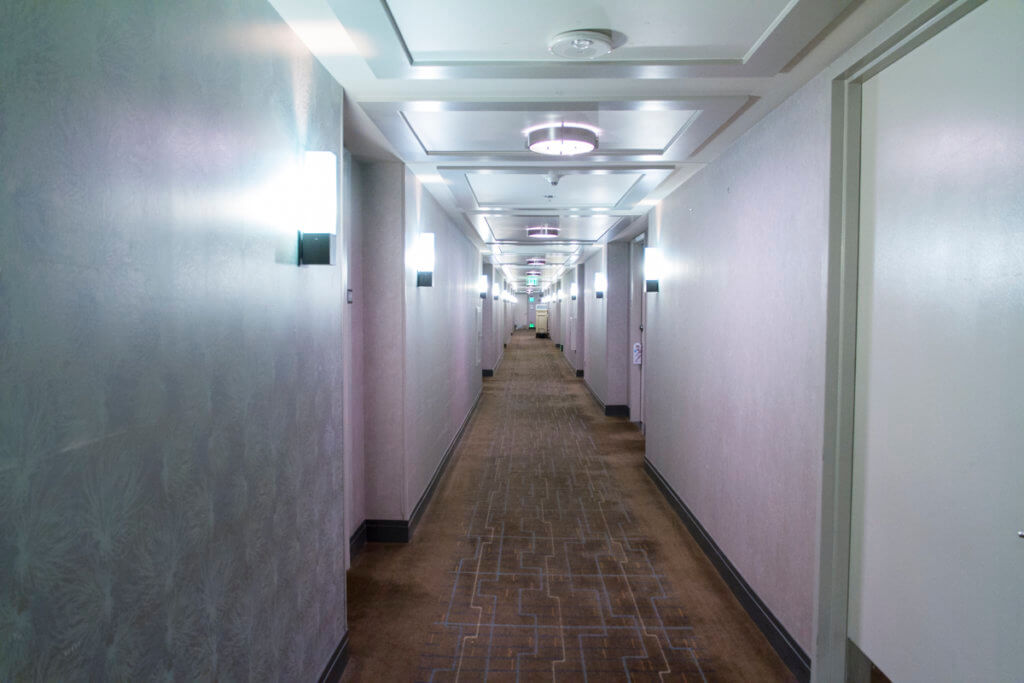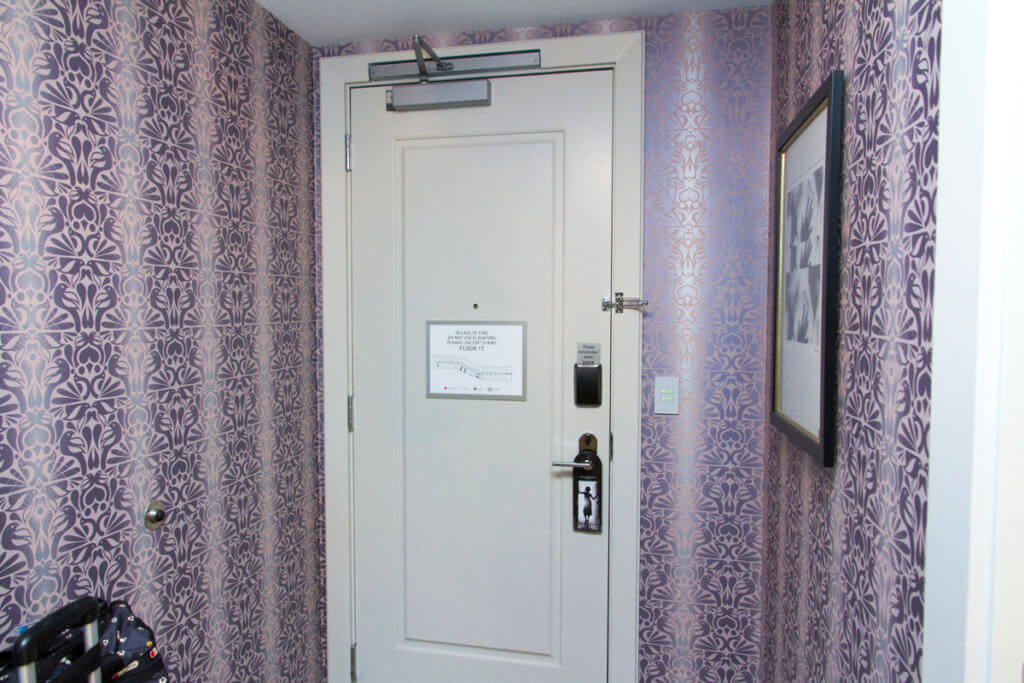 Immediately to the left when entering the room is the bathroom.  It's a large space that opens up into the rest of the room and features a jetted tub, a separate shower, dual vanity, and separate water closet.  And like at the Delano, the water pressure and temperature at the Cosmo is pretty good.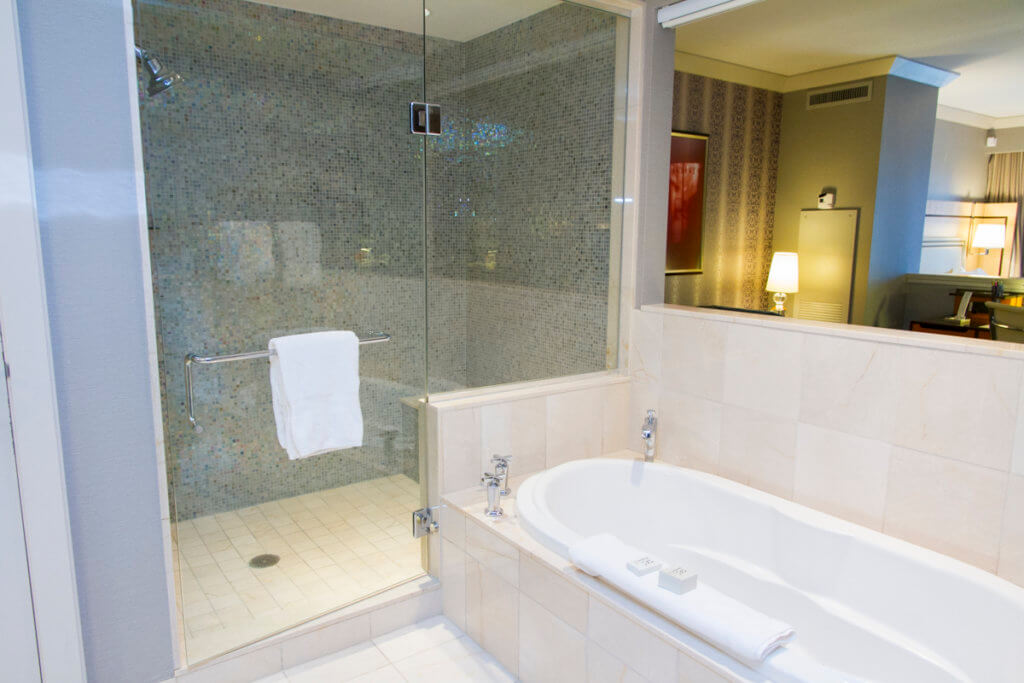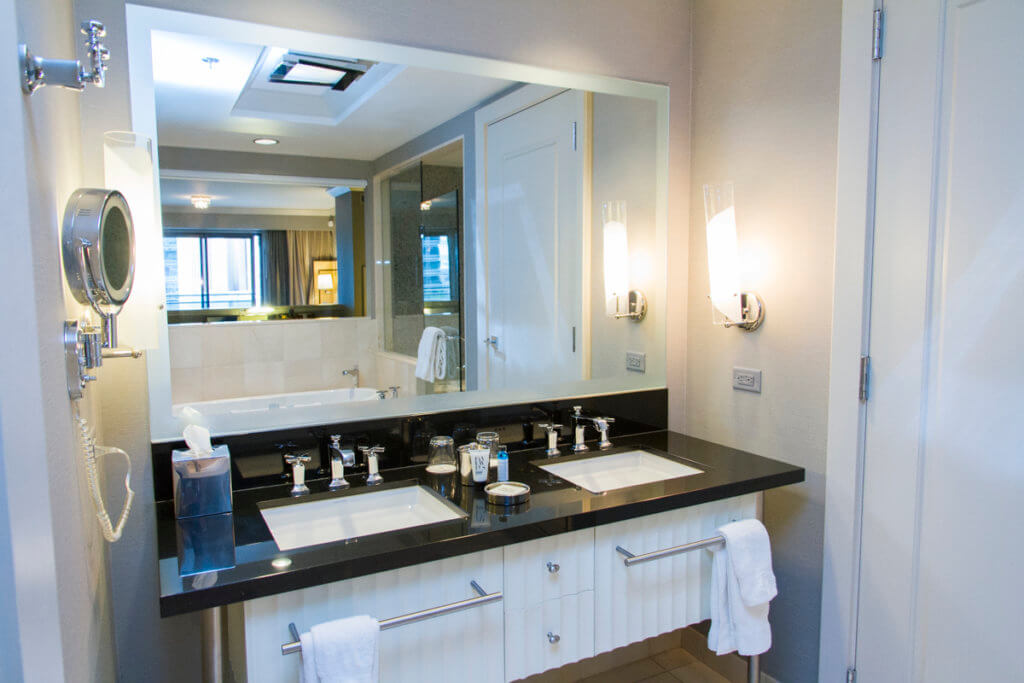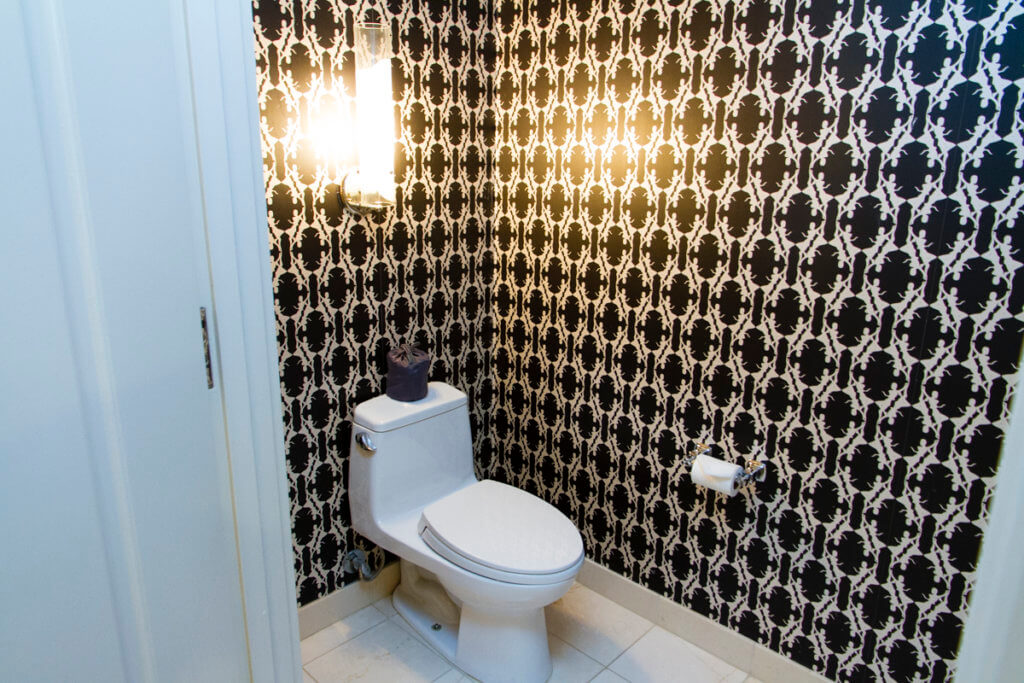 Next to the bathroom is a separate sitting area, which includes a large sofa, coffee table, chair, and a work desk with chair.  Across from that, there's a large HDTV with a built-in counter and stools under it.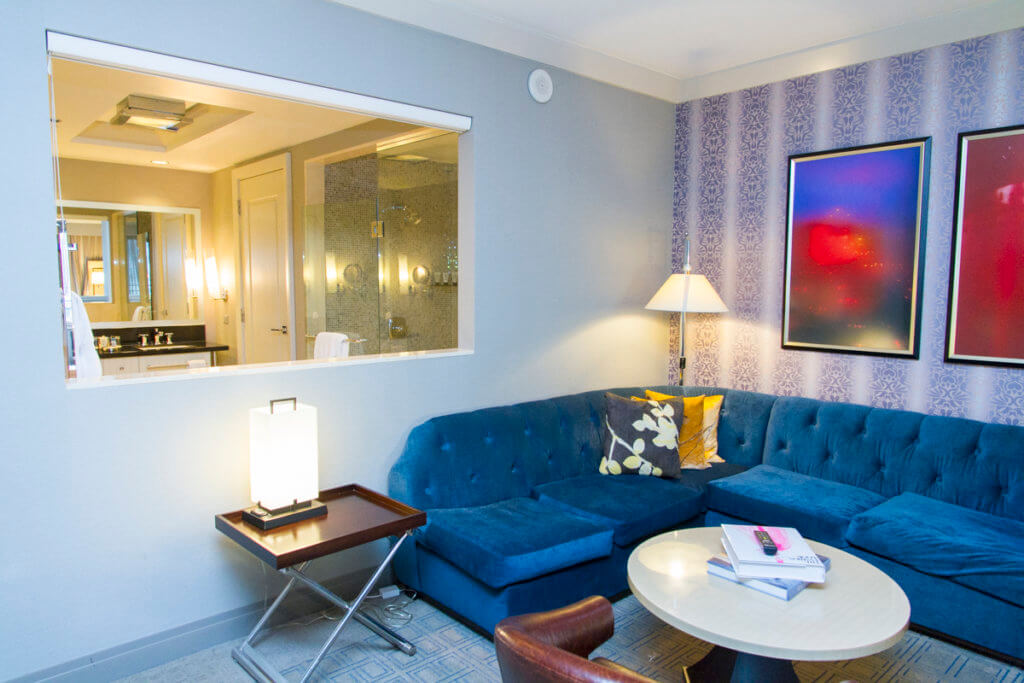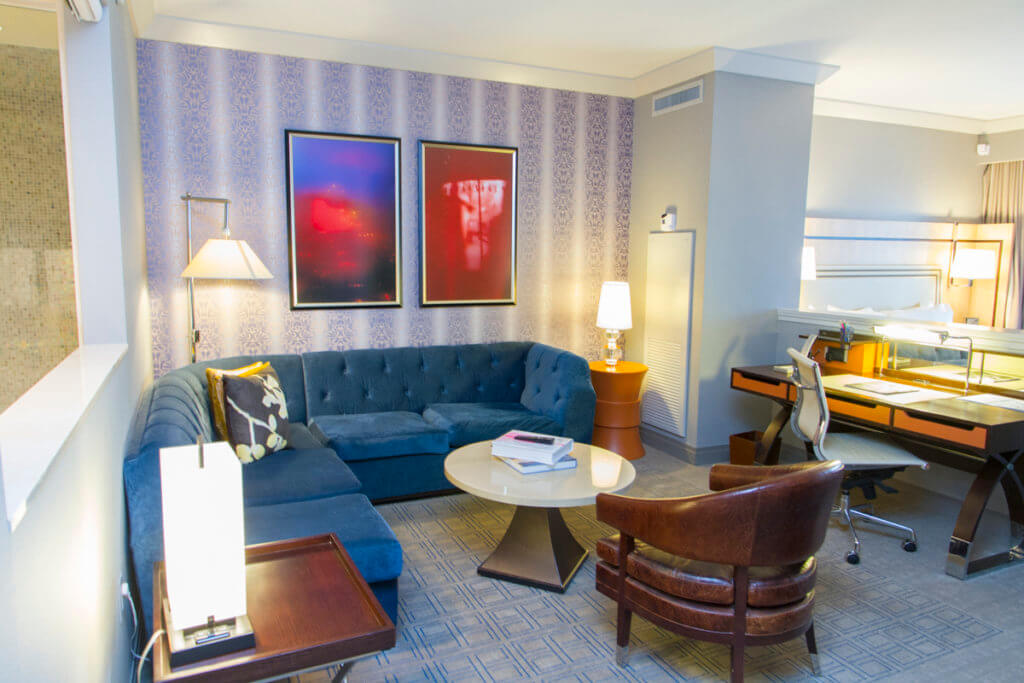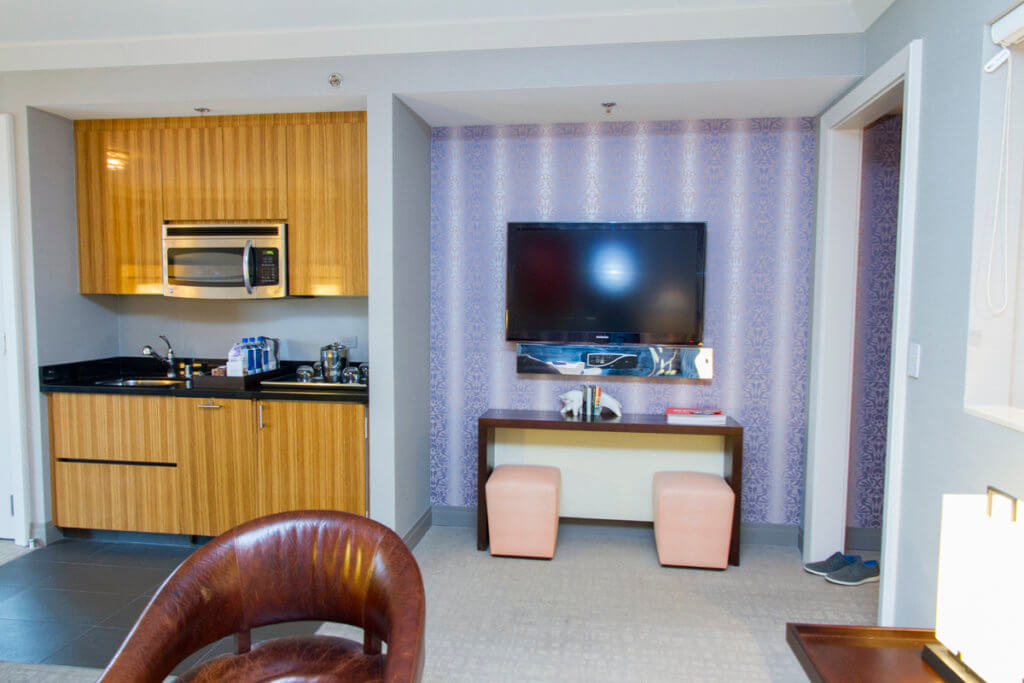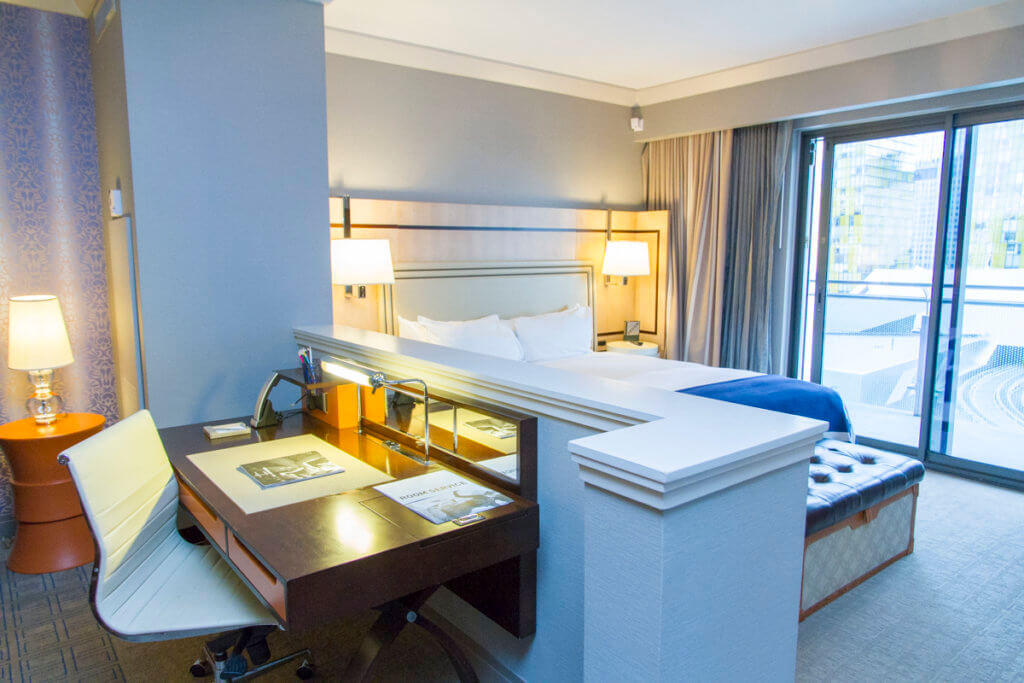 Immediately next to the TV is an interesting feature, a kitchenette.  And not only is there a wet bar and a minibar, but also a dishwasher!  Weird.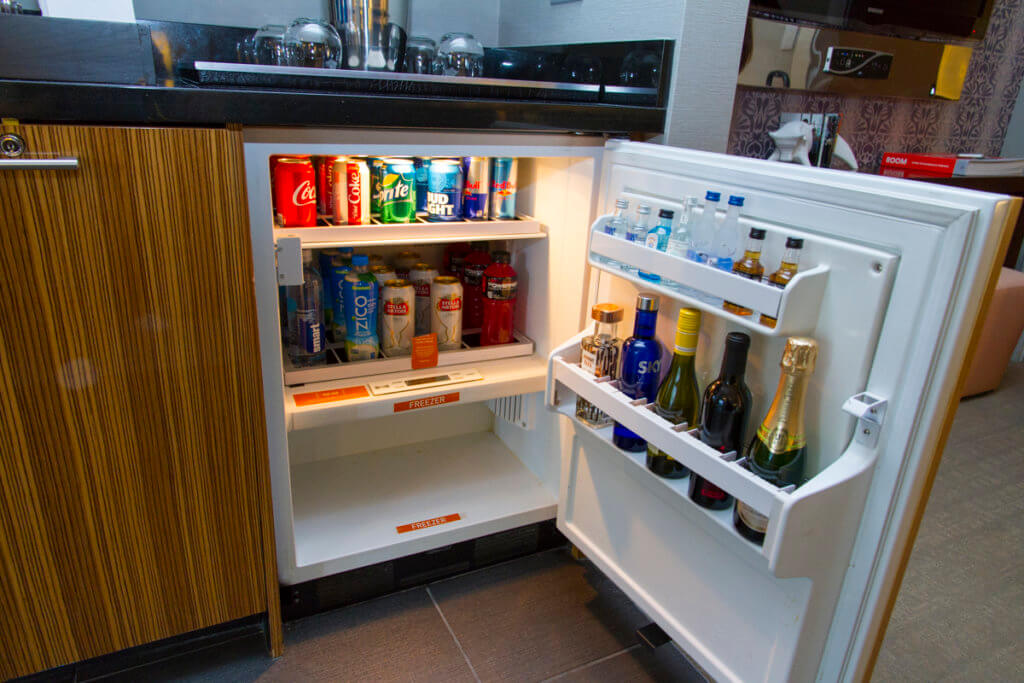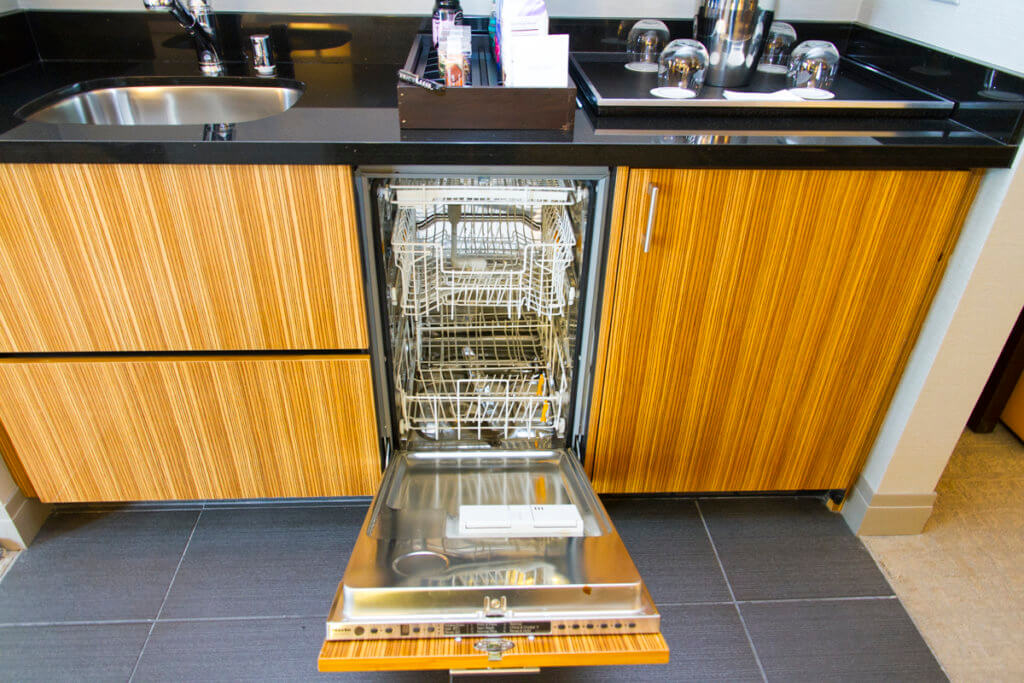 The remaining third of the room is occupied by the bedroom portion.  Our room featured a king bed, across from which were two closets, another HDTV, and another desk with a chair.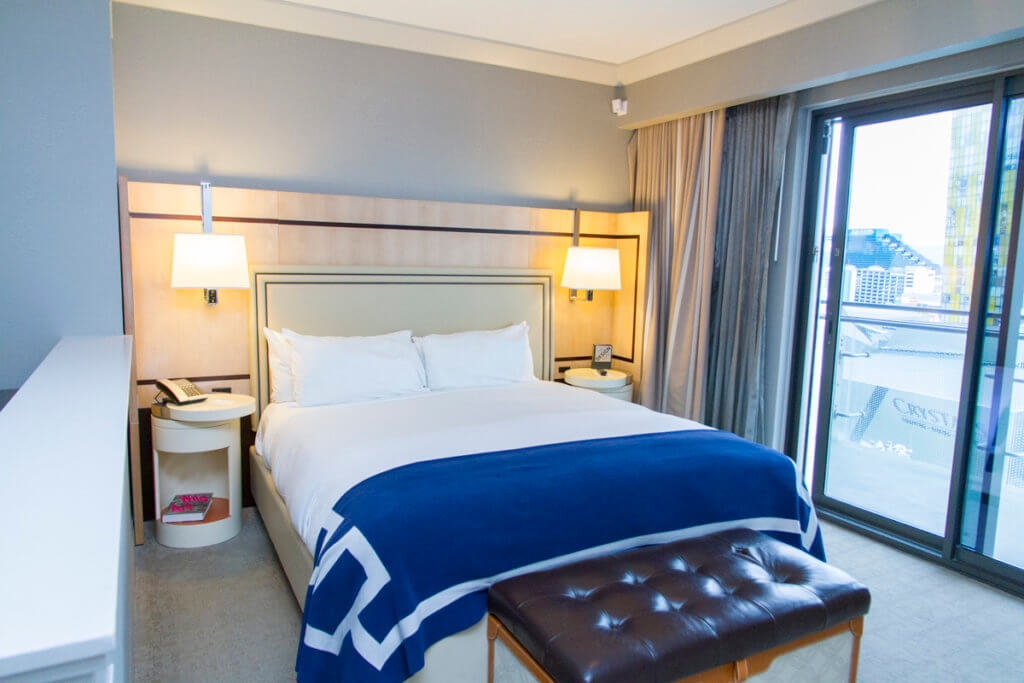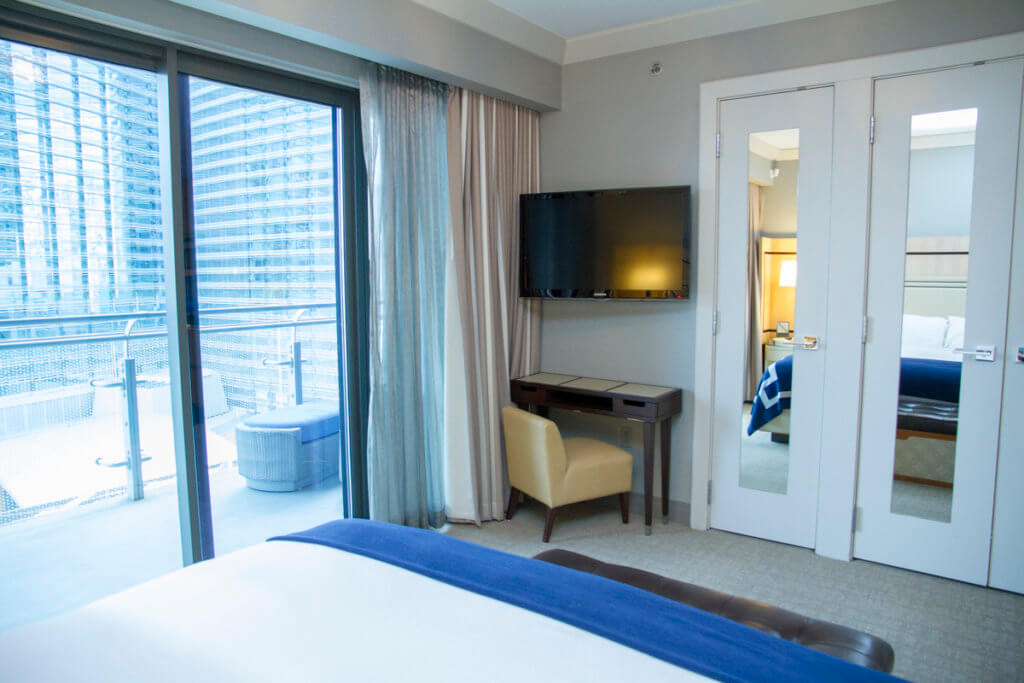 The left, smaller closet isn't really a closet at all.  It's more like a very large dresser, which also houses the safe, iron and ironing board.  Oh, and that safe is not large enough to house an older 15″ MacBook Pro.  The right side, on the other hand, has a couple of robes and extra bedding.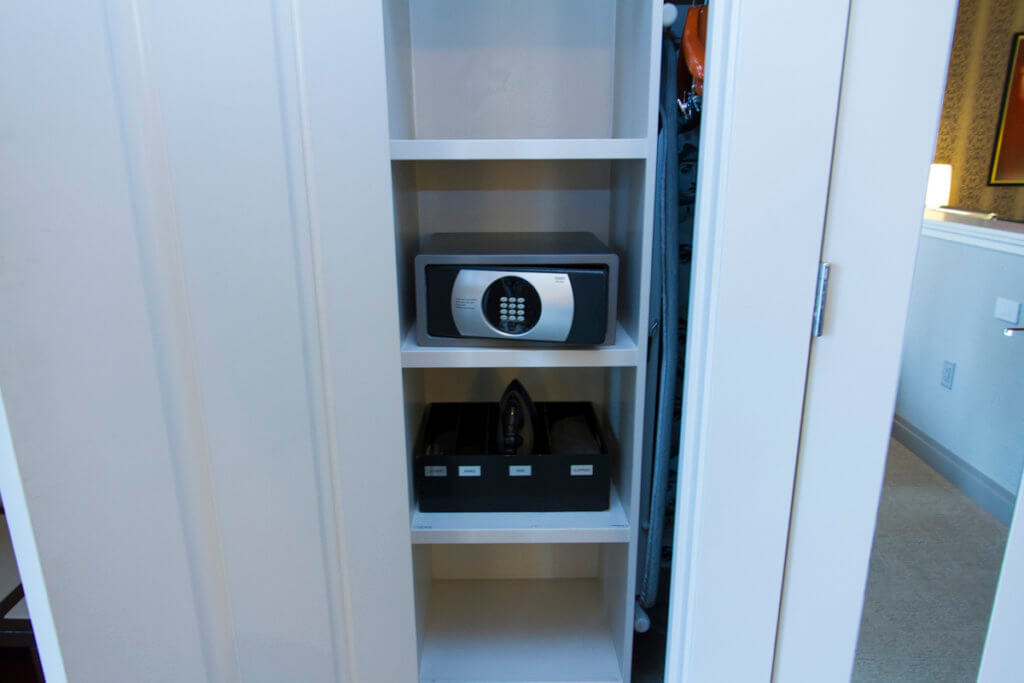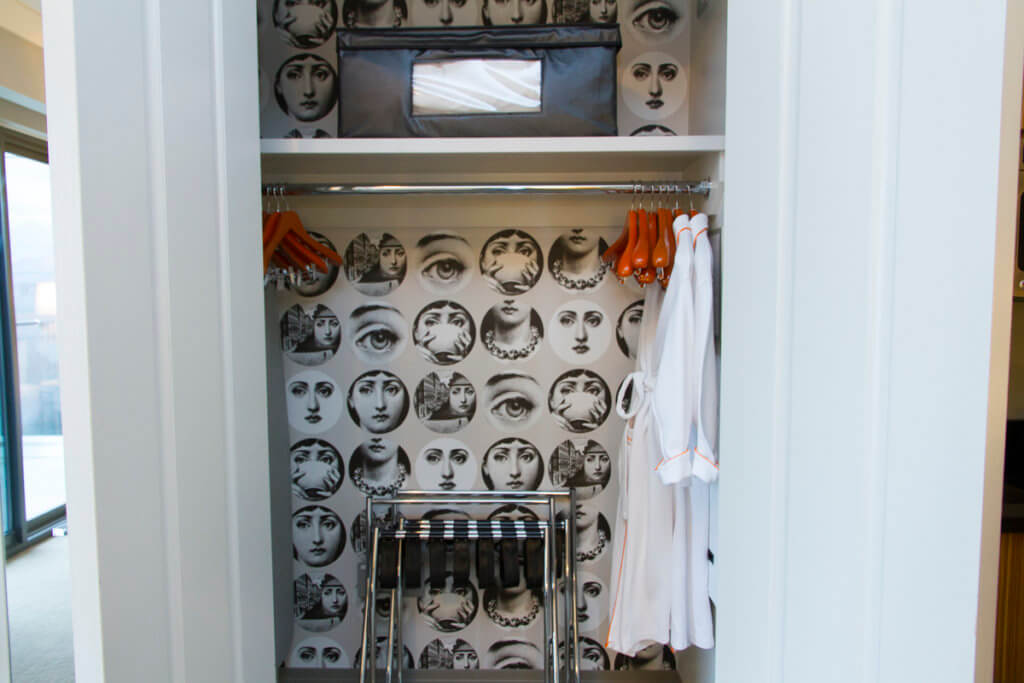 Technology
Now, the area where the Cosmopolitan of Las Vegas excels at compared to other Vegas hotels I've stayed at is the WiFi.  In-room, the single was strong most of the time, though I had some signal drops here and there.  And the speed was good too, regularly clocking in around 50 Mbps down and around 20 Mbps up.  But the room lacked power outlets, with just a couple by the bed and on the desk.  And the "bedroom" light controls were on the divider between the bedroom and the sitting area.  WHY?!  Plus, unlike the Delano or Aria, the Cosmo uses old-fashioned do not disturb signs.  Again, WHY?!
The room also has two phones, a corded one on one of the nightstands and a cordless one on the desk.  The TVs were something we never used, partly because the remotes didn't seem to want to work.
Sleep Quality
Perhaps the most important aspect of any hotel room is sleep quality, and here the Cosmo fell flat on its face.  The bed was ok, if not a little stiff and springy for my liking.  But the air conditioner barely reaches the bed, making it the warmest part of the room.  And that's not a good combination with the Cosmo's thick down duvet.  Many a night I woke up sweating because it got so hot.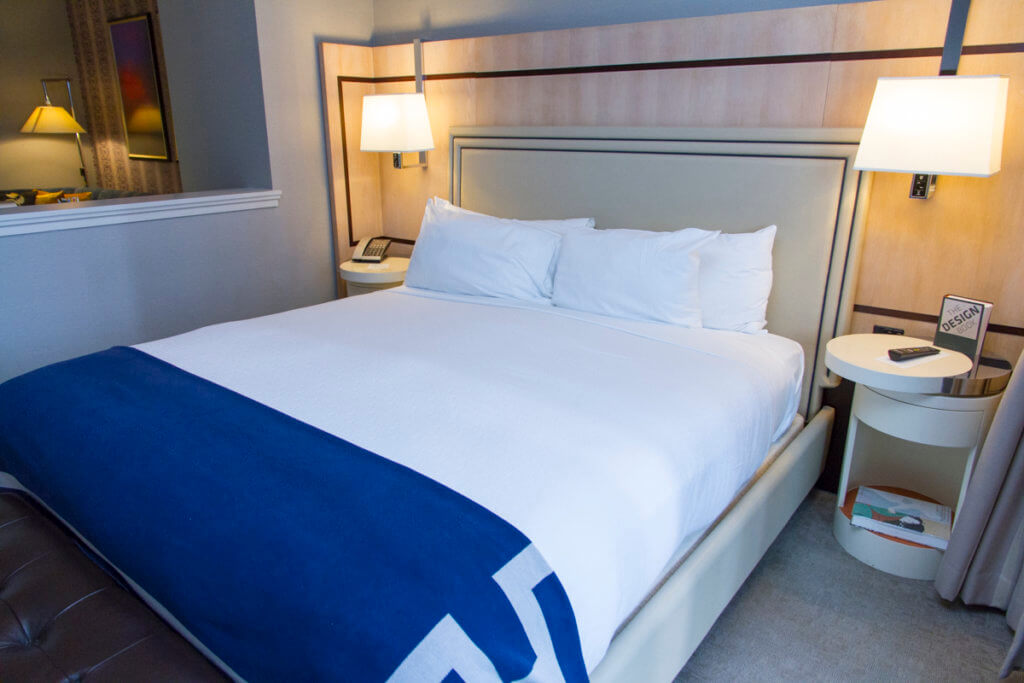 Oh, and remember that jetted tub?  Yeah, it has a loud "self-clean" feature that kept coming on at 2:00 am.  It took maintenance almost an hour to come up and turn off the circuit for the tub, something I could've done myself if they only told me where it is.  But our tub wasn't the only noisy thing in our room; our mini bar made a loud buzzing sound too.  And, unlike the Delano, we could clearly hear every person in the hallway at the Cosmo.
This has nothing to do with sleep quality, but see that book on the bottom of the nightstand in the above picture?  It's full of 17th-century pornographic illustrations from Japan.  Doesn't bother me, but if you ever bring kids to this hotel (you shouldn't) hide the book before they see it!
View
Ironically, my view at the Cosmo was one of the better ones I've had in Vegas.  From my balcony, I could see the pool and the neighboring Aria Resort.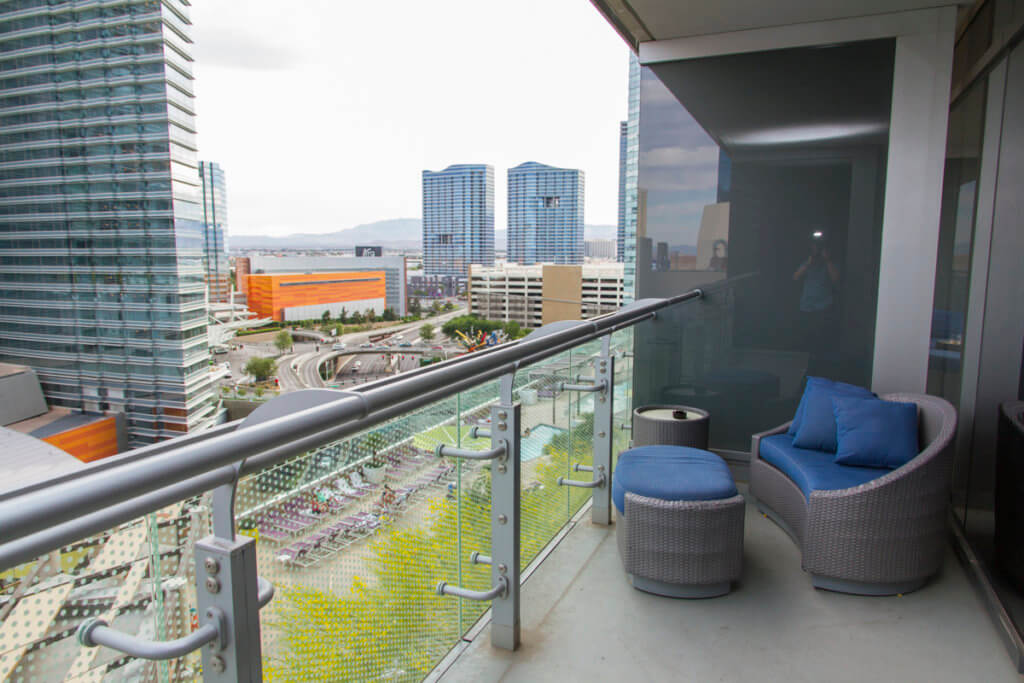 The penthouse suite some 40-something floors above me has a much nicer view, though ?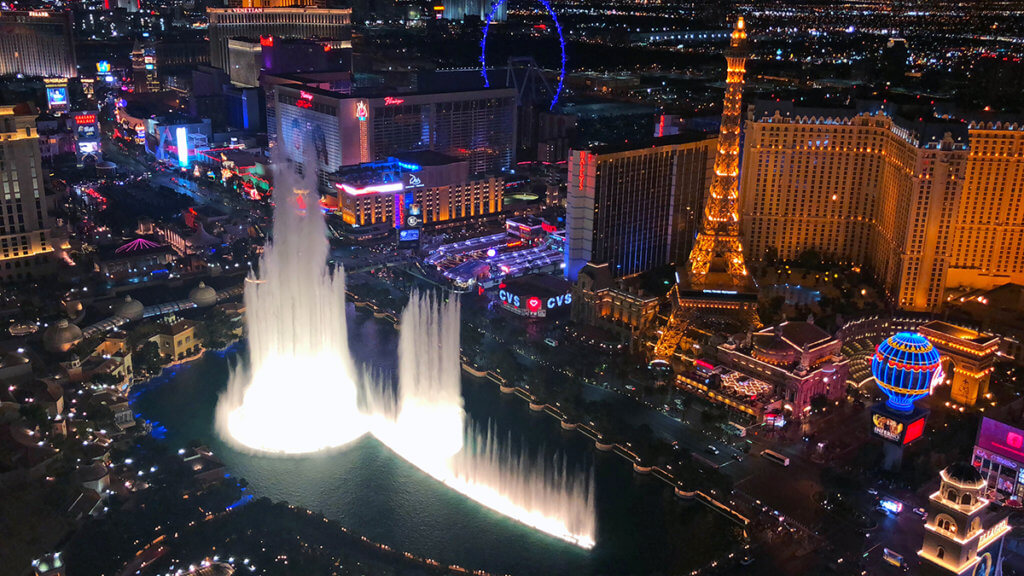 Check Out
I had a mid-day flight, so I ended up checking out before the standard time.  And even then I ended up having to wait 10-15 minutes to check out.  The check out process itself took another 5-10 minutes, at which time I verified my Marriott Rewards number as well.  Despite that, though, my points didn't post to my account.  I ended up having to file a missing stay claim with Marriott once the waiting period ended.  The only good news in all this is that they forgot to charge me for parking.
Cosmopolitan of Las Vegas, Final Thoughts
I'm glad I finally got to check out the Cosmopolitan of Las Vegas.  But, I must say, this stay has got to be one of my most disappointing stays, ever.  There were just so many deficiencies across the board for what I thought is a well-regarded property.  I mean, the room itself wasn't even comfortable.  And so the Cosmopolitan lands dead last on the list of Vegas hotels I've tried, while Delano takes the top spot.  It does remain, however, a fantastic place to dine, but that's all.  I can't see myself staying here again, given the option, so I probably won't.  The conference I went to this year has already confirmed that they'll be moving to Caesar's Palace next year.  And while I'd prefer a Marriott affiliated property, staying here just isn't worth it.
Las Vegas 2018