Our Big Adventure
Punalu'u Black Sand Beach
After we loaded up on sweets at Two Ladies Kitchen, we headed out of Hilo to make the long trek back to Kona.  But rather than take Saddle Road up through the center of the island, we decided to take the route around the southern tip of the island.  Our goal for this path was to visit Punalu'u Black Sand Beach and the Punalu'u Bake Shop.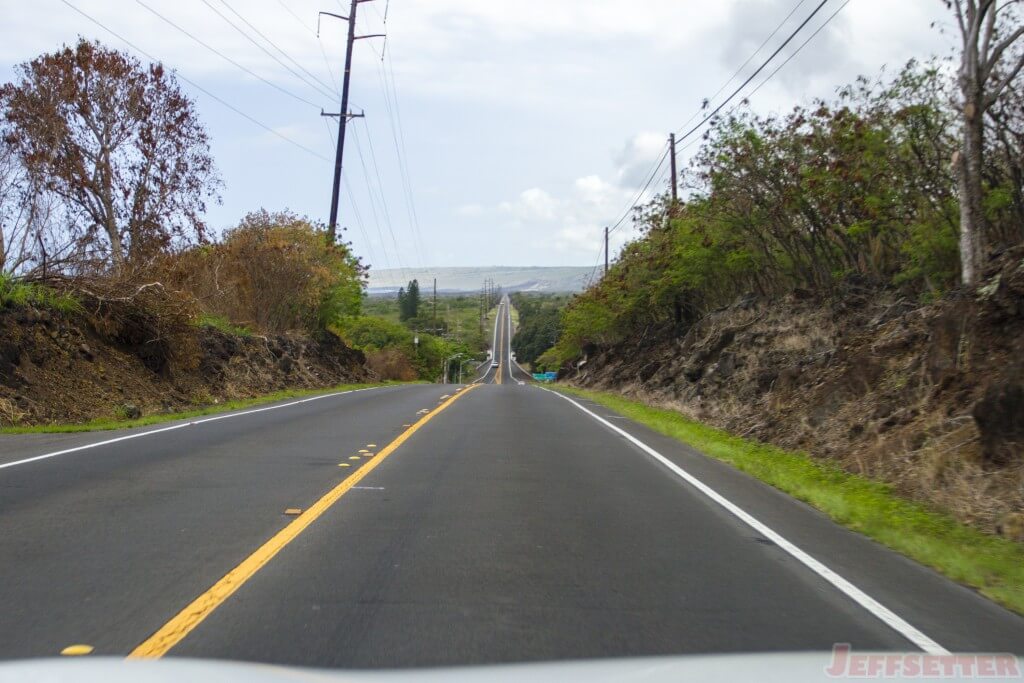 Having lived in Hawaii all my life, and more specifically on the island of Oahu, driving for hours and hours and highway speeds isn't something I'm all that used to.  It literally takes around 2 hours to drive around the entire island!  So driving on the Big Island, where it take 4 hours to make a round trip, was different for me.  Anyway, we had originally planned to stop at the beach and then the bake shop, but we realized we wouldn't make it if we did that.  We instead shot past the beach and stopped at Punalu'u Bake Shop first.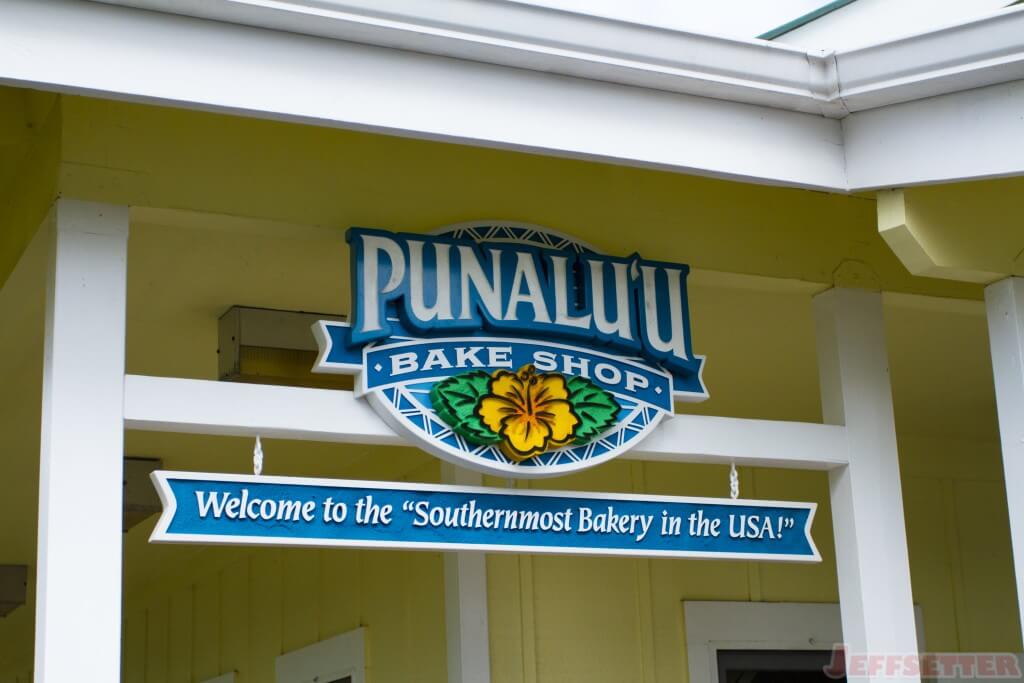 I'm not sure why they call this place the Punalu'u Bake Shop… It isn't even in Punalu'u!  The bake shop is actually in Na'alehu, a 15 minute drive from the beach.  By the time we arrived most of the baked goods were already sold out.  They did, however, have their sweet breads and cookies available, and the take-out counter was still opened.  We ended up buying some cookies (which we didn't like) and some apple cinnamon sweet bread (which was really good), and made use of the facilities before setting off again.
After backtracking for 15 minutes, we arrived at Punalu'u Black Sand Beach Park.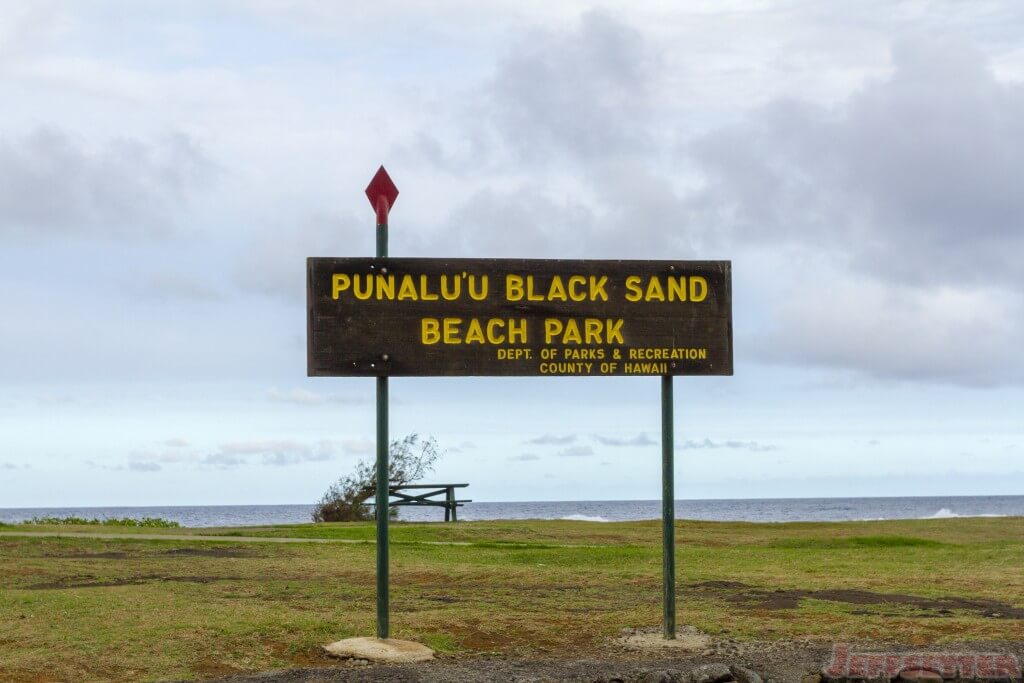 Black sand beaches are actually somewhat common on the Big Island.  Punalu'u, however, is one of the easier ones to access and a picturesque one.  That's probably why it's also one of the more popular ones and why it is often crowded with tourists and locals alike.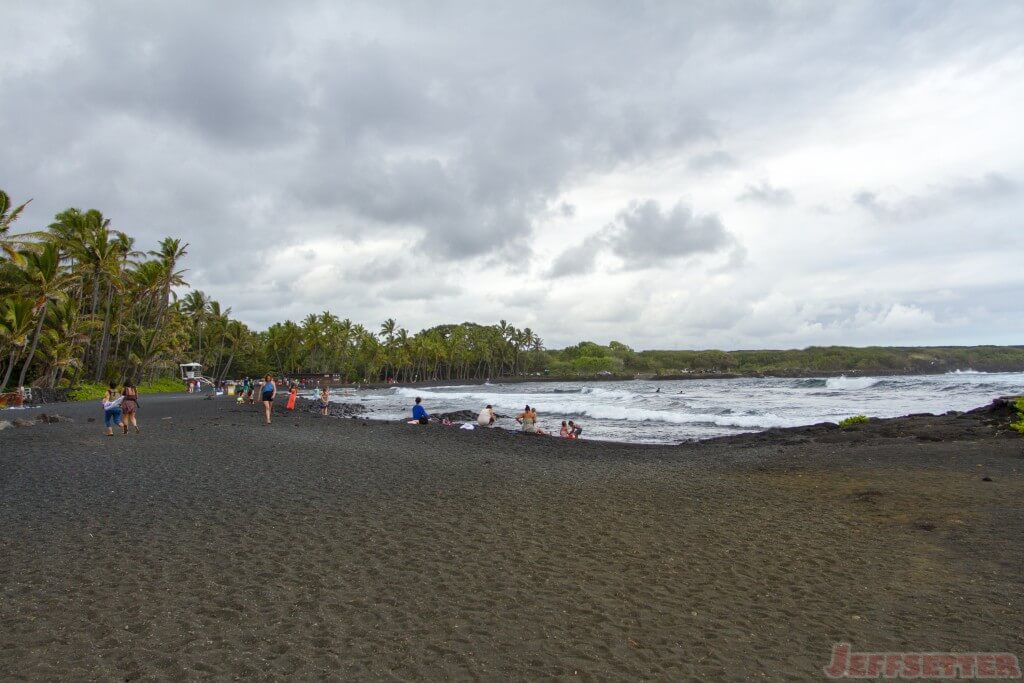 When you step out onto the beach, you'll notice that the sand is a lot warmer than regular sand.  The dark color absorbs more heat from the sun, but the sand here isn't actually sand.  Black sand beaches are composed of pulverized lava rock, a by product of the violent interaction between sea water and lava as it enters the ocean.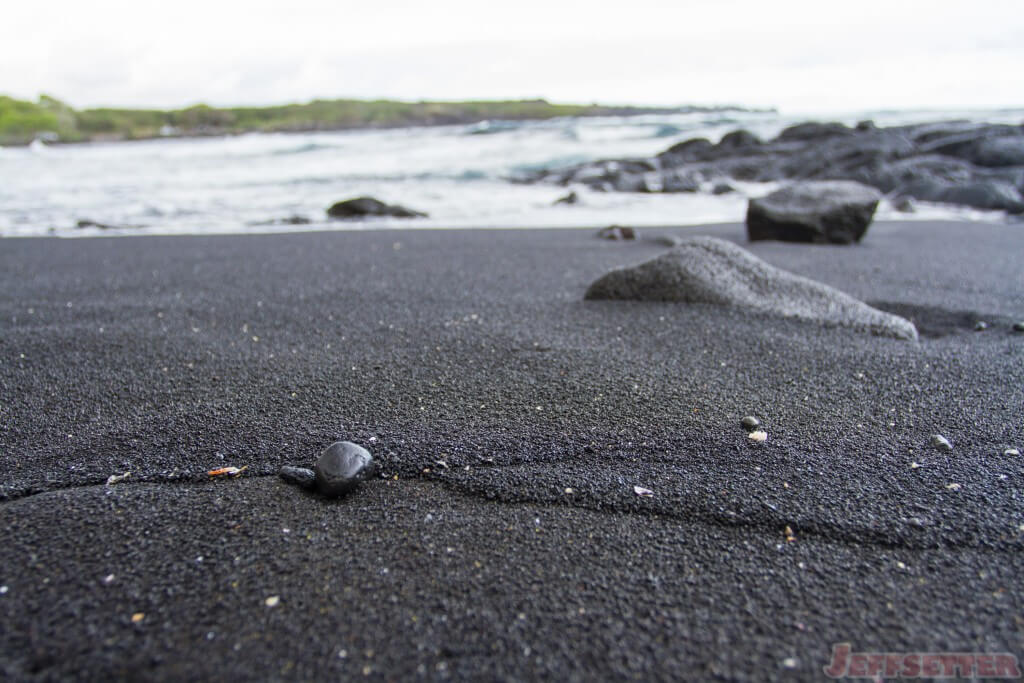 And if you look closely, the grains of black sand do indeed look like tiny pebbles.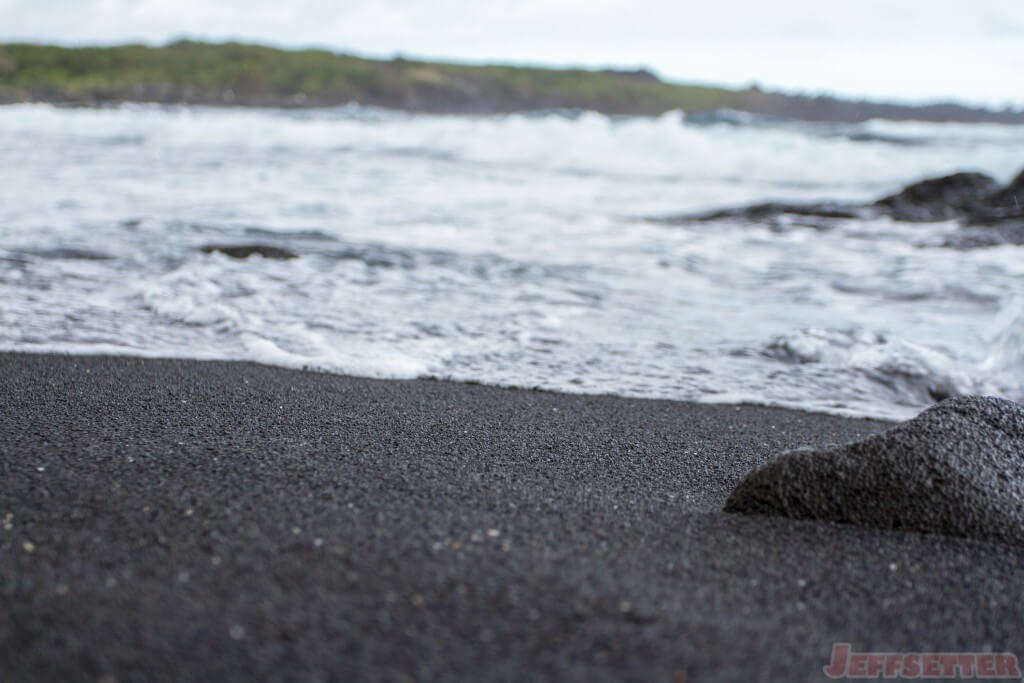 Another attraction of the beach is its popularity with honu, or sea turtle.  They love to rest on the warm sands of Punalu'u, and can often be seen here.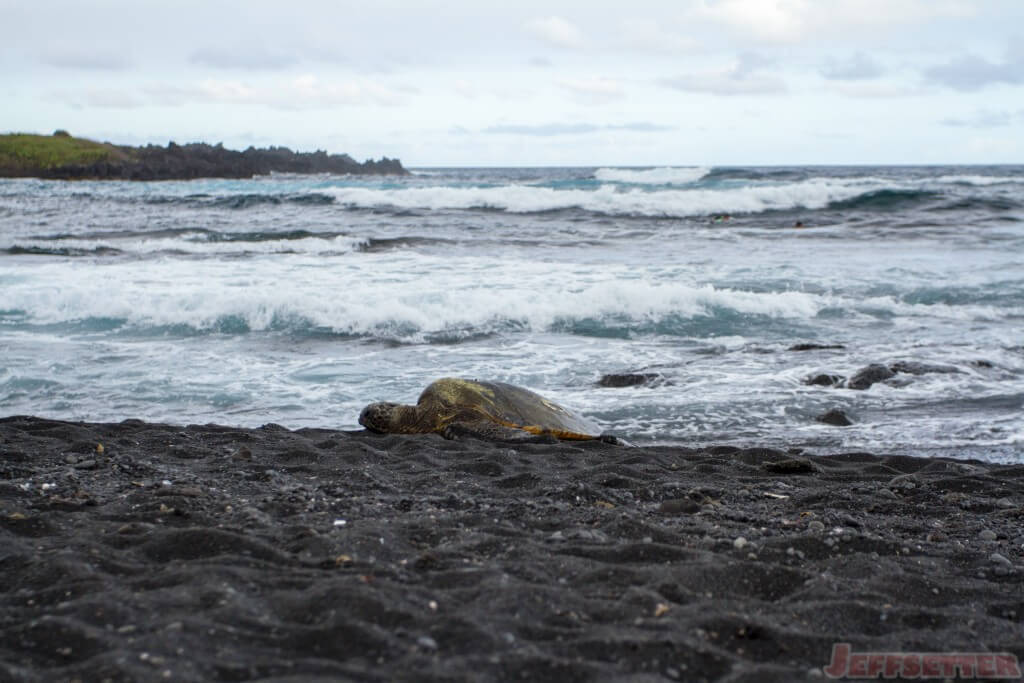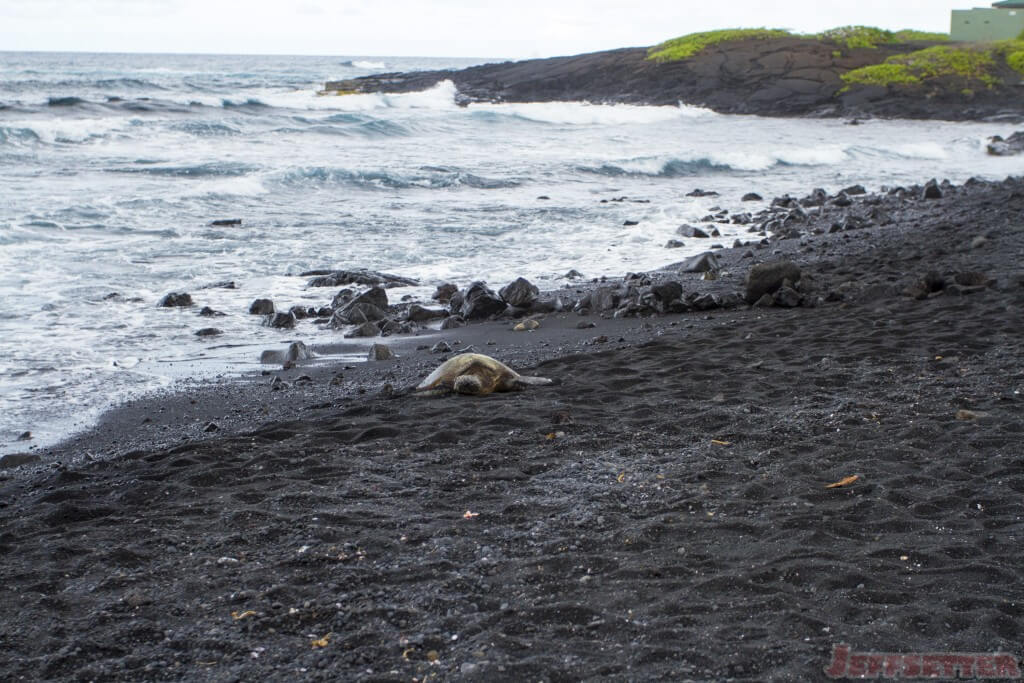 Just remember, turtle are protected under Federal Law.  You must remain at least 10 ft away from turtle at all time, and it is illegal to harass them.  And even if it wasn't illegal to approach them, they are wild animals and turtle are known to bite.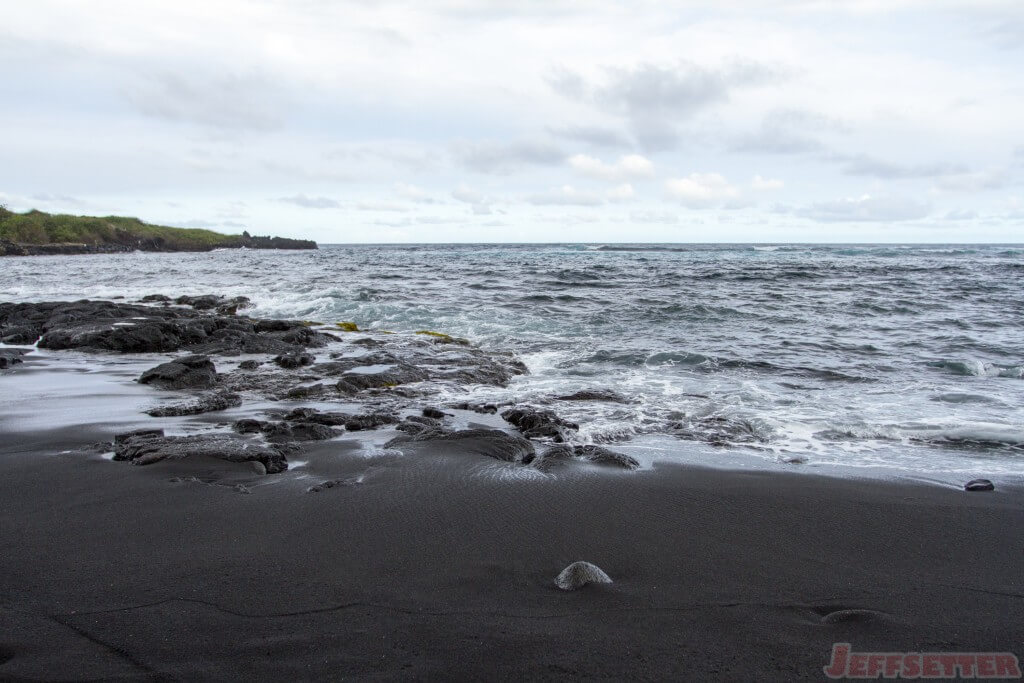 Also, aside from being prohibited by State law, it is bad luck to remove black sand, lava rock, etc. from Hawaii.  This is especially true of the Big Island.  Why?  Because the Hawaiian deity, Pele, the goddess of fire, resides on the Big Island (at Kilauea).  Her fire creates the land, and taking what's hers angers her.  Doing this will cause Pele cast bad luck onto you until you return what is rightfully hers.  Don't believe me?  Ask the Park Rangers at Hawaii Volcano National Park.  They get packages of rocks and/or sand every year from people trying to rid themselves of this bad luck.