For our post-marathon dinner, I decided we should eat somewhere in our hotel. After all, it wouldn't be wise to make a marathon runner walk more, right? So, I made reservations for Morimoto Asia Waikiki.
Location
Morimoto Asia Waikiki is located in the Alohilani Resort. It's on the Kalakaua Avenue side of the building with an entrance on the ground floor. The restaurant itself, however, is up a gorgeous staircase on the second floor. If you need to use an elevator, you can enter the hotel and take the elevator next to Momosan Waikiki's interior entrance.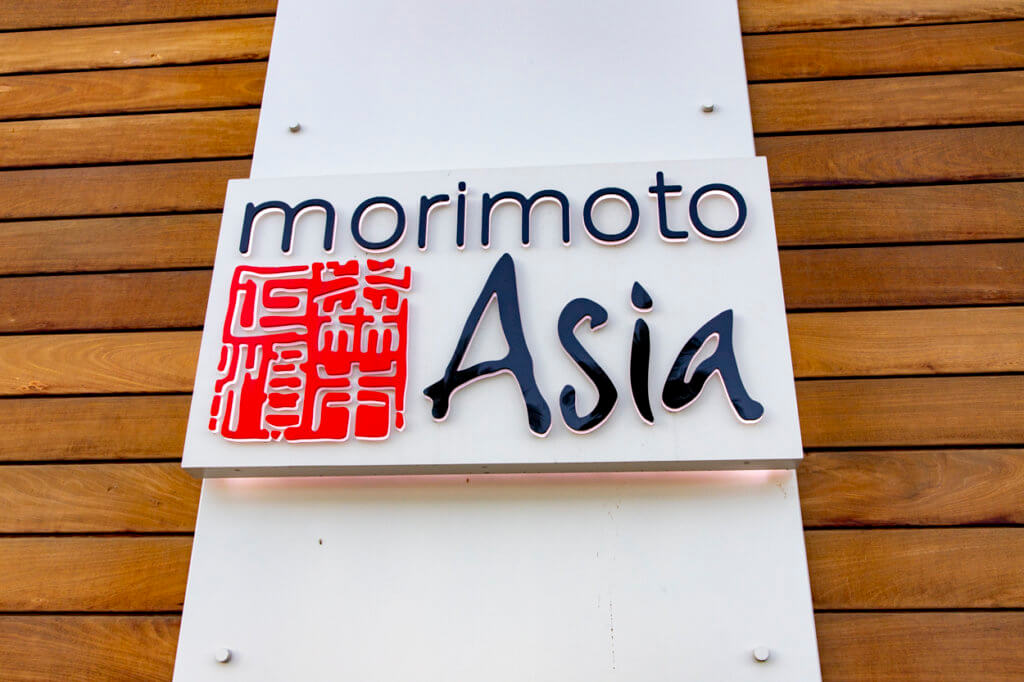 Service + Atmosphere
From the moment we walked in, service at Morimoto Asia Waikiki was fantastic. Our server, in particular, was informative, friendly, and patient. He made good recommendations based on his own opinions and wasn't trying to push for a higher tab.
As far as the atmosphere goes, Morimoto Asia Waikiki has an Asian-inspired modern design. And, as is the norm, the space is dimly lit. If you're looking for a tranquil, romantic dining experience, though, this isn't the place for you. Morimoto Asia Waikiki has a lively atmosphere and is often fairly crowded.
Menu
As its name suggests, Morimoto Asia Waikiki has an eclectic menu pulling influences from all over Asia. You'll find dishes from Japan, Korean, Thailand, China, and more. There are, of course, fusion and dishes too. After all, that was always Chef Morimoto's style on Iron Chef Japan.
Drinks
During our visit, I ordered a cocktail ($15) and Mrs. Island Miler got a mocktail ($8). Specifically, I got a North Shore Mule but subbed in gin for the vodka, while Mrs. Island Miler got a Lilikoi Slush.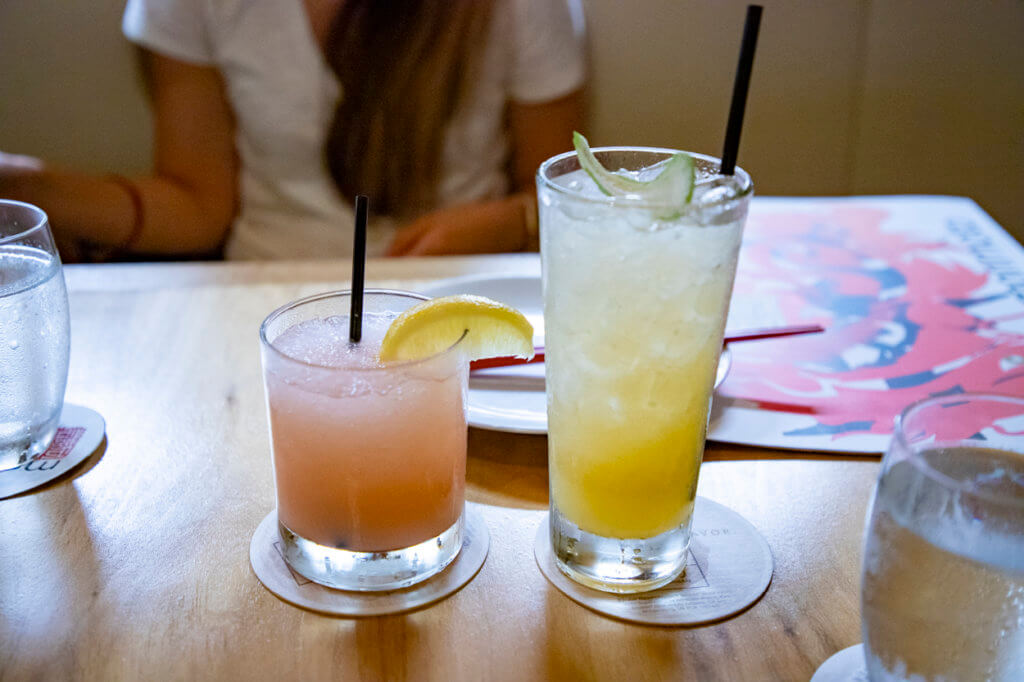 Both drinks were refreshing and tasty. Perfect for what was a relatively warm December night.
Food
We weren't terribly hungry, so we decided to order two small bites, one starch, one protein, and a dessert. So, to start, we got the Spicy Tuna Tacos ($13) and the Fish Carpaccio ($18).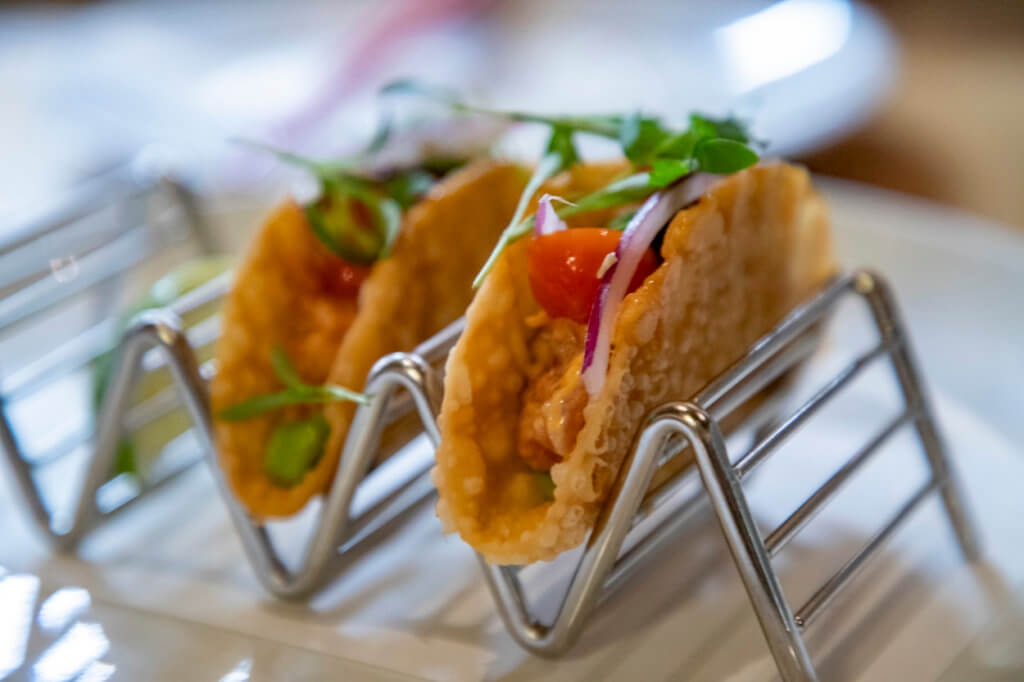 Served in a wonton shell, the tuna raw (poke-style) is mixed with a chili roasted sesame oil aioli and topped with red onion, guac, jalapeno, and cilantro. It really wasn't spicy at all (I can't handle much so that says a lot) but the tacos were tasty.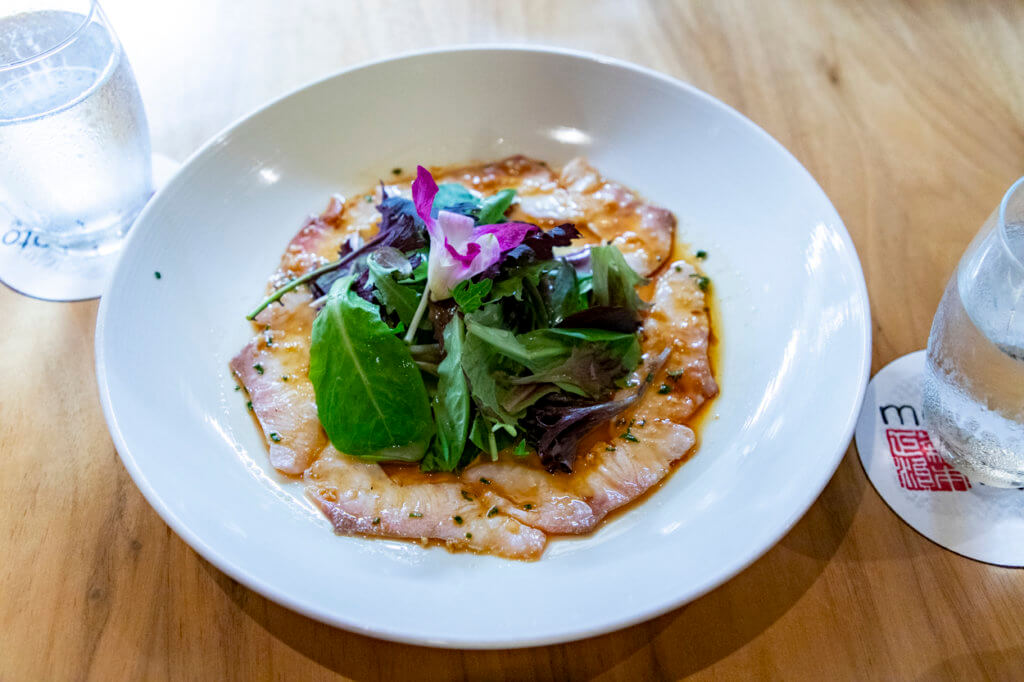 The fish used the night of our visit was Kona Kampachi. It comes topped with yuzu ponzu, yuzu vinaigrette, ginger, garlic chive, microgreens, and a splash of hot toasted sesame oil. I didn't taste a whole lof of yuzu in the dish, despite it being in two ingredients, but it was very tasty. I wish there were more fish and less salad, though.
For our main we got the Grilled Kalbi ($38).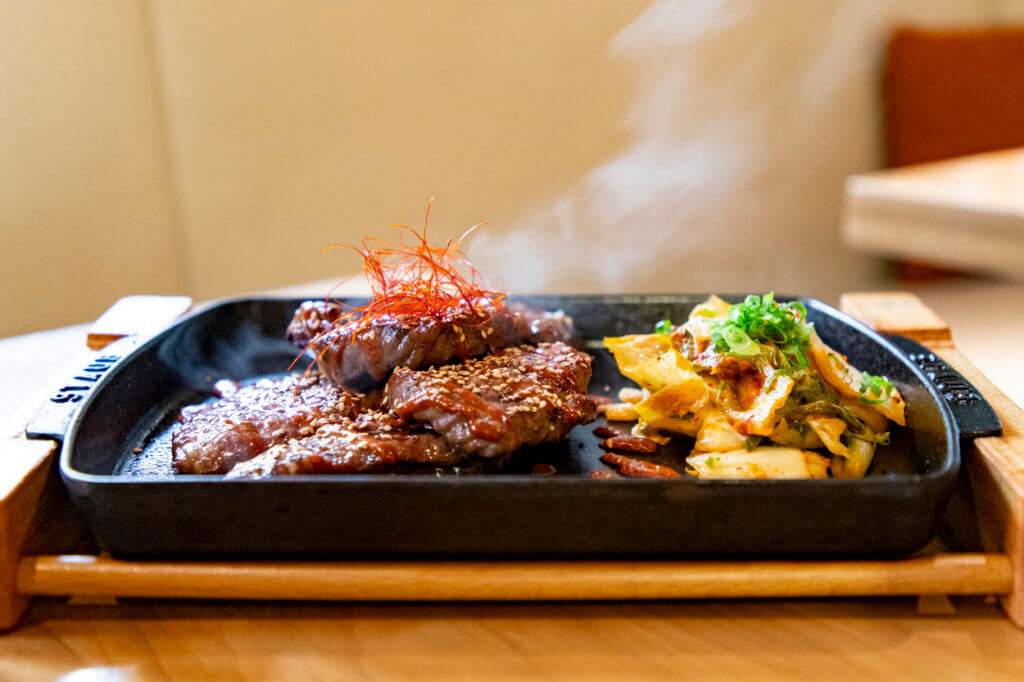 It was tough paying that much for Kalbi, since its usually a fairly inexpensive dish here in Hawaii. But, it came with a side of kimchee on a hot cast iron plate and was very tender. I did think it was a little bland when we ate it that night. But, the next day, it tasted way better for some reason.
For our side, we went with the Shrimp Pad Thai ($22).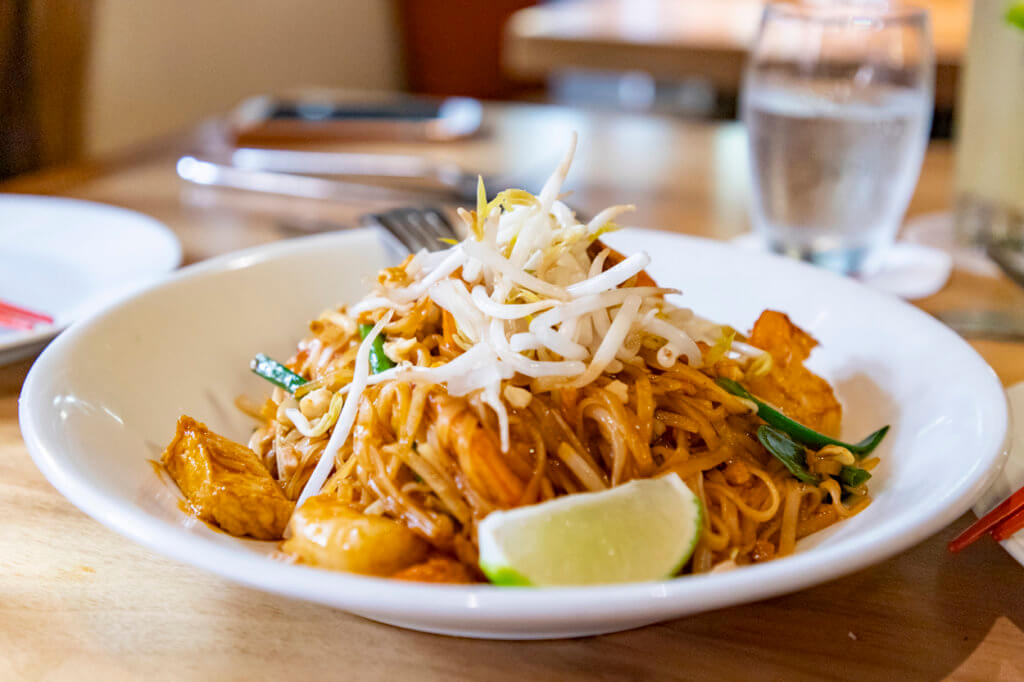 The Pad Thai is what you'd usually expect, but taken to the next level. The shrimp was perfectly cooked, as were the noodles. I love that Morimoto Asia Waikiki is a peanut-free restaurant too, and their use of macadamia nuts in this dish worked really well. To me, honestly, the Pad Thai was the highlight of the meal.
For dessert, we kept things light and got the Sticky Rice ($12).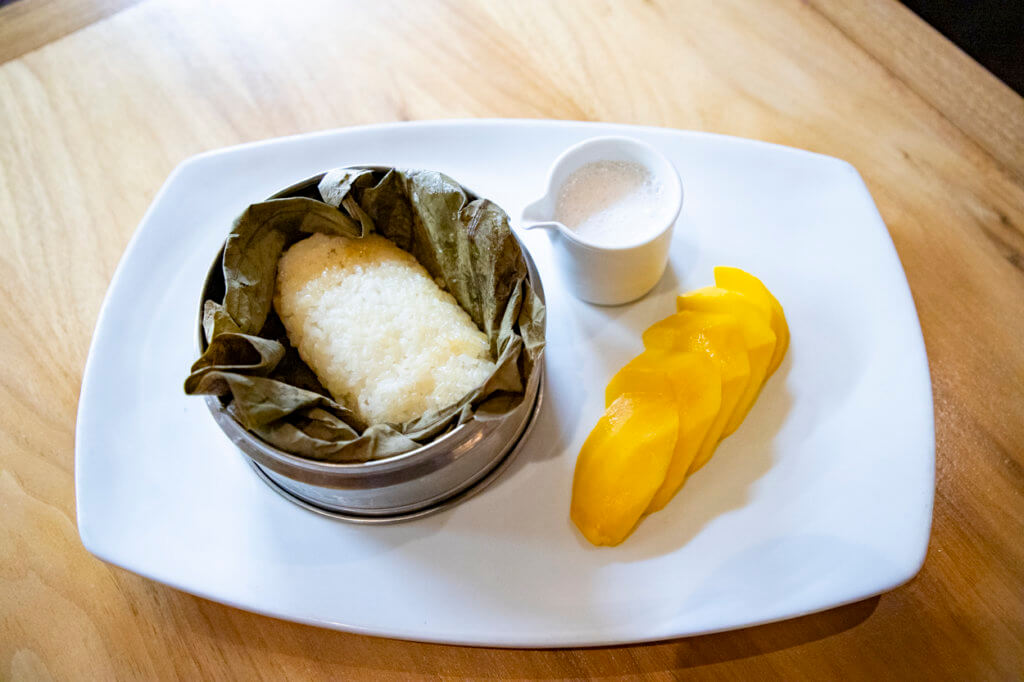 I love Thai Sticky Rice, and this version was fantastic! I loved the mildly sweet steamed mochi rice and coconut milk paired with the tart, firm mango. A nice, refreshing way to end the meal.
Morimoto Asia Waikiki, Final Thoughts
Dinner at Morimoto Asia Waikiki is not an inexpensive experience. Our above meal with tax and tip came out to $158 – and we ordered relatively inexpensive dishes! Yes, $22 for Pad Thai and $38 for kalbi is kind of insane, but it was so good that I'd probably return. Especially if I stay at the Alohilani Resort once again.
2019 Honolulu Marathon Staycation
Morimoto Asia Waikiki
Other Eats