Over the Memorial Day weekend, Mrs. Island Miler and I decided to check out one of Honolulu's newest restaurants, Momosan Waikiki.
As a child, I loved watching Ryōri no Tetsujin, also known as Iron Chef Japan.  And my favorite chef on the show was Iron Chef Japanese Masaharu Morimoto.  So, when he opened a restaurant in Waikiki, Mrs. Island MIler took me there for my birthday.  That restaurant is gone now, though he has recently opened Morimoto Aisa at the Alohilani Resort.  And when we went to New York, I wanted to try his ramen spot, Momosan.  Unfortunately, we didn't have time to, though we did enjoy some great ramen there.  But, recently, Morimoto opened his second Momosan location in Waikiki, so I decided to check it out.
Location
Like Morimoto Asia, Momosan is in the Alohilani Resort.  In fact, the two restaurants are right next to each other, though Momosan is at street level, while Morimoto Asia is on the second floor.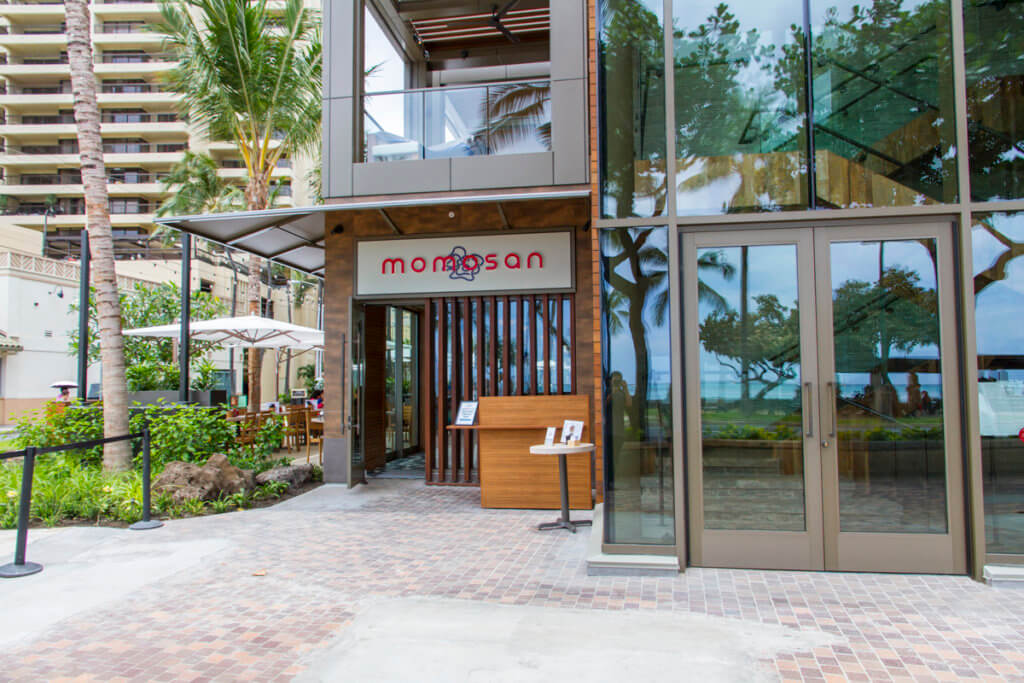 And though the restaurant's storefront is along Kalakaua Ave., you'll need to enter along the side via Liliuokalani Ave.
Seating at Momosan is split between indoor and outdoor seats.  It is a long, narrow restaurant, and the bulk of the indoor seats are bar seating.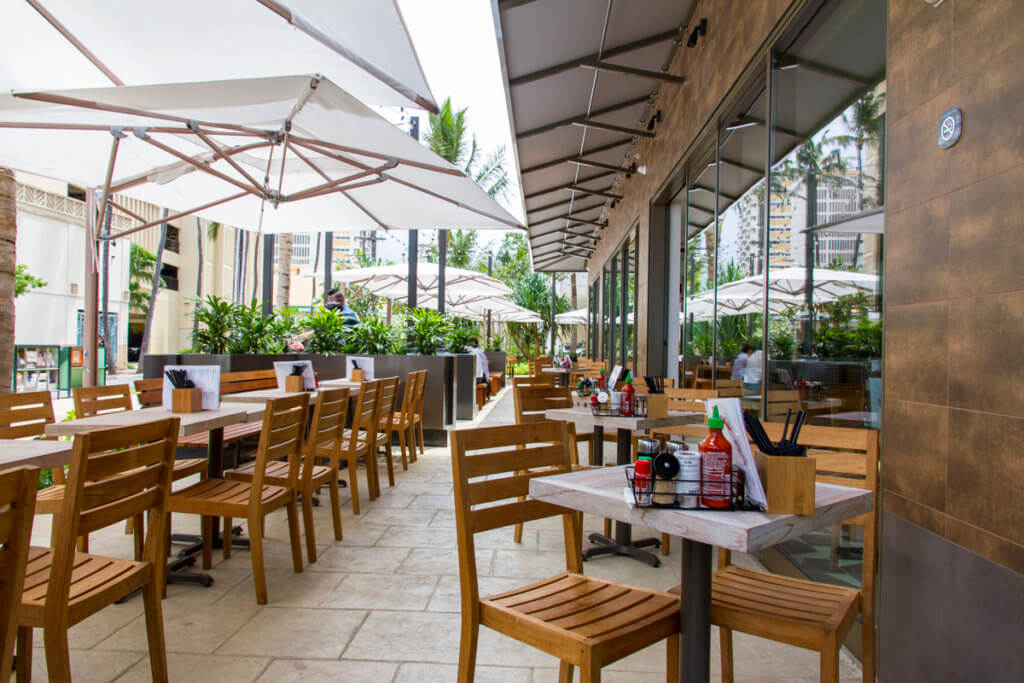 So, the best seat in the house, at least in my opinion, is the one, two-top table that's facing Kalakaua Ave.  Yes, people will look at you while you eat, but you get a bit of an ocean view.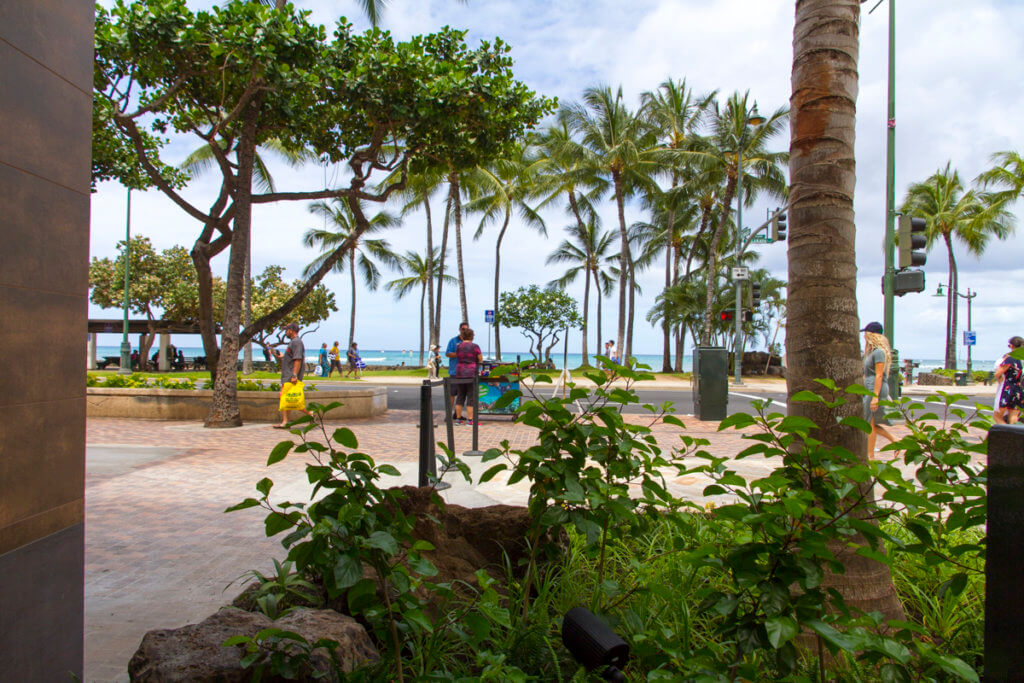 Service
Service throughout our time at Momosan was positive.  Most there were friendly and prompt, while our server, was always on the ball.  There was one employee that seemed a little unhappy, though wasn't rude.  But hey, everyone has off days, right?  What really matters, though, is that our drinks never went empty and our dishes came promptly.
Drinks and Small Bites
Momosan is a ramen restaurant and sake bar.  But, neither of us are fans of sake, and it was lunch, so we started off with a couple of mocktails.  I chose the mint yuzu spritzer, while Mrs. island Miler went with the Momosan ice tea (blueberry calpico, passion fruit ice tea.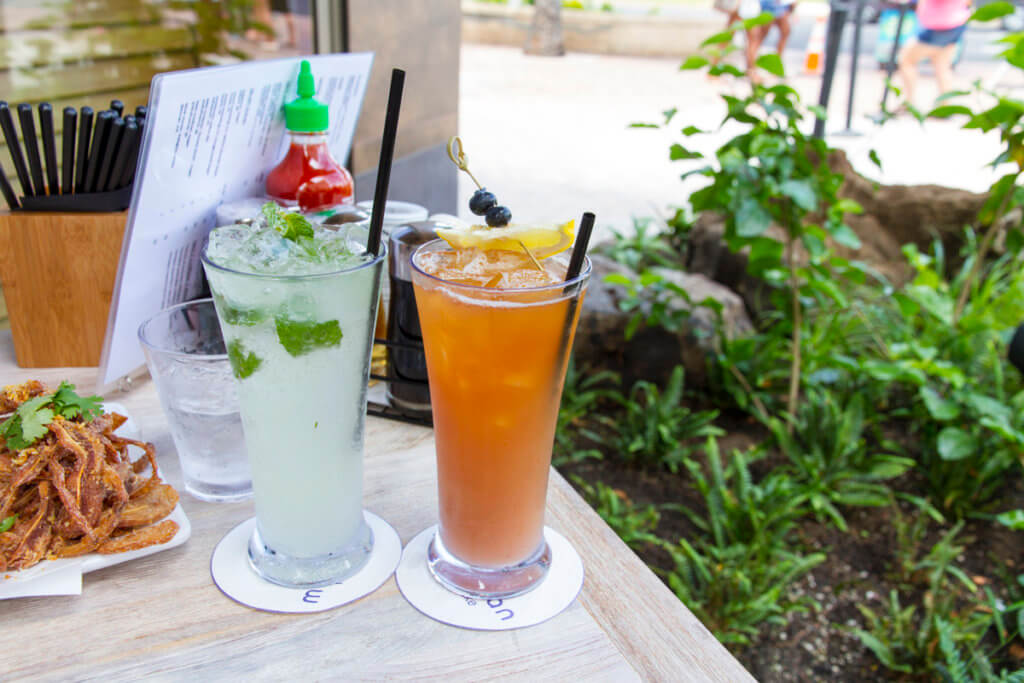 We weren't too hungry, having gone to Kona Coffee Purveyors earlier that morning, so we split an appetizer.  And we chose the most unusual thing on the menu, the Crispy Mimiga (pig ear) with shichimi and mayo.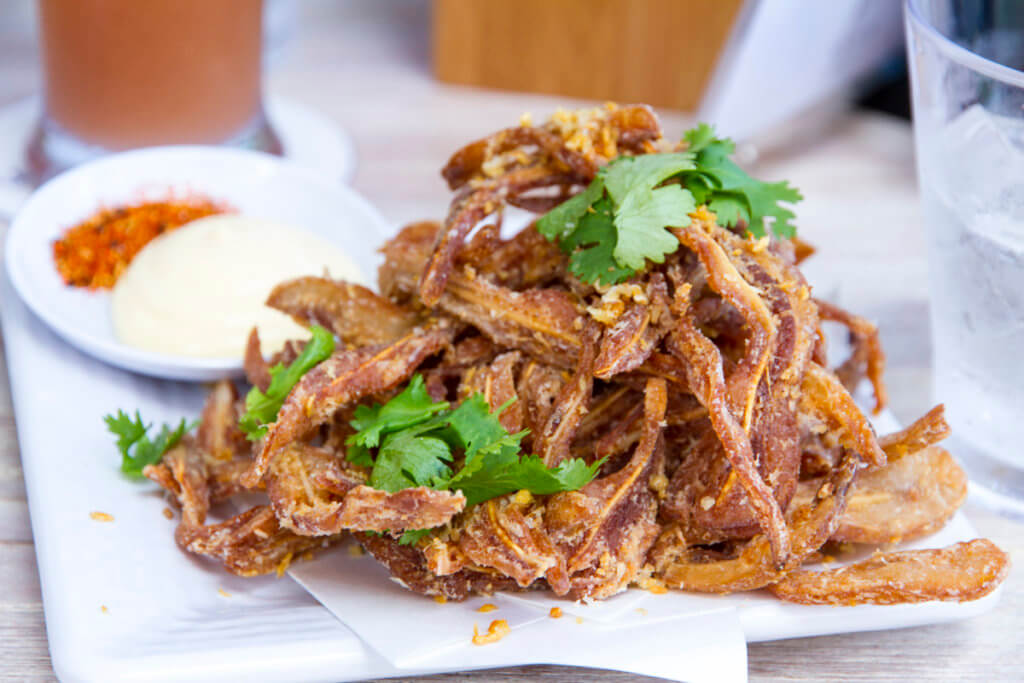 The pig ears are deep fried and crispy, tasting somewhat like bacon.  Thinner pieces, though, are better than the bigger ones.  The larger pieces tended to be chewy, not crispy and were a little difficult to eat.  And despite being tossed in salt and crunchy garlic, the pig ears were fairly rich and are difficult to eat a lot of.  And that's where the mayo and the shichimi come in.  Mayo is rich, but dabbing just a little allows the spicy, citrusy shichimi to adhere to the mimiga, cutting down the richness a little.
Ramen
At lunch, Momosan offers set menus for $18, with your choice of small ramen and a small rice bowl.  You can choose any ramen from the menu, as well as any rice bowl.  So for her lunch set, Mrs. Island Miler opted for the tonkotsu ramen and the zuke don (basically a poke bowl).
She liked her ramen well enough, and it's similar to what I ordered, so I'll go into that a little more later.  The zuke down, though, which is the most expensive if ordered alone, uses high-quality ahi that's cubed and sauced.  To me, the sauce tastes like shoyu (soy sauce) and gochujang with a bit of ginger, sesame and green onion.  Nothing special, but still enjoyable thanks to the quality of the fish.
For my lunch, I didn't choose a set, instead went with the tsukemen which is the only noodle dish you can't have as part of a lunch set.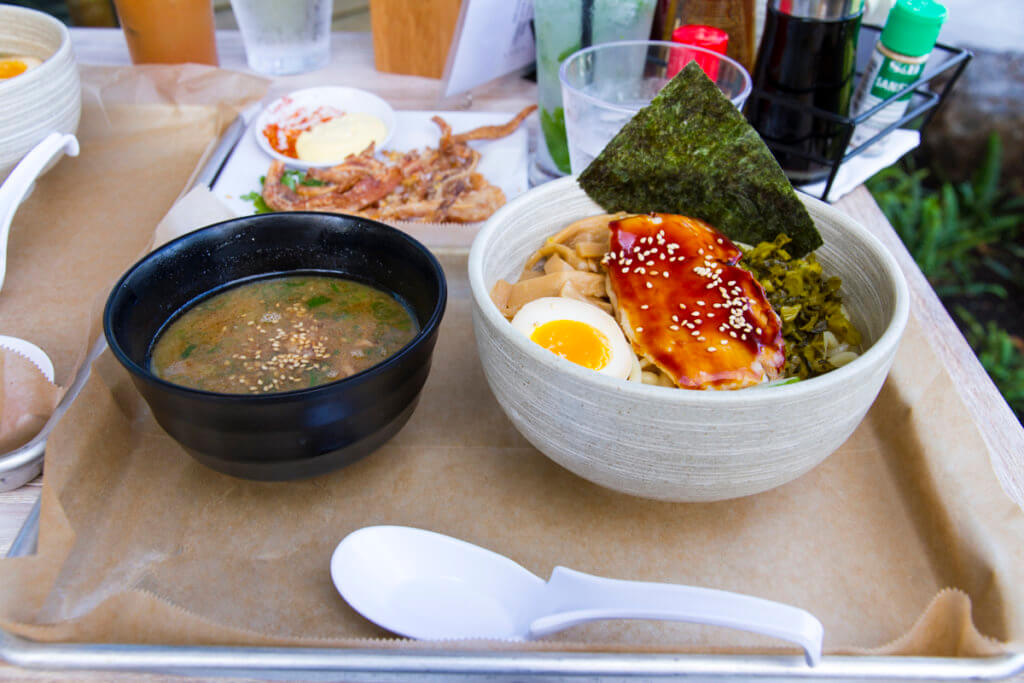 Tsukemen, of course, is a dipping ramen, with thicker, squiggly noodles and a side of concentrated soup.  In this case, the noodles are topped with chashu, Japanese pickles, aji-tama, and menma, while the soup is the tonkotsu, which has chunks of more chashu in it.
The noodles were perfect, with a springy, al dente texture to them.  Likewise, the chashu was melt-in-your-mouth soft with a pleasingly porky flavor.  The soup, however, wasn't as creamy or porky as other tonkotsu tsukemen or ramens on the island.  Rather, it had a more garlic-forward flavor.
Momosan Waikiki, Final Thoughts
Momosan Waikiki is a solid option with reasonable prices.  Most ramen dishes hover around $15, while the lunch set is $18.  And if you're a sake fan, you'll enjoy the variety Momosan has; the menu has three pages worth of sake, including unique, aged varieties.  But the tonkotsu, while good, isn't really my style and is something I probably wouldn't order again.  I would, however, like to head back to give the Butabara (fried pork belly, cabbage, Tokyo chicken broth) or Tokyo Chicken (steamed chicken, aji-tama, menma, seared garlic chive, kikurage, toasted nori, soy tare) a try.  The Butabara especially sounds like a more unique offering, which is unlike most other local ramen offerings.