I'm going to be honest with you guys. This trip was the first time I've ever rented from National. It's also the first time I've been to Vegas and didn't rent from Silvercar. So, let's talk about my pandemic-era experience with National Car Rental Las Vegas.
As you all know, Silvercar pulled out of all airport locations a while back. The only location left in Vegas is an Audi dealership all the way in Summerlin with wonky hours. So, immediately, that was a no-go for me. Thankfully, National Car Rental had decent rates – cheaper than Costco, even! – during our dates. So, I finally decided to give the brand a shot.
National Car Rental Las Vegas
When booking my car, I did all my usual research. National did end up being slightly more than some of the lower-tier agencies, but I decided to give them a shot since I have Executive Elite status from my Sapphire Reserve. As a result, when I made my booking, I reserved a mid-size car to qualify for the Emerald Aisle. But, what with all the shortages and whatnot, I just hoped to be able to get a car. In fact, I ended up booking a second backup car at Enterprise too. Just in case. Fortunately, that ended up being unnecessary – just barely.
After getting our bag, we waited in the blazing hot 107 degrees F Vegas afternoon complete with winds making it feel as if we were in a blast furnace. Unfortunately, we ended up there for quite a while as shuttle after shuttle came and went. By the time we got to the consolidated car rental center, there was a HUGE line at Budget but no line at National. I was feeling hopeful. But, as we made our way up to their level, that feeling faded – their area was EMPTY. When I finally made my way over to the Emerald Aisle, I was informed I could choose from any of the five or six cars left. Those cars were one Hyundai Ionic and a bunch of Chrysler Pacificas. Luckily, after deliberating for a little, a Mazda CX-30 came zooming up. I took that one.
After selecting our car, we drove up to the exit gate where our paperwork was quickly checked out and we were on our way.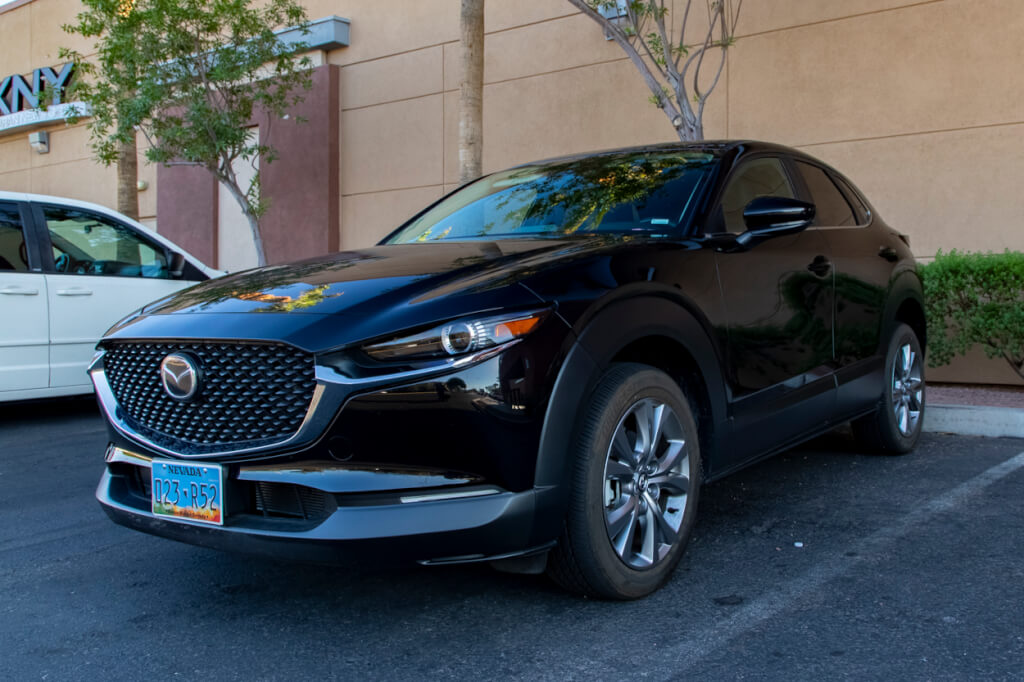 Mazda CX-30
As you all know, I'm a bit of a car guy and appreciate nice cars that drive well. My past experience with a Mazda CX-5 in Portland left me hoping for another Mazda car of any kind of this trip. Not only was that last car fun to drive for what it is, but it was also a really nice space to be in. The same held true here for the CX-30. Inside, the quality of materials and construction was virtually identical to the CX-5, including a zippy Apple Car Play infotainment system. The car also handled very well for a compact SUV, taking the sting out of not having a Silvercar.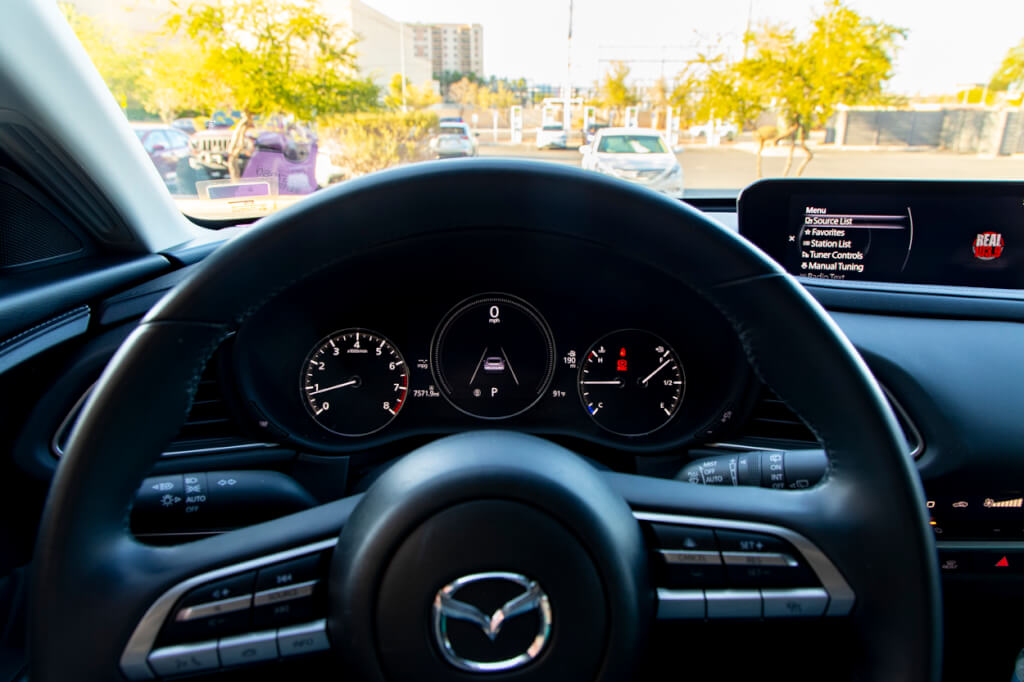 Unfortunately, the CX-30 is a bit down on power compared to the CX-5 I enjoyed. That's likely due to the fact that our model wasn't a range-topping turbo one. But it's ok. Around town, it never felt sluggish and was decently quick on the interstate. The two largest downfalls to this car, then, are rear visibility – it's probably worse than my FR-S – and trunk space. Trunk space is supremely tight and we barely fit in my & Mrs. Island Miler's two checked bags, a roller-board carry-on, and my backpack. Add in my sister-in-law's checked bag and the rear window was half obstructed. And, again, that rear window is tiny for a car this size! Thank goodness for backup cameras!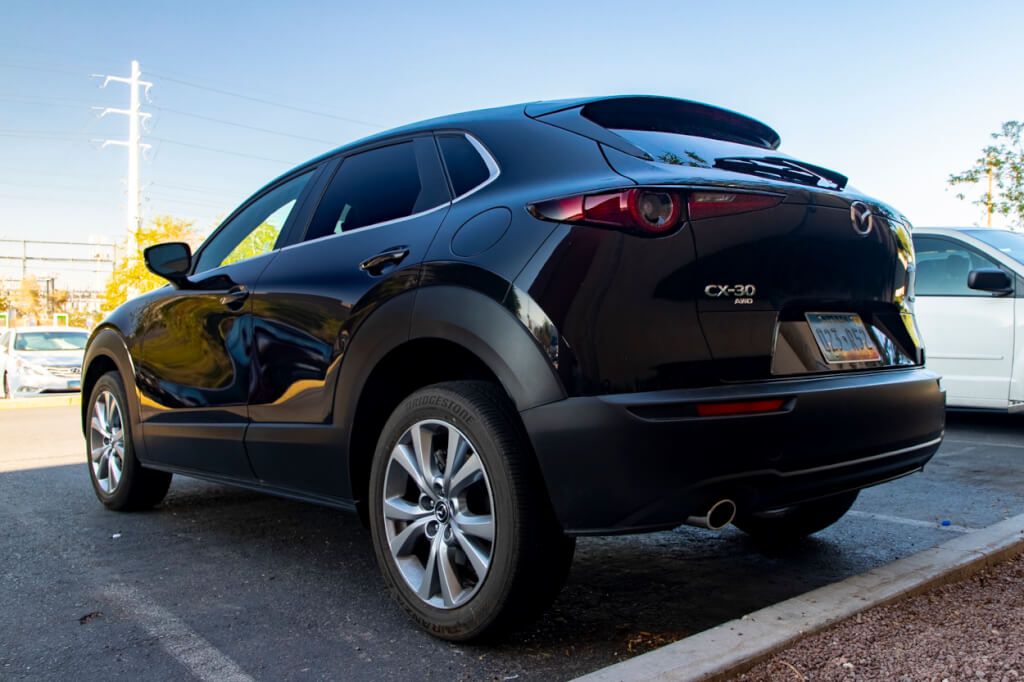 Car Return
At the end of our time in Vegas, dropping off our zippy little CX-30 couldn't have been easier. We pulled up, they scanned our car, and off we went to the shuttles. Unlike our arrival experience, though, there was no waiting this time around. A shuttle was already waiting for us and just a few minutes after settling in, we were off to the airport.
National Car Rental Las Vegas, Final Thoughts
I can see why people like renting with National now. The whole rental process was painless. I do wish there was a better selection of vehicles, but given the times, I was happy to just get a car – and one better than my original reservation specified. And the car itself was a delight since, most of the time, we were lugging around all that much stuff anyway.
Vegas + Irvine Trip Report
National Car Rental Las Vegas