As I said in my Las Vegas 2018 Introductory post, I wanted to try something new this time.  And that new restaurant ended up being Sage at Aria Las Vegas.
Why Sage?  Because Sage has been on my list of to-try places in Vegas since my first visit in 2017.  Especially since they're on Eater's list of 38 Essential Las Vegas Restaurants, which talks about their Foie Gras Brulee.  More on that later.  And while e by Jose Andres was higher on my priority list, they didn't have availability, nor did they fit my budget for this trip.  So, as a result, Sage shot to the top, and I'm glad it did.
Location
As you may have guessed by the title of the post, Sage is located in the Aria Las Vegas.  Specifically, you'll find them next to the Lobby Bar.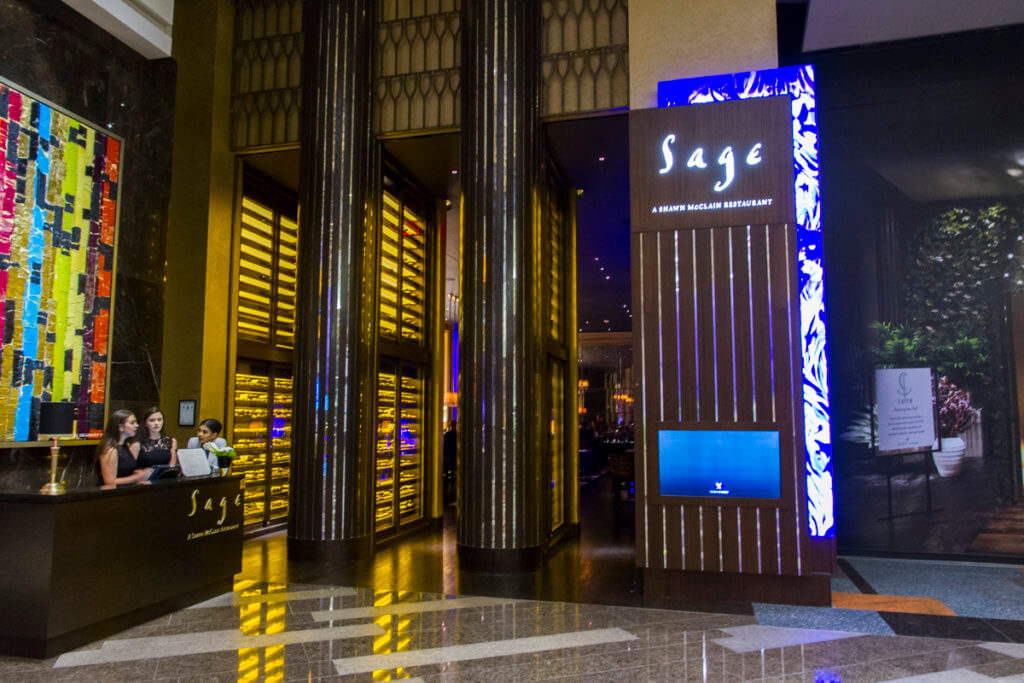 Inside the restaurant, you'll find a swanky, dimly lit, upscale atmosphere that is a comfortable place to spend your time.  And the service, as you'd expect, is fantastic.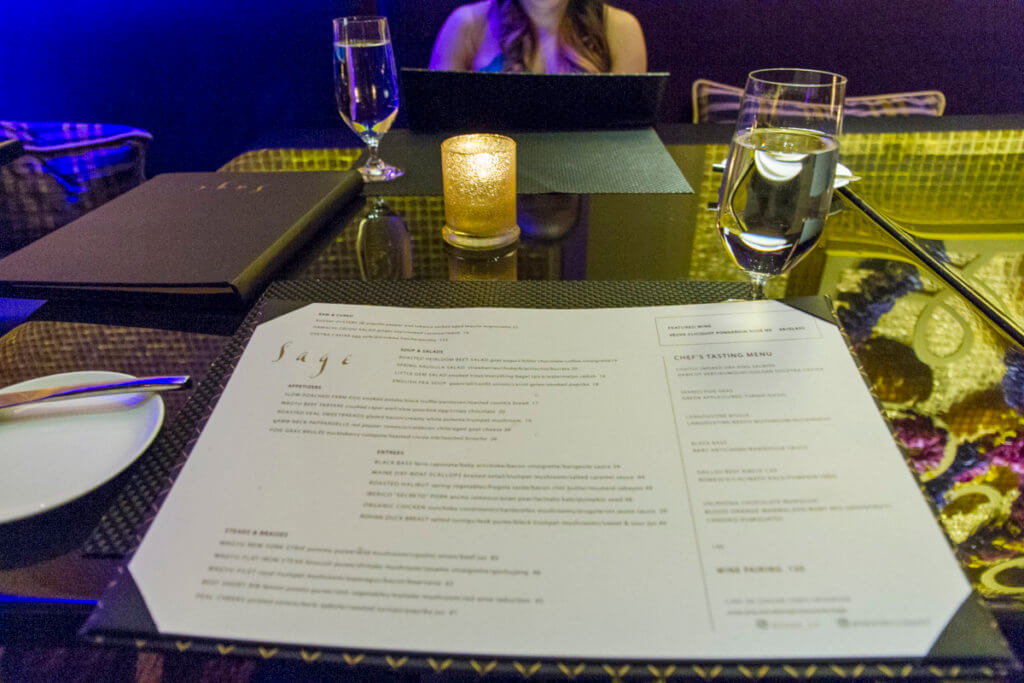 Drinks
As one might expect of an upscale Vegas restaurant, Sage has an extensive wine list, a variety of cocktails, and more.  A fan of gin, your's truly decided on a Cucumber ($16), while the Mrs. went with the Cotton Candy ($17).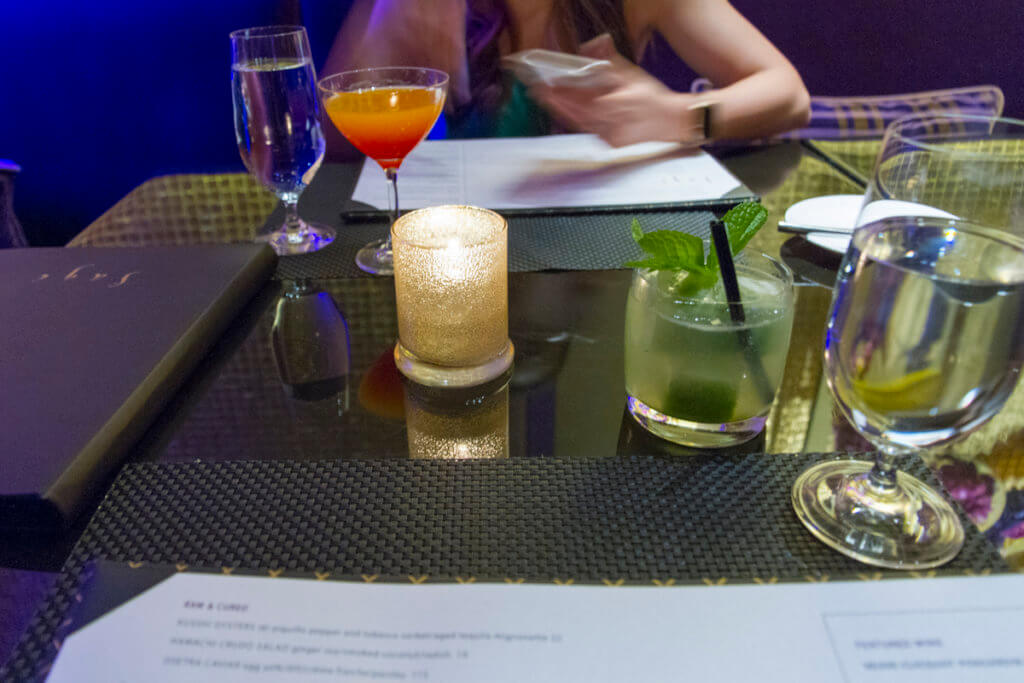 The Cucumber is composed of Hendrick's Gin, rose water, lemon, cucumber ice cubes, and mint.  The Cotton Candy is Belvedere Citron Vodka, lemon, and tangerine.  My drink was herbaceous and refreshing, while Mrs. Island Miler's was, as its name suggests, sweet and citrusy.
If you'd like something stronger than wine or cocktails, though, Sage Las Vegas does offer an Absinthe service.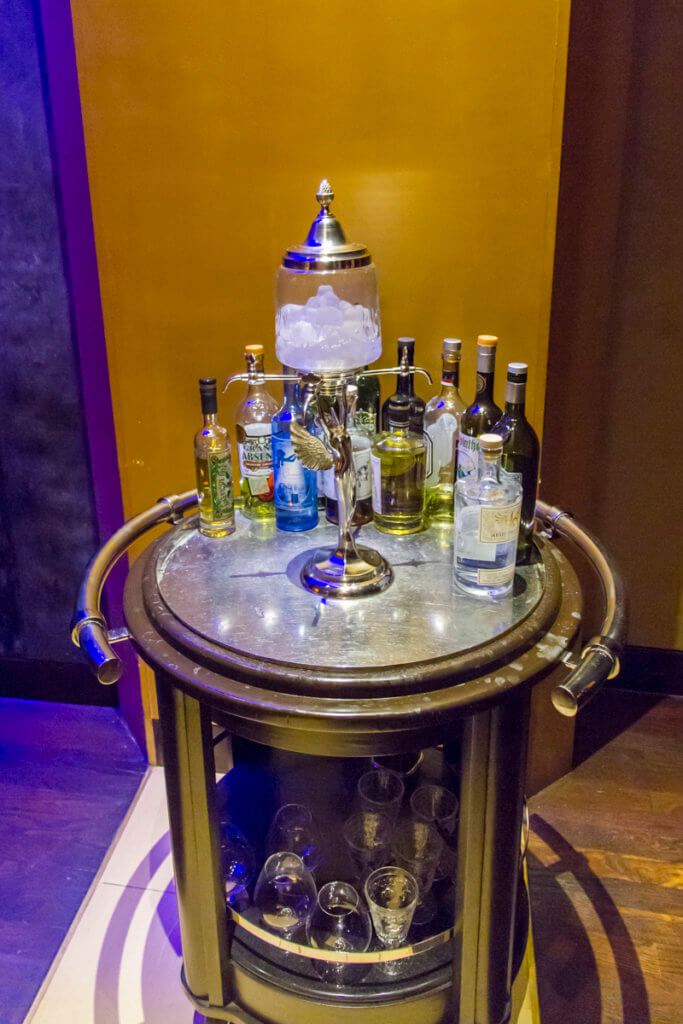 There's a number of different Absinthes on offer with a variety of different flavor profiles.  And if you do order, they'll wheel this cart out to you to make your selection, and then they'll serve it via the traditional fountain drip.
Starters
Sage Las Vegas has two menus, a Chef's Tasting and an a la carte menu.  I wanted to try the grilled rib-eye cap on the Chef's Tasting Menu but ultimately went with the a la carte menu, to try one of their most talked about dishes.  But to start, the Mrs. and I decided to split an order of Kusshi Oysters (6 for $22) with piquillo pepper and Tabasco sorbet/aged tequila mignonette.
Much like our recent experience at Goldfinch Tavern, the restaurant proactively split our order amongst two separate plates.  Classy.  The oysters are fresh and tasty, with a slight kick from the mignonette.  They were also served with the restaurant's bread service, which included two cylinders of butter with a side of flaked sea salt.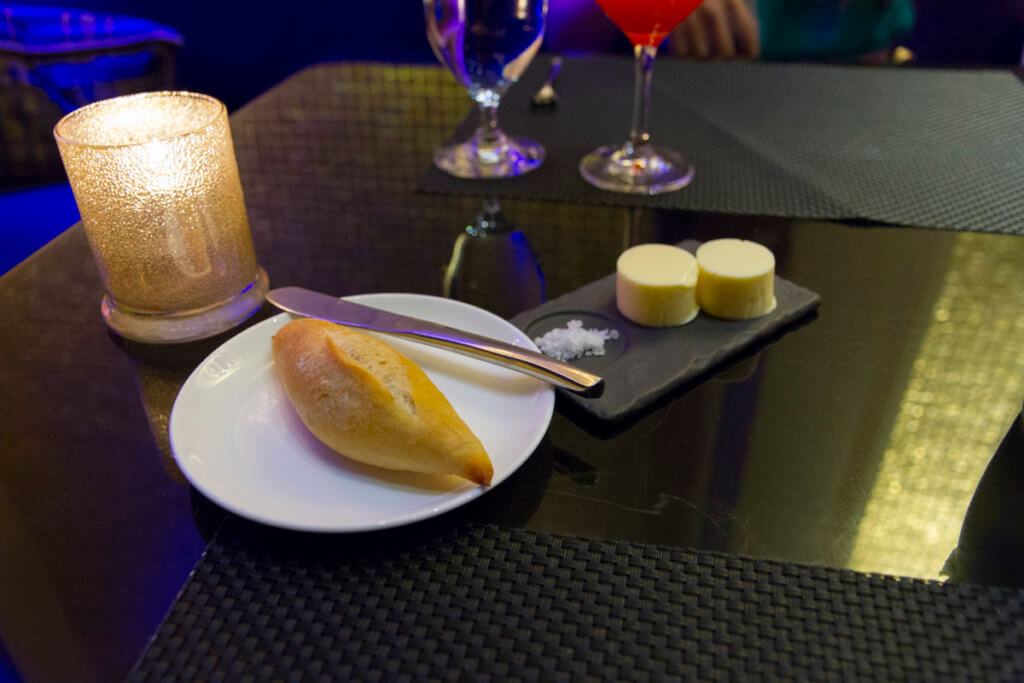 For our main starters, Mrs. Island Miler went with the Roasted Veal Sweetbreads ($19), while I went with the signature Foie Gras Brulee ($26).
Neither of us had ever had sweetbreads (shocker, I know), but these were amazing!  Glazed with bacon/creamy white polenta and service with trumpet mushrooms, the sweetbreads were crispy on the outside and creamy on the inside.  There was no organ funk whatsoever, and both of us would totally order this again.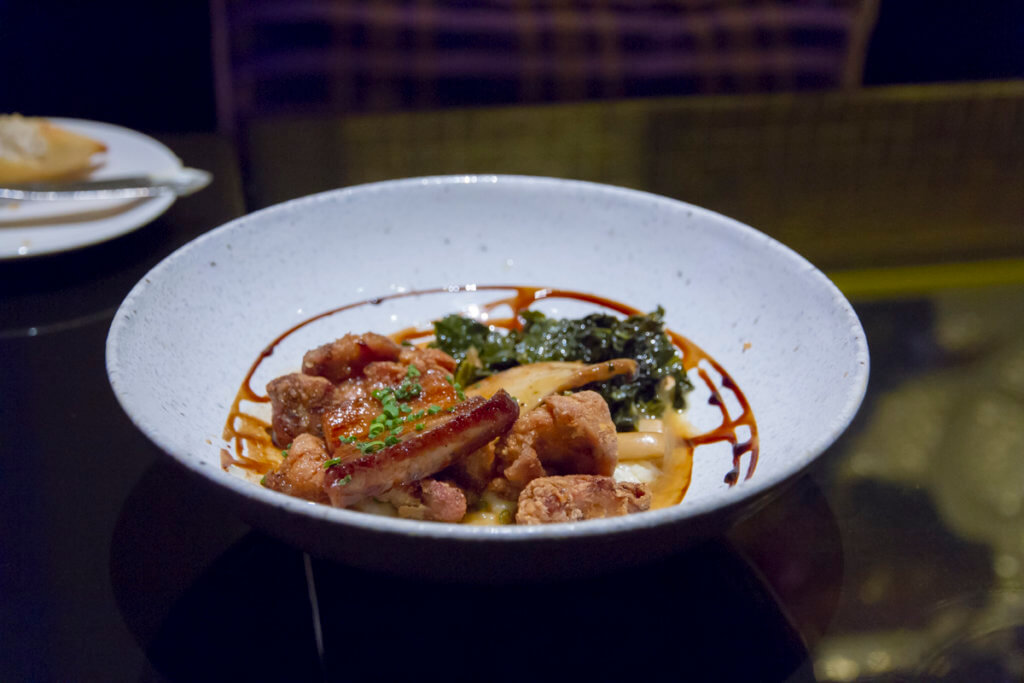 The Foie Gras Brulee, like the sweetbreads, is another dish of contrasting textures.  I didn't know what to expect, but as it turns out, the dish is a foie gras mousse with a brulee'd sugar top, served with huckleberry compote, toasted cocoa nibs, and toasted brioche.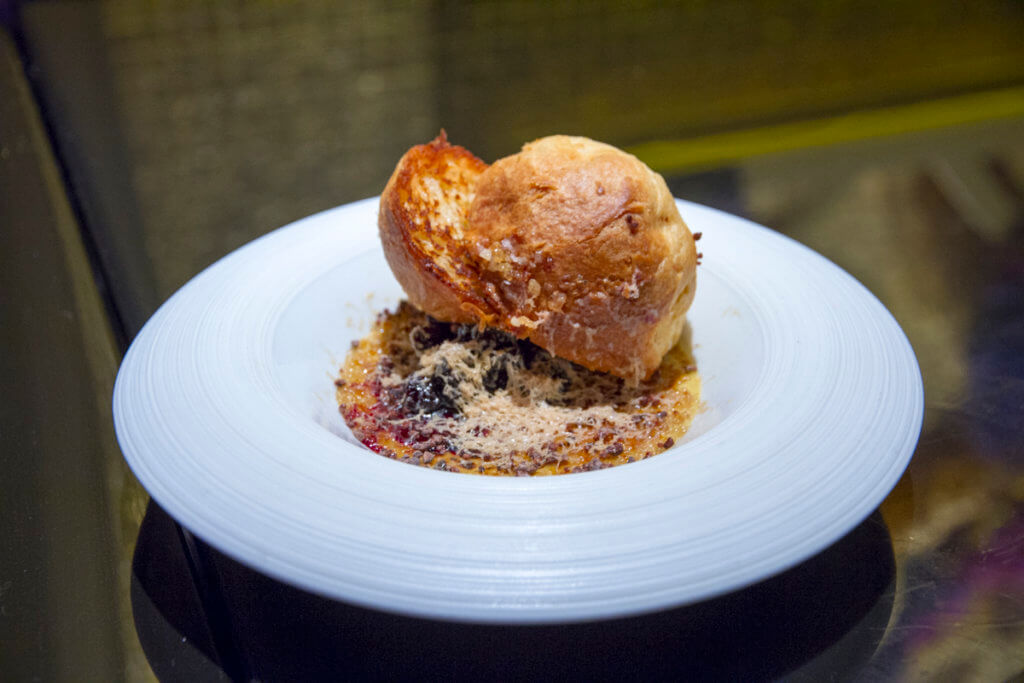 The dish is a rich and creamy one, with the richness cut by the slightly acidic huckleberry, while the creaminess contrasted with the crunch of cocoa nibs and toasted brioche.  And while it's a good dish, the foie gras flavor is a bit muted.  So while I like the dish, if you want the flavor of foie gras, go with the seared foie gras instead.
Mains
Despite the great variety of starters, salads, etc. the selection of mains is a little more curated.  On the menu, you'll find seafood, one pork, one chicken, and one duck dish, plus a number of beef dishes.  For her main, Mrs. Island Miler went with the Roasted Halibut.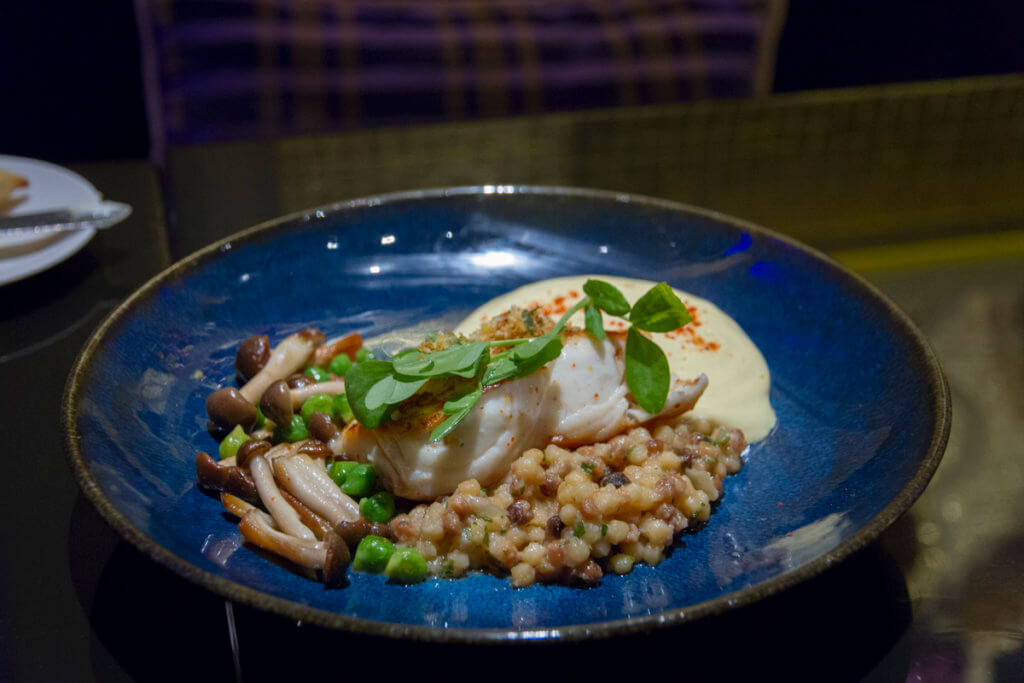 The succulent white fish comes on a mound of fregola sarda, spring vegetables, bacon chili butter, and a mustard sabayon.  The spring vegetables, in this case, being bun shimeji mushrooms and fresh pea.  I didn't sample her dish, but she was very pleased with it.
For my main, I stuck with the seafood theme and went for the Maine Day-Boat Scallops.  Normally, I would've gone with the Iberico Secreto Pork (I hate kale, so no) or a steak, but I just wasn't feeling a giant hunk of meat.  That, and I like scallops.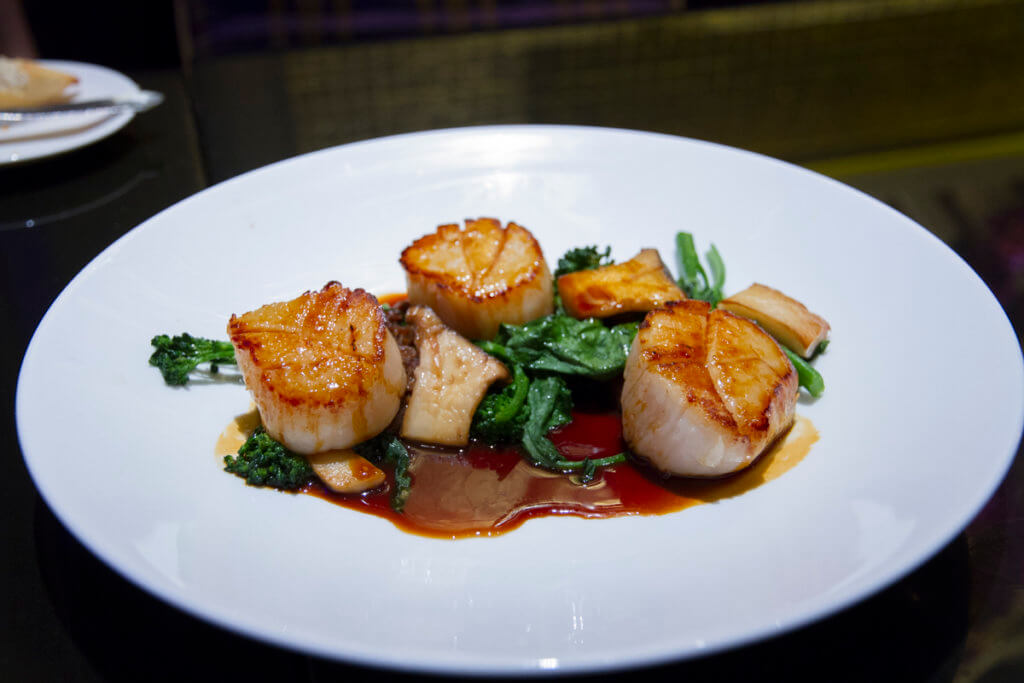 And these bad boys didn't disappoint.  They came on a bed of braised oxtail with broccolini and trumpet mushrooms with a salted caramel sauce.  Now, you might be saying, "hey, there's only three scallops on your plate."  And, yes, there are only three scallops.  But these were HUGE scallops.  Like, I had to cut them into at least four to six pieces to eat them without looking like an animal.  And they had a nice crust on the outside while remaining perfectly medium-rare on the inside.  No complaints.
Dessert
By this time the Mrs. and I were both stuffed.  But, one dessert really peaked our interest and didn't sound too heavy so we decided to give it a try.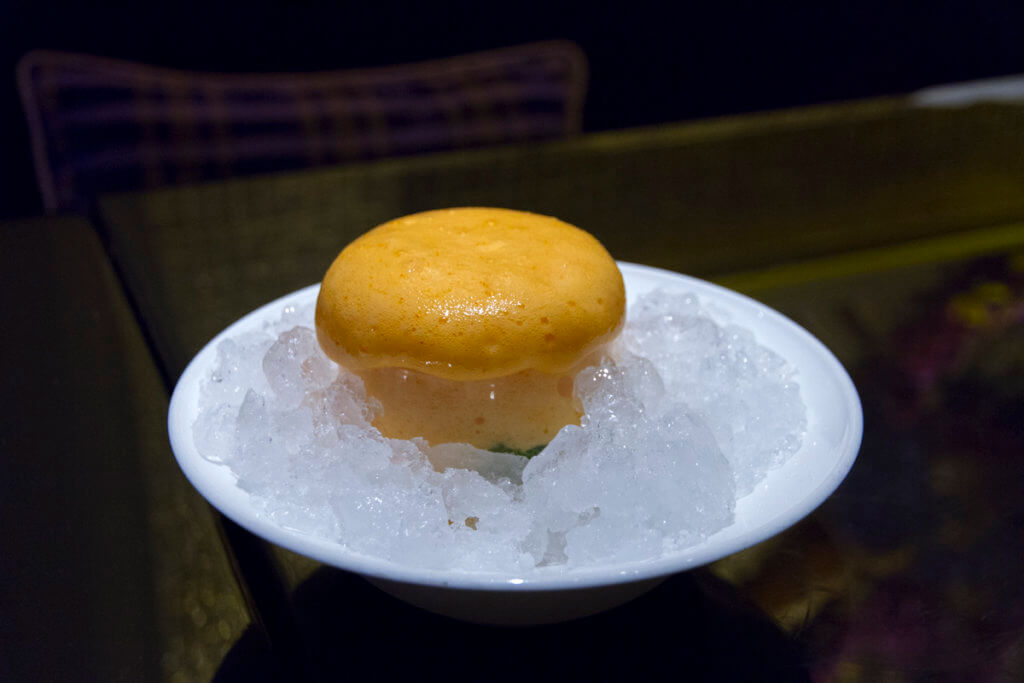 Frizzy, froth, creamy, citrusy, spicy, sweet are what this thing was like.  Basically, it's shiso granita layered with macerated citrus and a greek yogurt ice cream and topped with yuzu and Espellette pepper soda.  It was a nice, refreshing, contrasting dessert.
But, things with the dessert service didn't go quite to the restaurants liking.  It took abnormally long to come out, though we didn't really notice, as we were just enjoying a conversation amongst ourselves anyway, so they proactively brought out a second dessert.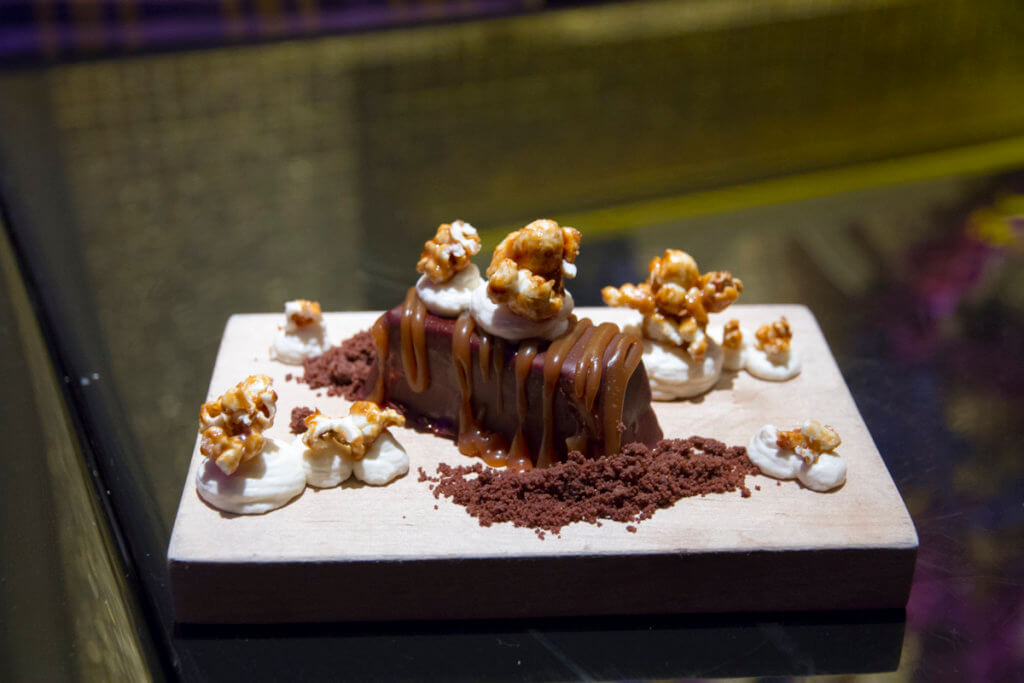 The Foie Gras Candy Bar is the exact opposite of what we ordered, coming with salt & pepper peanut butter cream, bourbon caramel, and single-origin milk chocolate.  But it sounds like something I would have loved to try, except the for inconvenient fact that I'm allergic to peanuts.  It was still a nice gesture, though, and Mrs. island Miler enjoyed it.
Sage at Aria Las Vegas, Final Thoughts
Overall our dinner at Sage was an excellent experience.  The food was unfussy and delicious, while the service was perfection.  And, it didn't hurt that we had a $50 MGM Resort Dining credit either.  I simply charged it to our room and we got an instant 25% discount on our meal.  Hard to complain about that.
So if you're looking for a nice meal in Vegas in a pleasant atmosphere that isn't too over the top or too expensive, I highly suggest checking out Sage.  And even if you don't have a resort dining credit, at least dining here helps you to retain your Mlife status ?
Las Vegas 2018