Want to see a bunch of colorful rocks stack on each other in the desert?  That's basically what Seven Magic Mountains is.  And despite my underwhelming description, I thought our visit to the display was worthwhile.
What is It?
Seven Magic Mountains is an art display in the middle of the desert.  And, as you can see from my photos, seven thirty- to forty-foot high towers of colored boulders make up the display.  The display itself is the work of Swiss artist Ugo Rondinone, in association with the Nevada Museum of Art and the Aria Resort & Casino.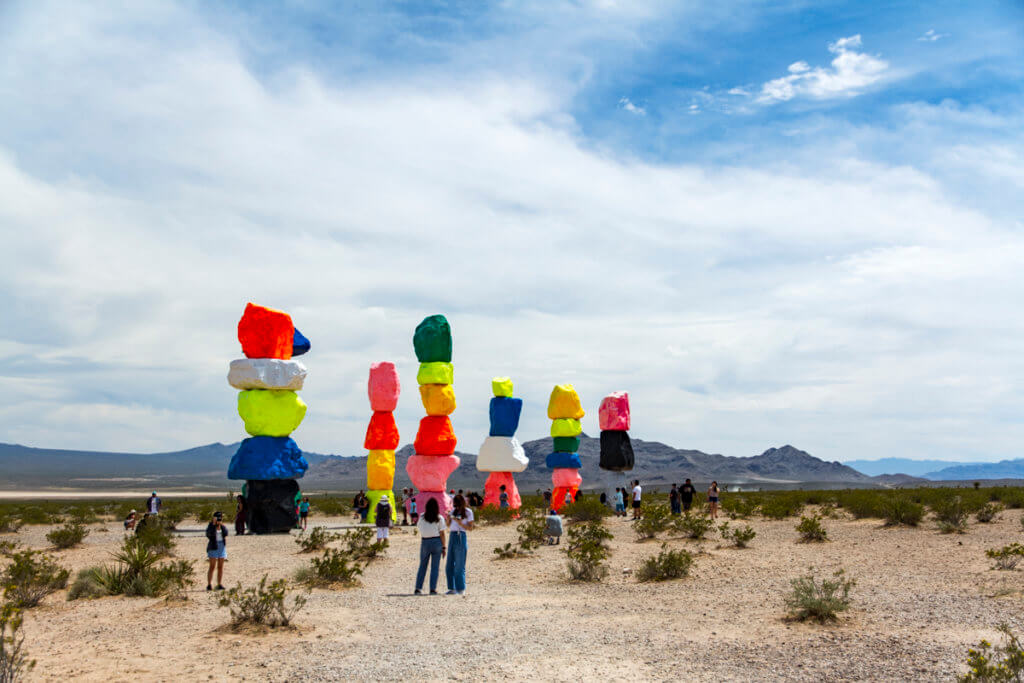 Does the display mean anything?  Nope.  At least not that I can gather from its website and other articles.  Rather, the only explanation on the site is that it's physically and symbolically placed halfway between the natural and the artificial.  The natural, of course, being the mountain ranges, desert, and Jean Dry Lake Bed, while the artificial is the highway.  And, admittedly, Seven Magic Mountains does create an interesting contrast in the landscape.
Visiting
I'm not kidding when I say Seven Magic Mountains is in the middle of the desert.  Despite being "just off" South Las Vegas Blvd, it is, in fact, located 20 miles away from the Delano Las Vegas, which is where we were staying.  So if you're thinking about just staying on South Las Vegas Blvd the whole way, forget about it.  You'll definitely want to jump onto the I15 instead.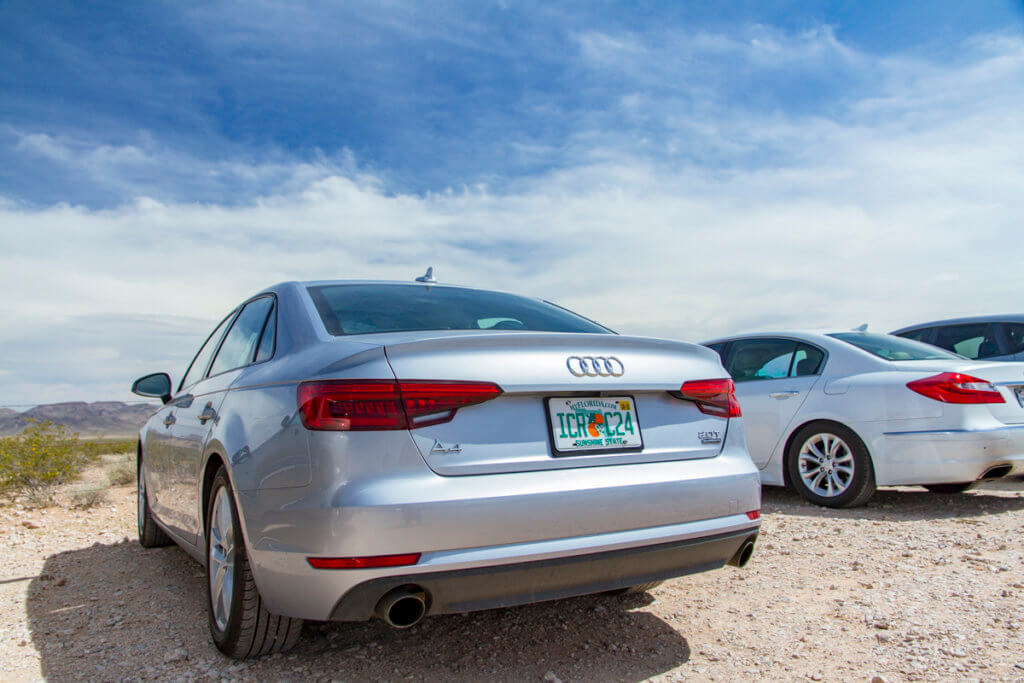 When you get there, you'll park in a dirt lot.  Space can be tight, so try to visit early or later in the day to avoid the crowds.  There are no set hours, though the exhibitors suggest visiting between sunrise and sunset.  Admission is free, but keep in mind that there are no facilities out here.  During our visit, there was a truck selling refreshments, but this may not always be the case.  So be sure to bring plenty of water; you are in a desert after all.  It is not uncommon for temperatures to go well above 100 degrees during the summer.  And during the monsoon, weather can turn very quickly, so be sure to plan accordingly.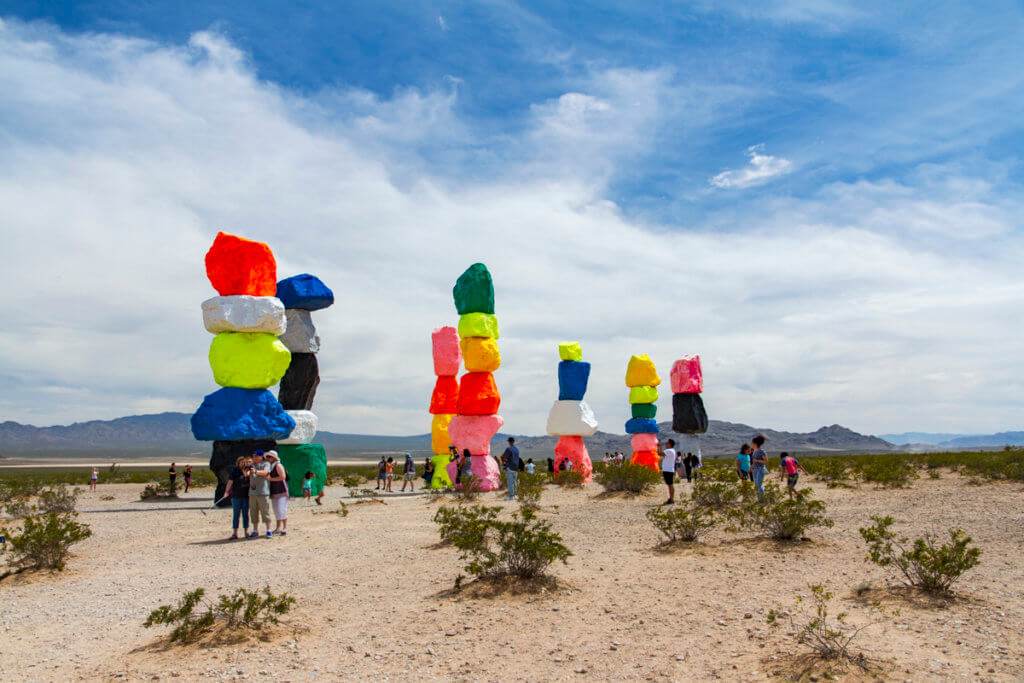 There are no tours or pamphlets at Seven Magic Mountains.  However, visitors may still enjoy a "tour" of sorts via cell phone. Just call 702.381.5182 and follow the prompts.  Oh, and "professional photography" equipment such as tripods are not allowed.  Though, drones appear to be tolerated.
Seven Magic Mountains, Final Thoughts
Honestly, we went because Mrs. Island Miler and her friend wanted to.  Going to see the Seven Magic Mountains wasn't on my list of things to do, but it is interesting.  And I had fun trying to take pictures of the exhibit from different angles.  But it was far too hot and too crowded for us to spend too long out there snapping photos, so I didn't get much.  And, honestly, I think the place would look a lot cooler at sunrise or sunset.  So I'll keep that in mind if we ever make it back.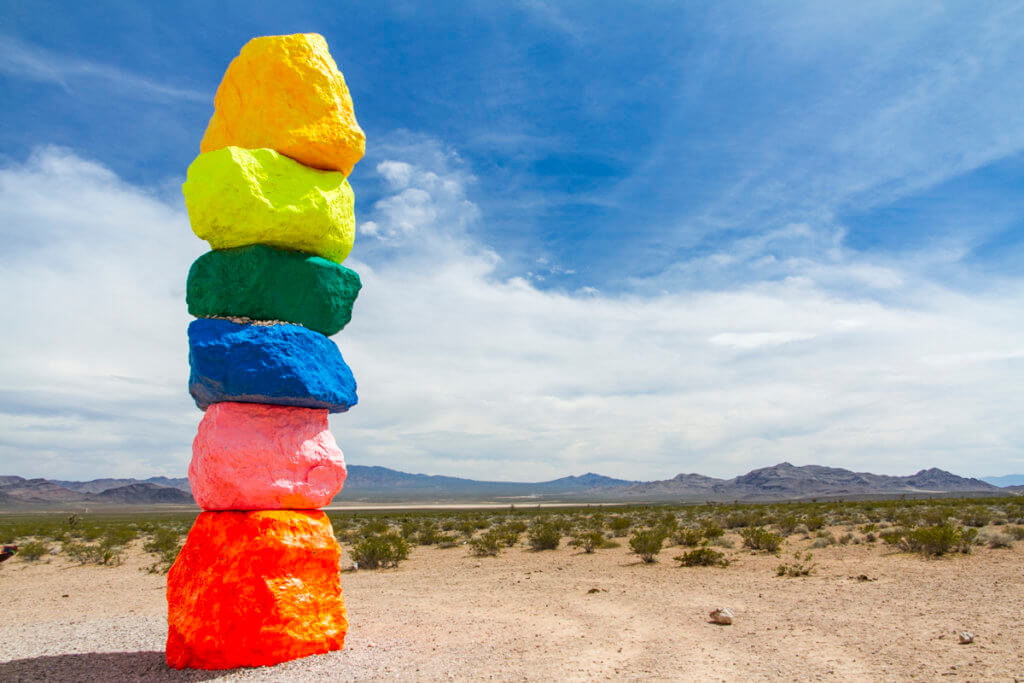 And our visit this past April may just be our one and only.  The two-year display was supposed to come down in May.  However, Seven Magic Mountain's producers are working on obtaining extensions or relocating the display.  At the moment it'll remain in place through the end of the year, but what happens after that is anyone's guess.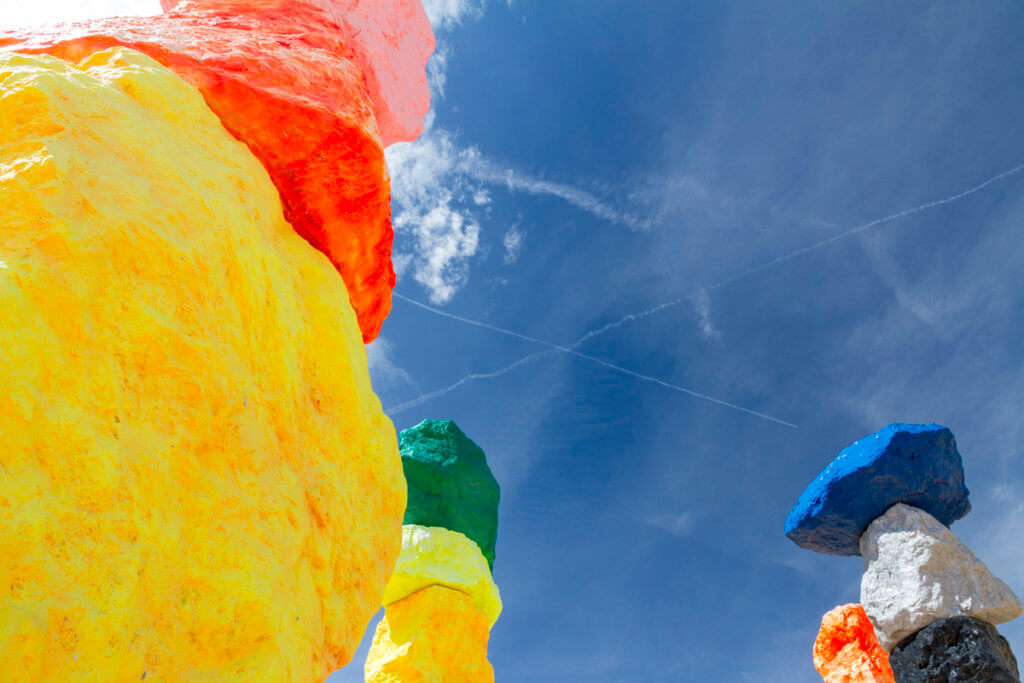 So if you're going to be in Sin City through the end of this year and have some time to kill, go check out Seven Magic Mountains.  It's not the most thrilling thing you'll do in Vegas, but it is an interesting sight to see.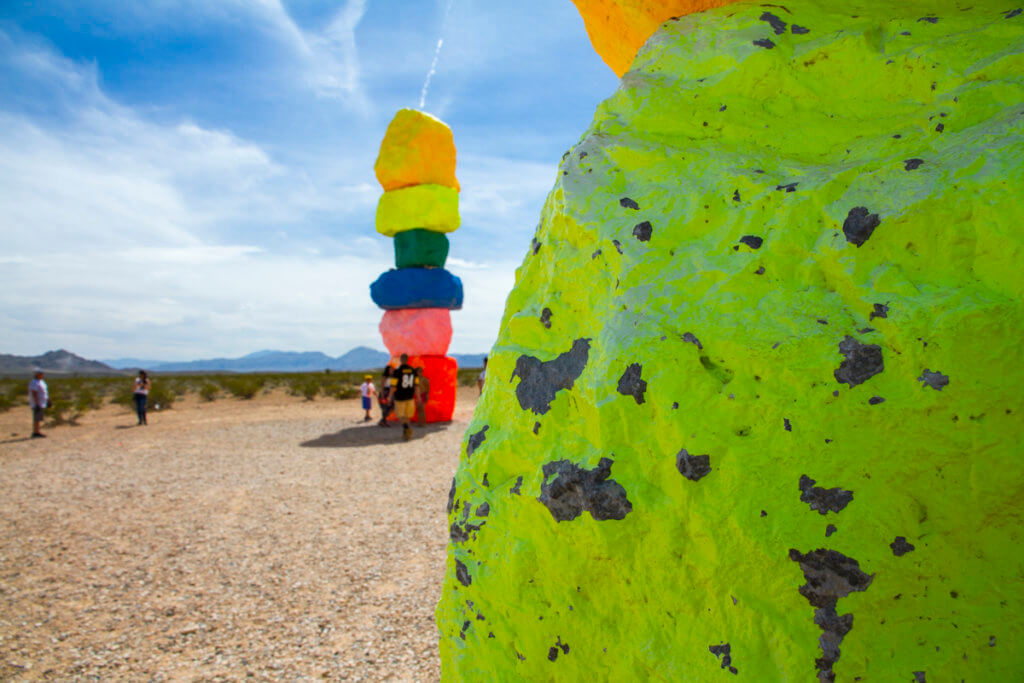 Las Vegas 2018