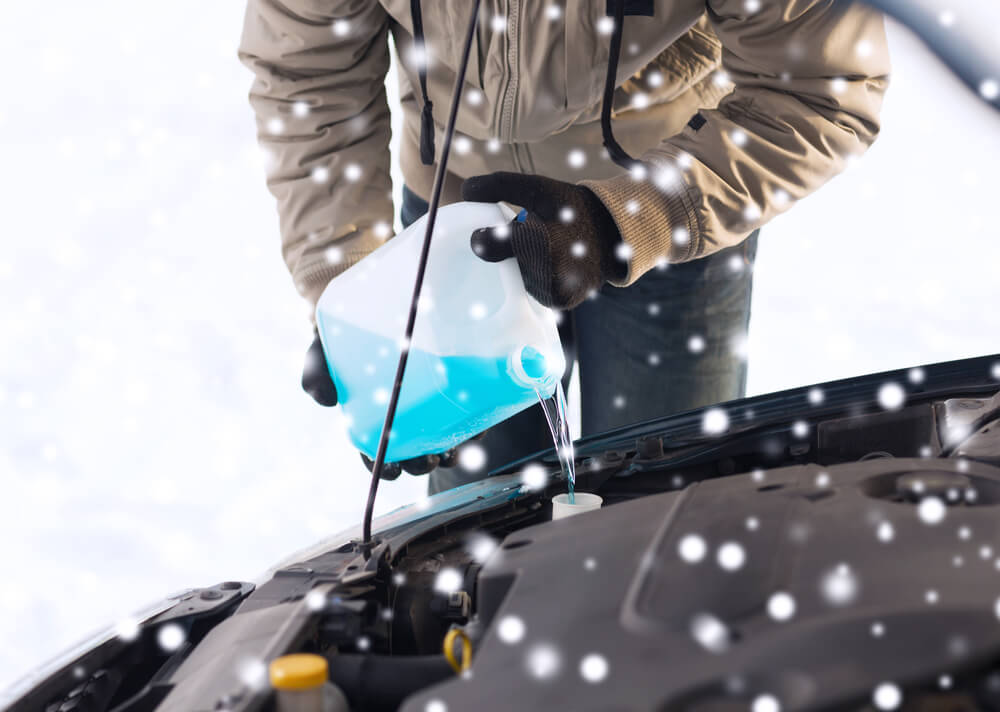 All of our reviews are based on exhaustive research, industry experience and whenever possible, hands-on testing. When you make a purchase using one of our chosen links we'll a small percentage of the proceeds. This supports the site and keeps Jeffsetter running. You can read more here.
It's time to get the rig out of storage and get camping this summer! What a great time to enjoy using your RV to the fullest. You may not have checked on your RV since you winterized it, and suddenly you see that bottle of antifreeze in your garage.
Does your unused RV antifreeze go bad, especially now that you know you won't need it for another few months at the least? Is it worth keeping your old RV antifreeze in your garage, taking up space?
Does RV antifreeze go bad?
As long as it's stored properly and the cap is tightly sealed, RV antifreeze will typically have a shelf life between 1 to 4 years but can often remain effective long after that. Most brands will have an expiration date as well to help guide you. 
What is RV Antifreeze Used For?
RV antifreeze is used in conjunction with your RV's plumbing system, and used solely when it comes time to store your RV for winter. This is also known as winterization, and is a very common task for RV owners to consider.
Winterizing your RV is important if you plan on storing your RV during the cold winter months, and it is a necessity if you live somewhere cold or freezing. RV antifreeze is necessary for those of you in cold climates, as it raises the temperature of water high enough to prevent freezing!
Pouring antifreeze into your RV's drains and plumbing system will assist with any water you may have remaining in your pipes come winter. The antifreeze is important as it will keep the water from freezing inside your RV's pipes and expanding them.
You can also pour antifreeze into your black and gray water tanks. Doing so will keep your waste water from freezing inside your tanks. This means an easy clean come springtime, and no damage to your tanks from water expansion!
Improper winterization is often the number one cause of RV damage. If you plan to store your RV or motorhome at any point, keep this important tool in mind.
What's the Difference Between RV and Automotive Antifreeze?
You may be wondering what the difference is between RV antifreeze and the antifreeze that goes in your car. Automobile antifreeze is notoriously shelf-stable and does not expire unless it has been improperly sealed. So you may be thinking about using it in your RV as well.
RV antifreeze is used in the plumbing systems of your RV while automotive antifreeze is used in your car's coolant system. RV antifreeze is always less toxic, as automotive antifreeze is completely and totally poisonous and should never be consumed.
This is why it is absolutely vital to only buy RV-safe antifreeze, and avoid that automotive antifreeze section of the store altogether. Automotive antifreeze is often a more dense product, and is made of ethylene glycol. This sounds similar to the ingredient used in RV antifreeze, but it is very different and highly toxic.
Thankfully, RV antifreeze and automotive antifreeze come in different colors, most likely on purpose. Most people report purchasing RV antifreeze in pink or blue colors, while automotive antifreeze is often only found in green or yellow. This should be a great benefit when it comes time to go to the store and make your purchase!
The basic difference between the two products is how they interact with your RV and car. RV antifreeze is much simpler as its only purpose is to keep water from freezing. However, automotive antifreeze is used in conjunction with the engine and keeps it at a stable temperature.
It is imperative that you never use car antifreeze in your RV's plumbing system. It can purposefully damage it, as well as potentially be toxic to you and your family. Be safe, read your labels, and use non-toxic antifreeze only in your RV!
Types of RV Antifreeze
While it may not change how long you can store your antifreeze in your garage, there are a few different types of RV antifreeze for you to consider. Check out these options before you look at purchasing and storing your RV antifreeze.
Ethanol Antifreeze
Ethanol is, you guessed it, alcohol, and if you've ever had hard liquor around, you know it doesn't freeze solid if you keep it in the freezer. So you may have already inferred that ethanol, hard liquor's big brother, can keep your water lines from freezing come winter! However, this level of alcohol present makes ethanol based antifreeze extremely flammable. 
However, is ethanol based antifreeze safe to consume? This type of antifreeze is not recommended for consumption, and honestly not recommended much in general. Despite being the number one base for RV antifreeze, ethanol has a lot of drawbacks.
The main issue with ethanol antifreeze is its toxicity. Your water lines will need to fully purge this product come springtime, and many RV owners report their water tasting funny after the ethanol antifreeze has, in theory, left the water lines.
Ethanol antifreeze also dries out most rubber seals and other rubber gaskets you may have in your RV, which means you may find yourself replacing these do dads every few years. An unfortunate cost and an unnecessary maintenance task, even though you may be saving a few bucks on a bottle of ethanol based antifreeze!
Propylene Glycol Antifreeze
What is so good about propylene glycol based RV antifreeze? Well, the easiest difference you'll notice is that this antifreeze is not toxic! If you're looking for a product that won't ruin your water quality come spring, and a product that's overall better for your plumbing system, check out propylene glycol!
This handy antifreeze base is better than ethanol in almost every way, including what it can do for your plumbing gaskets and seals. Propylene glycol is in fact a lubricant, extending the overall life and longevity of your rubber seals and gaskets. 
Propylene glycol is also not nearly as flammable as ethanol; having a product that is non-toxic and also not flammable makes for a much less scary bottle on the shelf of your garage! This product is safe to travel through all of your fresh water lines and tanks without fear of an unfortunate taste come spring.
So what's the catch, you may be asking? The only main drawback to propylene glycol based antifreeze is the cost. It averages an extra few dollars per jug of it, but with the number of perks propylene glycol has, it's a no brainer to me. However, you may have your own reasoning behind choosing an ideal antifreeze for your rig!
As we've already mentioned, there are many benefits to non-toxic RV antifreeze. One of the main benefits is simply that you won't have to worry about this product lingering in the pipes of your RV. Even if it does, non-toxic RV antifreeze won't hurt you should you happen to drink some of it.
Another key benefit to non-toxic RV antifreeze is that it assists your overall plumbing system, primarily the rubber seals around your toilet and other fixtures. And of course RV antifreeze is almost a necessity should you be planning to store your RV somewhere that reaches below freezing temperatures.
Ethanol and Propylene Glycol Blend Antifreeze
This in-between product is great for the budget and great that it is in theory non-toxic. However, some sources disagree and believe this antifreeze to still be toxic, given the presence of ethanol. Again, always read product labels, and if in doubt, stick with a propylene glycol antifreeze only.
An ethanol propylene glycol blend may be cheaper and possibly non-toxic, but it still carries with it the drawbacks of ethanol. This product is known to make your RV's water taste different come springtime, as well as ethanol dries out any and all rubber present in your RV's plumbing system.
While you may save a few bucks and get a (probably) non-toxic antifreeze, the overall response to this blended product is unfavorable. However, you may find that it suits your needs just fine!
Does One Type of RV Antifreeze Have a Longer Shelf Life?
You may be wondering if one of these types of RV antifreeze has a longer shelf life than another. Finding RV antifreeze that's nontoxic and has a long shelf life seems like a dream come true, and definitely would be the product I would buy!
However, the good news is that all RV antifreeze has a general shelf life of 1-4 years, no matter the product ingredients. This means that you can buy whatever product you prefer, and no doubt stick to a nontoxic product should that be your preference. 
Most all of the different types of antifreeze will expire in the same amount of time, so there is nothing to worry about from this perspective. Choose whichever one you prefer, depending on your needs, budget, and storage ability.
Are There Other Options for Clearing the Lines So I Don't Have to Store Antifreeze?
While non-toxic RV antifreeze is the preference of many RVers, overall it will be the most expensive option on the market. The most affordable RV antifreeze option is going to be whatever product is ethanol based. 
This may not be ideal, but if you're concerned about your RV budget, choosing an ethanol based antifreeze will save you a bit of money. If you own an air compressor and can force the water out of your pipes with the same machine each winter, then this will probably be an even cheaper option for you.
However, an air compressor is a larger upfront cost, plus you'll need to be sure you know how to operate it. However, you may find using an air compressor solves all of your current issues with RV antifreeze, including affordability!
Many RVers report that an air compression system is all they need to winterize their rigs. However, if you live in extreme temperatures or aren't certain what the state of your lines is like right now, beginning with antifreeze might be a good idea.
How Long Can I Keep RV Antifreeze Before It Goes Bad?
We've finally learned enough about RV antifreeze to answer your very important question: does RV antifreeze go bad? This is an important question for RVers to have answered, as you will most likely have some leftover after winterizing should you choose to winterize with antifreeze.
The good news is that RV antifreeze does not go bad- not immediately, anyway. RV antifreeze has an average shelf life of 1-4 years, depending on the brand and overall storage conditions. 
Storing the bottle in a garage, for example, will be okay, but the varying temperature conditions may lead to an inconsistent product. Too hot or too cold temperatures can affect the product, especially if you purchased an antifreeze that needs to be mixed with water. 
Evaporation is the main culprit that affects the long term storage of RV antifreeze. So you may wish to store your antifreeze elsewhere, like indoors in a utility cupboard should you have one. However, most any product of RV antifreeze should keep from one winter to the next.
What's the Best Way to Store My RV Antifreeze?
As previously mentioned, the best way to store your RV antifreeze is pretty flexible. You can keep it in your garage, RV, or indoors, though keep in mind the potential toxicity of RV antifreeze. While most antifreeze is nontoxic, it is important to keep away from children and pets.
If your storage location experiences a lot of varying temperatures, you may consider keeping your antifreeze in a more climate controlled location, or simply plan on buying new products come winter. However, Should you have some antifreeze left over from your winterizing process, you should have no trouble using the leftover product the following winter.
The number one thing to keep in mind when storing your leftover RV antifreeze is ensuring your cap is tightened completely to avoid any potential evaporation or contamination to the product. If you are dealing with a brand new, sealed product, you should be just fine to keep the antifreeze on the shelf for up to 4 years.
I highly recommend buying the amount of antifreeze you think you will need fresh every season, leaving as little leftover as you can. That way you don't have to worry about quality control or anything happening to the product during the full year when you're not winterizing.
How Can I Tell If My RV Antifreeze Has Gone Bad?
It's tricky to test if your RV antifreeze has gone bad, mainly because you'll need winter conditions to truly confirm if the product is still good. However, there's one way that will for sure let you know if your antifreeze still works: put a bit of the product into your home freezer.
Make sure the antifreeze is in a sealed container before you do so, and try not to keep the container near any food products, just in case. Let it sit in your freezer for a few hours or overnight, and pull it out when the time is right.
If your antifreeze is rated to handle the temperature of your freezer and it remains unfrozen, your RV antifreeze is still good and has not gone bad. However, if you pull out the product and it has frozen inside of the container, it is most likely a spoiled product.
Time usually affects the overall ability of your antifreeze product in terms of the cold temperatures it can handle. While your leftover antifreeze product may be able to handle higher freezing temperatures, it may not be able to handle extreme cold temperatures after being left on a shelf for more than a year.
Are There Expiration Dates On RV Antifreeze?
For the safety of you and your RV, there is often a posted expiration date on bottles of RV antifreeze. This is an important thing to pay attention to should you be purchasing the product from a store before winterizing. 
If you plan on buying enough antifreeze to store after the winter is over, the amount of time the antifreeze has been on a store's shelf matters. If you see that it is already a year or so within the expiration date, I would not recommend purchasing it, especially if you plan to store it in your garage. 
Having an expiration date on your RV antifreeze is a great thing to reference. I have also put my own date on bottles of open antifreeze so that I know when I opened it. If I know when I opened the bottle, I can more easily use it up before it is set to expire.
Conclusion
Storing your RV antifreeze is an important part of the winterizing process. Making sure to use your bottle of antifreeze within 1-4 years is ideal, and checking the expiration date on the bottle before purchase is also a good idea!
While winterizing your RV can be stressful, knowing that your RV antifreeze is a quality product should bring you some peace of mind. Don't forget that you can always test the product before pouring it down the drains of your RV. Happy camping!