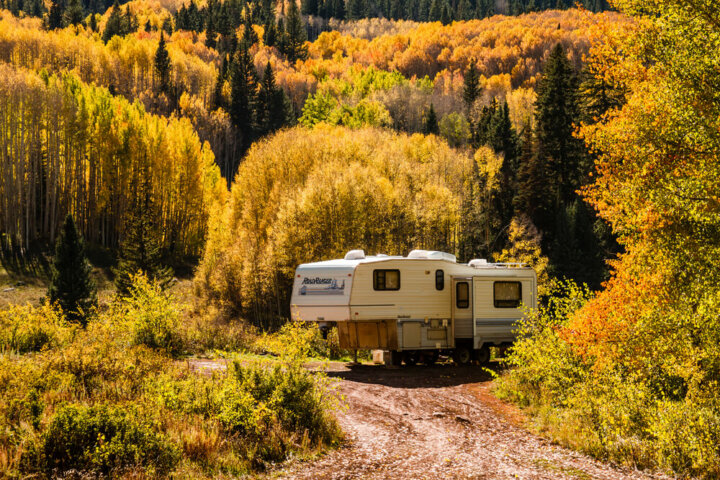 All of our reviews are based on exhaustive research, industry experience and whenever possible, hands-on testing. When you make a purchase using one of our chosen links we'll get a small percentage of the proceeds. This supports the site and keeps Jeffsetter running. You can read more here.
When you live in a part of the country where the weather is sporadic at best, like Colorado, knowing when to winterize your RV can be confusing. It can become even more confusing when you factor in that some places are cold all year round.
If you own an RV, then you probably know that winterizing is important, but when should you winterize your RV In Colorado?
Winterizing your RV in Colorado should take place before the weather drops below freezing and you can un-winterize in late spring. You have to be cognizant of the weather patterns where you are traveling in Colorado because they can change rapidly, so always check the weather report before starting the winterizing process.
This article will explore exactly when and how to know when you should winterize and un-winterize your RV when you live in Colorado. We will also explore how and why you should go through the trouble of winterizing your RV.
When To Winterize An RV In Colorado
A general rule of thumb when it comes to winterizing your RV is to get it winterized before the temperature drops below freezing. This can get a bit complicated in environments where the temperature varies widely throughout the day or when you are traveling in the mountains and they get snow all year round.
Colorado winters are usually mild, but that doesn't mean temperatures can't drop significantly during the night. So, whether you live in Colorado or not if the temperature gets below 32 degrees Fahrenheit, then you should winterize your camper. Your RV can experience a lot of damage if you neglect to winterize it, and it will last much longer if you take the steps to properly maintain it.
To get ahead of the weather, I would recommend winterizing your RV at the start of October. That way you aren't leaving it so late that the weather changes unexpectedly and you end up with frozen pipes.
You might be in a situation where you plan to travel throughout Colorado or you are planning on traveling to Colorado. If this trip is going to take place during the winter months, then you should definitely winterize your RV before making the trip. If your trip is planned for the spring or fall, you should ensure that you are conscious of the weather where you are traveling, by checking the weather report.
Some parts of Colorado are cold all year round, so just keep that in mind.
Why Should I Winterize My RV In Colorado?
If you aren't familiar with the concept of winterizing your RV, then you might not know why you're supposed to do it. It's an important process that is vital to keeping your RV well-maintained and saving your money on expensive and unnecessary repairs.
Essentially, winterizing is the process of getting your RV ready for the colder seasons.
Whether you live in Colorado, or you're planning on spending a few days or months there during the winter, you need to make sure your RV is properly winterized. If you don't winterize, you risk a lot of damage to your RV, especially if you plan on storing it for the season. You can end up with water and appliance damage, battery damage, exterior damage, and tire problems.
We explore these potential damages in depth in another article that you can read here. My top four reasons why you should winterize your RV are outlined below.
1. Avoid Bursting Pipes
If you are used to living in a cold climate, then it's no surprise to you that pipes burst if they freeze in the winter. It's an expensive problem to have in a home or an RV. Draining all fluids properly and using RV antifreeze can help keep you from experiencing this problem.
2. Maintain Your RV's Battery
If you leave your battery out in the cold, you risk it freezing. The last thing you want to deal with when you are ready to hit the road again is a dead battery delaying your travels. Removing your battery and storing it in a separate place will stop this from happening.
3. Protect Your Tires
Your tires can easily get damaged in cold weather. If you don't take the proper preventative actions, you may end up having to replace all of them after the season is over. Inflating your tired properly, removing excess weight from inside of your RV, and lifting it for even more weight reduction to minimize damage over the winter season.
4. Keep Fuzzy Friends Out
I'm not talking about the kind of fuzzy friends you own like your dog or cat, but unwanted critters can do a lot of damage quickly. They can chew through wires and make nests in your systems wreaking havoc on the electricals in your RV. Sealing your camper will help this from happening.
These four reasons should express to you just how important it is to winterize your RV!
How to Winterize My RV
Winterizing your RV might seem intimidating at first. It takes quite a few steps and you want to make sure that you do them correctly to avoid all of that nasty damage I mentioned above. There are professional services you can find and use in Colorado, but I recommend learning how to do it yourself since it is something you have to do every year.
The basic steps of winterizing your RV are detailed below. There are various different methods for winterization, this is just one of them.
Disconnect your outside water source.
Drain your fresh, grey, and black water tanks.
Bypass your water heater and any under-sink water filtration systems you might have.
Drain as much water from your pipes as possible. Open your taps and flush the toilet to drain all the remaining water from your system.
Add antifreeze to your water system. You can use a water pump conversion kit or a hand pump to do this. Run the faucets until the only thing flowing from them is antifreeze. Start in the kitchen, then the bathroom sink, the shower, and then the toilet.
Pour two pints of antifreeze into your sink and shower drains. Don't forget to look into your other appliances and if they need to be winterized.
Open your drain plug or valve on your water heater and leave it open.
Winterizing is an important process to get used to when you travel or live in a cold climate. It's worth putting time and effort into learning how to do it and how to do it properly. It really only takes about thirty minutes once you know what you're doing. It might also be worth your time to try a few different methods until you find the one that is right for you and your rig.
There are more steps to proper winterization, but clearing your water system and adding antifreeze is one of the most vital steps.
The video below is a great introduction to the basics of winterizing your RV.
What Should I Do With My RV In The Winter in Colorado?
Most RVers will store their RV for the winter season. If you're fortunate, you might have an RV garage or are able to rent a space in an indoor parking lot. This will make your life quite a bit easier when it comes to winterization. You won't have to worry about a lot of the damage other RVers will have to think of if they park outdoors.
If you, like most, are storing your RV outside for the season, then you should absolutely follow the winterization steps we detailed in this article.
Additionally, you need to cover your RV. Before doing so, you have to clean it thoroughly. I recommend washing both the interior and exterior of your RV prior to covering it. There are covers on the market to purchase but you can also use a tarp. We rounded up the best RV covers for winter here.
When you park your RV for the season, make sure that you check in on it regularly. I usually check my RV at least once a month, that way I can catch damage before it becomes overwhelming and expensive.
Just because most RVers store their RV for the winter months, that doesn't mean that you have to. You can use your RV all year round without having to stop just because it gets cold out. If you do choose to use your RV during the Colorado winter, then make sure to prep it correctly. You'll want to keep the pipes from freezing and keep critters from making a home in your warm engine, but winter camping in Colorado can be a fun and exciting adventure.
When To Un-Winterize An RV In Colorado?
Un-winterizing or de-winterizing shouldn't take place until you're certain the weather isn't going to dip below freezing. As I mentioned before, being in Colorado can make that a bit of a trickier task. Living in a part of the country where the weather is unpredictable makes knowing when to un-winterize hard.
If you live in a part of Colorado that is consistently on the colder side, then I would check out our article about winterizing your RV to live in it, because that might be the best option for you to keep your RV well maintained.
March or April is probably going to be a safe bet for you to start your de-winterizing process. I highly recommend keeping an eye on the weather reports though, because a lot of colder climates can have frosts late into the spring.
How To Un-Winterize My RV
Dewinterizing is relatively easy, it's essentially the process of winterizing in reverse. It's also a great opportunity to perform some regular maintenance on your RV.
You'll want to start by checking your tires, if you don't then you can put yourself and others in a significant amount of danger. Your tires will likely be quite a bit deflated and need refilling after all of the cold.
Check over the exterior of your RV. Make sure that there aren't any cracks, leaks, or damages. Look at the seals on your doors, windows, and slideouts. Double-check the roof to ensure that it didn't have structural damage due to snow accumulation.
Charge and reinstall your batteries. Hopefully, you kept them in a safe place and checked them regularly, and recharged them in the off-season. You can check the charge on your batteries using a voltmeter.
Flushing the water system is probably the most important step in getting your RV ready for spring. You'll want to flush the antifreeze from the water system so that the water is clean and safe to drink. RV antifreeze is nontoxic, but that doesn't necessarily mean that you want to drink it. If you have flushed your tanks and can still taste antifreeze in the water, you can add baking soda and then flush the system again.
After flushing the system, you should also sanitize the water system. This will help to remove the RV antifreeze as well as flush bacteria or mold from the system to make sure that it is safe to drink and use.
Additionally, you'll want to check your RVs engine, electrical systems, appliances, and generators. If you use propane in your RV, then you should refill your propane tanks.
When you are un-winterizing your RV, it's a great opportunity to do spring cleaning and regular maintenance on your RV. Doing things like changing your filters, restocking your first aid and emergency supply kits, and making sure that your registration and insurance are up to date are great ideas for spring cleaning.
I recommend putting a checklist together to keep yourself organized when getting your RV ready for the spring. There are quite a few things that are necessary for your safety and the safety of others on the road, so make sure to do a thorough job!
Conclusion
Knowing when to winterize and un-winterize your RV should be a simple cut and dry answer, but the truth is that if you live somewhere like Colorado, where the weather is less predictable and some places are cold all year round, it isn't such an easy answer.
A basic rule of thumb to follow is that you should winterize before the temperature drops below freezing and you should only un-winterize your camper after you know the weather won't drop below freezing again.
Starting in October and waiting until March or April should be a safe timeline to follow, but keeping an eye on Colorado weather reports is even safer!