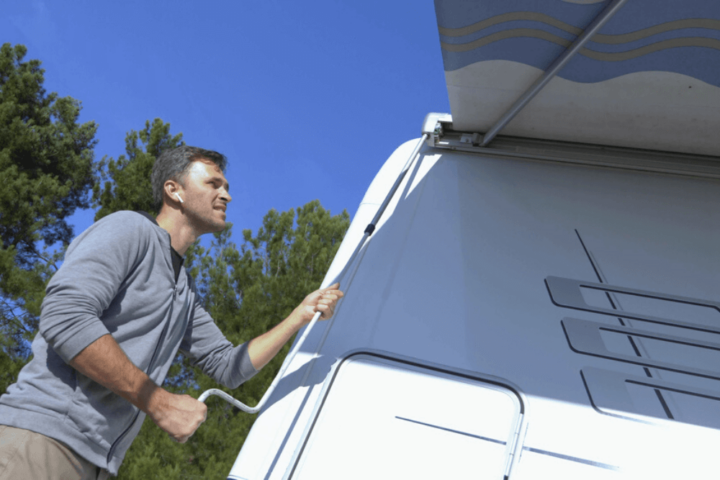 All of our reviews are based on exhaustive research, industry experience and whenever possible, hands-on testing. When you make a purchase using one of our chosen links we'll get a small percentage of the proceeds. This supports the site and keeps Jeffsetter running. You can read more here.
You've arrived at your destination and are ready to get to relaxing and camping. You set up some nice patio chairs and a picnic lunch in the sun to enjoy the afternoon, but when you try to extend your awning, it's not moving. This can put a huge damper on your day and result in wanting to stay inside in the shade instead of enjoying the outdoors.
But why is your RV awning not working?
A malfunctioning RV awning might be caused by bad or loose wiring, or it's a result of low 12v power. It could also be a sign of motor failure or broken mechanical parts. You will need to test the motor, wiring, and mechanics of your RV awning, or seek out the help of a professional.
This article will help you troubleshoot your RV awning and give you some quick and easy solutions to the most common problems you will run into with your RV awning.
So let's get started!
What Makes An Awning Stop Working?
If you are having trouble with your power awning, there are four main causes that are the most likely reason behind your troubles. These are the first things you should check if you can't get your awning to work.
Reason 1: Low 12v Power
If your awning motor isn't receiving power or enough power, then it won't be able to extend or retract your awning. The lack of power running to your awnings motor can be a result of low 12v power. This can be caused by trouble with the battery itself, or the converter could be compromised.
You can use a voltage meter to see how much power your battery is producing. That number should be over 12v if you are plugged into shore power.
Try running your awning with just the battery, making sure to disconnect from shore power. If the meter drops in reading once you are disconnected from shore power, then the problem is with the battery.
Reason 2: Bad Or Loose Wiring
As with a bad battery, bad or loose wiring in your awning motor can stop the awning from operating correctly or at all.
Bad, faulty, or loose wiring can also cause electrical fires, which can be extremely dangerous and costly.
The best way to test your wiring is to unplug the awning motor and plug it into another power source like a 12v battery. Power up the awning and if it moves correctly, then your problem is in the wiring or the switch itself.
Tot est the switch connections, you'll want to remove with switch and use a short piece of wire to connect it directly to the 12v battery. Test the awning and if it works now, then you can safely assume you need to replace the switch.
It's possible that you might get to this point and find that you're no closer to diagnosing your problem, then you should take a closer look at the wiring. You may end up finding a broken one or a loosely connected one. At this point, you may need to get a professional involved to diagnose and resolve your issue.
As always be careful when testing electrical components of your RV. If you aren't confident in your ability to work with wires safely, then bring your RV to a dealership for a professional to evaluate it. It can be dangerous to mess with RV wiring, so be careful if you choose to test them yourself.
Reason 3: Motor Failure
If you know your 12v battery is giving off the correct voltage and does not need to be replaced but the motor still did not work when it was connected then your motor is likely dead and in need of replacement.
It's also possible that you will see slow movement accompanied by a lot of noise from the awning motor which also indicates that it needs to be replaced.
Reason 4: Broken Mechanical Parts
If you've gone through the motions looking for an electrical problem and you still haven't found one, then it might be because you have more of a mechanical problem on your hands.
You can try a manual override of your power awning, and if it grinds or does not move at all, then you are looking at a mechanical issue.
At this stage, remove the covers on both ends of the awning and visually inspect for any damage. Keep an eye out for the bearings and gears specifically when doing this inspection.
These are some of the common reasons for a power awning to stop working. Generally, they require a replacement of your RV 12v battery, the awning motor, wiring, or mechanical parts of your awning.
Common Issues & Easy Fixes
You'll run into a few of the same issues with your awning and getting it to work properly. As mentioned above, there are four likely root causes of all of your awning troubles, but let's get specific now.
1. Your Awning Will Extend But Not Retract (Power & Manual Awnings)
As annoying as it is when you want to get shade and can't because of a broken awning, it can be just as annoying when you can't get your awning to retract. Not being able to retract your awning can cause driving hazards and general inconveniences on your trip.
If you run into this problem, I recommend looking up product recalls before troubleshooting anything. It might end up saving you quite a bit of time. After you do that, if nothing shows up, then start the troubleshooting process.
Aside from checking the power elements, all of these troubleshooting tips can apply to a manual or non-power awning as well.
Is It Properly Positioned On The Rail?
This is important whether your awning is manual or power. Either type of awning will have trouble retracting if it's not positioned evenly on the rail. Check to see if the awms are stretching the fabric evenly, this can help you determine if the awning is evenly positioned or not.
If it's not then you might need to contact a professional who will be able to manually shift the awning over to fix it or you can carefully attempt to do this yourself.
Check The Awning Chords
You should not be able to move your awning's chords. If you can, then the screws are likely too loose which can stop your awning from working properly.
Check The Awning Arms
It's possible that the arms of your awning are not moving parallel to each other, which as you can imagine, will cause of issues when retracting. If they are not moving in tandem, then that might be the cause of your awning not retracting. If that's the case, then you may need an arm repair or replacement.
Before jumping to a repair or replacement though, I would give some WD-40 a shot, especially if you see any rust forming.
Look At The Fabric
This is especially necessary if you've experienced heavy rains and left your awning open during inclement weather. Your fabric could have been warped by the rain and debris accumulation. The only fix for this issue is replacing the fabric.
Check Fuses, Wiring & Circuit Breakers
You'll want to go through the steps detailed at the start of this article to troubleshoot motor and wiring issues.
Speak To A Professional
At the end of the day, if you aren't sure why your awning is not working properly and you can't figure it out, don't hesitate to call in a professional. There are professionals for a reason.
2. Your Awning Will Not Extend
This issue can put a real damper on your camping excursion. All you want to do is enjoy nature with a bit of shade, and your awning just won't move. Follow the steps below to troubleshoot this issue.
Again, I would check for any recalls before starting the troubleshooting. RV awning recalls are more common than you'd expect and taking a few minutes to look them up can save you hours in troubleshooting and repair time.
Check The Fuses & Circuit Breakers
In this instance, you'll want to start by checking the power of your RV awning. This is especially true if you don't hear any motor function when you try to extend your awning. Check the 12v battery of your RV and make sure that it is producing the correct amount of voltage.
Check For Corroded Wiring
Once you have finished checking that the motor is being properly powered, look at the wiring. Is there any fraying or corrosion that is visible to you? If so, then you might have bad wiring.
As I mentioned before, bad wiring can cause serious fires, so be careful when dealing with this issue. Remember, call in a professional anytime you are uncomfortable managing an issue on your own.
Check For Rust
In the event that your motor is running but the awning is not extending, get a friend or family member to manually roll the awning out while you hold the extension button. It's possible that rain caused some parts to corrode and begin to get rusty, making the awning and its parts stiff and unable to move. Manually extending it should help loosen that rust.
A spray of WD-40 can help keep that rust at bay and make those movements easier on your awning.
Listen For Clicking
If you can hear the motor running and your awning will not extend, then listen in closely for a faint clicking noise. This can indicate that a screw is stripped or the motor isn't functioning correctly. If you hear that clicking, I would reach out to a professional to help you solve the issue. It will likely require replacing important parts that should probably not be left to the DIYers.
3. Noisy movement
It can be pretty scary when you go to use your RV awning and it starts making knocking and cracking sounds. The noises can make it seem like your awning is malfunctioning or breaking, but that's not necessarily the case. Often, a noisy awning is a result of the brackets not being tight enough.
This problem is as easy to solve as just tightening up the brackets and testing it to see if your awning is still noisy.
4. Awning Rolls-Up Crooked
If your awning rolls up crooked, the problem is most likely due to the frame being out of alignment with the mounts on the side of your RV.
To fix this problem remove the screw that is typically on the top right of your awning. This screw holds the awning fabric to the mount on the RV. Slide the awning out until it is square and then replace the screw. Check the opposite side of the awning and repeat the process.
Run the awning again and make any adjustments as needed.
5. What If It Is A Wind-Up Awning?
If you have a manual awning, you can run into a lot of the same issues as a power one with the exception of the electrical problems.
Most of the troubleshooting outlined above will apply to both power and manual awnings.
This video below explores some of the common issues you can run into with your RV awning and how to fix those problems.
Other Awning Concerns
Aside from electrical and mechanical issues, you can definitely experience other problems with your RV awning. Much of this is due to your awning being exposed to the elements. Below you'll find common concerns and quick tips and tricks to manage them.
Sagging Fabric
You don't want to stretch the fabric of your awning out too much because that can cause problems when retracting, extending, and using your awning.
If you've overextended your awning, then the fabric will start to get loose and sag. To fix this, reverse the direction you are cranking your awning in until you see the fabric tighten.
Mold or Mildew
Your awning is going to be exposed to moisture in the air if it rains or is humid. That moisture can easily create mold, mildew, and even fungus on your awning.
Regularly inspect your awning for mold and mildew and clean your awning at the first signs of either. We explored the best awning cleaners in the past and can give you an idea of what kind of cleaners to use when battling mold and mildew.
Fabric Tears
Replacing the fabric of your awning can get expensive, so there are a few things you can do if you notice tears in the fabric that can extend the life of the fabric before you need to replace it.
Clear Gorilla tape is a great option to cover holes and tears. It can last up to two years. Additionally, I recommend regular cleaning, applying a protectant, and never rolling your awning up when it's wet to keep the fabric in its best condition.
Weather Damage
Your awning is outside of your RV, so it's susceptible to the elements. Wind, sun, snow, and rain can all do a number on your awning over time. You can't avoid the elements, but you can take these steps to maintain your awning.
If there is wind, then you should retract your awning. If the winds are strong enough, they can cause significant damage to the awning and to your RV.
Sun damage is inevitable considering your awning's biggest job is providing shade. The fabric of your awning will likely fade due to the sun, but keeping it clean can help slow this process down.
Snow can be very heavy and letting it accumulate on the top of your awning can cause the fabric to rip and the frame to bend. You don't necessarily have to retract your awning every time it snows outside, but make sure you clear the snow off of it regularly and don't let a lot accumulate on your awning.
Your awning provides shade but can also keep you dry in light rains. This shouldn't be a problem for your awning, but if you notice that water is pooling in your awning fabric, then adjust the pitch of your awning so that the rain falls off of it instead of pools on top of it. Remember to not wind your awning up when it's wet. Let it dry completely before retracting.
Animals
Bees, birds, and small mammals are going to be attracted to your awning as a cozy place for them to settle down. Keep the area beneath and around your awning clear of food, drinks, and trash to keep from attracting any of these critters.
The easiest way to keep them from nesting in your awning is to keep the awning closed when you aren't using it. That way, they don't have time to set up camp. If you notice a nest or hive, then remove it as quickly as you can or call a professional to do so. Animals can cause a lot of damage to the fabric and frame of your awning.
Conclusion
There are a few reasons why your awning might not be retracting or extending properly. If it is a power awning you can troubleshoot the wiring and motor or choose to hire a professional to do the job for you. Checking the parts and making small adjustments can solve the issues your awning is having. Remember to always look for a recall just in case.
There are plenty of common problems with relatively easy fixes when it comes to RV awnings. Proper maintenance of your awning will help you run into fewer issues and keep it in good shape for longer.