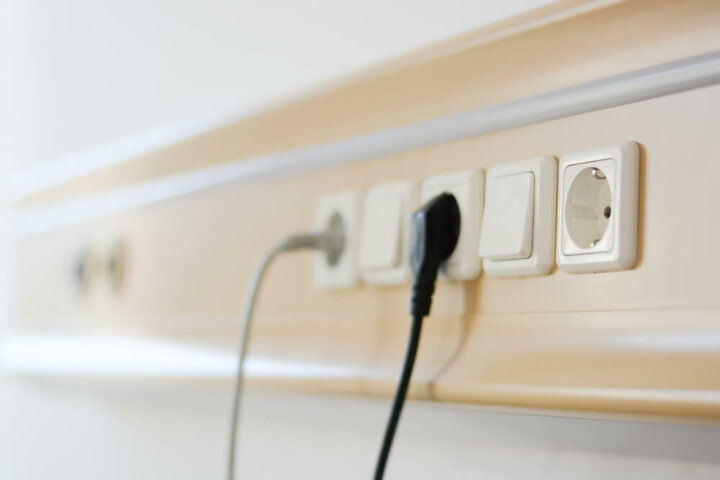 All of our reviews are based on exhaustive research, industry experience and whenever possible, hands-on testing. When you make a purchase using one of our chosen links we'll get a small percentage of the proceeds. This supports the site and keeps Jeffsetter running. You can read more here.
Your RV outlets are necessary to run appliances like your RV fridge and microwave as well as smaller devices for convenience like a hair drier or television. So, no one wants to get into their RV and get on the road only to realize that their outlets are not functioning properly. That can quickly put a damper on any trip.
Knowing how to troubleshoot electrical problems in your RV is imperative to a smooth camping trip.
So, why aren't your RV outlets working?
A few common reasons your RV outlets might not be working include a tripped GFCI outlet or a breaker that needs to be reset, a faulty power source whether that be an inverter, a converter, a generator, an ashore power, or a fuse or an outlet that needs to be replaced.
This article will take you through the most common issues you'll run into with your RV outlets and how to troubleshoot them.
Why Are Your RV Outlets Not Working?
RV outlets are quite similar to the outlets in your home, but they do have key differences in how they receive their power that can help you understand and troubleshoot why yours might not be working. Since RV outlets can be powered from multiple sources, such as an inverter, generator, battery, or shore power, it can be a bit difficult to know exactly why your outlets aren't working.
The two most common causes behind not-working outlets in your RV are a tripped GFCI outlet, or your inverter isn't powered on and you aren't connected to shore power. Both of these issues are easy fixes, just clicking the right button, to restore power to your outlets. If it's a tripped GFCI outlet, typically you can press the 'reset' button at the center of the outlet. If it's the inverter, simply turning it on or making sure you are connected to shore power will fix the problem.
That being said, there are plenty of other issues that you can come across when it comes to your RV batteries and some of those might not be quite as easy to solve. We'll get in-depth on troubleshooting and fixing other common issues you might come across when your outlets in your RV are not working.
RV Outlets Not Working on Battery
Your RV outlets won't work just from the battery supply of your recreational vehicle. RV outlets run on 120 volts AC, while batteries are 12 volts DC. To run your outlets off the battery you need an inverter that will convert the 12-volt DC power into 120-volt AC power. The problem with inverters is that they drain your battery quickly.
An inverter might be able to run a small appliance for a couple of hours, but it will soon run out of power after that. A small appliance might be your hairdryer, coffee maker, or your TV. Most have a built-in alarm that will notify you when they are close to running out of power, but they shut off soon after. This leaves you with no way to power your outlets and your 12-volt battery is drained of power and in need of a recharge.
Because of this, inverters are not considered the most efficient way to run your outlets.
A better option is to hook up to shore power if you are at a campground and it is available to you. If shore power is not an option, a generator can be a good backup. Keep in mind that some campgrounds don't allow generators past quiet hours, so even a generator can't be your only solution to running power to your outlets.
If you are running on an inverter, shore power, or generator and your outlets are not working, we'll go over how to troubleshoot and fix some of those problems. As always with electrical work, if you're not sure what you are doing, consult a professional electrician. If you're specific enough about your problem, they may even be able to walk you through a solution over the phone.
What Are The Differences Between an RV Inverter and a Converter?
A converter will change AC power into DC power, while an inverter changes DC power into AC power.
In your RV, there are some things that will run on DC power and others that will run on AC. AC power is going to run most of your household electronics and anything that is plugged into an outlet. DC power is going to run your RV's electrical system, charging ports, and USB ports.
Converter
When you have your RV plugged into an RV power outlet box that has 30 or 50 amps, your RV is running on 120-volt AC power. Your RV needs to convert that power into 12-volt DC power for it to work. A converter will do that for you.
RV's will often come with a built-in converter.
Converters ensure that power is being properly distributed throughout your RV and without one, your RV appliances and electrical fixtures will not work. When your RV is plugged into shore power or running off of a generator the converter supplies 12-volt power to the DC systems of your RV. It will also charge your RV's battery.
Converters are not immune to problems, and they can stop working properly. A tell-tale sign that your RV converter isn't working properly is that your coach batteries will drain even when you're hooked up to shore power. You'll also notice that items in your RV that operate on 12-volt DC power are not working properly or even not working at all. You might even see flickering or dimming of your lights.
There are some warning signs that your converter isn't up to snuff that you should be able to recognize before the issue becomes larger.
One is if there is a problem with the internal vents, the cooling fan, or the lights inside of your RV. Another is any flickering or dimming of the lights on your RV's dashboard. And the most obvious indicator is that your RV batteries can't hold a charge.
Trouble Shooting Your Converter
If you've noticed some of these issues come up in your RV, you'll want to check your converter to make sure that it's in good shape.
Start by testing your DC batteries. You'll want to disconnect all power sources — the inverter, generator, engine, etc. With a digital multimeter, test each battery. If it's showing lower than 12.3 volts, that is not a good sign.
Test the AC power at the voltage box. Again, use your multimeter to make sure it's delivering power properly
Test the converter at the DC distribution panel. Using your multimeter, you should get a reading of 12.3 to 12.9 volts. Less than that and you likely have a problem on your hands.
After using your multimeter and finding that there is a problem with your converter, you'll want to try and figure out where the problem is coming from and hopefully it is an easy fix.
Check your RV's battery, a dead battery could be the reason behind your converter's issues. If your RV has been disconnected from power for a while, that could be an easy solution.
You'll also want to check the fuses and the circuit breakers. Blown fuses can be common in RVs, so you'll want to check the fuse box to see if it's that. A blown fuse is a pretty easy and cheap fix. Your circuit breaker might be tripped and if it is, it likely needs time to cool down and then be reset.
If everything is in order so far, you should take a look at the cooling fan. The fan should be running with good ventilation or the converter can overheat.
If none of the above is showing signs of damage or wear, you'll want to look at the converter itself. If it's older, you may need to look for a replacement. Your converter may have resistors which you should check to make sure they are working properly. Chances are, you'll have to disassemble the converter to check the resistors. This will give you the opportunity to make sure everything looks good internally.
Keep a look out for any sign of burning inside of your converter. You may even smell the burning or see charring. If that's the case, a replacement is definitely necessary.
Inverter
An inverter is an alternative to a converter and can be useful when you are not hooked up to shore power or a generator. An inverter will run off of the RV 12-volt DC battery and convert that into 120-volt AC power which your RV's outlets run on.
As I mentioned before, inverters are not ideal because they can drain your battery quite quickly. That being said, if you have no other method of getting power, they're a great option.
This video explains some of the differences between your RV's inverter and converter.
RV Electrical Outlets Not Working but the Breaker Isn't Tripped
Don't start to panic just because you have found that your outlets are not working but your breaker hasn't tripped. This is not too big of a deal. Outlets don't always trip the breaker whenever there is a problem.
Start by checking the power supply. Breakers don't always get tripped when there is little or no power.
If you find that there is no or little power, your batteries could have a few issues. They might be defective, nearly out of charge, or there could be a larger issue with your generator where it's not producing the amount of power you need. You should check these parts and see if there is anything wrong with them.
If nothing was wrong with those parts, you'll want to check the GDCI circuit. This can trip without tripping the breaker. This is where you need to reset your GFCI circuit, which is a simple process that we went over earlier in this article.
There is also a possibility that there is an issue with your shore power, generator, inverter, or converter. Sometimes the inside breakers won't have tripped, but if you're plugged into campground power, you will want to check the breaker on the post. If that's not tripped as well, you'll want to start by resetting your GFCI outlets.
If none of this has solved your problem, you might want to check your inverter as well. Even if you're using a generator or hooked up to shore power if your inverter is on and having problems it can affect your outlets. Similarly to a GFCI outlet, inverters have a convenient 'reset' button. Press that and hopefully, you'll see power restored.
If you go through the resetting process and there is still a problem, you may have a bigger issue on your hands. It could be bad or poorly done wiring, the outlet itself could be dead, or you could have damaged wires.
As always, contact a professional if you're not comfortable doing this work yourself. It'll always cost less to get a professional in there from the get-go than to need a professional to redo whatever work you've tried to do and done wrong.
Why Won't my GFCI Outlet Reset In My Camper?
GCFI outlets are designed to protect you from shock and electrocution. They're most commonly installed in bathrooms and kitchens, where an outlet is more likely to get wet. Because of their design, they will often trip if they detect any moisture in an effort to keep you safe.
GFCI outlets will typically have two buttons in the center that are labeled 'reset' and 'test'.
If you don't have any power to your outlet, you can try pressing the reset button and if the test button pops back out, then the power should be restored. Before pressing the button, you should check that the outlet is completely dry since moisture is what typically makes the outlet stop working.
If you find that your GFCI outlet is constantly tripping even without any moisture present, then it might be time to replace that outlet.
One Side of Camper Not Working
It's important to note that in your RV your GFCI outlet might be connected to multiple outlets, so if one trips, you might lose power to more than just that outlet.
Usually, you'll find your GFCI outlet in a bathroom or kitchen, but don't neglect to check your outlets on the outside of your RV. Those will also be GFCI outlets and they could be connected to your interior outlets causing them to shut off as well.
The other cause for power not running to multiple outlets is that a breaker monitoring several outlets has tripped and no power is getting to those outlets. If this is the case, you'll want to check your breaker box and reset it.
If you find that isn't the case and it is an issue with your GFCI outlets, you can easily solve the problem by hitting that 'reset' button.
You might feel like it's an inconvenience that many outlets in your RV lose power just because one GFCI outlet got tripped. If you wanted to, you could replace all of your outlets but one from the GFCI chain and install all new GFCI outlets. That way only the affected outlet will trip and the others won't stop working.
How To Fix An RV Outlet?
So, you've determined that you have an RV outlet that needs fixing. You might understand the cause of your issues from reading this article, but how do you use that knowledge to actually fix it? Follow the steps below in order to troubleshoot that problem and hopefully fix it.
Make sure you have power
Check your GFCI outlets
Check your breaker
Test all the outlets
Replace your outlet if needed
It might sound silly, but make sure you actually have power running to your outlets. We've gone over the different ways you can power your outlets, from an inverter or converter to a generator or shore power. Ensure that at least one of these is on and being used.
As stated earlier in this article, one tripped GFCI outlet can stop power to multiple outlets. You'll want to check your GFCI outlet and reset it if needed.
Check your breaker and inverter. Make sure that the power is on and that the breaker is not tripped.
If you have some outlets working and others not, you don't need to check your generator or shore power breakers. If either of those were tripped then none of your outlets would be working.
If you haven't found the culprit yet, then you'll need to check every outlet in your RV. Using a multimeter, you'll be able to tell which outlet isn't getting power.
Once you've found the outlet that has a problem, you should check its wiring. Before doing this, turn off the main breaker and disconnect any power to avoid electric shock.
If the wiring is sound, then you might need to replace the outlet as a whole. The video below details how to do that, and we've gone in depth on that process in a previous article. Never attempt electrical work if you are not comfortable doing it. You can always contact a professional who can make these replacements in a few minutes.
Trouble Shooting Any RV Electrical Problems
Here, I'll go over a foolproof order of operation for troubleshooting any electrical issue you might come across in your RV. It will include some of the processes we've already discussed but will give you a good idea of where to start when you run into an electrical issue in your RV.
1. Read Your Owner's Manual
The owner's manual will get you familiar with your RV's electrical system. They may even provide you with a list of troubleshooting steps specific to your model.
2. Check Your GFCI Outlets
As mentioned a few times in this article, this is the most common cause behind your outlets not working in your RV so it's a good place to start when problems arise.
3. Reset Your Breakers
Breakers are usually tripped if there is an overload of power coming from a section of outlets. Your breaker panel's location will be in your owner's manual. Once you find it, you will need to find the breaker that is flipped and switch it back to reset it. If this is a continual problem, you might be running too many appliances at once.
4. Check Your Fuse Box
A blown fuse is common and easy to fix. You'll need to locate the bad fuse and replace it with a fuse of the same voltage. It's not a bad idea to keep some extra fuses around in order to make this replacement even easier.
5. Check Your Main Power
Whatever the main power source you are hooked up to at the time, you'll want to make sure it's not an issue with it. This could be an inverter, converter, generator, or shore power.
6. Look At Your Inverter
Like GFCI outlets, your inverter can be reset with the push of a button. Your inverter can also run out of power quickly, so make sure to not run too many things off of it if this is your only source of power. Many RVers will leave their inverter on all the time, but your manual might specify otherwise, so consult that before doing so.
7. Check The Wiring
During travel, the vibrations of your RV can cause wires to come loose or disconnect. If your RV has been in storage for a while, then you should check to make sure no rodents got in and chewed through any of your wirings.
8. Replace Outlets
Finally, if none of the previous steps fixed your problem, then you might need to replace your outlets.
9. Consult a professional
As always, if you aren't comfortable during any stage of this process, please give a professional a call. Or if you've gone through the troubleshooting steps and are still experiencing issues then you will need a professional to get in there and make any repairs or replacements necessary.
Following these steps will help you get familiar with your RV's electrical system, rule out any common issues and ensure that you contact a professional once you've tried everything that you can.
Closing Thoughts
Making sure your RV outlets are working properly before your trip can actually save your trip from turining into a disaster.
If you find out that some or all of your RV outlets are not working then there are a few things at fault here. It could be a tripped GFCI outlet, or perhaps your inverter isn't powered on and you aren't connected to shore power. It could also be something as simple as a fuse or an outlet that needs to be replaced.
We've got plenty of reasons explaining why your RV outlets might be malfunctioning, and hopefully our troubleshooting guide can help you get them to work again. But remember if you've never done this before then it might be best to let a professional fix this issue!