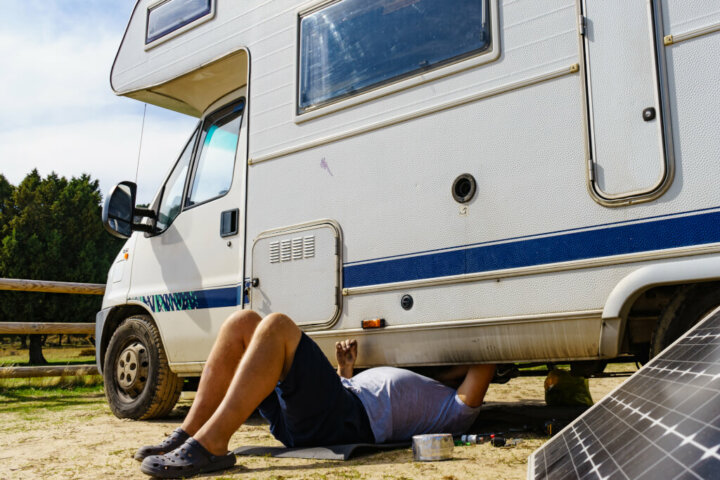 All of our reviews are based on exhaustive research, industry experience and whenever possible, hands-on testing. When you make a purchase using one of our chosen links we'll get a small percentage of the proceeds. This supports the site and keeps Jeffsetter running. You can read more here.
There are a number of helpful online services that you can sign up for if you need tips for taking care of your new RV. You may be wondering what sort of reviews RV Repair Club has, and what you can expect from this unique subscription service.
So, what can you expect from RV Repair Club Reviews?
While it is a relatively affordable subscription service, RV Repair Club seems to have unclear terms of service and fees. For the most part, with the right research, you can find all of the information that they provide elsewhere for free. However, their live classes and videos may give you more insight than others.
But what exactly is RV Repair Club, and what are customers saying about their experience with this particular service? If you are curious about reading some RV Repair Club reviews, you're in the right place.
In this article, we will tell you everything you need to know about RV Repair Club, including an overview of their services and offerings. We will also let you know how much the service costs, as well as what customers have to say about their own individual experiences using this service.
Let's get started and talk about RV Repair Club reviews now!
What is RV Repair Club?
RV Repair Club is an online service that you can subscribe to, giving you access to countless videos, blogs, and more, all surrounding RV upkeep and repair. You can learn how to fix your broken hot water heater, as well as upgrade your jack stands or stabilizers.
The initial subscription price fluctuates on occasion, but RV Repair Club typically offers a cheaper first month compared to subsequent months of subscriptions. In addition, you can sign up for a full year, which is typically the least expensive option out of all of them. The current price is $7/month, should you choose to subscribe monthly. The annual fee makes your monthly total much lower, typically around half the price if you can pay upfront.
It is important to note that not all videos are available for a subscription fee. You may have to make additional purchases for select videos, though RV Repair Club gives you access to a few popular videos at no additional charge.
Overall, RV Repair Club is a great option for those of you just beginning your RVing journey, or perhaps if you are planning on repairing an RV all on your own. This is a website full of experts, with plenty of knowledge and resources to get you through your DIY projects!
But what can RV Repair Club offer you if you sign up for a subscription? Let's check it out in more detail now.
What Can RV Repair Club Offer You?
Before we check out all of the reviews surrounding RV Repair Club, let's read more about everything they can offer you should you choose to subscribe!
It is important to note here that you do not have to subscribe to RV Repair Club in order to access all of this information. However, if you pay for a subscription, you get discounts on everything else offered by RV Repair Club, as well as exclusive access to monthly calls and personal attention.
Videos
One of the main selling features of RV Repair Club is the fact that it has an entire library of videos available for purchase, or free if you have a subscription. The options are endless in terms of content, as many different RV experts have come together to compile this fantastic library of informative videos.
As of now, there are approximately 54 pages of videos on the RV Repair Club's website. This is a staggering amount of knowledge, and you can get expert advice on anything from removing nails in your RV to replacing a tire. Truly, you can uncover information about nearly everything having to do with RVing!
Some of their most popular videos include:
Troubleshooting your water heater

Troubleshooting your refrigerator

Refrigerator power sources and how they work

Battery disconnection and charging

Awning maintenance and repair

Calculating accurate solar panel usage

Full RV repair and restoration

Resealing exterior items, such as windows and doors
However, some videos are at a premium price, which means you need to pay in addition to your subscriber fees. Depending on the popularity of the video, they range in cost, but they tend to average $8 per video, should you choose to download.
RV Repair Club also offers you exclusive video purchasing opportunities, often creating more affordable package deals. If you have a feeling you will be accessing their video content frequently, which I highly recommend doing, you may want to look at these options in more detail.
Blogs
If you're on the fence about subscribing to RV Repair Club for their videos, they have a fairly extensive blog collection as well. All of these blogs are available to read for free, without a subscription or signing up with an email at all. I have personally read a few blogs from RV Repair Club and found them fairly valuable!
You can get tips for starting out on your RV journey, including common rookie mistakes. You can also check out all of their articles on refrigeration repair, hot water heaters, the best ways to park and level your RV, and so much more. And again, all of this is available for free!
As someone who has fixed up a vintage travel trailer for full-time living, I can attest that a blog is nowhere near as valuable as a video, showing you exactly what to do and when to do it. However, blog information is great if you are just starting off on your RV adventure, especially from a place as knowledgeable as RV Repair Club.
Classes
If the YouTube videos just aren't in-depth enough for the project you were trying to tackle, RV Repair Club offers additional classes that you can pay for. These classes range in price, from $20 all the way to $300, depending on the topic and the extensiveness of the projects.
Some of their most popular classes include:
For the most part, you can get these classes as online streaming services or as DVDs, depending on the topic. This gives you the option to connect via the Internet if you have that, or you can choose to get a hard copy for your records and ease of access.
They also offer a number of different bundles that combine classes with subscription services or even books. If you find yourself on the simpler side of things, RV Repair Club has physical books that they can send you about certain information, including national parks and how to get started RVing.
Hobby Information
If you are interested in something other than RV repair, you can also find a select number of videos surrounding certain hobbies. RV Repair Club offers premium videos that you can purchase and Stream in your home, all about the following topics:
Quilting

Golf

Sewing

RC Hobbies

Photography
This appears to be an ever-evolving section, with only a few things available to start. However, hobbies and RVing go hand-in-hand, so it only makes sense for a website like this to offer even more knowledge, should you need it!
Live Events
If pre-recorded videos aren't your style, RV Repair Club also offers monthly live events and multiple digital meetings for you to attend. These are also separate from classes, videos that you can purchase, and the blog. It's even more information for you to purchase, should you need it.
Once a month, RV Repair Club hosts a remote live Q & A session, which allows you to bring your questions and concerns right to them. You can ask them things that you are having trouble with, or specific things that they haven't been able to answer on their website.
Plus, they even have live classes as opposed to pre-recorded ones, which allows you to ask your questions at the moment. This gives connects you even more to this group of people and likely will give you even more of a clear answer compared to the pre-recorded options available on the website.
It is important to note that all of their life classes require a gold membership subscription, which costs $125 annually. This is basically $10 a month and gives you access to just about everything you could want on the RV Repair Club website. But we still have yet to talk about what customers think of this business model. Let's move on to that now!
RV Repair Club Reviews: Customers Weigh In
Ready to check out what actual subscribers and purchasers of RV Repair Club's services have to say about their offerings? Let's take a look at some of the main RV Repair Club reviews now!
Positive Reviews for Joining RV Repair Club
One of the most obvious reasons to join the RV Repair Club is their wealth of knowledge. The fact that they have over 50 pages of YouTube videos for you to buy and watch at your own convenience is wonderful, and they seem to know what they're talking about!
Not only do customers seem to truly value knowledge provided by RV Repair Club's staff, but they also get really specific with their videos. They have a lot to offer in terms of specific content and information, which is something that most RVers desperately need.
Speaking of videos, if you choose to subscribe to RV Repair Club, you get a discounted purchase price on all popular videos. While it may feel silly to purchase a subscription and then continue to purchase things from this website, there are a number of discounted rates for subscribers.
Another perk of joining RV Repair Club is the fact that the subscription fee is relatively low. For roughly $10 per month, you can access a number of services and valuable information provided by these experts, and you can choose to pay for what you need if there's a class or live event.
Speaking of classes, RV Repair Club goes above and beyond the average RV internet search in that, you can sign up for live classes, events, and Q & A sessions. This means that you have even more opportunities to get your desired information, especially if you can ask questions directly to the experts.
If you choose to join RV Repair Club as a subscriber, you have access to these experts via phone and email. While there's plenty to access as a free member, choosing a subscription seems to be valuable to customers who have chosen to do that. They always have someone to turn to, should they need a question answered!
I know I personally would have benefited from an RV Repair Club subscription while I was fixing up my vintage travel trailer. There were so many questions that I needed answers to, and it took me forever to find the information elsewhere. I didn't know about this website at the time, but I probably would have subscribed if I had!
Negative Reviews for Joining RV Repair Club
Unfortunately for RV Repair Club, there are a number of negative reviews online surrounding this company. Not only are people upset about the unclear monthly payments, as well as auto-renewal, but they also received an insane amount of emails from this company, with no help when it comes to unsubscribing. Let's take a look at the negative reviews in more detail now.
An obvious potential negative when it comes to subscribing to RV Repair Club is the fact that you are not done giving them money. Not only do they expect you to pay for their classes and helpful repair videos, but the grand majority of their video content requires more payments in order to access them.
While having a subscription gives you a discounted rate on these videos, many subscribers seem to be disappointed by this fact. Paying $10 a month to access a few videos and a monthly Q & A session may seem a bit much, especially when the most valuable information is still behind a paywall.
Another overwhelmingly negative review surrounding RV Repair Club has to be the confusion about monthly payments and fees. Whether it be the clientele that RV Repair Club tends to attract, or perhaps their information is willfully confusing, many people report their subscriptions going through without their permission, and payments being collected unexpectedly.
It would appear that RV Repair Club refunds and cancels subscriptions with ease if you are able to reach them, but the fact that so many people end up paying more than they expect is a red flag in my opinion. Plus, there's something even more annoying happening to just about anyone who signs up for this company: endless emails.
Even free members of RV Repair Club suffer from an apparently endless number of emails in their inboxes. Both paid and free subscribers mention this fact and mention it as a huge reason for their withdrawal from this company. Some customers report as many as two to three emails per day from RV Repair Club.
Plus, the same amount of people that complained about the number of emails also complained that RV Repair Club's "unsubscribe" button doesn't work fully. Many people mention that they continue to receive emails, even after unsubscribing multiple times. This can be annoying, especially when you want to be done with this service.
Things to Know About Joining RV Repair Club
One of the main things to know about joining RV Repair Club is the fact that their subscription service is set up for an auto-renewal program. We've already talked about this briefly, but it is important to note what this means practically.
The main issue that customers have with this particular company is the fact that they often end up in an auto-renewal setup, which leads to a large annual fee that they weren't expecting. Whether it is just customers not paying attention when they sign up for the service or RV Repair Club being willfully confusing, it seems to make a lot of customers unhappy.
Should you choose to sign up for RV Repair Club, you need to make sure that you select the proper subscription that you are hoping for, and know what it means when it comes time to renew. However, you are by no means obligated to get an RV Repair Club subscription, and you can pay for things without one.
This is important to note, should you be considering a subscription with RV Repair Club. You can purchase many popular videos and classes on their own, without needing to subscribe. This won't save you from the endless barrage of emails that RV Repair Club apparently sends, but it may help save you some money!
Alternatives to RV Repair Club
If you are still on the fence as to whether or not RV Repair Club is worth it, you may be wondering whether there are any alternatives to their services, perhaps at a cheaper rate or with fewer emails involved.
While it may not be the answer you were hoping for, you can always simply search for any of this information on the internet. There are countless YouTube videos from RV owners like you, doing their own repairs and DIY renovations. If you aren't planning on reaching out to an RV repair expert in your local area, YouTube is the next best place.
There are also plenty of articles and information to be had on the internet itself, on various websites, and on forums. RV experts come in all shapes and sizes, and most people who have owned an RV for a couple of years know the ins and outs well enough to give you that knowledge for free.
However, if you like the idea of more personalized attention and plenty of knowledge to choose from, you might want to check out RV Education 101. Not only does this website offer just as much information as RV Repair Club, but it also gives you the option to pay for what you want rather than subscribe.
Instead of a monthly fee, you can simply buy the classes you need. While RV Repair Club also offers this, RV Education 101 it's just another option to compare and contrast when it comes to prices. You may find that one website has more to offer you than the other, depending on what you need.
At any rate and in any case, both RV Education 101 and RV Repair Club profit off of their expert knowledge and advice. If there is ever a time that you are unsure how to proceed in repairing your RV, it is likely that you can trust what they have to say. A fellow RV owner posting their RV repair video on YouTube may still work for you, but you may also want the peace of mind that an expert can offer you!
The Verdict: Is RV Repair Club Worth It?
If you are a wannabe RV owner or have recently made an RV purchase, you may find that an RV Repair Club subscription is worth it. This is especially true if you struggle to find free resources on the internet or on YouTube. The subscription fees are not very high, and there is a wealth of knowledge located in one place, with experts that you can talk to at any time.
However, RV Repair Club has some work to do in terms of its terms of service and the way in which they renew subscriptions. Many people experience disgruntlement and confusion after only a year of using their program, so this is something to keep in mind as you consider whether or not to go with them.
At the end of the day, there is a wealth of information on the internet, whether it be on YouTube or in RV forums. You can likely find the information you need elsewhere, for free. However, it is nice to have a website with plenty of information and expert knowledge, should you have nowhere else to turn!