Like I said before in, like in my review of Mitch's Sushi, some of the best food you'll find in Hawaii, are in unlikely and/or obscure places.  Sam Sato's, like Mitch's is in a somewhat obscure location with terrible parking.  But unlike Mitch's, Sam Sato's is an old school, local institution.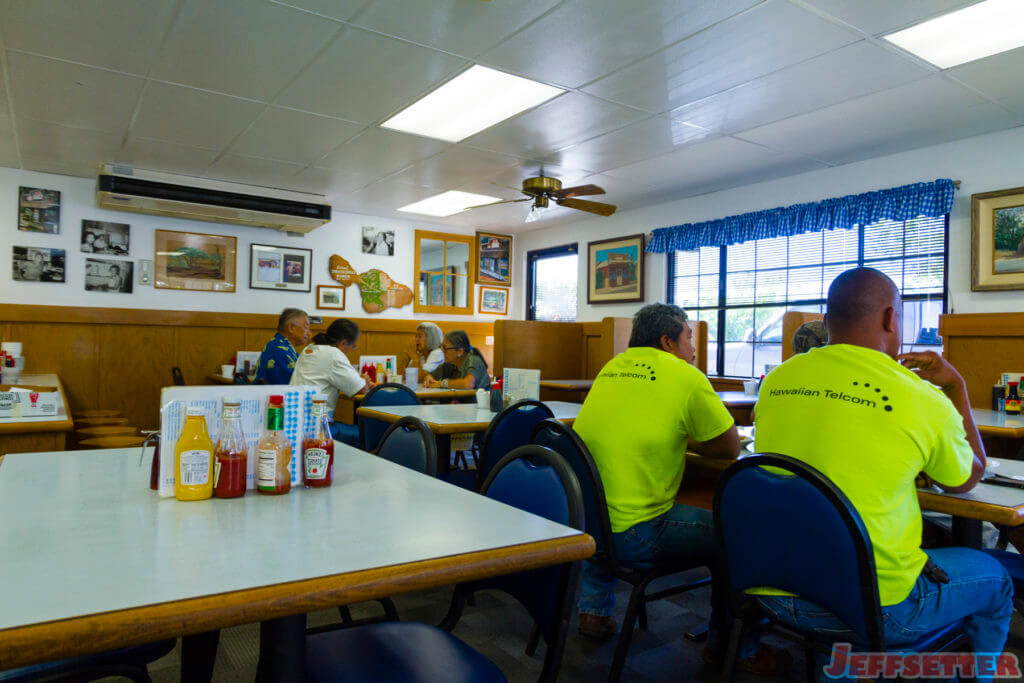 Located above Kahului, in the county seat of Wailuku, Sam Sato's is buried in what appears to be a business park along Wili Pa Loop.  I've never seen tourists here, and is more of a locals place to go.  It's got a really homey type of feel to it, where they treat you like family, good and bad.  I've always thought the service fell more towards good, but hey, don't expect "standard" type of service here.  While empty in the picture above, they do get crazy busy, especially on weekends and holidays, so if you do go, plan accordingly.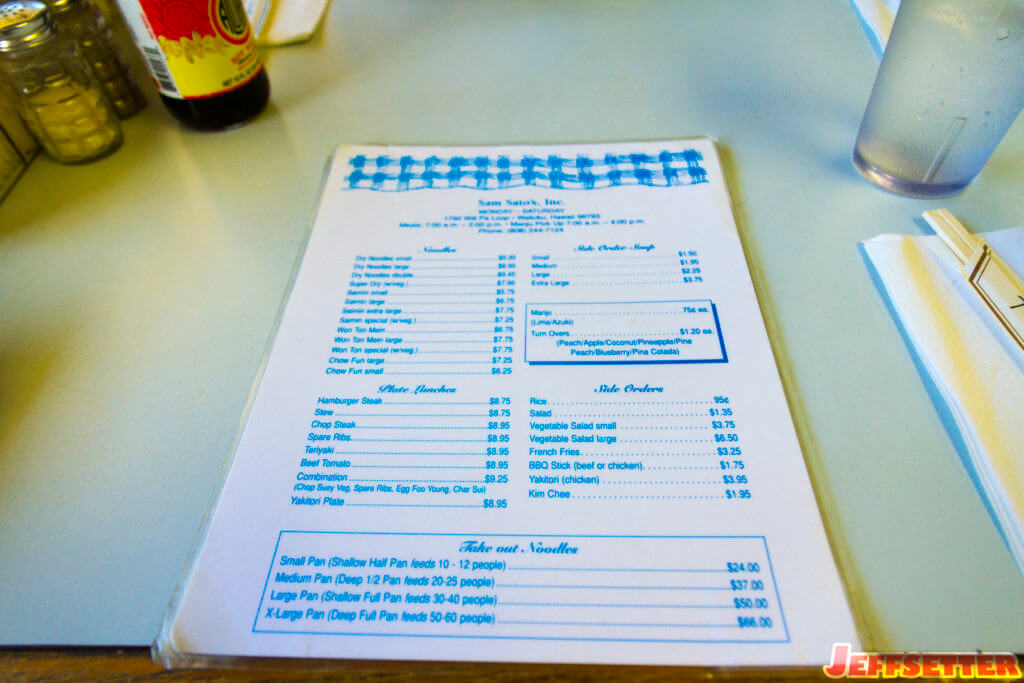 The menu here is neither large, nor is it small.  There's actually a good variety of dishes on the menu, but what Sam Sato's is really known for is their saimin, their dry mein, their banana pancakes, and their crispy manju.
Now, I LOVE saimin, and many locals do.  It's one of the most fundamentally local foods you can eat; a mixture of Japanese and Chinese influences, and depending where you order it, even some Portuguese, Filipino, and/or Korean influences.  The dish is the history of Hawaii in a bowl, originating over generations of co-mingling on the sugar plantations of old Hawaii.  So if it's on the menu of an old school eatery like Sam Sato's, I'm ordering it.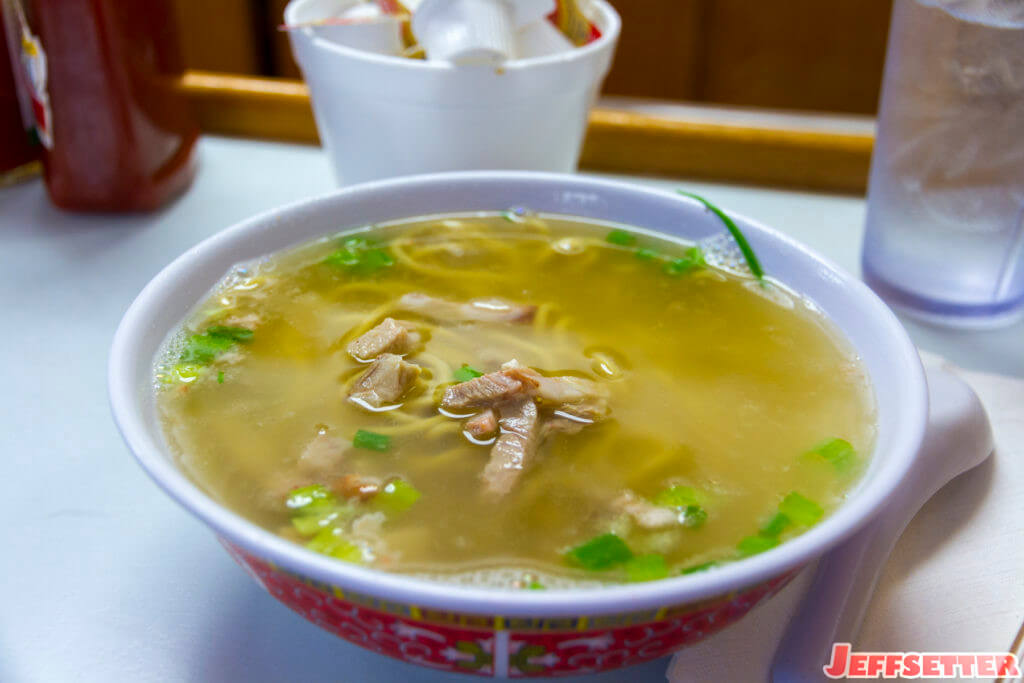 Sam Sato's version is rather basic, with house-made dashi (soup) and noodles, with a sprinkling of char sui (roast pork) and green onions.  Sam Sato's noodles are very thick, especially for saimin noodles.  While most people like the saimin here, I wasn't a fan.  I demand to have noodles of any type be al dente, but the saimin noodles at Sam Sato's were pretty hard, and the dashi, while tasty, not as full flavored as I'd prefer.
On another visit, I also decided to give their dry mein a try.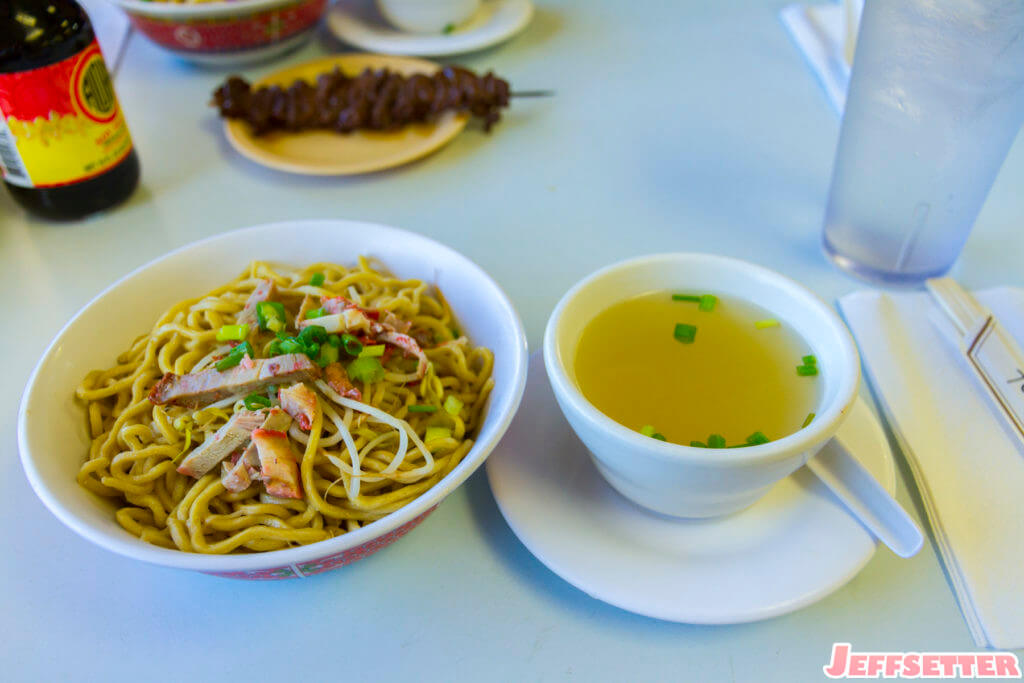 Dry mein is uniquely Maui, with Sam Sato's version being particularly popular.  To me dry being is basically a local version  of tsukumen, which ramen, but with the noodles served with a side of powerfully flavored dashi.  In this case the noodles came with green onion, char sui, and some bean sprouts, with a small cup of the house dashi for dipping.  The dashi didn't seem much stronger than the one used in the saimin, and the noodles were still just as hard.  Again, not something I cared for all that much.
What I did like, however, were the banana pancakes my wife ordered during her first visit to Sam Sato's.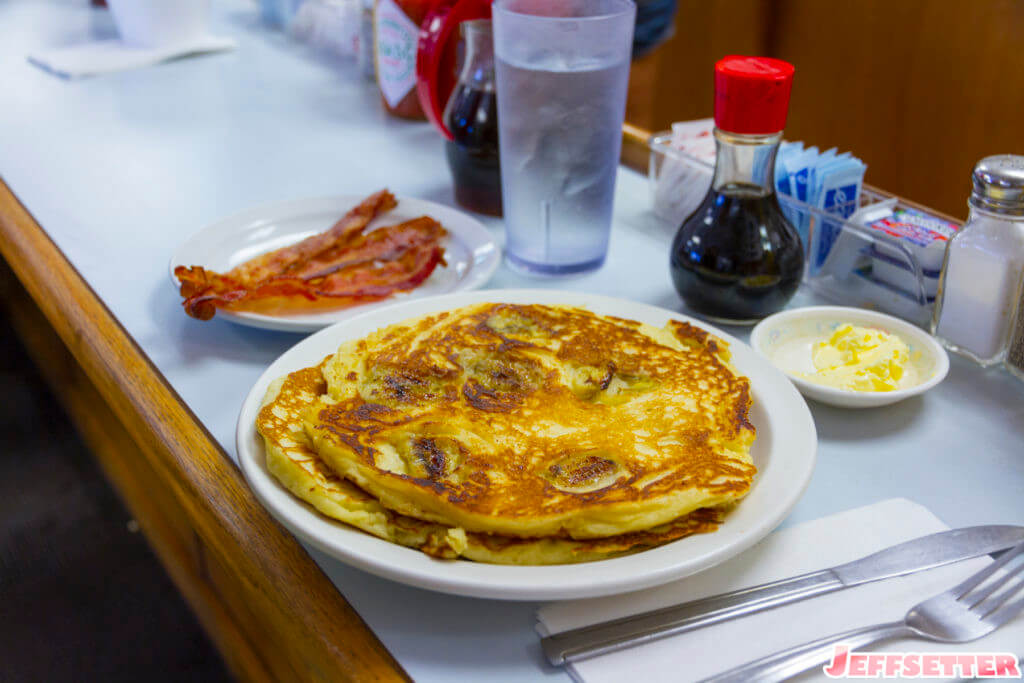 These actually came recommended by our server, and they didn't disappoint.  While most banana pancakes have overripe bananas mashed into the batter like banana bread, these pancakes had sliced banana pieces in the batter.  This is superior, in my opinion, to the banana bread method.  The pancake itself was fluffy and light on the inside, and almost crispy on the outside.  The bananas, which were able to make contact with the griddle, were nicely caramelized, adding a depth and complexity to what is normally a pretty mundane breakfast food.  It doesn't get much better than this.  Throw in a side of bacon, and you're all set!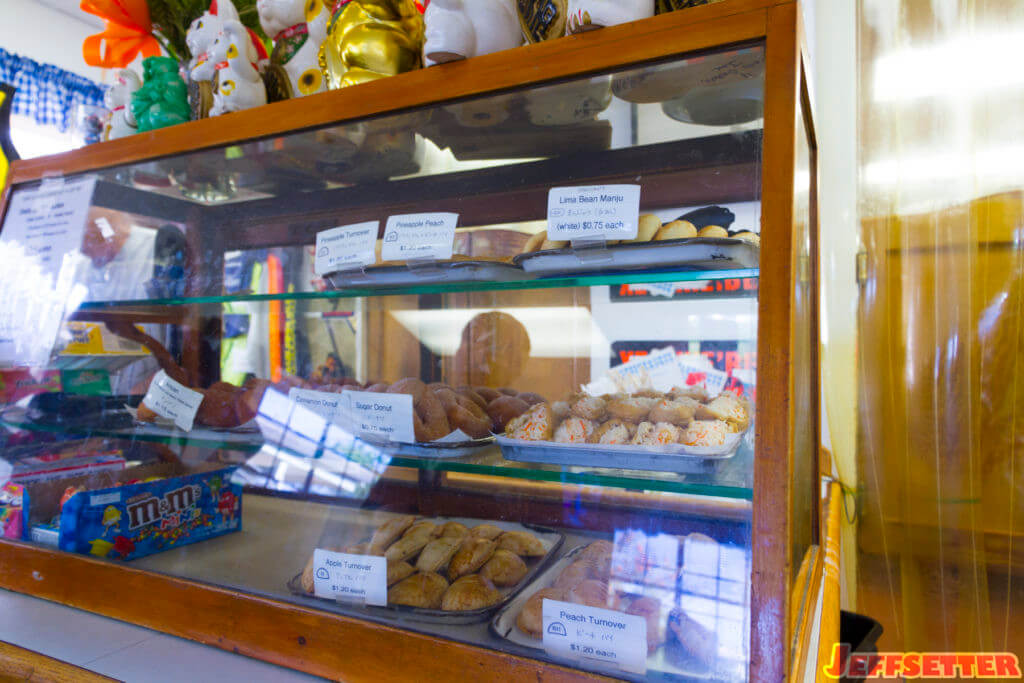 Like many old school, mom & pop places in Hawaii, Sam Sato's is a cash only establishment… So no double Ultimate Rewards points with your Chase Sapphire Preferred card here ?.  But it's ok, it's worth it.  To pay you have to go up to the cash register and stand in line.  In the case by the register, though, you'll notice some confections.  These are Sam Sato's famous crispy manju.  If you recall from my previous post on Two Ladies Kitchen, manju is a Japanese confection made of a pie crust like exterior and filled, usually, with sweetened bean paste.  Sam Sato's definitely has this traditional version, but they also have different iterations, like peach and apple.  I highly suggest you give at least some of a try, but be warned, it can get a little messy!
If you want to experience a truly local Hawaii, and one that's kind of disappearing as the older generations retire, give Sam Sato's a shot.  A visit here for breakfast after your morning arrival on Maui is definitely a great way to start your vacation on the Valley Isle.  Just remember, try to avoid weekends and holidays (and maybe peak hours), be flexible with the parking, and bring cash!