Last updated on November 20th, 2017 at 01:29 am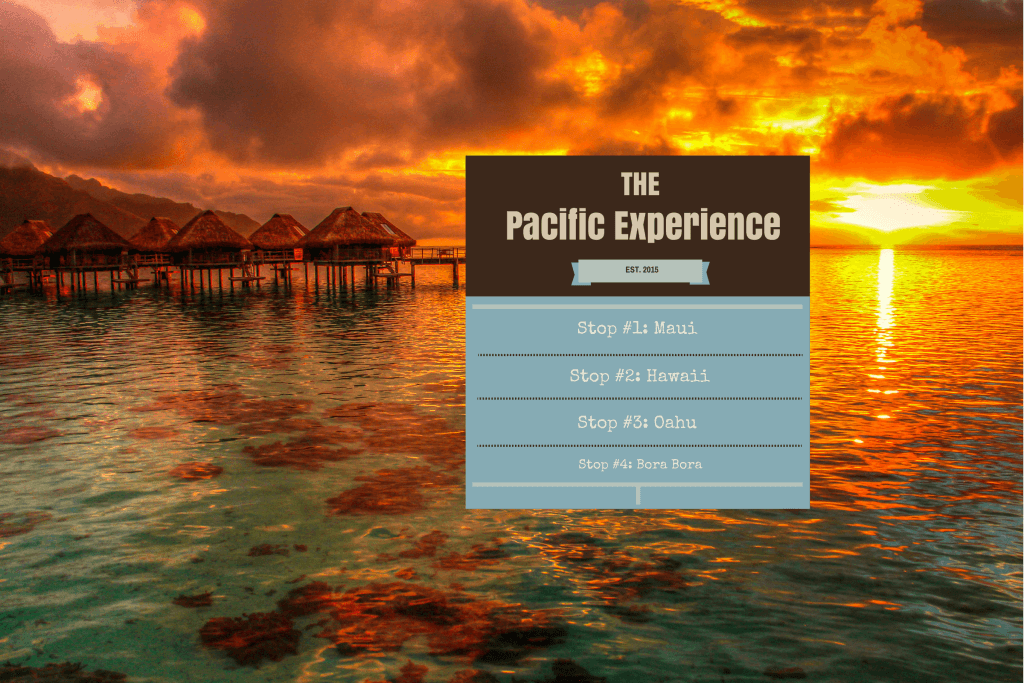 This post is part of our series on One Way Neverending – a journey that starts with selling all of our worldly possessions, becoming voluntarily homeless, and traveling the world. 
Posts in this series: Couple Leaves Comfort of Corporate to Pursue Dreams of World Travel, How One Simple Realization Lead us to Spend a Month on Hawaii and Grow Our Savings
For those of you just getting caught up, I will summarize: My wife and I moved across the country last year, eventually quit our steady jobs and our world didn't implode. In fact, things got better in many ways during our year in California.
With so many beautiful and unique destinations within an hour of San Francisco, we spent most weekends exploring the area. We became more knowledgeable about wine (and drank our fair share). I became a significantly better photographer. Things even improved financially, which was perhaps the biggest surprise of all.
We did so many awesome things in California, but we also agreed it was time to take our next adventure. Our year in SF gave us confidence to keep reaching for new opportunities.
Let's spend a few weeks, maybe a month in Hawaii
I call it a soft landing. We wanted to travel to a new destination, but I wasn't quite ready to cut the cord entirely. Instead of jumping in we wanted to dip our toes in the waters of full time travel.
We chose Hawaii for obvious reasons:
It's still part of the US, so our cell phones and data plans would work (although we are on T-Mobile simple choice plan so that is not a big concern)
We can still receive packages from Amazon prime if we forget something
Flights were relatively inexpensive, and I had some Delta regional upgrades burning a hole in my pocket
We have never been to Hawaii before, and now was a great time to start
We wanted to travel to other islands in the Pacific and this was a great starting point
Add it all up and Hawaii was a logical next stop on our adventure. First we booked our flights from Seattle to Maui. We booked on Delta and applied two regional upgrade certificates for a first class upgrade. This is hands down the most expensive flight of our entire trip so far, and in retrospect I should have booked it with miles. But I was holding on to a dream that maintaining my Delta status would mean something. I am a dummy.

Then we looked at accommodations. We planned to stay anywhere from 3 weeks to 2 months, depending on the schedule of our next set of flights. Because of this length of stay, we targeted AirBNB stays in the $100/night range. While it would have been nice to stay at the Andaz Maui for the duration of our stay, our spacious condo costs almost as much per day as the resort fee at that hotel. It was an easy decision.
We knew our next destination would be French Polynesia (more on the reasoning shortly), so we planned this stay around availability on Hawaiian business class for their HNL-PPT flight.

This flight only runs once per week on Saturdays, and not every weekend was open in business class.
We settled on a date and waited for transfers from SPG and American Express to post to our newly created Hawaiian Airlines accounts before booking.
We earned these points from a combination of credit card signup bonuses and spend on in bonus categories for our cards. For SPG points, we earned a bonus on SPG stays and for the Amex points, we earned a bonus for Google AdWords advertising. Many of our points were earned from signup bonuses of 30k for Starwood (x3 cards) and 75,000 American Express Membership Rewards points (Gold card offer).
Note: For those of you considering travel full time, we earned these points over the course of about 12-18 months. It truly does take a lot of advance planning to make this type of ongoing travel work, so plan accordingly. 
The date we booked meant we would be spending a little over 5 weeks in Hawaii. I will talk about inter-island flights in a future post.

Once we knew how much time we would be spending in Hawaii we started to book our accommodations. We booked approximately 37 nights in Hawaii at an average of ~$100/night using AirBNB. I love AirBNB for long stays and if you want to try it too, please feel free to sign up through my referral link. We both win.
Now let's go to Bora Bora and redeem our free nights from the Intercontinental into the nights promotion
When you don't have a set amount of vacation time or firm travel dates, you can be selective with the deals you choose and patient waiting around for flights. Case in point: Bora Bora.
In Q4 of 2014, the IHG Rewards program (Intercontinental hotels) was offering a promotion that if you stayed anywhere from 3-5 nights at their hotels and completed other tasks, you could earn 2 free nights at any of their hotels. We both participated in the promotion and used a combination of reimbursable business travel and cheap stays to achieve four free nights from IHG. This, combined with other promotions, grew my account balance to 250k+ IHG points, enough to spend a week at any IHG property in the world (or 50 nights on Pointbreaks).
The Jeffsetters dominated the Into the Nights promotion and earned 4 free nights (that is domination for us, though I know others were able to get even more free nights).
The best value redemption of these nights and points is on the island of Bora Bora, where two hotels are available for redemptions (although availability has gone down the toilet because of this promotion). These hotels usually cost upwards of $1,000 per night, and were available for free. As early participants, we were able to book nights at one of these hotels ahead of the rush.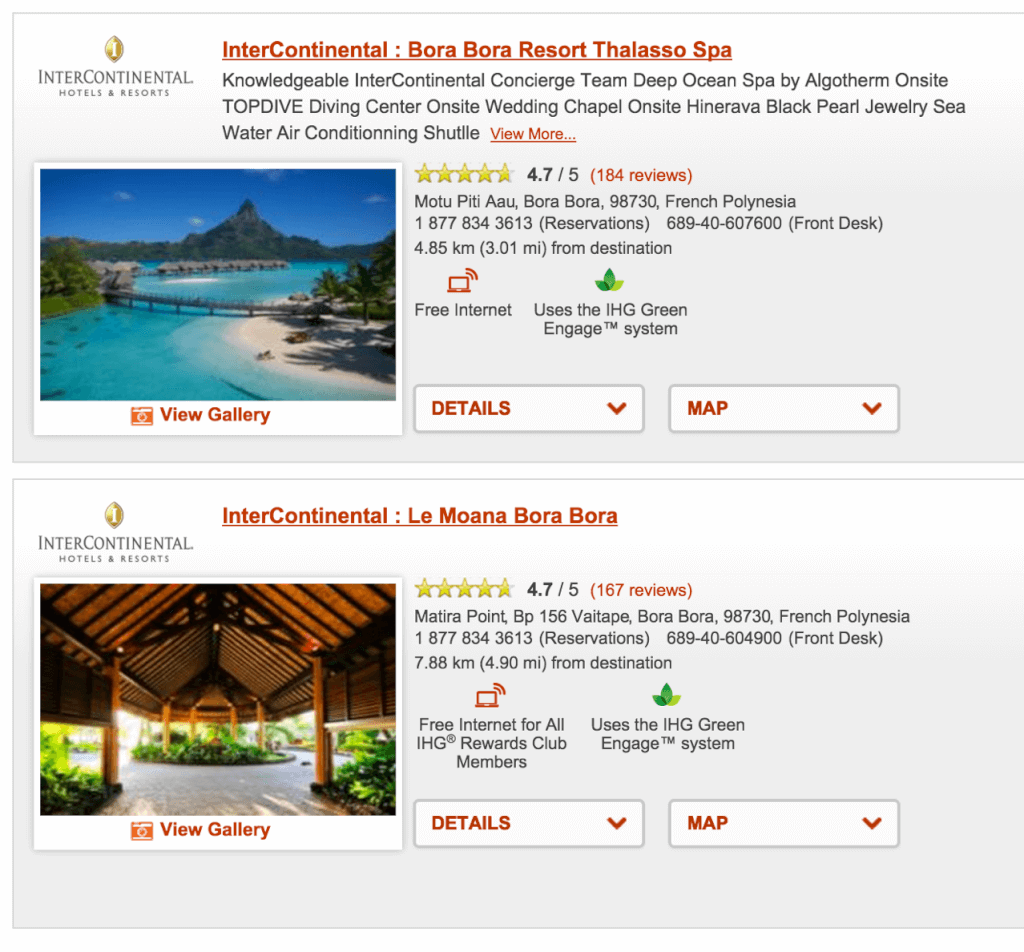 We also were able to plan it so that we would be arriving in French Polynesia from Hawaii in time to catch our stay on Bora Bora. It will cost close to $500 per person to fly to Bora Bora from PPT airport, an expense that has been keeping me up at night. My hope is that I would be able to pay for this using a flexible point system like Membership Rewards, using the Platinum cardholder bonus, but I have not researched whether Air Tahiti is even bookable this way. Something tells me it will not be that easy.
Decide to leave, cast a wide net, then fill in the details
When booking a trip of this nature, we tried to put our efforts into targeting buckets of time where we want to spend in a general area. For example, we knew we wanted to spend a month on Hawaii and then go to French Polynesia. From French Polynesia we wanted to head over to Easter Island, but it was impossible to find award space on LAN using Avios at the time. Now that space is available, but we have already decided to head to Auckland on Air Tahiti Nui.
We start by targeting a continent (or island) we want to visit during a general time frame. For example, Italy in October. We have no idea when we will get there and how long we will stay, but that is our general guideline. From there, we fill in the details as we get more information about our travel needs.
First we book the long flights, because those are the hardest to find availability and represent the biggest cost savings opportunity. From there, we look into the shorter flights and places to stay to see where we have other opportunities.
From an entertainment perspective, we have nothing planned at any point in our trip. We will figure that all out once we reach the destination. For now, it's all about getting to many great places as inexpensively as possible.