Last updated on June 23rd, 2023 at 11:54 am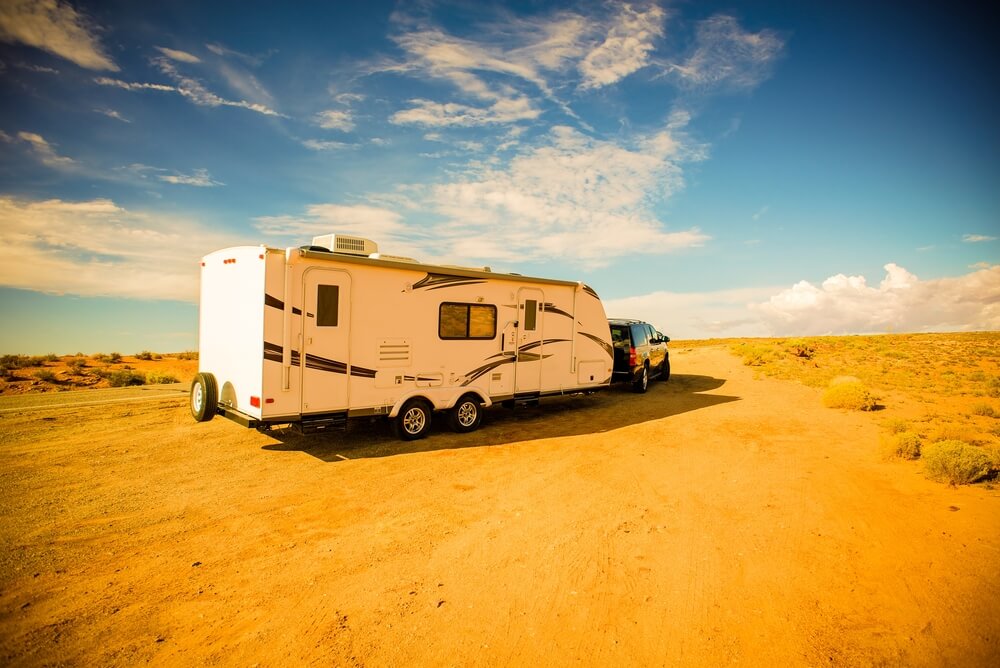 All of our reviews are based on exhaustive research, industry experience, and whenever possible, hands-on testing. When you make a purchase using one of our chosen links we'll receive a small percentage of the proceeds. This supports the site and keeps Jeffsetter running. You can read more here.
So you're shopping around for a new travel trailer because it's time to upgrade to a rig that fits the whole family. What a great idea!
However, you soon realize the only way the whole family is going to have a good time on the road is if you have a rig with two bathrooms. Not the end of the world, certainly, but definitely limiting some of your travel trailer choices.
What travel trailers have two bathrooms? You may find the list to be shorter than you think, as well as difficult to find listings for such rigs. Thankfully, we've compiled a great list of travel trailers with two bathrooms for you and your family to explore!
Do Any Travel Trailers Have Two Bathrooms?
Set on needing two bathrooms when you and the entire family hit the road? It may seem impossible, but some of these tiny rigs on wheels have enough space inside for two bathrooms!
There are some types of travel trailers with two bathrooms, so you're in luck! However, the most common RV to have two bathrooms are motorcoaches and fifth wheels. Both of these rigs technically aren't travel trailers.
However, since fifth wheels are a type of trailer that requires a hitch, I will have some on this list. Fifth wheels are some of the most technologically advanced rigs on the market today, and many have the option of two bathrooms.
Two Full Baths vs A Half Bath
If you've ever looked at traditional home listings, either renting or buying, you've no doubt seen the classic "1 ½ bath" description before. A half bath is usually only ever a toilet and a sink, no shower or tub.
This is also true on listings for RVs! Many RVs, even ones on this list, don't technically have two full bathrooms onboard. They will often have one full bath that includes a shower or tub, and then a half bathroom that simply provides another toilet and sink for your family.
This is an important distinction to make and for you to think about before purchasing your new rig. Is another shower or tub a necessity, or is one full bath and one-half bath an okay compromise?
Pros And Cons Of Having Two Bathrooms
Having two bathrooms onboard your rig seems like nothing but a positive thing, right? There are of course many great perks, but there are a few cons you may not have considered yet!
Pro: Increased Privacy
Naturally, having two bathrooms onboard your RV gives you and your family much-needed privacy and space. It's nice to have a second bathroom when the kids are having bathtime but Grandpa also needs to go! It assists with the flow of spending time with one another as well as ensuring everyone's needs are met.
Con: Extra Bathroom Requires Extra Space
However, the main drawback of having two bathrooms is you have lost space from another room in your house. For example, your rig's kitchen may be more limited, or perhaps the living area. Some customers may not find this exchange useful, especially if they are looking forward to spending a lot of time indoors with the whole family.
Pro: A Slower Paced Morning Routine
Two bathrooms can be quite a perk when it comes to you and your guest's morning routine. Having two bathrooms ensures that you can take your time in the morning or evening and feel less rushed. After all, you're on vacation. The last thing you want to be stressing over is using the bathroom!
Con: More To Clean
But, just like everything else with RVing, having two bathrooms means double the maintenance. Depending on how large your blackwater tank is (or maybe you have two), cleaning out your tank could become a frequent hassle. At the very least, you have two bathrooms to clean instead of one, and more appliances to worry about should anything break.
Types Of Travel Trailers
So you're feeling confident a travel trailer is the right move for your family? Great! There are many different types of travel trailers to choose from, though smaller rigs will likely not contain two bathrooms – some travel trailers don't even have space for one!
This list may include some types of travel trailers that are irrelevant for you and your family, but they're still worth mentioning in case you're shopping around for another model, or are brand new to RV varieties.
All travel trailers are towed behind a vehicle using classic ball hitches. But how else do they vary from one another? Let's take a look!
Classic Travel Trailers
The most classic travel trailer you can get may be the right fit for you. And that's because there are so many different fits, including fits with two bathrooms!
A classic travel trailer is towed behind your vehicle using a ball hitch and ranges in length from 10-40 feet. These classic trailers often have four tires total, and are the most traditional setup when it comes to the interior (bedroom, bathroom, sometimes a second bathroom, living area, kitchen). Slide-outs are also a popular feature on nearly all newer travel trailers.
Given the range of length, weight, and specifications possible on classic travel trailers, it's recommended that you check out all of the necessary weight requirements before purchasing one. Travel trailers with two bathrooms are usually always quite large.
A classic travel trailer may give you both the space you want, but make sure your vehicle can tow it!
Toy Hauler Trailers
Looking for a home on wheels also able to transport all of your other recreational toys? A toy hauler does exactly what it says in the name, and might be a good choice for you and your family if you have a lot of other fun vehicles!
Toy haulers are towable rigs and some of the largest travel trailers out there. They come with a fold-down ramp often at the back end of the trailer, perfect for wheeling out your ATVs, motorcycles, jet skis, and whatever else you can fit back there!
These trailers are designed as a half garage, half living space, with various different layouts affecting the style. The sky's the limit in terms of customizing your toy hauler but at the end of the day, you need a vehicle able to tow it!
Toy haulers are often the heaviest of travel trailers, as they are carrying even more vehicles inside of them! These are the peak of recreational vehicles, allowing you the maximum amount of entertainment possible, but just make sure you can handle the weight. The possibility of finding a toy hauler with two bathrooms is definitely there, however!
Teardrop Trailers
Now you've seen the biggest travel trailer options, let's take a look at the smallest: teardrop trailers! These little guys are amazing for those of you hoping to tow with your small car, as most teardrops weigh less than 1,000 pounds to tow! What a great idea, making a camper so little! This also means it will be easy to store at your home. What's the catch?
As I'm sure you might've guessed, these trailers are tiny. So much so that for the most part, teardrop trailers only have enough space for a mattress inside. A kitchen is often built off the back of the trailer, which means your cooking must be done outside. There are never bathrooms, which means there won't be any teardrops on this list.
However, teardrops are amazing little trailers and are so easy to tow! Their kitchens are often high-tech and amazing to have while camping, and I can't think of a better trailer to bring along on short road trips (probably without the entire family) or wonderful weather outings.
Pop-Up Travel Trailers
Unconcerned about the elements and looking for the best of both worlds when it comes to trailer towing? How about a pop-up travel trailer, bringing the best of towing, size, and budget to you?!
Pop-up trailers are inconspicuous at first, residing inside a flat, easily towable frame. When you arrive at camp, the canvas sides can pop up to create your camper; much larger than teardrops and lighter weight than toy haulers or classic travel trailers. It's a perfect combo of RV and tent and is recommended primarily for camping where the weather is nice.
Some pop-ups even have more rigid sides to their tents in order to better your experience if camping in a colder climate. Given the extra interior space, some pop-ups include bathrooms and living spaces, and usually always have a kitchen. However, pop-up trailers will never have two bathrooms, as their inherent size prevents the need for one.
What About Fifth Wheels?
While fifth wheels are almost a type of travel trailer, their hitch design is inherently different. However, for the sake of this article, there will be fifth wheels listed. Fifth wheels are often technologically the most advanced rigs on the market and the largest. Most big families should pack up a fifth wheel and hit the road if they're hoping for maximum comfort!
Fifth wheels will make this list just based on their designs alone. If you are set on having two bathrooms onboard your new rig but you weren't previously considering fifth wheels, you may want to change your tune.
And Motorhomes?
As mentioned before, motorhomes and other Class A, B, and C rigs often have bathrooms. Large motorhomes can even have two and are the most common RV to end up with two bathrooms. However, given their entirely different design and operation, motorhomes will not be included on this list.
If you are set on having two full bathrooms for you and your family but haven't looked into motorhomes yet, it may be another option to consider. There are a lot of differences between travel trailers and motorhomes, however, so you may change your mind after some research!
Pros And Cons Of Travel Trailers
There are many benefits and a few downsides to owning a travel trailer. I think all RVs are awesome, as they each offer the freedom a traditional brick house can't, however, travel trailers aren't for everyone!
Pro: Trailers Can Be Left
The main perk of travel trailers in my book is their ability to be left at camp. If you're on a journey, seeing new sights, the last thing you want is to travel in an overly large motorhome or camper. The best part of a travel trailer is the ability to leave it behind! Once you unhitch your RV from your vehicle, you're free as a bird!
Con: Travel Trailers Need To Be Towed
No matter what specific type of travel trailer you look at, you need to be prepared for one very important detail: your trailer must be towed. This might not be what you are hoping for, but there are a lot of positives to towable travel trailers versus motorhomes. However, towing takes a lot of practice and concentration, so you may consider this a con.
Pro: Trailers Are Lightweight
Another perk of travel trailers is their lightweight design. Motorhomes and coaches guzzle diesel fuel or gasoline, a huge drawback if you are only planning a small budget for your upcoming trip. Some travel trailers are so light that you can tow them with the smallest of cars, which means you won't have to worry about renting or borrowing someone's large truck to tow your new rig!
Con: The Interior Space Is Small
However, if you're bringing the whole family and you happen to value time and space away from one another, a travel trailer may feel like fairly tight quarters. If you aren't prepared to always be in one another's space, a travel trailer may not be a good fit for you. No matter how long the trip, travel trailers never feel like they have enough space, especially if the whole family is coming along!
But think of it this way: there's always the great outdoors if you're looking for some time and space to reflect, and the travel trailer will be there when you are feeling relaxed and ready to relax with the whole family!
The Best Travel Trailers With Two Bathrooms
So, you're set on a travel trailer with two bathrooms for your next family vacation. Great! Let's take a look at some of the best choices on the market, and which ones suit you. All of these rigs will have two bathrooms onboard, though some may only be half baths. Keep this in mind before making your final choice!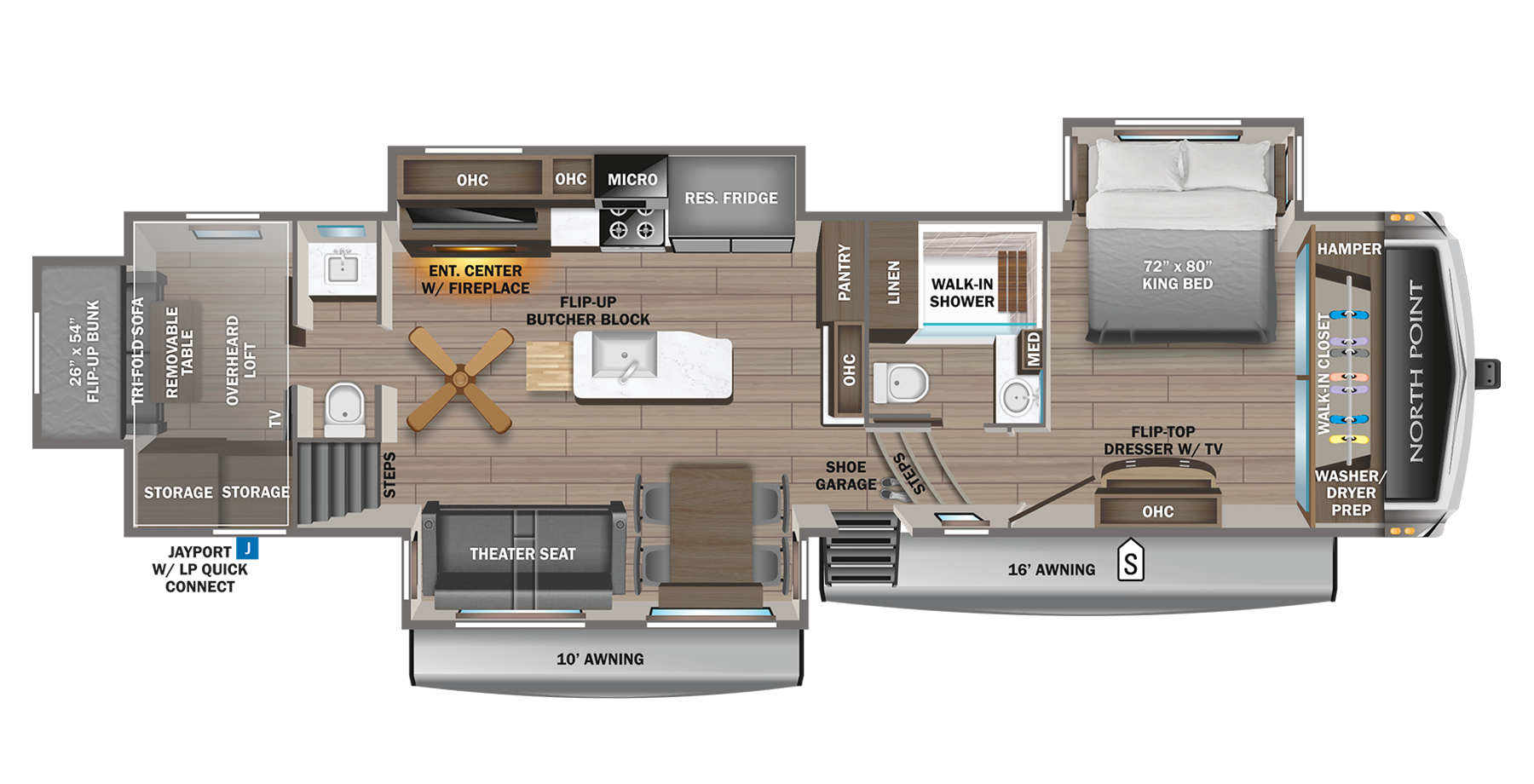 Jayco has long been a big name in the travel trailer business, and the 2023 North Point 373BHOK is no exception. Jayco is known for its unique RV accessories, excellent customer service, and many years of experience working with RV customers, both new and old! The North Point model has many additions for 2023, including things with large groups in mind.
While you may balk at some of the prices on these luxury rigs, the cost is usually worth it in terms of trailer handling, materials, and warranties. This rig also comes standard with four-season weather protection and bonded fiberglass walls and roof, boasted to be the strongest in the business.
In terms of interior, the North Point is nicer than some apartments I've rented! A luxury kitchen with an island and flip-up butcher block, two air conditioners, and of course one and a half bathrooms. But this is not true of all of the North Point floorplans and that's why I chose the 373BHOK to kick off our list.
Make sure you do your research before purchasing to ensure there's a second bathroom onboard! However, with so many floorplans and space-saving options, there's no doubt that the North Point model will have something you'll love. This 373BHOK has a full bathroom with a toilet, sink, and a walk-in shower, along with a toilet and sink at the rear of the trailer.
The whole family can fit into this floorplan from Jayco as the overall length is 40′ 1″, and the entertainment center and fireplace will help bring some cozy enjoyment when the weather is rainy outside. Plus, with on-demand hot water and plenty of designated hang-out areas, you won't feel lacking, no matter how many people you bring along!
A toy hauler with two bathrooms and luxury amenities? What more can the adventurer in you ask for!? The Forest River Cherokee Wolf Pack 2023 with the 310PACK10 floorplan offers luxury, durability, and more standard amenities than many, including two full bathrooms, each equipped with a shower, toilet, and sink. I like the placement of both bathrooms as it means RVers sleeping in the rear of the trailer have access to a bathroom, and the same goes for RVers at the front of the trailer.
Toy Haulers are ideal rigs for ramping up your RVing game and bringing along additional equipment like a motorcycle or an ATV. With a total length of 38′ 2″, there's ample room for several individuals to come on board, and as this Wolf Pack transforms into a bunkhouse when needed, there's no shortage of space or sleeping areas!
I don't own gear like kayaks or ATVs, but I do enjoy having a campfire, and that means lugging around a fair bit of wood! I manage to squeeze this into my small RV, but having additional space would make my life so much easier! This versatile rig is fit for any explorer, but since it's pretty long, I'd advise towing this big boy slowly on the road and making sure it's level!
I particularly love the high-end exterior kitchen, as there's nothing better on a summer's day than gathering friends and family and having a big get-together with tasty food – it even included a mini fridge and an ice maker! When the night starts to roll in, everyone can move inside the trailer and relax in one of the comfortable areas such as the dinette or sofa, and let the day melt away in front of the impressive entertainment center.
Did somebody say two full bathrooms!? The 2023 Forest River Sandpiper does indeed have it, one with a shower only and one with a tub shower combo, perfect for a busy group on the road. While not all Sandpiper floorplans include two bathrooms, the 3330BH does, and there's a lot to love about this fifth wheel.
With any Forest River Sandpiper C-Class fifth wheel you will receive superior construction built to last the long haul! From the laminated vacuum-bonded aluminum sidewalls, the color-matched seamless rubber roof, the block foam insulation, and the Underbelly Armor providing full-length underbelly protection from decay and erosion, the rig will be pristine season after season.
This offers me the peace of mind I need when making such a big investment. I don't want to be experiencing problems only a few weeks after purchasing a new trailer. There are a few more impressive features from this rig such as extra-large picture windows throughout, upgraded raised panel cabinet doors and designer rails, a residential kitchen faucet, a stainless steel package, and a spacious interior!
Plus Forest River has always boasted excellent customer service and warranties I trust to get me through hard times with my trailer if ever that were the case! I'm stunned this rig has two full bathrooms, and still remains a reasonably-priced fifth-wheel package.
There's even a private bedroom with access to a full bathroom with a radius shower, plenty of storage, and a slide-out with a wardrobe and linen closet stretching into the bathroom. The main living and kitchen area is spacious as well and offers a large flat-screen TV, a ceiling fan, and plenty more for the whole family.
Best Classic Travel Trailer: Gulf Stream Innsbruck 285DBS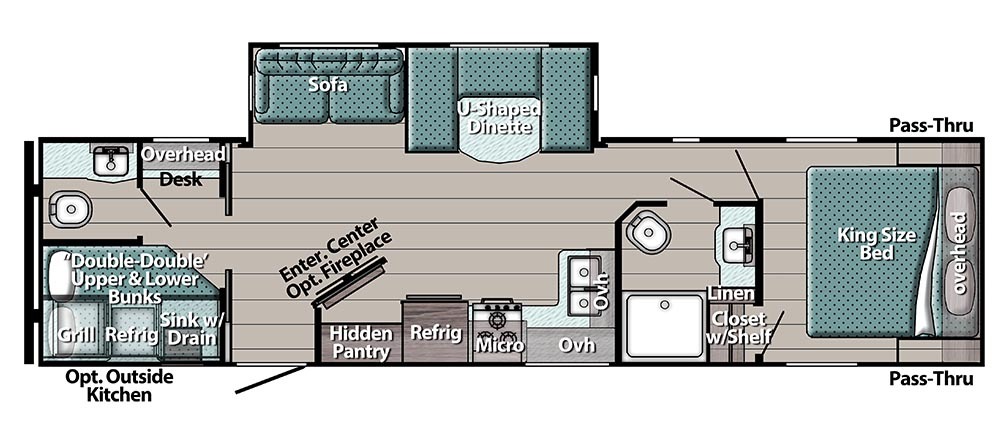 No doubt you've seen a Gulf Stream RV on the road, but have you seen an Innsbruck? The Gulf Stream Innsbruck has over 10 floorplans, but I've chosen to focus on the 285DBS as it has a full bathroom complete with a shower, toilet, and sink, along with a half bathroom with a toilet and sink to the rear of the trailer. This classic trailer is fit to tackle any adventure, and with Gulf Stream's impressive seamless roof with a 12-year warranty, I enjoy the comfort of knowing my rig is covered if I experience any issues.
The frame is powder-coated for ultimate durability, and with easy-to-clean vinyl flooring throughout, this rig is great for those who travel with pets too! I live and travel full-time on the road in my rig, which means I encounter all sorts of weather conditions, from boiling summers to freezing winters, and this rig has me covered.
There are two LP tanks with auto changeover so I don't need to worry when one runs out, but there's also a ducted roof air conditioner which is key for comfortable camping during the warm season. My trailer is vintage, and although owning an older vehicle or RV can have its ups and downs, I love the classic aesthetic as it's simple and full of personality!
The Innsbruck by Gulf Stream is no different. The exterior is sleek but with a classic edge to keep Gulf Stream's old-school magic alive. On the exterior of the trailer is a fully equipped exterior kitchen, but if the weather is off, inside the Innsbruck is a sizeable kitchen space including a pantry, refrigerator, microwave, sink, and counter space.
It's hard to find something the Innsbruck doesn't have! It's even an affordable toy hauler which can be pretty hard to find these days, but Gulf Stream has us RVers covered once again! With one and a half bathrooms, ample floorspace, abundant features, and a classic feel, the Innsbruck is an ideal match for those wanting space matched with comfort and functionality.

When the kids come RVing, it can sometimes be a bit of a task! RVs are typically small with limited amenities, yet the 2023 Jayco Pinnacle 38FLGS is bursting with impressive features such as solid hardwood cabinetry, Magnum 6XL roof rafter system, and most importantly great bathroom options! There's a full bathroom with a toilet, two sinks, and a walk-in shower, along with an additional toilet and sink in the middle of the rig, as shown in the tour video below:
I love the abundance of floor space in this rig, as sometimes trailers can feel somewhat cramped, but with a total length of 44'5″, young ones can run around to their heart's content. It's hard to beat the innovative roof system which creates higher ceilings all around – ideal for taller adventurers.
There's plenty of seating too which is something I struggle with in my smaller travel trailer! Having comfortable areas to host friends and family is a game-changer, and gatherings with the whole family can be made easier with the Pinnacle 38FLGS as there is from living space, two awnings, and an outdoor kitchen, perfect for summer.
Jayco is a name I have known and trusted for many years now, and I firmly believe they create rigs with RVers in mind. The Pinnacle is a travel trailer able to handle an entire family, even with a few kiddos on board. And better still, there'll be no arguing over the bathroom!
Another luxurious option, perfect for the whole family but especially a family of adults, is Heartland RVs North Trail Ultra-Lite Travel Trailer 33BHDS. The reason this rig is perfect for all adults isn't just that it has one and a half bathrooms; it also has two sleeping areas at opposite ends of the trailer! This may seem like an odd thing to be excited about, but if you've shopped around for RVs long enough you'll know private bedroom space can be hard to come across!
Heartland RV has many luxury trailers, but the Ultra-Lite 33BHDS is the only floorplan in the range with more than just one bathroom. Having an additional bathroom space is always convenient, and with two sleeping spaces at the rear of the rig, the grandparents can take the grandkids out for the weekend and know everyone can use the bathroom in the morning hassle-free and also have a private sleeping space to be comfortable.
It's no secret – I love to cook! And my granny is exactly the same. Whenever I'm nearby, she will come and deliver tasty food for us to enjoy in my trailer, and I know she'd be blown away by the kitchen in the 33BHDS, but I'm not sure it would be a good idea to use an oven whilst driving! It's called the 'Dream Kitchen', and for good reason! There are solid surface countertops, stainless steel appliances, a sizeable refrigerator, an air fryer oven, and hardwood cabinets for a luxury, high-end finish.
The finishings in both the kitchen and living area rival those found in traditional homes, giving grandparents and other adult companions a sweet taste of home when out on the road. With a large fireplace and kitchen island, I know I'd feel right at home with all of my guests.
Heartland knows what modern RVers are looking for, especially when it comes to luxury camping. While the cost may be a bit higher on this trailer than some of the others on this list, it's worth looking into Heartland's name alone! Plus, a bath and a half isn't too shabby either.
I have so many fond memories of camping when I was a child, and I truly believe it's one of the best ways to go on vacation with the entire family! Space is usually at the forefront of concern when it comes to family camping, but this 2023 Prime Time RV Avenger 28DBS has everything covered – even an awesome name!
The 28DBS model has countless impressive features, but I'm going to kick things off by mentioning the front queen bedroom with full privacy, thanks to sliding doors. Having privacy in an RV can be tricky, but Prime Time has it covered with this rig, and parents will enjoy being able to put the kids to sleep in the rear double bunk beds, before retreating to tranquility in their own private bedroom space.
There are no issues with bathroom space either, as there's an ensuite to the queen bedroom with a toilet and sink, whilst opposite the bunk beds is a full bathroom with a shower and toilet. The interior space isn't cramped, which I like, and the slideout with a sofa and dinette means everyone can have a place to sit come breakfast time!
RVing for me is about spending as much time outside and connecting with nature as possible. Therefore, it's no surprise how much I love the exterior features such as the shower, power awning, and outside speakers which will no doubt make for some good times! RVs aren't the easiest rigs to drive, and this big rig might be too large for some as it measures in at 35′, but Prime Time has the RVer in mind, and has equipped this rig with backup camera prep to aid in maneuvering and parking.
It's hard to find something the Avenger doesn't have! I guess it would be nice to have a little more countertop space, but this can easily be overcome by using the dinette table as additional prep space. Kids and adults will love this rig, and since there'll be no arguing over beds or bathrooms, it's a great fit for the whole family.

Luxury and RVing don't always go hand in hand, but I'm here to prove you wrong, with the Grand Design RV Reflection 311BHS travel trailer. This rig boasts such an abundance of features, with a full bathroom and a half bath included too! This high-end trailer has everything I could ever wish for in a travel trailer, with an elegant finish. It's things like hardwood cabinetry, blackout shades, and stainless steel sinks that really prove Grand Design RV lives up to its name!
I particularly like the addition of a 370W solar panel, as it makes this trailer more suited to boondocking or off-grid living, with the ability to stay charged up (as long as the sun is out!). I've said previously how much I love cooking in my rig, but I know my meals would get even more extravagant if I were to try out the kitchen in this big beauty!
The kitchen contains a substantial 16 cu. ft refrigerator, microwave, high-rise faucet with spray attachment, and even an island for a true luxury feel. When dinner is ready to serve, everyone can get cozy in the booth dinette, where family dinnertimes can be made extra special. The two awnings are also features that can't go noticed as they completely transform this rig!
Suddenly space isn't limited to the interior of the trailer. Instead, you can host all of your loved ones on a summer evening under the awnings and even whip up something tasty in the exterior kitchen! Luxury does come with a higher price tag, and the Reflection 311BHS is no exception. However, if you are looking to make an investment fit to last many years of travel and adventure with two bathrooms on board, this might be the ideal RV for you!
Conclusion
Whether it's to make the entire family comfortable or because you and your partner like to spread out, it's possible to find travel trailers on the market with two bathrooms. Hopefully, our list of the best trailers with two bathrooms has opened your eyes to the endless possibilities with RVing, and has reassured you there's a rig out there able to tick all of your boxes!