For years now, there's always been one place I absolutely must visit when I'm on the Big Island. However, much has changed since 2020. So, even though I last visited them in 2019, I think it's worth writing a Two Ladies Kitchen 2022 post.
What Hasn't Changed at Two Ladies Kitchen 2022
Before we get into what's different at Two Ladies, let's go over what hasn't changed. First of all, Two Ladies remain insanely popular. As a result, it is recommended that you phone in your order at least a couple of days ahead. Even that can be a challenge, though, as the line is often busy. However, it's much better than waiting 30 minutes or more for your order to be prepared.
Another thing that hasn't changed is the menu, at least most of it. Everything we loved in the past is still on the menu, including their famous strawberries, apples, grapes, peaches, Poha berries, and more. It's worth noting that their ginger mochi remains available only on Fridays. But that's where things get a little different.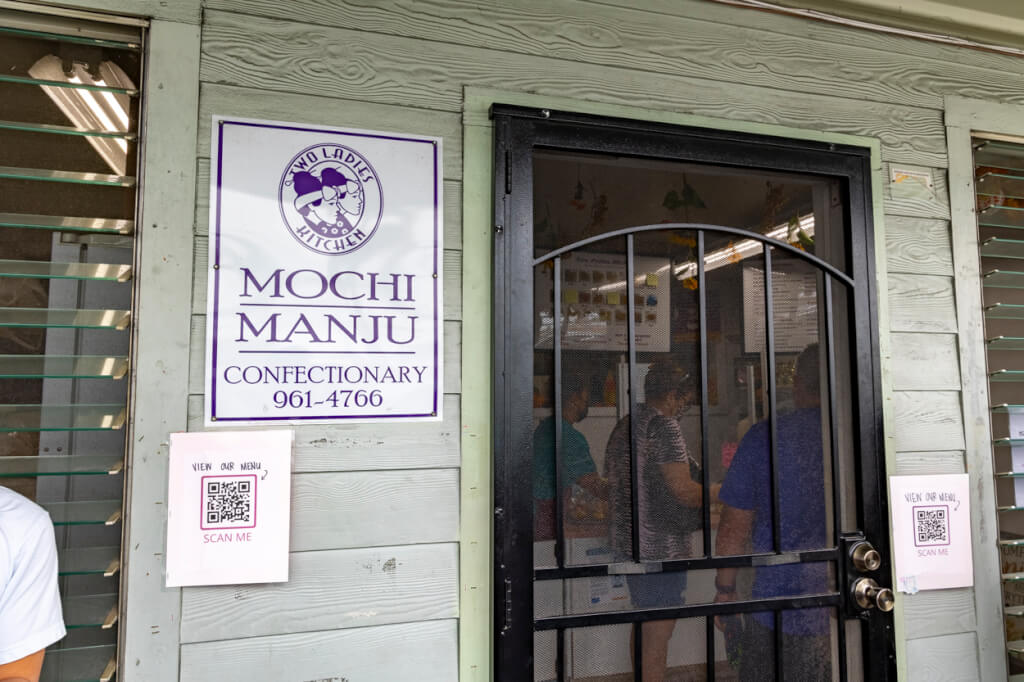 What Has Changed at Two Ladies Kitchen 2022
So, over the past few years since our last visit, Two Ladies has tweaked its menu a little. Newer additions – at least to me, include mandarin orange, pear, pumpkin pie (seasonal), and persimmon from Matsui Farm on Maui. Another change is that you can now specify remove beans from the fresh fruit mochi or select a different type from what they normally include – tsubushi (lumpy, sweet, azuki beans). Other options include koshi (smooth azuki paste) and shiro an (smooth, white lima bean paste).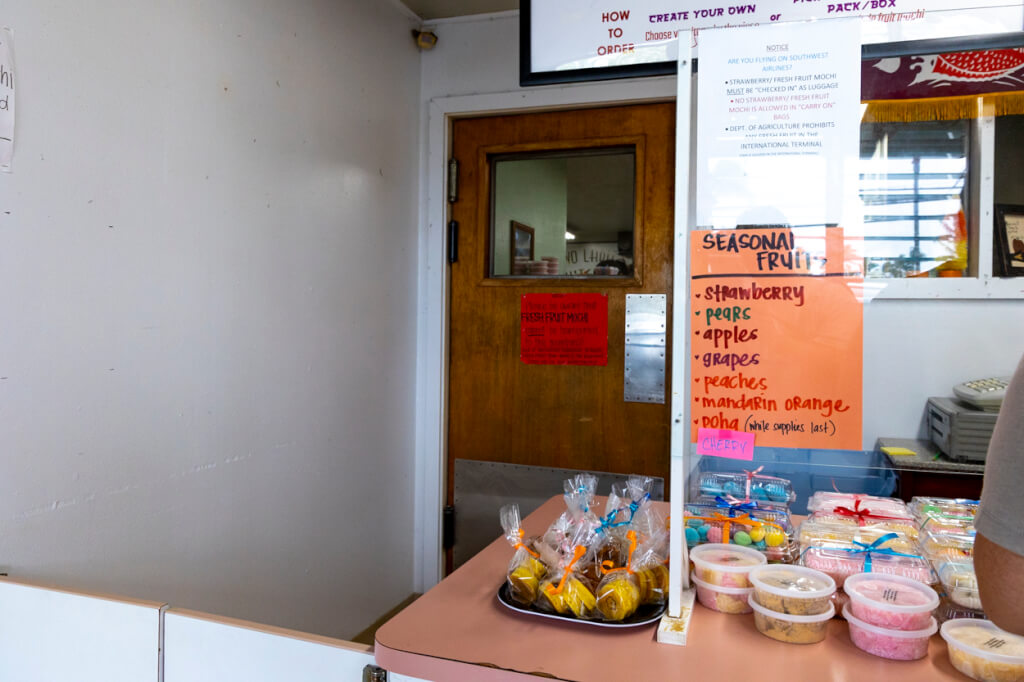 Aside from the menu, there was another notable change – you can pay with a credit card now! Better yet, at least with Chase, Two Ladies qualifies as a dining transaction!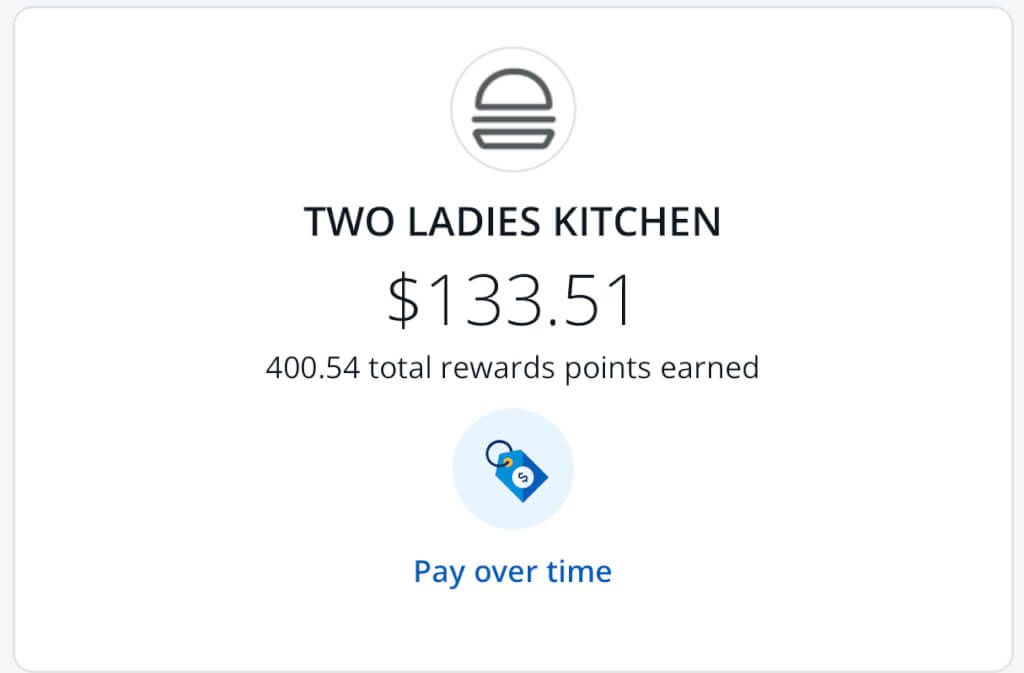 Our Order
During our Two Ladies Kitchen 2022 visit, we ordered nearly the entire fresh fruit menu along with the ginger, shiso, and butter mochi, plus lilikoi chi chi dango. Just look at that! Our order filled two whole boxes!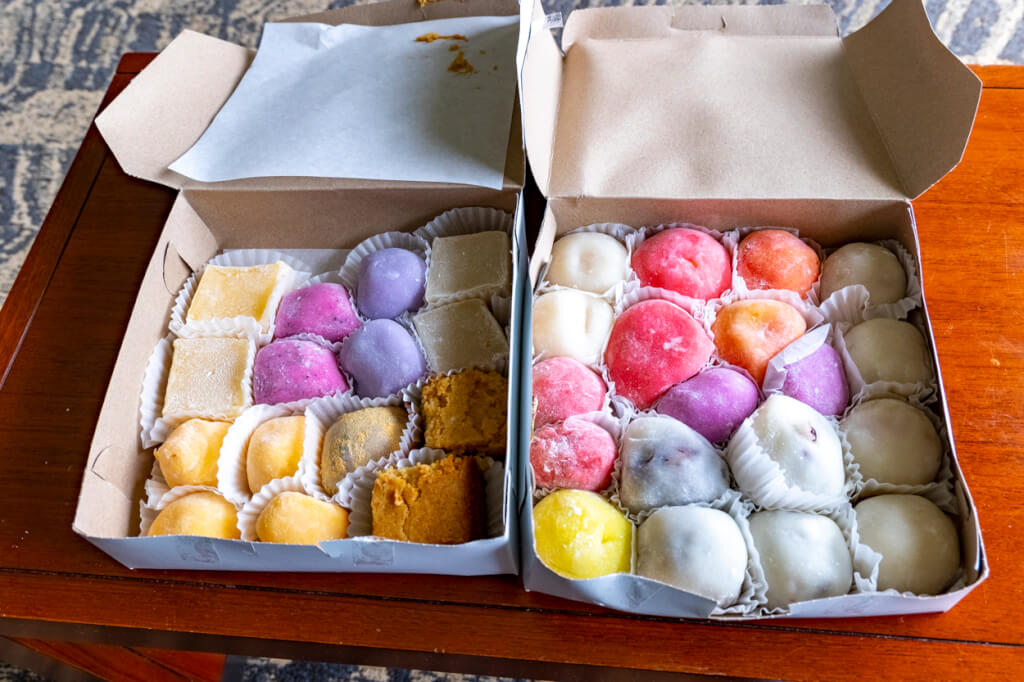 This time around, we ordered the standard tsubushi and shiro an strawberry mochi. Of the two, I preferred the tsubushi, as its earthiness helps to tamper the overall sweetness. The shiro an is good, but it's too sweet. Aside from the strawberry, my other fruit favorites include the peach (tart + flavorful) and grape (crisp + juicy).
The apple mochi is alright, and the mandarin orange was interesting – it's fresh, not canned. The cherry is good if the cherries are good, but Hawaii hasn't been getting the best cherries this season. I found the sweet potato one to be too dry, while I was surprised to find two Poha berries in that mochi. Lilikoi is always great, as is the ginger, though I'm disappointed that the shiso no longer has a bean filling. However, I did try the nantu for the first time, which is Okinawa mochi filled with tsubushi and rolled in kinako – it's an earthy/sweet delight!
Also in our lineup was Two Ladies' Tai Yaki – a type of manju that, best I could tell, is filled with koshi and shiro an. It's good stuff, though I want to try their flaky pie crust manju one of these days too.
Finally, we have the butter mochi, which is cakier here. It's not super heavy and creamy like the version Gooch makes.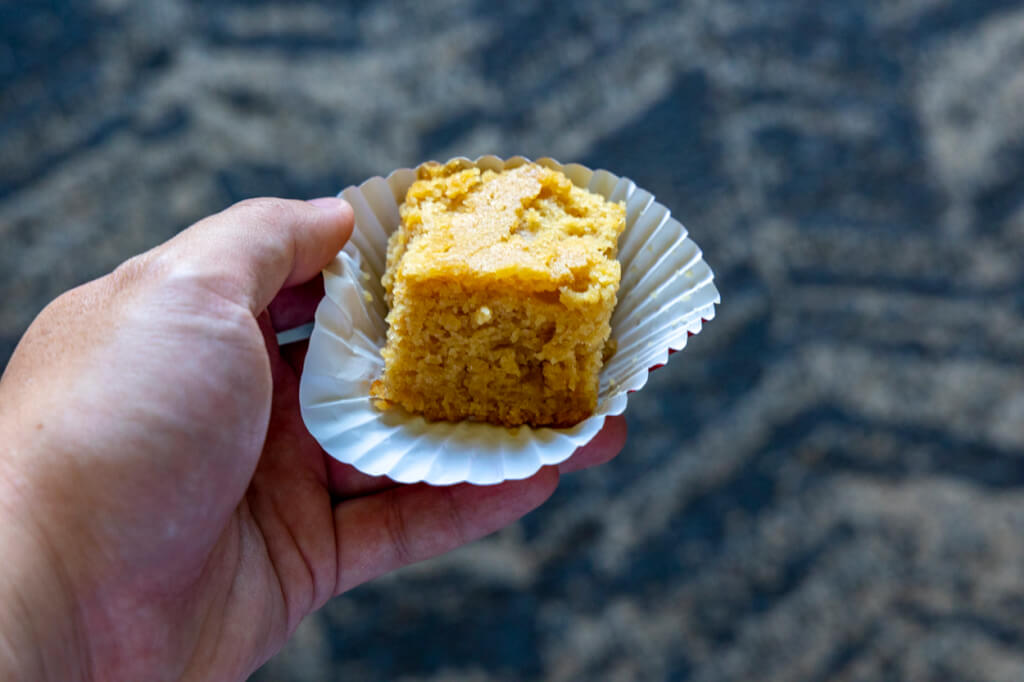 Two Ladies Kitchen 2022, Final Thoughts
It's easy to see why Two Ladies Kitchen continues to be one of our must-visit places on the Big Island. Just know that their operating hours are now Wednesday through Saturday from 10 am to 4 pm. So if you plan on visiting to bring back to another island, be sure to fly in on one of those days. Also, make sure you can put your mochi in a checked bag if flying Southwest. Also, here's their menu online!
Big Island 2022 Trip Report