For our recent trip to the Big Island, we flew Southwest once again. However, unlike our last trip, we flew into Hilo instead of Kona on Southwest 1173 Honolulu to Hilo. I had a good reason for doing so, despite the fact that we were staying in Waikoloa.
The first question I always get asked about this trip is why Hilo? Why would I fly into an airport that's over an hour and a half away from our hotel? Because I HATE flying out of Kona. It's too damn HOT! And I'm not paying the one-way rental fee for the car. Plus, there were places I planned for us to visit in Hilo at both ends of our trip, so the routing made sense. Did I mention that it's been over 20 years since I last flew into Hilo?
Southwest 1173 Ground Experience
We arrived at Honolulu's Daniel K. Inouye International Airport at about 7:20 am – just over two hours ahead of our scheduled departure time. After parking our car, we went down to Southwest's ticket lobby. As mentioned in my rant post, despite there being an open agriculture inspection station in that lobby, we weren't screened. Instead, the inspector waved us over to the kiosks, where we retrieved our bag tag and queued up for the bag drop.
The bag drop line was BUSY at that time of the morning. What didn't help were passengers trying to check their bags without a tag. Even better, they were fighting with the employee that they had a tag but that it somehow fell off. One even insisted that she be able to check her bag before us because of this. He wasn't having any of that. Oh, Southwest passengers, why you gotta be so trashy?
Thankfully, the line moved relatively quickly. After about 10-ish minutes, we bid farewell to our checked bags and headed to security. Unlike the bag drop line, the TSA Pre-Check line was virtually empty, and we were through in a matter of minutes.
After clearing security, we headed over to the nearest Starbucks and spent an eyewatering $30 on breakfast – two bottles of water, a sandwich, and egg white bites. Ouch. At least we had a great view with our meal!
Boarding Southwest 1173
The quoted boarding time for Southwest 1173 was at 8:55 am at gate E7 in the central concourse. It was interesting to see Southwest dominating this part of the airport while the rest of the non-Hawaiian areas remained eerily quiet.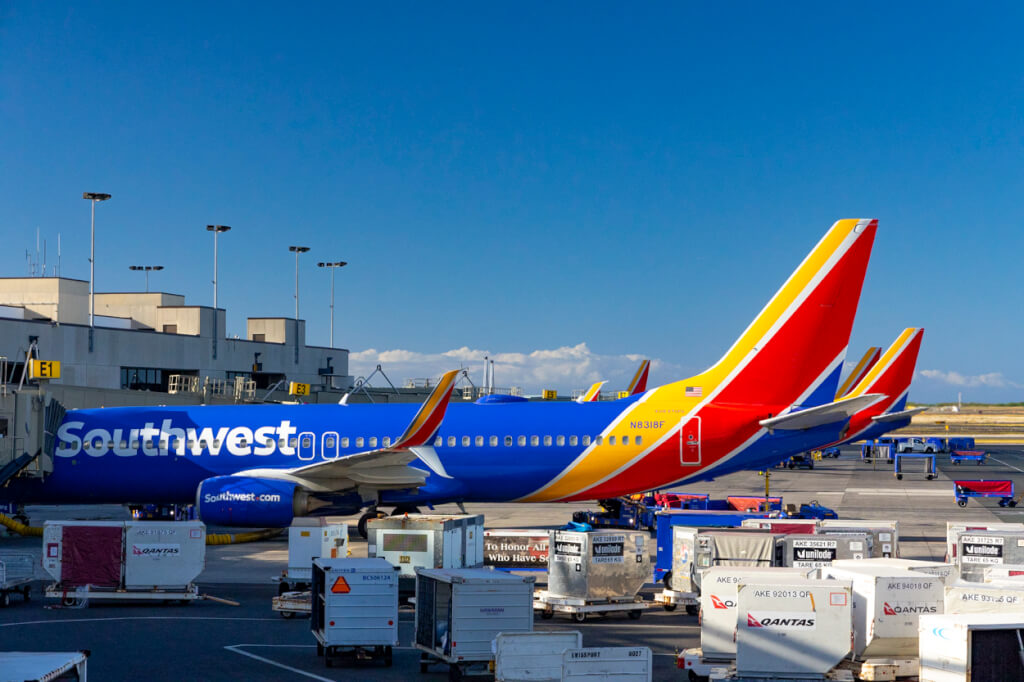 After a quick pitstop at a brand new restroom near our gate, I headed to the window to watch our inbound plane arrive from Kahului and ANA's Flying Honu arrive. Our aircraft, N8727M, is a four-year-old Boeing 737 MAX 8, pulled in 20 minutes before our scheduled boarding time, having spent the previous day flying from Long Beach to Honolulu, then to Hilo and back, before flying between Honolulu and Kahului that morning.
Slightly ahead of schedule, the call for pre-boarding was made at 8:54 am. A minute later, Group A1 to A30 were called up. With boarding positions A22 and A23, we made it aboard ahead of most and settled into seats 7A and 7B.
Despite our completely filled flight, boarding wrapped up about 27 minutes after it began, with the door closing at 9:21 am. After a quick safety briefing – in which our lead flight attendant announced that the flight crew was primarily there for our safety – we began our pushback one minute ahead of our 9:25 am scheduled departure time. Interestingly, our flight crew kept referring to our jet as a Boeing 737-800. Yeah, no.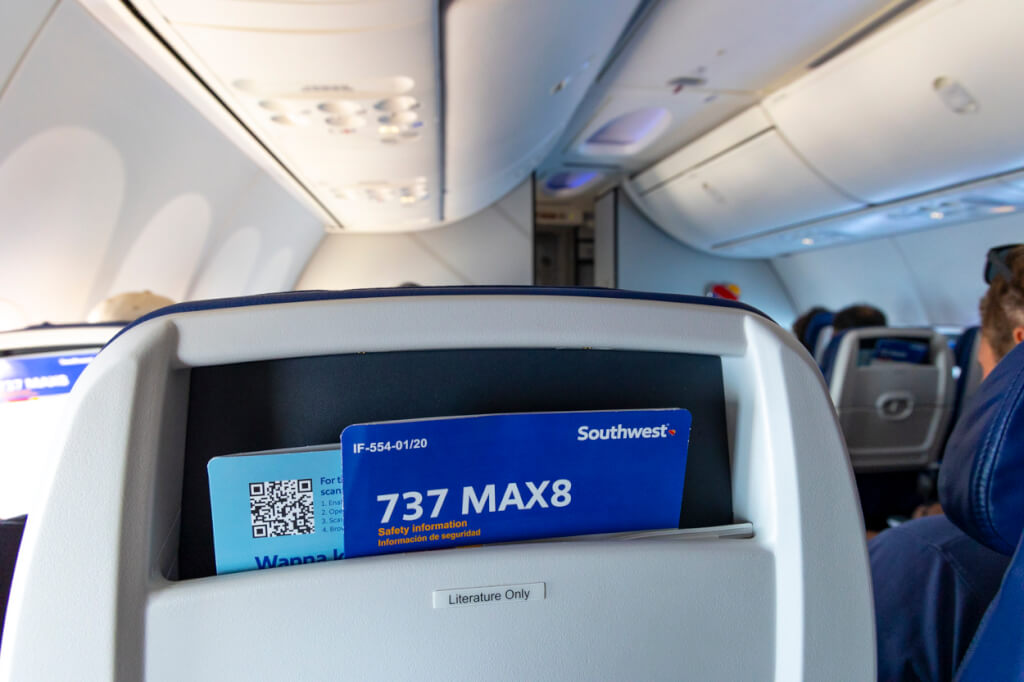 Southwest 1173 Honolulu to Hilo
As we taxied out, we were informed that our flight time would be 38 minutes. Departing from HNL's runway 8R – the Reef Runway – it took us 12 minutes to get out there. As we approached the runway, our pilot announced that we were #1 for departure; thus, as we turned onto 8R, they spooled up the engines, and we were off!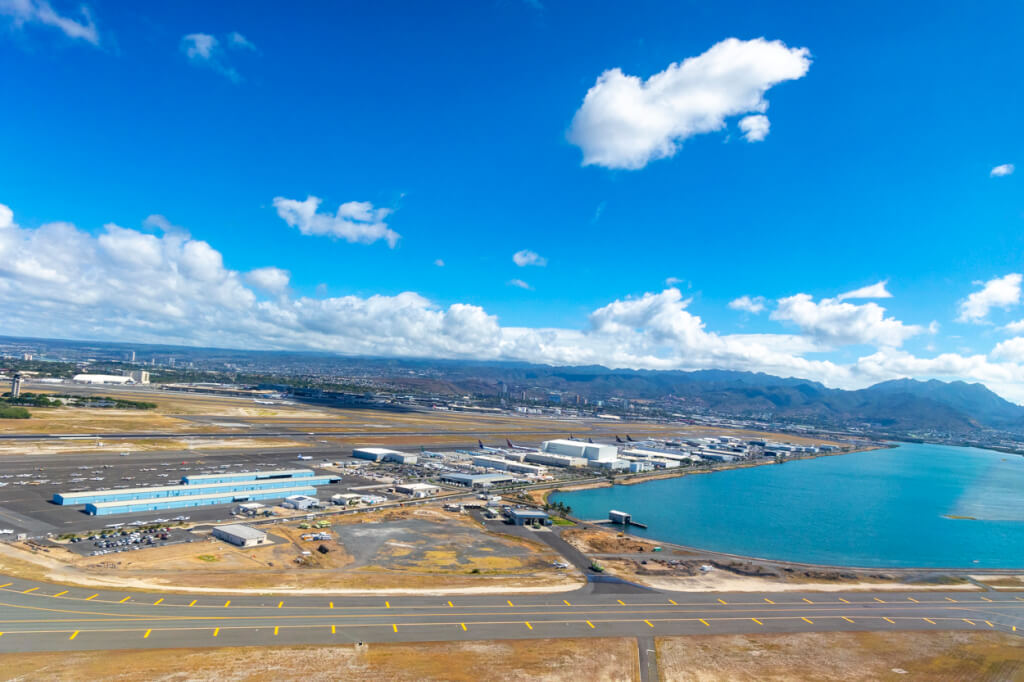 That morning was a beautiful, bright one which made for spectacular views on the climb out but made photography difficult because of the glare.
As we approached our initial cruising altitude, our flight attendants announced that they'd be taking drink orders to expedite service on our quick flight. Once they got orders, they served the drinks and came around again with bags of snack mix.
We began our initial descent at 9:54 am while service was wrapping up.
At 10:08 am, we began our final descent, coming in low over Hilo Bay and portions of Hilo Town.
Soon after, we came in for a firm touchdown on Runway 8 at 10:15 am. Four minutes later, we pulled into our gate six minutes ahead of our scheduled arrival time.
Arrival Experience
The doors for our Southwest 1173 Honolulu to Hilo flight opened at 10:19 am, at which point we began filing off. Of course, that's not before the jerk in the row behind us rushed ahead of me as I was trying to get our bags down from the overhead bin. I'm not sure why she did this, as she stood near the gate after deplaning.
Once off the plane, we headed down to baggage carousel C and waited. To my surprise, the restrooms at Hilo Airport are newly renovated and are quite nice! Too bad the rest of the airport looks a bit worse for wear.
Our bag arrived exactly 20 minutes after the cabin door opened, after which we headed across the street to the rental car desks.
Southwest 1173 Honolulu to Hilo, Final Thoughts
Our Southwest 1173 Honolulu to Hilo experience sharply contrasts our other recent experiences with them. The quality of our fellow passengers was definitely worse than on our previous flights. Further, while our flights to Kahului and Kona were relatively empty, there wasn't a single empty seat on this plane. That made things all the more chaotic for us. Then, of course, our flight crew wasn't particularly friendly and were quite robotic in nature.
Nevertheless, the flight itself was fine. And, despite all of the travel doom and gloom, our flight was actually early! Can't ask for more than that.
Big Island 2022 Trip Report
Southwest 1173 Honolulu to Hilo