You could say that the Vuyani Safari Lodge is my reason for visiting South Africa in the first place. It all started with a flash sale on Jetsetter.com for an all-inclusive safari experience for two in South Africa for $332 a night. While I wasn't sure if this price was reasonable compared to other safari lodges at the time, I knew that I would gladly pay that amount of money to go on a safari.
I later found out that this was indeed a great deal, much cheaper than the rates advertised on their site which is $355 per person per night for the room we stayed in. Even at that price, the Vuyani Lodge is a bargain compared to some of the other safari experiences that I have heard about from others who have visited South Africa.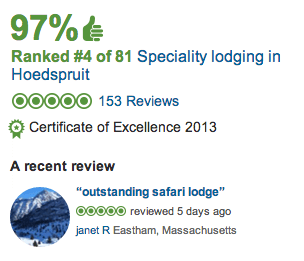 In today's post we are going to talk about the experience of staying at the Vuyani lodge. Did it meet expectations and equal the glowing reviews on Trip Advisor? Or would it be a dud? Read on to find out!
Note from Jeffsetter: This post is part of a series of posts about my recent trip to South Africa. Posts will include: South Africa Introduction, Westin Cape Town Review, Visiting Robben Island and More Adventures around Cape Town, Vuyani Safari Lodge Reivew, GoPro Flying, Safari Adventures and Hyatt Regency Johannesburg Review . Since all flights were in economy class and unremarkable, I will not be reviewing specific flights from this trip.
Getting to the Lodge
There are two recommended ways to get to the Vuyani Lodge. The first is to take a flight into Hoedspruit airport, which is located about 30 minutes from the Lodge. If you choose this route, the lodge will pick you up at the airport for free. When I was looking at this option, the flights appeared to cost around $500 per person, which seemed quite pricey for an hour long flight.
The second recommended option is to pay for a transfer form Johannesburg (JNB) airport to the lodge, which takes around 5 hours to complete. For two people this costs around $550 total. We chose this option because we thought it might be fun to see the South African countryside along the way. With some more advanced planning, we might have been able to get a flight for the same rate.
Another option might be renting a car and driving to the Lodge yourself from JNB, but this is not something that we wanted to hassle with.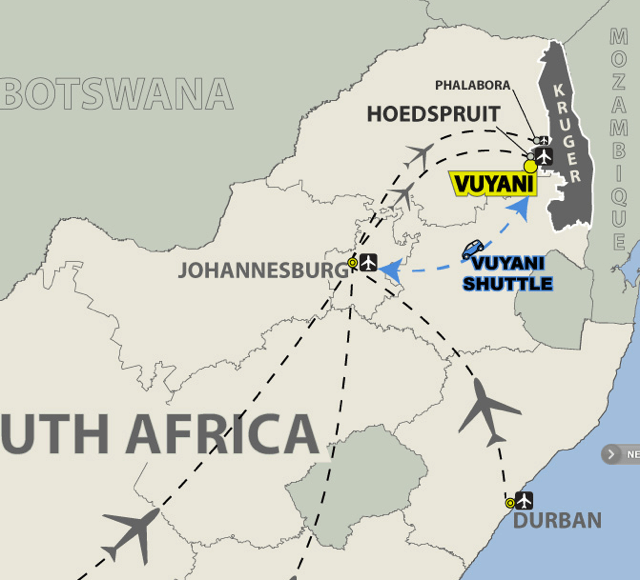 The key to airport transfers is to arrive early enough in JNB so that you can make the game drive for your first evening at 4:30 PM. As such, we took an 8 AM flight to get in by 10 AM. After picking up our checked bags, we were on the road with enough time to both make our game drive and stop for lunch along the way.
While I imagined that the drive would be very scenic along the way, the truth is that it was not spectacular for the most part. The first few hours we were on a freeway through flat farmland. The only animals we saw happened to be some animals that were living on a hobby farm where we stopped for lunch. While looking at the animals, 3 Rhinos came into my line of sight and walked in perfect succession. It was a perfect photo opportunity.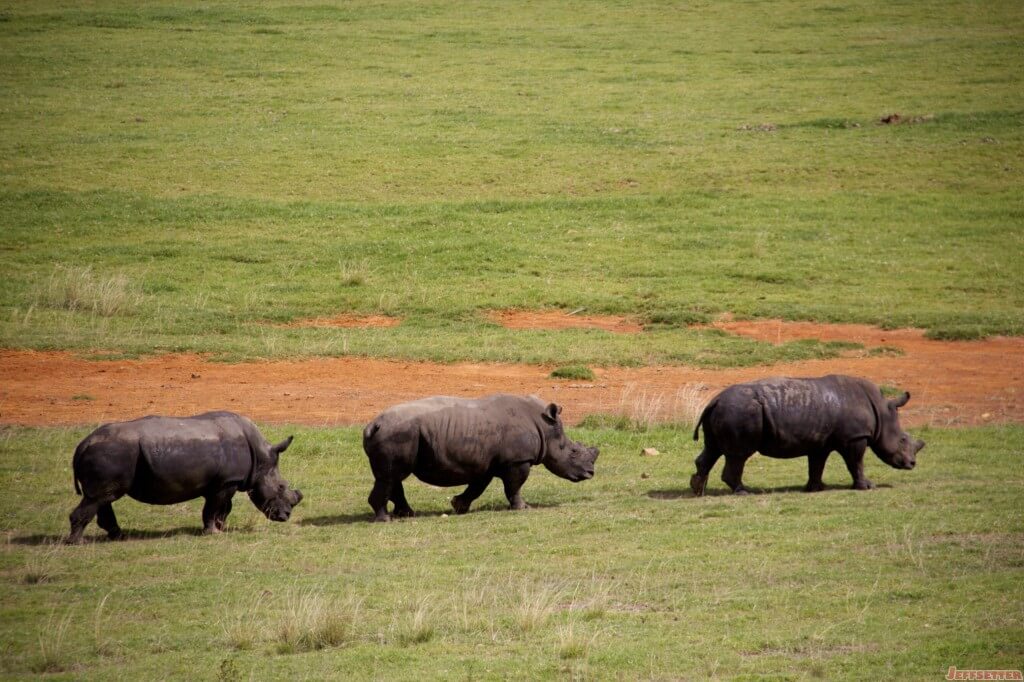 I didn't realize until I saw the picture on my computer that the Rhinos were without horns. A sad reality for many animals valued for their horns and tusks.
About 4 hours into the drive we did see some nice mountain scenery. Here is a mountain with a waterfall poking through.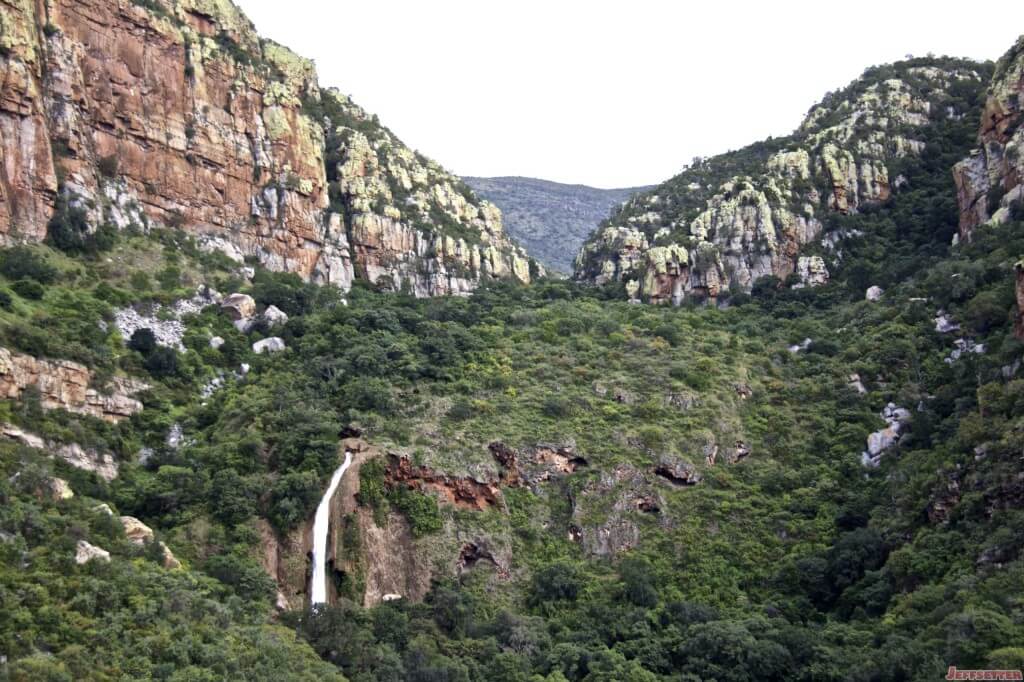 Then we arrived at the Lodge right in time for the game drive. The arrival experience was excellent, with the entire staff waiting for you outside of the lodge as you return from a game drive or airport transfer (not pictured below).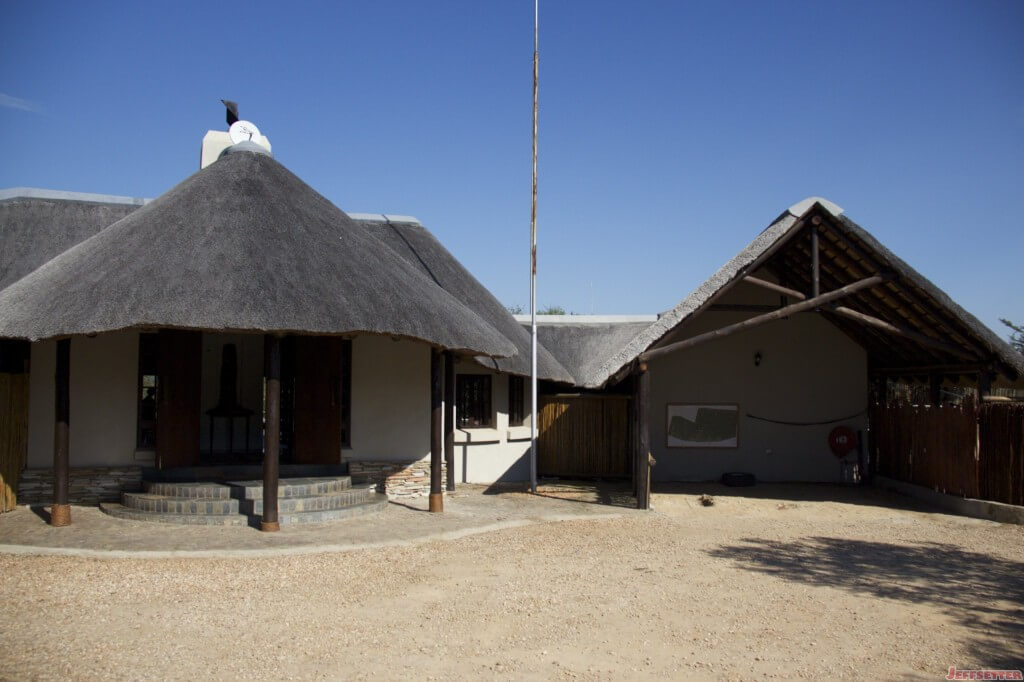 We arrived 4:25 PM, just in time for the game drive, but without any time to even go to our rooms. So after signing safety release forms, we hopped into the safari vehicle for our first adventure. More on this in a future post.
The Rooms and Accommodations
After the safari finished, we finally got a chance to see our accommodations. When I reserved the hotel through Jetsetter, we chose the largest room available because it was only about a $10 difference in price. Coincidentally, the largest room available was named the Honeymoon suite, which is not exactly the type of place you would normally stay with your father. I made sure to explicitly write on the reservation that we were family members and would need separate beds/no "honeymoon treatment" and I figured that we would be safe from then on. You could imagine the reservation note looked something like this:
Father and son traveling together. Not a honeymooning couple. Please provide extra bed.
We later learned that the hotel did not receive the message from Jetsetter, so the driver was awfully surprised when he picked us up from the airport. Fortunately, we had a 5 hour drive ahead of us, so he called ahead to make sure an extra bed was brought into the room.
Since we first arrived in our room during the evening, the mosquito nets were down on the bed. Being the honeymoon suite, there was a very large bed as a centerpiece of the room. The suite was very large at 600 square feet, enough room for us to store all of our gear and have space to spare. As a nice touch, the bed had the words "Welcome to Vuyani" spelled out with sticks for an all-natural greeting.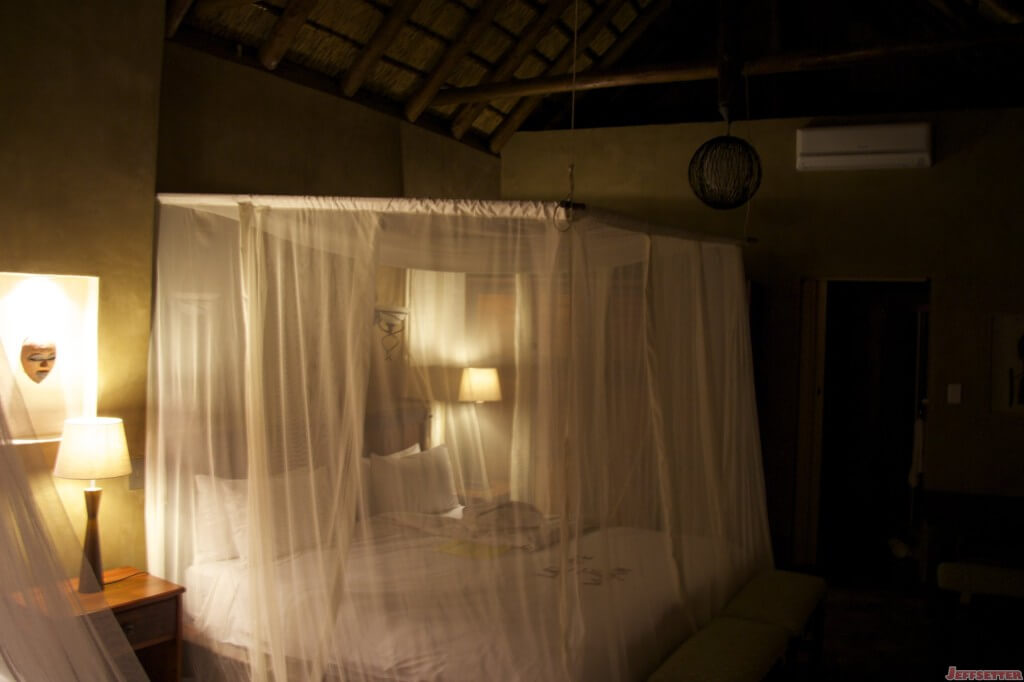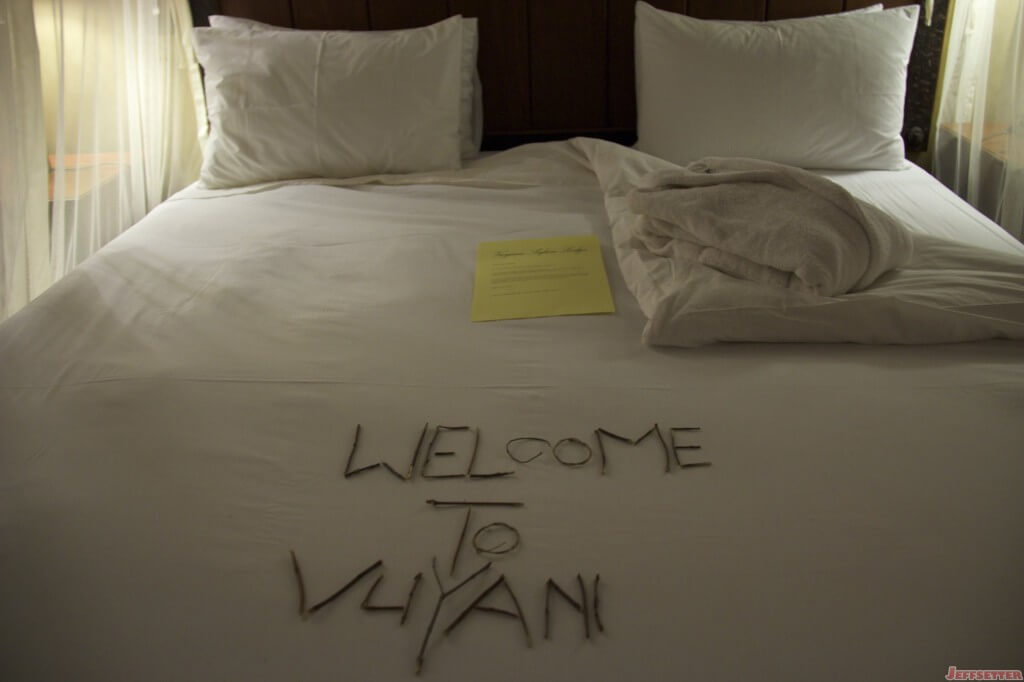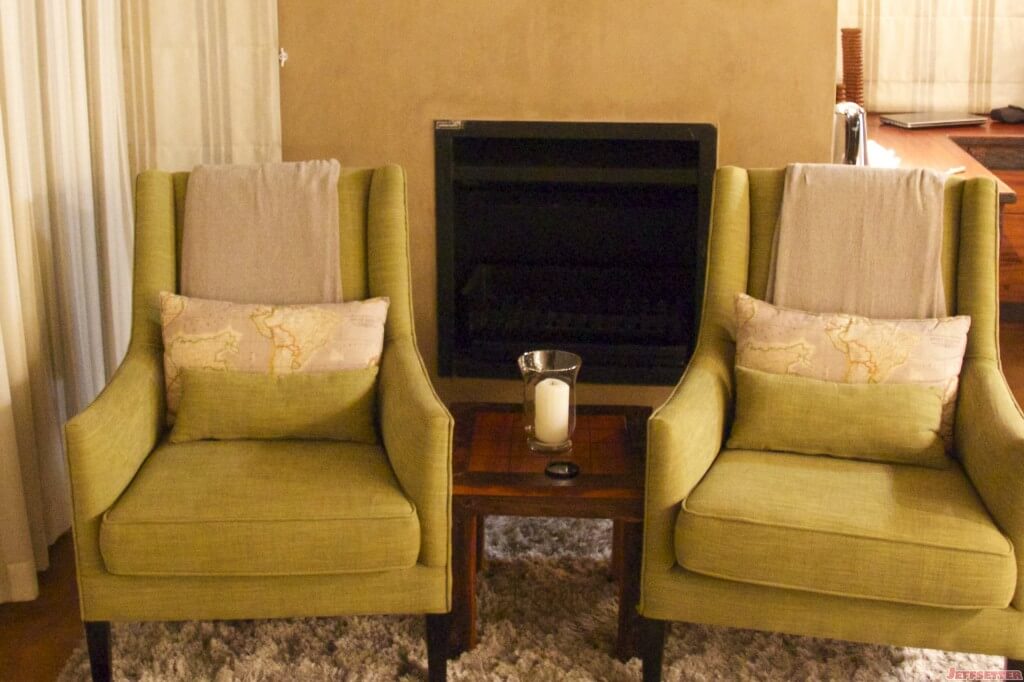 I took a photo of the bed during daylight (and without the mosquito net) for those who want a better view.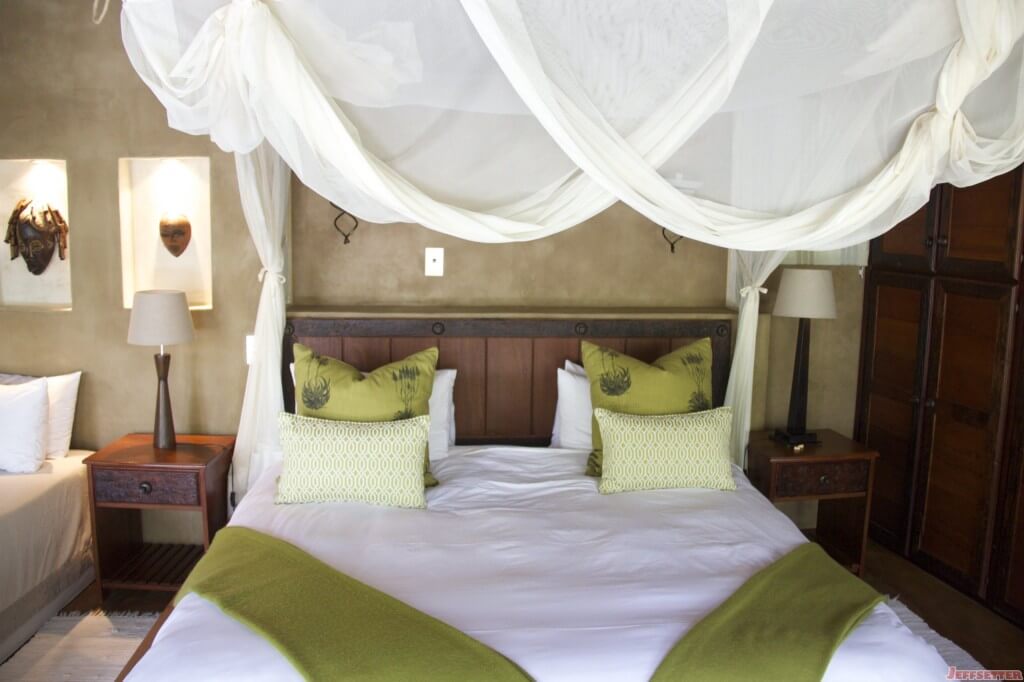 The room itself was in the furthest position from the main cabin of the 6 rooms available. It was about a 3 minute walk from the main lodge.
Our room featured a mini-bar with a nice stock of still and sparkling water, sodas, beer, liquor and wines. Everything was inclusive as part of our package, which was a nice touch. We hardly needed to use the mini bar, but it was nice to have it there.
The suite also had a patio in the back overlooking the Savanna, but I did not take a photo for some reason.
The Honeymoon Suite Bathroom
I was curious to see if the bathroom matched the photos on the Vuyani website/Jetsetter and I'm pleased to say that it looks exactly as you would expect. Nice stone, double sinks, a shower (not pictures), bathtub and throne room.
If I were to have a single complaint about the room, it is that the door to the throne room (toilet) did not properly shut all of the way due to humidity warping the wood. Not the end of the world, but something that they should fix.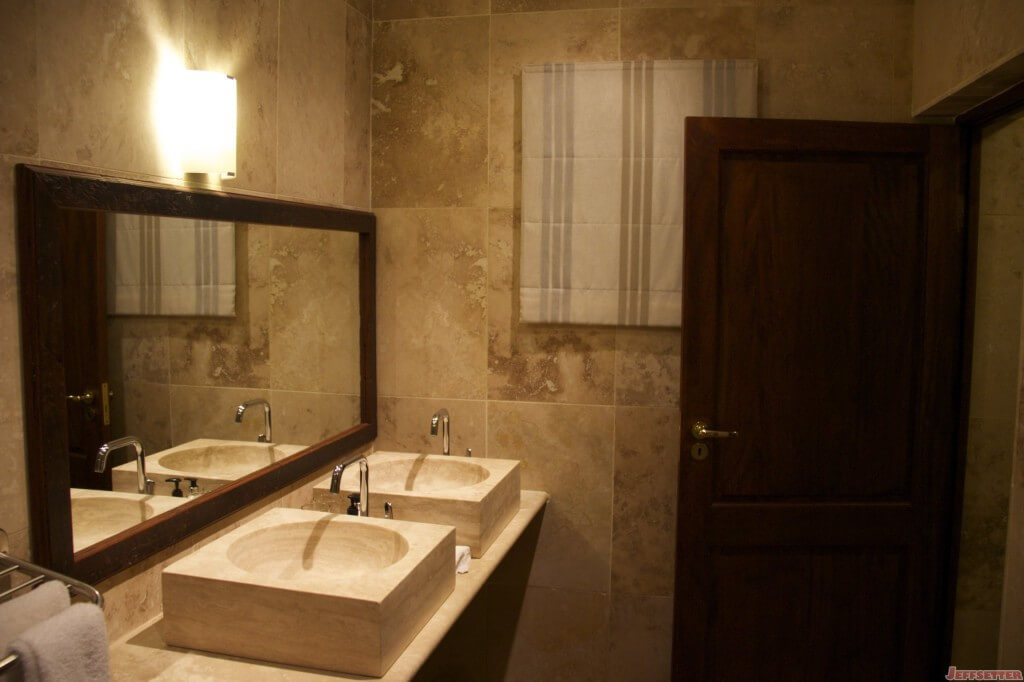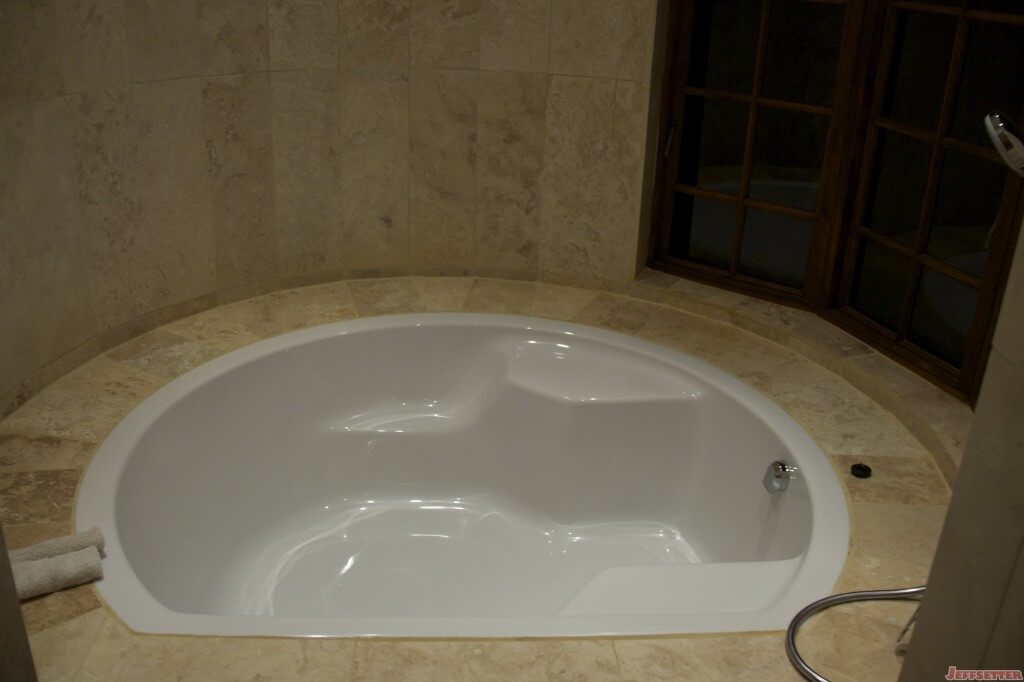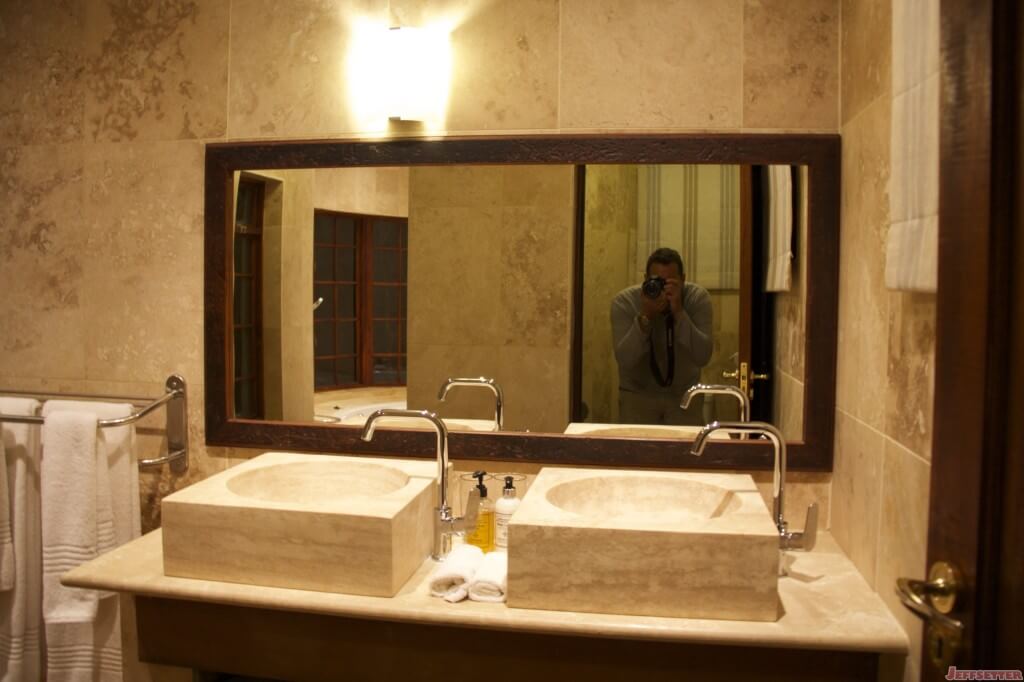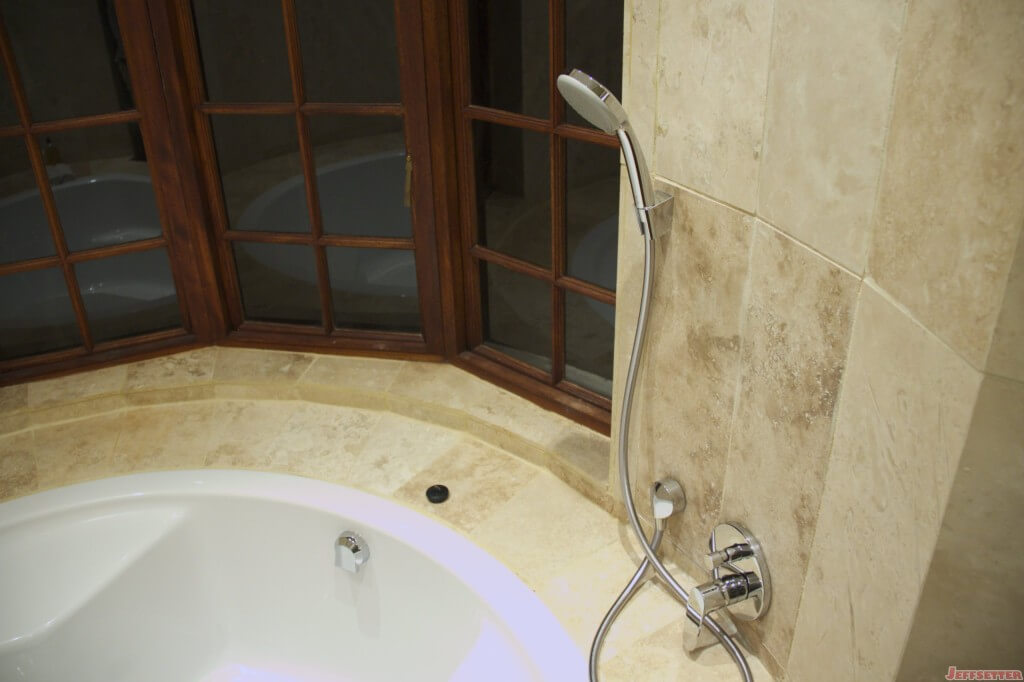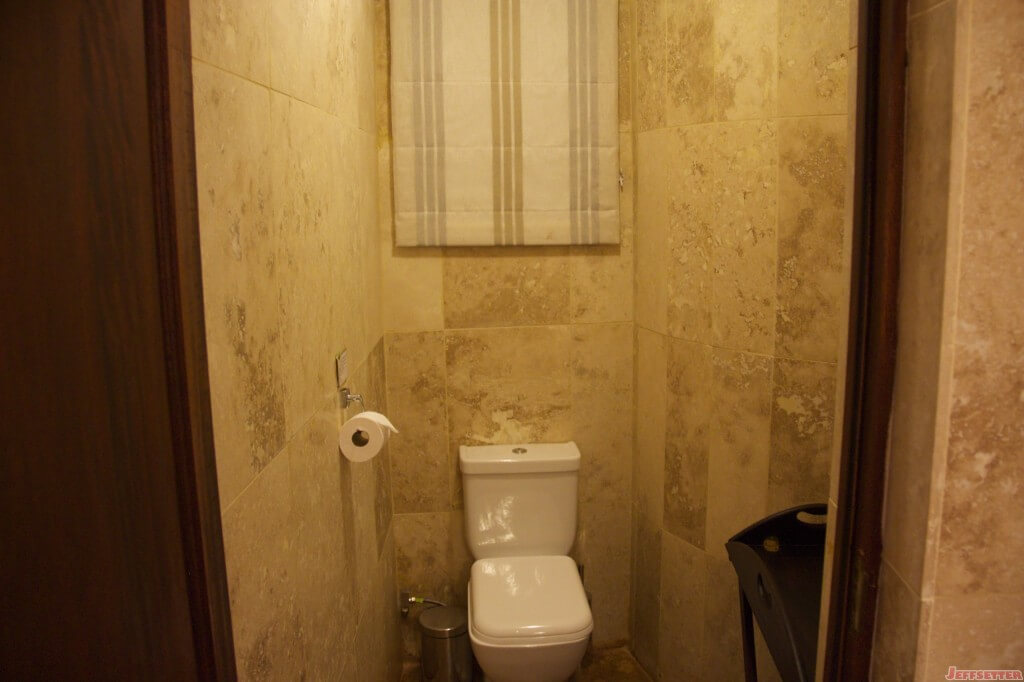 The Vuyani Lodge Grounds
The grounds around the Vuyani lodge were well maintained and easy to navigate. Since there are only 5 guest bedrooms in the entire place, you have an intimate feeling with everyone at the resort. We were fortunate that all of the other guests during our stay were awesome people and we got along swimmingly.
Because the lodge was located in the middle of a private game reserve, we had all kinds of wildlife come visit us during our stay. From Monkeys to Nyalas to Warthogs, we saw quite a few animals right from our room.
There were also some cool spiders and insects along the way, and they weren't shy! I still remember picking a Praying Mantis off the shoulder of my neighbor during lunch one day.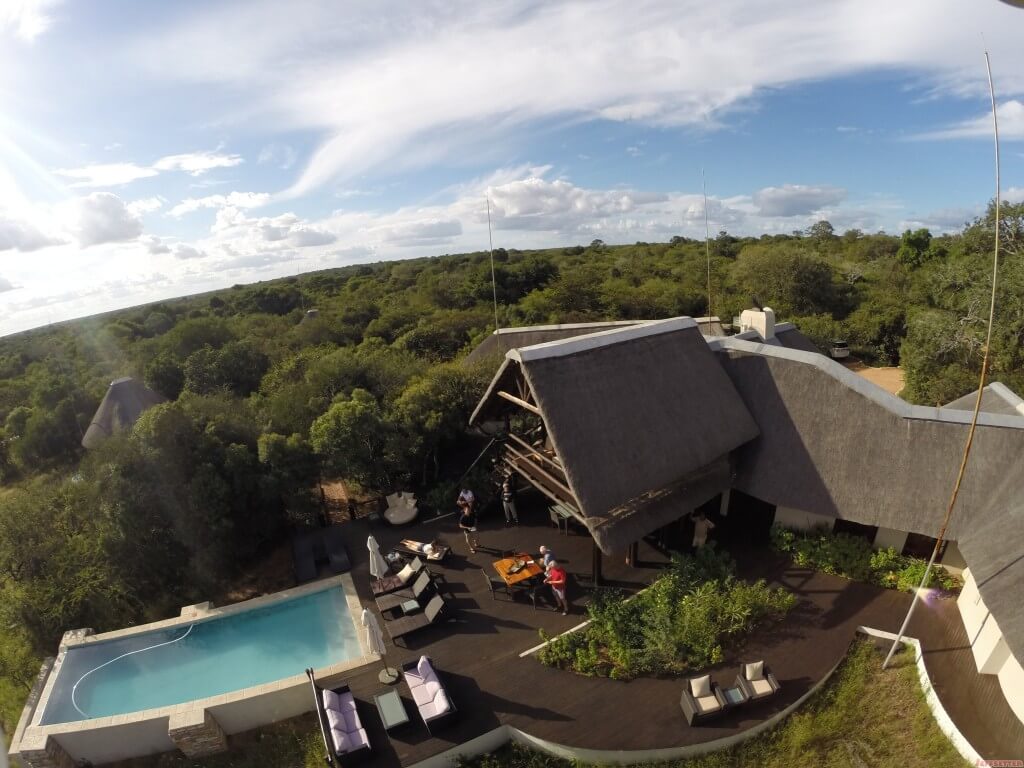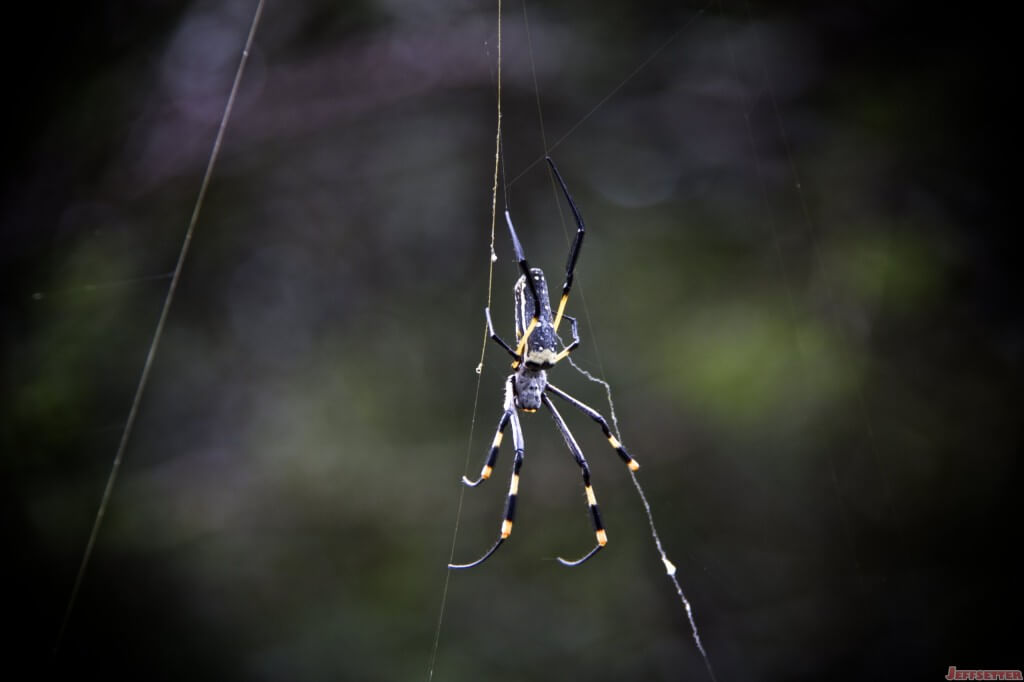 One evening we had a BBQ  dinner in a traditional BOMA enclosure, which was amazing.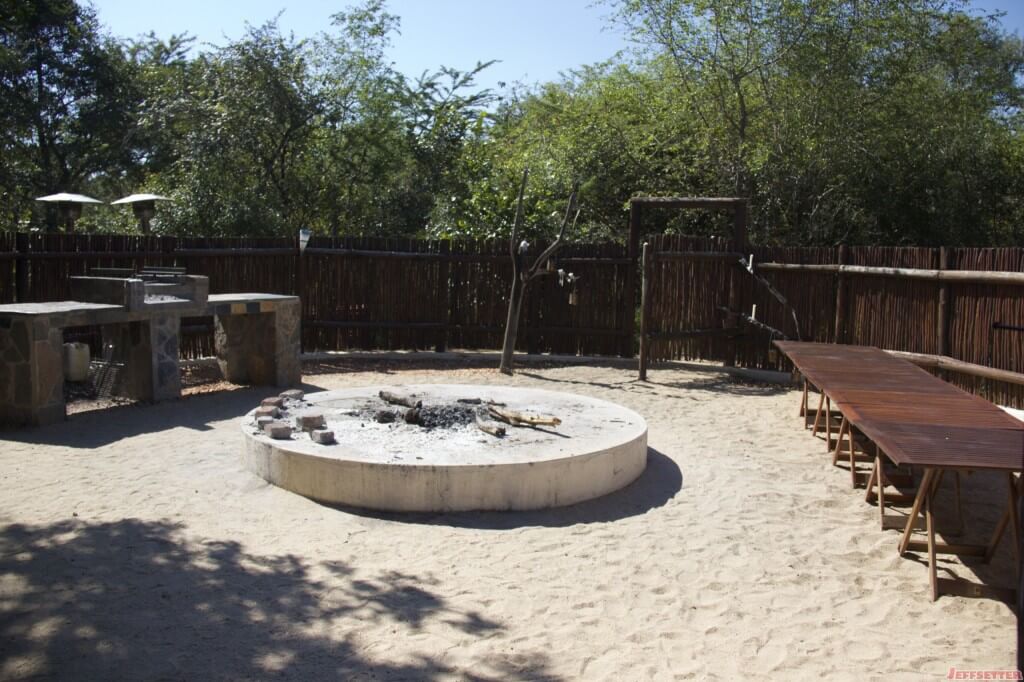 The paths to our room were a mixture of stone and composite decking. Here's a typical view of our way home to the honeymoon suite.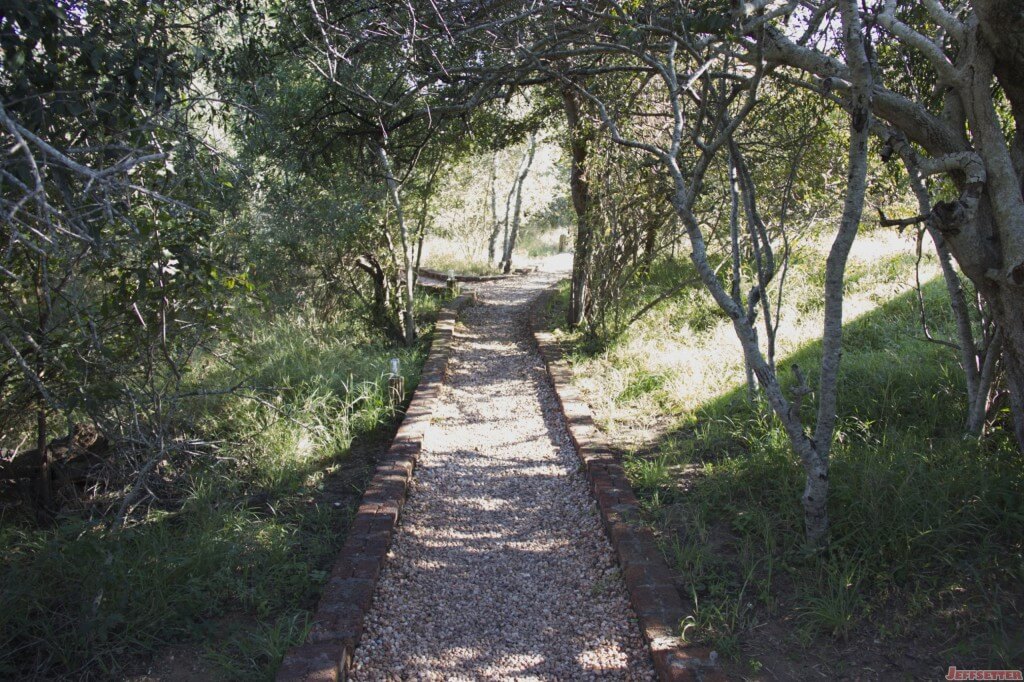 Eating at the Vuyani Safari Lodge
From the pictures on the website, I was probably most excited about the food at the Vuyani lodge. Our package included 3 meals, which started with Breakfast at 8:30 AM after our first game drive, a light lunch around 2PM and dinner at 8 PM after our final game drive.
What was most impressive to me was that there was a different table configuration and location for each of our meals. With only 5 groups staying in the Lodge, it was easy to reconfigure the dining areas to make sure that everyone had a chance to meet each other and experience all that the lodge had to offer.
The food was excellent for every meal and had a nice home-cooked feel. You won't go hungry or thirsty at the lodge!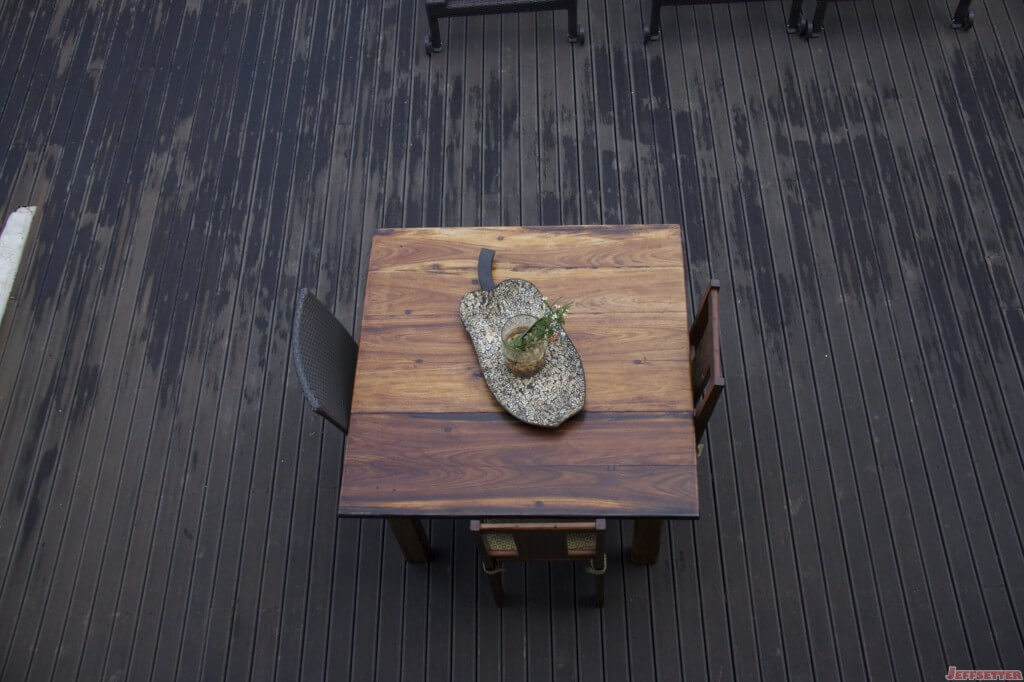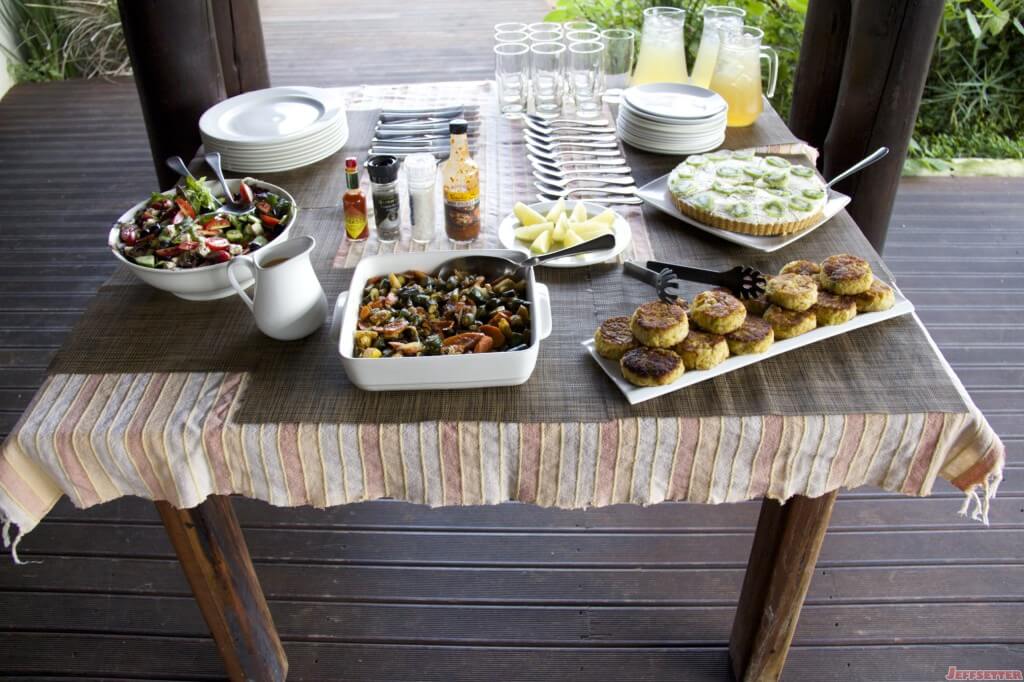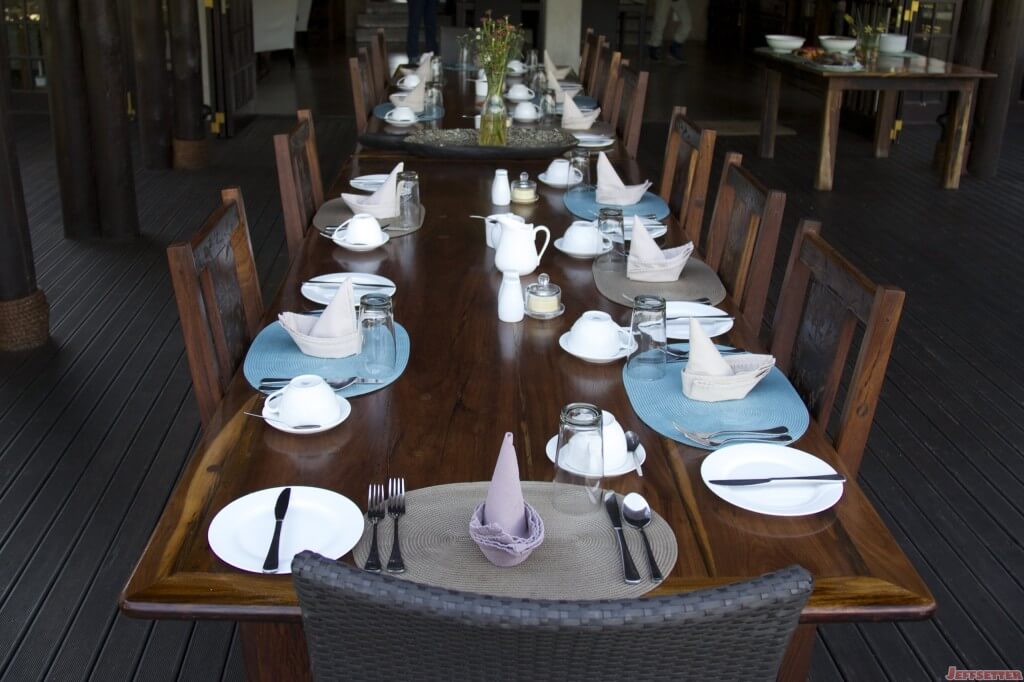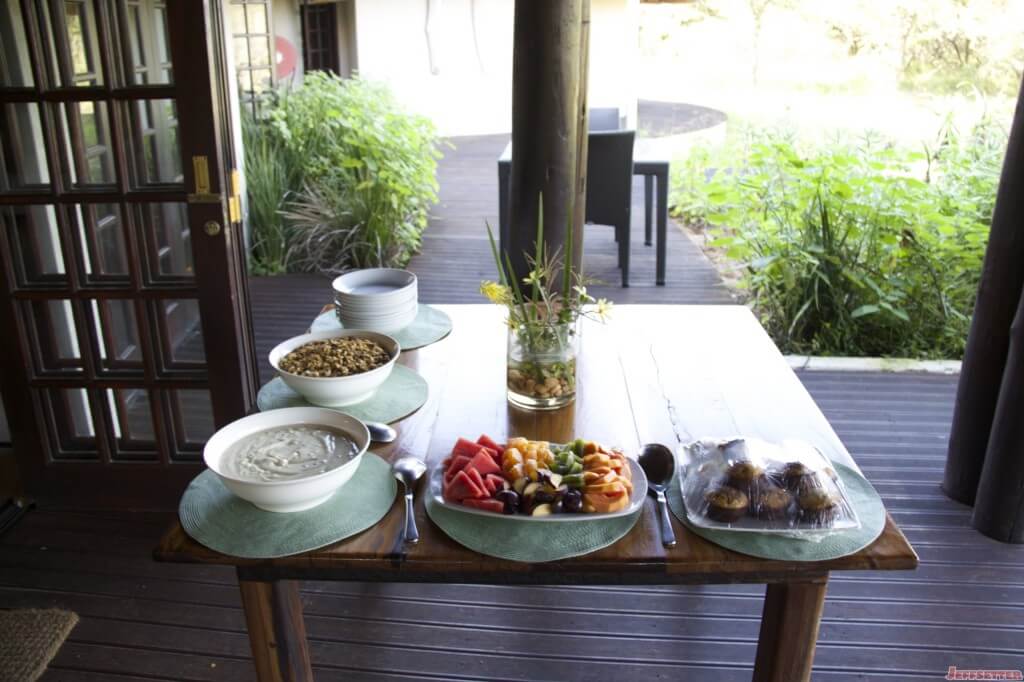 The Game Drives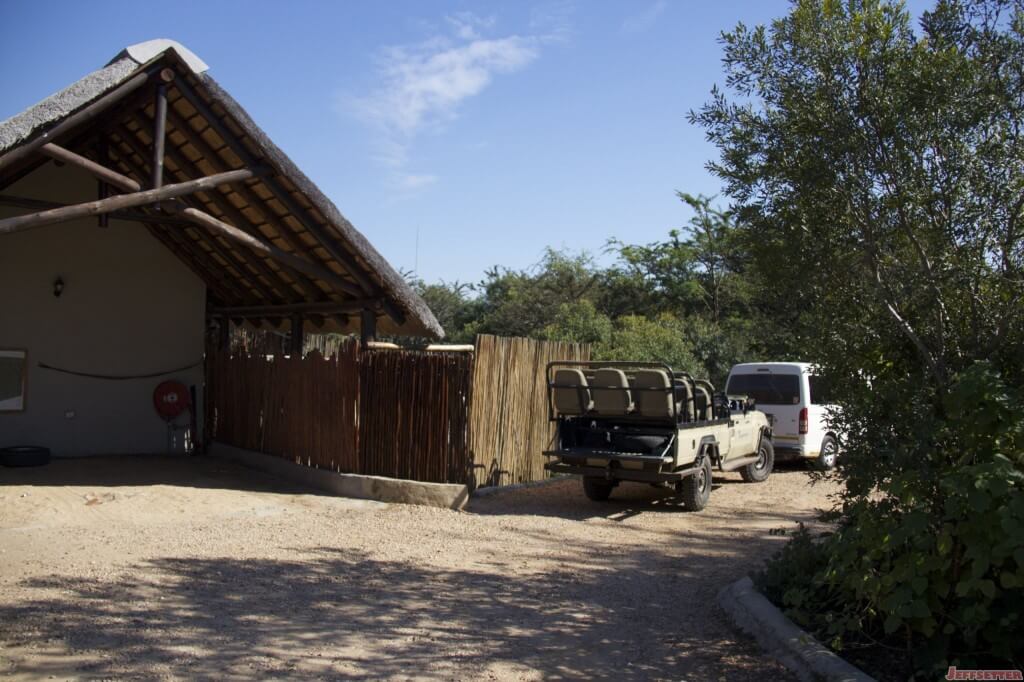 I will be doing a separate post on the game drives, because they are worthy of their own post. I will say a few things about the way that Vuyani handled the drives:
The drivers were very knowledgable and professional
The vehicles were comfortable
Waking up every morning at about 4:30 AM is a pain in the butt if you took advantage of the all-inclusive nature of the resort the previous night
While you are not guaranteed to see animals, the drivers do their best to track down the animals you want to see
Tracking down animals based on hoof prints, dung and downed trees is one of the coolest things I've witnessed
You don't want to miss a single game drive, because the FOMO (fear of missing out) is palpable when you only have a few days to see the animals
A safari is not a zoo, and there is far more downtime than action as you track down the animals
In retrospect, our visit of 3 days and 6 game drives was not enough to see everything we wanted to see. There were some animals that
The Actual Lodge at Vuyani
Here are some photos from around the Lodge itself. Truthfully, I didn't spend a lot of time inside of the lodge, because it was so pleasant outside. I spent most of one day playing around with my DJI Phantom Quadcopter and the other days working on editing the photos I took on the trip. There was Internet throughout the property, but the connection was best in the lodge.
We only had two full days at the Vuyani lodge and the time seemed to fly by so fast! There is no such thing as boredom when you have beautiful scenery, an awesome staff and safari drives to bookend your day.
Many of the other visitors to the lodge filled their day with excursions between game drives. This included an animal sanctuary, a boat ride/hike, a visit to Kruger National Park and more. If we were to stay another day at the lodge, we would have gone on an excursion, but we took this time to rest instead after the crazy pace of travel we set along the way.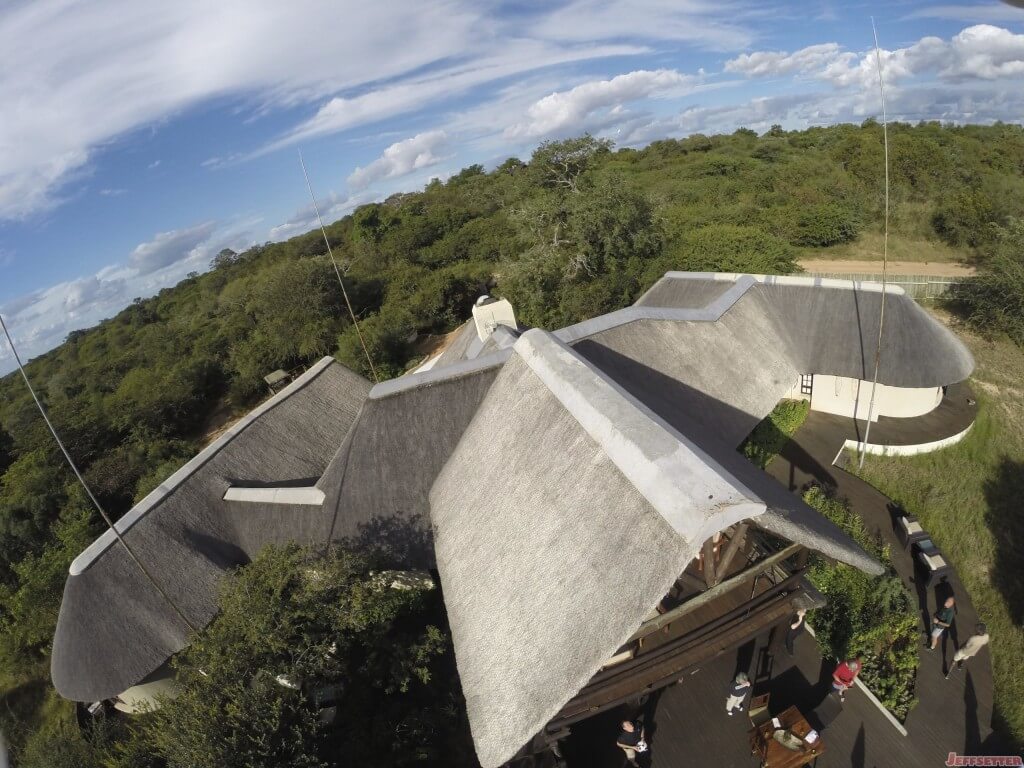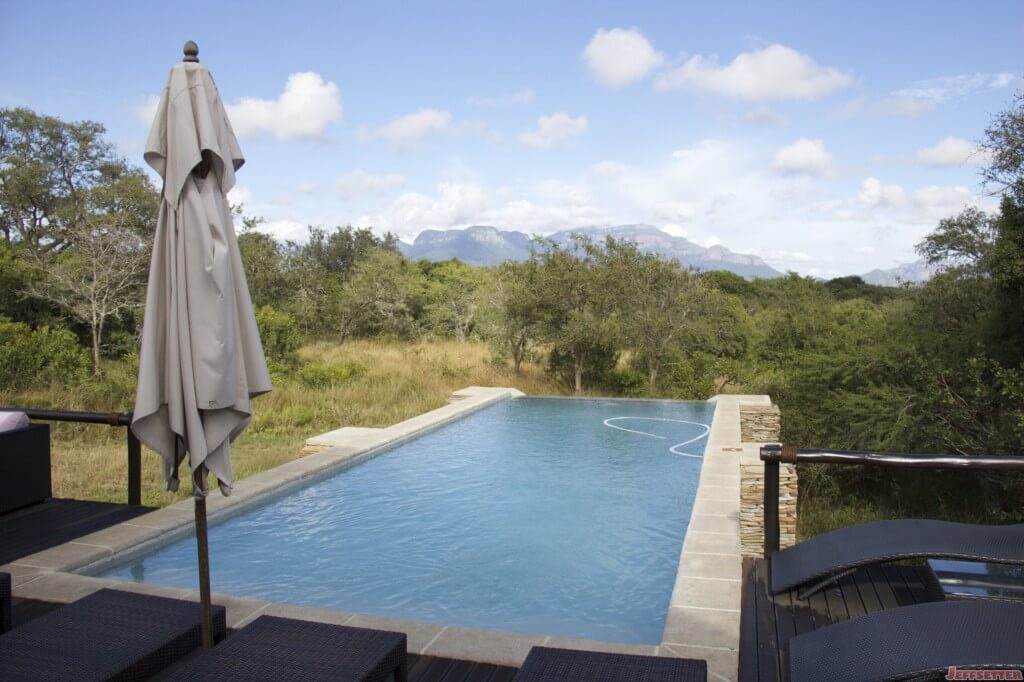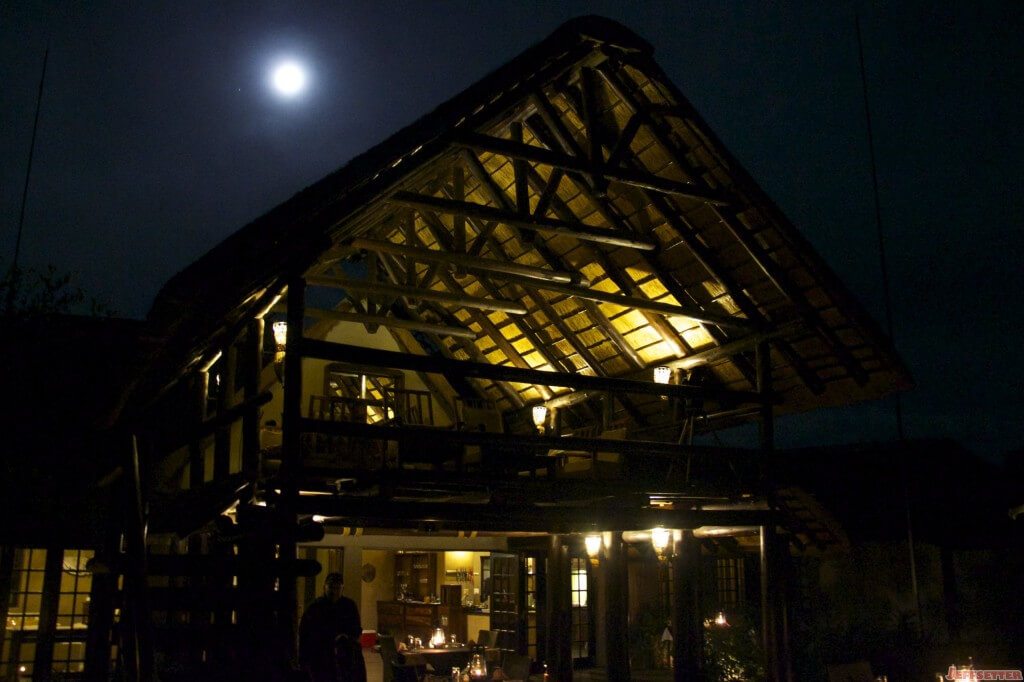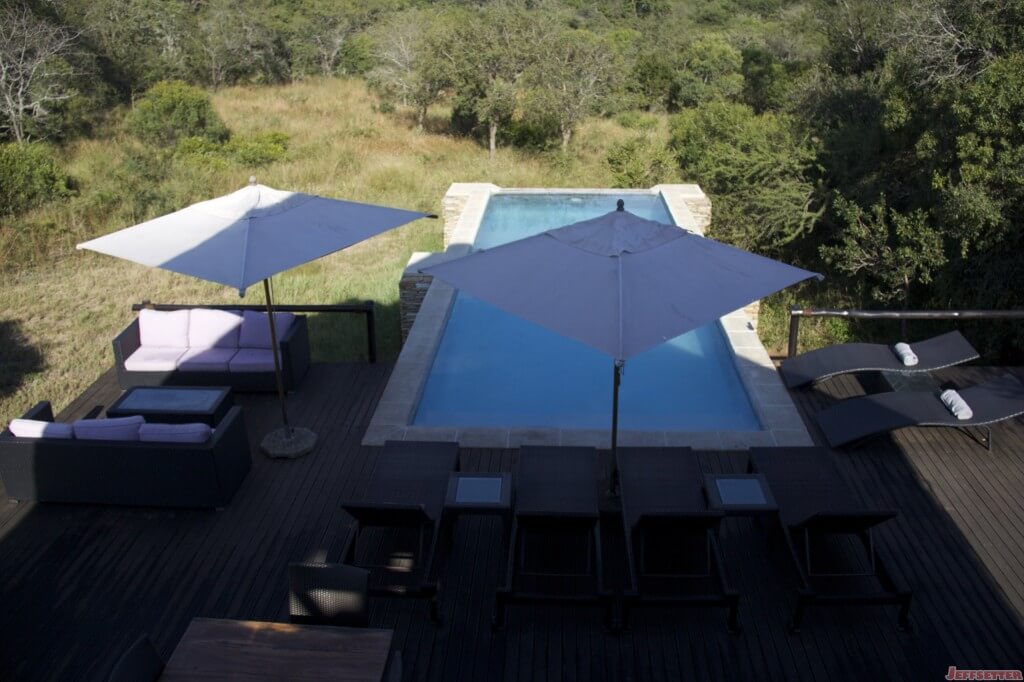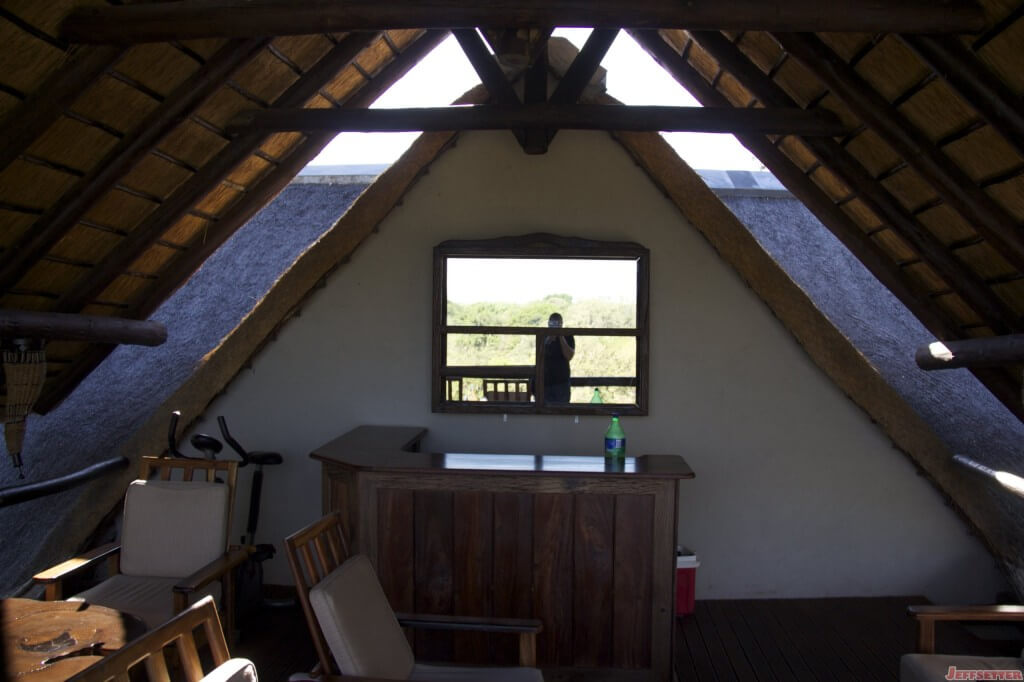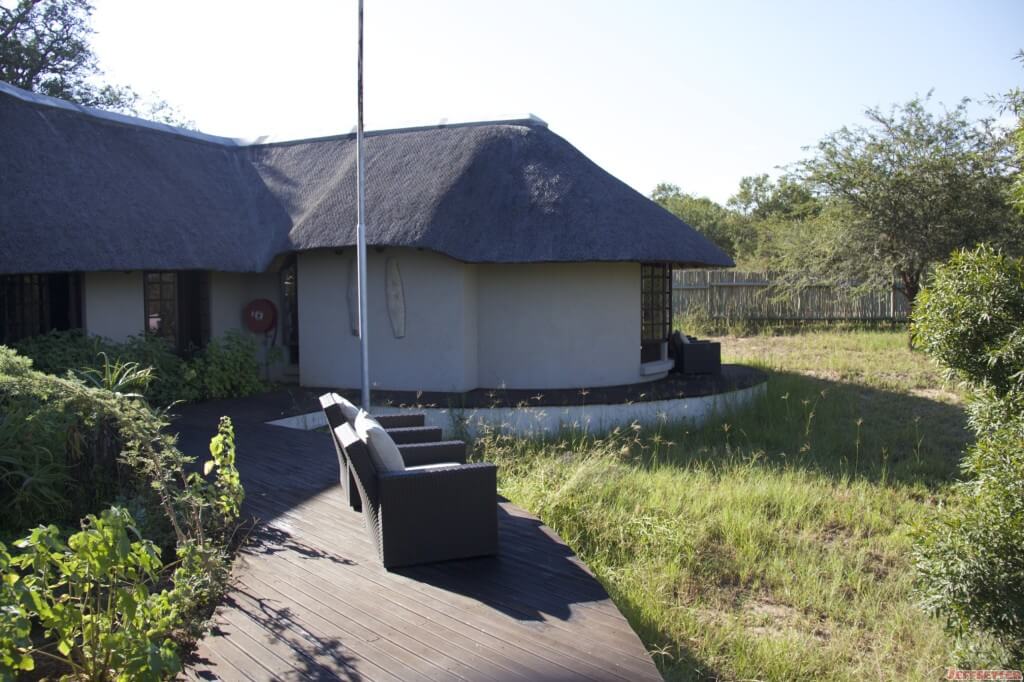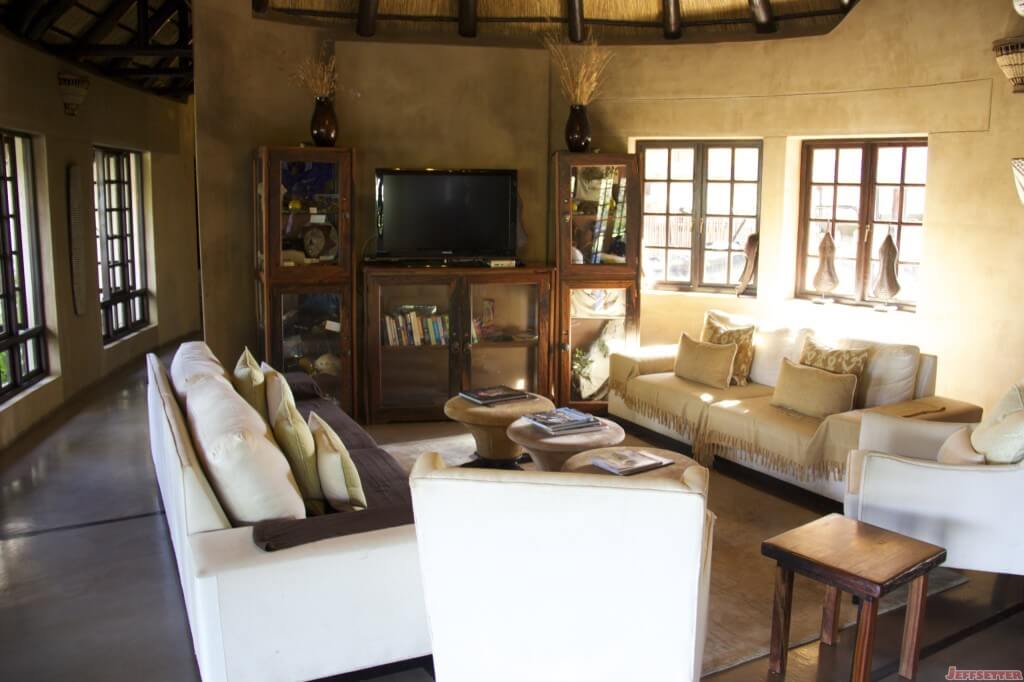 Final Thoughts on the Vuyani Safari Lodge
This place was amazing in all ways. At the price we paid, we received a tremendous value, the staff was kind and accommodating, the food was great and the other lodge visitors were all awesome. I would not hesitate to recommend this lodge to others as a starting off point for going on a safari. I would consider coming back again, but I would likely go on safari in a different country first. There is so much great wildlife to see in Africa that I would not want to limit myself to the same experience next time I visit.
If you wanted to visit the Vuyani Lodge and South Africa in general, this is the type of trip you want to plan way in advance. And I mean way in advance, as in 300-330 days ahead of time. This will hopefully allow you to get a business class award ticket from the United States, make sure that the Vuyani Lodge has space (it was sold out until August of this year as of the time we visited), and plan your other stops along the way. And don't skimp on time like we did. A proper safari length is probably 7-10 days so that you can see all of the animals and not feel like you are missing out.
South Africa was incredible. While it takes an ungodly amount of time to get there from the United State, it's well worth the trip. If you have ever wanted to visit, what are you waiting for?