All of our reviews are based on exhaustive research, industry experience and whenever possible, hands-on testing. When you make a purchase using one of our indecently chosen links we'll a small percentage of the proceeds. This supports the site and keeps Jeffsetter running. You can read more here.
While Airstream is the most popular manufacturer of aluminum travel trailers today, these shiny, rounded rigs were one of the first styles of RVs ever made! 
Imagine enjoying a beautiful day in a state park or campground with a handsome aluminum travel trailer beside you. Vintage or new, it's going to look great!
But what are some of the best aluminum travel trailers on the market today? And why might you be interested in purchasing one? 
Let's learn about aluminum trailers together, and why it might be the best choice for your next rig.
What are Aluminum Travel Trailers Like?
If you're shopping for a travel trailer, you may be wondering what aluminum travel trailers are like and why they might suit your lifestyle best. This is an important question to answer before you start shopping!
There are many types of aluminum travel trailers, whether they be aluminum sided, aluminum framed, or just utilizing aluminum components. This article will address and highlight total aluminum framing, sides, and shiny silver aesthetics!
All travel trailers are designed to be towed, including aluminum ones. Aluminum is a great material when used in RV manufacturing because of its lightweight capabilities and easy maintenance. 
Weight is important when you look at purchasing a travel trailer. You should never tow more than your tow vehicle can handle. Thankfully, many aluminum travel trailers are lightweight, making them versatile for many vehicles.
These trailers are primarily stylish, but many are being built to handle boondocking or full timer lifestyles. Aluminum travel trailers not only turn heads, but can be wonderful homes as well!
But there's even more to learn when it comes to aluminum travel trailers. What might some pros and cons be?
What are the Pros and Cons of an Aluminum Travel Trailer?
Make sure you check out our pros and cons list before you move on to some of the best aluminum travel trailers on the market today. You may be swayed one way or another!
Pro: aluminum is lightweight
Making rigs out of aluminum often leads to some of the lightest weight travel trailers on the market. Aluminum is easy to work with and bend, and can be used in many parts of RV manufacturing, from the frame to the roof.
Having a light rig means that you may find an RV to work with your standard vehicle or car, or perhaps you won't need to buy a truck capable of towing a huge rig. Aluminum is great for novice RVers because of its forgettably light weight while on the road!
Con: aluminum dents easily
A noticeable con for aluminum is the fact that it dents or gets physically damaged with ease. An unfair but true fact about aluminum rigs, especially if it's brand new and sparkly.
Fortunately, a lot of aluminum dents are easy to fix, though it is something for you to consider before making a final decision. Aluminum can also show a lot of scratches overtime, so take care of these rigs under low-hanging branches. 
Pro: aluminum travel trailers are stylish and trendy
There's nothing like looking at a classic Airstream travel trailer, whether you're on the road or tucking in at a campground. Aluminum travel trailers are stylish, beautifully designed, and trendy right now.
While being on trend may not matter to you or your family, having a new aluminum travel trailer means that you usually also get all the bells and whistles. When a certain type of RV is popular, manufacturers always take care with them!
Con: aluminum travel trailers are expensive
You might've guessed this, but fully aluminum travel trailers are expensive. Should you opt for a travel trailer that only utilizes aluminum for its frame or rippled siding, you'll definitely be looking at a lower price tag.
However, trends never come cheap, and Airstreams or other aluminum-styled rigs are pricey, to say the least! You may not be able to afford one of these travel trailers right away, and it may always be a dream should your budget be low.
Pro: aluminum is UV resistant
Some traditionally painted RVs don't look very good after a few years of adventuring, and many warranties for repainting usually expire after a year or two. Fortunately, aluminum travel trailers don't have this problem!
These silver guys will stay gleaming and shiny with very little maintenance; mainly just a wash a few times a year. You won't have to worry about your trailer ever looking too shabby, no matter how many camping trips you take!
Con: aluminum travel trailers are not very well insulated
While many technological marvels have come about for insulating travel trailers, aluminum is never my first choice for cold weather camping. These rigs are often noisier and colder, given their lack of thick walls.
However, many modern Airstreams are built with insulation in mind, and can be great rigs for all season travel. If you choose to get a vintage aluminum travel trailer, definitely make sure the insulation and noise levels suit your needs!
What are Good Brands of Aluminum Trailers?
While there aren't many strictly-aluminum travel trailer manufacturers out there today, there are a few big hitters. Let's take a look at them now, and what they may be able to offer you.
Airstream
The one and only, a classic, one of the world's most prized travel trailer manufacturers out there: it's Airstream. These rigs got their start in the 1920s, and this manufacturer was one of the few travel trailer brands to survive the great depression.
Airstream is known for its silver bullet design, luxurious interiors, and consistent RV manufacturing innovations. Airstream is even building space shuttles in partnership with NASA, taking recreational vehicles to space!
Airstream has the most floor plan and layout options for all aluminum trailers on the market today. They are definitely popular, and you can't go to an RV park or campground without seeing an Airstream trailer.
Bowlus
If you're looking for a classic aluminum trailer look without the fuss of fixing up a vintage rig, check out Bowlus. These rigs are vintage marvels, both inside and out, with luxurious features that only the highest of budgets can afford.
Contrary to popular belief, Airstream was not the first manufacturer of aluminum rigs. Bowlus was, and there is controversy surrounding Airstream for stealing design ideas from Bowlus all the way back in the 1920s.
All this to say, Bowlus still manufactures their classic silver rigs, beautiful in design and narrowing at one end, making the design inherently more unique when compared with Airstreams. 
If you have the budget, Bowlus is a great pick! They are indeed a luxury though.
Living Vehicle
Are you hoping to live and work full time in your aluminum travel trailer? Then Living Vehicle is the best way to go. While these rigs cost the same as a modest single family home, these rigs make it so that you never have to have a traditional home ever again.
This is a new company based in Santa Barbara, CA, and they make all aluminum trailers for living and working. These rigs are versatile, with multiple layout configurations and set ups. They are spacious and fluid rigs, full of hidden perks and space saving designs that will wow any RVer.
The main drawback to these rigs besides the overwhelming price? The weight. Contrary to the majority of aluminum rigs, Living Vehicle travel trailers are very heavy. Often over 10,000 pounds, their rigs may be too heavy for many customers who are new to towing, and tow vehicle capacity should be checked.
What Should I Consider in an Aluminum Travel Trailer?
Besides the above brands, there are more things that you should consider in an aluminum travel trailer. Let's take a look at some of those considerations now.
Length
The length of your travel trailer should always be an important factor for you. The overall length of your rig matters when it comes to your safety while towing, your overall interior space, and your ability to fit into various campgrounds and RV parks.
Travel trailers can range in length from 10 feet all the way to 40 or more. This includes all aluminum travel trailers too. I'm sure you can imagine what length of travel trailer is easier to drive!
The longer your rig, the more floor plan options and interior designs you will have available to choose from. However, a longer rig is harder to control when driving at more dangerous highway speeds.
A longer rig will also usually be more expensive than a shorter one, and many campgrounds and RV parks have length limits for individual spots. You don't want to book a site that is too short for the overall length of your rig!
There are perks and drawbacks to longer and shorter aluminium rigs, but it all comes down to your own personal preferences.
Weight
The weight of your rig corresponds to the overall length, and your rig's weight matters even more than the length. You'll want to ensure that your tow vehicle can handle the overall weight of your new RV, and never go over the weight limits supplied by your vehicle's manufacturer.
While it's a nice idea to have a rig that can do it all, travel trailers are often heavy when fully loaded, especially with water and other supplies. You may want the biggest and best trailer available, but make sure your tow vehicle can handle it!
Budget
If it wasn't a no brainer, your budget should be a big consideration when you are shopping for an all aluminum rig. These silver beauties don't often come cheap, so ensuring that you have a realistic budget is very important!
Unfortunately, this list is not ideal for those of you shopping for a budget-friendly rig. Many are over $100k, and some are indeed the price of a traditional home purchase! However, this could be exactly what you're looking for, and budget may not be an issue for you.
There's a lot to be said for budgeting a camping trip or trip planning around a set price. The upfront cost of many of these rigs will be high, and it could put a damper on your travel plans! 
Available Floor Plans
When you have found out your desired length, weight, and budget for your new RV, choosing a floor plan that best suits your family or situation is very important. Many RVers dislike their first RV because of the floor plan that they chose!
Are you a single person looking for a small aluminum rig to drive around? Or are you hoping to fit the entire family and then some in your silver beauty? What about travel trailers with multiple bathroom options, or unique bed situations?
Floor plans are the most important part when it comes to loving your new RV! Making sure that you can tow and afford it is important, but the next best step is loving the available floor plans.
Some of the rigs on this list offer varying floor plans depending on how many people you plan to house in your RV. Some of these RV manufacturers will even work with your dreams and create something bespoke and special, just for you! Floor plans are my favorite part of exploring various RVs.
Standard Vs. Upgradable Features
Unless you are shopping for a vintage aluminum rig, you will have many choices to make when buying a new RV. There are many notable standard features, as well as countless upgrades possible for new rigs, and you may have a hard time deciding what you need and want.
Are you hoping to boondock with your aluminum rigs? What about an outdoor kitchen? Would you like your trailer to have solar, or even self-leveling capabilities? These are all things to think about before you go shopping for a new travel trailer.
Your budget will be affected by your non standard choices, and this is something to keep in mind while you are daydreaming. Stay realistic, and know your needs before you get upsold!
The Best Aluminum Travel Trailers of 2021
Feeling confident about your wants and needs in an all aluminum travel trailer? Are there certain non standard features that you can't wait to have installed? Great! Let's take a look at some of the best aluminum travel trailers on the market for 2021.
Best Overall: The Airstream Classic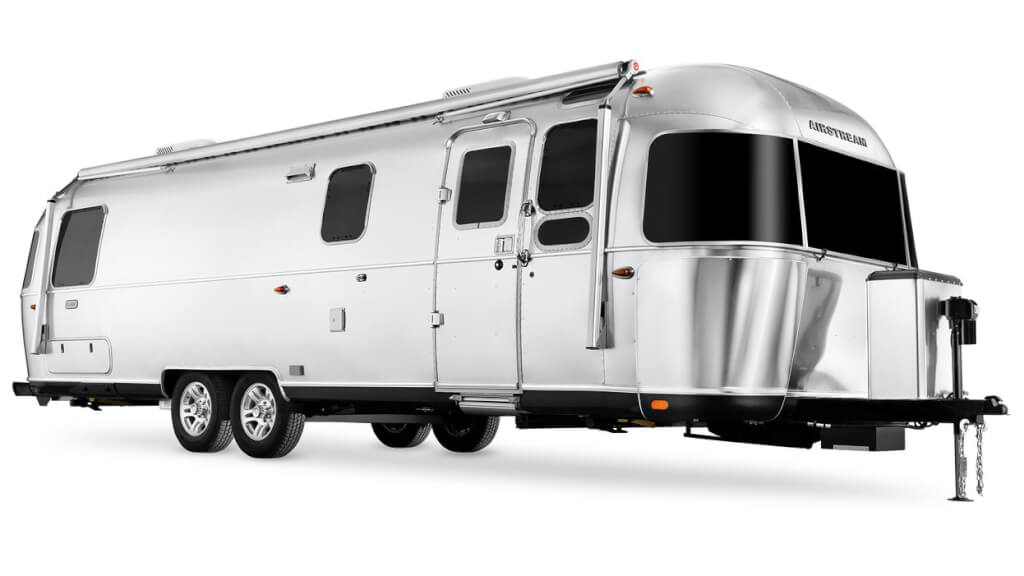 There's a reason that Airstream is one of the most popular travel trailers on the market today, aluminum or otherwise. This classic design can't be beat, both inside and out. The Airstream Classic takes our best overall spot for a great many reasons. Ranging from 30 to 33 feet, the Classic Travel Trailer gives you dedicated cooking, dining, lounging, bathroom and bedroom areas, each as luxurious as the last.
Created for longer trips or full-time living, the Classic Travel Trailer offers every comfort of home you want – plus plenty of amenities you didn't even know you needed. Hit the road knowing you'll start and end each day surrounded by features that transform a road trip into a true getaway.
With all-new Smart Control Technology, you can control and monitor your Classic's most important features from anywhere. Turn the exterior and interior lights on and off, extend and retract the awning, adjust the air conditioner or heat pump, and monitor tank and battery levels, all from the app on your phone or device. You can also use GPS to navigate back to your trailer, and use 4G LTE data or the boosted Wi-Fi signal to stay connected.
The kitchen is one of the most important rooms in a home, and it's no different in the Classic. The galley doesn't ask you to compromise, with a stove, hood, oven, convection microwave, and refrigerator/freezer. All high-end, sleek, and stainless. Plus, Corian countertops, a large stainless steel sink, and a Kohler faucet add to the style.
The Classic floor plan bathrooms feel nothing like an RV bathroom. It's a spacious, three-piece residential-style layout, with a large shower and a mirrored double-door wardrobe that makes getting ready a true pleasure. It also includes a heated shower floor to warm you up as soon as you step inside, and a heated towel bar to keep you warm when you step out. It's those little things that completely change your morning, or your whole day.
Best for Boondocking:
Bowlus Endless Highways Performance Edition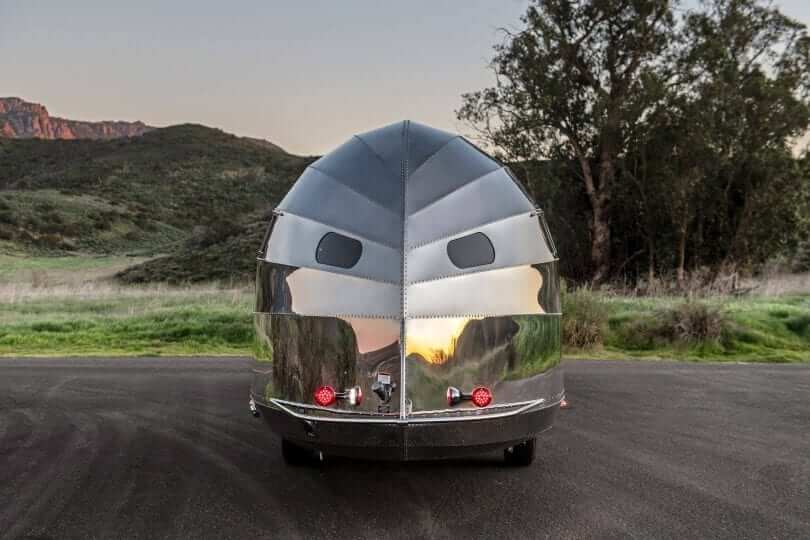 Looking for a rig that you can journey off grid with? The Bowlus Endless Highways Performance Edition builds on their already obsessively crafted Endless Highways. Huge skylights in the main cabin, crafted by Bowlus artisans, bring the outdoors inside and are optimized for stargazing and enjoying all the beauty of boondocking locations. 
The skylights are in the Bowlus signature shape, which is the ideal shape that allows full tensile strength to transmit along the Bowlus exterior armor-like shell. Beautiful wood covers can be stored in one of the closets, should you wish to configure your rig to the traditional main cabin.
The Bowlus's electrical power system is designed to enable an effortless off-grid adventure. The yacht quality pure sine inverter is 3,000W, powerful and capable. The lithium iron phosphate system's capacity is capable of boondocking for up to two weeks of off-grid battery use. The impressive system rapidly charges in 3-4 hours. 
The air-conditioning in the Endless Highways, which since 2016 has been able to run off of the batteries entirely, is estimated in the Performance Edition to power up to two overnights. The entire power management system is connected via Bluetooth and the internet (another Bowlus first in 2016) so that all critical data is easily accessible on your smartphone. With all outlets live at all times, this RV is designed so that owners never need to think about their power consumption.
You'll never find yourself stranded during your zero-emission road trip with a Bowlus as the external 110V outlet additionally can give an emergency micro-charge to your electric vehicle. With a full battery, the Bowlus could extend EV SUVs currently on the market for up to 16 miles.
The exterior is Outdoor Kitchen Ready with a 110V outlet and propane outlet. This kitchen-ready set up allows each owner to customize this to their needs, and appliances like induction cooktops, propane bbq's, or even a margarita blender are ready to plug and play.
The best part about Bowlus? Their impeccable design, both inside and out. In addition to their two standard interior design options, Bowlus offer two distinctive Bespoke Customization Programs for those looking to add their personal touch and style to their Bowlus. With each program, the Bowlus design team works with you to personalize your Bowlus from over fifty-six million possible combinations!
Best for Families:
The Airstream Flying Cloud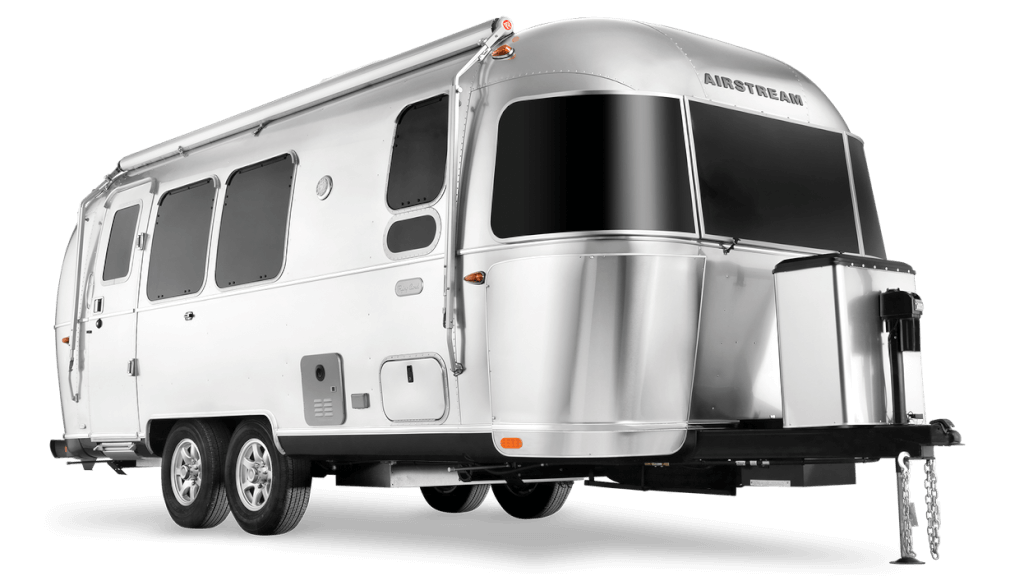 The Flying Cloud is Airstream's most popular, versatile, and family-friendly travel trailer. With more floor plans available than any other model, there's a "just right" for everyone. And the light and airy design keeps you ready to float from one adventure to the next, bringing your comfort zone right along with you!
The rear hatch is a stunning feature usually reserved for special edition travel trailers, but Airstream added it to the Flying Cloud. Open the hatch for the ultimate view at dinner, to let the breeze flow through, or to load and unload gear more easily than ever. Then close it all back up securely when you're done. It's a game-changer.
Bring on the pots, pans, food, clothes, camping and hiking gear, and more. The Flying Cloud's clean wood look gives you plenty of places to keep things out of sight, including roomy cabinets, pull-out pantries, and lots of smart little nooks. You don't have to make tough choices on what to leave behind; there's a place for everything.
If you love camping but miss the convenience of your appliances at home, you're going to love the Flying Cloud's kitchen. A four-burner gas stove, Baraldi cooking vent, optional microwave, and a large bowl sink make cooking not just easy, but enjoyable. And you can still make s'mores on the campfire whenever you want.
The Flying Cloud's dinettes and sofas let you relax and entertain when you need the seating space, and then easily convert into comfortable sleeping when you're ready for bed. Converting a dinette to a sleeping space is simple: tables act as bases and cushions double as mattresses that are perfect for the kids or friends and family. 
And it's not just dinettes that add room! The extended lounges and reclining sofas are perfect sleeping spots, too. There's space for everyone to find their perfect nook on this all aluminum rig!
Best for Single Travelers:
The Airstream Caravel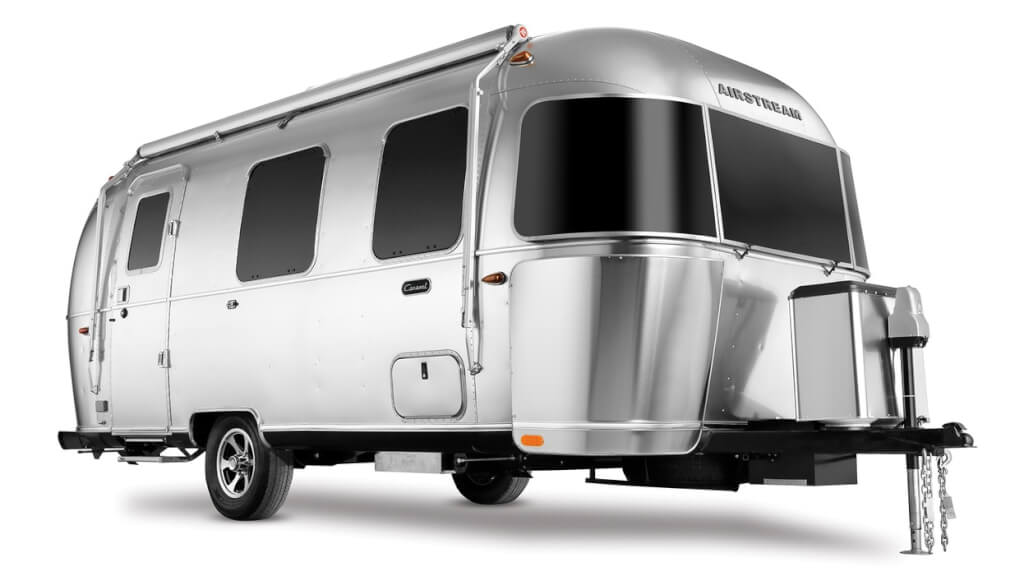 There's no reason your getaway vehicle shouldn't have just as much style as your home. The revival of Airstream's historic Caravel Travel Trailer line has an upscale modern interior, with clean lines and sophisticated residential fixtures, and a neutral canvas on which you can add your personal taste. Plus, this little rig ranges from 16-22 feet in length, making it perfect for one or two travelers!
The Airstream Caravel was first introduced in 1956 and continuously appeared in the Airstream lineup as a lightweight, nimble option. The Caravel name comes from early European sailing ships specifically good at sailing windward. Airstream's founder Wally Byam loved the sea and had many adventures of his own onboard, so it's easy to see where the inspiration came from. 
The Caravel product line includes some of Airstream's most lightweight travel trailers that you can tow with an SUV. And no matter your tow vehicle, you'll enjoy the benefits of the iconic Airstream travel trailer design with its lower center of gravity, weight distribution, and aerodynamic aluminum shell.
The Caravel galley has extra design touches that get the inspiration going – like the stainless steel gas stove with cast-iron burners, Baraldi vent, special black Moen faucet, and rectangular stainless sink. It's amazing how much more enjoyable cooking can be when you love the space.
It's all about the view, and no matter which side of the Caravel 16RB you're on you've got a panoramic one. The hand-crafted, custom Airstream windows are riveted right into the frame of the travel trailer and designed to give you a bigger opening radius so more breeze can flow throughout the cabin.
Traveling on your own can be tough, and a bit daunting at times, but traveling in an Airstream will no doubt make your trip easier!
Best on a Budget:
The Airstream Bambi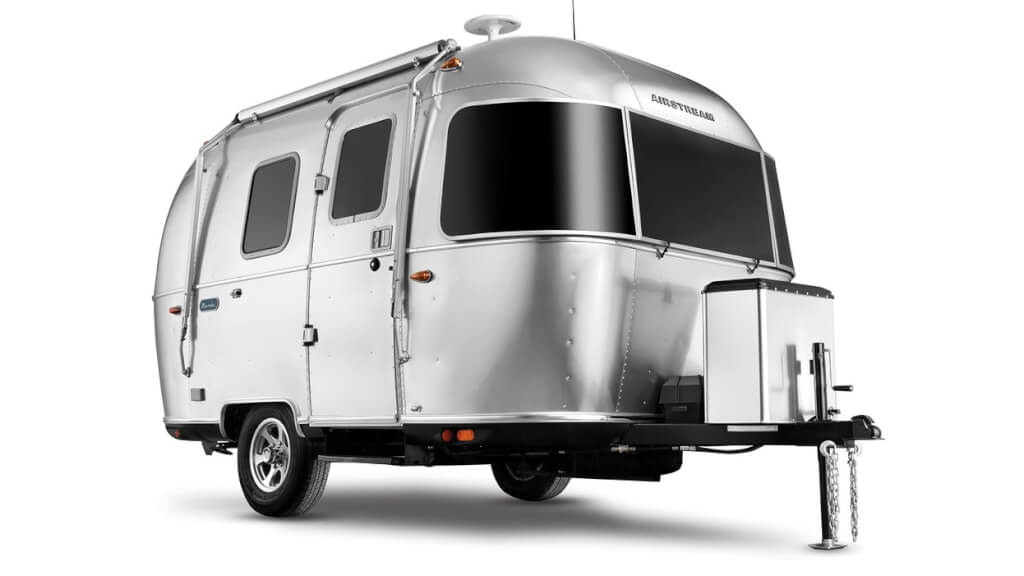 The most budget friendly all-silver aluminum trailer out there, the Airstream Bambi owners get the best of both worlds: a small, lightweight travel trailer and the iconic Airstream curved aluminum design. It makes a statement wherever you go and, more importantly, lasts a lifetime!
The galley kitchen has all the appliances you need, thoughtfully arranged according to the way you'll use them. The dinette doubles as lounging space and even transforms into extra sleeping space. And the bathroom gives you space to get clean without having to sacrifice space elsewhere in the trailer. Every inch of the Bambi is thoughtfully created to meet all of your needs on the road.
If you're ready to get away for a weekend adventure with your partner, the Bambi Travel Trailer is perfect. But it's also a great way to bring some family, friends, and pets along for the trip, too. Two people can comfortably sleep in the dedicated bed, and you can easily and quickly convert the dinette into extra sleeping space for two, then convert it back when you're ready for breakfast the next day.
Inside a lockable compartment on the outside of the Bambi is an exterior shower with hot and cold water. Use it to rinse off your gear or yourself before you step inside your trailer, or enjoy an outdoor shower just because you want to.
If you're ready to live the Airstream life but not ready to upsize your tow vehicle, Bambi is the perfect fit. Most Bambi models are light enough to tow with an SUV, simple to maneuver, and easy to fit into smaller campground spots. Plus, you'll still have all the comforts of home following you everywhere you go!
Best for Full Timers:
Living Vehicle Pro EV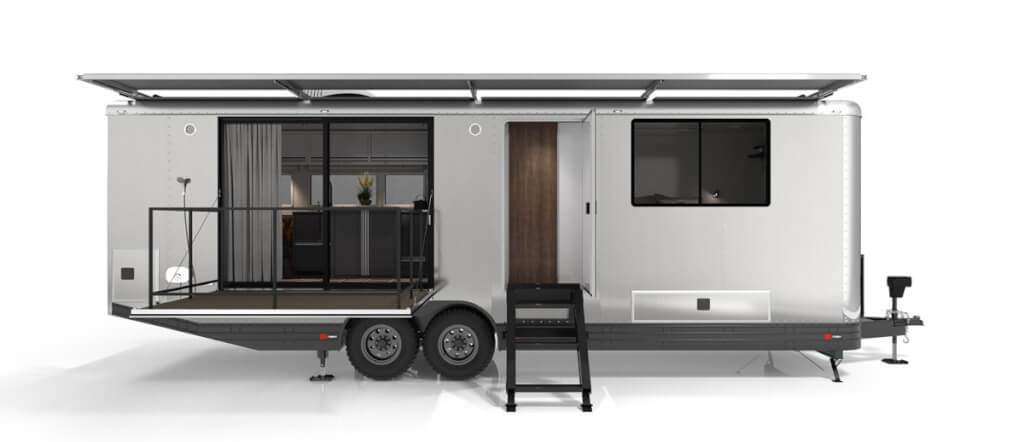 If you're truly looking to live full time in an RV, I can't recommend Living Vehicle rigs enough. While the price point is very high, it truly is an entire home on wheels. You won't be making the same sacrifices as other RVers, but keep in mind that this rig is a beast: over 15,000 pounds and about 30 feet long!
In every facet, the design of Living Vehicle exudes the feeling of home. It emphasizes the intuitive needs of the user to foster a connection with the things that matter most in life — the people and the world outside. This will be unlike any RV or travel trailer that you have ever seen before.
As the flagship of the Living Vehicle lineup, the Pro is their most innovative and technologically advanced offering available to date. Living Vehicle has designed the 2022 Pro with unequalled performance and capabilities. The energy system goes well beyond the required provision of necessary power for electrical equipment needs and is truly luxurious in design and capability.
The Pro EV has a 3,520 watt solar capacity, 57.6 kWh possible for its energy storage, a 20 kWh hybrid inverter, and 240V level 2 ‍EV charging. All this to say: you won't have any problem maintaining your rig off of the grid! With daily solar exposure, the LV Pro energy system is capable of powering the RV's primary air conditioner completely off grid – indefinitely.
There are a lot of valuable add-ons for this Living Vehicle rig. The 4-Season Performance package extends the thermal capability of the Living Vehicle to allow travel to more extreme ranges in both hot and cold climates. The addition of the 4-Season Performance package lowers the minimum rating to 0˚F and increases the maximum rating to 110˚F.
Completely redesigned for 2022, Living Vehicle released an HD 4-point, factory installed auto-leveling system as another great optional equipment choice. Previously reserved for commercial style coaches and buses, this hydraulic leveling system will automatically level the Living Vehicle in a varied degree of terrain environments.
Highlighting natural and extremely durable materials, the interior of Living Vehicle is designed to feel like home. The interior is conceived as a painter's canvas. Simple, natural and personal. Your LV is as unique as your own taste–a living breathing piece of art that celebrates your own style of life and individuality. The Luxury Finishes package hosts some of the finest materials available on the market.
LV was designed with day-to-day living in mind. Each space is highly functional and intuitive to use, some spaces taking on multiple functions so that you can get the most out of your home. Open up your space by placing the removable kitchen island outside where you can do cooking on the deck. An optional stainless steel BBQ with inline propane quick connect is available for top of the line outdoor cooking and entertaining. The Mobile Office Option effortlessly transforms the bedroom to an on-the go workspace.
Living Vehicle sleeps four people as standard with separate sleeping spaces for each pair. Effortlessly adjust the dining table and rearrange the cushions of the lounge to create a comfortable Queen-sized bed in the living area. Enjoy a fixed Queen-sized bed in the master bedroom suite for a designated private sleeping area. The Euro Loft option increases sleeping capacity to six through a hidden full-size bunk that automatically lowers from the ceiling when needed.
This rig is truly a marvel- if you can afford it. I only recommend it to serious full timers, as it is prohibitively expensive and luxurious. However, if you're looking to leave your traditional home and desire zero compromises, definitely check out Living Vehicle's many amazing designs and rigs.
Most Stylish:
Bowlus Terra Firma
The Terra Firma from Bowlus wraps you in an incredible sense of well-being that comes with feeling truly at one with the world. By creating a totally immersive and elemental experience, the Terra Firma offers an even better land travel experience, one that gives you more control and greater flexibility and is grounded in the Bowlus signature, stylish approach to adventuring. 
The Terra Firma extends the Bowlus Endless Highways Performance Edition with even more features so that you can seek the simplicity and solitude of off-grid camping, and enjoy the thrill of exploration. The Terra Firma is truly your armored sheath, protecting you from whatever the world throws your way.
Weighing 4,000 pounds dry and capable of sleeping up to 4, this Bowlus is functional and fashionable. It is perfect for every member of the family, including your pets; with remote temperature monitoring, bowls that slide out seamlessly from a drawer, and a coordinated pet bed, every family member is comfortably included!
The Fresh Water Filtration System with a two-stage filtration system gives you odor-free, better-tasting water. A carbon filter removes bacteria, sediment, chlorine, and other chemicals from entering your water supply. This Bowlus is also built with a HEPA filtration system for your air conditioner.
This rig has an integrated Bluetooth brake controller for the modern nomad. With a triple-axis, motion-sensing accelerometer for highly responsive, smooth braking to any tow vehicle without any mods, you can seamlessly perform a tow vehicle transfer with vehicle-specific memory profiles! The interiors and exteriors of this rig are simply stunning; don't miss touring one of these!
Most Versatile:
The Airstream International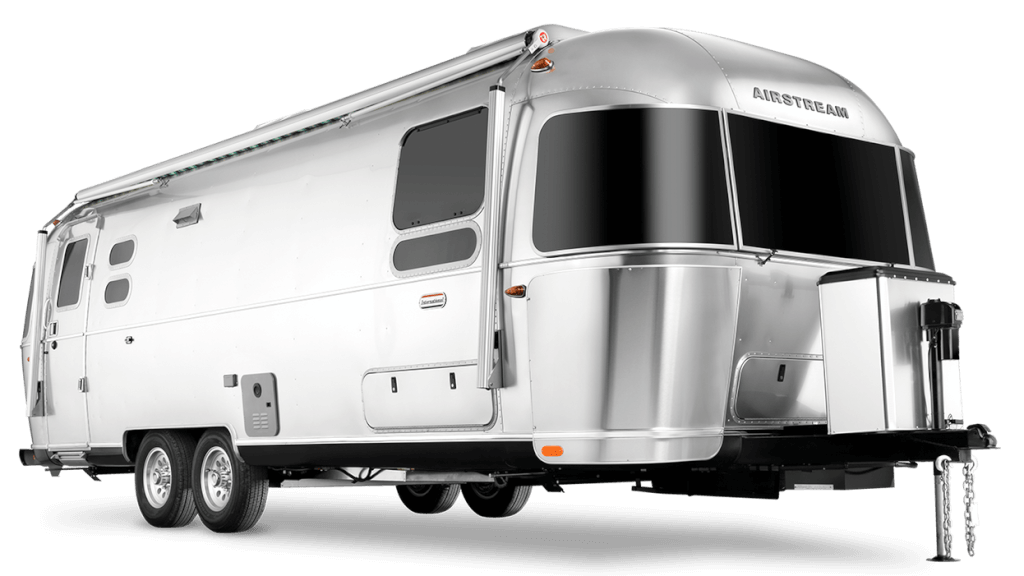 With easy, peaceful style and purposeful design, the Airstream International Travel Trailer earns its name everywhere you look. Ready to excite as well as comfort, it's all about a fine balance that makes for the perfect adventure. With 12 floor plans and countless add-on features, this rig can be built to suit anyone's needs and wants. That's what the International is here for – a silver sanctuary to help you get back to what really matters.
Every inch of the International is designed with balance and comfort in mind. Step inside and you'll feel the calming energy of cool wood tones, clean modern lines, and natural seashore textures that make all the difference.
Some floor plans on this particular Airstream have the optional rear hatch. And the galley kitchen in the International is ready to inspire some amazing road trip meals. A premium Furrion stove, microwave or convection oven, refrigerator, and a large stainless steel sink with a modern Moen faucet are all at your disposal, ready to create something great, no matter where you are.
Natural light reflects off the cool toned upper lockers with liquid glass appearance, and seaside textures are built into the design of the International interior surfaces, surrounding you with the comfort of nature as you get ready for the day. 
Gain a little slice of heaven when you choose to read, watch TV, or just dream. Light fills the room from the panoramic windows when seeking revitalization, and when rest is your goal, blackout curtains give you the privacy you desire. Plus, certain floor plans feature built-in wardrobes to store your clothes and keep things organized, and stash all your favorite reads along the sides.
The iconic Airstream shape isn't just aerodynamic. It also allows for panoramic windows that wrap around the curves of the trailer and let natural light fill the interior space. Open them up for a gentle breeze to flow through, watch the landscape as you cook a meal, or watch the sunrise from your bed.
Conclusion
Choosing an aluminum travel trailer shouldn't be a chore. You should feel confident while shopping for one, with this helpful buyers guide to accompany you. From the most expensive to the most stylish, there's an aluminum rig out there for you.
Aluminum travel trailers are amazing rigs to see the country in, and I have no doubt that you can find one that suits your budget, needs, and dreams!