Last updated on April 20th, 2022 at 02:56 pm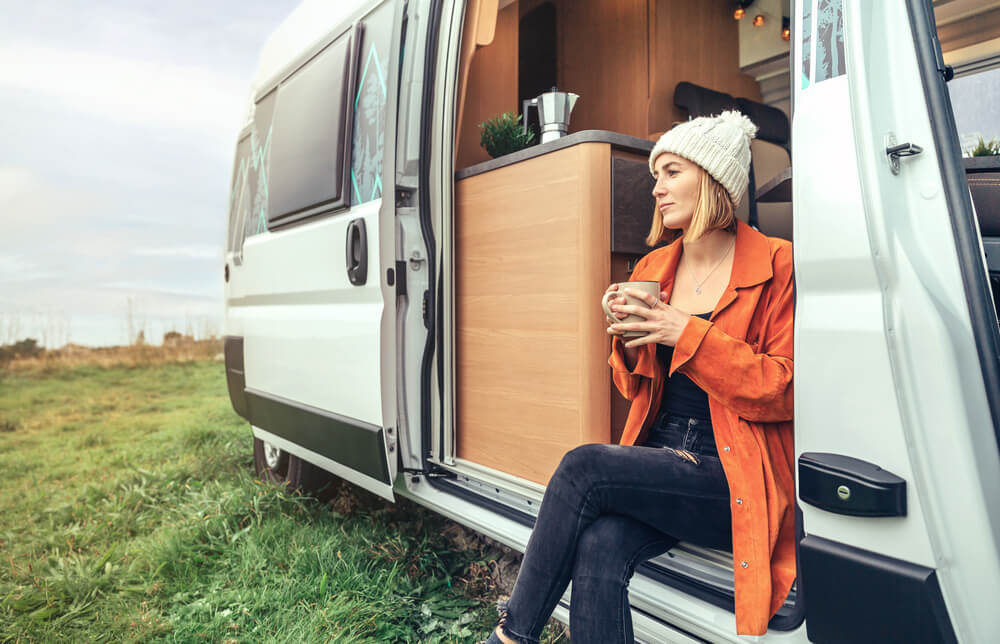 All of our reviews are based on exhaustive research, industry experience and whenever possible, hands-on testing. When you make a purchase using one of our chosen links we'll take a small percentage of the proceeds. This supports the site and keeps Jeffsetter running. You can read more here.
Just because snow is on the ground doesn't mean you can't keep the RV adventure going! With the proper Class B rig, you can turn "RV season" into a year-long event.
For some folks, that will sound like a lot of stress. But I know others are already imagining the possibilities…
Winter RVing means things like empty campgrounds with super low pricing. In many cases, you might even have the entire campground all to yourself. It also means no bugs (or at least a lot fewer). So if you've been postponing your trip to the southeast in an effort to avoid the masses of mosquitos this winter might be the perfect time to make the trip. You can also get a unique perspective by seeing things through the snowy lens of winter weather.
But not every RV is winter-ready and especially when it comes to Class B rigs, there are some that are distinctly better than the rest. After all, what good is a cheap campground if you're absolutely freezing?
Let's break down a few of the key features to look for in a winter-ready Class B RV along with 5 of my favorites. We'll also explain what makes a Class B a good option for winter camping in the first place but if just want to see our favorites you can use the table of contents below to check out our favorites:
Why Class B RVs for Winter?
Even though Class B RVs are more expensive than their often larger counterparts, they're still one of the best options for solo travelers or couples. But they're also great for winter.
Why?
Because out of all the RV types, they drive the most like a traditional vehicle. While this might not make a difference in the spring when roads are clear, driving a big Class C in winter conditions could suddenly feel like a stressful proposition. While travel trailers definitely make a good option for winter, if you aren't used to hauling an RV already (or at least confident in your abilities) then winter roads can be more intimidating.
In many ways, the Class B RV is the perfect fit. Large enough to accommodate a couple but small enough to drive like a traditional commuter vehicle. You can also find several 4×4 options that will allow you to fearlessly tackle tough winter terrain. You can also find Class B RVs with just about any additional feature you could want including dry baths, extra headroom, or just over-the-top luxury.
What Makes A Class B RV Good For Winter?
Let's break down a few of the key components that you need to look for in a Class B RV before you hit the winter roads.
Storage
This one is a bit less obvious at first glance. Of course, keeping warm is one of the first things that come to mind but you'll also need to store all kinds of extra accessories. Things like shoes, hats, coats, socks, and more are all a little different in the winter and you're going to need plenty to stay warm. Many winter activities also have special equipment so you'll want to make sure you have enough space for things like skis or snowshoes.
Plumbing, Pipes, and Fluids
While it's a lot easier to keep fluids and pipes from freezing in a self-contained Class B, it should still be top of mind before you go winter camping. The ideal winter rig should have purpose-built heading pads for critical fluids because the last thing you want in the dead of winter is to deal with frozen pipes!
Extra Insulation
Extra insulation is a given but you really want to look for extra insulation in areas that are often overlooked. That includes locations like the front cab (where wind can quickly decrease the temperatures) and the underbelly of the RV. Adding in an RV skirt can help but you'll also want to find out if the RV includes a closed or open RV underbelly.
Truly 4-season Class B's will also squeeze in extra insulation in any additional storage area. These are often weak points in the battle against cold and the often thin doors can let in a lot of cold weather.
Double-Pane Windows
Double pane windows also help with insulation as they create an additional layer of insulation. According to Home Advisor, double pane windows can "reduce energy usage by up to 24 percent in cold climates during the winter, and by up to 18 percent in hot climates during the summer, when compared to older, single-pane models." While they're talking about homes in that example, it's possible that their impact would be even greater in a much smaller RV.
Double pane windows can also greatly reduce noise pollution which is just an extra bonus.
4×4 Capabilities
Even if you're sticking to urban areas, having the option for 4×4 driving can really make the difference between a fun winter camping adventure and a bit of a nightmare. 4×4 capability (like a lot of things) is something that you hopefully don't need very frequently but when you actually need to use it, it can change everything.
However, a lot of this will depend on the type of RVing you're doing and if you're strategic with your routes you can avoid snow for the most part- even if it is cold outside.
Isn't Most Of This Covered In The Arctic Package?
If you've done any kind of research on Class B RVs for winter (or any Class RV for that matter) you've probably seen certain rigs are being equipped with the Arctic Package or the 4-Seasons package. We covered this extensively in our list of the best cold-weather travel trailers but it bears repeating- the biggest issue with Arctic packages is that they aren't consistent across the board. There's no industry standard for what an arctic package has to include and because of that, there can be a great deal of variation between different manufacturers.
The same can be said for 4-season add-ons as well and while some manufacturers are putting their packages to the test with detailed climate-controlled testing by third parties, others just aren't. That's why it's so important to understand the individual component of any 4-season or extreme weather upgrade instead of just taking it at face value.
I'm certainly not suggesting that you avoid Arctic Packages since in many cases this can make your life a lot easier by adding a variety of details you may not have ever thought of.
5 Best Class B RV's For Winter
Okay, with the background information out of the way, let's get into our favorite Class B RV's for winter RVing! These aren't in any particular order since the perfect RV for each person will depend on what you want to do with it but let's get started with the ultimate outdoor adventure rig…
Interior Height: 6'3″
MSRP: $185,838
Exterior Length: 19'7″
Exterior Height: 10"
The Winnebago Revel is one bad mamba jamba…and if you aren't sure what that means, it's a good thing! Built on the Mercedes-Benz Sprinter Chassis, Revel comes fully equipped with 4×4 drive, tons of storage, and extra heating critical fluid tanks.
Falling somewhere between an adventure van and your classic Class B RV, the Revel is built to take you outdoors wherever you want to go.
But how does it handle cold winter weather?
For starters, the Revel uses a diesel heating system which can be a lot more convenient than the more common propane options. Diesel is usually easier to find and if you're hitting the road in below-freezing temperatures you don't want to go even an hour without proper heating! There's also a robust solar system that can back you up if things get rough. The Revel also has heated tanks and plumbing to prevent any kind of disastrous fluid freeze-up.
There's a huge amount of storage in this rig which is perfect for the winter adventurer. The bathroom has modular shelving that can be added to greatly increase storage space. If you place it high up enough, you can still use the small bathroom but you could also completely convert the bathroom into a closet if needed.
But the most interesting storage feature is the bed! This huge bed actually lifts all the way to the ceiling revealing a ton of space that can be used for winter accessories like skis, snowboards, or even a dirtbike! When you get to where you're going, you can move your gear out the way and lower your bed. You can also keep the bed a little off the floor of the vehicle to keep extra storage space and the bed in the Revel is one of my favorites across any class B RV.
Then there's the 4×4 capability which is pretty much the cherry on top for this winter rig. Overall, the Revel makes a great option for the adventurous side of the RV world but if your ideal trip is heading into the city or hitting the closest campground some of the heavy-duty features may be a bit beyond what you actually need.
Interior Height: 6'3″
MSRP: $198,746
Exterior Length: 21′
Exterior Height: 10'3″
The Storyteller Overland is a powerful Class B motorhome and can go head to head with the Revel on pretty much every feature. The Overland has 4 different MODES, as Storyteller calls them, and the Beast MODE is definitely ready to take on about any weather you could come across!
Built on a Mercedes Benz diesel engine chassis, the Beast is 4×4 ready with tons of storage and durability. Like the Revel, it uses a diesel heating system that pulls from the diesel gas tank and pumps it past the water tanks, to keep them from freezing, and a Volta energy system that uses ion battery technology instead of a generator.
The Volta system is also located under the bed on the interior of the motorhome, which is an advantage as it doesn't have to work as hard to keep itself warm before keeping your RV warm.
The Beast also has Havelock Wool for top to bottom insulation, which keeps you warm and helps to absorb noise, air pollution, and moisture. Wool is definitely considered a great manufactured insulation alternative, particularly in humid or wet climates. Most insulation becomes less effective as it gets wet and in an RV, ineffective insulation can be a difficult hurdle to overcome. Wool will naturally repel moisture and dry very quickly. Havelock Wool has become extremely popular in recent years for RV insulation!
The Beast comes standard with heavy-duty window covers, which can really help if you're in below-freezing temperatures. They aren't the most attractive things, but if you're in sub-zero weather, I doubt you'd care too much. This is a great second layer of insulation over the standard double-paned windows.
But my issue with the Storyteller Overland will always come down to the shower. It uses a HALO Interior Shower System, so the shower pan is located on the floor and the showerhead and shower curtain folds up into an overhead cabinet. This means the showerhead and curtain need to be fully dried before being placed back into the cabinet or you could get mold and mildew. Not to mention that water could get everywhere inside your RV since there's just a flimsy curtain to keep the water inside. For me, it's just too much of a hassle. The Revel's fully enclosed wet bath wins out in my opinion.
But if the shower system isn't a big deal to you, then the Beast is definitely worth looking at! This RV can absolutely say it is 4 season ready and has the reviews to back it up!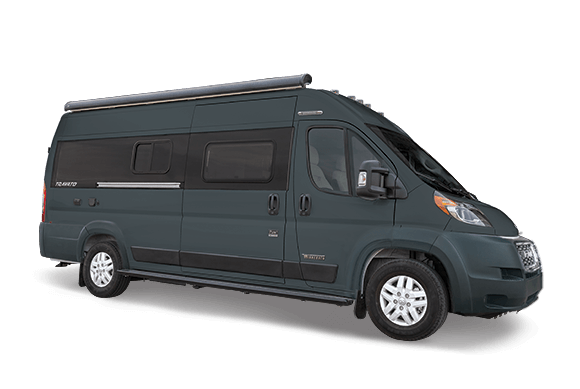 Interior Height: 6'3″
MSRP: $154,412
Exterior Length: 21′
Exterior Height: 9'4″
We've got another Winnebago brand RV on this list and for good reason. Winnebago has a got a long history of success in the RV world and they consistently produce great Class B rigs. The Travato is no exception while the Winnebago Revel was all about braving the winter weather in rugged style, the Travato is still 4 seasons ready but also brings a bit more style.
You'll notice that instead of a stripped-down interior, as we find in the Revel, the Travato has beautiful walnut-colored cabinets and a very clean white countertop. Comfortable ultra-leather seating in the driving area and plenty of residential-style fixtures.
But one of the other things you'll notice is the rather unusual bed setup inside this RV. Instead of the traditional approach of putting a queen-sized bed in the very back of the RV, this rig features two twin beds pushed to either side of the RV with a walking space down the middle.
This is one of those make-or-break features that some folks will love and others will move on to the next RV. While you can convert it to a king-size bed, the real utility of this bed comes from folks that want to sleep separately. You can check out this Youtube video to hear from a couple that actually found the dual twin beds inside the Travato K were the perfect solution to their shared bed sleep problems!
Another benefit of the double twin beds is that you actually end up with quite a bit more storage space you can squeeze in some extra cubbies under each smaller bed. In other words, you don't end up with any of the dead space (in terms of storage) that you'd expect from a large king-sized bed.
But what winter- is the Travato ready for the ice and snow?
Heck yeah, it is!
For starters, both the fresh water tank and the water lines are inside the heated space of the RV. I'm honestly surprised more RV manufacturers don't do this in their Class B's since I'd expect it's a lot easier to pull off in such a compact space. But with this setup, as long as your warm then so are your critical fluids! You've also got heating pads on the less critical but still important black and grey tanks which are (of course) outside the living space of the RV.
You'll find double pane windows throughout and we've already talked about how impactful that can be for the overall efficiency and warmth of any RV. There's also upgraded foam insulation in the roof and walls to keep you comfy.
Finally, there's the energy system. We're specifically looking at the K-L model and in this case, the L stands for lithium. It features an 8,700-watt hour lithium battery that can keep you warm even while boondocking- at least for a little while.
You can learn more about that system here:
Overall, the Travato will keep you warm in the winter but it isn't going to be your number one pick for sub-zero temperature. At least not without some additional modifications. Still, it's a comfortable RV with a ton of flexibility to handle whatever most RVers might through at it. With an MSRP of $154,412, it's also quite a bit cheaper than the Revel.
Interior Height: 6'2″
MSRP: $163,660
Exterior Length: 20'9″
Exterior Height: 9'5″
The Roadtrek brand can be a bit of a mixed bag for some folks. With 30+ years of Class B excellence behind them, they developed a solid reputation for quality rigs. But that changed in 2019 with a bankruptcy, a massive layoff, and allegations of scandal at the top. After all that, the Roadtrek name changed hands and ownership but hung on to many of the things that made them great.
The newest Roadtrek Zion is a result of that transition and features plenty of warranties and quality guarantees to keep the cautious RVers feeling comfortable buying from a brand with a few rough patches.
Built on a 19′ Promaster chassis the compact Roadtrek is a great balance between the folks that want to boondock during the winter but still have the luxury of modern Class B RVs. For starters, the rig is fully equipped with a robust solar power system and lithium batteries that will help you stay powered even if you're far from shore power. You'll also stay warm with the 16,000 BTU furnace that comes standard and while that should be plenty most people some folks may need to upgrade their heat or add an additional source.
Your furnace (and your air conditioner for that matter) are ready to go whether your engine is running or not. While that might seem like a pretty standard feature, not every RV can actually pull this off for any length of time, and the combination of lithium batteries along with the solar panels gives you a lot of flexibility but also reliability which is super important in cold weather or remote conditions.
Still, the Roadtrek Zion doesn't have the kind of super-durability that we've seen in a few other rigs on this list. As I said, it's more of an in-between option for folks that want to stay on the road during the winter but aren't ready to go for something as rugged as the Revel for example.
You can see some beautiful footage of some folks that pulled off exactly this in the video. You'll notice one of the big benefits of winter camping: not only is the scenery beautiful but these folks have the entire area completely to themselves! While that might be for everyone all the time, it can be a welcome change from the sometimes crowded campgrounds and trails of the spring and summer.
Overall, the Roadtrek Zion makes a great option as long as you aren't looking to take your winter camping trip to the extreme. If instead, you want to be winter-ready, super comfortable, and aren't afraid to make a few modifications then it's hard to go wrong with this Class B.
With an MSRP of $163,660 the Zion isn't the lowest cost Class B, you'll find but it's still very reasonably priced.
Interior Height: 6'2″
MSRP: $191,125
Exterior Length:19′
Exterior Height: 9'7″
Airstream is synonymous with luxury and the Interstate 19, one of their most popular Class B RVs is no exception. The Interstate 19 takes all the bells and whistles we've come to expect from Airstream and packs it into their smallest, most versatile design. Built on a Mercedes Benz Sprinter 2500 van chassis, the Interstate 19 has a diesel engine, is 4×4 ready, and has two 100 Ah deep cycle lithium batteries as well as a Truma Combi heater and water heater combination.
Looking a little closer at the power the Interstate 19 has, there is also a 2.5 kW generator backed by propane that can run for up to 30 hrs, heating the entire motorhome. The unique Truma heater and water heater combination ensures consistent, reliable heat and a never-ending source of hot water.
The batteries have standard heating pads included, to ensure it's never too cold for them to stay charged. And all of this is monitored by an advanced alarm system to notify you of any issues with the batteries, generator, black and gray water tanks- including freezing alerts. Another nice feature is an alarm for diesel and propane fumes, in addition to standard fire and carbon dioxide alarms. This can be very important, especially while camping during the winter months when you're using more fuel and aren't going to have your windows open much.
The Interstate 19 also used vinyl flooring embedded in rubber over 1.5 inches of insulation and plywood subflooring. This helps for extra insulation, sound control, and to protect the piping and controls in your undercarriage. The Interstate 19 also has standard undercarriage lights in case you ever need to crawl under there, which I really hope you never do!
But all that said, the Airstream Interstate 19 is still a luxury motorhome and it's not best for trekking through the Rocky Mountains in February. If you're looking for a sub-zero-ready RV that lets you ski from your front door, the Winnebago Revel or Storyteller Overland Beast is the way to go. But if you want an RV that will take you across the country in luxury and keep you toasty and safe in occasional or mild winter weather, you can't beat the Interstate 19.
Starting at $191,125 the Interstate 19 is definitely one of the more expensive Class B motorhomes out there and as such, it's ideal for full-time living. Still, it's going to be worth the price for many and Winnebago is one of our favorite brands for Class B's. There are so many bells and whistles on this motorhome, it's worth checking out this very thorough tour.
Closing Thoughts
Winter camping is almost a right of passage for any hardcore RV'er and a Class B is one of the best ways to make the journey. Whatever your motivation is for wanting a winter faring Class B RV, remember to not blindly trust the standard Artic Package! From the luxury ride of the Airstream Interstate 19 to the rugged 4×4 ready Winnebago Revel, I hope you found an RV you love on this list!