When I tell people I went to Merced, I often get a puzzled look. Yeah, I didn't know where it was either. As a result, I didn't expect much from the food scene there. So, here's what I ate in Merced, California.
In my last post about the Courtyard by Marriott Merced, I didn't talk about the location of the town all that much. Merced is in the San Joaquin Valley, about 50 miles from Fresno. As such, agriculture is big here, with Merced being first in California for sweet potato production, while the area comes in second for milk and chickens. Almonds and cattle are also big here, and almond farms are what I saw most of.
Given the rural nature of the town (and gloomy Yelp and TripAdvisor selections), I knew there wasn't going to be a huge variety in terms of cuisine here. But, that's not to say it's all bad.
Lot's of Chains
Unsurprisingly, there are a lot of chain restaurants in Merced, especially of the fast food variety. So, while in town, I tried Sonic for the first time, which was OK. But, we did end up hitting In-N-Out twice because, why not?
I keep forgetting how awful their fries are, though. So, next time, I'll either order them well done or not at all. I hate soggy fries.
Paul's Place Restaurant & Bakery
Our first morning, we went out for breakfast with friends. Not knowing any restaurants in the area, though, I ended up consulting Yelp. And based on ratings, I settled on Paul's Place Restaurant & Bakery.
Paul's is about two miles from the Courtyard Merced in a shopping center. Parking, while ample, was pretty full and the restaurant was packed, so I thought I hit a home run! Not so.
Service throughout was alright. Think small town diner service, but a little gruffer since the place was packed. Food? I ordered an omelet with shrimp and avocado in it. The omelet was ok, though it was more a shrimp scramble topped with slices of avocado and shredded cheese. And while the shrimp were cooked nicely, they were a little fishy. Mrs. Island Miler's waffle was also underwhelming.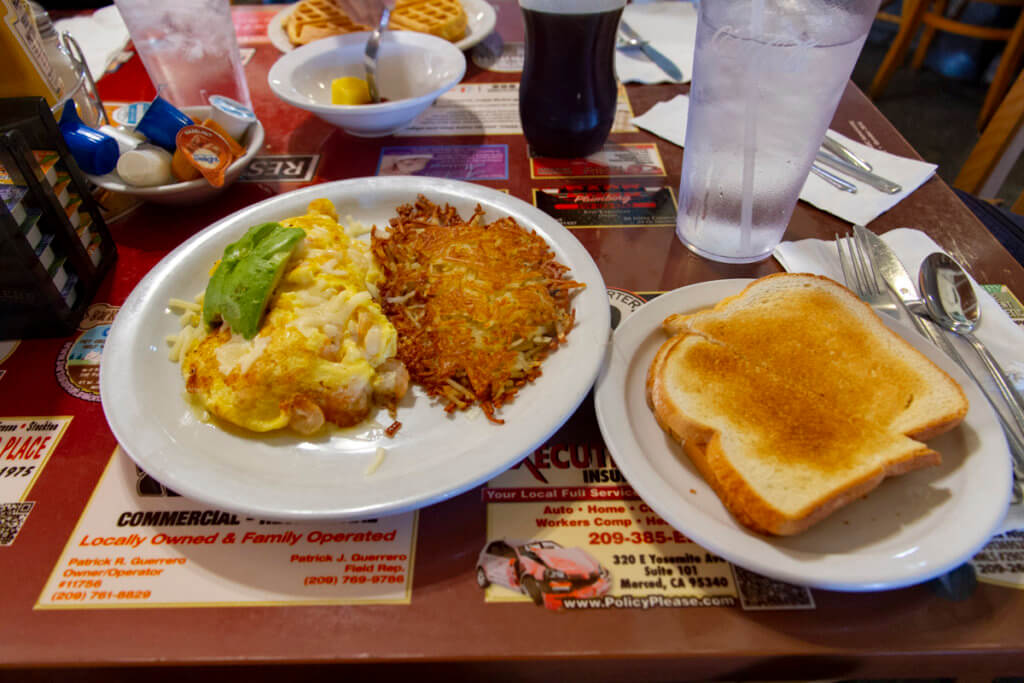 Taqueria El Huarache
On our last night in Merced, we went to In-N-Out and Taqueria El Huarache. I chose the taco shop because of its good reviews, but it was not good. Why? Well, I ordered the lengua and carnitas tacos, which I usually like. But, the lengua here was super gamey and devoid of seasoning. The carnitas? Mediocre at best. My favorite taco shop in Honolulu does way better.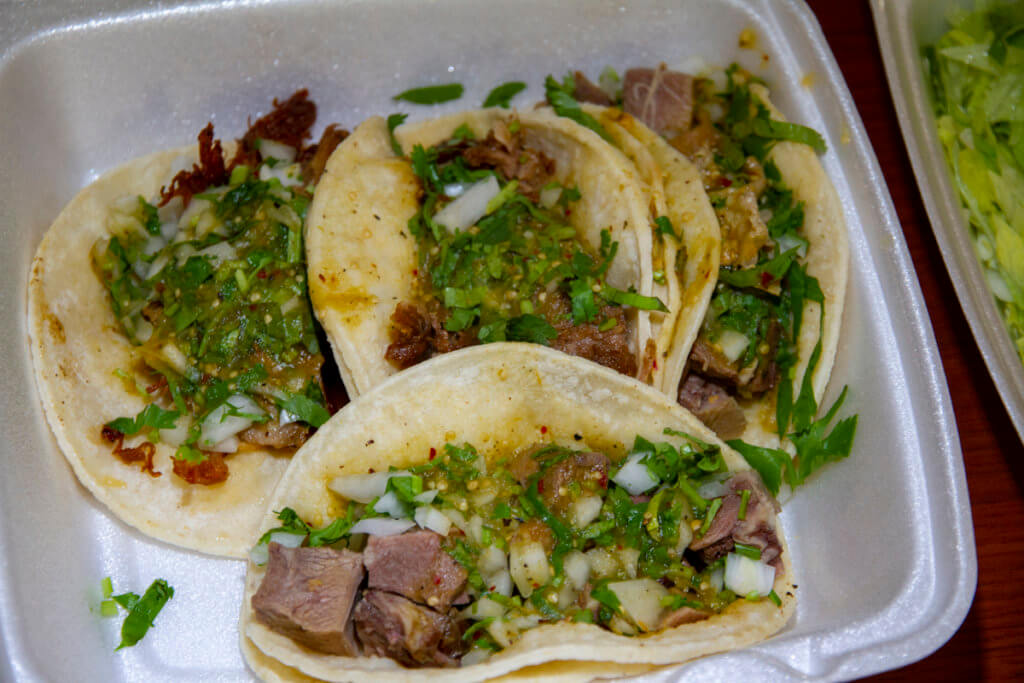 For her, Mrs. Island Miler went a similar route, but with crispy tacos.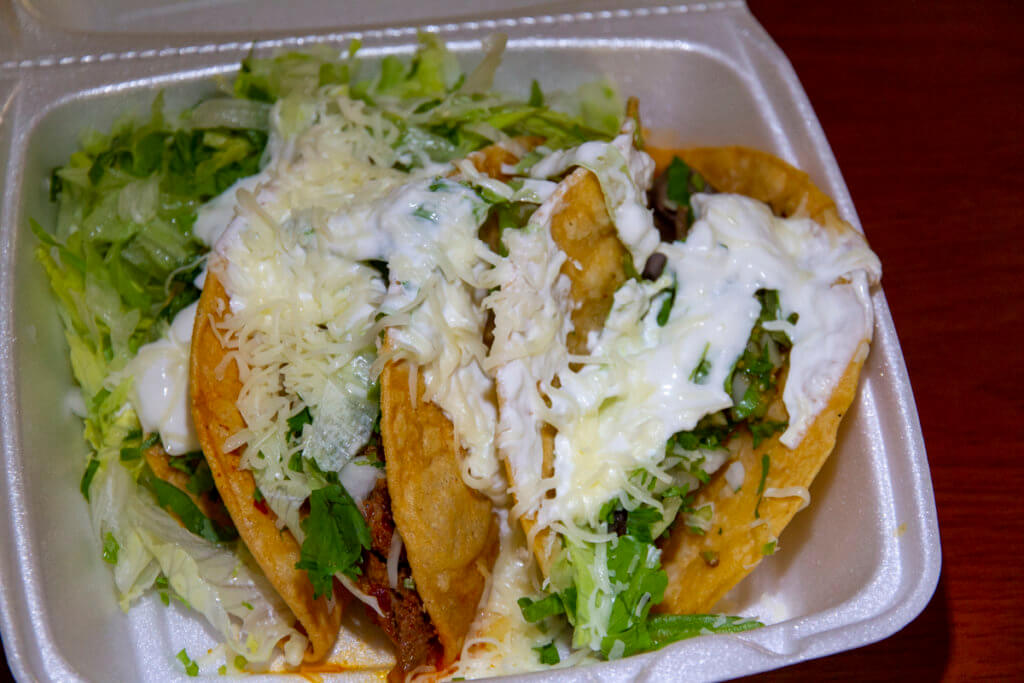 Yeah, those things were a mess, and the fillings being the same as mine, were still underwhelming. We didn't even finish our tacos from this place, that's how bad they were. So thank goodness for the In-N-Out!
El Asadero Taco Shop
Though El Huarache was terrible, we did have great tacos in Merced. Ironically, that happened at a shop we chose at random when we were running around with our friends.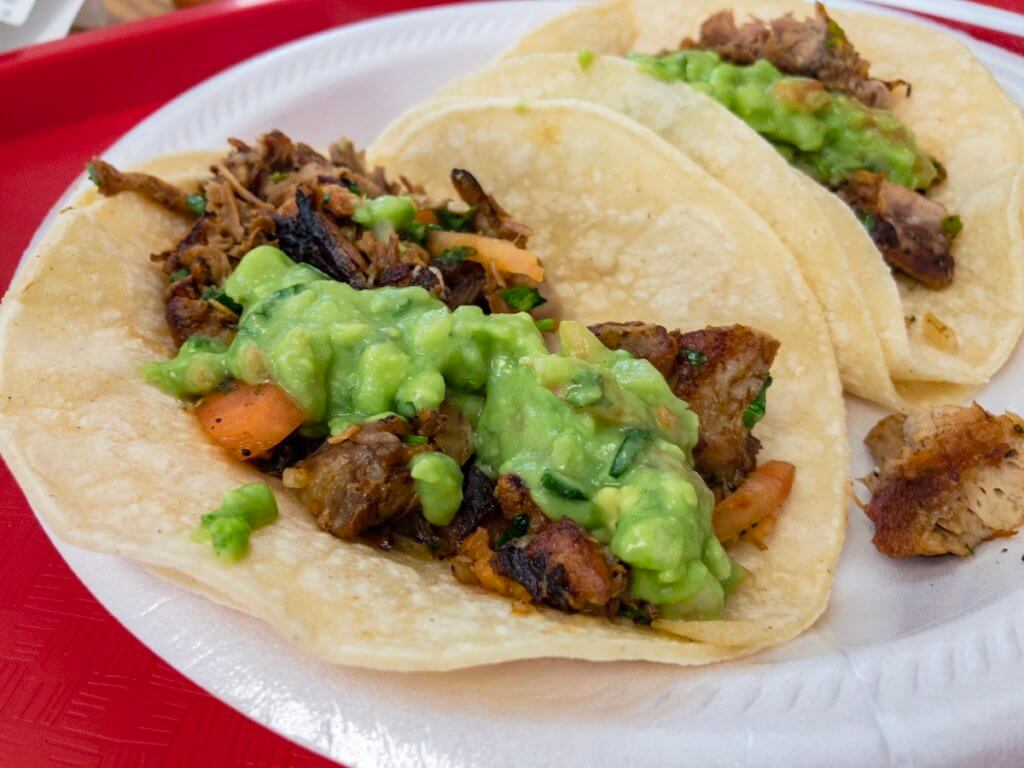 The place doesn't look like much, but the food is really inexpensive. But, better yet, I ordered carnitas tacos, and they were phenomenal! We should have just gone back there instead of trying someplace new on the last night.
What I Ate in Merced, California, Final Thoughts
Clearly, Merced isn't a foodie destination. But, there are good eats to be had, it's just a matter of finding them. So, if I ever find myself in the area again, I'll probably try more taco shops and maybe even some Thai food. With that said, though, I'd totally make it a point to get back to El Asadero Taco Shop. So good and such a great value!
A Gourmet Adventure Through Northern California