Last updated on June 11th, 2023 at 03:31 pm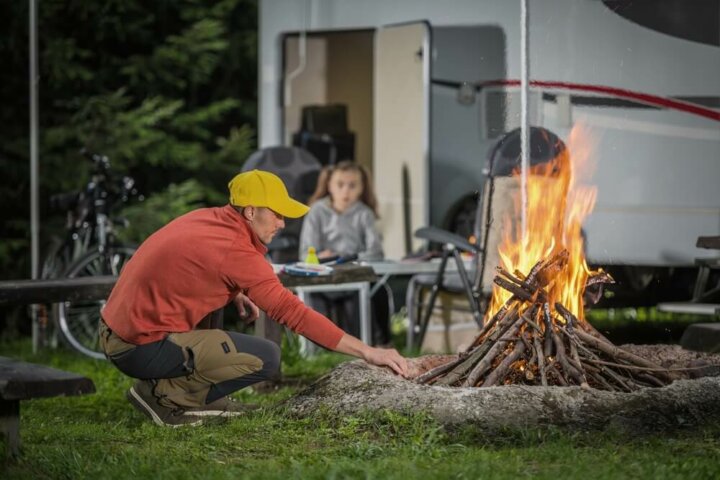 All of our reviews are based on exhaustive research, industry experience and whenever possible, hands-on testing. When you make a purchase using one of our chosen links we'll get a small percentage of the proceeds. This supports the site and keeps Jeffsetter running. You can read more here.
Figuring out a routine when you transition to the RV lifestyle can be hard, and with so many incredible places to visit, it can feel overwhelming when you first get going on your journey. Although some RVs can handle several hundred miles per trip, this can be tiring for you, and wear your RV quicker too.
There are a couple of 'rules' for RVing that can help structure your travel so both you and your RV can stay in the best shape.
So, what is the 2-2-2 rule for RVing?
The 2-2-2 rule for RVing means driving no more than 200 miles per journey, taking a break every 2 hours, and staying a minimum of 2 nights at your destination. Some RVers who follow the 2-2-2 rule also try to arrive at their destination before 2 pm, allowing plenty of time to get set up.
If you're just getting started RVing and aren't sure how far to drive or are worried you'll forget to take breaks and become tired, the 2-2-2 rule might be helpful to implement into your routine.
It's normal to get impatient when you have a goal in mind of the place you want to drive to and how long you think it'll take you to get there, but it's wise not to rush and take your time instead.
RVs are far from sports cars, and it's vital to listen to your rig and not push it too hard as this can lead to potential breakdowns. Having a structure to follow such as the 2-2-2 rule can help keep you on track to getting to your location safely, and not feeling too worn out.
So let's take a closer look at the 2-2-2 rule and see if it's a good option for you.
What Is The 2-2-2 Rule For RVing?
If you're used to long-distance travel and don't see why a 6 or 8-hour journey in your RV would be taxing, think again! There's so much to think about when driving an RV, and as RVs are usually tall, wide, and heavy, they will handle differently than your everyday car.
The 2-2-2 rule keeps RVers alert and is a popular choice for many as it provides an easy-to-follow structure, helping get RVers to their destination safely and happily.
The 2-2-2 rule may be perfect for some RVers and less ideal for others, so if there are parts of the rule you think may suit your lifestyle, implement those into your routine and forget about the ones that don't suit you.
There are so many different strategies for successful RV living, and it can take time to figure out exactly what works best for you, your RV, and those you're traveling with.
1. Drive A Maximum Of 200 Miles Per Day
Limiting your travel to 200 miles or less a day may add a day or two to your overall journey as it will take longer to reach your destination, but it can help you stay energized and feel less exhausted.
There's so much to think about when driving an RV, and you'll likely be looking in all your mirrors and have heightened concentration on the road. This can lead to exhaustion and create tension when you're traveling with friends or family.
Driving a maximum of 200 miles per day can also keep wear down on your RV, as driving for long periods of time can leave its mark on your rig. Taking mammoth drives in your RV means you'll likely have to complete substantial maintenance and repairs, whereas limiting your drives to 200 miles helps keep wear to a minimum.
It also means you can free up the rest of your day and go sightseeing or explore the area you're traveling through, creating a wholesome travel experience.
2. Take A Break Every 2 Hours
We all know how important it is to take regular breaks when we're driving, but it's easy to forget to stop or push yourself to drive further without having a rest. Although avoiding breaks may shave off considerable travel time, it also means you may have poor circulation in your legs and be achy and sore when you reach your location.
Setting a stopwatch or alarm to activate every 2 hours is a great way to stay on top of your breaks, and going for a short walk at each rest stop will help get the blood pumping all around your body. It's also essential to stay well hydrated whilst driving, and eating a healthy snack when you take a break will help regulate your blood sugar and prevent you from feeling tired.
Taking a break every 2 hours can also do your RV a favor as you can give everything a quick check-over each time you stop. You'll therefore be far more likely to spot a problem early and be able to fix it or call for help as soon as possible.
This is especially useful when towing a travel trailer as you can keep an eye on the hitch and be confident that your RV setup is safe.
3. Arrive At Destination Before 2 pm
Not all RVers who follow the 2-2-2 rule include arriving at your chosen destination before 2 pm, but many RVers find it useful to set up their RV in the afternoon, well before nightfall. Arriving at a campground before 2 pm means you have plenty of time to get your RV in position and connected to electricity and water.
Arriving somewhere in the dark in your RV can be stressful as you won't want to disturb other RVers, but you still need to get your RV hooked up and ready to be used stationary.
Driving an RV in the dark also isn't the most fun experience as headlights can be blinding, and if traveling through deer country, your chances of hitting wildlife increase substantially in the dark.
I find it useful to do most of the driving in my camper during the daytime, as when I reach my destination, I have a few hours of daylight left to get organized and explore the surroundings and local area. Rushing to beat nightfall can create a stressful atmosphere, so it can be wise to structure your travel and stay as relaxed as possible.
4. Stay 2 Nights At Destination
Planning how long you'll likely spend at your destination can be helpful, and even if you don't think you'll stay for the 2 nights you prepared for, it gives you an additional day to use if you need it.
Part of preparing for full-time RVing is knowing how to correctly maintain your camper, as it's likely you'll need to tinker with your RV on the road and complete simple maintenance tasks and small repair jobs.
Staying at a location for a couple of days gives you time to reset and get refreshed, ready to hit the road again. Staying for 2 nights also gives you ample time to do laundry, fill up with fresh water, and empty out your gray and black tanks if needed.
I like to treat myself to a campground every so often to clean my camper, and complete tasks such as checking the oil level, filling up the windshield washer fluid, and getting rid of my trash. Taking the time to get both you and your rig ready for the next leg of your journey can help keep you feeling excited and motivated for your vacation.
The 2-2-2 rule is fantastic for those who don't want to push themselves or their rig too hard and keep a structured routine whilst traveling in their RV. It may not be the ideal option for those who have a tight travel deadline, and if this is the case for you, considering the 3-3-3 rule may be helpful.
The 3-3-3 rule differs from the 2-2-2, as it involves driving up to 300 miles per day, taking a break every 3 hours, staying at a destination for a maximum of 3 days, and arriving by 3 pm. This may be a better rule to follow if you have lots of miles to cover and limited time to reach your destination.
There are many tips and tricks available to help make the time spent in your RV the best it can possibly be! The 2-2-2 rule is a superb tip and can completely transform your RV travel from unorganized and stressful, to structured and healthy.
The video below is full of plenty of tips for RVing, and you may find it useful to implement some of them into your RV lifestyle.
There are avid adventures all around the world full of advice and tips that make their RV lifestyles that little bit easier. Researching and talking to different RVers is a great way to learn about new things that might be helpful to you and your rig.
Closing Thoughts
Traveling around in an RV is a very different experience when compared to hotel and flight travel, and sometimes it can be difficult to get into a healthy routine. The 2-2-2 rule can be a great structure to follow if you're wanting to adopt a slower pace of travel and not stay at a location for too long.
I prefer to spend more than a couple of days at some locations, so I don't follow the 2-2-2 rule strictly, but instead find it helpful when I have a period of faster-paced travel.
It's important to remember that a 'perfect' RV routine doesn't exist, and the way in which you travel in your RV will be personal to you. Try not to feel pressured to follow a certain rule if it doesn't suit your lifestyle, but if you're feeling a bit lost and in need of some structure, the 2-2-2 rule may help you a lot!