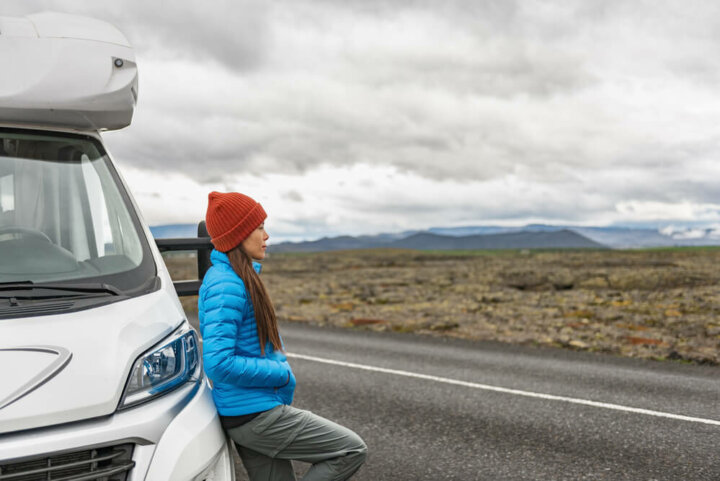 All of our reviews are based on exhaustive research, industry experience and whenever possible, hands-on testing. When you make a purchase using one of our chosen links we'll get a small percentage of the proceeds. This supports the site and keeps Jeffsetter running. You can read more here.
Heading into the world of RVing is an exciting time, but if you're new to living full-time in an RV, having a routine to follow can be really helpful and make things a little easier when you're first starting out.
There are certain rules in place to guide RVers such as the 2-2-2 and 3-3-3 rules, which indicate how far you should push yourself and your RV every day, to help avoid breakdowns and burnouts.
So, what is the 3-3-3 rule for RVing?
The 3-3-3 rule for RVing means driving a maximum of 300 miles, resting every 3 hours, and staying 3 nights at a campground or chosen location. Many RVers also include arriving at a destination before 3 pm in the 3-3-3 rule, so you can set up your RV before it gets dark.
When you jump behind the wheel of a powerful RV, it's tempting to hit the gas and start crunching miles so you can reach your chosen destination as quickly as possible. Although this can shave considerable time off your ETA, it's not the wisest choice as you will likely experience fatigue, and your RV will show signs of wear a lot quicker.
Structuring your travel can not only help keep you on track to reach your location safely but also means you won't push your RV too much. The miles per day you should drive in your RV will be specific to your rig and personal capabilities, but it's vital to know when to take a break or continue your travel the following day.
The 3-3-3 rule may be the answer if you're looking for a healthy routine to follow while you find your way in the RV world, so let's take a closer look at it now!

What Is The 3-3-3 Rule For RVing?
The 3-3-3 rule for RVing is a routine popular with many travelers as sometimes it can be difficult to structure your days on the road, whilst also including time to eat, explore, and arrive at your destination before the sun starts to set.
Sticking to the 3-3-3 rule can help you and the loved ones you're traveling with arrive at your end location feeling happy, refreshed, and not exhausted from endless hours of driving.
1. Drive No More Than 300 Miles
There's a multitude of reasons why such a vast number of people have taken to the RV lifestyle, and with alternative living growing in popularity, it's no wonder there are so many RVs on our roads.
One of the joys of RVing is the slower pace, but often this can be overlooked when you're focused on getting to your destination as quickly as possible!
RVing is very personal, and there's no 'perfect' routine to have, as each RVer will likely require something different from the next, so it's crucial to listen to how you and your rig feel when you're completing big journeys.
Having a limit in place for the number of miles you complete in a day will help avoid you pushing your RV too much, and exhausting you and those you're traveling with.
Driving no more than 300 miles a day is an important part of the 3-3-3 rule, and keeping at a sensible speed that's comfortable for your RV will help prevent accidents and any potential tire blow-outs from happening.
It's crucial to remember the best way to reach any destination is by being safe, taking precautions, and only completing suitable mileage for both you and your rig. Many elements can have an impact on how well your RV drives, and you may need to adjust your driving in certain weather conditions such as during high winds.
If you're driving on the highway and start experiencing swaying in your RV, you'll need to slow down and maybe even pull over if the weather doesn't improve. Decisions like this can be life-changing and help avoid potential accidents on the road.
Maintaining a maximum of 300 miles for each journey in your RV will also give you plenty of time for gas fill-ups, food breaks, toilet stops, and short walks to help the blood circulation in your legs.
The 3-3-3 rule is therefore ideal if you are someone who often struggles to take breaks, but would also greatly benefit from having some time to rest in between drives.
2. Rest Every 3 Hours
If you're like me and often forget to take breaks to hydrate and eat when traveling, the 3-3-3 rule might be a good option! Setting a timer to go off every 3 hours will ensure you won't forget to pull over in a safe place and take a few minutes to rest and refresh.
As driving is a seated activity, it's easy to forget about how much concentration is involved, especially when driving a large RV or towing a luxury travel trailer, and it may surprise you how quickly and suddenly tiredness can set in.
Driving can be an exhausting activity, and fatigue can often creep up without a warning, so it's always best to take regular breaks to keep energized and focused on the road.
Remaining hydrated and eating healthy snacks like fruit, crackers, and granola bars will release energy slowly throughout the drive, meaning you'll stay energized and fuller for longer.
Staying seated for long periods can limit the blood circulation in your legs, so it's crucial to get up and out of the driver's chair and stretch your legs out. When I'm out exploring in my RV, I like to get the most out of my rest stops and have a little exploration around the area I'm in.
Even if I'm parked at a gas station or store, taking my coffee outside and having a stroll around the parking lot helps make me feel invigorated and stops my legs from aching.
3. Arrive Before 3 pm
The thought of arriving at a new campground can be a nerve-wracking one and getting to your destination in the dark doesn't make things any easier. Arriving at a campground or wild park-up before 3 pm is an important part of the 3-3-3 rule, and something many RVers chose to stick by.
Arriving before 3 pm means you can get hooked up to electricity, deal with emptying your black and gray tanks, and fill up with fresh water if needed. Setting up an RV once you've found a spot to stay for the night can take a considerable amount of time, especially if you're new to RVing.
Completing your RV setup during daylight hours not only means the process will be easier for you but also results in your fellow RV neighbors not being disrupted by your arrival.
Part of the RV lifestyle is exploring new places, but if you plan on spending hours on end behind the wheel, the likelihood is that you won't have any spare time for adventuring off.
Sticking to the 3-3-3 rule and getting to your chosen location before 3 pm means you'll be able to set up your RV and head out for a late afternoon wander before the sun sets.
4. Stay For 3 Nights
Knowing how long to spend at a location can be difficult, especially if you've found the dream campground with everything you could imagine, or a wild spot tucked safely away in the wilderness.
The final part of the 3-3-3 rule for RVing is spending 3 days or nights at each spot you find. This means you'll be able to see and do plenty at each place you stop at, which can be hard if you're tied down to moving on each day.
Having days off from driving can transform your RV experience, as you'll feel less like you're in a vehicle and more like you're spending time in a home on wheels.
Driving can be difficult and tiring, and if you're the sole driver, you'll want to make sure you're giving your brain and body adequate time to rest before hitting the road again.
Staying at a destination for 3 days means you can enjoy some downtime and not worry about driving your RV. Having some time away from the wheel can also help you feel fresh and alert when you do have to drive, so if you're feeling exhausted and in need of a break, maybe it's time to head to a campground for 3 days and get revitalized!
The 3-3-3 rule can be a big help to those planning their RV travel as it provides a balanced structure to follow. There's no ultimate right way of RVing, and if some of the ideas from either the 2-2-2 or the 3-3-3 rule might work for you, there's no shame in giving them a try!
I often have a limited time to reach a destination, so staying 3 days at a campground isn't really an option for me. However, I feel more confident in my driving ability and alertness if I cap the number of miles I travel each day and take breaks every 3 hours or so.
Therefore, I often implement some parts of the rule and not others, shaping it to what fits my needs the best.
For more detail on the 3-3-3 rule, the video below provides a great explanation and explains how the 3-3-3 rule for RVing can lead to a safer, happier vacation for you and your loved ones.

Talking to other RVers is a great way to learn tricks for making your RV travel and lifestyle easier, so when you're next at a campground, pluck up some courage and have a chat with some fellow RVers – you may learn some handy tips!
Allowing substantial time for rest stops and campground stays will result in you spending more time on activities and having fun, than being stuck for hours on the highway.
There's often a societal pressure to keep busy and always be on the go, but the RV lifestyle is there to help teach us to slow down and enjoy the little things every once in a while.
Closing Thoughts
The 3-3-3 rule for RVing is a way to transform your RV routine and introduce small changes that can have a big impact on you, your rig, and those you're traveling with.
If you're a seasoned RVer, you'll probably already have a routine that works well for you, but if you're finding yourself feeling drained and experiencing burnout, the 3-3-3 rule might just do the trick.
Limiting the time and distance you're traveling for will help your RV experience feel less like a constant drag of mile-munching, and more like a fun way to see the rest of the world.