The Alaska Air Seattle lounges leaving Priority Pass was inevitable.  With never-ending crowding issues, even during my last visit two years ago, it was only a matter of time.  But, there are other options at SEA.
The Alaska Air Lounge at SeaTac's North Satellite is the first Priority Pass lounge I visited back in 2016.  And, in total, I've only been to the lounge twice.
Not because I don't want to revisit the lounge, but because I simply haven't flown through SEA on Alaska recently.  But, perhaps that's for the better since the lounge has been turning people away due to crowding.  Even back in 2016,  the lounge was almost standing room only at times thanks to overcrowding issues.  And, of course, the culprit that time was a Sapphire Reserve member guesting six other people.  So it comes as no surprise that Alaska has chosen to pull its Seattle lounges from the Priority Pass network.
Other Seattle Lounges
All is not lost, though, as Priority Pass members will still be able to access lounges at SEA. There are two Lounge Club lounges at SEA that continue to participate in the network.  These lounges, called The Club at SEA, are in Concourse A across from Gate A11 and the South Satellite near Gate S9.  The South Satellite lounge is the last Seattle lounge I got to review.  Its location makes it convenient for visiting when flying Hawaiian out of SEA.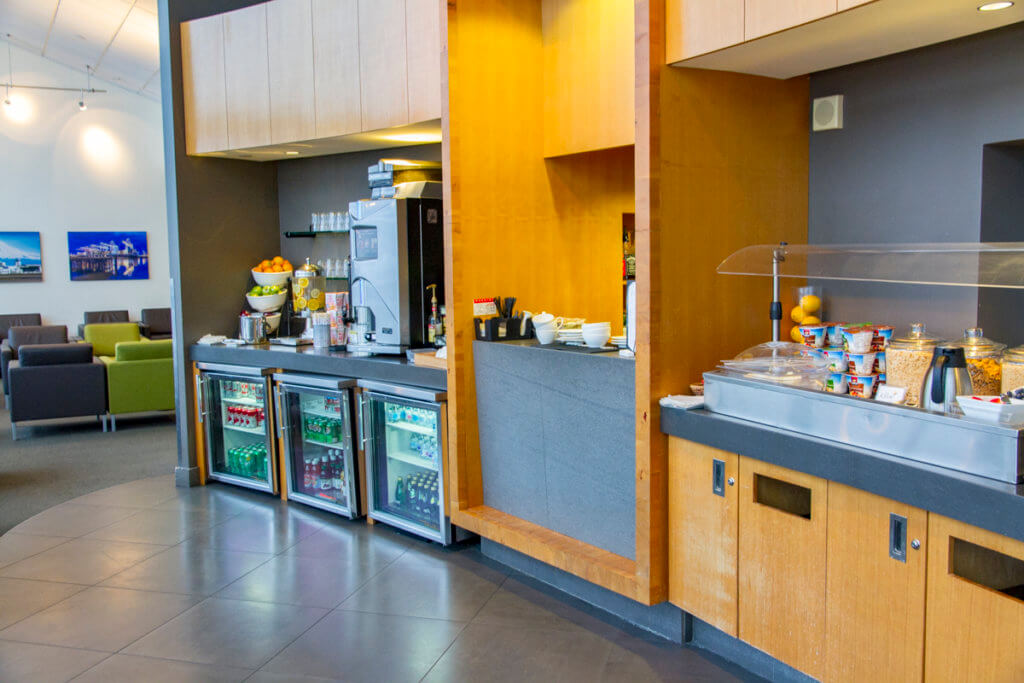 In addition to the above Priority Pass lounges, Amex Platinum members also have three other options.  If you're flying Delta, you may access the Sky Club lounges in Concourse A near Gate 1 and in the South Satellite near Gate S9 on the rooftop level.  However, Sky Club access is limited to the primary cardholder only, though up to two guests may enter for an additional fee.  Of course, Amex does also operate a Centurion Lounge at SEA in Concourse B near Gate B3.  Platinum Card members may bring in two guests and may be able to buy an additional guest pass for $50.
Alaska Air Seattle Lounges Leaving Priority Pass, Final Thoughts
The last day Priority Pass members may access Seattle Alaska Lounges is October 31.  The new access policy goes into effect on September 1, 2018.  It's important to note, though, that, at least for now, Priority Pass members will continue to enjoy access to Alaska Air lounges in Anchorage, New York JFK, Los Angeles, and Portland.  But I wouldn't count on this continuing to be the case as Alaska continues to grow.
For me, however, this change is a bummer.  I don't fault Alaska for doing this, though.  Taking care of their members should be a priority.  But, Alaska Air operates to Hawaii from the South Satellite, which is a bit far from the Centurion Lounge in Concourse B, making lounge access less convenient now.
Stil, I plan on visiting the lounge when I pass through SEA this November, which will likely be my first Centurion Lounge experience.  But, I've always liked Alaska Lounges.  They have a decent spread of items to munch on, as well as a few complimentary beverage options and a nice atmosphere.  That being said, The Club at SEA and the Centurion Lounge bother offer food too.  Plus, both lounges offer free alcohol and have their own restrooms.  So not a total loss.