Day 2 of our Big Apple Holiday Adventure saw our first full day of exploring.  We like to keep things informal, though, so we had no plan or itinerary.  Rather, we simply did whatever we felt like that day.  Our second day in The City was BEAUTIFUL, so we decided to knockout some of the outdoor sights.  So here goes, our Big Apple Day 2!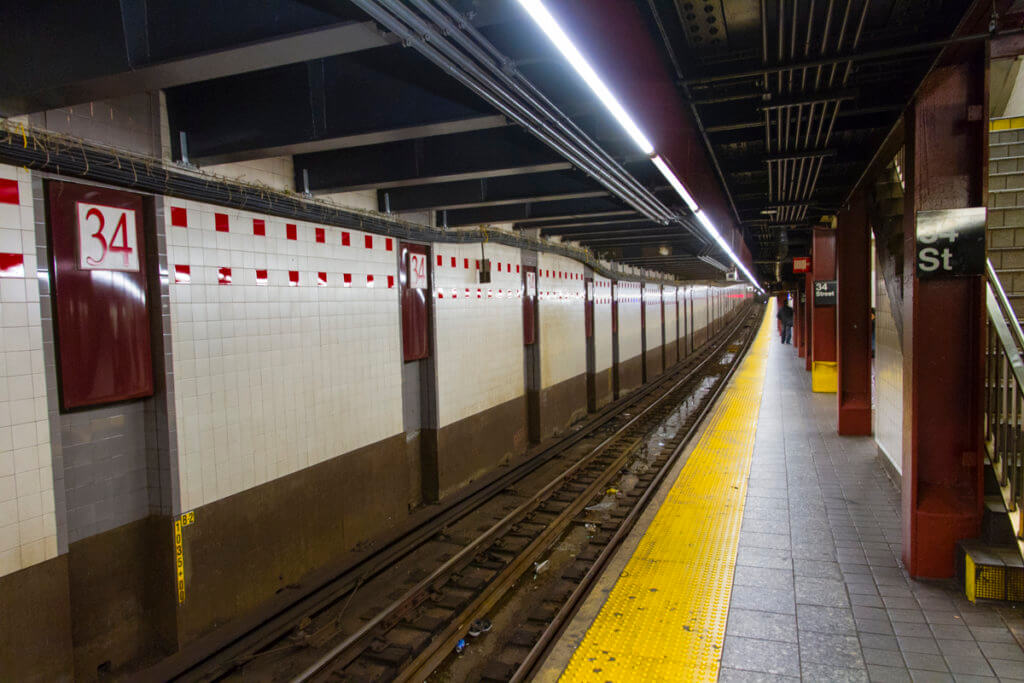 Given the clear skies the day presented us, we decided to get on the subway at 34th & Herald, and head over to Rockefeller Center.  We took the B train, which stops at 47-50 St & Rockefeller Center, which exists directly into the building's basement level.  That's really convenient, as the basement level is where the Top of the Rock ticket office is.
Top of the Rock Observation Deck
As I stated in my previous post, our CityPass included admission to the Top of the Rock observation deck.  This being our first use of the pass, we had to retrieve the booklets from Top of the Rock's ticket office.  There the agent issued the books, immediately tore out the relevant passes, and issued us our time specific tickets.  From there, you simply walk across the hall and wait in line for the first elevator.
After traveling up the first elevator you'll need to go through airport-style security.  All things considered, it wasn't too bad, and we were through in a few minutes.  Then you're tossed into a lengthy line that snakes around a large room.  There, you'll be offered to take a few posed pictures that makes it look as if you're sitting on a beam during the tower's construction.  Then, it's up another set of elevators to the observation deck.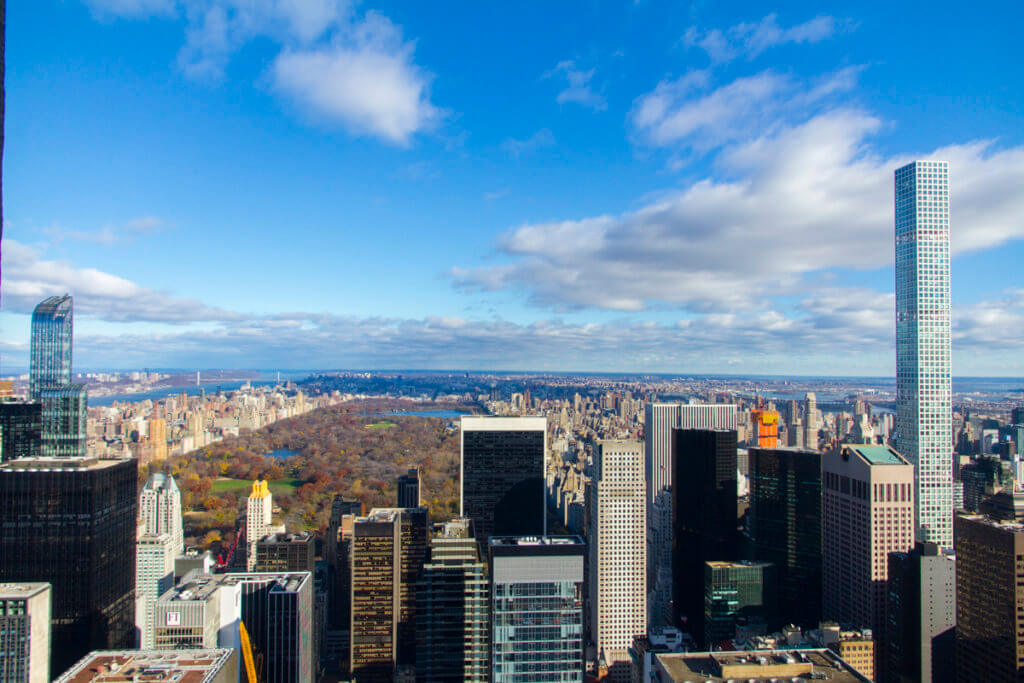 The observation deck is actually split into different levels.  The lowest level is completely glassed in, though there are gaps between the panels large enough to stick your lens through.  The views, however, from the observation deck are simply the best in The City in my opinion, even from the lower deck.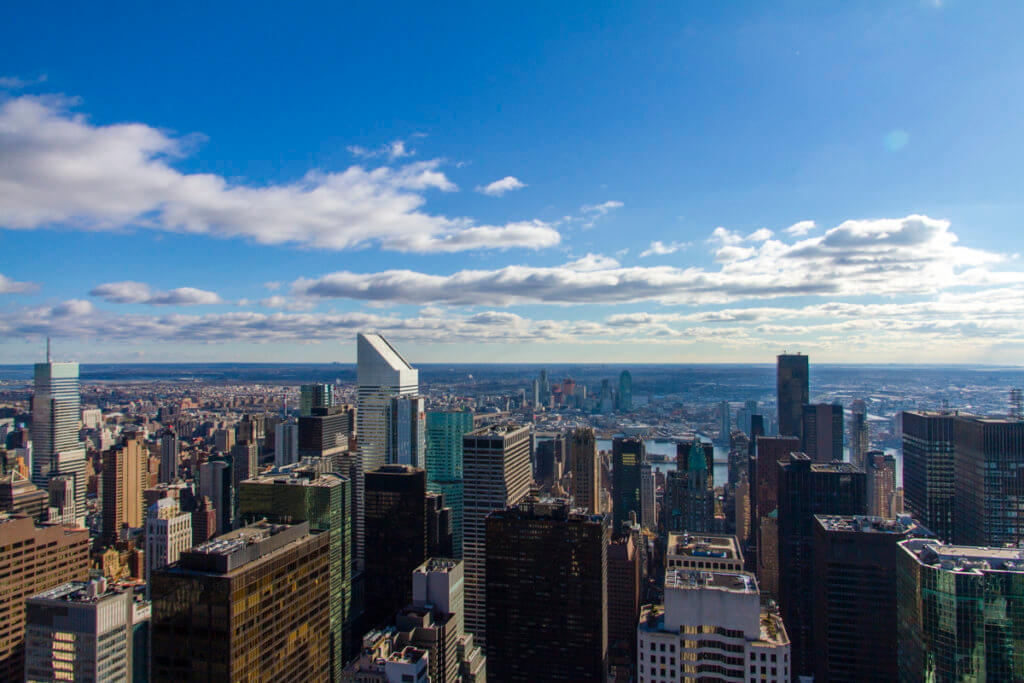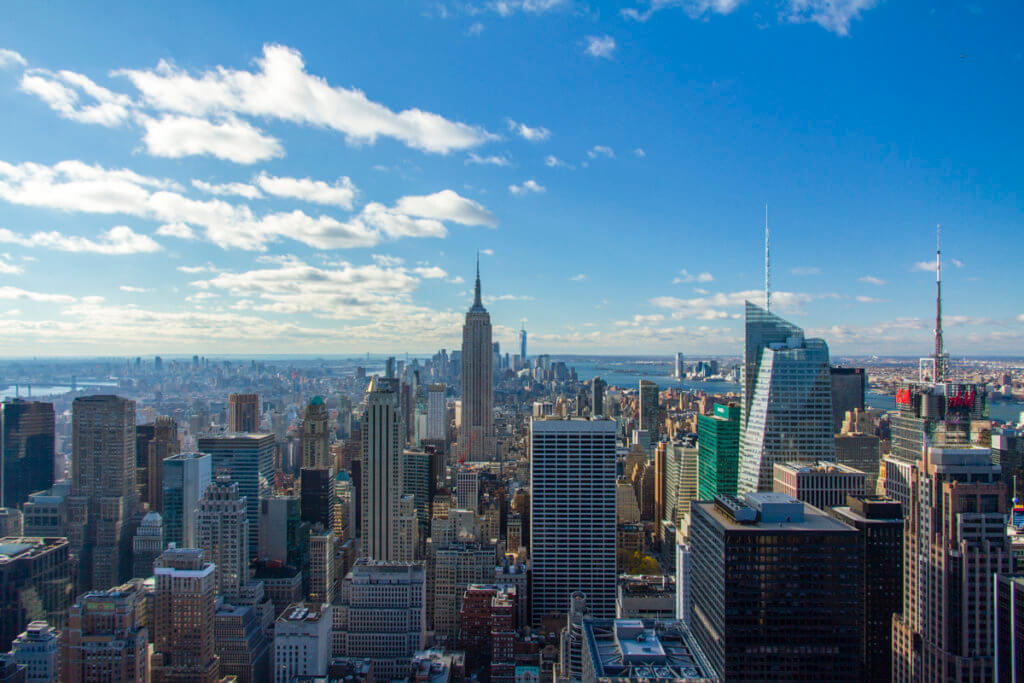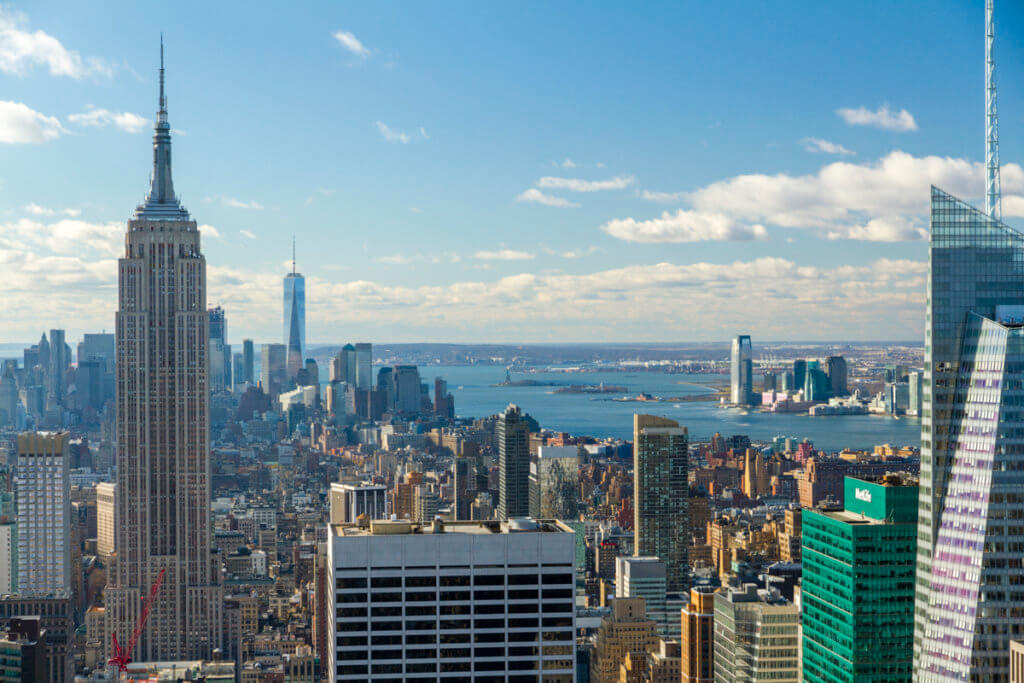 As you can see, the Top of the Rock Observation Deck provides spectacular views of The City.  There may be higher observations deck in New York, but you simply can't beat the Top of the Rock for view quality in my opinion.
As I've said before, there are multiple levels on the Observation Deck.  The lower deck was quite busy, but as we climbed up, the crowds thinned out pretty significantly.  There's also no glass on the top deck, so it's easier to get a better shot from up there.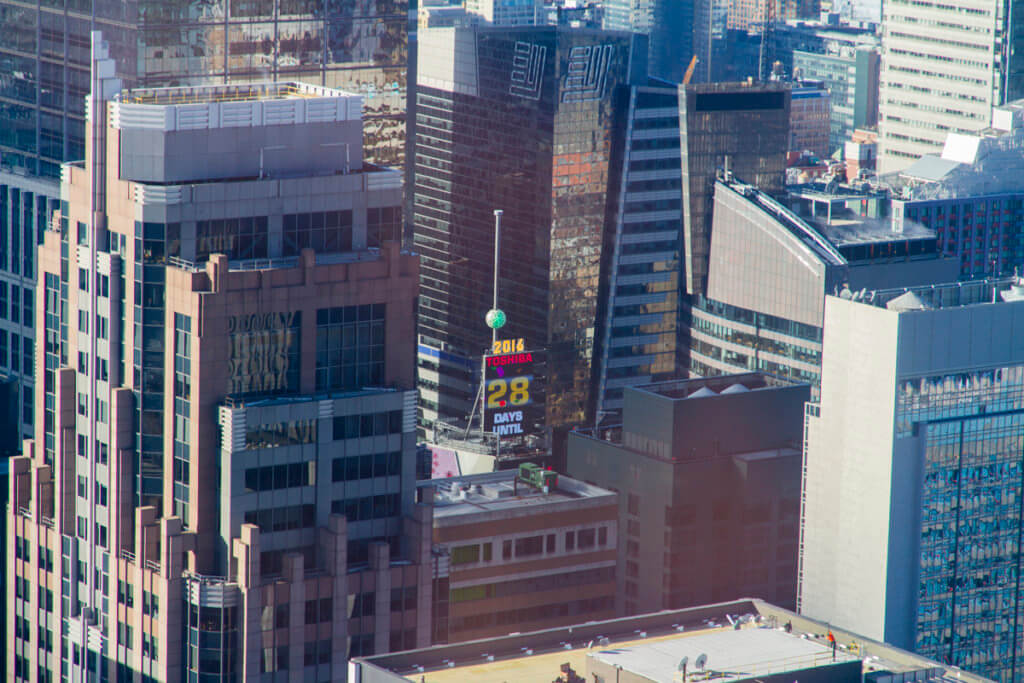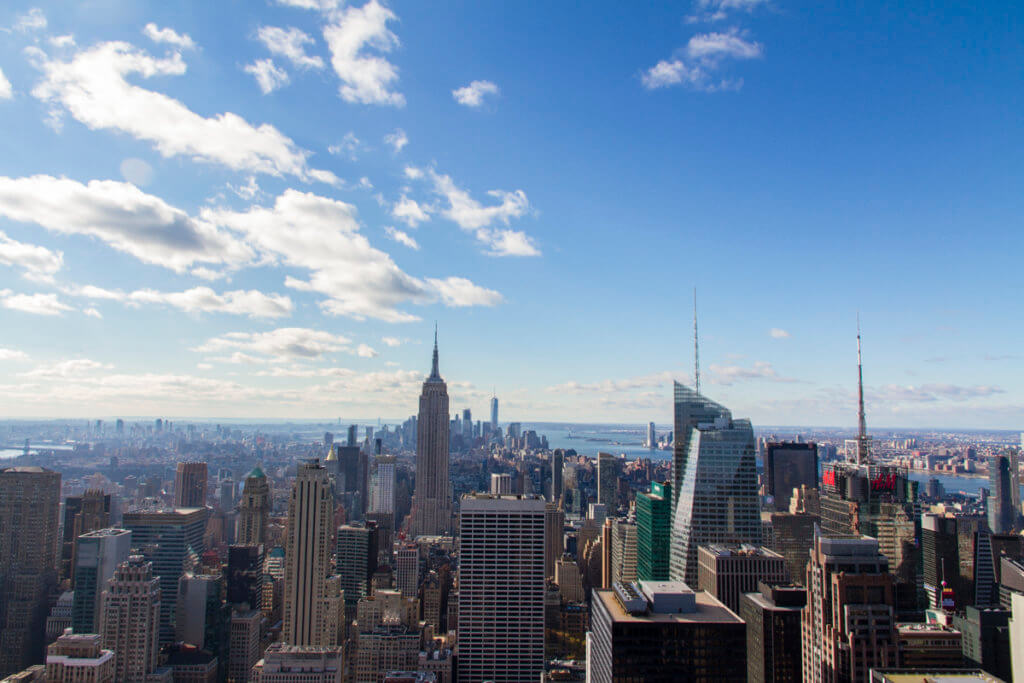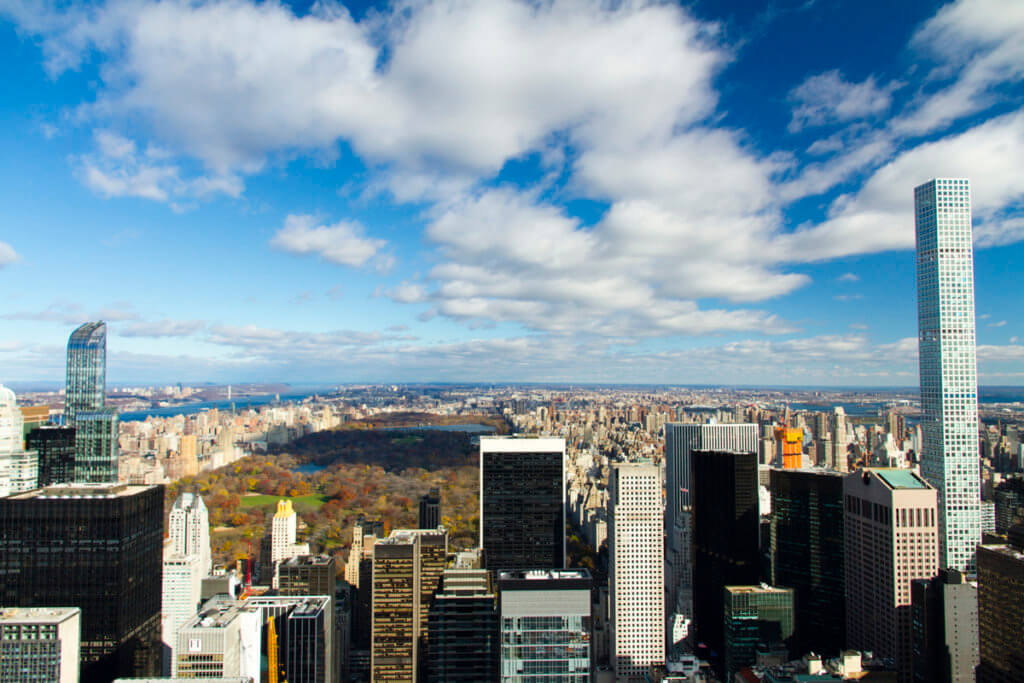 The view is very similar to the lower deck, but the perspective is slightly different.  There's also a photographer on the upper deck that will take photos of you and the city.  Gift shops are also located on the upper and lower Observation Decks, but they aren't anything special.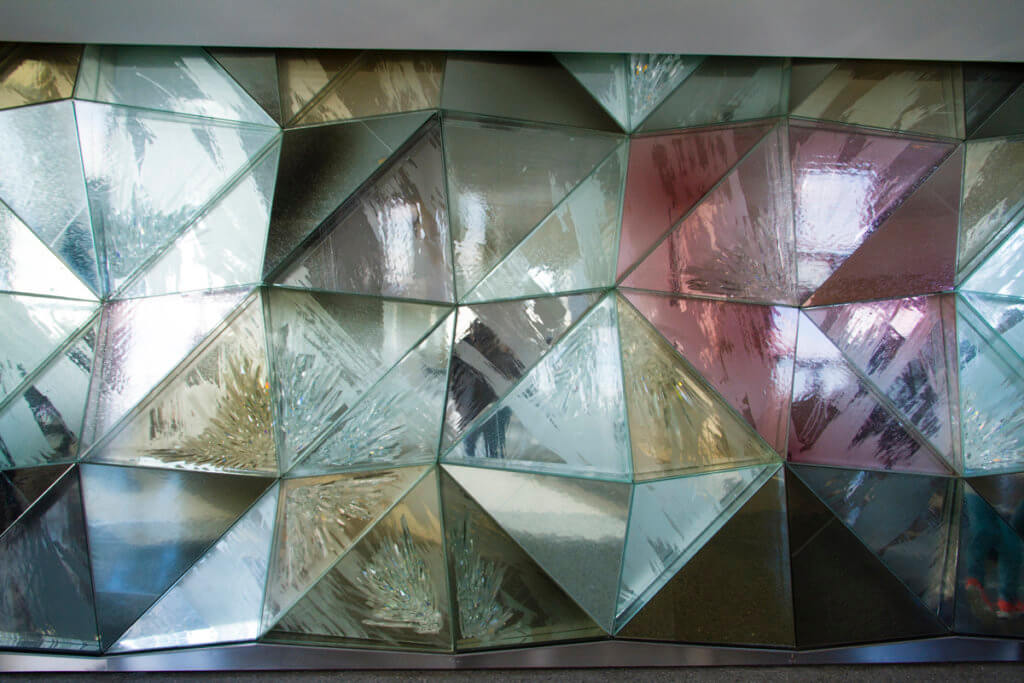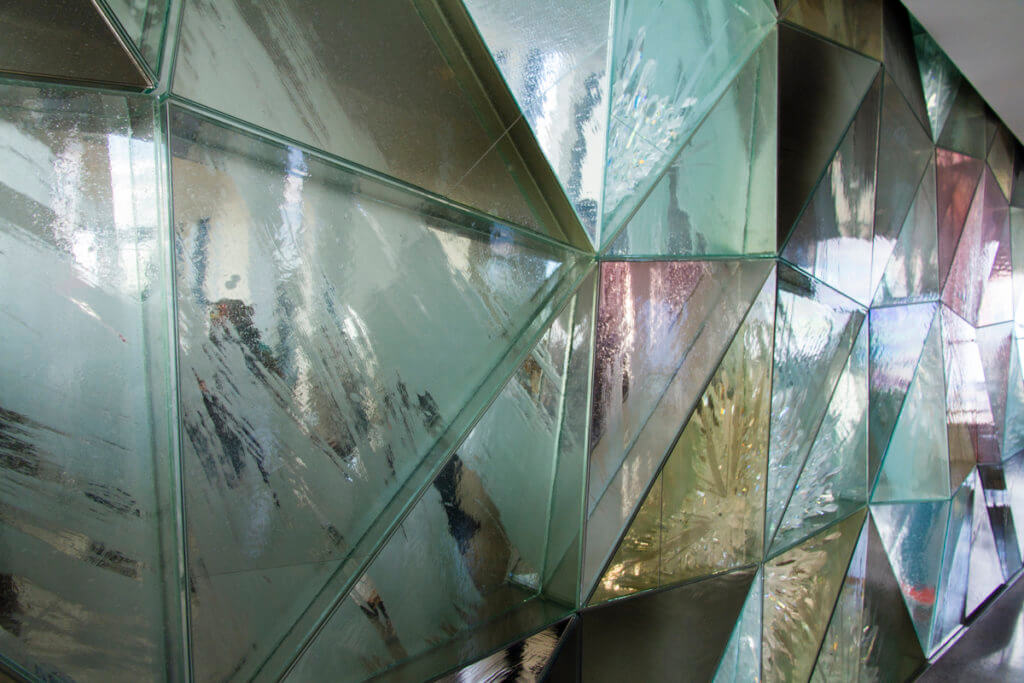 After snapping our photos, we headed back down.  The basement gift shop is where you'll choose and purchase your photos.  Employees there weren't so great… They weren't of much help at all and fed me false information.  My question was simple, if we didn't want to printed copy, could we purchase digital copies?  They said no.  But guess what?  I was able to access my photos online.  I may or may not be able to print them myself, but that's not that important to me.  The three prints I did purchase cost me just over $40.  And as far as quality goes, it's not so great.
Rockefeller Center Tree – Daytime
Since we were already at the Rockefeller Center, we decided to check out the famous tree and skating rink during the day.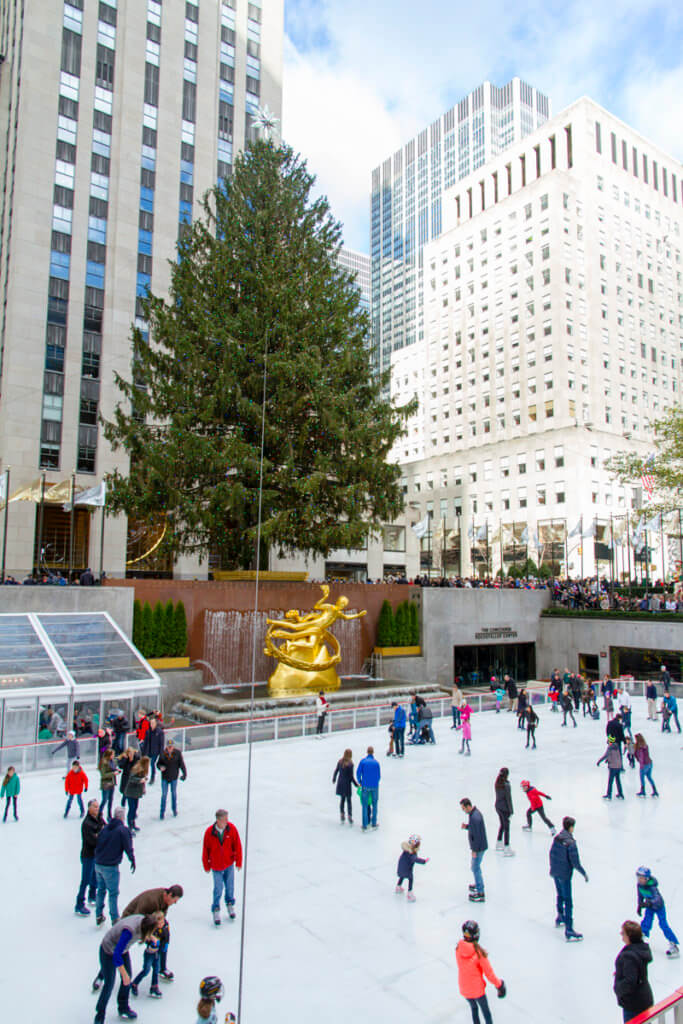 The tree is a much more impressive sight at night, but it was just as nice seeing it during the day.  The crowds, though, were HUGE during the day.  The plaza was filled with people, though this still paled in comparison to what we'd experience later on that night when we returned.
After taking in the sights, we decided to walk up 5th Ave. towards Central Park.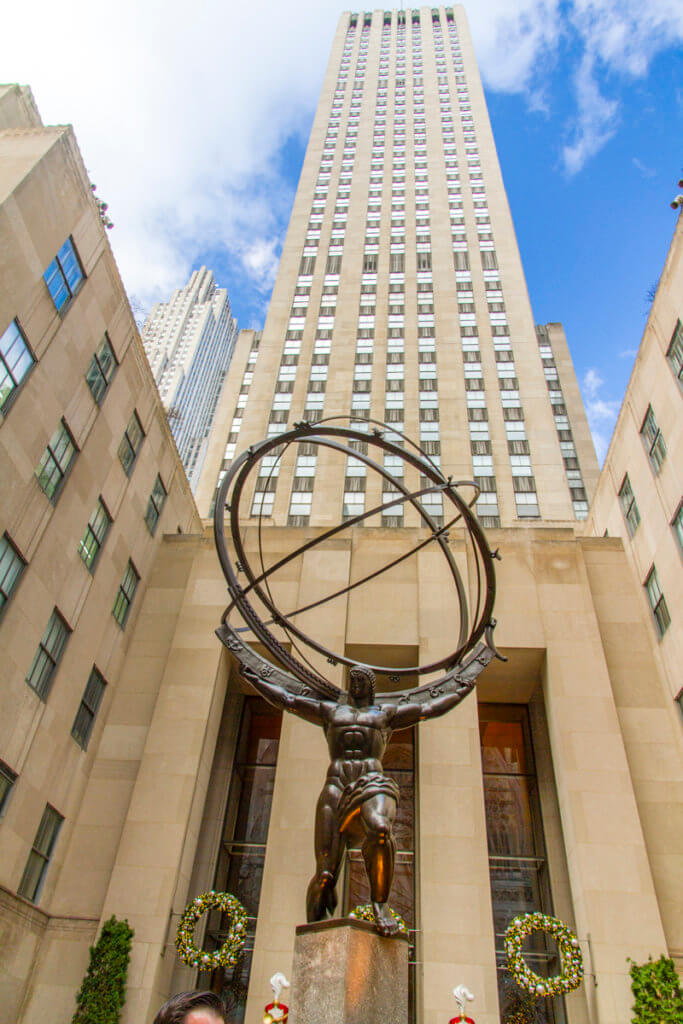 Along the way, we saw the famous statue at the Rockefeller Center,
the circus that is Trump Tower,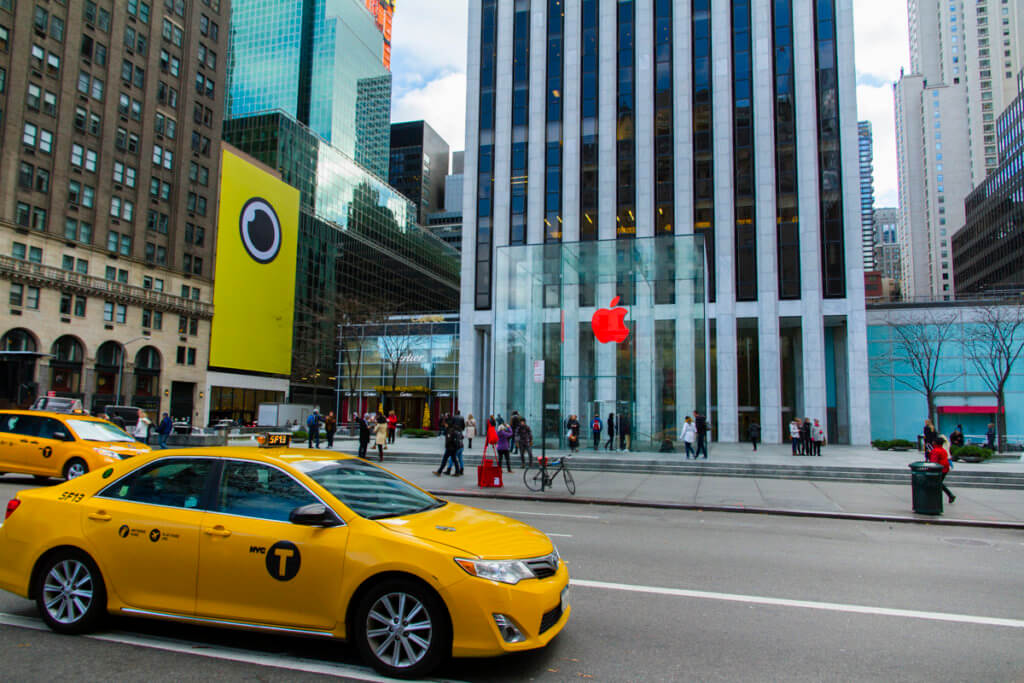 the iconic 5th Ave. Apple Store (decked out for Product Red),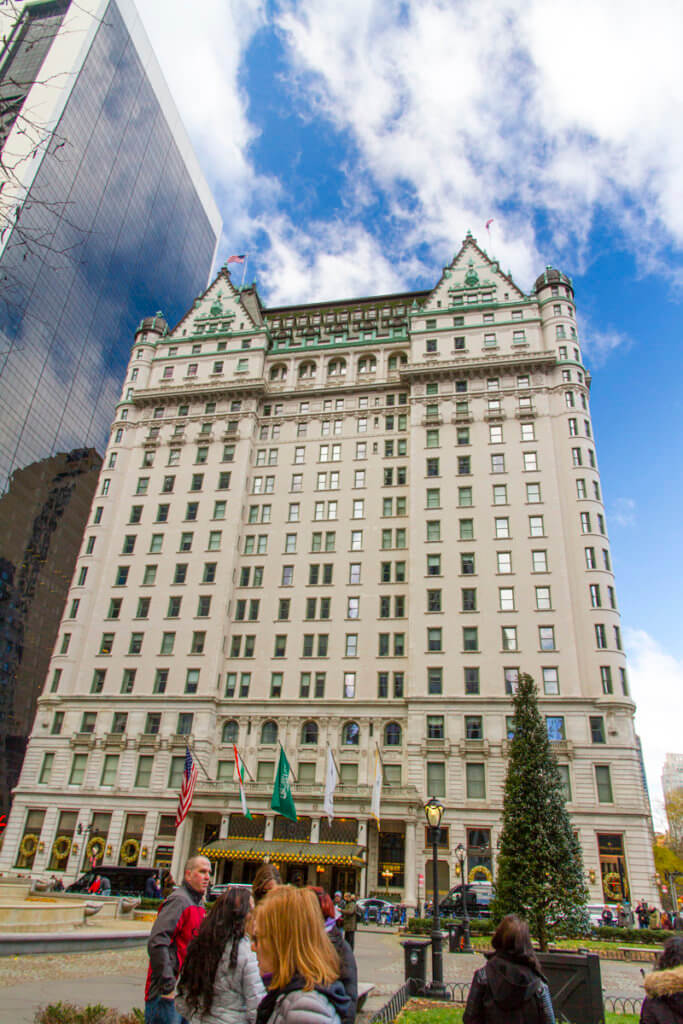 And the famous Plaza Hotel (anyone remember Home Alone 2: Lost in New York?).
Instead of heading into Central Park, we actually turned left right before the park and headed to Marea for some lunch, but I'll cover that in a separate post.
Central Park
After an amazing lunch at Michael White's Marea, the wife and I decided to burn a few calories by taking a little stroll through Central Park.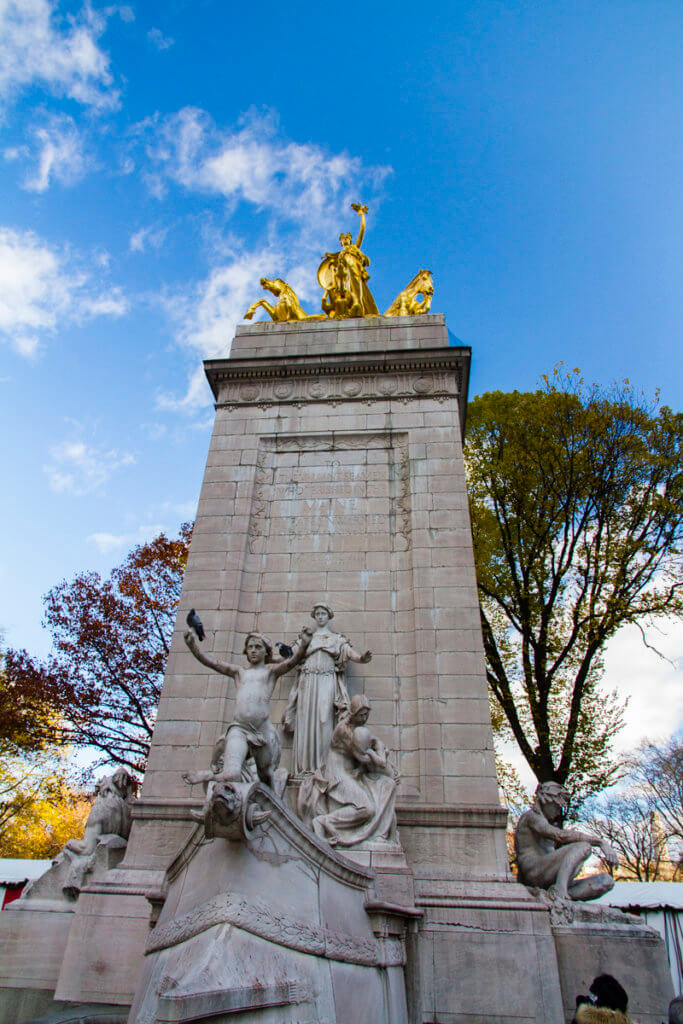 We were on the South West side of the park, where there was a little holiday village setup.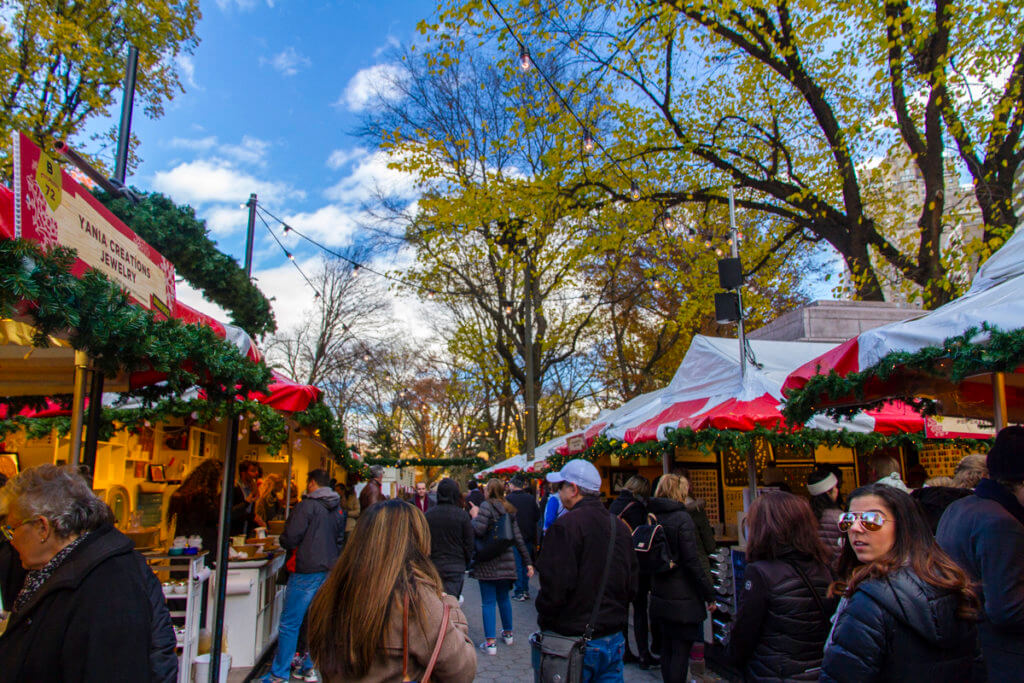 It was interesting to see all of the products and crafts being sold in the market, but we ultimately didn't buy anything.
Because we didn't really know what to see in the park, our feet were getting tired, and we were on a little bit of a timeframe, we stayed entirely on the southern end of the park.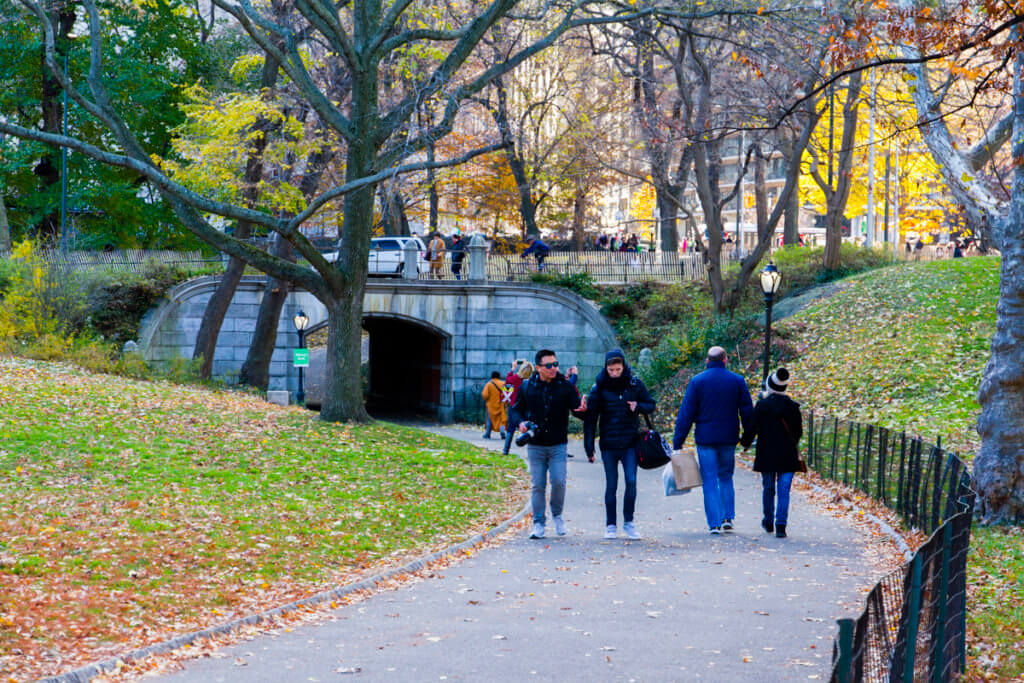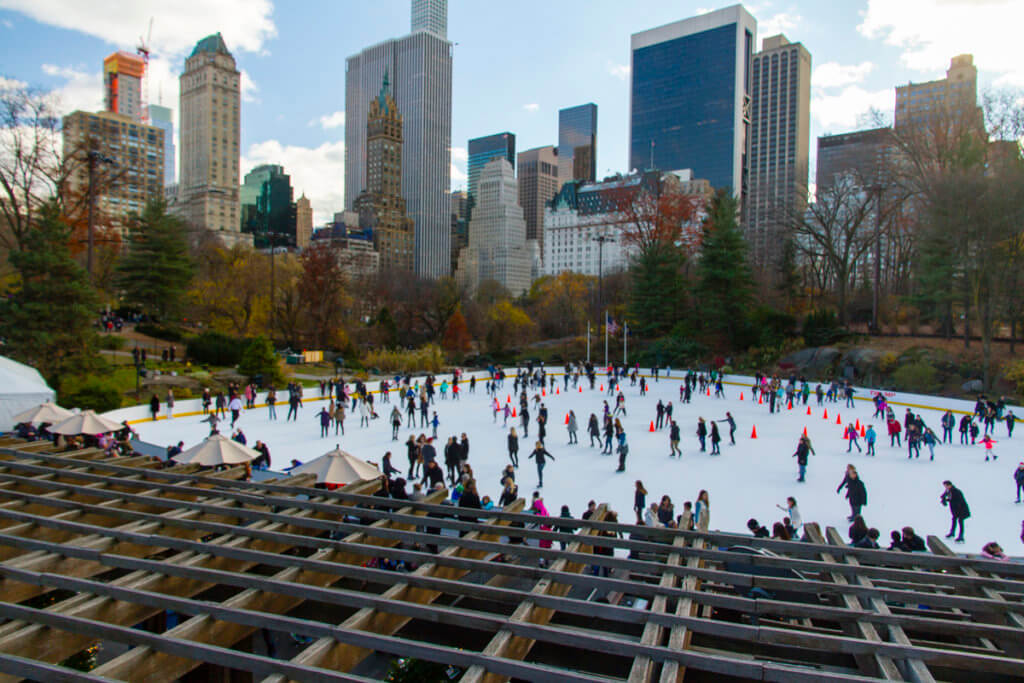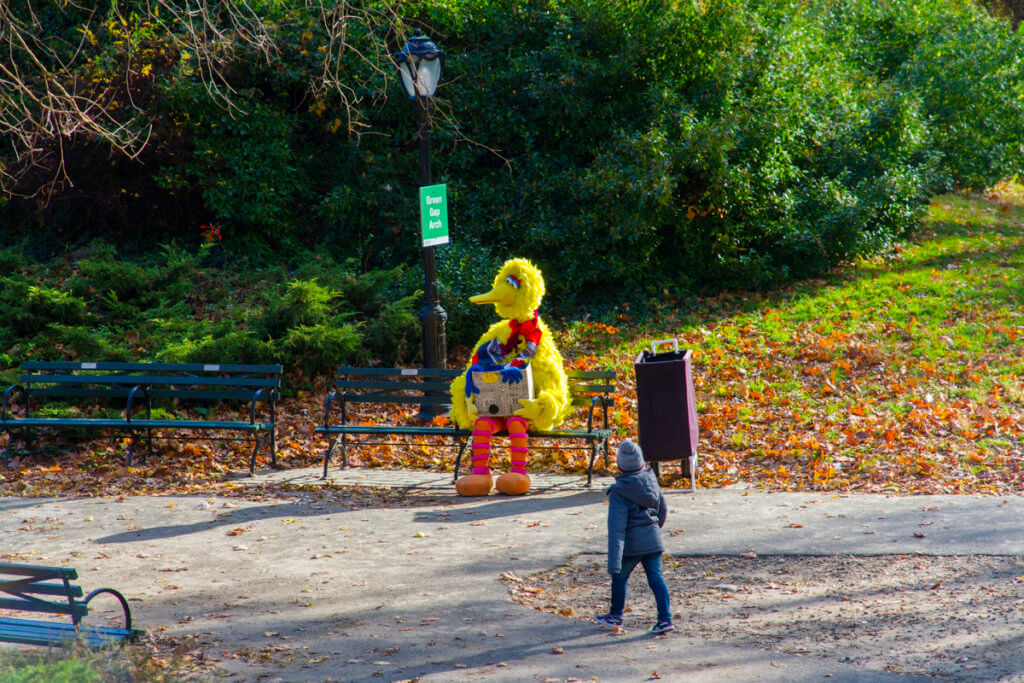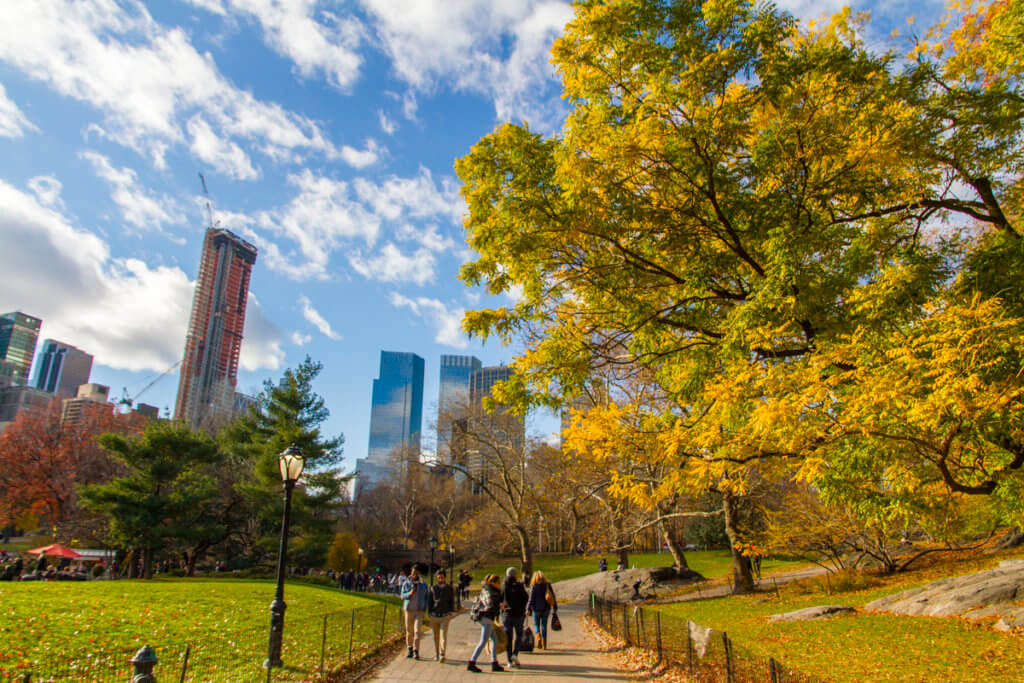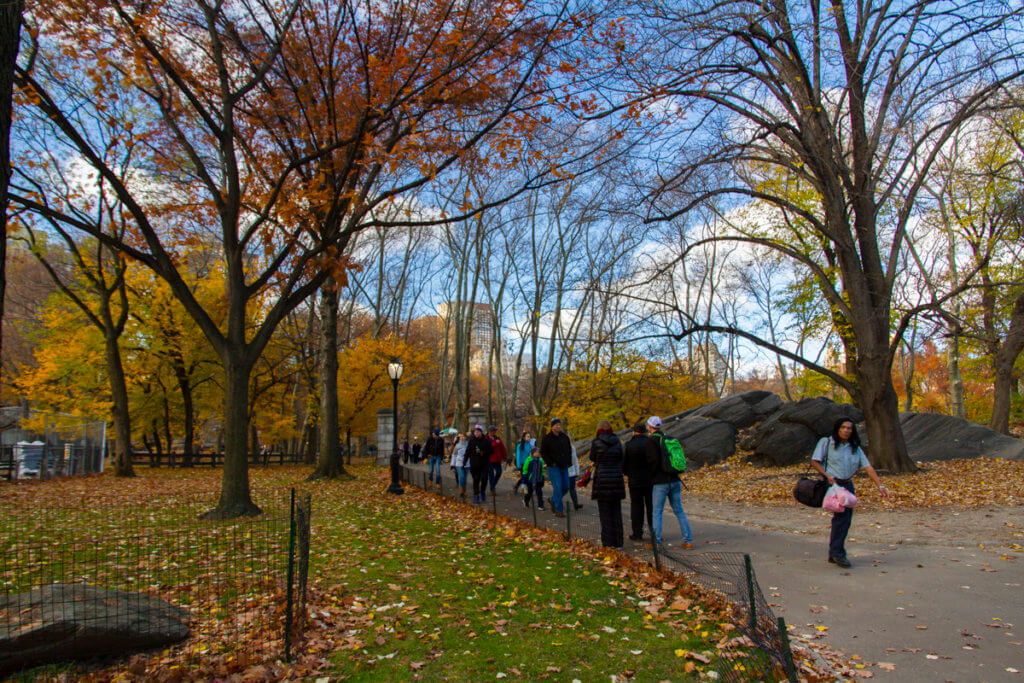 Central Park is beautiful during autumn, I just love those earthy colors and the crispy, cool air.  We're from Hawaii, so fall colors definitely is a treat for us!  Oh, and we have no squirrels at home either, so, yeah.  You can always spot visitors from Hawaii watching the squirrels lol.
Times Square
Alright, so as much as New Yorkers sneer at the thought of going to Times Square, it's something you just have to do.  This is especially true for a first time visitor.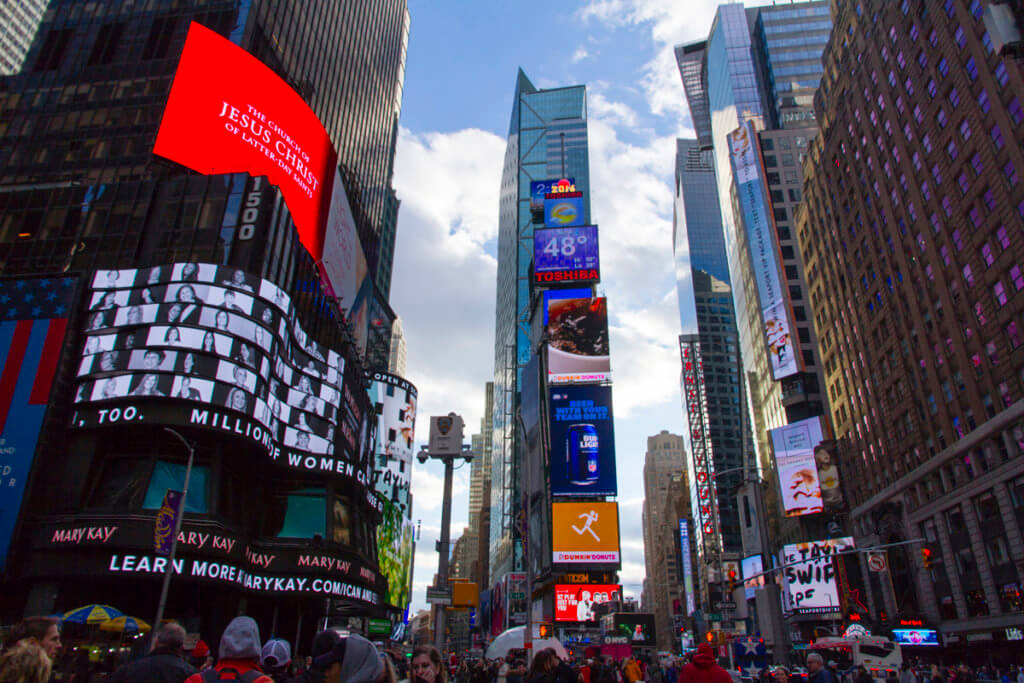 For the record, I would never recommend you spend any amount of serious time in the area, nor would I recommend you dine at any of the chain restaurants here.  It's simply an iconic part of the city you should see at least once.  We did do some shopping at the Disney Store in Times Square, but that's more because there's stuff there we knew we wanted to buy for ourselves and family.  The wife also wanted to see the iconic Toys R Us in Times Square with it's indoor ferris wheel, but the location had closed.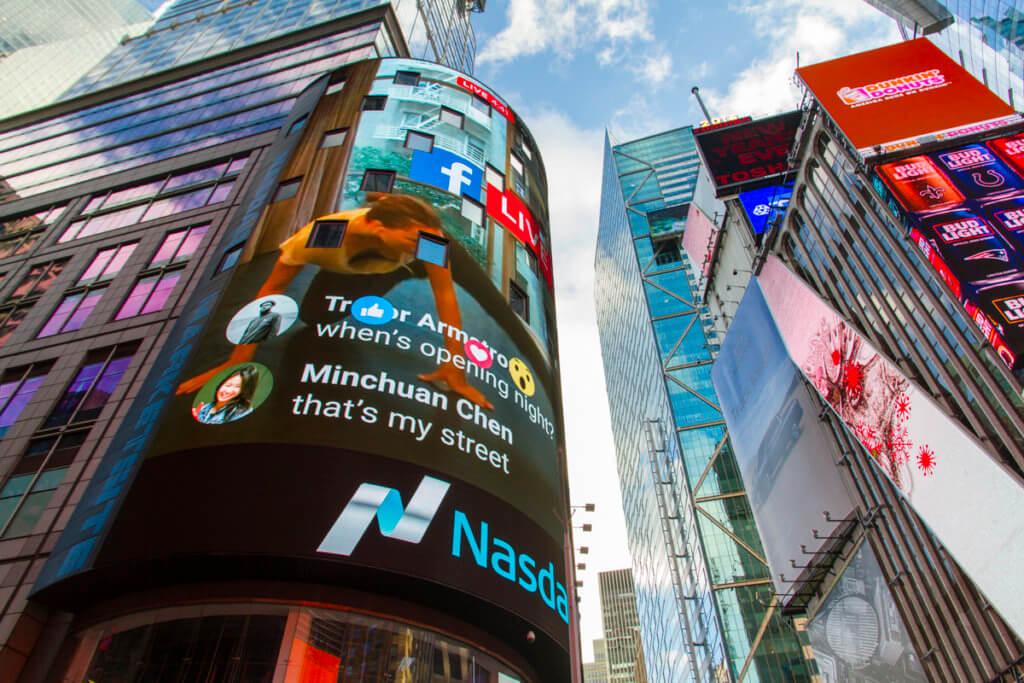 Grand Central Terminal
A New York icon I've always wanted to see, but didn't get to see on my previous visit is Grand Central Terminal.  The over century old train station is, well, grand, beautiful, and ornate.  It's nothing like anything else out there, especially since Penn Station was ruined decades ago.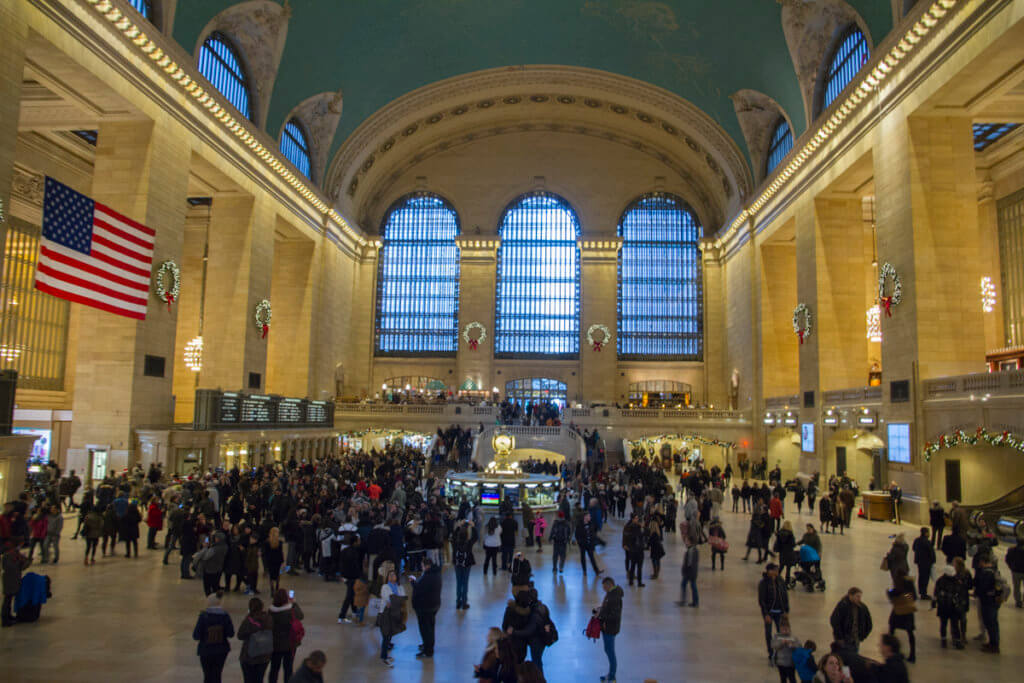 The best place to view the Main Concourse in all it's glory, in my opinion, is from the Apple Store.  And more than a few people seems to have had the same idea too.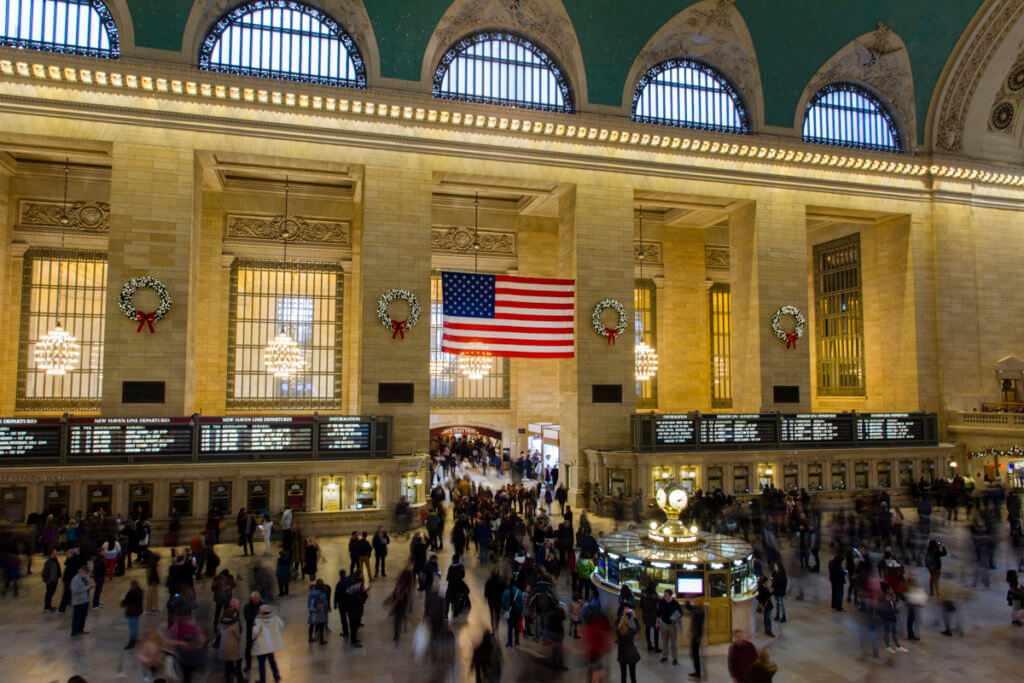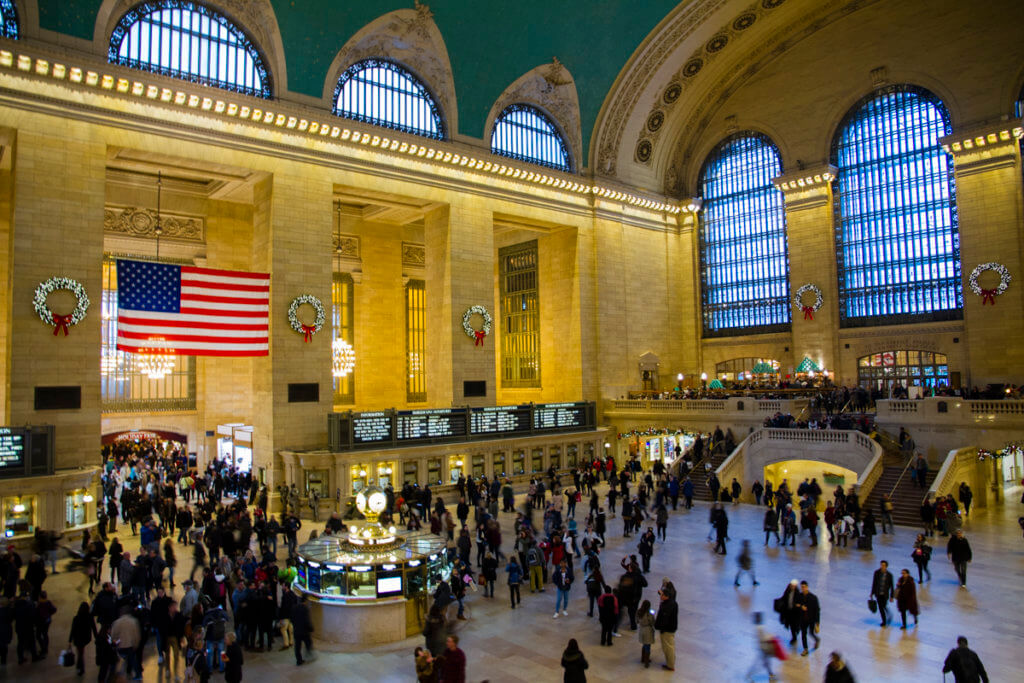 Like Central Park, Grand Central Terminal was also hosting a holiday market in Vanderbilt Hall.  We took a quick stroll through the area, but like Central Park, didn't purchase anything.
Chrysler Building
Another famous New York landmark I missed on my previous visit to the city is the iconic Chrysler Building.  While you can't go to an observation deck or similar visitor facility in the building, I've always wanted to simply appreciate it from the outside.  And being located right outside of Grand Central Terminal, it was a no-brainer to take a look at it now.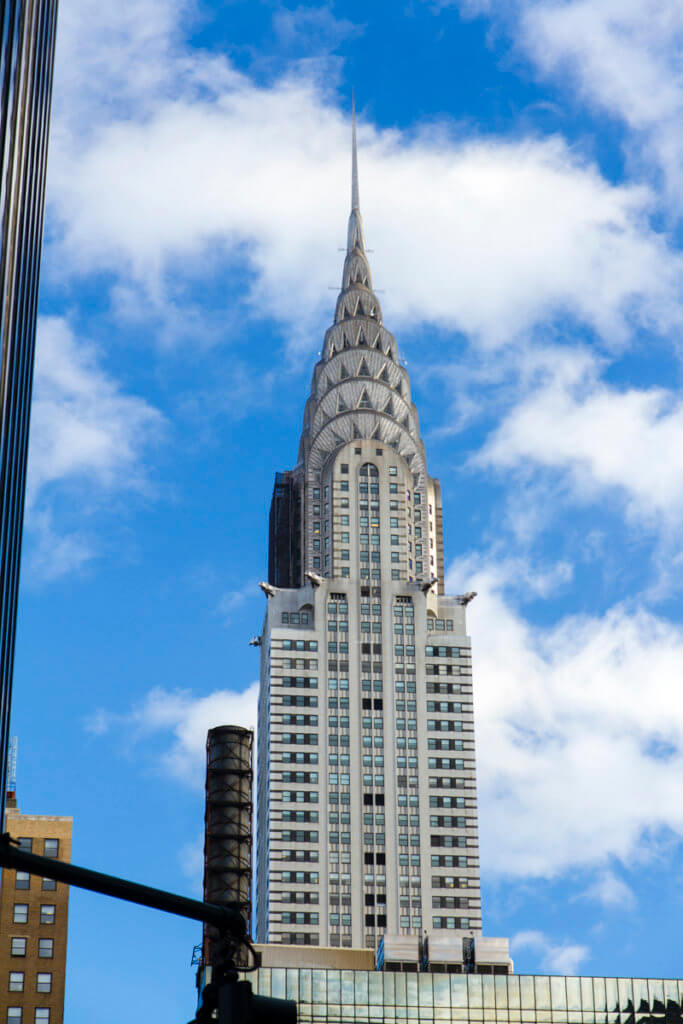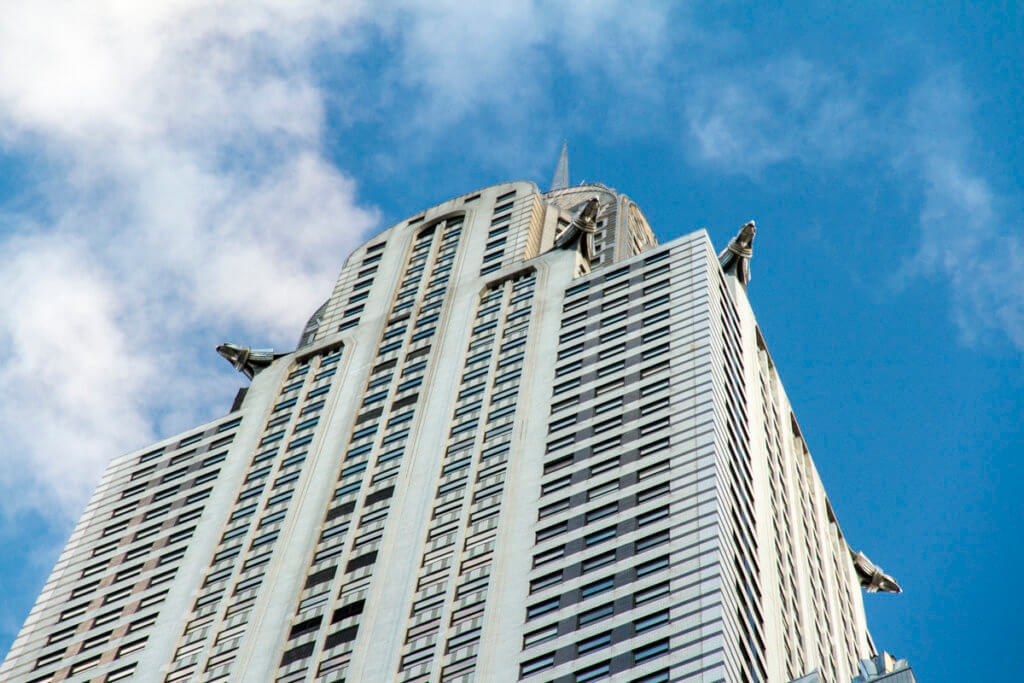 I LOVE the building's classic Art Deco design, and especially the gargoyles jutting out all around.  It's such a unique and defining building in The City, isn't it what you think of when you think of New York?  Well, in addition to the Empire State Building, Rockefeller Center, the Statue of Liberty, and One world Trade Center.
Rockefeller Center + Observation Deck – Night
After taking in the sights around Grand Central, the wife and I headed back to the hotel to get ready for our dinner.  That night we dined at Sushi Nakazawa in the West Village.  But more on that later.
After dinner we headed back uptown to Rockefeller Center once again.  Our goal was to see the iconic tree at night and maybe, just maybe get a picture with it.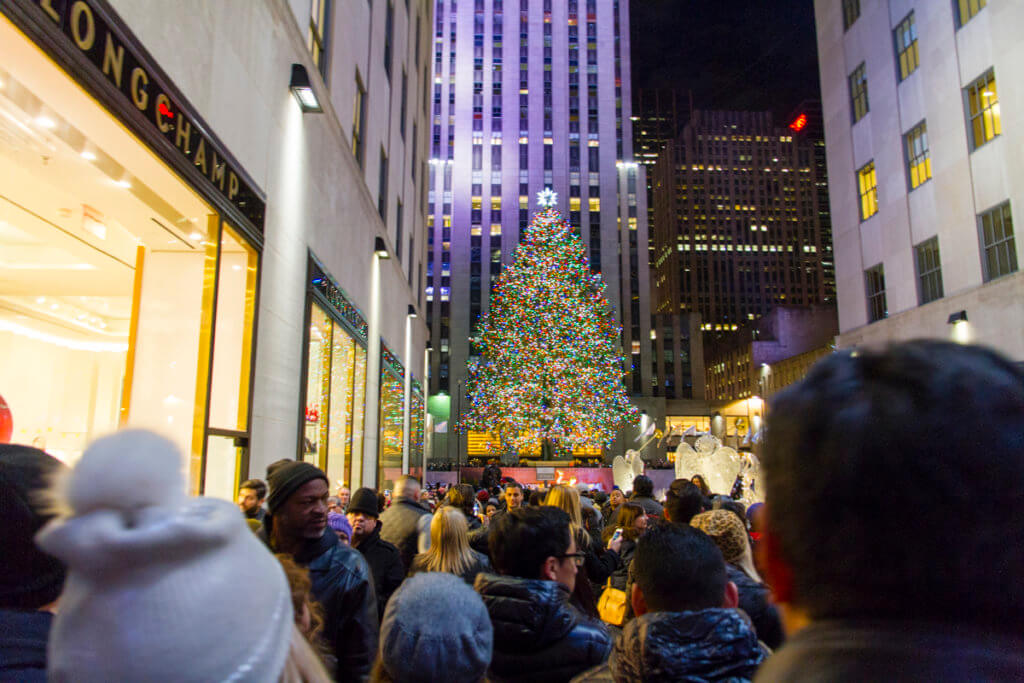 See it we did, but it was a NIGHTMARE.  The crowds were so heavy you could barely move.  The area was simply inundated with people trying to see the tree and Sak's 5th's light display.  It took forever just to get up to the edge of the rink.  And when we did, people were always pushing and shoving to get their picture with the tree.  Luckily we found a break in the crowds and snapped some photos.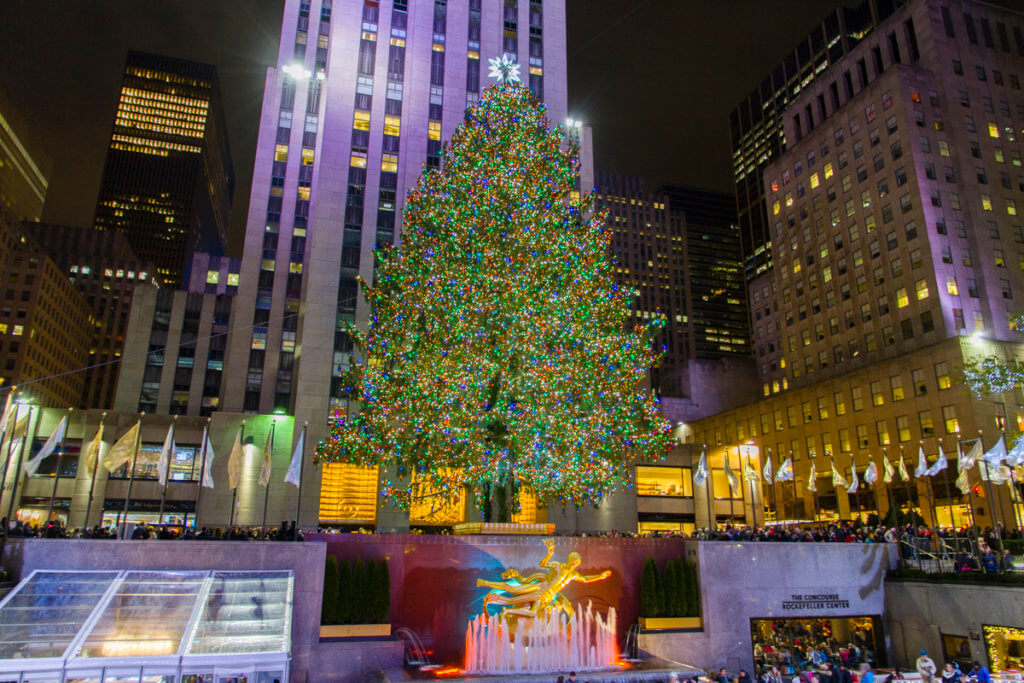 Now, one thing you should NEVER do when traveling is ask someone to take your photo for you… Or let someone do it if they offer.  But you know what?  A couple behind us offered just that in return for taking their photo.  We could barely move and this would be a win-win for us since we'd get a nice photo, and they'd get our spot with a photo too.  So I did it.  And everything went ok, except for my pained expression instead of nice smile thanks to the jerks shoving me during the picture.  The tree is a fantastic sight for sure, but I'm not sure I'd go to see it again… The crowds were just too crazy for me.
To make use of our time, we did go up to the Top of the Rock Observation Deck again.  Yup, since we couldn't upgrade our CityPass to a Sun & Stars pass, we paid another $34/person to go up.  Of course the views were great, but it was COLD.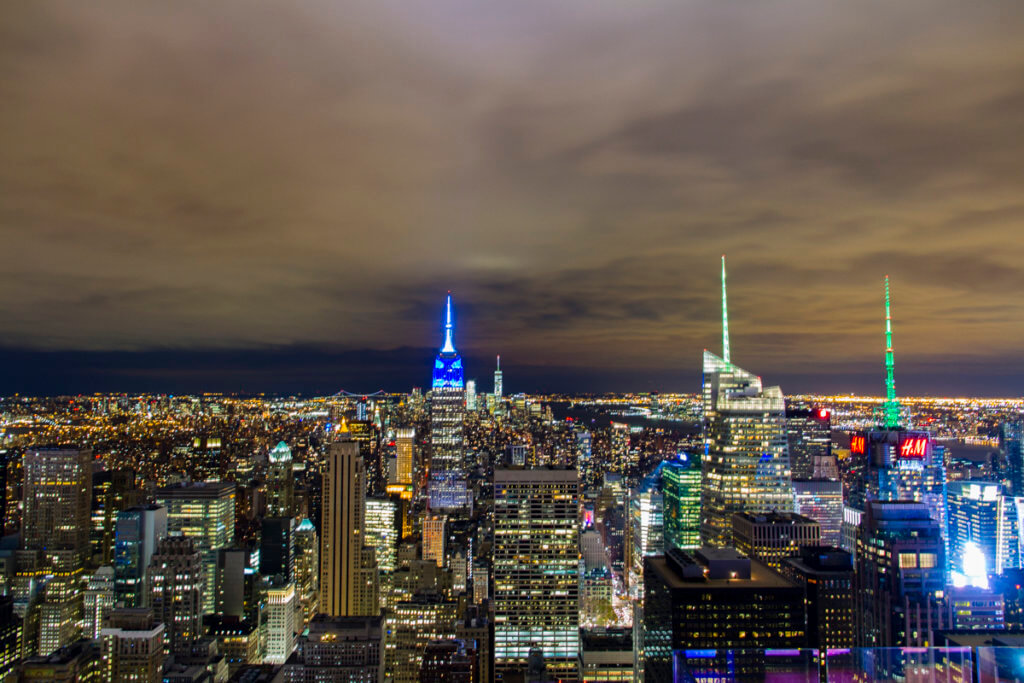 One thing I didn't know, which pissed me off, was the fact that you couldn't have a tripod setup up there.  The security guard told me so after I got the above shot.  And you know what?  It doesn't actually state this anywhere… It says professional photographers aren't allowed up there, but it doesn't say no tripods.  Oh well, now I know, never again at night for photography.  I did manage to get a few more (high ISO) shots in.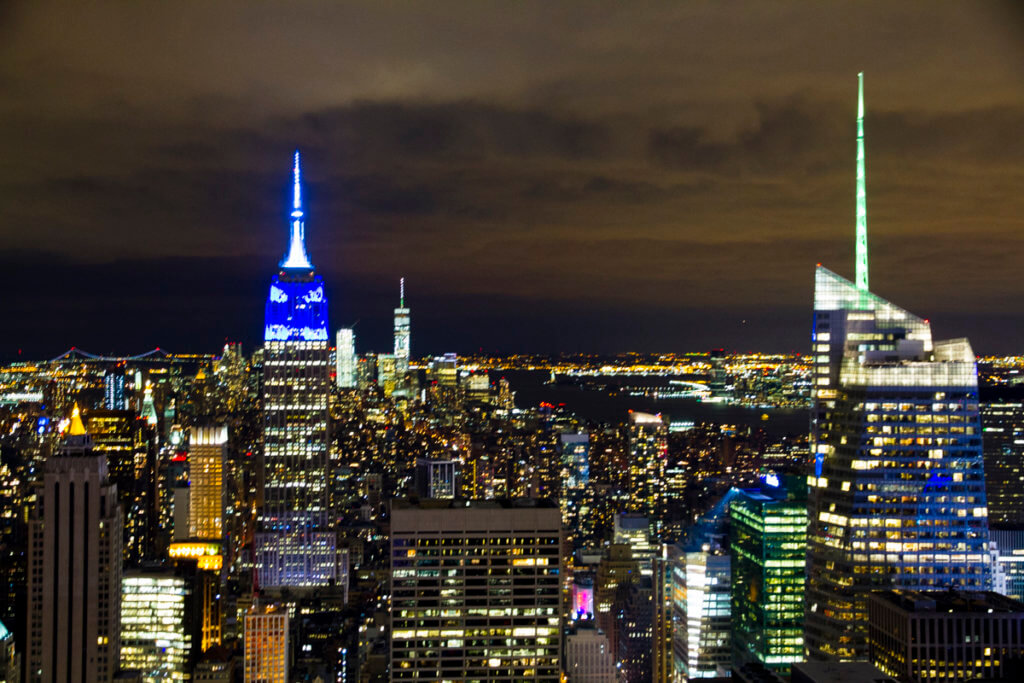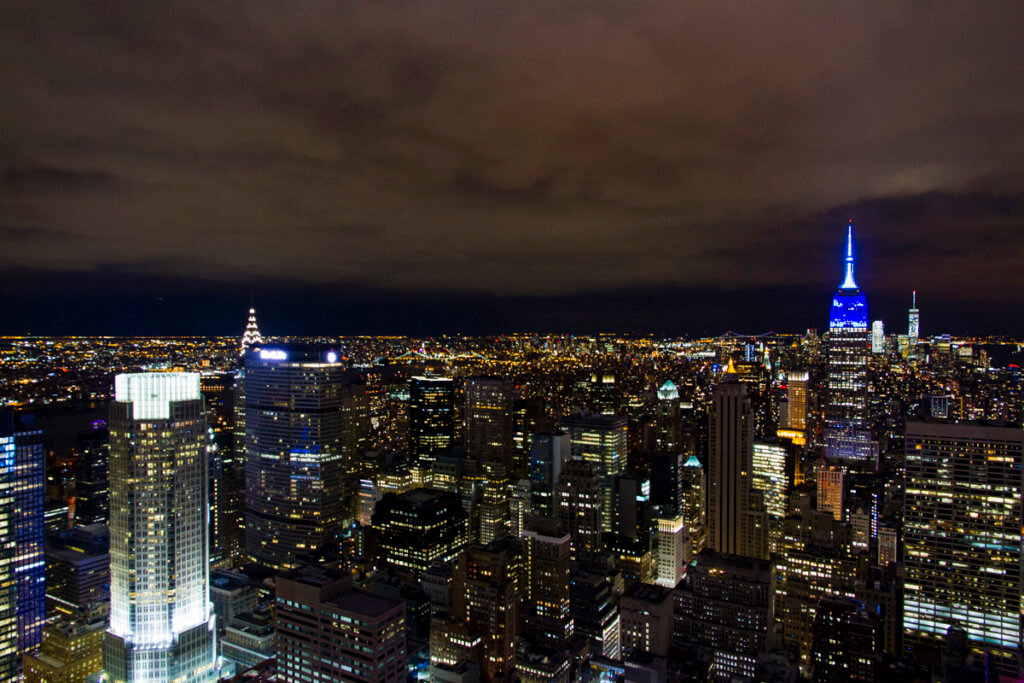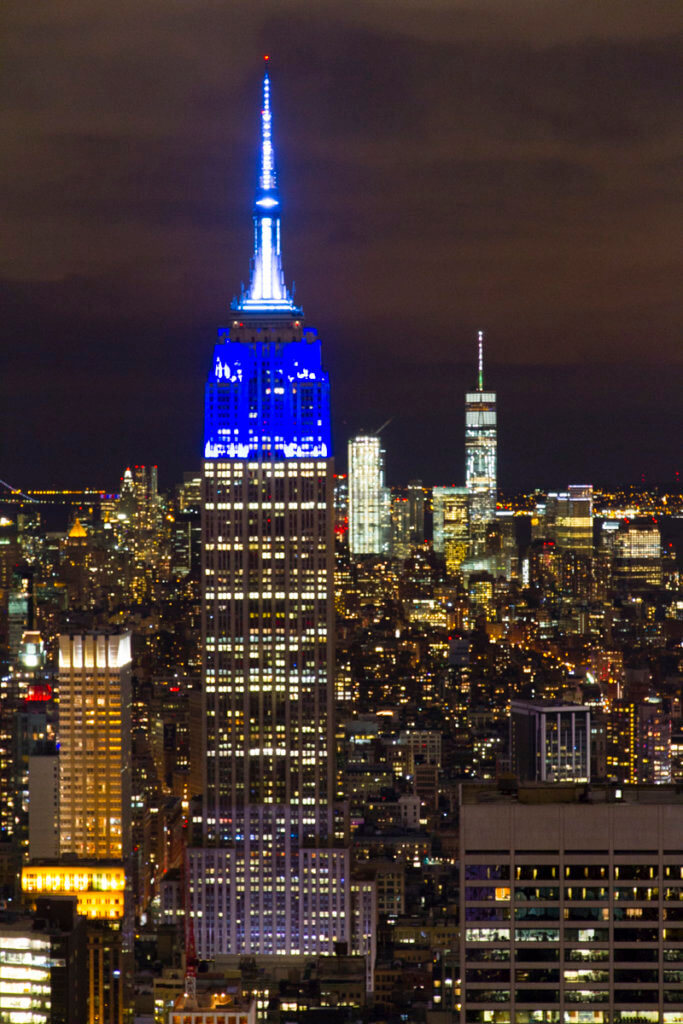 Big Apple Day 2 – Final Thoughts
Our second day in the Big Apple was a VERY busy one.  We actually accomplished a lot that day, all without having a plan really.  On this single day alone we walked about 11 miles and jumped on the subway 6 times… Thank goodness for our 7 day pass!  At the end of the day, we were exhausted, our feet were DYING, but we felt accomplished.  A great first, full day in The City I'd say.
A Big Apple Holiday Adventure
Big Apple Day 2: Rockefeller, Central Park, Times Square