Last updated on January 16th, 2017 at 06:57 am
Before I get into the rest of my trip report, I want to go over CityPass.  For those you that have never heard of it, CityPass is a collection of attraction passes sold at a discounted rate.  The passbook itself usually runs over $100, but the combined value is often a lot lower than the face value of the individual passes.  And this being the wife's first visit to the Big Apple, we opted to purchase the CityPass New York City.
Update:  It has been brought to my attention that I mixed up the Museum of Modern Art and the Metropolitan Museum of Art, so I've corrected this in the post.  Thank you!

How to Use CityPass
Ok, so did the CityPass New York City really save us money?  If you use it in its entirety, CityPass does in fact save you money.  But you really do have to make sure you'll use everything, which is something we didn't do.  In fact, in some cases, we found it better to have not use CityPass, but more on that later.  In the case of New York, CityPass saves you up to 41% off standard admission.  It's available in a variety of cities around the U.S., including New York of course.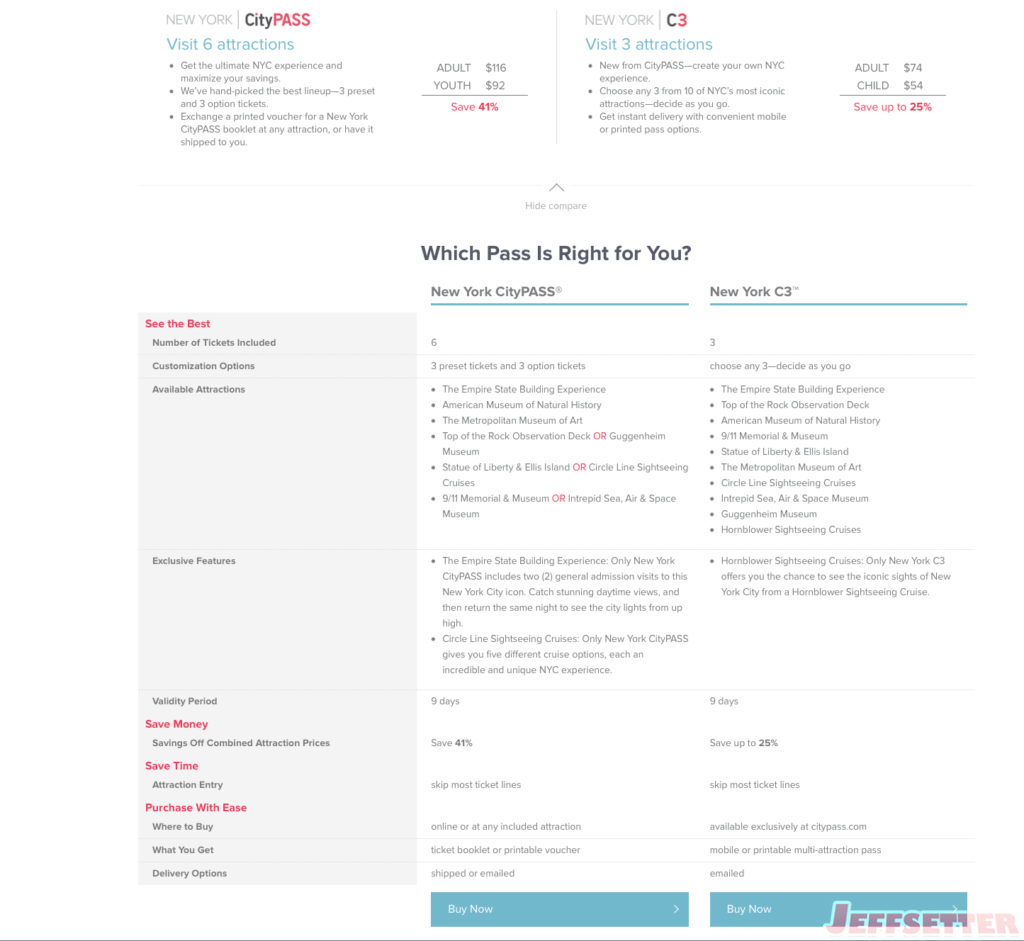 New York's CityPass includes 6 tickets for some of The City's most iconic attractions, including the Empire State Building, the American Museum of Natural History, and the Metropolitan Museum of Art (The Met).  For the three other tickets, though, you'll need to choose between different attractions:
Top of the Rock Observation Deck OR Guggenheim Museum
Statue of Liberty & Ellis Island OR Circle Line Sightseeing Cruise
9/11 Memorial & Museum OR Intrepid Sea Air & Space Museum
When I ordered the pass, I opted for electronic delivery, and simply printed the proof of purchase.  At our first site visit, I had to exchange the proof of purchase for the physical CityPass book.  You can have the book mailed to your home too, but it takes longer and may carry an additional fee.
After obtaining your book from your first attraction, you simply tear out the coupons for the attraction you're visiting and present them at the window.  In some cases there will be dedicated lines for CityPass holders, and in some cases there aren't.  There's also inconsistencies on whether or not each of the attractions will issue another ticket or not.
Our Value
Of the available passes, the wife and I used the following:
American Museum of Natural History ($35)
Top of the Rock Observation Deck ($34) +$15
Statue of Liberty & Ellis Island ($18.50)
9/11 Memorial & Museum ($24)
So we really used four of the six passes at a total face value of $111.50.  So we fell short of the $116 we paid for each of our CityPasses.  Further, we really wanted to visit Top of the Rock during the day and at night, so we ended up purchasing additional tickets.  Without the CityPass you can actually pay $49 for a "Sun & Stars" pass giving you two entries during a given day.
Ironically, CityPass does give a two-for-one deal like the "Sun & Stars" pass at the Empire State Building.  The only caveat there is you can only visit the 86th floor, while other passes are available to visit the 102nd floor too.  Had we visited the Empire State Building and The Met, though, the total face value of our tickets would have been $170.50.  Or, if you include dual entry privilege of the Empire State Building, the total would have been $204.50.  So at straight face value, if we had used all of our CityPass New York City passes, our total savings would have been 32%.  This is 9% lower than the 41% savings CityPass advertises.
Maximizing Your Value
Admittedly, the 3 options you have to choose from vary greatly in value.  For example the Circle Line Sightseeing Tour is valued at about $29 to $42, depending on the route you choose.  The Guggenheim and the Intrepid are valued at $25 and $26, respectively.  So if you focus on just value, the maximum face value of your visits could be $196, which translates to a 41% savings.  Doing this would mean the tickets you'd have to use are:
Empire State Building
The Met
American Museum of Natural History
Circle Line Sightseeing Tour
Intrepid Air Sea & Space Museum
Top of the Rock
A Cheaper Option
If you'd still like to save with a CityPass, but don't want to have to visit six attractions, CityPass does offer the C3 Pass.  With C3 you simply choose 3 of attractions from the CityPass list (plus Hornblower Sightseeing Cruise) as you you go.  C3 costs $74, which savings up to 25%, again depending on which attractions you choose.
Final Thoughts
CityPass didn't work for us.  The wife and I didn't want to visit The Met or the Empire State Building, so that was already a huge loss in value.   Plus, the inability to buy the Sun & Stars pas at the Top of the Rock meant we had to spend even MORE money.  If I had done my homework and ran some simple numbers, I probably would have figured this out ahead of time.  So, it would have been better for us to not buy CityPass on this visit.  Whether CityPass is right for you or not, however, depends on what you'd like to see and do.
A Big Apple Holiday Adventure
CityPass New York City