Last updated on June 15th, 2023 at 06:14 am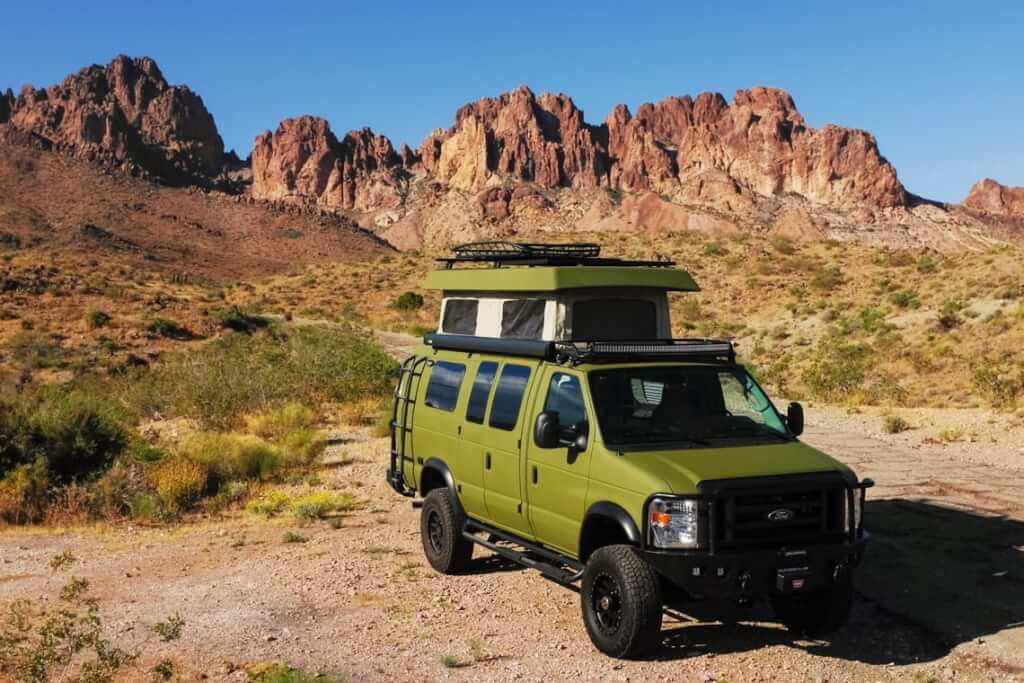 All of our reviews are based on exhaustive research, industry experience, and whenever possible, hands-on testing. When you make a purchase using one of our chosen links we'll receive a small percentage of the proceeds. This supports the site and keeps Jeffsetter running. You can read more here.
Sometimes it can feel like RV'ing just isn't an activity for tall people. Especially if you're looking to go for smaller RVs like a Class B, as many really aren't that tall!
But it doesn't have to be that way!
One of my close friends is 6'6″ and he wants to enjoy the joy of RV'ing in a Class B rig, without having to wear a helmet or get a guaranteed back problem by being slouched 100% of the time. So I decided to research the best class B options for tall people, and review not just the headroom available but also the size of the bed!
Based on my research, I believe the best Class B RV for most tall people (at least those under 6′ 6″) is the Pleasure-Way Ontour.
But let's dig a little deeper into everything we considered to come to this conclusion.
What's Considered Tall?
Tall is of course relative, so the first thing we need to consider is what's tall? When doing my research, I had my 6'6″ friend in mind, which by most standards would be considered very tall, but in the NBA that's about average!
According to Wikipedia the average man in the United States is 5′ 9″ so it's safe to say that anything over 6 feet would be considered tall. But we'll be looking at each RV from the perspective of not just the tall, but also the very tall so anyone between 6 feet and 7 feet should be able to find what they're looking for.
What Makes A Class B RV Good For Tall People?
We also need to make sure we're on the same page for what actually makes a Class B RV good for tall people. The most obvious consideration is interior height, and while that's probably the most important factor, the length of the bed is just as critical. After all, what good is a 7-foot ceiling if you've got a bed that's five and a half feet long?
Unfortunately, it's pretty common to see relatively high ceilings but a bed that's only about 6 feet in length. So while there are certainly Class B RVs that can accommodate a taller person's need for more headroom, it's going to be difficult to get a bed that's the right length.
The other common problem tall people will run into is that while the main cabin of the RV might be tall-friendly, other parts of the RV, most commonly the bathroom, aren't. While this might be a compromise some tall people are willing to deal with, I'll be sure to point this out.
I'll be looking at the entire picture of each RV including bed length, interior height (across the entire rig), and the size of the driving area, so let's see what class B RVs for tall explorers I've found, along with some unique bedrooms!
Best Class B RVs For Tall People
I've got 5 of the best Class B RVs for the tall folks of the world along with a quick review of each. If you want a sneak peek at the list you can see all our selections here, but keep scrolling to check out the full reviews!
Best Overall: Pleasure-Way Ontour
Best For Super Tall People (Above 6′ 4″): Regency RV National Traveler
Premium Pick: Airstream Atlas
Best For The Tall Adventurer: Sportsmobile 4×4 Classic
Best For The Adventurer Under 6′ 3″: Winnebago Revel
Best Overall: Pleasure-Way Ontour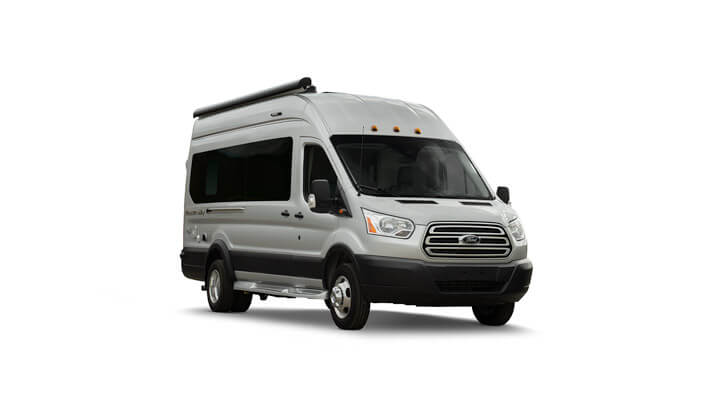 Interior Height: 6'6″
Bed Length: 79″
MSRP: $174,200 USD
Exterior Length: 21′ 10″
Exterior Height: 10′
For most taller folks the Pleasure-Way Ontour is a clear winner when it comes to the best overall RV for tall folks. Pleasure-Way has been in the RV business for more than 40 years and they could be considered Class B specialists. In fact, all they make are Class B's, and they have a long reputation for producing quality rigs.
At just under 22 feet long, the Pleasure-Way Ontour drives like a pickup truck but has a surprising amount of headroom with a ceiling height of 6′ 6″. Even better, the bathroom maintains this height and also has a clearance of well over 6 feet. The bathroom features a two-piece wet bath which means it's missing a sink, but this gives the bathroom a lot more room overall which is critical in an RV this small.
I wouldn't be the happiest having to brush my teeth in the kitchen sink, but when space is at a premium, does it make sense to have multiple sinks in less than 22 feet? Personally, I think this change could grow on me, and is a big plus for the big and tall of the world.
The seating area features a moveable table that we see in most Please-Way RVs and I've heard nothing but good things about these tables. Unlike other RVs where the tables tend to break or become wobbly after a few weeks, Please-Way makes quality and versatile tables, so the whole family can get together at mealtime.
Then there's the bed. Pleasure-Way did a great job keeping the entire rig tall-friendly, and so I absolutely adore the exceptionally long 79-inch bed – it's only a couple of inches shorter than a standard king-size bed!
Finally, with an MSRP of $174,200 USD, it's not the most inexpensive RV, but it's certainly not unreasonable when it comes to the more expensive Class B RVs.
Best Luxury Option: Regency Ultra Brougham 25UL
Interior Height: 6′ 3″
Bed Length: 6′
Price Range: $218,755
Exterior Length: 25′ 1″
Exterior Height: 10′ 6″
Coming in at a close second to the best overall luxury pick, the Ultra Brougham 25UL. Regency RV certainly isn't the biggest name in the RV space, and compared to companies like Airstream, they're relatively new to the market. But the Ultra Brougham has several floorplan options and a bed set-up in the 25UL plan that's a dream for taller folks.
The total interior height of the RV is 6′ 3″ which is considerably roomy, but maybe not the answer for the very tall. A standout feature for me in the Ultra Brougham is the U-lounge that easily seats 6, and comfortably sleeps 2, even if they are tall, as the lounge converts into a king-size bed! The high-end finishes such as diamond stitching make this camper a luxurious choice.
I like that this class B isn't too tall resulting in potential problems with clearance, and the entire rig comfortably fits in a standard parking space. So is this the perfect Class B RV for super-tall people? Maybe not, but it's certainly a luxurious choice to keep an eye on if you don't surpass 6'2″!
The bathroom is also sizeable and contains everything an RVer could possibly hope for in a camper bathroom! It contains a full shower, stainless steel sink, hand-crafted cabinetry, and a macerator toilet, making going to the bathroom in an RV a breeze.
When you combine all that with a typical price range of around $218,755 it's easy to see why I've picked this RV as the best luxury option for tall folks and a great runner-up to the best overall option.
Premium Pick: Airstream Atlas

Interior Height: 6'6″
Bed Length: 6′
MSRP: $289,911
Exterior Length: 24′ 9″
Exterior Height: 10′ 6″
Airstream is an American Classic, and their RVs are still being built in Jackson Center, Ohio, to this day. While they're well known for their aluminum trailers, Airstream also produces a variety of Class B RVs. One of the taller options is the Atlas which comes in at an interior height of 6'6″. This is great news for taller travelers, however, I think the bed situation might be an issue.
The Airstream Atlas features a Murphy bed, which although saves space, only measures 73 inches by 73 inches. This comes out to just over 6 feet which would be plenty for my partner and I as we scrape in a little under 6 feet tall, but others measuring considerably taller may find it uncomfortable.
If you're around 6'4″, you're probably already used to your feet hanging off the bed! Luckily, the Atlas does have some room for this if you sleep side to side instead of front to back. So while this bed will work, it's not going to be a perfect fit. On the other hand, the bathroom in this larger Class B is great and very tall-friendly. It doesn't have the drop in height that I've seen in many other rigs, as shown in this detailed walkthrough video of the Airstream Atlas:
Overall, it's wide enough to allow for a decent wingspan too, and I think the Airstream Atlas makes a solid option for folks around 6′ to 6 4″. Once you hit 6'5″, though, you're going to be pushing it, and shoes could push you over the clearance. I think the bed size could potentially be a dealbreaker for particularly tall individuals, so this is something worth giving some thought to.
Also, the Airstream Atlas is one of the more expensive Class B RVs on the market with an MSRP of $289,911. That's why I had to put this as our premium pick for the folks that want tall-friendly luxury, no matter the price.
Best For The Tall Adventurer: Sportsmobile 4×4 Classic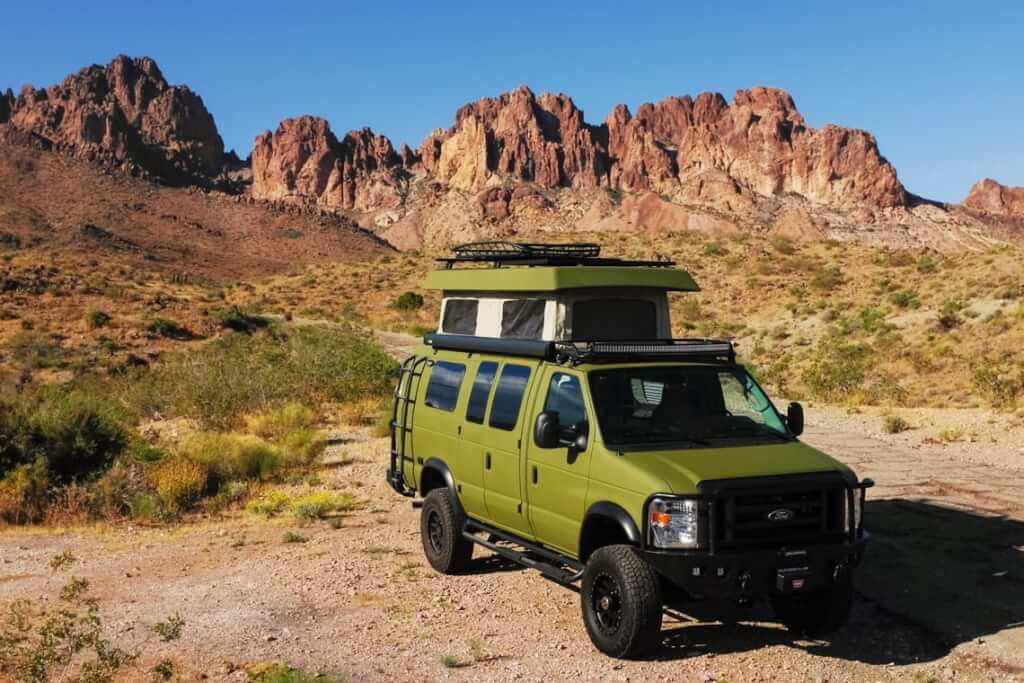 Interior Height: Roughly 7′ 10″
Bed Length: N/A
MSRP: $175,000 to $225,000
Exterior Length: 19′ 3.9″
Exterior Height: 7′ 10″
Sportsmobile is one of a handful of companies that create almost 100 customizable conversion vans for RVers that know exactly what they want. This is might impressive, but also makes it a bit hard to pin down the exact specs for any of these rigs, since it truly depends on the preferences of the individual buyer!
Built on a Ford Econoline cutaway chassis, the Sportsmoble 4X4 Classic features a huge pop-up roof they appropriately call the penthouse. I always think that RVs need to be strong and durable from the bare bones, so the Ford chassis is a great robust choice, ideal for heading off-grid to remote locations in the wild.
Fully extended, the penthouse brings the overall height of the rig to 7′ 10″, with an interior height that's not much shorter, making this a great class B RV for tall people. But that's not all the Sportsmoblile brings to the table. It's a rig ready to take on tough terrain, which is perfect for me as I prefer to head off into the wilderness than park up at a campsite and not move for 2 or 3 days.
This vehicle is an awesome off-grid, adventure RV, as it features a heavily modified Ford chassis that's been converted to a 4×4 vehicle. Because Ford doesn't actually make a 4×4 Econoline, this is all done aftermarket by Sportsmobile. They also add several other features to make this rig offroad ready like custom Fox suspension and additional tire clearance, so I know I'm covered even on the bumpiest, rockiest tracks.
With extensive solar support, this RV can go off-grid for weeks at a time without any problems. But it won't exactly be a luxury experience since the rig doesn't have a standard bathroom. Instead, there's space for a mobile porta-potty, but I think it may be best to go au natural and dig a hole, as there's nowhere to empty a chemical toilet out in the wild!
I love that the backdoors open up to create a nice shower space, but I'm not sure I would get much use out of this setup if I was camping with others, as there's not much privacy! The penthouse is surprisingly big and can open up to greatly extend the interior ceiling giving even the tallest folks plenty of room. While this isn't ideal stealth camping, I don't think it's an issue for wild camping or boondocking. The extra ceiling also reveals an additional second bed so this rig can sleep more than most Class B RVs.
The bed length is unclear and I wasn't able to find any specifics online. I did reach out to Sportsmobile to get an answer but I'm still waiting on the reply. That being said, it's important to note that Sportsmobile has built its brand on custom solution RVs. I have a strong feeling they would be able to create a custom extra-long bed for taller explorers without much hassle at all.
Because these RVs are custom-built, it also means that pinning down a price can be difficult since it can vary so much based on the available options. Sportsmobile explains the typical range for these adventure van RVs range from $175,000 to $225,000. This is a higher-end RV, and some folks will have a hard time paying that much for an adventure van that doesn't actually feature a bathroom.
But if want a durable Class B RV that can give you plenty of headroom and handle difficult terrain then this is it. But if you're not super tall (under 6'3″) and want an adventure van at a slightly cheaper price, check out our next option.
Best For The Adventurer Under 6′ 3″: Winnebago Revel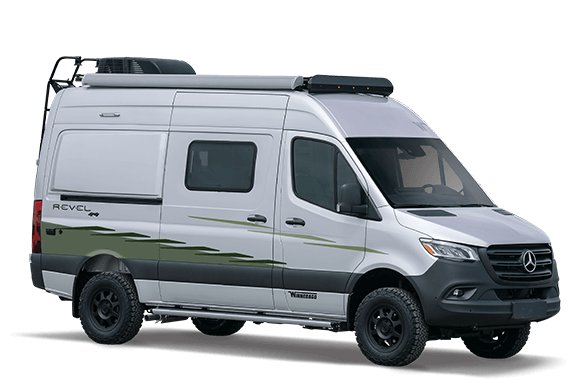 Interior Height: 6'3″
Bed Length: 6'4″
MSRP: $210,292
Exterior Length: 19'7″
Exterior Height: 10"
Built on the Mercedes-Benz Sprinter Chassis, the Winnebago Revel is a 4×4 Class B RV that drives more like a truck than a home on wheels. While this isn't the right RV for the super tall person, if you're around 6′ tall then this RV will still have plenty of headroom, while giving you everything you could want in an adventure van. So if you liked the Sportsmobile RV but you don't need a 7′ 10″ penthouse extension then keep reading!
The Revel is designed to be an adventure van for people who want to hike, bike, climb, and ride! The diesel heating system is a bit more reliable, and certainly more available than traditional propane-based systems. Having a dependable heating source is paramount for me in my rig as I travel throughout all four seasons. I have a log burner in my camper, but my backup heat source is a diesel heater, and it has saved me on rainy days when foraged wood is a bit too wet to burn!
One of the most unique features of the Revel, and the thing that sets it apart from other adventure vans, is the bed. It can be raised to almost be flush with the ceiling – no, I'm not joking! This equates to a ton of space inside the cabin to store just about anything I think I'd ever need on the road. There are even built-in tie-downs that are perfect for bringing a bike on camping trips.
But that's not the only special feature of the bed in this Winnebago. It's also a lot longer than I'd expect thanks to some well-placed bump-outs resulting in the overall size being an impressive 6'4″. This means I'd be sleeping lengthways in this rig, allowing me to take full advantage of the bump-outs. This is one of the only RVs I've ever seen with a bed that's longer than the actual ceiling clearance!
Unlike the Sportsmobile Classic, this RV has a proper wet bathroom also doubling as extra storage space. I don't see many RVs trying to take advantage of the storage opportunity within the bathroom, and as storage is always useful in a rig, I like the use of this area. It's also 4×4 ready and even though we have two vehicles on this list with 4-wheel drive, it's actually pretty uncommon to see in an RV!
There really is a lot to like about the Winnebago Revel, and even though it has a relatively "short" clearance of 6′ 3″, I think it still deserves a spot on this list. Besides the less-than-expectation headroom, the Revel may be out of the price range for some adventurers, with a hefty MSRP of $210,292.
If you're tall (but not super tall) and you're looking for a rig able to handle any kind of adventure, this might be the ideal RV for you.
Should You Go For A Popup Ceiling?
It's something that any tall RVer has to consider…but does a popup ceiling on a camper actually make sense for you?
Like most things in the world of RVs, it totally depends on you and how you plan on using your RV.
If you plan on staying in urban areas or even living in your RV full time, then a popup option might not make sense for you. That's because you're not always going to be able to actually leave your RV and hang out outdoors. If you're going the urban route, you might need to stealth camp occasionally, and although you can lock your doors and take security measures, a popup top is really anything but stealthy!
But if you're going to spend most of your time boondocking there's no problem with a popup roof for the extra headroom. In fact, it might make for the best option since you won't need to keep a low profile.
The last consideration is how tall you really are. If your ceiling only goes to shoulder height without the roof popped up then it just doesn't make sense. But if you only need a few more inches of headroom then a popup ceiling might be perfect.
Should You Go For A Custom Built Class B?
The other big consideration is whether or not you should go custom.
There are many companies that specialize in producing custom Class B RV's but it's not going to be cheap. Still, if you're already investing in an RV it might make sense to pay the extra amount and go all the way!
If you're over 6′ 5″ tall then custom options can start to look really appealing as it's more than the headroom you're dealing with. At that height, you're also going to be dealing with short beds, counters, and sinks.
The other factor is how you plan on using your RV. If you're going to live full-time for a few years then the custom option makes a lot of sense. But if you're using your rig a few months out of the year and maybe renting it the rest of the time, then paying to elevate every surface in the RV probably doesn't make sense.
Closing Thoughts
The fact is, even if you're tall (like very tall) you can still find a Class B RV that works for you! Tall folks don't have to be excluded from the joys of RV living! Choosing a rig able to comfortably accommodate taller individuals, will help avoid any regrets further down the line when you could experience negative results from having bad posture in a low RV.
Let me know what you think, and if there's a tall-friendly Class B I missed, let me know in the comments below!