Last updated on April 20th, 2022 at 03:02 pm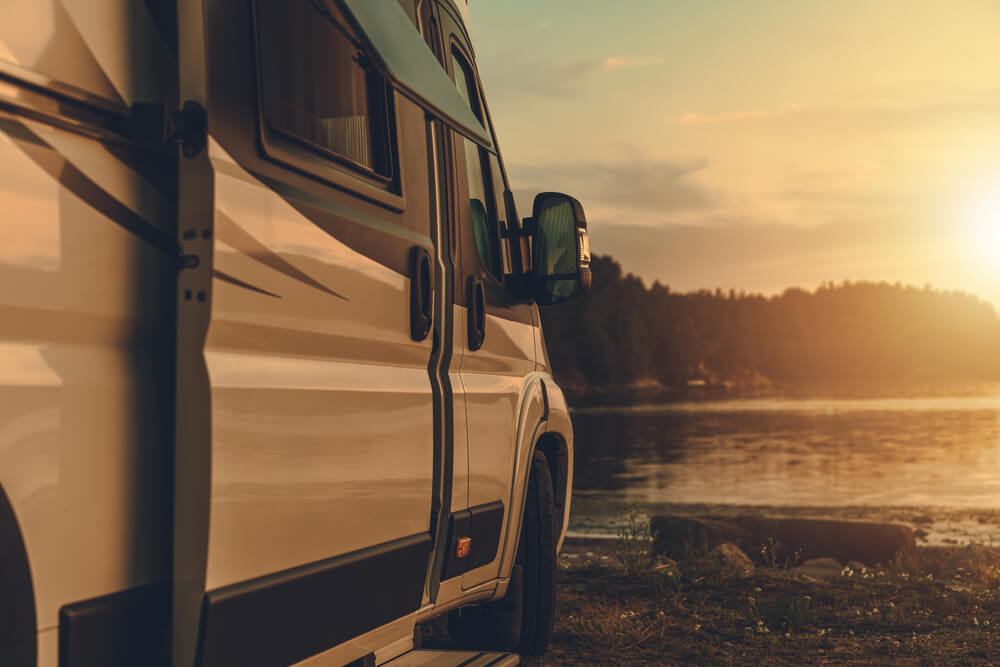 All of our reviews are based on exhaustive research, industry experience and whenever possible, hands-on testing. When you make a purchase using one of our chosen links we'll a small percentage of the proceeds. This supports the site and keeps Jeffsetter running. You can read more here.
Easier to maneuver and maintain, smaller Class B RVs are growing in popularity with both full-timers and weekend warriors. But some folks are still not ready to downsize from a Class C or Class A RV. Smaller size usually means decreased luxury and daily comforts like a dry bath.
Or Does it?
Of course, trading in the size of a Class C or Class A for a Class B means you may have to compromise, or get creative, about your living space and that definitely includes the bathroom. Not all RV bathrooms are created equally and the pros and cons of a wet bath versus a dry bath will really come down to personal preference.
We're going to look at seven Class B RVs that feature beautiful dry baths without compromising on comfort or space.
Why a Class B Motorhome?
Class B RVs, or Camper Vans, are really growing in popularity. Their smaller style allows for easier maneuvering, adding diversity to your vacation They are easier to maintain and even though they're a bit more expensive than some other options, they're still relatively accessible for people of all backgrounds.
They are also beginner-friendly! So even the most amateur RV-er can handle one with just a little learning. In fact, 9.6 million households want to buy an RV in the next five years, and 31% of them are "first-time owners!"
But What About the Bathroom?
When you first start considering your RV, the bathroom is probably not something you think about a lot, but trust me- it has the potential to make or break your RV-ing experience!
RVs with bathrooms have two options, a wet bath or a dry bath. We talk about the differences between a wet bath and a dry bath more here.
But a quick recap:
Wet Baths have the sink, shower, and toilet in one convenient space, meaning everything can get wet!
Dry Baths are more like a traditional bathroom- the shower, toilet, and sink are all separate.
You can't argue with the comforts of having a full dry bath in your RV. It's an extension of your regular home into your RV. And with the more compact size of a Class B, that little piece of home will definitely be appreciated!
Luckily, with the popularity of RVs and some really innovative design, finding a Class B you love with a dry bath isn't impossible, but…
You may just have to consider a Class B+ RV.
What Is A Class B+ Motorhome?
Class B+ is a newer design and is considered a hybrid between a Class C and a Class B. The main difference is in size and amenities. Like a typical Class B, the B+ is built on a large van chassis, or sometimes even a bus chassis. This allows for some additional space to add in features, like a dry bath, but still isn't as large as a Class C. Often the Class B+ includes a slide-out feature.
However, despite the extra space of a Class B+, your opiotns are still limited for a dry bath. You may have to consider purchasing a new RV to get this feature and be prepared to pay for the added perk.
We're going to be looking at a mix of Class B and Class B+ RVs.
Below are seven of the best Class B and Class B+ RVs with a Dry Bath:
The Arriva V24 has a really nice, spacious layout. Though it doesn't have the slide-out of the Atlas, it does a great job of providing ample living space while still incorporating a good-sized, private dry bath.
Similar to the Atlas, the Arriva has a Mercedes Benz Sprinter chassis with many luxury features. It has two twin-sized beds that can fold into one king and lots of smart, hidden storage. The dry bath includes a ¾ length closet as well as two medicine cabinets.
One of the nicest features of the Arriva is the larger window in the dry bath, which is in the exterior back door. It's tinted to allow for privacy, while also allowing natural light in and helps to create a more spacious feel.
The Arriva has a 31-gallon freshwater tank, which is a decent size for two people. They also put the bath and beds at the rear, which is a nice break between the kitchen area and the bath area.
The Arriva is also a much more economical choice, though you don't feel like you're skimping on luxury at all. Its well-designed living space, full-rear bath, and reasonable pricing make it the best overall. The Arriva starts at $150,000.
This one is really an exciting RV! Technically this RV is built on a Class C chassis, but it's considered a Class B+. It gives just a little more space and power, but without compromising on the perks of a Class B. It's a Mercedes Benz Sprinter van, with tons of luxury living space. It has a power slide-out, a Murphy Suite bed, and the best dry bath we've come across in a Class B+.
This RV is so nice, that it also made the list of our favorite luxury Class B RVs which you can check out here. This RV also made our list of our favorite Class B RVs which you can check out here.
This dry bath spans the entire rear of the RV. The shower is placed in the rear corner, utilizing a curved shower door which allows for better arm movement compared to a narrow rectangular shower. It also has a tankless water heater, which is a great perk!
Tankless water heaters have been found to cut down on energy costs, have a longer overall lifespan, and provide a continuous stream of hot water, unlike a 6-gallon water heater which is a standard size for a Class B RV. You also have a lot options when it comes to upgrading to a propane or electric tankless water heater.
Despite the dry bath taking up so much space, you'd hardly notice it thanks to the Atlas' smart design and use of a slide-out. Another nice perk of the Atlas is the interior headspace of 6'6", which also helps avoid that cramped feeling in the shower. It also earned this rig a spot on our list of the best Class B RVs for tall people.
They even have a special edition Tommy Bahama Atlas that has some lighter colored, relaxing decor and added perks like a built-in bar and special fabrics in line with the Tommy Bahama brand.
This is definitely a luxury RV and its price tag reflects that. A new Atlas starts at $276,000.
These lesser-known models really don't get enough credit! Both are considered Class B+ models with a Ford chassis and come standard with All Wheel Drive, which is a little hard to come by in the Class B RVs. It's a pretty major selling point, especially if part of what attracts you to Class B's is their smaller size and ability to take you more places. If boondocking is your thing, these are the models for you!
The 23TW has a full wall slide out to expand the fold-up queen-sized bed and featured kitchen. Tons of storage and a home-like design really make this kitchen a highlight.
The dry bath is compact but gets the job done. Though it doesn't have the spacious feel that the Atlas and Arriva have, it does have a standing shower with a skylight, counter space, and a medicine cabinet. The dry bath is located in the rear left corner, across from the bed, creating the more classic bedroom en suite feel.
The Compass 23TW starts at $142,000, making it a well-rounded contender, especially with that AWD! It also has a gas engine, compared to the Atlas and Arriva which are both diesel.
The Compass 23TE is just slightly smaller than the 23TW in that it doesn't have the full wall slideout. It's a half slideout to expand the murphy bed and sofa.
This also allows for the 23TE to have a larger dry bath, taking up the full rear of the RV which provides for extra space, a linen closet, and a slightly larger shower.
The 23TE is also AWD with a Ford chassis and gas engine. It starts at $137,850.
While the Thor Compass 23TW and 23TE may not have the luxury title that the Atlas and Arriva have, you'd barely notice from its features. They have a sleek, comfortable design for a home away from home feel. The models were built for visiting national parks, off-roading and boondocking. Both have a tankless water heater and an outdoor shower!
Nexus is the only Class B+ on this list to include a V8 engine! The Ford V8 7.3L chassis definitely helps it to stand out! Both the 25V and 27V have a slide-out to accommodate a nice-sized dinette and queen-sized bed.
The Viper is definitely designed with leisure in mind. Whereas some of the other models on this list prioritize comfortable function over seating, the Viper includes oversized leather lounge chairs and a spacious bedroom.
This comes down to personal preference. If you're going to be spending a lot of time in possibly very hot or very cold environments, having comfortable seating space in the RV could be a high priority. But if you're planning on spending your leisure time outside the RV under the canopy, these seats may not be worth the significant floor space they take up.
Both the 25V and 27V models have a dry bath with a good amount of storage and counter space. Both are a little tight but still provide a comfortable environment with a roof vent, porcelain toilet, and shower skylight. Both have a 40 gal water tank and an outdoor shower.
Nexus also has the Viper 29V, which is the largest of the three Viper models but still classified as a Class B+. The 29V has three slide-out options- for the queen bed, kitchen, and dinette.
The main standout of the 29V compared to the 25V or 27V is the dry bath. They combine the bathroom features in the bedroom area to the rear of the unit. It has an en suite feel with the corner, curved shower on one side, and the toilet and sink fully enclosed on the other side. This is one of only two models on the list that has a shower separate from the toilet.
All three Viper models start at $120,000. Another perk of Nexus is that there are many used models available out there. Used Class B or Class B+ RVs are somewhat difficult to come by since they've only recently gained in popularity.
The TRX is a nice, well-rounded Class B+ RV with a Ford chassis. It has two floorplan options- one with a double sofa, and one with a sofa and dinette. The TRX does not have a slide-out and as a result, has a very modest kitchenette with limited counter space, but a good amount of storage. The biggest limitation of the TRX is the bed. The leather seating folds out into a decent-sized bed, but is clunky and has seams, which could really impede a good night's sleep.
The TRX has a really nice dry bath! It's nestled into the rear corner and has cabinet storage below the sink and a medicine cabinet above. The shower is not too narrow and features a skylight. The TRX has a 26 gal water tank, which could be limiting depending on your usage.
A new TRX starts at $115,000.
Best for Long Distance Driving: Chinook Summit
The Chinook Summit is a Class B+ on a Ford Transit chassis. It's AWD and packs lots of storage throughout. Whereas some of the other models focus on living space features while your RV is parked, Chinook really focuses on comfort and simple design for when you're driving by featuring dual-sided leather lounge seating.
This could be a great option if you're looking for an RV more for driving long distances and occasional overnight parking instead of full-time RV living or driving with multiple passengers. Similar to the TRX, the Chinook's limitation is its bed. The seating folds out to uneven seams and not much padding.
But its dry bath is quite nice, with a lot of features to encourage a home-like feel. It has an inset sink with a side medicine cabinet and storage below. It also features vanity lighting and a sleek tile backsplash. Like the Viper 29V, it also features the shower separate from the toilet and sink. The shower has chrome finishings and a dual shower head with a roof vent. It's a nice size as well, 39×29 inches, and has a 30-gallon water tank.
The Chinook Summit only started featuring the dry bath in the later models, so purchasing new may be the only way to get it. A new Summit starts at $235,000
Winnebago does not currently produce any Class B RVs with a dry bath. But they did! The Era 70M was produced from 2017 to 2019 and included a great dry bath. There are still some Era 70Ms out there in the used RV market, and you should definitely consider one if you find it.
Winnebago is well respected and one of the most popular RV brands, especially for Class B and boondocking. So it's disappointing that they have continued the dry bath option.
In the Era 70M the dry bath is a nice-sized space that includes overhead cabinets and an extended countertop. The shower is a comfortable size with sliding fiberglass doors and inlay shelving. The mirror is also larger than most- covering the entire rear wall space. The Era 70M has a 44-gallon water tank which is a great size to keep you comfortable for multiple days of off-grid camping.
There's no official word on why Winnebago stopped producing the Era 70M, but rumor has it that there were some issues with the slide-out for the murphy bed, which would rattle while driving and become bothersome as it's directly behind the driver's seat.
But despite that rumor, there are still many used Era 70M RVs available and they are popular. A 2017-2019 model will cost between $119,000 and $200,000.
So, Is a Dry Bath Worth It?
We looked at a good variety of Class B and Class B+ RVs and there are some great options at a decent range of cost. However, we didn't have a huge number of options to pick from, and that's simply because the dry bath option is difficult to find in a Class B or B+ RV. This newer feature will also limit the used purchasing options and there are some manufacturers that haven't even considered looking into a dry bath feature yet.
It really comes down to personal preference. Does the idea of taking a shower with your toilet make you cringe? Then definitely keep that dry bath at the top of your list of wants! If a wet bath doesn't seem like a major annoyance, then there are many more Class B options available to you! We explore some of the best luxury Class B RVs here, most of which include a wet bath.
Final Thoughts
It's really an exciting time to get into the RV world! Just a few short years ago there were only two Class B options with a dry bath! Now there are many more options that really help to make your RV a true home away from home. For those considering full-time RV living, the added comforts of a dry bath are incredibly valuable. If you're traveling with two or more people, being able to have someone showering and another brushing their teeth could be important. We hope this list of some of the best dry bath options in Class B and Class B+ RVs helps to get you excited while you continue your RV journey!