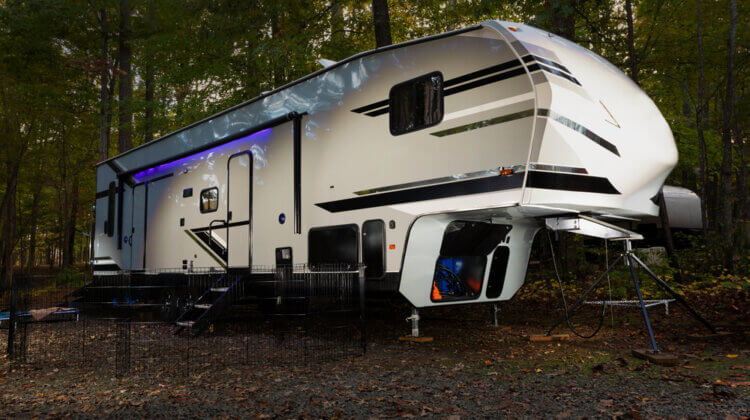 All of our reviews are based on exhaustive research, industry experience and whenever possible, hands-on testing. When you make a purchase using one of our chosen links we'll a small percentage of the proceeds. This supports the site and keeps Jeffsetter running. You can read more here.
When it comes to finding the right rig for you, how can you narrow down the options, especially if you are looking for some of the best fifth wheels for full-time living? Not only are there countless options on the market today, but not all RVs are ideal for full-timing!
Are you seeking more information about what to look for in a fifth wheel RV? Do you need some guidance as to what floor plan works best for full-time living? And what brands are reliable in terms of fifth wheel RVing?
In this article, we will endeavor to answer all of your questions and more. We will address all of the best things for you to consider before making your final purchase. Finally, we'll wrap up all of this fantastic information with our list of some of the best fifth wheels, built perfectly for full-time living.
Take it from this full-timer: making your RV into a full-time living situation is possible, and magical! Let's get started and go over everything you need to know now.
Only interested in checking out our list of RVs? Use the table of contents below to see our 11 best fifth wheels for full–time living!
Why Choose a Fifth Wheel for Full-Time Living?
Fifth wheels are ideal for full-time living for a number of reasons. Not only are they some of the most spacious RVs on the market today- they also offer you the ability to park your rig and leave it for a while.
Many full timers enjoy having a fifth wheel or travel trailer for their full-time setup, given the fact that they can disconnect and take their tow vehicle out on the road on its own. This isn't to say that you can't also do this using a motorhome, but fifth wheels are designed to be towed and left at camp when you want to go hiking for the day or take a day trip elsewhere.
Another reason why fifth wheels are so popular with full-time RVers is the fact that they are so large and offer so many floor plans. Not only can fifth wheels give you amenities such as laundry and residential size refrigerators, they also offer you spacious bedrooms and bathrooms that feel more like a residential home.
On the flip side of fifth-wheel ownership lies the inability to take your rig anywhere you want. It can be a huge blessing to have an RV as large as a fifth wheel for full-time living, but it can also be a curse. Let's go over why size matters with your fifth wheel.
Not only can it be difficult to maneuver a fifth wheel in a residential neighborhood or RV park, but your rig may be too long to safely camp in a variety of state and national parks. Practice makes perfect, so no matter what RV you own, you should practice driving it and parking it, particularly backing in.
However, with more space comes more room to store all of your full-time necessities, in addition to your recreational hobbies. Many people who live in their RV full time choose a fifth wheel and never switch to anything else because of how spacious and convenient they truly are!
What to Consider in a Fifth Wheel for Full-Time Living
We've already touched on a few points that you should consider when shopping for a fifth wheel built for full-time living, but let's discuss a few more in detail now!
Length and Weight
One of the first things you need to consider before purchasing a fifth wheel RV is deciding upon a proper length and weight limit for your tow vehicle. We've already touched on the fact that the overall length of your RV matters when it comes to maneuverability and parking in National Parks, but what about your weight limit?
If you already know what vehicle you are planning on using to tow your fifth wheel, you need to pay special attention to the weight limits and towing capacities of both rigs. This is especially true if you already own a truck that you want to tow with, as you won't have any wiggle room if this is the case.
However, if you are looking at purchasing a truck as well as a fifth wheel, the weights and measures still matter greatly. You never want to do more than your tow vehicle can handle, and fifth wheels are not exactly known for being lightweight and easy to tow.
On the flipside, choosing a fifth wheel that is particularly large and in charge means that you have more living space and storage on board your RV. If you aren't particularly concerned about your weight limits, but want to make sure that you have space for all of your things and guests, choosing a large fifth wheel shouldn't be a problem for you.
Budget
As with any large purchase, your budget matters greatly. Fortunately, fifth wheels are more affordable than a variety of motor homes, including Class B camper vans. Depending on luxury features and additional accessories purchased, the average fifth wheel costs anywhere from $50k all the way to $200k, though most fifth wheels hover around $100k.
Given that this is such a wide range of prices, you can definitely expect to see a wide range of fifth wheel styles and types. You may be seeking out a rig with luxury features, or you may be hoping to find something budget-friendly for your next life steps.
No matter what you are looking for, chances are extremely high that you will find what you need and want within your price range! However, it's always important to remember that the initial purchase price of most fifth wheels is not the price you end up paying. Most of the time, you will find that there are non standard features that you want added, which will indeed drive up the price.
Layout or Floor Plan
There's nothing better than finding an RV floor plan that works perfectly for you. While you may think that the majority of fifth wheels have identical interiors or highly similar floor plans, the opposite is true. There are so many options on the market today that it's difficult to find 2 floor plans that are identical to one another!
I highly recommend touring your local RV lots or dealership so that you get a true feel and understanding for the interior of 5th wheel RVs. If you are unable to do so, many RV manufacturers offer 360-degree tours on their website so that you can take a look at all of the features without needing to leave your home.
The layout or floor plan of your fifth wheel will make or break your RV experience. This is especially true if you are living in it full time. Just like any rental or residential home purchase, you want to make sure it has a certain flow and is easy to manage without becoming overwhelming.
Given that there is such a limited amount of square footage inside of a fifth wheel RV, you may want to take a look at floor plans that prioritize the same things that you do. For example, if you want a highly functional kitchen rather than a spacious master bedroom, keep an eye out for floor plans that support this feature.
I have no doubt that you will find exactly what you are looking for, but it may take some time to fully comprehend what that is. The more floor plans and layouts you are able to look at, the better! And where better to start than with our "best of" list?
Storage Solutions and Options
Storage is always at a premium, even in residential homes. So why wouldn't the same be true on board your fifth wheel? Choosing an option that has plenty of storage for everything you need is always a good idea, especially if you want to live in your RV full time.
The problem is, most RVs have storage solutions that aren't always helpful for full-time living. Most storage compartments are located on the exterior of your RV, though there are many interior storage solutions making the rounds through a variety of RV floor plans.
However, there are always storage options that work better than others, and knowing where you might want your storage to be located may help you narrow down a proper floor plan for your lifestyle. No matter what, you likely can't bring all of your residential furniture and belongings inside of your RV. They aren't miracle workers, despite having a number of surprising solutions!
Luxury Finishes
If you are brand new to RV shopping, it may surprise you to know that there are different makes and models of RVs. Most commonly, RVs are separated into standard features or luxury features. You may be curious what this entails, but ultimately, luxury rigs offer more style and features at a higher price compared to standard RVs.
Some popular luxury finishes include:
Theater seating in the living area

Upgraded kitchen, including large residential fridge and dishwasher

Power lift bed in the master suite

Frameless windows and other energy efficient perks

Additional air conditioning units or ducted heating
Choosing a luxury rig doesn't just mean that you are paying more. You will likely find that the interior design and furnishings are better suited to your lifestyle, given that luxury rigs have more character and fine touches compared to standard rigs.
While you may be bringing in your own special touches, given that this will be your full-time living space, you may still want some of the features that luxury rigs bring to the table. However, if you weren't worried about theater seating and marble countertops, a standard rig may suit you just fine.
Automated Features
Speaking of luxury features, automated or power features tend to go hand-in-hand with luxury rigs. There are a number of popular electronic and automated features to help make living in an RV easy. But what might some of those be? Let's take a look now.
Many RVers look for power jacks or automatic leveling systems to make camping easier. There are also power awnings as well as tank monitoring systems, and even utility systems that work automatically. It all depends on what you are looking for in terms of day-to-day convenience, as RVs have a lot to offer in this department if you have the budget for it.
This is likely where your budget will be altered in some way, as many luxury or automatic features do not come standard. However, just about every RV manufacturer offers these helpful conveniences, just not in the initial purchase price. This is something to consider, especially if you are concerned about your physical health or how convenient it is to set up camp as part of your full-time living situation!
Full-Time Amenities
Obviously one of the most important things for you to consider before purchasing a fifth wheel made for full-time living is the types of full-time amenities that you need to feel comfortable in your RV. But what might some of those be? Let's take a closer look at some of the most common or popular options now.
Some popular full-time amenities include:
A dishwasher

A residential sized refrigerator with freezer

Queen or King sized walk-around bed

Master bedroom wardrobe

Two bathrooms

Wifi or cable
Again, you may not need all of these amenities, but it is something to keep in mind as you shop. If you are only used to renting or purchasing residential homes rather than RVs, some of the things that come standard in residential homes are not at all standard in an RV setting.
The 11 Best Fifth Wheels for Full-Time Living
Feeling confident that you know what you need out of a fifth wheel that is made for full-time living? Let's go ahead and dive into our list of the 11 best fifth wheels for full-time living now!
Fantastic floor plans and versatile lengths

Just about every feature you can think of included standard

Packed with features perfect for full-time living

Purchase price may be too high for your budget
There are a number of reasons why the Reflection from Grand Design is an extremely popular fifth wheel rig for weekend warriors and full-timers alike. With 8 available floor plans across multiple lengths, this fifth wheel is the perfect combination of affordability, luxury, and function. Let's take a closer look at it now!
One of the first things you will notice about the Reflection is the fact that it comes in multiple lengths, ranging from 32 feet all the way to 41 feet. This gives you plenty of living space, no matter how big your family is or how many people you plan on camping with.
You can get floor plans with a bunkhouse, theater seating, spacious kitchen, and most of the floor plans include a bathroom with a large shower and skylight. If there isn't a floor plan that quite works best for you, you can always exchange the furniture through Grand Design so that you have exactly what you are looking for.
The number of features that come standard included in the purchase price are staggering. You get a solar package, 4 season weather insulation, and additional house batteries, all included as standard features. There are always additions should you be interested in a second awning or something else, but Grand Design truly tries to set up their customers for success.
While the Reflection has just about everything you can think of included in the initial purchase price, that does mean the price is fairly high for a fifth wheel. It starts around $130k, so this is definitely one of the pricier options on the list. However, with so many fantastic floor plans that are perfect for full-time living, it may be worth the cost!
Extremely affordable for what you get

Multiple floor plans to suit different families

Simplistic and classy minimalist interior design

Does not offer washer dryer prep
If the Reflection was a bit too high in terms of your RV budget, then you might want to check out the Springdale from Keystone. This fifth wheel suits a variety of lifestyles, including full timing, and the initial purchase price is a bit more reasonable than just about any other rig on this list. Let's take a closer look at it now.
Ranging in length from 32-34 feet, this rig isn't particularly large. However, the 4 available floor plans make it easy to navigate and live in, despite it not being very long. You can choose between a few different bunkhouse floor plans as well as a spacious rear kitchen and living area with a master suite.
The fact that this fifth wheel starts at $41k is impressive- you truly get a lot of bang for your buck. However, given the low price, the interior design of this rig isn't particularly stunning. It doesn't feel very luxurious, but the interior is modern, with gray and durable flooring alongside black cabinetry and faux wood beams exposed in the ceiling.
Plus, Keystone has included a number of features as standard, such as ducted Heating and Cooling, fantastic warranty options, and large residential refrigerators. While it may not be a stunner right off the bat, you can easily add your own character and decor as you live inside of this fifth wheel.
One other thing to note is that the Springdale does not come with any washer or dryer prep. This may be something that you deem absolutely necessary, considering that it will be your full-time residence. However, I know many full-timers that utilize laundry facilities or find alternative laundry solutions such as these portable washers and dryers found here. No matter what, this rig fits just about any budget!
Multiple floor plans including toy hauler options

Full of features, too many to list

Beautiful and classy interior design with fireplace

High purchase price for everything that comes standard
If hearing the fact that the last fifth-wheel did not offer you the option to have laundry facilities inside of your rig made you upset, then you may be looking for more amenities. The Forest River Riverstone is a fantastic option for those of you seeking a great deal of features and amenities, all standard. Let's take a closer look at some of those now.
Billing itself as a luxury rig dedicated to convenience, the Riverstone is ideal for full-timers given the fact that you need everything inside of an RV to be convenient! After all, this isn't just your home for a long weekend, it's your home for the foreseeable future. That's why Forest River made the Riverstone with just about any optional feature as a standard one, to fully maximize your fifth wheel.
With 7 available floor plans and two of those having a convenient toy hauler ramp, you will likely have no trouble finding something that works really well for you and your family. Plus, this fifth wheel ranges in length from 42 feet all the way to 44 feet, making it huge and spacious on the inside. It may not be the easiest to drive, but it will definitely have room for everything you need to bring with you.
When it comes to standard features, you can expect just about everything you can think of. It includes solar panels, a washer and dryer, on demand hot water, automatic leveling, and so much more. I highly recommend checking out all of the standard features on the Riverstone if you are interested in purchasing it.
Speaking of purchasing, the Riverstone starts at around $150k, making it an expensive option for sure. However, this rig and its available floor plans truly offer full-timers literally everything they could possibly need or think of. After all, you want this RV to feel like home, and sometimes that comes at a high price.
7 versatile floor plans means you'll find what you need

Tons of storage and functional features, including a washer and dryer

Very affordable price points makes this rig versatile

Not exactly stunning in terms of its interior design
Starting at a cool $80k, the Coachmen Chaparral has a lot to offer RV owners at any level. Not only does it boast many floor plans and an affordable purchase price- it also offers a lightweight frame that won't make your tow vehicle suffer. Let's take a closer look!
The Chaparral starts under 10,000 pounds and reaches right around 12,000 pounds for larger models. While this isn't necessarily stunning in terms of numbers, it does mean that your tow vehicle will have a bit of wiggle room compared to other larger 5th wheels. But what else is special about the Chaparral? Let's go over the features and floor plans now.
One of the best parts about the Chaparral is the fact that it is highly equipped for 4 season weather and terrain. The insulation and build of this rig is fantastic, which can be said for a number of Coachmen rigs. Plus, there are seven floor plans to choose from, including innovative bunkhouse options and spacious master suites with washers and dryers.
While the interior design is fairly simplistic, it is built to last. The vinyl flooring and real wood Cabinetry come with their own warranty options, as does the entirety of the fifth wheel itself. You can expect most of your appliances and other interior features to also have warranties, keeping you covered for the duration of your time in the rig.
There are very few faults in this rig despite its lack of luxury features. There's a lot of room to roam and create spaces that mean a lot to you, with personality and substance. While it may not have all of the bells and whistles, it has everything you need to begin your full-timer journey and make the most of it!
Affordable price point for a toy hauler

Homey interior design and floor plan options

Fantastic carrying capacity for all of your gear

Very large and difficult to maneuver
If you already know that you plan on bringing along your toys on your RV Journeys, you may be looking exclusively at toy hauler rigs. Check out the Forest River Vengeance, particularly the Rogue Armored Edition. Not only does this option offer you a fantastic storage space for all of your ATVs, kayaks, and more, but it also offers durable Forest River construction and design. Let's dive in now.
This particular toy hauler won RV News's award for the best featured fifth wheel toy hauler in 2021 and for good reason. Not only are there 4 distinct floor plans to choose from, but they are all ridiculously functional and easy to utilize. Plus, the interior design actually feels like home as opposed to empty and plain!
With the additional package options accompanying the Vengeance, you can truly build a rig that works best for your lifestyle. You can get heated holding tanks and solar panels, as well as washers and dryers. All of the floor plans offer a convenient toy hauler ramps for loading and unloading, and the storage area for your toys converts into a living space or bunkhouse.
Depending on the packages and features you choose, you can get the Vengeance for as little as $80k, though the Armored Package will add a few dollars. No matter what, you get a functional floor plan full of livable features, including multiple bathrooms, a spacious kitchen, and a master suite with wardrobes and walk around beds.
So, what's the catch? This rig is big. It starts at 43 feet and stops at 45 feet, making it far too long for most national parks. You may get lucky and still be able to park this in a few different state parks or national parks, depending on where you want to camp, but this rig is close to inconvenient in terms of its size. However, if you truly want to bring it all, this is an amazing option!
Fantastic floor plans for seniors and beyond

Advanced safety features, including automated options

Solar, washer and dryer, and more as standard features

May be a bit pricey, but has a lot to offer
Not only does the Keystone Cougar offer multiple floor plans and smaller lengths so that it is easier to tow, this rig also has a load of automated features as well as 4 season capabilities. Plus, the Cougar is ideal for senior couples as well as just about anyone beginning their RV journey, so let's go over why in more detail now.
The Cougar starts at $78k, making it affordable as well as beautiful inside. The interior design of this rig is particularly striking and stunning, which means you won't have to put in a lot of work to make it feel like home right off the bat. Plus, nearly every floor plan (there are 7!) offers washer dryer prep as well as convenient living areas.
While stairs are an unavoidable fact if you are looking at purchasing a fifth wheel, the floor plans and layouts of all of the Cougar options suit a variety of lifestyles. You can get a master suite with a walk-in closet, or a lofted half bath atop your main living area in case you have guests or friends stay over.
Not only do you get a number of residential features such as large refrigerators, walk around beds, and spacious bathrooms, but you also get a number of standard RV features as well. You will get solar included in the purchase price of this rig, as well as fantastic warranty options offered by Keystone.
It's difficult to think of what might be negative about this rig. It is capable of taking on any weather scenario with its hardy insulation and ease of towing. It also has upgraded safety features, both while you're towing and while you're setting up camp. Plus, given the price, this rig may be too good to pass up for those of you hoping to live full-time in it. I personally see this fifth wheel everywhere, and now I understand why!
Fantastic and unique floor plans for just about everyone

Beautiful interior design with many residential features

Household conveniences such as double vanities and washers and dryers

Price point maybe a bit high for a starting rig
Forest River has a number of fantastic fifth wheel options, and the Cardinal comes in both a standard and luxury version for those of you seeking something with a bit more style and substance. Let's talk about the standard model in more detail.
Forest River claims that they built the Cardinal to suit just about any camper and lifestyle, and this includes those of you hoping to live in your RV full time. There are 6 unique floor plans to prove it, which should be discussed in more detail.
You can get a floor plan with a bunkhouse, a separate theater room, a large and spacious king bedroom master suite, and more. This setup is ideal for a number of families, especially those of you with older children. One of the floor plans offers a master suite as well as a separate secondary bedroom, something that is rare in the RV world.
Not only can you get an interior that suits a residential lifestyle, you also get decor to match. The Cardinal has fantastic exposed beams, tile detailing and inlays, and fantastic flooring to match the cabinetry and upholstery. It truly feels like an apartment rather than an RV, and this is why it makes a fantastic starter rig. It really helps make that transition easy for you!
Depending on where you live, the Cardinal ranges in a starting price from $90k-$100k, making it a bit higher in terms of budget. However, given the fact that this is of Forest River construction and some of these floor plans are some of the most unique ones I have ever seen, this price point seems fair for all of the luxury features you get standard. When it comes to RVing, you get what you pay for, which may mean that you pay a bit more for a reliable starting rig.
Multiple thoughtful floor plans make this rig feel like home

Stunning and luxurious interior design makes you forget you're in an RV

Loads of the full-time features such as laundry and master en suites

Maybe too heavy for your tow vehicle to handle
If you really want your RV to feel like a luxurious residential home, I encourage you to check out the Jayco Pinnacle. This fifth wheel offers stunning interior design alongside convenience and life-saving features, such as 4 season insulation and automatic leveling jacks. But what else does the Pinnacle have to offer? Let's take a closer look now!
Starting at just under $119k, the Pinnacle has 6 available floor plans. Not only do nearly all of these floor plans have ceiling fans and fireplaces, they also offer unique and versatile options. You can get a secluded theater room or a large and spacious master bathroom en suite, complete with double sinks and a huge countertop.
Upon walking into this RV, you will notice all of the features that make it feel like a residential home rather than a home on Wheels. You get a full size stainless steel refrigerator, pendant lighting, highly detailed laminate flooring, and more. It truly is a rig that you need to see to believe, as it offers many luxurious features not yet seen on this list.
If you are hoping to have all of the full-time features necessary to feel comfortable inside of this RV, you won't be disappointed in the Pinnacle. All of the floor plans offer washer and dryer prep as well as a dizzying amount of standard features included in the initial purchase price. With all of this in mind, this luxury rig doesn't seem terribly expensive compared to other options out there.
So, what's the catch? It has to be the fact that the Pinnacle is heavy. You'll need a tow vehicle that can handle it, though Jayco is renowned for its build construction as well as its thoughtfulness toward aerodynamics and fuel efficiency. However, this rig ranges in weight from 13,000-15,000 pounds, so make sure your truck can handle it!
Most Floor Plans: Grand Design Solitude
Amazing floor plans with so many options

Full of features perfect for full-time living

Beautiful interior design won't leave you wanting more

Price point is high, though you do get a lot of features
Do you truly think you need an insane amount of floor plan options to feel satisfied with your RV search? Thankfully, Grand Design is here for you with the Solitude, a highly popular fifth wheel rig that comes in a whopping 14 different floor plans. Let's take a closer look at all that this rig has to offer!
Given just how many floor plans there are, all of these are separated amongst different lengths of this fifth wheel. It ranges in length from 32 feet all the way to 42 feet, which means that there is a size and floor plan to suit just about everyone. And every single floor plan comes with fantastic full-timer features as well as stunning interior design that rivals our previous option, the Pinnacle.
Not only can you expect fantastic storage solutions as well as residential appliances, but everything is highly efficient and capable of withstanding 4 season weather. Grand Design wants this fifth wheel to be utilized year-round, whether you are living in it or not. They expect their customers to truly take this RV anywhere, and there's no reason why you shouldn't feel comfortable doing so.
I highly recommend you check out the Solitude from Grand Design in person if possible, as I see this rig everywhere. With so many floor plans, you may feel the most comfortable touring this rig in person to make sure you get exactly what you are looking for. However, all of this comes at a price: the Solitude starts at $118k, similar to the Pinnacle.
Built to last in a variety of weather and seasonal conditions

Multiple floor plans suited for full-time living

Luxurious interior with loads of storage

High price point may not be reasonable for everyone
If you aren't worried about getting your rig a little dirty, the Keystone Montana may be a fantastic option for you. Not only is it the number one best selling luxury fifth wheel on the market currently, it also offers a number of features that allow you to go just about anywhere and do just about anything. Let's take a closer look!
This strikingly stylish camper features SolarFlex packages that can get you off the grid for extended stays and is warrantied for full-time RVing. This is a huge perk, putting aside the fact that it also has 9 available floor plans, multiple lengths, and a dizzying amount of features that help you live in this rig full-time.
Ranging in length from 35 feet to 41 feet, there's a lot to love in this RV. Not only is the interior design durable and beautiful, you can also upgrade the exterior to handle rough road conditions as well as harsh UV rays. Plus, there are floor plans with multiple bathrooms, spacious kitchens with islands, and more. You'll have no trouble finding something that works well for you and your family.
However, starting at $122k, this rig is pretty pricey. There are loads of features and options that suit a number of lifestyles, but it's all about whether you can afford it or not! You will likely not be disappointed in this rig if you have the budget to go for it.
Multiple floor plans to choose from

Fair starting price point for everything you get

Interior design rivals luxury options

May be too heavy for some tow vehicles
There are so many good fifth wheels on the market today that it is difficult to choose just one as our best overall, which is why the Jayco North Point is our runner-up choice. Not only does this rig start at $106k, it packs the features in for this price. Jayco recommends this fifth wheel for starters as well as senior RV owners, as it suits a wide variety of people.
There are six floor plans, some as unique as the Pinnacle or Solitude. Some of these include a centralized living space, a large rear kitchen, and a master en suite bath. You can get electric fireplaces and ceiling fans in just about any floor plan as well. This rig might be heavy, but there's a lot to love.
If you are seeking one final option that you can truly make perfect, check out the North Point. It is an extremely popular option, and it's backed by Jayco, making it durable and covered by industry-leading warranties.
Final Thoughts
Finding a fifth wheel for full-time living is easier than you think. Just keep in mind all of the amenities and features you need to feel comfortable living in an RV full time. There's no doubt in my mind that you can find a layout and a rig that works well for you, especially one that is both budget-friendly and functional. Enjoy living full-time in your fifth wheel!