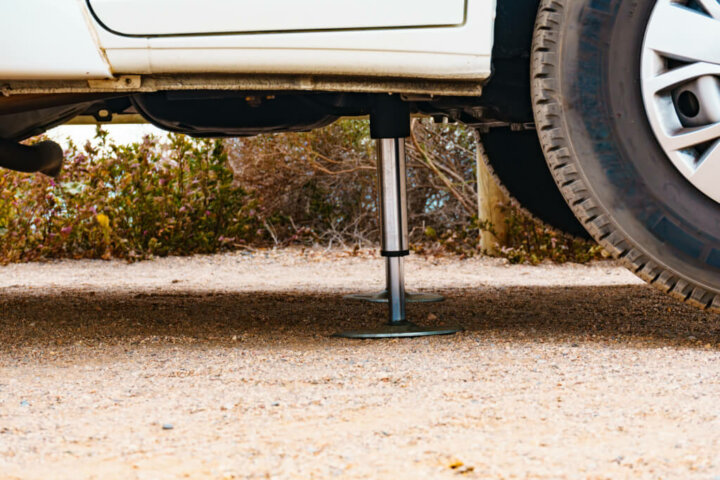 All of our reviews are based on exhaustive research, industry experience and whenever possible, hands-on testing. When you make a purchase using one of our chosen links we'll get a small percentage of the proceeds. This supports the site and keeps Jeffsetter running. You can read more here.
There are so many different features and options that you can get if you are looking at purchasing a new travel trailer, but have you considered getting one with auto leveling? There are a number of different perks to installing an auto leveling system on your travel trailer, but what else should you consider in a travel trailer purchase?
In this article, we will address everything you need to know about travel trailers with auto leveling before making a final purchase and what you need to look for in the trailer averall.
In addition, we will give you a list of some of the best travel trailers that have auto leveling included in their standard purchase price, or as an option for you to add, should that be something you're interested in. Let's get started and go over everything you need to know about auto-leveling now!
Only interested in seeing our list of some of the best travel trailers with auto leveling? Click here to jump ahead and check out our expertly curated options!
Why Get a Travel Trailer with Auto Leveling?
Auto leveling is something that many people overlook, especially in a first time RV purchase. As a full-timer living in a travel trailer that I move regularly, auto leveling is definitely something I wish I had!
Essentially, auto leveling is an electronic option that can sense when your travel trailer is level, and automatically adjust your rig to achieve this level of stability. Auto leveling systems are different from power jack stands and electronic stabilizers, so this is something important to note as you shop.
Getting a travel trailer level can be one of the most tedious aspects of owning a towable rig, and having an auto leveling system takes the guesswork out of this process. Some auto leveling systems are so advanced that they have 7 or more points of leveling throughout your trailer, giving you even more peace of mind that your RV will be level while you camp.
Having a level travel trailer is key to any camping experience, both for comfortability and to ensure that your utility systems are working properly. If your travel trailer isn't level, your water lines and propane systems may not work to their full effectiveness.
If you don't want to waste time setting up your travel trailer at camp, having an auto leveling system truly makes it easy. At the touch of a button, you can have a level, stable, and secure travel trailer, without needing to adjust it, step by step!
Can I Install Auto Leveling After I Buy My RV?
You may find that, during your RV search, there are very few travel trailers that have auto leveling systems installed as either standard features or optional ones. Many RV manufacturers reserve this unique and advanced amenity for fifth wheels or extremely large rigs, but what about the smaller travel trailer?
The good news is, there are a number of auto leveling systems that you can purchase and install yourself, or with the help of an experienced RV repair person. However, this is not necessarily something you want to do after purchasing a brand new RV.
That's why we have our list of 7 of the best travel trailers that have auto leveling, either included standard or as an optional purchase that the RV manufacturer then installs for you. Keep in mind that, if it isn't included in the standard price, there will be an additional cost incurred should you choose to purchase this optional feature.
I only have a 19 foot travel trailer, but it still takes me a decent amount of time to get it level once I get to camp. An auto leveling system that's already installed in your brand new RV will only make your transition into your brand new rig easier!
What to Consider in a Travel Trailer with Auto Leveling?
There are a number of things to consider in the travel trailer beside the fact that you want an auto leveling system. But what might some of those considerations be? Let's take a closer look at how you can make an informed travel trailer purchase now.
Length of Travel Trailer
One of the most important things for you to consider before buying an RV is just how long you want and need it to be. The longer the travel trailer, the more space you will have. However, the more you will have to tow as well!
If you are brand new to towing, like I was when I purchased my 19 foot travel trailer, you should take some serious time to consider just how big you want your RV to be. While it may sound nice to have all the bells and whistles and plenty of square footage, you will be responsible for driving this size of an RV around.
You can get travel trailers in just about any length, from 15 feet all the way to 45 feet. There are countless floor plan options and available amenities for RVs at any length, but it is important to note that you should feel safe while towing your new RV.
Additionally, the longer the RV, the less likely you are to find convenient reservations for it. Many RV parks, state parks, and National Parks have length limits and limitations, whether you are camping or simply passing through. Once you get above 30 feet long, your reservation options get a bit more complicated!
I highly recommend thinking about how much space you truly need, and if you are able to choose something smaller. If you are an RVing Pro, you have less to worry about and likely know exactly what you are looking for, but this is something to keep in mind if you are brand new to RVing!
Layout and Floor Plan
Something that everyone needs to think about before making an RV purchase is the type of layout or floor plan they might be expecting. You should consider what your top needs are in a new travel trailer before you even start shopping.
Perhaps you want a layout with a spacious kitchen, or you are hoping for something with an additional bathroom amenity. Maybe you are hoping to live full-time in it, and you need something with a designated bedroom or laundry facilities.
Regardless of what you are looking for, there's an option on the market for you. It's just a matter of finding it, as well as making sure it is indeed what you are looking for! If you are able, I highly recommend touring a number of RVs in person, if it is at all possible. If this isn't an option, most RV manufacturers have 360-degree video tours available on their website so that you can get a true feel for whatever RV has caught your eye!
Sleeping and Bathroom Arrangements
Similarly to knowing what floor plan or layout you want, you should take some time and consider what sleeping and bathroom arrangements work best for you and your family. You may be looking for a particular number of beds, or perhaps you want more than one bathroom.
Knowing how many guests you plan on sleeping inside of your RV on an average camping trip is extremely important. Most RVs offer convertible sofas or dining areas, giving you more beds at night than you have during the day.
However, if you have multiple children or want to travel with a group of friends, having set beds and designated bedrooms may be something you are looking for. Additionally, you may want to seek out a travel trailer with a half-bathroom option if you think you need more than one.
Weight of Travel Trailer
Just like the overall length of your RV matters, the overall weight matters even more. Obviously, the longer the RV, the more it weighs, but there are a number of other factors that determine the overall weight of your travel trailer and what you can do to properly tow it.
Before you purchase an RV that you plan on towing, you need to know what the towing capacity of your tow vehicle is. This will determine what you end up purchasing unless you are purchasing your tow vehicle and RV at the same time. It is very important to never tow more than your vehicle can handle.
You may not know this, but proper weight distribution is key to achieving a level trailer, both while you are towing and while you are at camp. While an auto leveling system will alleviate this issue when you are parked, having an understanding of how to properly weigh down your travel trailer is key to owning one!
Luxury Features
Many RV manufacturers make standard rigs as well as luxury ones, which means that you have another decision to make in terms of your furnishings and features. Most of the RVs on our list of auto leveling travel trailers are considered luxurious in some capacity, so this is something to keep in mind.
It's outstanding what some RV manufacturers are doing with luxury RVs these days, particularly travel trailers and fifth wheels. You can get a travel trailer that looks exactly like a residential apartment or home in many ways, complete with stainless steel appliances, granite countertops, Theater seating, and much more.
The obvious thing to consider with luxury features is cost. Luxury RVs cost far more than standard ones, though you are getting plenty of perks in return. Not only will you have an attractive interior, but you will also have a well-built RV- if you can afford it.
Full Time Needs
If you are considering auto leveling on your travel trailer because you plan on living in it full time, you may want to consider a few other full-time necessities on board your rig. Some of these include a larger refrigerator, washer and dryer hookups, a dedicated bedroom, and more.
I would personally pay special attention to the kitchen and the bathroom, as these locations are sometimes neglected when it comes to RV living. Many people can purchase RVs only plan on using them a few days at a time, which means that these necessities may not be as complete as you want them to be.
No matter what your priorities are, there's an RV out there to suit your full-time lifestyle quite well. And, with an auto leveling system, you won't have to waste your time leveling your RV, each and every time you leave camp!
Ability to Boondock
Do you plan on ever camping off-grid in your brand new travel trailer with auto leveling? Also known as dry camping, boondocking is your ability to camp without RV hookups, such as water, electricity, and sewer.
Some RVs are built with this in mind, and others are not. If you plan on boondocking with your travel trailer, you should keep an eye out for solar panel options, larger holding tanks, additional batteries, and more.
Budget
The final consideration for you to make when shopping for an RV is just how much you want to spend. Your budget is key to any major purchase, especially RVs. This is because the initial price listed on those websites will not be what you end up paying, for a number of reasons.
The primary reason that you end up paying more is that there are a number of optional features that cost extra. This is even true for our list of some of the best travel trailers with auto leveling: many of them do not include auto leveling as a standard feature, though they do offer it as an optional one!
However, travel trailers are some of the least expensive RV options on the market today, available to a wide range of budgets and price points. While many RVs with auto leveling are on the higher end of the budget spectrum, you may find that the costs are appropriate to what you were thinking.
7 Best Travel Trailers with Auto Leveling
It's time to take a look at 7 of the best travel trailers with auto leveling available on the market today! Let's get started now.
Beautiful and residential interior
Packed with features, including weather protection
Auto leveling system available with other amenities
High price point and quite large
There's a lot to love about the Jayco Eagle, which is likely why it is one of the longest-running, most successful RVs on the market. While it starts at $75k, arguably a very high price tag, the Eagle is perfect for just about everyone- and has auto leveling as an optional feature.
Only available in a 40 foot long floor plan and weighing over 10,000 pounds, the Eagle may already not be right for you. However, it has three-floor plan choices that feel residential and spacious, and you can sleep up to 6 people in this one.
One of the first things you might notice upon walking into the Eagle, depending on the floor plan you choose, is the spacious kitchen. It has a generous 21 cubic foot refrigerator with a marble countertop island in the center. There's even a walk-in pantry and plenty of rich wood cabinetry to fill up to your heart's content!
There's plenty of seating in the living room for everyone, including theater seats that recline. You also have a couch that converts into an additional sleeping area, and a full entertainment center with an electric fireplace to keep the room cozy.
Not only is this rig built to Jayco's extensive safety standards and durability requirements, but it also has a number of optional features that you can add on. Some of these include heated holding tanks and storage compartments, outdoor kitchens, washer-dryer prep, and solar panels. You can truly make the Eagle whatever you want!
While the auto leveling system isn't included as a standard feature, you can easily add it, along with a power jack stand and automatic stabilizers. All of these mechanisms work in tandem to make setting up camp a breeze, especially when you consider just how large the Jayco Eagle is.
Speaking of, this seems to be the main drawback of the Eagle itself. It is very large and very heavy, which means it might be too big for your current tow vehicle to handle. However, if you are looking for a travel trailer that can do it all and last a lifetime, you should definitely give the Eagle a chance.
Multiple floor plans across multiple lengths
Tons of optional features including auto leveling
Great for couples just as well as families
Check out our brand review before buying
With 7 available floor plans, all capable of having optional electronic auto leveling, there's a lot to love about the Forest River Rockwood. This travel trailer starts at 29 feet in length and reaches just shy of 37 feet, making it smaller and easier to drive as well. Let's talk about some other great features of this RV now.
The Rockwood utilizes a number of slide outs in order to make these RVs spacious and feel like home. Even the smallest option has a king size bed, a spacious bathroom, and an open living floor plan that makes you forget you're not in your residential house.
While the interior design isn't anything to write home about, it is clean, bright, and easy to maintain. You can choose from a few interior design options, and you can always bring in decor to make it your own. Some floor plans even have electric fireplaces in the living area, bringing in more personality.
Speaking of floor plans, this RV is not only budget-friendly but family-friendly as well. There's an option to have a master suite as well as a 4 bunk bed bunk house, which means you have plenty of space for the kiddos or all of your friends. There's even an outdoor kitchen on this particular floor plan so that you have the option to enjoy outside just as much as in.
The auto leveling system may not be the only option that you are interested in. You can get solar panels and an inverter, an additional bedroom air conditioning unit, a large residential refrigerator, and multiple different living room seating options, should your budget support this.
But what might be the catch on this particular travel trailer? Forest River may not have the best reputation in everyone's eyes, especially in recent years. However, they are still a reputable company and have a lot to offer their consumers, especially when on a budget. However, I highly recommend reading our full review of Forest River before you make your final decision.
Plenty of floor plans to choose from
Loads of storage so that you can bring everything
Sleeping arrangements for 5 to 7 people
Forest River brand sometimes gets a bad rap
Similar to the Rockwood, the Flagstaff by Forest River also has 7 available floor plans in a variety of styles and needs. You can find floor plans built for couples, bunkhouse floor plans made for families, and unique living areas full of couches that convert into beds. Plus, you can get some of these floor plans under 30 feet in length. Let's check out the Flagstaff now.
With auto leveling as an optional feature, you can get the Flagstaff under 10,000 pounds. While it is just barely under this weight, there's a lot to love about this sturdy RV. One of its main selling points has to be its storage capabilities, with plenty of storage inside and out. There are large exterior compartments for everything that doesn't fit inside.
Plus, Forest River has thought about the locations of the windows on this RV, as well as where the furniture is placed. They've taken time to highlight the great outdoors, without you needing to leave the comforting interior of your RV. This is ideal for days when the weather isn't quite optimal.
There's molding and wood throughout this RV, and there's even an electric fireplace on some floor plans. You can expect plenty of sleeping arrangements for everyone who might be traveling with you, depending on the floor plan you choose. For the most part, you can sleep more than six people in the majority of these options.
Besides the Forest River brand name, there's not much sticking out that's a negative for this particular RV. It has a lot to offer, especially for those of you looking for something under 30 ft in length. You can still get it with an auto leveling system, no problem!
Unique floor plans made for families and couples
Spacious and modern interior design
Some floor plans can sleep up to 10 people
Brand awareness seems minimal
KZ RV isn't as well known as some of the other brands on this list, but the Sportsmen has some fantastic floor plan options. Under 10,000 pounds and 40-41 feet in length, the Sportsmen is big enough for the whole family. Let's look at it in more detail now.
There are four available floor plans on Sportsmen, and they can sleep anywhere from 4 to 10 people, depending. There's a spacious floor plan designed for the full timing couple, with washer and dryer prep, a large walk around king bed, and a spacious living dining area complete with Theater seating and a kitchen island.
If you are hoping for something bigger, whether it's for your large family or for your group of friends, there is a floor plan with four different bunk beds, a pullout sofa, as well as a king bed. This means you don't have to sacrifice your sleeping arrangements to fit everyone. The whole family will be comfortable in this RV!
In terms of the interior design, everything is well appointed and modern, with electric fireplaces and marble countertops. There's even a floor plan with 2 King beds if you are traveling with another couple or perhaps have older children in your life. KZ RV has thought of just about everything you might need, and it's nice to see some unique floor plans in the mix!
While it doesn't come standard, you can get optional four point auto leveling installed, no problem. That's why auto leveling is also not mentioned in the video. KZ offers a pretty comprehensive warranty plan too. However, given the lack of popularity with this brand, you may find better options elsewhere.
Beautiful interior design that feels residential
Plenty of floor plan options, including four with a washer and dryer
Heavy duty, but not too heavy
Optional features may drive up the price
With 7 floor plans all in the 8000 pound range, the Keystone Outback is a travel trailer that has a lot to offer. Again, the auto leveling feature does not come standard, but you can get it added on along with many other fantastic options. Let's check them out now.
Keystone has become a powerhouse in the RV business, known for its fifth wheels and travel trailers. They incorporate a sense of stability with their heavy duty RVs, alongside beautiful interior design and features that all RVers are looking for, both new and experienced.
Four out of the seven available floor plans have washer and dryer prep, along with some other great full-time features, such as residential size kitchens and bathrooms. You can find a king bed in some of the floor plans, and one floor plan even features a spacious rear den, perfect for creating an office while on the road.
The interior design on this rig is unique and beautiful, with black or brown wooden cabinetry and gold handled accents. You can get an electric fireplace and leather seating, should you so choose, which may make it feel even more like home.
The lowest priced floor plan is an optional garage toy hauler hybrid, starting at $67k. This price point is decent, especially for what you are getting. All of these floor plans are priced under $70k, making them a smart investment if you are planning on living full-time in an RV for the first time.
Keep in mind that Keystone offers a variety of optional features that won't be included in the standard price. Auto leveling included, you may also be interested in adding solar panels, additional air conditioning units, storage racks, and much more. Keep in mind this will drive up that initial purchase price though.
Super unique floor plans for just about everyone
Luxurious interior design with multiple fireplaces
App-based electronic leveling system gives you more time at camp
Expensive, especially for a smaller travel trailer
If you thought KZ RV was relatively unknown, check out this option from Venture RV. The SportTrek Touring travel trailer has auto leveling as an option, and for good reason. Ranging in weight from 7,000-9,000 pounds, you'll want something easy to get you set up. Let's talk about this luxury RV now.
One of the best things about the SportTrek Touring is the fact that it has nine available floor plans, all of which are under 39 feet. Some floor plans sleep as few as four people, while one available floor plan with multiple bunk beds can sleep up to 12 people. Yes, you read that right- Venture RV has thought about just how many people you might want to bring along with you!
One of the coolest things about this particular RV's interior design is that it has multiple electric fireplaces on multiple floor plans. You get one in the living room, and one in the primary bedroom, giving you even more intimacy and space from the rest of the group. Some of these floor plans are truly unique and fantastic, especially if you were looking for something different.
It's also impressive that you can fit all of this in an RV that's under 40 feet long, something that seems rarer and rarer these days. You can still get an outdoor kitchen, spacious bathrooms, and kitchens that rival residential ones, but the price point may be high on this particular RV.
A dizzying amount of floor plans across multiple lengths
Lightweight and easier to tow
Fair price point, considering what you're getting
Interior design is just so-so
Did you know that the Cougar Half-Ton from Keystone weighs anywhere from 5,000-8,000 pounds? This is ideal for those of you with tow vehicles that can't quite handle some of the larger rigs on this list. And there's plenty to love about this RV! Let's talk about it now.
One of the most important things to know about the Cougar is the fact that it has 23 available floor plans, across 27-37 feet lengths. I see this travel trailer just about everywhere, as it is extremely popular, among many different walks of life. This is likely because it has so many floor plans, and the price is fair for what you are getting.
While the larger floor plans creep above $70k, you can get smaller models for less than $50k, making it affordable and possible to add on other options. Auto leveling is one of those options, and you'll want it with this RV for sure. The Cougar will be easier to drive than other options on this list, and you might as well save even more time once you get to camp!
Just like the SportTrek, you can sleep up to 12 people in the largest floor plan offered by Keystone. There are floor plans perfect for couples, multiple bunkhouse options, and plenty of choices for those of you considering living full-time in your RV.
You can even get the Cougar outfitted for boondocking, as it has larger holding tanks than normal and is prepped for solar. Keystone will install solar panels for you if you want to pay for it, making this travel trailer one of the most versatile on this list. The catch? You may need to make the interior design more inviting, but even so, it is modern and bright!
Final Thoughts
Finding a travel trailer with auto leveling features installed as either standard or optional amenities can be difficult. We've scoured the RV marketplace and found some of the best options for you, including ones that value auto leveling from the start.
If none of these RVs are quite what you're looking for, keep in mind that you can always install auto leveling onto your RV after the fact. However, many people overlook the convenience and ease that an auto leveling system can offer them, so you're making the right choice by pursuing it from the beginning!