Last updated on May 23rd, 2023 at 06:29 am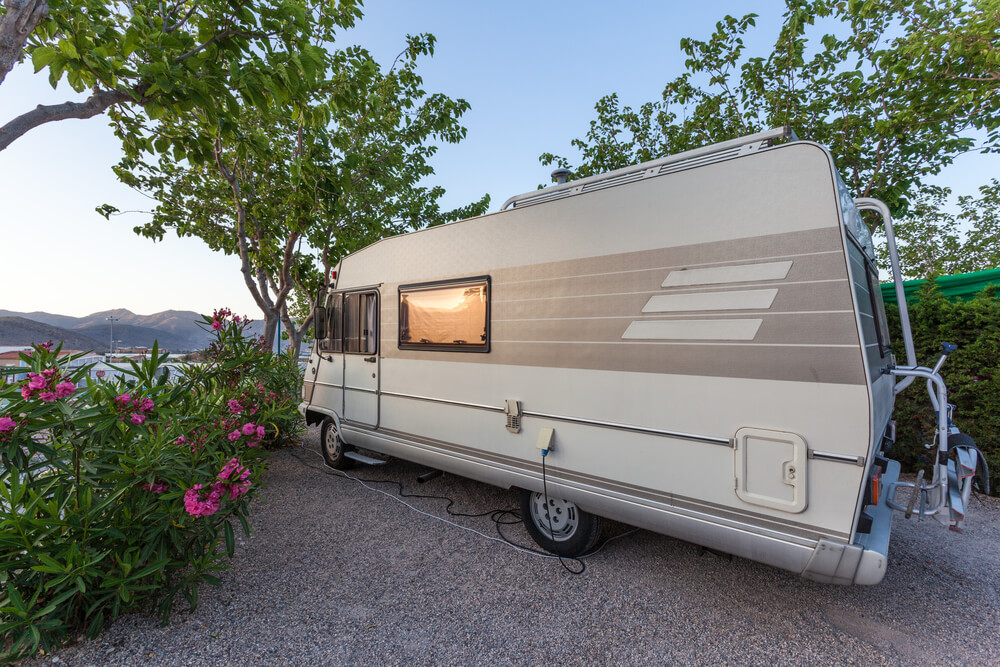 All of our reviews are based on exhaustive research, industry experience, and whenever possible, hands-on testing. When you make a purchase using one of our chosen links we'll receive a small percentage of the proceeds. This supports the site and keeps Jeffsetter running. You can read more here.
Have you ever looked into what materials make up an RV? Maybe you've gone RV shopping and noticed your body reacting negatively when you stand inside a rig, in ways that don't feel right.
Why might this happen? There's a chance that the well-known chemical formaldehyde is behind it.
So do all RVs have formaldehyde?
It may surprise you, but a large number of RVs these days are made with formaldehyde. Not all RVs have formaldehyde in them, however, but this sneaky chemical is one to keep in mind when shopping for your new rig.
I'm sure you have questions and concerns, so let's take a look at what formaldehyde means for you and your new RV!
What Is Formaldehyde?
According to the American Cancer Society, "Formaldehyde is a colorless, strong-smelling gas used in making building materials and many household products. It is used in pressed-wood products, such as particleboard, plywood, and fiberboard; glues and adhesives; permanent-press fabrics; paper product coatings; and certain insulation materials."
Chances are, you've already dealt with formaldehyde in small amounts. It can be found in many household products, but it is often labeled when used in beauty products and glues.
Formaldehyde is usually only used in small quantities, but when it comes to your RV, the number of building materials utilized may mean a lot of formaldehyde in a small space!
Formaldehyde is obviously a cause for concern and often causes larger health issues. This shouldn't be something to take lightly, though there are many solutions for it.
How Does Formaldehyde Affect Me?
Formaldehyde is definitely something to consider when purchasing an RV, especially a new RV. But what exactly happens when we're exposed to formaldehyde?
Because it evaporates easily, exposure to formaldehyde comes from breathing air. When we take in formaldehyde, enzymes in our bodies naturally break it down, if we are breathing in normal levels of it.
When formaldehyde is present in the air at levels higher than 0.1 parts per million (ppm), some people may experience:
watery eyes

burning sensation in the eyes, nose, and throat

coughing

wheezing

nausea

skin irritation
More often than not, some people are more sensitive to formaldehyde than others. You may not experience any symptoms, but people who are often plagued by allergies usually report being affected by formaldehyde.
No matter what, the quality of air inside your RV matters. Whether you're taking your rig out for the weekend or planning to live in it full-time, you don't want to have any regrets. Pay attention to your body when you're inside a new trailer or motorhome. Listen to it, and you may save yourself some pain (literally!).
Why Would My RV Have Formaldehyde In It?
As I mentioned above, formaldehyde isn't a product that is unfamiliar to us. It is used in so many things, including most building materials. Your RV, whether new or old, has probably been built with products containing traces of formaldehyde.
Manufacturer's Using Poor Materials
Unfortunately, some RV manufacturers are returning to building materials that used to be banned for travel-trailer use. These materials are cheap and easy to procure, as well as lighter and sturdier in dramatic temperature changes. But they are not being tested or regulated at a federal level, and no one is regulating air quality inside RVs.
This poses a serious problem for RV consumers. RV purchases are serious investments, and it doesn't feel right to buy a brand-new product that could make you and your family ill!
It's A Cheaper Manufacturing Option
Without regulations being enforced on RV building materials, devastating things can happen. For example, thousands of people who received trailers after Hurricane Katrina developed symptoms of formaldehyde exposure. This was simply because FEMA thought testing the trailers would be too much work for them to do. Can you believe that?!
If you are planning to purchase a new RV, keep formaldehyde in mind. These new RVs have not had adequate time to ventilate and release the formaldehyde from the building products. This is the most common occurrence of formaldehyde: when you order a brand new trailer and have it delivered to you from the factory.
The chances of formaldehyde being present are much higher in a factory-new rig as compared to a vintage or older trailer. This may not be good news for those of you planning to take your brand-new trailer on the road a day or two after it arrives.
Heat And Humidity
If you buy a used or vintage RV, you are less likely to struggle with formaldehyde, given the amount of time the trailer has been airing out. However, heat and humidity affect formaldehyde levels. You may need to consider the climate that your trailer was kept in for the majority of its life. High heat and humidity levels allow more formaldehyde to escape than under more moderate temperatures, which may explain why you smell something odd on a hot day!
Formaldehyde can take years to fully evaporate, so take care when touring new RVs. Do you smell something strange? Are you starting to feel odd inside a rig? Perhaps you should reconsider your purchase and look for a rig with nicer materials if you can afford to!
How Can I Tell If My Current RV Has Formaldehyde?
If you currently own an RV and have a fear of formaldehyde being present inside of it, there are options for you!
Have you noticed a peculiar, often pungent smell inside your RV? Or perhaps you've experienced the above symptoms while on a camping trip and there were seemingly no causes for the reaction?
These may be signs that your RV has formaldehyde present inside of it. If you are determined to know if this is true and own an RV with existing manufacturers, you can most likely contact them and ask if formaldehyde is present in the building materials they use.
If you don't have this option or own a vintage trailer (like me; my manufacturer doesn't make my trailer anymore and can't tell me what it's made out of), there are tons of test kits on Amazon as well as more reliable options through other various vendors!
Test kits are the most reliable and accurate option for those of you worried about formaldehyde and other chemicals potentially being present in your RV. They are often very affordable and take less than 72 hours to get results back to you, so you don't need to worry about high costs.
What Do I Do If Formaldehyde Is Present In My RV?
So you smelled something funny when you brought your RV out of storage to use this summer. It's better to be safe than sorry before the big family vacation, right?
You ordered a test kit, you waited for the results, and it turns out your fear is realized: there is a hazardous amount of formaldehyde present in your RV.
What can you do, especially in time for your camping trip?
Unfortunately, formaldehyde dissipates over time, even though most of the formaldehyde used in making products is consumed during the manufacturing process. A very small amount remains, and works its way out of products slowly.
Fortunately, the smell and harmful effects of formaldehyde can be eliminated with some help. The easiest way to accomplish this is by 'cooking' it out of your RV. What does this mean?
Formaldehyde evaporates over time and dissipates more frequently under high heat and humid conditions. Essentially, what you can do as an RV owner, is to cook the formaldehyde out of your existing materials. It may sound scary, but it's an efficient and easy task that nearly everyone can do!
The Cooking Process
Here's how to cook the formaldehyde out of your RV!:
Turn your furnace up high

Close everything up (doors, windows, holes, etc)

Leave your RV sitting like this for 12-24 hours

After 12-24 hours, open up everything (roof vents, windows, etc)

Turn on your RV's fans and ventilate the space for several hours

Check to see if the smell remains

Repeat the process as necessary
The Cook-Out process can be effective in buildings too, where new additions such as paint can bring formaldehyde into the space. This is discussed in more detail in the video below:
The Ammonia Process
If you do the cooking process several times and still notice a smell, there's another option for you. Utilize ammonia if the smell lingers and you can't seem to fix it. Ammonia is available at most large stores such as Wal Mart or almost any hardware store, as well as on Amazon.
This process of using ammonia to rid your RV of formaldehyde is more involved, but it may be worth it for the safety of you and your family:
Remove anything in the RV that might touch skin (fabrics, cushions, dishes, plants, etc)

Turn off your propane and empty your water tanks

Gather 1-4 large, shallow bowls, depending on the size of your RV

Spread them out and fill the bowls with ammonia, about a half gallon in each dish

Close up your RV, every window and door

Leave your RV sitting with the ammonia inside for 24-72 hours

Vent your RV by opening all windows and turning on your fan

Safely dump the ammonia down any drain, as it is comprised of primarily water now
Just like the cooking process, you may need a long time venting out your RV, or you may need to repeat this process. However, going the extra mile and utilizing ammonia usually eliminates the unpleasant smell of formaldehyde.
Are There RVs Or RV Materials That Don't Use Formaldehyde?
If you know you have a fear or allergy to formaldehyde, hope is not lost. There are some materials used in RV manufacturing that aren't made with formaldehyde.
These materials have no need to off-gas as they age, though RVs built with these materials are often more expensive. It may be worth the investment for you and your family, though!
Some materials that are formaldehyde-free are:
Aluminum

Azdel

Fiberglass

Plastic
There are some brands of trailers that are safer for those of you with allergies. These trailer brands advertise healthy materials, ones often certified by green organizations.
You may find these green trailers more appealing, though most have a higher price tag than others, especially if you're comfortable with a used, older model of trailer. However, here are some brands that advertise sustainably and potentially formaldehyde-free materials:
Airstream

Gulf Stream

Coachmen

AEV

Living Vehicle

AluminumToyHauler

AMI

Casita Travel Trailers

Ecoluxe

Happier Camper

Forest River

Safari Condo

Lance

Oliver Travel Trailers

Renegade

Roadtrek
As with everything, do your own research before you commit. Some of these brands and manufacturers may claim things that are untrue or may not know exactly what you're expecting when it comes to formaldehyde and other harmful chemicals.
Some of these brands may only use formaldehyde-free materials for some of the trailer's construction, not all of it. Keep this in mind while touring various rigs and RVs, as some paint, fabrics, and wood may contain traces of formaldehyde.
How Long Does Formaldehyde Last In A Trailer?
The good news is as soon as you started getting the formaldehyde out of your RV, the levels begin to drop. The length of time the formaldehyde may linger in your rig depends on how much of the chemical was used in your RV. It could take up to two years for levels to return to normal, so this is something worth asking your RV dealership before purchasing a brand new RV that may contain a substantial amount of formaldehyde.
So, Do All RVs Have Formaldehyde In Them?
In case you couldn't tell, this is a tricky question to answer. I suppose the short answer is probably, simply based on building materials and the way RV manufacturers are nowadays.
However, if you own an RV that was built before 1999, the chances of formaldehyde affecting your health are slim. Most of it has probably evaporated at this point, though humidity and heat can affect the burn-off rate.
Closing Thoughts
It's never a bad idea to own an air quality monitor to test the levels of formaldehyde in your RV! This way, you can always have the peace of mind you need. You may be able to afford a formaldehyde-free trailer or RV, but keep in mind the initial high costs and the continued cost of upkeep and maintenance. Though you should never put a price tag on your peace of mind.
No matter what, your health and safety matter most of all. There are solutions for formaldehyde in the air of your RV so that you can continue to enjoy your rig season after season!