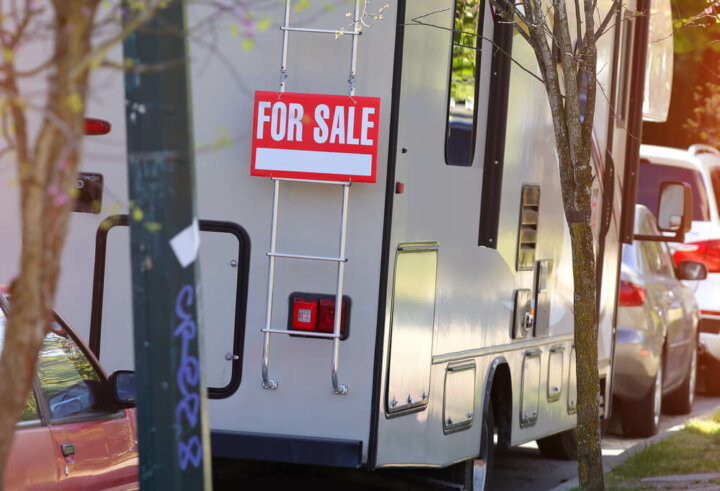 All of our reviews are based on exhaustive research, industry experience and whenever possible, hands-on testing. When you make a purchase using one of our chosen links we'll get a small percentage of the proceeds. This supports the site and keeps Jeffsetter running. You can read more here.
Are you entering the exciting process of buying a used RV, but instead of feeling excited you feel overwhelmed and you aren't sure where to start?
That's completely understandable, after all, you want to make sure that you are buying an RV that doesn't have any expensive hidden issues.
So, what questions you should ask before buying a used RV?
Asking yourself important questions will help narrow your search and settle on the right RV for you. Getting a thorough history of the RV, a professional inspection, and asking about the specifications of the RV can make your used RV buying process a breeze.
This article will list the most important questions you should keep in mind when looking to purchase a used RV.
Questions to Ask Yourself When Buying A Used RV
Before you start your search for a used RV, there are some questions you should ask yourself first that can help narrow your search down. Knowing what you want out of your RV will help make sure that you are as satisfied as possible with your purchase.
What is your budget?
What seasons will you travel in most often?
What terrain will you drive the RV in?
Where do you plan on storing your RV?
Knowing the answers to these questions is vital to your search. They will help you to figure out exactly what you're looking for and what kind of rig will be best suited for all of your needs.
Top 10 Questions to Ask the Seller
These are the ten most important questions to ask the seller of the used RV that you are interested in. There are definitely more questions to ask, so make sure to read the more comprehensive list after these.
1. What is the Price?
This probably seems like an obvious question, but it's probably the biggest factor in if you actually end up making the purchase.
It's not a bad idea to do a bit of your own research ahead of time so that you know what to expect. The Kelley Blue Book is a good resource to check the value of the RV that you're interested in. Make sure that the price listed is in line with the actual value.
Most people are negotiable on pricing when they are selling a used vehicle, so don't be afraid of haggling a little bit. Even though we all want to spend the least amount possible, don't offer too low of a price and insult the seller.
2. How Many Owners has the RV had?
You should know who the current owner of the RV is. It might belong to a dealership selling used RVs or it could belong to the person selling it, or even a friend of the seller.
Find out the RVs VIN number so that you can look at the history of the RV instead of just taking the seller's word for it. You're making a big purchase, so it's important to not leave any stone unturned. Using the VIN number, you can contact the DMV to find out more information about who owns it and a vehicle history report.
It's always best when you can deal directly with the owner of the RV. They will be able to best answer your other questions regarding the history of the RV and its current state.
Additionally, you should find out how many people have owned the RV. Don't be concerned if your RV has had a few different owners, but try to find out how they used it and how often they took the RV out.
3. Are There Maintenance Records?
Getting your hands on maintenance records is one of the greatest things you can find when you're buying a used RV.
There are inevitably things that you'll miss when inspecting the RV, warranty and maintenance records will help avoid those becoming huge problems.
If some things have been repaired in recent history, they might be covered under a warranty plan that will cover any issues that arise. You also want to make sure regular maintenance was performed on the RV like oil changes, tire rotations, and fluid changes.
If there aren't any maintenance records, then don't be afraid to request a professional inspection. This is the smartest way to make sure that you are getting what you're paying for.
4. What is the Mileage?
Lower mileage is not always a sign that your RV is in good shape because if it's not been driven enough then it is possible for seals in the engine to dry out and cause engine leaks. RVs tend to be used for long hauls, so they might have racked up some miles.
In an ideal world, you probably would want to look for an RV that is newer and has fewer miles on it. An older model isn't necessarily something you need to stay away from though, as long as there are maintenance records and it has been well cared for.
5. How Recently have the Tires been Replaced?
Mileage and tire quality go hand in hand. Some tires are warranted for a certain number of miles, so it's necessary to know how many miles are on the current tires. If you can check out the tire mounting and rotating records, that would be excellent.
Visually inspect the tires. See if the tread is worn out. Look for any cracks, dents, or bubbles.
Don't forget, the price is usually negotiable. If the tires are not in good shape, you can use that to your advantage when negotiating a price.
6. Why is the RV being Sold?
Don't be afraid to ask why the seller is interested in selling their RV. There can be a lot of reasons why they might want to sell their RV and many of them can be directly related to the state the RV is in.
It could be an innocuous reason like they are no longer interested in traveling in an RV or they are getting a bigger rig. It could also be due to any number of issues occurring in the RV. There could be problems that are outside of the seller's budget to get fixed. They might just not want to deal with the headache of certain repairs, and an unscrupulous seller might try to hide those problems in order to get rid of them.
7. How was the RV Stored when not in Use?
The RV needs to be stored properly during the off-season, or else the RV can end up with damage.
This is especially important to consider when you live in colder climates or climates with harsher weather. Cold climates, ice, and storms are not good places for RVs to be stored for long periods of time.
You should find out if the RV was stored inside a garage, in a covered space, covered or completely exposed.
8. Were there any Pets in the RV?
This question is especially important if you have any pet allergies. Even if the RV has been cleaned thoroughly smells and danders can linger making an issue for people with sensitivities to animals.
Even if you are not allergic to pets, it's still a good idea to get this part of the RV's history. Pets can cause damage to the interior of an RV, like scratching up rugs or chewing on wooden parts. If the pet is not potty trained, that can also cause a problem if they have accidents inside the RV that are not properly tended to.
In a similar vein to this, you might want to ask if any previous owner was a smoker.
9. Can it be Taken for a Test Drive?
This might seem obvious, I mean, you wouldn't buy a car without driving it first, so don't buy an RV without a test drive. If you ask the seller to take it for a test drive and they don't want you to, then you should probably walk away from the sale.
Take the RV on a test drive on an open road. Drive it slowly, quickly, make turns, test the brakes, etc. Make note of how it feels to drive, is it something you're comfortable with? Take it up some hills and see how the engine handles it. Listen for any rattling while you drive, that might be a sign that something isn't properly installed and could fall.
10. Can the Seller Prepare the RV for an Inspection?
It's important to inspect the RV before making your purchase. Make sure the seller has the 12-volt battery charged, that the shore 120 VAC electrical service cable is connected, there is propane in the tank, water in the fresh-water tank, that the town water hose is connected to the trailer and that the sewer line is connected.
You'll want to make sure to check areas for water damage, electrical problems, bodywork, and mechanical issues.
The video below shows how to inspect an RV thoroughly yourself.
You should consider hiring a professional for an inspection. It will definitely be worth the money. Even just asking the seller if you can have a professional inspection done can give you an idea of if this will be a good purchase or not. If the seller denies your request for a professional inspection, it's probably a sign that you don't want to go through with the purchase.
Other Questions to Consider
Aside from the questions above, there are other questions you should definitely consider asking when you are looking at buying a used RV.
Vehicle History
Has the RV been involved in any major accidents?
Have there been any major repairs done to the RV?
What kind of travel did the previous owners do?

Cross-country trips? Small weekend trips? Boondocking? Resorts? Etc.

Did any children use the RV?
Were any changes made to the RVs original layout?
Who owns the RV?

Is there a clear owner on the title?
Who can accept the offer and deal with the transfer?

How often has the RV been used in the last few years?
Are the owner's manuals still available?
What MPG does the RV get?
Are there any loans or debts on the vehicle?
Vehicle Exterior
What supplies for dumping are included?
What kind of storage is there?
Are there bays underneath?
Does the RV have slides?
Are there any leaks in the roof?

Have there ever been leaks in the roof?

Do all the exterior lights function?

Signals, high beams, fog, running, brake, etc.

What is the length of the RV from bumper to bumper?
Are the clear coat and the paint in good condition?
Is there a rearview camera and does it work?
Are there hydraulic levelers and do they work?
When was the last time that the tires were replaced?

Do they have tread left on them?

Is there a hitch?
What size hitch does it have?
What has the RV towed previously?
What is the towing capacity for the RV?
Vehicle Interior
What is the layout of the RV?
Is there a TV?
Are there speakers or any kind of sound system?
Where does the sound system reach?
What runs on propane versus electric?
Is there a hot water heater?
Is there a washer?
Is there a dryer?
Is there an air conditioner?
Are there fans?
Where is the shower?
What type of toilet is in the RV?
Do the water lines function?
Do all the appliances work?
Is there an oven, stove, and or microwave?
Is there a fridge?
Does the fridge run on only propane or can it run on electricity as well?
How big is the sink?
Do all the fixtures work?
Do all the lights work?
How big is the grey water tank?
How big is the black water tank?
How big is the potable water tank?
How big is the propane tank?
Are there blinds or window coverings?
Are there black-out shades?
Do the windows have screens?
Do the windows open and close properly?
Are the windows sealed properly?
Where is the fuse box for the coach?
Do all the fuses work?
Which outlets are on 12-volt power?
Which outlets are GFCI?
Are there or have there been interior leaks or wiring issues?
Have there been repairs to the interior?
Is everything bolted down to the floor?
The Guts
How many batteries are there?
How many of those are for the coach?
How many for the engine?
How many years old are the batteries?
What voltage are the batteries?
Are they connected in series or in parallel?
Do the batteries have a warranty?

Who warranties the batteries, if there is one?

Is there a backup battery?
Does the RV have an inverter?
How many hours has the generator been used?
How loud is the generator?

See if they will turn it on for you to get a better idea of its volume

Does the RV run on gas or diesel fuel?
What kind of engine does it have?
Where is the engine located?
What kind of transmission does it have?
Has the transmission been replaced?
When were the wheel bearings last greased or replaced?
Are all parts original to the RV or have they been replaced?
Where is the fuse box for the engine?
Are all the fuses functioning?
What's Included?
Are there any tools included?
What hoses are included?
What electrical cords are included?
Are any cleaning supplies included?
Are there remote controls included?
Is any of the decor included?
Conclusion
There are a lot of factors to consider when planning to buy a used RV, and it can feel daunting and overwhelming when starting the process. Knowing what to ask and what to look for can help you feel a lot more comfortable and confident when meeting with a seller.
Hopefully, our list of questions can make this process a little less confusing!