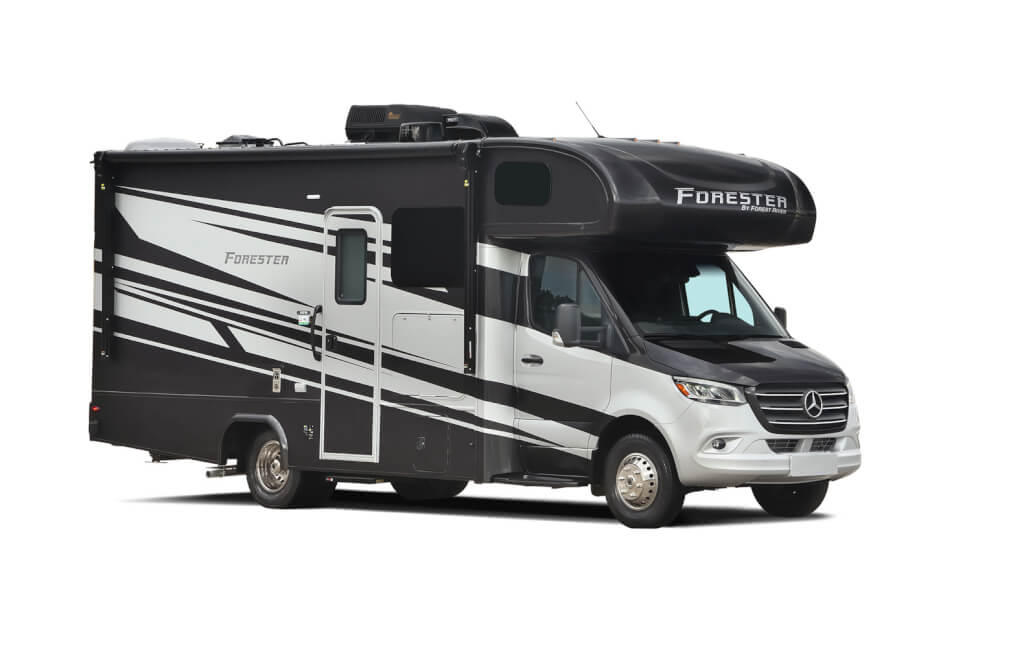 All of our reviews are based on exhaustive research, industry experience and whenever possible, hands-on testing. When you make a purchase using one of our chosen links we'll a small percentage of the proceeds. This supports the site and keeps Jeffsetter running. You can read more here.
Regarded as one of the largest manufacturers of RVs in North America, you may be wanting to read some reliable Forest River RV reviews. But what all is there to know about Forest River as a company, and how do their RVs perform on the road, after years of ownership, and when stacked against other RV brands?
In this article, we will address all things Forest River: details about their company, the number of RVs they currently manufacture, and more. We will also take a deep dive into some Forest River RV reviews, including ones from reliable customers and long-time RVers.
At the end of this guide, you should know everything there is about Forest River and their lineup of RVs. That way, you can make an informed purchase or upgrade based on what we can tell you about their RVs. Let's get started and talk about Forest River now!
Forest River RV Company Overview
Founded in 1996 by Peter Leigl, Forest River Inc is only one name for many different assets and products offered by Forest River. They specialize in RV manufacturing, commercial trucks, pontoon boats, shuttle buses, and cargo trailers. Not only do they produce RVs under the Forest River name- they also have a variety of additional companies and divisions that make quality RVs!
Other Forest River companies and divisions of Forest River include:
Shasta

Palomino

East to West

Coachmen

Dynamax

Primetime Manufacturing

Forest River Park Models
Forest River itself is a company under the umbrella of Berkshire Hathaway, so they belong to a fairly large conglomerate. However, they are dedicated to building a better RV, both for the new RVer and the full timer!
Not only do they offer manufacturing facilities in the midwest and west coast so that orders can be filled faster. They manufacture their RVs using a complex and rigorous inspection process that covers everything you want in a new RV. We'll talk more about their inspection and testing process later, but there's a lot to be said for Forest River's dedication!
Let's talk in more detail about the product offerings from Forest River's RV division now.
What Kinds of RVs Does Forest River Offer?
Forest River offers a wide variety of RVs, especially when you consider the other companies that they own, such as Dynamax and Coachmen. However, we're just going to take a look at the Forest River branded RVs today. If you are looking for a budget friendly rig, I highly suggest checking out what Coachmen has to offer. On the other end of the spectrum, Dynamax is perfect for those of you who are shopping for a luxury motorhome!
The Forest River RV brand name manufactures the following types of RVs:
Travel trailers

Fifth wheels

Class A motorhomes

Class C motorhomes

Toy haulers

Pop up camper trailers
But how many different types of each of these RVs do they manufacture, and what are the average lengths of these trailers or motorhomes? You can scroll to the bottom of this page for the complete list.
What Do Customers Have to Say About Forest River?
Now that you know a little bit about all of the makes and models offered by Forest River, what do customers have to say about the company as a whole? There are many different reviews for Forest River at this point in time- let's look at what people like you have to say about this company!
Positive Reviews
Forest River earns a great deal of positive reviews for a number of reasons. Not only does Forest River have a huge number of models and styles, but they are able to offer these models in a variety of formats.
Take the Hemisphere travel trailer, for example. Not only does this travel trailer come in both a fifth wheel style hitch, it comes in a traditional travel trailer style hitch. It also has floor plans that offer toy hauler ramps, and Forest River offers lightweight versions of the same model so that you can tow the rig with a lighter weight vehicle.
Simply having so many options appeals to a great number of people. While it can get overwhelming if you are new to RV shopping, most people who are looking to purchase a new RV want a large number of options. Given that everyone's lifestyle and needs are different, it feels as if Forest River has made RVs for just about everyone.
Not only does Forest River offer a wide variety of models and styles of RVs, they also offer these makes and models at affordable prices. Forest River is known for appealing to a wide number of budgets, making rigs that suit the first time buyer as well as The old pro. They want you to continue to invest in their company for the entire time that you choose to purchase new RVs.
Another perk when it comes to positive reviews for Forest River is that they have dealers and retail locations available primarily in the Midwest and West Coast. However, Forest River RVs are popular enough that they are located Nationwide and in Canada as well. It is extremely difficult to tour an RV lot and not find at least one Forest River RV!
Given that there are so many different makes and models, many positive reviews for Forest River mention the floor plans and layouts. Customers love having options, and these options typically work well for them in terms of space, comfortability, and storage solutions.
But what might some of the negative reviews mention? Let's talk more about the flip side of Forest River RVs.
Negative Reviews
What goes up must come down, and there is indeed a negative side to any purchase, including one from Forest River. What is the main complaint regarding this RV company? The majority of customers who buy a brand new Forest River RV have difficult interactions with the customer service line, warranty troubleshooting, and the longevity of their rigs in general.
Something that could be said about Forest River is simply that you get what you pay for. The budget friendly prices offered by this company typically go over well with consumers and customers. However, the long-term ownership of a Forest River RV may leave something to be desired in terms of the craftsmanship and durability of the vehicle.
Granted, very few recreational vehicles are designed to last more than a couple decades, even with regular maintenance and care. However, many of the complaints about Forest River's manufacturing happen within months after purchasing a new RV. That is typically considered inexcusable and an issue in the RV community, especially in conjunction with difficult customer service and warranty redemption programs.
Plus, there are also many reviews that mention service department issues in conjunction with warranty troubles. For example, despite having service centers and RV repair locations nationwide, certain models of Forest River RVs can only be serviced at certain locations. This often leads to an abundance of confusion and complications should your RV need a serious repair that is indeed covered by the warranty.
Many customers mention the fact that they purchased their Forest River RV in the Midwest and transported it back home, only to find out that their RV can only be serviced in the Midwest once more. This is an unfortunate part of the warranty and manufacturing process, especially when you consider how large of a company Forest River is. They should have the ability to accommodate more customers, no matter their location in the United States.
With all of this in mind, what else should you consider when looking at Forest River reviews and product information? Let's discuss this now.
Things to Consider
There are a large number of negative reviews for Forest River that have come out in the last 2 to 3 years. The Covid-19 pandemic had a large effect on the RV industry, given the fact that travel was limited and many people resorted to RV camping as a source of entertainment. However, this also meant that RV manufacturers couldn't keep up with demand and were constantly trying to meet deadlines that they were perhaps overbooked for.
This isn't to excuse Forest River's potentially haphazard and rushed manufacturing process. A company of this caliber should still be able to produce RVs at a rate that does not compromise their manufacturing quality. However, given the influx of demand and Forest River's desire to meet such demands, it would only make sense that there are more negative reviews now than ever before.
The Covid-19 pandemic also created far more RV owners than ever before. Most of these RV owners are also first-time RV owners, which means they potentially have unrealistic expectations when it comes to purchasing and owning an RV in the first place. The amount of maintenance and potential repairs that need to happen to an RV at any point in its life can be overwhelming, especially to new customers expecting perfection.
With all of this in mind, let's take a look at Forest River reviews in more depth. Let's specifically talk about the build quality of these RVs, the customer service and warranty options provided by Forest River, and the layouts and design elements present in any new RV produced by Forest River.
Forest River RV Reviews: Build Quality
There are decidedly mixed reviews regarding the build quality of Forest River RVs. Many customers experience little to no issues in the quality of their RVs, while other customers experience nothing but issues with the construction and manufacturing of their new rig. It is safe to say that the majority of customers who have issues with the build quality of a Forest River RV have very specific issues regarding one component or reoccurring problem.
For example, many Forest River RV owners experience troubles with their slide outs and mechanical components of their RVs. Some of these include the water pumps, air conditioners, refrigerators, and water inlets. Some negative reviews also mention that the seals around the doors and windows could be improved upon.
However, many reviews also mention that the build quality of their RV is sound. Given that Forest River constructs their RVs using Azdel materials as well as lightweight steel, they are built to last for years to come so long as everything has been properly sealed and constructed in the first place!
In terms of construction, Forest River states that "random units from each of our brands are subjected to rigorous testing at our 20,000 square foot pre-delivery inspection (PDI) building on top of the inspections that all units undergo as they are being built." The inspection process sounds promising, but given the fact that it is random, it may not be as helpful as you think.
Forest River goes on to say that "units selected to go through PDI are checked for issues in electrical, plumbing, LP system, function, cosmetic, codes and standards, rain bay, and other miscellaneous tests. This process provides our plants daily feedback to ensure every unit being built meets the high quality standards."
It seems as if Forest River has a lot to offer their customers in terms of build quality and inspections for new ownership. However, Forest River may need to work on their overall consistency when it comes to finalizing their products before shipping them out the door.
Forest River RV Reviews: Customer Service and Warranties
Of all of the negative reviews, the majority of them come from issues regarding Forest River's customer service and warranty programs. Not only do many customers mention having issues with scheduling repairs for their RVs, they also mention that the limited warranties often do not cover what they think they should. Let's talk about this in more detail now.
Forest River just recently updated their one-year comprehensive warranty based on the date of purchase of any new recreational vehicle. For example, any RV purchased on or before June 30th, 2021 has a slightly different warranty compared to any RV purchased after this date. For the most part, this doesn't affect your options too much. However, it is important to mention this for any new RV owners.
For the most part, Forest River covers any substantial defects that occur to any one of their RVs for a full year. Substantial is, of course, subjective, and this is where many customers run into issues when trying to redeem parts of their warranty. Forest River also offers a 90 day repair or replacement policy on a variety of RV components, should they malfunction within this window of time.
However, this window of time is extremely brief, as is a year's warranty when you consider the overall lifetime of your RV. Given the price points of the majority of Forest River's travel trailers, fifth wheels, and motorhomes, this is generally what is expected out of a warranty of this caliber and price point.
There are reviews that mention Forest River having issues with returning phone calls and emails, including customer complaints and time sensitive needs. Given the influx of RV repairs and sales happening around the country, it is to be expected that things take a bit longer than they perhaps have in the past. However, ignoring warranty requests and customer service complaints is inexcusable. It is definitely something that Forest River has room to improve on.
Forest River RV Reviews: Layouts and Design Elements
One of the overwhelmingly positive aspects of Forest River is their abundance of layouts and thoughtful design elements found throughout their RV models. In fact, many customer reviews mention that a particular layout or design is why they decided on purchasing a Forest River RV when compared to other popular brands.
As we've already mentioned, having so many different choices and layouts can be especially beneficial to an RV manufacturer and RV business. Every customer is looking for something different out of an RV, depending on how often they plan on using it, where they plan on driving it, and how many people they are hoping to sleep inside of it.
Not only does Forest River produce enough RVs and layouts to suit everyone's needs and specificity, they also offer RVs in a variety of weights. For example, many travel trailers and fifth wheels have ultra light construction options so that they are easier for more vehicles to tow. Their motorhomes also come in gas and diesel fuel types so that you can choose something that works best for you in the long run.
Some Forest River travel trailers are large enough to sleep over 10 people, and some are small enough for a solo adventure or journey as a couple. There are toy haulers in a variety of layouts and styles, as well as bunkhouses for families traveling with a large group of children or people. You can get a fifth wheel with laundry hookups for your full-time life on the road, or you can find a compact travel trailer that is perfect for boondocking for the weekend.
The design elements are also simplistic and easy to care for, including a wide variety of floor and countertop materials. You can get spacious bathrooms as well as compact wet baths. The sky's the limit in terms of the layouts and design elements found in any one Forest River RV, and this doesn't even include the abundance of optional features that you can add on after the initial purchase price of your new RV.
However, you can't put a bow on all of the issues that Forest River seems to have and expect their customers to be happy. Having an abundance of choice may seem like a good thing at first, but Forest River is notorious for introducing layouts and designs one year and promptly getting rid of them the following year if they do not sell. This can lead to inconsistencies in their overall product manufacturing, and this is something to keep in mind.
Top Rated Forest River RVs
Your head may be swimming with all of these customer reviews and information surrounding Forest River RVs. However, what are some of Forest River's top rated RVs, and why? Let's take a look at some of their top-selling models and selections, based on the style of rig. This way, you can get an even better idea of what they can offer you!
Forest River Travel Trailer: r-pod
The unique construction and flexibility of the Forest River r-pod makes it to one of their top selling travel trailers and RVs across the board. Depending on your region, there are some discrepancies in the number of floor plans and features. This is also likely affected by the number of RV repair shops that Forest River has nationwide, but it essentially splits the r-pod into the r-pod classic, and the r-pod Hood River Edition.
No matter what, the r-pod is a lightweight and convenient travel trailer for a number of reasons. The rounded shape of this travel trailer makes it easy to tow and helps you maximize your fuel economy when driving. Plus, the r-pod is small enough that you can take it off road or wherever your boondocking adventures take you.
Speaking of boondocking, you can have an entire solar setup installed on your rig, along with a 30 gallon fresh water tank. You should have no trouble towing this rig wherever your adventures take you, and this doesn't even address all of the Interior features that the r-pod has. Let's talk about those now.
Given that the r-pod ranges in length from 17 feet all the way to 25 feet, it is considered a compact travel trailer. This may make you think that it doesn't feel particularly spacious and welcoming inside, but many customers mention they're surprised at how homey and roomy this particular RV feels.
There are nearly a dozen r-pod floor plans available for you to choose from, with some including murphy beds as well as walk-around queen beds. You should have everything that you need to enjoy a weekend away or even full time in this RV if that is what you choose. It is budget friendly, easy to tow, and a fantastic starter RV for just about any couple or family.
Unique design makes this rig perfect for boondocking and standard camping

Aerodynamic and lightweight, ideal for towing

Comes in a variety of layouts for the first-time RVer

May be too compact for families or large groups of people
Forest River Fifth Wheel: Vengeance
It is rare to find a fifth wheel that also feels like a comfortable and homey RV, but Forest River has accomplished both in the Vengeance. Not only can you fit a variety of recreational toys inside of this fifth wheel. You also have space to sleep 5-7 people as well. Let's talk more about the Vengeance and why it won RV News' 2021 award for best toy hauler fifth wheel of the year!
While there are only four different floor plans for the Vengeance, they range anywhere from 43 to 45 feet in length. There are very few small toy haulers on the market today, and this unfortunately isn't one of them. However, that doesn't mean that this rig doesn't have a lot to offer, especially if you are looking for something that fits the whole family and all of your gear.
Given the large size of this rig, it has a cargo carrying capacity of nearly 4,000 pounds. This is enough to cover a number of ATVs, motorcycles, kayaks, and more. Plus, the interior design of this fifth wheel toy hauler is particularly special and unique. It certainly doesn't feel like any other toy hauler I've ever seen!
The kitchen is complete with residential size to appliances and fixtures, and the interior feels light and bright. There are many windows that help you bring the outside in, and there are plenty of awnings and exterior features to keep you enjoying your camping trip no matter where you are.
Huge toy hauler makes bringing along all of your gear easy

Sleeps 5-7 guests, if not more

Homey interior design makes this toy hauler special

May be expensive and oversized for a lot of customers
Forest River Class A: Georgetown
The Georgetown Class A motorhome won RV News' 2021 award for the best gas Class A RV on the road and it doesn't take a genius to see why. While it only has three available floor plans, the Georgetown is ideal for a wide variety of RV customers who are seeking a Class A RV with a gas engine and a fair price point. Let's talk more about this RV in detail now.
Ranging in length from 35 feet to 40 feet, this class A is large and powerful. However, it still has a lot to offer even with its limited amount of layouts and shorter length compared to other Class A RVs. The interior design of this RV is spacious and sophisticated, making it appealing to a wide variety of RV consumers.
All of the layouts of this Class A have an electric fireplace, residential fridges and stoves, as well as walk around King beds with optional power lift capabilities. There's also washer dryer preparation capabilities available in this rig as well for those of you considering it as a full-time living space. Plus, there is a four-season package and an on-board generator so that you can handle anything that comes your way.
Sophisticated interior makes you forget that you're camping

Reasonable length makes this Class A easier to drive than others

Gas engine means that you never have to worry about where to fuel up

Limited layouts may not suit every situation
Forest River Class C: Forester
The Forester from Forest River is their top selling Class C model, likely because it comes in so many different chassis options. You have the option of choosing from a classic Ford Chassis, a classic Chevy Chassis, a Ford Transit chassis, and a Mercedes-Benz chassis. The Mercedes-Benz chassis also comes with a diesel engine, while the majority of these are gas engines. Let's look at the interior and other details about this rig now.
There are 14 available floor plans for the Forester, across all chassis options. Depending on the chassis you prefer, you may have more or less floor plans available to you. However, all of them are unique and spacious, with plenty of storage options and sleeping solutions. Plus, this Class C is a reasonable size, ranging from 23-32 feet in length. This makes it easier to drive than other RV options.
Depending on the interior design you're looking for, there are layouts with walk around queen beds, bunk beds for the kiddos, and residential kitchens so that you can cook to your heart's content. The bathrooms are also flexible in terms of their layout, with some separate toilet and shower combinations so that the sink is still accessible by the whole family.
If you are purchasing a Class C for the first time, you can't go wrong with the Forester from Forest River. There are enough layouts to keep things interesting, as well as enough safety features to keep this rig easy to drive. Plus, there are many different interior design choices that you can make, as well as add-on features such as solar panels or additional batteries.
A variety of chassis options make this rig unique

Huge number of floor plans for just about any family

Intuitive layouts with special features and considerations

May not have all of the finishing touches that luxury RV consumers are looking for
Forest River Toy Hauler: XLR
The XLR comes in a larger travel trailer style, a fifth wheel trailer style, as well as a Ultra Lite toy hauler for your lower capacity tow vehicles. Today, we will focus on the XLR Hyperlite due to the fact that it is a more compact toy hauler than the Vengeance, and it has a variety of floor plans to suit too many different people. Let's talk about it in detail now.
This compact toy hauler won RV News' 2021 award for best travel trailer toy hauler of the year, plus the best overall award in 2020. Not only does it come in 6 possible floor plans. Each one has a sturdy and heavy duty ramp for transporting your toys in and out of the rig.
This particular travel trailer weighs less than 9,000 pounds when empty, and has a cargo carrying capacity ranging from 1,000 to just shy of 5000 pounds, depending on the floor plan. This means that you have an ample amount of carrying capacity for your toys and goods, all on a compact frame. This travel trailer ranges in length from 29 feet all the way to 38 feet!
You can get a number of different packages added on to the purchase price of this particular toy hauler. Some of these packages include an Exterior package, a chassis package, a garage package, a technology package, and more. While these will add on to the ultimate cost of your new RV, the additional features that each one of these holds can make or break your dream rig.
An abundance of floor plans means you can find something that suits you well

Multiple add on packages means you can build the rig of your dreams

Lightweight frame without skimping on carrying capacity

May cost more than you want after add on features
Honorable Mention: Ibex
Despite this travel trailer being relatively new on the scene, the Ibex is one of Forest River's top models currently. It won RV Pro's award for best debut in 2021, and made it onto RV News' top 10 list of RVs in 2021. With 8 floor plans and towing capacity limits in mind, it's no wonder that the Ibex is so special. Let's talk more about it in detail now.
One of the cool features about the Ibex is that some floor plans are lighter weight than others. There are also certain floor plans that are 1 foot wider than the others, giving you more interior living space and breathing room. Plus, a select few floor plans also feature toy hauler ramps so that you can easily move your gear in and out of your RV.
Speaking of interior living space, the interior design of the Ibex isn't particularly stunning. However, everything is easy to clean and access, with hardwood cabinetry and laminate flooring. You can find a floor plan with a pull out sofa, a walk around queen bed, and even a living room with an electric fireplace.
One of the coolest things about this particular rig is that it has a raised chassis, solar panels included for boondocking, and a four-season installation package. This rig is perfect for 4 season use, as well as multiple road conditions scenarios. It's definitely something to consider if you plan on camping anywhere off-grid or potentially unmaintained.
Great features for traveling off-grid or off-road

Many floor plans based on weight and width

Recently won awards make this travel trailer stand out

May not have a stunning enough interior design
List of Forest River Travel Trailers
There are currently 31 travel trailer models that are being produced by Forest River. They come in a variety of lengths and styles, including levels of luxury and hyper lite capabilities. They are, as follows:
Alpha Wolf

– starts at 27 feet, ends at 37 feet

Aurora

– starts at 23 feet, ends at 38 feet

Cherokee

– starts at 28 feet, ends at 40 feet

E-Pro

– starts at 16 feet, ends at 21 feet

Evo

– starts at 22 feet, ends at 36 feet

Flagstaff

– starts at 29 feet, ends at 36 feet

Geo Pro

– starts at 16 feet, ends at 21 feet

Gray Wolf

– starts at 24 feet, ends at 36 feet

Hemisphere

– starts at 23 feet, ends at 33 feet

Heritage Glen

– starts at 23 feet, ends at 33 feet

Ibex

– starts at 24 feet, ends at 30 feet

Independence Trail

– starts at 19 feet, ends at 32 feet

No Boundaries

– starts at 13 feet, ends at 24 feet

Ozark

– starts at 20 feet, ends at 32 feet

Rockwood

– starts at 29 feet, ends at 35 feet

Roo

– starts at 22 feet, ends at 24 feet

r-pod

– starts at 17 feet, ends at 25 feet

Salem-

starts at 26 feet, ends at 38 feet

Sandstorm-

starts at 25 feet, ends at 36 feet

Shamrock-

starts at 21 feet, ends at 24 feet

Shockwave-

starts at 25 feet, ends at 36 feet

Stealth-

starts at 25 feet, ends at 35 feet

Surveyor-

starts at 25 feet, ends at 37 feet

Vengeance-

starts at 30 feet, ends at 41 feet

Vibe-

starts at 21 feet, ends at 35 feet

Wildcat-

starts at 22 feet, ends at 37 feet

Wildwood-

starts at 26 feet, ends at 38 feet

Wolf Pack-

starts at 29 feet, ends at 31 feet

Wolf Pup-

starts at 19 feet, ends at 21 feet

Work and Play-

starts at 27 feet, ends at 36 feet

XLR-

starts at 29 feet, ends at 38 feet
List of Forest River Fifth Wheels
There are currently 20 fifth wheel models that are being produced by Forest River. They come in a variety of lengths and styles, including toy haulers. Some models overlap with travel trailer models, as they offer towable rigs in both hitch styles. The fifth wheel models include:
Arctic Wolf
Cardinal
Cedar Creek
Cherokee
Flagstaff
Hemisphere
Heritage Glen
Impression
Riverstone
Rockwood
Sabre
Sandpiper
Sandstorm
Shockwave
Sierra
Stealth
Vengeance
Wildcat
Wolf Pack
XLR
List of Forest River Motorhomes
There are currently 7 motorhomes under the Forest River name. However, the number of motorhomes that Forest River has a hand in manufacturing only increases when you consider their other companies. The motorhomes under the Forest River name include the following models:
Berkshire-

Class A style

Charleston-

Class A style

Forester-

Class C style

FR3-

Class A style

Georgetown-

Class A style

Solera-

Class C style

Sunseeker-

Class C style
Final Thoughts
Now that you know what customers and RV aficionados have to say about Forest River, you should be feeling confident about your decision regarding this company. No matter your decision, Forest River has a lot to offer the RV world, and their commitment to getting people outside is one to be proud of!