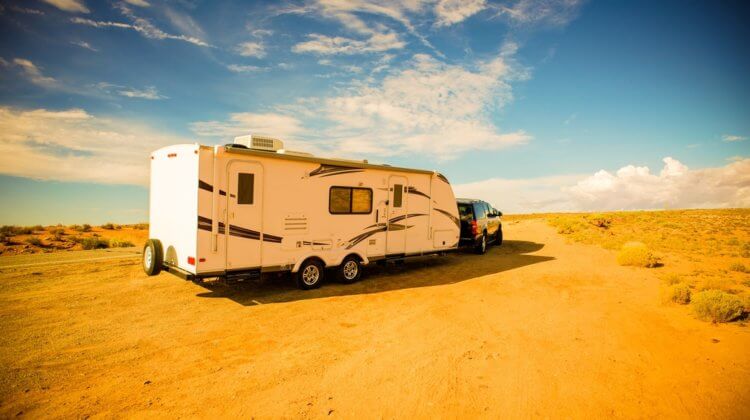 All of our reviews are based on exhaustive research, industry experience and whenever possible, hands-on testing. When you make a purchase using one of our chosen links we'll a small percentage of the proceeds. This supports the site and keeps Jeffsetter running. You can read more here.
If you are new to RVing and wondering how you can keep track of your mileage, what's a better tool than an odometer? However, if you are looking to purchase a travel trailer or fifth wheel, you may be wondering if there will even be an odometer onboard for you.
So, do travel trailers have odometers?
No, travel trailers do not have odometers. However, you can use other methods to track your miles, such as mobile apps, hubodometers, and more. You may consider doing this in order to keep track of your RV maintenance as well as how far you have traveled in your travel trailer.
But why don't travel trailers have odometers, and how can you install one yourself with ease? In this article, we will discuss all of your odometer options if you own a towable rig, as it is rare to find these devices in these types of RVs.
Let's get started!
Why Don't Travel Trailers Have Odometers?
Travel trailers don't have odometers because of many reasons. The main reason lies in the fact that they are towed by a tow vehicle with an odometer. This can make it obvious and easy to track the mileage driven by your travel trailer just as well as your tow vehicle.
Another reason travel trailers don't have odometers is the lack of demand for this particular feature. RVers seem comfortable tracking the miles that they have gone without one for the most part, and so many RV manufacturers have not implemented these devices yet.
Finally, travel trailers and fifth wheels may not have odometers because the overall mileage driven by your travel trailer affects fewer RV components when compared with a motorhome or drivable RV. Let's discuss this in more detail.
With a Class A, B, or C motorhome, your mileage is key. This is because it affects not only your tires, brakes, and axles, but it affects all of your engine components and more. With a travel trailer, your overall mileage only really affects your drive system, such as your tires and shocks.
With a motorhome, you will have far more components that could be affected by your mileage, so it is important to pay close attention to your odometer in this type of RV. If any mileage maintenance needs to be done to your travel trailer, chances are, you'll need to perform that maintenance on your tow vehicle first.
This isn't to say that installing an odometer in your travel trailer isn't a good idea. Let's talk more about why this concept may intrigue you.
How Do I Track My Travel Trailer Miles Without an Odometer?
If you are interested in tracking the miles that get racked up by your travel trailer, you may be wondering how you can do that without an odometer. Thankfully, there are many options out there. Let's talk about them in detail now.
Download an Odometer App
If you would like a simple way to track your mileage on your travel trailer, you could always download an odometer app. While this will utilize GPS tracking in order to record your mileage, it may be an easy way to separate your travel trailer miles from your tow vehicle miles.
I recommend searching your phone or devices app store for the top rated apps that can track your mileage, just like an odometer can. You likely will be able to use it while on the road inside of your tow vehicle, but it may not work as effectively in areas with little to no signal.
Given that many campers travel in areas with less cell phone signal, you may experience some issues in terms of accurate tracking. However, as technology improves, this is unlikely to be an issue for very long. 
Use the Odometer in Your Tow Vehicle
I would assume that most RVers interested in tracking their travel trailer mileage use the odometer inside of their tow vehicle. This is one of the easiest ways to track your travel trailer mileage, given that it will be one of the most accurate readings that you can receive.
However, using the odometer inside of your tow vehicle to track the mileage of your fifth wheel or travel trailer means that you will need to do a bit of math. You will likely be unhitching your travel trailer at some point while on your travels and driving your tow vehicle separately.
This means that you will need to calculate the miles that you are driving around without your travel trailer, and only calculate the miles that you drive with your travel trailer hitched up. This can be an annoying task for many RVers, especially if you are just trying to enjoy your camping trip or time on the road.
However, if you aren't worried about a precise and exact number of miles, this method may work well for you. It means you won't have to spend any additional money on your travel trailer, and your odometer is right there as you drive so that you can easily keep track of how many miles your travel trailer has gone. 
Install a Hubodometer on Your Travel Trailer
If you would like an exact mileage for your travel trailer or other towable RV, you should consider installing a hubodometer on your RV. But what exactly is this device, and why is it beneficial to you and your travel trailer or fifth wheel? 
A hubodometer is a simplistic device that attaches to the axle of your vehicle. It rotates with your vehicle's tires, giving you an accurate mileage reading for that vehicle by itself. You can attach hubodometers to your travel trailer easily.
Many rvers who are interested in tracking their towable rig mileage specifically invest in a hubodometer. They are relatively inexpensive, such as this option available on Amazon from Stemco. You will only need one, and they are also extremely easy to install.
The most important thing to consider when purchasing a hubodometer is the size of your tires.  Many manufacturers of this device offer different model options depending on the size of your tires, and travel trailer tires are often unique in their sizing. Be sure you have the correct size before you make your final purchase. 
This device is useful if you plan on going off grid or outside of cell phone signal frequently, as this is a simple tracking device without any electronic components. Most of these are also waterproof, making them ideal for travel and inclement weather situations. 
Bonus: Check Out These Hubodometers from Trailer Life Meter!
Given the complicated tire size often found with travel trailers and fifth wheels, you may have trouble finding a hubodometer that fits your rig. You should check out these hubodometers from Trailer Life Meter, a company specifically dedicated to creating hubodometers for towable rigs!
Trailer Life Meter's hubodometers are easy to install and can help you track maintenance for the following RV systems:
Wheel bearings

Axle and suspension components

Tires

Braking systems

Electrical and lighting systems
As you can see, these are all necessary and important components to your travel trailer or fifth wheel. Having an accurate reading from one of these odometers can help you schedule and track maintenance for each and every one of these RV systems! 
Go Old School and Use a Map!
Speaking of options that work well if you are a frequent boondocker or off-grid adventurer, you may be satisfied tracking your travel trailer miles using a map. While you can go extremely old school and use a paper map, you can also keep track of your mileage using a map application on your mobile device. 
So long as you know where you are coming from and where you are going, you can easily use a map to keep track of your travel trailer miles. However, it won't be possible for you to track every single trip to the gas station or detour, as this will likely become more complicated than it is worth.
However, if you aren't interested in an exact mileage count, this option may be the most affordable and convenient for you to try out. After all, you likely already have a map application downloaded on your smartphone as we speak!
Reasons You May Want an Odometer in Your Travel Trailer
If you are still on the fence, there are a few reasons you may want an odometer in your travel trailer. Whether you're preparing to sell your rig or want to keep track of maintenance, it can be beneficial to track your mileage. Let's talk about those reasons in more detail now. 
You're Preparing to Sell Your Travel Trailer
One of the primary reasons that RV owners may want to install an odometer on their travel trailer is for resale purposes. Many RV lots and sales choose to list mileages for their RVs, whether or not they are motorhomes or towable rigs.
If you are planning on selling your travel trailer as a private sale, having the estimated mileage for your towed rig may matter to you. It may give you a leg up on the competition in terms of your knowledge about the RV and the amount of care you have taken to disclose all information to a possible buyer. 
Buying a used vehicle of any type can be extremely stressful, so you may consider an odometer to give your potential buyers some peace of mind. After all, wouldn't you like to know how many miles have been put on a travel trailer's current tires and braking system? You're doing everyone a favor by having an odometer for an accurate reading of your miles traveled! 
You Want to Log How Far You've Traveled
Whether or not you are planning on selling your travel trailer or fifth wheel, having an odometer installed on your rig can be valuable to track how far you've traveled. Tracking this amount using your tow vehicle can have inaccuracies and other hassles involved, which you may want to avoid.
You may be planning on logging how far you've traveled for personal reasons and looking back on your journeys in your travel trailer or fifth wheel. You may also want to log how far you've traveled for resale purposes, but it's also smart to keep track of your mileage for sentimental reasons! 
For example, logging how far you've traveled in your travel trailer year after year may give you a good insight into how often you are actually using your travel trailer. It may help you determine whether or not it is worth it to continue owning your travel trailer, as renting one from RVShare or Outdoorsy may end up being a better option for you. 
An Odometer Helps You Keep Track of Maintenance
One of the primary reasons that RVers may want an odometer attached to their travel trailer or fifth wheel is to help you keep track of maintenance. Many different parts of your RV need maintaining annually, and your tires and braking system should be monitored frequently.
Tracking the mileage that you have placed on your existing tires and brakes, as well as your axles and shocks, can be beneficial in terms of scheduling necessary maintenance and safety checks. 
We all know that owning an RV requires a decent amount of maintenance, and there's no reason why you shouldn't track your mileage if it helps you determine when you need to maintain certain aspects of your travel trailer. 
No matter how often you take your RV out, knowing how many miles you have driven matters. While your travel trailer doesn't have a timing belt or anything more severe to replace, your mileage is a key factor for many necessary safety features of your rig. 
Final Thoughts
If you have always wondered if travel trailers have odometers, now you know that the answer is no, they rarely do. However, this isn't a reason for you to not invest in one or track your travel trailers overall mileage.
Many different maintenance tasks can be tracked through an odometer, and you may be able to track your mileage using your tow vehicle rather than a separate device or mobile application. No matter what you decide, you can hit the road in confidence and learn how to track the mileage on your travel trailer with ease!