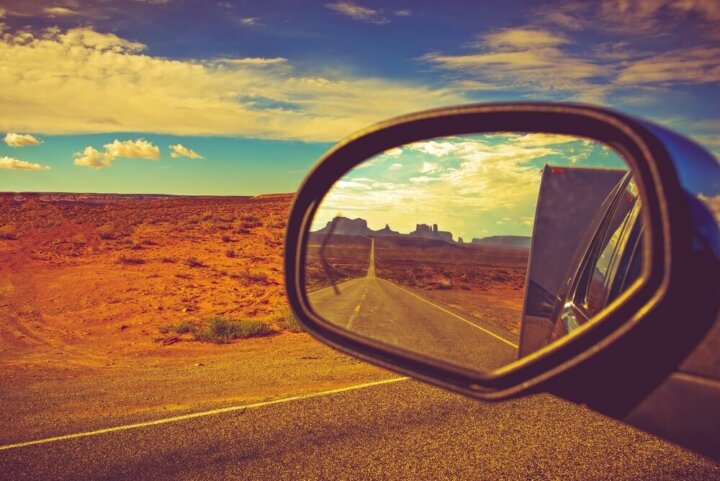 All of our reviews are based on exhaustive research, industry experience and whenever possible, hands-on testing. When you make a purchase using one of our chosen links we'll get a small percentage of the proceeds. This supports the site and keeps Jeffsetter running. You can read more here.
Both cold and hot temperatures can cause problems with your RV, so getting ahead of the game and protecting your rig from the elements can help prevent expensive damages such as burst water lines from freezing temperatures, or split exterior seams from strong UV rays.
Arizona is a location with seemingly endless sunshine, and when the winter months get closer, you may be questioning whether there's a need to winterize your RV.
So, do you need to winterize an RV in Arizona?
Winterizing your RV is important if you live in Arizona as you may still experience issues from strong sunrays in the south and low temperatures if you live in the north. Arizona's climate is known to be dry and hot, but winter months can bring temperatures lower than 20°F in parts of the state.
Although Arizona is known for its sunny and warm weather, that doesn't mean temperatures in the north of Arizona don't drop low. Winterizing your rig should be on your annual RV maintenance list if you live in an area where temperatures can drop below freezing, bringing snow and ice.
Low temperatures can cause havoc with your RV plumbing system if you don't winterize, as any water inside the lines can freeze and expand, causing pipes to burst, and potentially leaking water throughout your RV.
So, let's take a closer look at why you should winterize your RV if you live in Arizona!
Do You Need To Winterize An RV In Arizona?
As the winter season approaches, you may notice some RVers are beginning to prepare their RVs for the cold winter weather. If you live in a state that's usually mild over the winter season, you're probably questioning whether there's a need for you to winterize your RV.
As winters in Arizona can be a bit of a mixed bag, with snow storms and ski resorts in the north, and sunny desert climates in the south, it can be difficult to know how to best protect your RV against the elements.
Winterizing your RV is worth it, especially if you're going to keep your RV in storage for a few months until spring comes around. If your rig is being stored in the south of Arizona over winter, you'll likely still want to cover your RV, as prolonged exposure to the sun can bring issues such as cracked seals, damaged tires, and color fading.
There are a couple of different methods of winterization, but the end goal is to protect your RV in the best way so it fairs well against any winter weather that gets thrown at it. If this is your first winter storing your RV, you may be wondering what exactly you'll have to do to winterize your rig.
The video below is a fantastic watch to get you clued up on everything about RV winterization so you can get your rig in the best position before the snow arrives.
There's no quick way to winterize your RV, and honestly, it's worth putting in considerable time to get the job done properly.
For those choosing to winterize using antifreeze, it's essential to use RV-specific antifreeze as it is designed to go inside your RV's water system. Standard automotive antifreeze contains ethylene glycol which is toxic and can be extremely harmful if consumed.
Getting your RV prepared for the colder months is a lengthy but worthwhile process involving the removal of water from the RV plumbing using RV antifreeze or compressed air.
It's also important to pack any equipment away, store the RV batteries correctly, clean the rig, and secure any openings. The plumbing system and pipes require particular attention as burst water lines and mold growth are not issues you want to be dealing with next camping season.
Why Should You Winterize Your RV In Arizona?
Winterizing your RV is the best way to protect your rig, but the use of antifreeze may not be necessary if you live in the south of Arizona.
In the north, however, taking the time to winterize your rig is well worth the effort as it means your RV has the best chance against the cold, ice, snow, and other challenges winter usually brings.
Reason 1: Reduces The Impact Of Arizona's Climate
Winter in Arizona typically begins in December and lasts until February, with January being the coldest month. If you are planning on storing your RV in south-central Arizona such as Phoenix, you'll likely experience plenty of sunny days throughout the winter. However, temperatures can drop considerably at night, sometimes down to around 55°F, so you may still need to take some precautionary measures.
Snow is a rare sight in Phoenix, so you won't have to worry much about snow storms, but instead, you'll have to consider the damage the winter sun can bring to your RV if it isn't adequately protected.
In the colder north of Arizona, RVers need to be prepared for much chillier temperatures and the potential for snow and ice. Winterizing your RV in the north is crucial when storing your rig, as you will experience colder winters compared to the south, with temperatures in the mountains dropping to as low as 16°F.
With the potential for sub-zero temperatures, any RV stored without first being winterized can suffer significant damage to the plumbing system, exterior aesthetics, and interior components. Protecting your rig can help prolong the life of your RV, keeping it in the best possible condition for all the adventures to come.
Reason 2: Prevents Damage To RV Tires
Storing your RV in the south of Arizona will arguably cause less stress to the tires on your rig than storing it in the north. It's also important, however, to consider whether temperatures will get low enough for frost to form and if so, your RV tires could be susceptible to damage.
Frosty conditions can cause standard tires to become stiff, leading to cracks in the rubber and the tire even delating. Covering or regularly checking your tires can help keep frost at bay, so you can avoid any cracks, lumps, or bumps appearing on your rig's tires.
For RVers looking to travel around northern Arizona, there are certain challenges you'll need to consider and get prepared for. Cold, winter temperatures increase the likelihood of roads getting covered in snow and ice, so changing the tires on your RV is wise if you plan on driving through winding, mountainous roads before storing your camper for winter.
Reason 3: UV Ray Protection
UV rays are present even on cloudy, grey days, however, if you are storing your RV in southern Arizona where the sun is shining throughout winter, your rig is at risk of UV damage.
UV light can have incredibly damaging effects on the exterior of your RV, as the rays can dull the paint, dry out seals, and shorten the lifespan of your tires. Covering your rig throughout winter storage can help keep these harmful rays away from your RV.
When summer comes around, I always try to avoid parking my rig in direct sunlight as it not only makes my camper too warm, but I also get concerned with the effects of the sun on the exterior paintwork and tires. If you're not able to store your RV indoors or under a cover, parking it in the shade will help provide some UV ray protection.
Reason 4: Avoids Leaks And Moisture Build-Up
Regardless of where you are keeping your RV in Arizona for winter, storing your rig correctly and winterizing is a great way to avoid leaks and moisture build-ups inside your rig.
If the RV plumbing isn't effectively winterized, RVers may face nasty leaks from burst water lines that eventually can lead to dampness, mold growth, and unpleasant smells.
Leaking can also occur in other areas throughout the RV and if water makes its way inside, you'll want to solve the problem quickly before things get worse.
Before getting your RV all packed away and ready to be stored over winter, it could be wise to pressure test your RV for leaks. Pressure testing may sound a bit daunting, but once you've completed the job once, you'll be confident and ready to repeat the process again when needed.
Winterizing your RV and checking for leaks before it gets stored away gives you time to repair any leaks before the rain and snow hit.
Reason 5: Keeps Rodents Away
As your RV gets stored away for winter, small mammals and rodents are on the lookout for a cozy, safe place to hibernate.
Your RV may be the perfect place for small animals and although little critters aren't deadly, your rig may think otherwise! If rodents manage to get into your RV through a small hole or opening, they can leave droppings, urine, and food crumbs throughout your rig.
Rodents can also chew through cables and wires, wreaking havoc on your RV electrical system. It's wise to check the exterior of your RV for any open vents or holes where small creatures may be able to get into your rig.
So, if you find any holes, fixing them up is essential to keep rodents away so you don't have any unexpected guests taking shelter in your rig.
Reason 6: Maintains RV Battery Health
Similar to humans, batteries don't like getting too hot or cold, so this is something to consider when storing your RV in Arizona. Storing your RV in the snowy north of Arizona will result in your batteries needing some extra attention to keep them happy when temperatures plummet.
It may be a good idea to disconnect the batteries and keep them in a dry and warm area if you're storing your RV in the north, but in the south of Arizona, you'll want to make sure they don't get too hot!
For RVers who will be storing their rigs for a prolonged period over the winter season, using a battery maintainer or charger can be useful for keeping batteries healthy and ready to use again once spring arrives.
Closing Thoughts
Winterizing your RV in Arizona is something well-worth considering, especially if you'll be in the north of the state over winter where temperatures can get particularly low. Protecting your rig against freezing temperatures is wise, but is not something you'll likely have to do if your rig is being stored in southern Arizona.
Storing your RV in a warm winter climate may not bring the same challenges as sub-zero temperatures, but you'll still need to prepare your RV for storage by ensuring there are no leaks or holes, giving everything a deep clean, and protecting the tires and outside of the rig from potential damage from UV rays.