Last updated on April 5th, 2023 at 05:22 am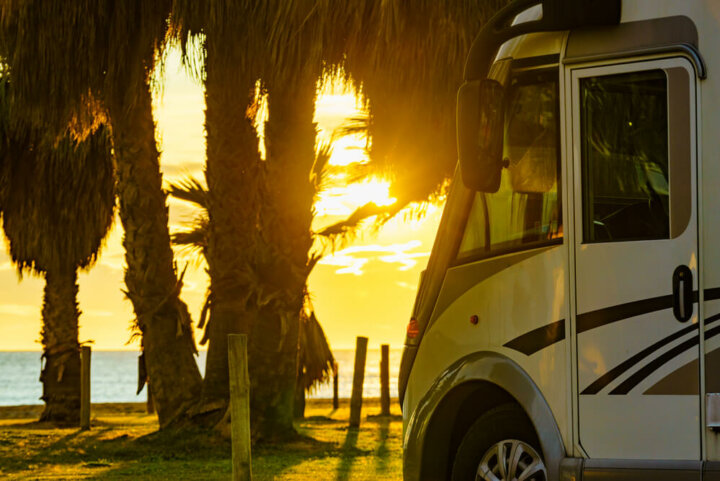 All of our reviews are based on exhaustive research, industry experience and whenever possible, hands-on testing. When you make a purchase using one of our chosen links we'll get a small percentage of the proceeds. This supports the site and keeps Jeffsetter running. You can read more here.
When it comes to protecting your RV from the weather it's easy to focus on the winter season, especially if you don't have another option but to store your RV outside.
If this is the first summer that you are not going to spend traveling in your home on wheels then you might be wondering if you need to keep your RV covered, or if you are a winter traveler instead then you might be wondering:
Should I cover my RV in the summer?
Covering your RV in the summer is a good idea if your RV is being stored outside because it's at risk of sun damage. The RV cover needs to be anti-UV for ultimate sun protection and breathable, otherwise, it can trap heat and moisture, which can cause problems like fading, peeling, and cracking.

Using an RV cover seems like the best way to shield your RV from the sun's fiery rays. That's why we've got together a list of the advantages and disadvantages when it comes to using an RV cover in the summer so you can get the whole picture!
Should I Cover My RV in Summer?
Deciding whether to cover your RV in the summer can be difficult as there are both upsides and downsides to using an RV cover in high temperatures. The goal of an RV cover is to protect your camper as much as possible, but under extreme conditions, covers can sometimes do more bad than good.
It's therefore important to weigh up if using a cover is the best option for you, or if putting your RV away in storage might work better. Either way, whenever you are storing your RV outside for extended periods, it's best to put in the effort and give your rig the best chance of making it through the season unscathed!
Advantages of Using an RV Cover in the Summer
The sun is a natural source of UV rays, and an RV cover is an ideal way to protect your camper from them. If you're in a hot climate, it's definitely worth paying a bit more for your RV cover and buying one with added UV protection.
Choosing a breathable RV cover will help prevent excessive heat from getting trapped underneath the cover, and let any moisture escape too. Even if you've managed to cover your RV successfully and can't spot any rips or holes, it's still worth checking the cover now and again for damage or moisture build-up.
1. Weather Protection
RV covers are great protection from all the seasons and can be particularly useful if you live in a hot or cold climate. For colder temperatures, RV covers can help prevent snow or ice from building up and causing damage. They can also be beneficial during summer as they protect your RV from sun damage that can lead to expensive repairs.
It's essential to choose a high-quality cover made from a waterproof, breathable material that's the correct size for your RV. A cover that's too small may not cover the entire RV, and if there are small areas where moisture can get in, you may have issues with mold.
As the roof of your RV will be affected most by the sun's rays, it's essential to make sure the cover doesn't leave any of your roof exposed.
2. Affordable
Hiring a unit to store your RV if you're not using it over the summer can be expensive. RV covers are a far more affordable way to protect your RV, and if the cover tears and gets damaged further down the line, repairs tend to be cheap. The problems that can come from not covering your RV can be substantial and if anything is damaged on your RV, it can cost a lot to fix.
Although there's a range of RV covers on the market, it's wise to do some research and find out the best one for both your climate and RV. If any accidents happen and the cover gets damaged as you're putting it on your camper, don't leave it to chance and hope for the best. Instead, take it back off, use tape or an adhesive waterproof patch to cover the area, and start again!
3. Keeps RV Clean
We all know how frustrating it is when your RV is parked outside and a bird comes along and leaves a present on the windshield! RV covers are a great way to protect your rig from dust, dirt, and of course, any gifts from mother nature. This saves you time and effort as you won't need to give your RV a deep clean before the start of the next season's camping.
Maintaining your RV can feel like a tedious task, but the better kept your RV is, the longer it will keep a decent resale value. Using a cover not only protects the RV from getting dirty but also lowers the risk of scratches and dents happening from trash or branches that may get blown up against your RV in windy conditions.
4. Additional Security
It may seem obvious, but it's vital to keep your RV locked and secured whenever it's being stored, especially if it will be parked outside. RV covers provide another layer of security as they hide your RV from prying eyes. This can also help prevent vandalism and generally gives you peace of mind that your RV is safe and not drawing any unwanted attention.
If you've never used an RV cover before, you might be feeling a bit anxious about putting one on your camper. This video is a short step-by-step on how to effectively cover your RV without any stress.
As you can see in the video, the process of putting on an RV cover doesn't take too long, however, the bigger your rig, the more time it will likely take!
Disadvantages of Using an RV Cover in Summer
If you live in a scorching climate, using an RV cover may not be the wisest idea, as the heat from the sun can get trapped underneath the cover, causing damage to the RV's components.
1. Preparation Needed
RV maintenance and upkeep can be a costly endeavor but it's also time-consuming, and while RV covers are affordable for the most part, the process of covering your RV does take time and effort.
Before you can go ahead and use an RV cover, you will first need to prepare the rig, otherwise, sharp edges can rip your cover straight away! Any sharp corners and edges such as those on steps and awnings will have to be covered with foam or similar material, to allow the cover to sit up against the RV without getting snagged.
It's worth using straps to help the cover stay on the RV if high winds unexpectedly kick up. Although straps will add to the overall cost of covering your RV for summer, they will save you money in the long run as your cover won't blow away during challenging weather!
2. Difficult to Cover Large RVs
Depending on the type of RV you own, putting a cover on it can be frustrating, because it will need to fit perfectly to work best against the weather.
The process is easy with a small pop-top camper, but if your RV is on the larger side, it might be a bit of a hassle trying to get the cover on. If you have a large camper such as a Class A RV, pulling the RV cover over the entire vehicle can be difficult, and will require a few extra hands.
It can also be dangerous getting up on the roof to cover any sharp points before putting the cover on. If you are putting a cover on a Class A RV, my advice would be to either get the whole family involved or call some friends to lend you a hand.
Safety always comes first, so it's best to be well-equipped and take your time when using an RV cover, especially when you climb on top of the roof!
3. Mold Risk
One of the biggest disadvantages of using an RV cover is the risk of mold and mildew. If any water gets trapped underneath the cover, it can make the area damp and create the ideal environment for mold to grow.
Some RV covers have optional openings that can help with ventilation and lower the chance of moisture build-up. These covers are a good idea if you are worried about mold and mildew growth.
Although it's not the best situation, it's not the end of the world if you find a little mold inside your RV whilst it has been in storage.
The best way to prevent mold growth in your RV is to take precautions and make sure air can circulate well. If you do find some mold, clean the affected area well and keep it dry and ventilated to prevent any from growing again.
Should I Cover my Travel Trailer in Summer?
Storing a travel trailer outside during the summer without a cover can cause lots of problems in the long run, mainly from the sun's Uv rays.
If the trailer is left unprotected, the exterior can be damaged and issues like fading, peeling, and cracking can occur. Covering your trailer in summer can also keep the resale value higher, as the trailer is not susceptible to damage from the weather.
However, it's worth mentioning that using a cover for your travel trailer during the summer isn't advised if it will be stored in exceptionally high temperatures unless it's a cover specially manufactured for those conditions.
Closing Thoughts
Covering your RV in summer is a personal choice and depends on the climate your RV will be stored in. If temperatures are not stiflingly hot, using an RV cover is an ideal way to save your camper from UV rays.
However, if your RV is being stored somewhere with both high temperatures and UV rays, it may be worth looking for a different option. Some RV covers may not be able to cope with extreme temperatures, and if the cover isn't breathable, this can lead to the RV getting too hot inside.