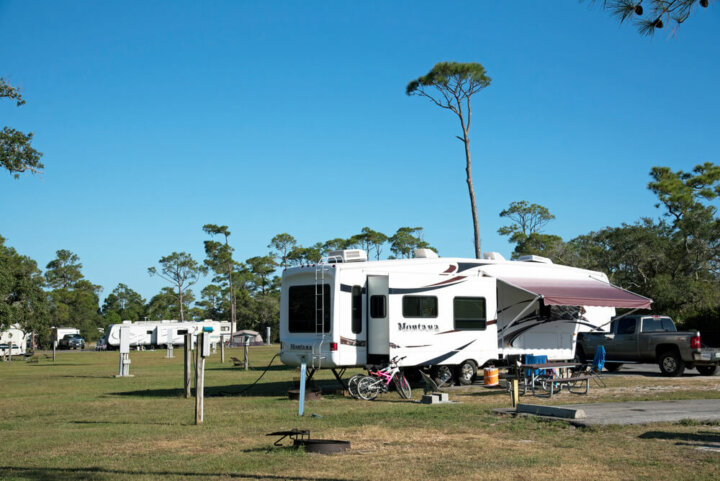 All of our reviews are based on exhaustive research, industry experience and whenever possible, hands-on testing. When you make a purchase using one of our chosen links we'll get a small percentage of the proceeds. This supports the site and keeps Jeffsetter running. You can read more here.
As an RV owner, you'll always want to be aware of the rules and regulations of any area you plan to purchase, drive, or live in an RV. One requirement in some areas is that you have your RV inspected, either before purchasing it or regularly as routine maintenance to keep it ready for the road.
Florida is among the most popular destinations for RV-ers, whether you're looking for one to buy or plan on calling the state your home for a few months.
But, does Florida require RV inspections?
No, Florida does not require RV inspections. There have been times in the state legislature when inspections were required, but that ruling was repealed in 2010. However, it still might be a good idea to regularly inspect your RV to prevent costly repairs. RV inspections are also useful when buying a new RV.
Below, we'll take a closer look at Florida's RV requirements as far as inspections, as well as the benefits of having one done anyway. I'll also talk about what to expect with an RV inspection and the average cost of having one done in Florida.
Does Florida Require RV Inspections?
According to the Department of Highway Safety and Motor Vehicles, Florida does not require RV inspections. Even though RV inspections aren't really required, however, they really are a good idea.
When buying an RV, whether it's new or used, an inspection gives you an idea of any hidden surprises or things that might need fixing. It's a great way to identify problems, plus you might be able to haggle a lower price if there's anything that needs repairing.
Additionally, RV inspections are a great way to make sure your RV is road-ready at the beginning of RV season. You could also have an inspection done at the end of the season if you'd like, which is a good idea so you know what needs to be fixed before taking it out the next year.
Why You Should Consider Getting an RV Inspection Anyway
While technically there's no law in place requiring people to get RV inspections in Florida, it's really a great idea for a few reasons.
#1: New RVs Might Have Flaws Overlooked by a Dealer
Even when you buy a new RV, there's no guarantee that everything is in working order. Mistakes happen on the manufacturer's behalf and they can even be overlooked by the person in charge of double-checking everything.
Plus, if the RV is parked outside, the roof, tires, and frames around the window are just some parts of the RV exposed to the elements.
#2: Used RVs Have Unknown Damage and Problems
When it comes to purchasing used RVs, either from a dealer or from a personal seller, you don't always know how the RV was cared for or if regular maintenance was performed. However, being really thorough gives you that extra peace of mind that your RV should be road-ready.
#3: Some Financing Institutions Require It
If you are using your bank or another institution for financing, you may also find that they want you to complete an inspection before they agree to give you money. This gives them a chance to be sure they are investing in an RV that is worth the asking price.
#4: RV Inspections Make Buying an Out-of-State RV Safer
If you're shopping for an RV across state lines, having a technician do an inspection for you gives you that security that you just can't get from photos and videos of the RV. It also gives someone a chance to drive the RV, which could identify hidden problems you wouldn't see in a video tour.
#5: Inspections Help You Identify Potential Problems or Repairs
Finally, regular RV inspections are a good idea even after you own your RV because it gives you a chance to identify problems before you're out on the road. While anything can go wrong, regular inspections make that a little less likely.
In addition to regularly checking your RV roof and any problem areas when you're on the road, a more thorough inspection should be done before storing your RV for the season and when you are ready to get it back on the road.
Before storage, you can identify any leaks or damage that might make your RV more susceptible to mold and mildew before storage. You can also check for repairs that you might want to anticipate in the upcoming season.
After storage, powering your RV up and inspecting it lets you ensure things like the AC are still running. You should also inspect the tires for signs of dry rot and around the window seals to look for leaks. Do this at least 2-3 weeks before you're ready to get out on the road so you have time to make necessary repairs or get your RV in the shop.
Can I Do My RV Inspection Myself?
If you are doing an RV inspection as a part of routine maintenance, there's no reason that you cannot do it yourself. There are tons of Youtube videos like this one online that show you what to look for. Plus, I'm going to give you an RV inspection checklist at the end of the article so you know what areas to check out.
However, if RV inspections aren't something you're comfortable doing or you would rather have the reassurance that comes from having your RV professionally inspected, that is an option too.
As long as you aren't RV-ing or living in a state that requires RV inspections, you can perform an RV inspection yourself. If you are living in an area with this requirement, however, you will need to have the inspection completed by a certified technician to ensure your RV is road ready! Financial institutions might require a certified inspection, too.
How Much Does an RV Inspection Cost in Florida?
Like a lot of services provided by a specialist like a mechanic, the cost of an RV inspection in Florida really depends on a lot of different factors. It changes based on the technician you use and how much their hourly rate is, the size of your RV, and the thoroughness of the inspection.
That being said, an inspection that just covers driving the RV and looking for mechanical issues usually costs somewhere around $150, while inspecting the inside of a small RV and test driving it could cost around $350. For larger RVs or more thorough inspections, however, you might end up paying as much as $200-500 for a Level 1 inspection and $500-$1,000 or more for a Level 2 inspection.
Your best bet is to shop around and call several people offering RV inspection services in your area to get quotes. Don't be afraid to ask for information on what is included in the inspection and the total cost.
What Does an RV Inspection Entail?
A thorough RV inspection is going to entail a lot of things. To start with, it's best for the RV to be connected to water or have the fresh water tank at least half full. The RV should also be parked somewhere where the slideouts can be fully extended.
You'll also need a power supply (of at least 30-50 amps) available and should have the RV connected for a full 12 hours so the fridge has time to cool down. Having a propane supply is important for a thorough inspection, too!
For drivable RVs or towable trailers, an RV tech usually wants to drive while you ride along with them and check for any shakes, shimmies, or weird noises that could indicate something is wrong with the driving aspect of the RV.
Everything that comes along with an RV inspection depends on the person/company who is doing the inspection. If you are going to have it professionally done, ask for a checklist or for them to go over the different things that they'll be looking at to be sure they are being thorough.
You'll also want to find out if they have the room to do an RV inspection, especially if you're driving something like a Class A RV that's a lot longer. Some RV inspection technicians travel to you, which is nice if you're buying from a dealership or a private seller.
Is a Dealer Inspection Good Enough?
In my opinion, you shouldn't really trust that an RV dealer has done a thorough inspection on an RV they have for sale. RV dealerships specialize in selling RVs and in most cases, they don't even have certified technicians on hand to give them a once-over before selling them.
While some dealers might try to dissuade you from having an inspection done, it really is worth it in the long run. You never know if an RV has problems unless it's looked over by someone who knows what they're doing.
RV Inspection Checklist
One of the most important things when it comes to RV inspections is being thorough. Here are some of the things that you should look for.
First, you always want to test drive the RV. There are some problems you can't physically see or feel unless you drive the vehicle. Fluid levels should also be checked and the cleanliness of the mechanical components and engine should be inspected.
All parts of the RV should be checked for functioning, including the water and sewage systems, the propane delivery system, and electrical power. The generator should also be tested, as well as appliances like the refrigerator, stove/oven, and air conditioner.
The physical appearance of the vehicle should also be looked at. On the outside, this includes checking the seals around the windows for signs of damage, the condition of the roof and slideouts, and the underside of the RV. Look for dents, cracks, and signs of rust or water damage.
The physical condition of furniture and decor should be inspected and walls/windows should be checked for signs of water damage, rips, and other issues.
Final Word
Does Florida require RV inspections? No, however, RV inspections are a good idea for several reasons.
Not only do inspections help you identify any problems when buying a new or used RV, but they are a great way to identify any damages or problem areas as an RV owner.
Hopefully, this article has been helpful in answering your questions!