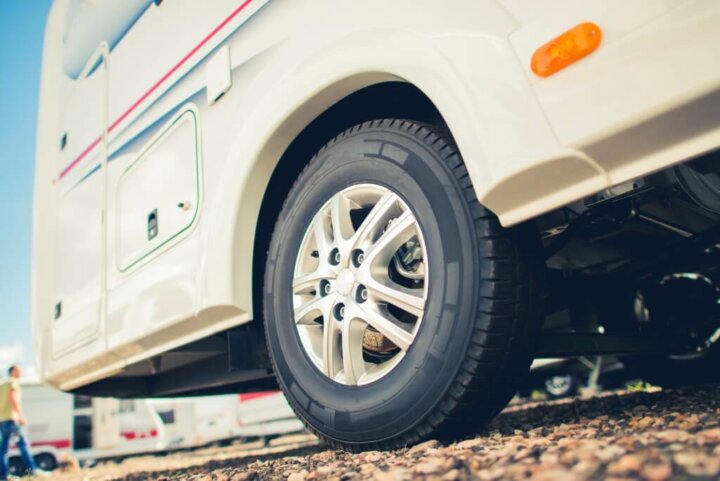 All of our reviews are based on exhaustive research, industry experience and whenever possible, hands-on testing. When you make a purchase using one of our chosen links we'll get a small percentage of the proceeds. This supports the site and keeps Jeffsetter running. You can read more here.
Dry rotted RV tires are really one of the last things that you want to deal with right before a vacation. Best case scenario? You notice them before the trip and spend the time and money replacing them.
Worst case scenario? You end up blowing a tire going down the road, which is sure to bring any vacation plans to a screeching halt.
So, how do you keep RV tires from dry rotting?
Some things that you can do to protect RV tires from dry rot include storing your RV properly to protect them from moisture, extreme heat, and cold. Clean your RV tires regularly and use UV and weather protective coating. Remember to also follow manufacturer recommendations about proper inflation and load capacity.
Let's take a closer look at what dry rot is, what it looks like, and how to keep RV tires from dry rotting below.
What is Dry Rot in RV Tires?
Dry rot happens when rubber in your RV tires breaks down over time. Some wear and tear on tires is normal, especially if they have a lot of miles on them.
When tires develop dry rot, however, the rubber loses its natural moisture and flexibility. This causes the tire to become drier, weaker, and more susceptible to cracks.
In most cases, this is caused by the natural deterioration process of rubber. Rubber breaks down from exposure to moisture, ozone contaminants, UV rays, and more. How you store and use your RV plays a big role in preventing this type of damage.
How to Tell if My RV Trailer Tires Have Dry Rot?
You'll know your tires have dry rot by their physical appearance. Dry rot is usually first noticeable in the sidewalls of the tire because that's where the rubber is the thinnest.
As dry rot worsens, you may notice cracks in the tread and it may also look like the tread is separating. In addition to small cracks, you might see bubbles in the tire.
The color of your tire can also indicate dry rot. While good tires are black in color, a dry rotting tire is going to look faded or gray.
An inability to hold proper air pressure is another sign of dry rot. The thin rubber will most likely leak and quite often at that, especially since it has to support the weight of an RV.
As you will read later on there are many ways you can make sure your trip is going to be a safe trip for you and the whole family, but the first thing you need to do is to always inspect your RV before an outing, and that includes checking out the tires.
This helpful video has some tips for making sure your RV tires are ready for the road.
How to Keep RV Tires from Dry Rotting?
Replacing all your RV tires can get expensive but fortunately, there are a lot of preventative measures that you can take to ensure a longer life for your RV tires. Let's check out how to keep trailer tires from dry rotting.
1. Keep Your RV Tires Clean
RV tires are meant to handle the great outdoors but that doesn't mean that you shouldn't clean them off after an outing. Leftover debris including salts from the road, motor oil, and other corrosive materials slowly eat away at the protective coating and sealant on your tires.
You should just wash your tires using appropriate soap and water. After rinsing, give them time to dry and apply a protective sealant if it's needed before storage.
2. Spray Tires with UV and Weather Protective Coating
If you're using your RV (as you should!), it's going to be exposed to the elements. Driving across the hot pavement in the summer speeds up wear and tear, but that doesn't mean you shouldn't be out enjoying yourself.
Surprisingly enough, water can also cause dry rot. It sounds contradictory, I know, but all the excess moisture on the tires will seep in and make the rubber of the tires weaker.
Even snow poses an issue, not only because of the moisture but also because it freezes and expands. This alone can cause more cracks to appear, or worsen the cracks that are already then, and as a result, this will further weaken the tire.
The best line of defense against the weather and damaging UV rays is a protective coating. They make these especially for tires, so you know that they're safe to use. Be sure to get something without silicone because that stuff can break down any existing protective coating that's left on the tire.
3. Avoid Tire Shine Products
There's no denying that adding some tire shine to your RV tires keeps them looking sharp. Unfortunately, tire shine products often contain petrochemicals and ingredients like silicone, both of which can break down the antioxidants and protective coating that manufacturers put on the tire.
Once this protective cover is gone, your tire is left in a weaker condition. It becomes less flexible and that can easily contribute to dry rot.
4. Store Your RV in Consistent Temperatures
It's pretty well known that exposure to the sun and high temperatures weakens rubber and causes it to break down, often resulting in dry rot. But did you know that extreme cold is also bad for your tires?
Basically, fluctuating temperatures accelerate the process that causes dry rot.
That's why the ideal place to store your RV when it isn't in use is in a temperature-controlled climate like a garage that's kept warm in the winter and cool in the summer. This also means you won't have to winterize your RV when the weather gets cold.
If this isn't an option, park your RV in the shade and invest in a cover to keep it protected from the elements. Rubber breaks down everywhere- not just the tires- and having to re-seal your RV roof to prevent leaks is a task that you don't want to tackle any more frequently than necessary.
For those of you who don't have a good temperature-controlled area to store your RV, you can do what plenty of RVers do, just remove them and store them separately elsewhere.
5. Store Away from Ozone Contaminants
Ozone contaminants include oils and other chemicals from machinery and other equipment. Even if none of these are spilled on the ground, they still contaminate the air in the area and seep into the tires, destroying their protective coating, and making the more susceptible to dry rot.
Some common ozone contaminants include welding equipment, furnaces, sump pumps, and electric motors. Basically, a lot of the things you'd find in your garage are not good for your trailer tires. Whenever possible, keep tires separate from these areas or use a tire cover.
6. Always Use a Tire Cover
Tire covers are a nice extra step when it comes to protecting your RV tire, especially when they aren't in use. Something nice about tire covers is that they don't take up a lot of space and it's pretty easy to put them on the tires, especially if you have at least two jack stands to set the RV up.
Tire covers are great for storing your RV, too. They keep out dust, debris, and moisture, and they'll protect them from UV damage and ozone contaminants. RV covers don't always cover the tires, too, so you may need to buy them separately!
7. Check Tire Pressure
RVs are heavy, particularly once you get into the longer, larger models that work well for families. With all that weight on your tires, it's really important that you keep them filled to the appropriate PSI. You should be able to find this info in the manual and often, it's even printed on the tire itself.
Driving with low tire pressure means that the tire doesn't have the same rigidity that it normally does. Since the sidewalls of the tire are flexing more, it significantly weakens the area and makes it more susceptible to cracks and other damage.
Driving with low tire pressure is also incredibly dangerous. That extra flexing in areas that might already be weak (depending on how long you've been driving on them) could also mean that it takes longer for you to brake and accelerate and that there's less control. There's also a risk of the tire blowing out or otherwise failing!
8. Avoid Overloading
Overloading your RV tires is another critical mistake that accelerates wear and tear and causes dry rot. Even if you're pulling an RV that weighs less than 8,000 pounds, the way the tires are spaced out and the thickness/durability plays a big role in how much weight the RV tires can support.
When you put too much weight on the tires, the sidewalls start to bow out. This leaves them weaker and also greatly increases the risk of a blowout, especially if you're pulling a vehicle along behind your RV.
Odds are, you'll find information on just how much weight your RV can hold in the manual from the manufacturer. This is something that varies depending on the specific model of RV.
9. Get Out and Use Your RV
One of the reasons tires develop dry rot is because they sit in one place for a long time. As one side of the tire becomes more worn down, it's likely to develop weak spots and dry rot. Simply by using your RV, you decrease the risk of dry rot.
Of course, sometimes life happens and you can't always take your RV out whenever you'd like. If you do have some downtime between trips, take the RV out and re-park it so the tires are resting differently. All you need to do is move it a little forward or a little backward.
By rotating the tires in this sense, the weight isn't always sitting on the same side of the tire. This stops weak spots that turn to dry rot.
Can I Drive with RV Trailer Tires That Have Dry Rot?
If you catch dry rot in its early stages, before the seal on the tire is ruined and before there are visible deep cracks in the tire walls, you may be able to drive by applying a sealant to protect the tires.
That being said, I really do not recommend driving with RV tires that have already started to develop visible signs of dry rot.
If your tire is discolored and faded or if it has deep cracks or visible damage, then it's probably not safe to drive on them any longer. It's really not worth the risk.
You also shouldn't drive with tires that aren't holding air pressure as they should, since low tire pressure indicates a weak spot that might blow out once the weight of your RV is on it.
Even if you do catch it in the early stages, the tires will still be weaker and will need to be replaced soon. In my opinion, it's best to just invest in some new tires, and be sure to seal them with a protectant and take all the above precautions, so they last longer in the future.
How Often Do RV Tires Need to be Replaced?
Even spraying your tires with a protective coating, using them properly, and properly storing them won't make them last forever.
That being said, the average life of RV tires is anywhere from 5 to 8 years. This can vary greatly based on how often the RV is used, how you use it, and how far you drive it. Proper storage, keeping the tires clean, and other tips mentioned above will also prolong the life of your RV trailer tires.
Even though RV tires should last this long, you should always do a thorough inspection before driving, I recommend at least a week or two before your next trip.
Final Word
Dry rot is something that is pretty hard to reverse once it sets in. That's why your best first line of defense is taking these preventative measures on how to keep RV tires from dry rotting.
By doing things like keeping tires clean and protected, you make it less likely that the rubber weakens with time. This, along with avoiding overloading and maintaining tire pressure, will help you get the full lifetime of use out of your tires.