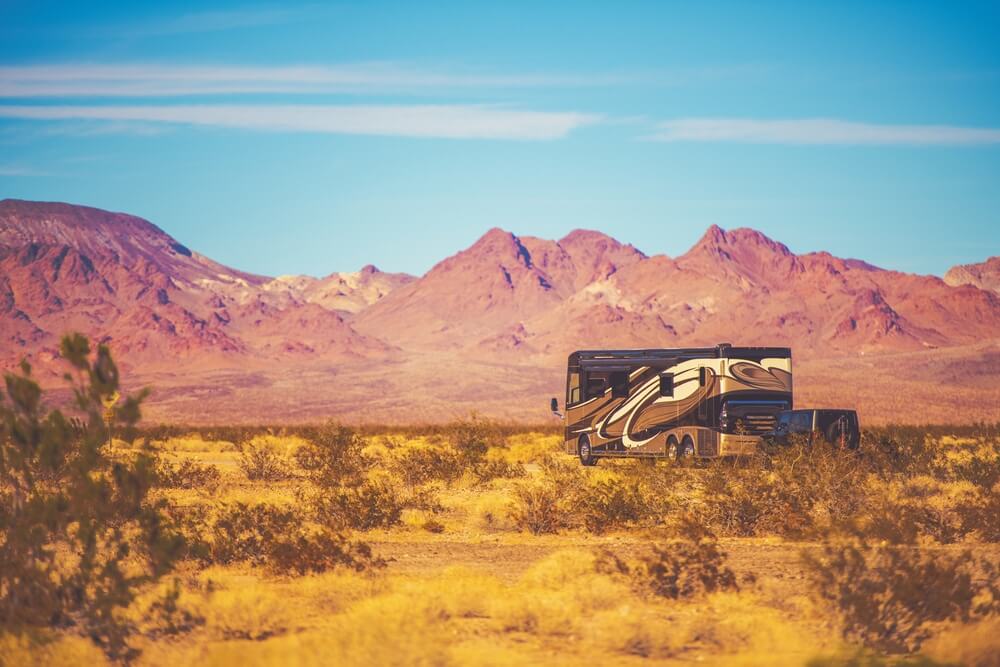 All of our reviews are based on exhaustive research, industry experience and whenever possible, hands-on testing. When you make a purchase using one of our chosen links we'll a small percentage of the proceeds. This supports the site and keeps Jeffsetter running. You can read more here.
RV traveling is easily one of if not the most convenient form of travel there is. However, trying to get from place to place in a new are with your RV can be a huge hassle. Towing your car behind your rig is a great way to avoid rental car costs while still having an easy mode of transportation while traveling. Some RVs are even built with vehicle towing in mind.
However, it begs the question, will towing a car behind your RV increase its mileage?
A car being towed behind an RV will see an increase in mileage depending on the car's age and the method of towing. If your car is being towed with a dolly or has an older odometer, then it's mileage will increase. If not, then you have nothing to worry about.
Let's explore why these differences can affect the mileage of a towed vehicle.
Different Ways to Tow a Car Behind An RV
The method by which you tow your vehicle behind your RV will affect wether or not its mileage increases.
Dolly Towing
Dolly towing is a fairly popular method for RV towing due to its relative ease of use. Tow dollies are small 2-wheel devices that attach to the back of an RV via a trailer hitch. The front wheels of a car rest on the dolly and are then supported by it while the rear wheels run on the road during towing. This is why it is advised to only use front-wheel cars with a tow dolly. Front-wheel cars will have their means of acceleration remain stationary as the front wheels are strapped to the dolly.
The odometer sensors of most cars are integrated into the suspension, in a front-wheel car that will be the suspension of the front 2 wheels. So as those wheels move, mileage is accumulated. On a tow dolly however, the front two wheels are not moving and as such the odometers cannot record any additional miles.
A rear-wheel or all-wheel drive will have odometer sensors on the rear suspension as the rear tires are responsible for acceleration. As such, if you tow a rear or all-wheel drive car on a tow dolly, it will increase its mileage.
Flat Towing
Flat towing is the far more traditional method of towing as is the most recognizable. It involves using a tow hitch to simply attach the vehicle to the RV's rear and have it be dragged along. This method gets the name "flat towing" because the car is on all four wheels rather than being supported by a hitch.
Car Hauler
This is a less common option for towing a car behind an RV but it entirely eliminates the risk of increasing mileage. This is because a car hauler is like a much larger tow dolly. While a tow dolly places the front two wheels of a car on it, a car hauler places all four wheels on it. Without any of the wheels touching the ground, there is no way for the odometer to potentially add miles to the car.
Let's explore why the odometer has such an influence in whether or not a towing method will increase a car's mileage.
The Odometer
Odometers in cars are responsible for recording the amount of distance that has been traveled, AKA, the mileage. There are two main kinds that you'll encounter in a car, mechanical and electric. Cars made before the year 2000 typically have mechanical odometers while cars made after 2000 usually have electric ones. If a car has a mechanical odometer, all that is needed for mileage to be recorded are for the main suspension wheels to be moving. Because of this, a flat tow would result in more mileage if the car has a mechanical odometer.
However, if the car being towed uses an electric odometer, mileage is not tied only to the main suspension. Rather, the odometer only records mileage if the ignition is turned on while the main suspension wheels are moving. So as long as you're not towing your car while it is running, an electric odometer will not increase its mileage.
Now that you know what determines mileage when using a particular method of towing, let's discuss which of the methods may be best for you and why.
Which Method of Towing Is Best For You?
Different methods may work best for you depending on your car, RV, mileage concerns and budget.
Is Dolly Towing Best For You?
Tow dollies are a common method due to their high compatibility rate with different vehicles. The support given to the front two wheels takes a lot of stress off a car's transmission. If your vehicle is prone to such problems, this option can be great for you. However, tow dollies are not inexpensive. Purchasing one can cost you anywhere between $2000-$4000. This is a hefty investment to make especially if you do not plan on towing your car behind your RV very often.
Luckily, tow dollies provide an alternative and that is to rent them instead. Many companies allow you to rent a tow dolly for the day at a cost of around $50 per day. If you only need to tow your car for a few weekends out of the year, then renting it periodically is far more practical than purchasing one.
Is Flat Towing Best For You?
Flat towing is even easier to use than dolly towing as a tow hitch requires only a simple connection. There is no need to anchor the car's front wheels to any platform or any additional stabilization. You simply hitch and go. Flat towing provides greater ease of storage as a tow hitch is small enough to fit in most spaces. A tow dolly or car hauler however will often need designated storage spaces.
Flat towing however, can at times be even more expensive than purchasing a tow dolly. This is because if your car is not already compatible with flat towing, the process of making it compatible plus purchasing a tow hitch can run you from $4000 to even $8000. This is because most vehicles with automatic transmission cannot be flat towed. It can damage the gears and permanently alter the way your car drives if done incorrectly.
Even with a vehicle that has manual transmission and is compatible with flat towing, there are steps to take. Auxiliary lights must be installed on the towed vehicle so other drives can see when the rig itself is braking. Additionally, a special braking system needs to be installed. It is very important as this ensure that the car being towed also slows down when the RV does. This can be a very expensive process for a vehicle without any of these features already included. Because of this, it may not always be a practical option.
Are Car Haulers Best For You?
Car haulers are perfect if mileage is your primary concern. They are also easy to hitch to your rig and are fairly easy to stabilize your car on. Car haulers also come with their own braking system installed. Unlike flat towing, you won't have to spend lots of money on a braking system to tow your vehicle. However, car haulers due to their size and features are usually the most expensive option. With their price matching that of a flat tow after all necessary modifications have been made. If ease, mileage, and lack of transmission issues are your main concern, then car haulers are worth the investment.
Closing Thoughts
There are a ton of factors to consider when looking to tow a vehicle behind your RV. Mileage is a huge one and varies a lot among the different towing methods. It's important to know these differences and all other pros and cons before settling on one. Its even important to know how your rig interacts with different towing methods as that can be a big influence in your decision. As long as you are thorough in your research, you'll have no problem finding the best way to tow your car behind your RV.