All of our reviews are based on exhaustive research, industry experience and whenever possible, hands-on testing. When you make a purchase using one of our chosen links we'll a small percentage of the proceeds. This supports the site and keeps Jeffsetter running. You can read more here.
Having a Class C RV for towing a car is a need that many RVers have. Not only is it convenient to bring your passenger vehicle along on your next camping trip, it can save you money if you are able to tow it rather than drive it separately from your motorhome.
Class Cs are powerful and versatile RVs- they have more room than a Class B and are usually less expensive, depending on the features you are looking for. They are capable of towing so that you and your family can enjoy the open road, all from the same vehicle!
But what might you need to know before you start shopping for a Class C RV? And what are some of the best options on the market currently that can tow your family car? Let's get some of your questions answered now!
What to Consider in a Class C RV for Towing a Car
If you are hoping to tow your regular car behind your Class C motorhome, there are a few questions you will need to answer first. Let's go over a few of those important questions now!
How Much Can it Tow?
What is one of the most important questions for you to answer right now as you are just beginning your journey to find a Class C that works for you? If you want to tow your passenger vehicle behind your rig, you're going to need to know how much the rig can tow.
Knowing how much your passenger car weighs is step one. You can weigh a car many different ways, from weigh stations to truck stops to even your own home! The average car weighs anywhere from 2500-4000 pounds, and the number goes up from there.
Before you purchase a Class C RV that can tow your car, you should take some time to understand the various weights involved with RVs. Not only does the towing capacity matter, but it also matters how much weight you bring onboard the rig, including cargo and passengers.
While you may not think these numbers will change much, weight adds up faster than most people expect! Choosing a rig that can carry everything you want it to as well as tow will take a bit more math than other simpler purchases.
You may want to know how much your passenger car weighs so that you don't end up purchasing a Class C with too much horsepower. Not that too much of something is bad, but some RVers might end up paying for more than they need in the long run.
Some Class Cs (known as Super Cs) are capable of towing nearly 20,000 pounds! That's most likely far more than you need in order to tow your passenger car, and these rigs are much more expensive due to their higher towing capacity.
However, these large rigs are capable of fantastic feats- boondocking, long-term winter camping, and even towing boats can be possible in a Super C. The question is: do you really need it to be able to accomplish all this?
While bigger may seem better, there is always a cost to larger RVs and you may find that a large rig doesn't suit you, both for safety on the road and maneuverability through towns and at campsites. But more on that later.
What Style of Hitch Do You Need?
Depending on the Class C and passenger vehicle, you'll need to know what style of hitch works for you. Many Class C's come outfitted with standard hitches that may or may not work for the weight of your vehicle- some Class Cs need a hitch installed after purchase.
While figuring out what hitch you need is step one, you should spend some extra time learning about how to tow with your RV. Towing is easier than many people think, though it should always be done safely and securely.
Learning how to properly weigh down your rig is a good idea, as well as how to safely hitch up your passenger vehicle. Once you know how to take things slow and steady, you'll be ready for towing your car anywhere!
How Many People are Coming Along?
Knowing how many guests and passengers you can expect on an average camping trip can be helpful in choosing your Class C. Not only does this affect the overall layout and floor plan of your rig (including sleeping locations), it also affects the weight of your Class C while driving.
You may already know that you are traveling alone, or perhaps you are traveling with your significant other and don't need much space. However, if you plan on bringing along the whole family or some friends, it can be helpful to plan ahead!
Just keep in mind that with more people comes more stuff, and with more stuff comes more weight. You should never get too close to your weight limit, whether you are towing or not. RVs are amazing, but they can get overfull or crowded easily.
What Floor Plan Suits You Best?
Speaking of passengers and how many people you expect to bring along, choosing a Class C RV that has a useful floor plan is vital. While you may not know your needs right away, it is important to choose a layout that works best for you and your guests.
Whether you are traveling with your partner or the whole family of five, having an RV with a spacious and open layout can make all the difference. While most modern Class Cs have this feel to them, it's the details of a floor plan that make the decision making process more difficult.
You may be on the lookout for a residential-sized fridge, or perhaps a master suite with washer and dryer hookups. Maybe you want an outdoor kitchen or a rig with multiple slide-outs so that there's enough room for everyone.
Regardless, this process can take time, especially if you don't quite know what you like and don't like yet. I recommend searching RV manufacturer's websites and watching any 3D tours or video tours of specific rigs that you are considering. It can really help you get a feel for them!
What is Your Budget?
Speaking of Super Cs being prohibitively expensive, considering your budget should be at the top of your list of priorities. While buying the absolute best Class C for boondocking may seem cool, it can easily topple a budget with nonstandard features that you may not necessarily need!
Class C RVs can range in price, anywhere from $60,000 to well over $200,000- it all depends on the size, luxury features, and what you are hoping to get out of it. Keep in mind that not only are you buying an RV, you're buying a car too, and maintenance can add more cost to your initial price tag.
There are budget friendly Class Cs, however, including some that have impressive bathroom layouts. Always check and make sure that the rig you are considering has the capabilities of towing your passenger vehicle, of course!
Do You Want Diesel or Gas?
An important distinction to consider with Class Cs is what type of engine you prefer: diesel or gasoline. The two types are hotly contested, and every RVer has their own particular preferences and opinions. Plus, it could affect your ability to tow a car as well.
For example, many RVers prefer diesel over gas, citing their more luxurious features and more efficient gas mileage in the long run. Diesel is usually less expensive than gasoline, though it may not be readily available at every gas station.
Gasoline RVs are always less expensive up front- if you have a certain loan limit or budget you are trying to stick to, a diesel engine may be out of the question. However, diesel rigs save you in fuel costs and are often more capable of towing larger cars.
This could be an important consideration as you shop for a Class C RV for towing a car. While your budget is important, splurging for a diesel rig may be worth it, as they usually have more horsepower and towing capabilities!
Good Brands of Class C RV for Towing a Car
Choosing a Class C that works well for you and your lifestyle is one thing. But what brands are reliable and well-known for when it comes time to make your final purchase? Here are some of my top picks, though you may find a brand that works better for you.
Winnebago
We all know about Winnebago, right? Known for their affordability and overall customer service, Winnebago keeps wowing RVers with their innovations, usually for a good price. Their Class Cs are on the smaller side, but many of them are able to tow a car, no problem.
Thor
Known for being budget friendly like Winnebago, Thor is proving to be another reliable brand in the RV world. They are great for families, and they have rigs capable of towing a car, even a selection of Super Cs. They offer many different layout options as well.
Forest River
Forest River is well regarded in the RV world, and has been for decades. They own many other RV companies under their business umbrella, including manufacturers of Super C diesel rigs. They make quality rigs with industry leading innovations, including RVs made for you and your pets.
Jayco
Much like Forest River, Jayco has been talked about among RVers for some time. This brand seems to often focus on durability, advertising special sturdy RV frames. They use a lot of custom woodworking and considerate features not found in many Class Cs!
The Best Class C RV for Towing a Car
While you decide on how big a fuel tank you need for your Class C RV, it's time to take a look at some of the best options out there for towing a car. Do you remember how much your car weighs so that you can tow it without hassle? Great! Let's get started.
Best Overall: Jayco Greyhawk

Finding the best overall Class C RV for towing a car is easy with Jayco on the list, and that's why their Greyhawk Class C takes the cake. If you're looking for a versatile rig that can tow your passenger car and meet your budget needs, look no further than this Class C.
All floor plans measuring in around 30 feet in length, the Greyhawk offers plenty of floor plan and slide out variety to choose from for couples or for families. A new graphics package, Wi-Fi antenna and upgraded smart TV headline the enhancements to the new Greyhawk.
This roomy Class C is built using all Jayco's proprietary construction methods and materials with added safety features to keep your most precious cargo safe. Choose Greyhawk and you'll be able to turn the key and go on a quick getaway or cross-country trip- all with your car in tow.
The Greyhawk can tow 7,500 pounds behind it and includes a 750 pound tongue capacity. With heated side mirrors and slide out awning covers, you'll have some extra touches that would make any RV owner feel special. But that isn't where the list of wonderful standard features ends.
The Greyhawk has many unique touches that make this rig feel more like a family home, such as a walk around king bed with en suite bathroom, bunk beds for the kiddos, and an electric fireplace in the living room so that you can be cozy no matter what the weather is like outside.
Jayco also offers a fantastic warranty and an industry leading cabover bunk. They are constantly thinking of how to best help RVers, no matter what, and it shows in their affordable and comfortable rigs.
Most Compact: Forest River Forester MBS

Forest River has long been regarded as a wonderful name in the RV world, choosing quality materials and designs over cheap and quick manufacturing. The Forester MBS is no exception, because it's a powerful rig built around a diesel engine- all in a compact package.
Forester Class C motorhomes offer comfortable floor plans with spacious interior living, well-appointed décors, and several slide-out floor plan options. Plus, all Foresters are "Certified Green" by TRA Certification. The MBS model has three intricate floor plans, all built atop a reliable Mercedes Benz chassis.
All of these floor plans are nestled inside a 25-foot rig, so that you can maneuver through city streets or campgrounds with ease- without having to worry about taking out a bridge. While this may not be large enough for bigger families, this rig can sleep up to five people, depending on the floor plan. It may be tight, but it still works!
The kitchen features a large fridge, convection microwave, and flip up or fold down countertop extensions. And in terms of what this rig can tow, it's capable of bringing your passenger car along behind it- so long as your car weighs less than 4,200 pounds.
With ducted AC, a gasoline generator, heated tank pads, and more as standard, included features, you won't be feeling neglected by Forest River. There are tank level monitors and optional solar hookups, as well as auto leveling systems and blackout shades throughout.
Forest River offers a 12 month warranty, in addition to a comprehensive chassis warranty as well. Their customer service is excellent, and you should have no trouble reselling a Forest River RV. They are reliable and sought after, an excellent buy!
Best for Couples: Tiffin Wayfarer

If it's just going to be you and your partner hitting the road together, you may enjoy the size and style of the Tiffin Wayfarer. This rig is small, easy to drive, and capable of towing your car behind it with a 5,000 pound capacity and efficient diesel engine.
Designed inside and out with your every need in mind, it features a spacious interior, industry-standard safety features, and high-performance handling with the Mercedes-Benz chassis. Spontaneous adventures and exploring nature are what the Wayfarer is all about.
There are four stylish floor plans found on this 25 foot rig, from twin beds to murphy beds. You can find a layout that suits your situation best, especially if you are a couple looking to get away. The interior design inside these rigs is spot on and luxurious.
The Tiffin also has an instant hot water heater, two large house batteries, ducted heat and cooling, heated holding tanks, and a shower with a skylight. You can upgrade to handcrafted cabinetry, but that's not all the possible add on features available.
Tiffin offers the most warranties out of any of these brands for its Wayfarer, including an exclusive owner's club. The warranties cover the overall rig, paint delamination for three years, two separate chassis warranties, and one year of reliable roadside assistance. Perfect for couples!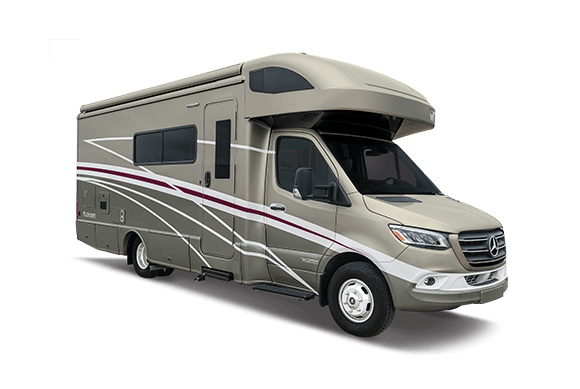 Looking for a Class C that can tow your car and boondock with the best of them? Check out the Winnebago Navion– this rig can tow your passenger car anywhere your journey takes you, especially if you plan on camping off the grid!
Showcasing boundless freedom combined with upscale comfort, the Navion is designed to create memories that last lifetimes. With luxurious details and features throughout, the Navion's industry-leading amenities promise an unparalleled Class C experience. And with the new, dependable diesel-powered Sprinter chassis, you can stay in control, even off-grid.
The Navion has a 5,000 pound towing capacity, which means it should be able to handle the average sized passenger vehicle. It has a hitch already installed- you won't have to worry about having one put on after you drive it off the lot!
This particular model from Winnebago offers three unique floor plans, all on a 25 foot frame. From a couch into a murphy bed, theatre seating, or a two twin bed set up instead of a queen size, you have the flexibility of sleeping four in this diesel Class C.
Fine touches like the available theater seating and optional entertainment package, plus the innovative LP/Induction cooktop, eye-catching curved cabinets, lighted soft close galley drawers and sprung-cushion dinette and sofa seats transform the interior into an upscale living experience.
Looking for more time off the grid? The industry-leading holding tanks, standard 200W solar, Group 31 batteries or available lithium smart batteries, and 2,000W inverter can extend your escape. You can park this rig and take your passenger car on daily trips- this boondock ready rig may be right for you!
Best on a Budget: Winnebago Minnie Winnie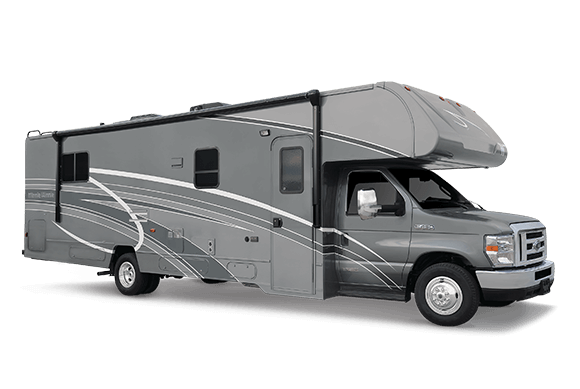 Winnebago does it again, and this time on a budget: check out the Minnie Winnie, a versatile and affordable rig from a classic and reliable company. With multiple floor plans and rig lengths to choose from, you and your family can have the perks of more choices.
Select from three Winnebago Design Studio inspired transitional décor options for a contemporary or cozy cabin look that fits your style. These options are available for any length Minnie Winnie, from 25 feet to 32 feet.
Ideal for families of all shapes and sizes, each of the Minnie Winnie's six available floor plans include a rear bedroom, cabover bunk, bunk beds, and sofa/bed – so there's sure to be a configuration that fits your needs. Each sleeping area feels homey and comfortable too!
The beauty of the galley is in the details, like durable Corian solid surface countertops, recessed 3-burner range with glass-covered oven, stainless steel sink, double-door refrigerator and expansive pantry, all designed to make you feel right at home. Plus there's a U-shaped dinette to enjoy too!
​​What was once considered above and beyond now comes standard: enjoy a second coach battery, 1,000W inverter, powered patio awning, radio/rearview monitor system and more. Plus, with a 7,500 towing capacity, you should have no trouble bringing your car along for the trip.
Highest Towing Capacity: Thor Chateau

If you have a larger passenger car that you are hoping to tow behind your Class C, then you may want to take a look at the Thor Chateau. With an 8,000 pound towing capacity, this rig can bring along even the largest car, truck, or SUV. Let's learn more about it now.
Behind the wheel of the Chateau, find a 7-inch touchscreen dash radio with unique features, depending on the floor plan. Every model comes with a backup monitor to keep an eye on the trailer connected to the 8,000-pound hitch. With a ride this relaxing, sit back in the captain's chairs, turn on cruise control and enjoy the journey ahead.
The Chateau Class C RV offers various floor plans, which means it's easy to find a layout that perfectly complements your lifestyle wants and needs. Whether you're upsizing or downsizing to a Class C camper, you won't regret your decision. Some Chateau floor plans come with bunk beds, washer and dryer prep, and have plenty of seating options to live full-time or travel.
Once you find the perfect floor plan, you'll notice how beautifully designed the interior of your Chateau is. You'll be pleasantly surprised by how easy-to-clean the residential vinyl flooring is and look forward to bringing your four-legged family member on your next trip.
Grab some chairs out of storage and relax under the powered patio awning with LED lighting. Some floor plans have a portable table in the MEGA-Storage compartment that's perfect for a picnic. There's a 32-inch exterior TV with a Bluetooth soundbar and radio available on select floor plans. Once camp is set up, it's time to enjoy the day with your Thor Chateau.
Final Thoughts
Shopping around for the best Class C RV for towing a car doesn't have to be difficult. You will no doubt find an option that works great for you, whether it be on this list or not. Don't forget to weigh your passenger car before hitching up- otherwise, the open road awaits!