Last updated on June 5th, 2023 at 11:33 am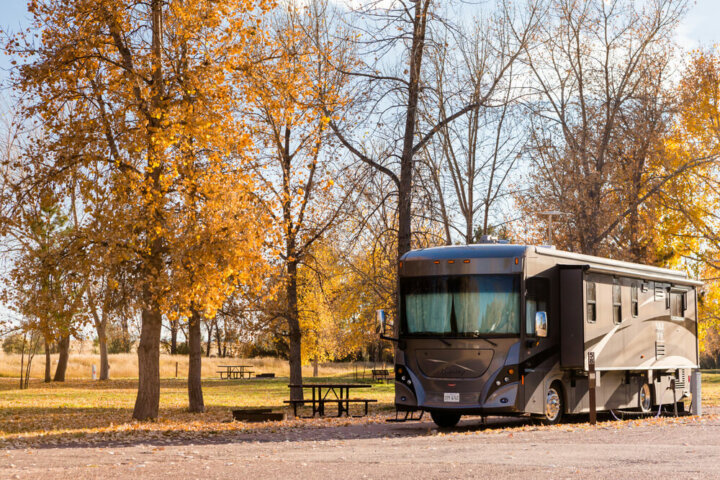 All of our reviews are based on exhaustive research, industry experience, and whenever possible, hands-on testing. When you make a purchase using one of our chosen links we'll get a small percentage of the proceeds. This supports the site and keeps Jeffsetter running. You can read more here.
If you are debating what type of RV to drive or purchase, you may be wondering about all of the pros and cons of Class A RVs.
This particular type of motorhome is notorious for being the largest and often the most expensive type of motorhome. However, there are plenty of pros and cons associated with Class A RVs.
So, what are the pros and cons of Class A RVs?
Among their numerous pros, class A RVs offer plenty of space and storage room, with countless floor plans to choose from they are also packed with amenities and onboard generators. On the other hand, Class A RVs can be difficult to drive, park, and store, they are expensive and require lots of maintenance.
In this article, we will go over as many pros and cons associated with Class A RVs as possible so that you can get the full picture of what it's like to own an RV of this type.
From full-time living to the occasional camping trip, we'll go over what it's like to own a Class A motorhome and what you should consider before making such a large purchase. Let's get started!
Only interested in checking out a few specific pros and cons of Class A RVs? Use our table of contents to navigate to whatever section you would like now!
The Pros and Cons of Class A RVs: Everything You Should Know
It is estimated that less than 10% of RV owners own a Class A RV, likely because of all of the pros and cons associated with them. This is not an RV for beginners, but very few RVs are!
If you are seriously considering a Class A RV as your preferred recreational vehicle, here's everything you should know and even some things to potentially avoid as you shop.
Pro: Class A RVs Have Plenty of Space for Guests
One of the main reasons why many people opt for a Class A RV is because there are plenty of sleeping arrangements and square footage available for guests and families. This is the largest type of drivable RV, which means that there are typically multiple beds and floor plans to support multiple guests.
Some Class A RVs are large enough to have multiple bedrooms with closed doors, and there are typically always bunk bed options available. Plus, with slide-outs and other space-saving amenities, you likely have more space for your guests in the rooms that matter most. This may include the kitchen, living room, and even some bathrooms on board a Class A RV are more spacious than others.
Speaking of bathrooms, you may be able to find a Class A RV floor plan that has multiple bathrooms to support a large group of friends or family. This may be enticing for those of you who only plan on camping with four or more people. A family of five would have no problem living and sleeping comfortably in a Class A motorhome!
Con: Class A RVs Can Be Difficult to Drive
Likely one of the primary reasons why people don't choose Class A RVs, this large and in-charge motorhome can be extremely difficult to drive. Many people note that it is exactly like driving a school bus or other large bus, especially if you choose a Class A motorhome that is over 30 ft long.
This video is a good representation of what it's like to drive a Class A RV!
Because 30 ft is typically the minimum for Class A RVs unless you find a particularly compact make and model. Not only is it difficult to park once you reach camp, but blind spots and the overall length of your vehicle may make it difficult for you to navigate freeways, highways, and most city driving is completely off-limits for the average Class A RV!
Pro: Class A RVs Are Packed With Amenities
Given the size of this particular motorhome, Class A RVs offer most RV owners plenty of amenities. Depending on the manufacturer, many of these amenities are included in the initial purchase price, though there are likely plenty of other options for you to choose from.
Having so many options may appeal to you, especially if you want a recreational vehicle with all of the bells and whistles!
There are a great number of people who choose to live full-time in RVs, particularly Class A motorhomes. While everyone chooses their preferred RV for their own reason, a Class A motorhome may be appealing given just how many amenities. some of these amenities may include:
Fine furnishings, including cabinets, flooring, and blinds

Residential-sized kitchen appliances

King sized beds

Huge holding tanks and water heaters

Multiple slide-outs for more square footage

Multiple battery and power supply options
Awnings and outdoor amenities such as kitchens and entertainment centers
Again, it will depend on the make and model you are shopping for. But most Class A motorhomes offer customers plenty of amenities and special features to choose from, typically included in the standard purchase price!
Con: Class A RVs Are Lacking in Safety Features
Did you know that Class A RVs do not have airbags and are often not crash-tested? For the most part, there are no legal requirements for Class A motorhomes in terms of their standard safety features.
This isn't to say that Class A RVs aren't safe or don't have anything to keep you safe, but it's important to note that most do not have airbags, particularly in the driver's cabin.
Another important thing to consider is that Class A RVs do not have a buffer or crumple zone at the front of the vehicle like standard cars or trucks do. This is a built-in safety feature of most modern vehicles, but the front of a Class A motorhome is completely flat, leaving you without protection or an extra barrier should you be driving.
Plus, the sheer size and weight of the average Class A RV mean that you are going to be limited in your stopping power as well as your general safety while on the road.
The height of these vehicles often makes them more likely to roll as well. While all RVs are inherently more dangerous to drive than the average car, it's important to keep in mind that a Class A RV may be more dangerous than others.
Pro: You Can Choose Your Fuel Type
There are many people out there in the world who have strong opinions on the type of fuel you choose for your drivable RV. When it comes to most Class A RVs, you can easily choose whether or not you want traditional gasoline fuel or diesel fuel.
Oftentimes, the size and chassis of your motorhome determine the fuel type you have, but Class A RVs have plenty of options with either fuel type.
For the most part, many people choose a diesel engine for their Class A RV given the overall improvement in fuel economy and savings. However, gasoline-fueled Class A RVs are typically less expensive upfront and you may not notice the fuel savings if you aren't driving your RV every day. Regardless, it's nice to have a choice!
Con: Many Class A RVs are Very Expensive
While it will of course depend on the make and model of RV that you are shopping for, most Class A RVs are extremely expensive. Given their size, power, amenities, and demand, this drivable RV is likely the most expensive that you can choose from. This is especially true when you compare the price of a Class A RV with a travel trailer of equal length.
For example, you can find a 30 ft long travel trailer for $30k or less. A 30 ft long Class A motorhome is likely to cost you over $100k, if not closer to $300k depending on amenities and many other factors. Unless you are planning on living full-time in your Class A RV, this price point is often prohibitively expensive.
While you can always shop for a used Class A RV, there are many other factors to consider with a used purchase. RVs are notorious for their lack of resale value, especially when it comes to a drivable RV.
Not only do you need to ensure that you are buying an RV that has been properly maintained, but the engine maintenance and potential mileage placed on a Class A RV can mean that buying used means buying something that may not last as long as you want!
Pro: Countless Class A RV Floor Plans Available
Overall, Class A RVs offer RV customers more floor plans than you may expect. While travel trailers still boast the most variety in terms of their options and available floor plans, Class A RVs have plenty of square footage to work with. Many RV manufacturers create unique and flexible floor plans that make sense for a wide variety of consumers.
For example, you can find a Class A RV that is packed full of bunk beds so that you can take weekend trips with the entire family and all of the kiddos. You can also easily find Class A motorhomes built for full-time living, with a spacious master bedroom and laundry options with comfortable kitchens.
Regardless of what you are looking for, there is likely a Class A RV to suit your needs. This may be a huge benefit for those of you who aren't too worried about driving one of these large motorhomes around!
Con: You'll Likely Want to Tow a Car Behind You
Something to seriously consider is whether or not you want another vehicle with you while you travel in your Class A RV. Depending on your situation, you may want to bring along a standard car so that you have a vehicle to drive while your Class A motorhome is set up at camp. This can pose a number of problems.
For example, most people choose a drivable RV to avoid the complications and dangers that come from towing an RV instead. However, many RV customers don't consider the fact that they will likely still end up towing something with their motorhome, especially a Class A RV that is difficult to drive in cities and other locations.
You may not have this problem if you are traveling with someone else who is capable of driving your vehicle while you drive the Class A motorhome. But if you all want to travel together as a family, towing a car behind your motorhome is possible.
Most Class A RVs have plenty of towing capacity options to choose from. However, it may be an unexpected and unwelcome option for you to consider.
Pro: Beautiful Views as You Drive
When you begin your journey in a Class A RV, it's likely going to be beautiful. This is because this type of motorhome has a large and impressive windshield for the driver and passenger up front.
In many ways, this is what RV ownership is all about: the impressive views and ability to take in nature as you drive may make Class A RV ownership worth it! Plus, you will also have this view when you set up your RV at camp, giving you more opportunities to take in nature.
Con: Maintaining a Class A RV Can Be Difficult
First things first: all RVs can be difficult to maintain. They need far more attention and maintenance than the average vehicle or home, given that they are constantly exposed to both the elements as well as road conditions and unexpected driving conditions. However, Class A RVs also have complicated engines that may need more specific care than you anticipated.
An increase in RV ownership over the past few years has left many owners scrambling to find qualified mechanics and repair people who can maintain or fix their Class A motorhomes.
While it is nice to be able to do many things on your own when it comes to RV maintenance, many Class A RVs have complicated components that require an expert. This can be both costly and difficult to book.
Pro: Kitchens and Bathrooms Feel Like Home
As someone who lives full-time in a 19 ft long travel trailer, I find myself very jealous of people who live full-time in Class A RVs. This is because they have incredibly spacious and accommodating kitchens and bathrooms, two locations that are necessary for full-time living but are often neglected on board an RV.
Most Class A RV kitchens have full-size, residential appliances such as refrigerators and ovens. You also have an impressive power system that can accommodate other appliances such as pressure cookers, blenders, microwaves, and more. Plus, there's plenty of counter space and storage solutions, which makes cooking and eating so much easier while on the road.
Class A RVs typically also have spacious bathrooms, and you may even find an option with a bathtub. Some motorhomes may also offer you multiple bathroom solutions, which can be a huge relief for a busy family or large group. Having so much interior living space truly makes Class A RV ownership worth it.
Con: Your Fuel Expenses Will Be High
Regardless of which fuel type you choose, paying your fuel expenses on a Class A RV may come as a shock to you. These are huge vehicles that require a large amount of fuel in order to drive, and the weight of these vehicles doesn't exactly lend to your overall fuel economy. There is very little about the average Class A RV that is aerodynamic or fuel efficient in any way.
Budgeting your fuel expenses for your Class A RV is a huge consideration to think about before you purchase one. Many full-time RV owners who live in their Class A motorhomes choose a certain amount of time to remain parked so that their fuel expenses make more sense and are easier to manage. However, if you want to be hitting the road all of the time in your large motorhome, be prepared to pay at the fuel pump.
Pro: Plenty of Storage Solutions
Just like there are plenty of floor plans and spacious options in terms of your kitchen and bathroom, Class A RVs also offer you plenty of storage for your personal belongings.
This isn't limited to your clothes, electronics, and basic necessities. Many Class A motorhomes give you storage solutions for recreational items such as bicycles, kayaks, and more.
If you are traveling with plenty of people and know that you need plenty of storage, a Class A motorhome may be a good choice for you. Even if you find that you run out of space on board your Class A RV, you can always hitch up a trailer to the back of your motorhome and tow whatever else you want to bring along with you.
However, unless you plan on bringing along ATVs or motorcycles, most Class A RV owners find that there is plenty of storage on board their RV. This is especially true when you consider a rear bumper hitch for your recreational accessories, as well as storage in the aisles of your RV as you drive!
Con: Difficult to Store Your Class A RV When Not in Use
Unless you are living in your Class A motorhome full-time, you may find that it is extremely difficult to find a place to park and store a vehicle of this size when not in use. This is one of the primary reasons that many people don't choose a Class A motorhome as their RV of choice: where are you going to keep it when you aren't camping?
If you only plan on using your RV on occasion, a Class A RV may not feel worth the extra cost of storing it. Unless you have room on your own personal property in a location that doesn't mind you keeping an RV in your driveway or elsewhere, RV storage can cost a decent amount monthly.
When you consider the fact that most people use their RVs for less than 30 days out of the entire year, you may want to reconsider buying an RV of this size!
Pro: Onboard Generators Make Camping Easier
Nearly all Class A RVs come equipped with onboard generators. These are extremely handy while camping, whether you are hooked up to traditional RV utilities or boondocking.
Onboard generators allow you to keep your RV running with a simple flip of a switch. This can be incredibly convenient if you are camping during inclement weather or simply don't want to go outside to set up your generator.
This is also a simple and effective solution for boondocking or camping without traditional utilities. While many Class A RVs aren't ideal for boondocking given their huge size, an onboard generator may make it easier to do simple overnight trips without hookups or traditional campsite usage!
Con: Parking Lots and Campgrounds May Not Have Room
While bigger is often better, this may not be true with a Class A RV. Not only are these RVs difficult to drive, park, and maneuver in any situation, but they also are difficult to park in RV parks and campgrounds.
You may be surprised to hear this, but many locations cannot accommodate RVs of a certain size, and Class A motorhomes may fall under this category. For example, most national parks have a length limit on their campground sites, with some locations prohibiting vehicles over 25 ft in length.
This can be disheartening to hear if you plan on traveling across the country and enjoying all of the natural beauty that it has to offer. A Class A motorhome may truly limit the journey you want to take, which is something to seriously consider before purchasing one.
Final Thoughts
Finding the perfect RV is a difficult process, especially when it comes to the pros and cons of Class A RVs.
While they offer the average RV customer plenty of storage and room for the entire family, the sheer size and price of this type of drivable RV may make it inaccessible. However, it may also be exactly what you need to enjoy life on the road. Just make sure you look over all of the pros and cons first!