One place Mrs. Island Miler and I wanted to try last time was Eggslut Las Vegas, so we made it a point to get there this time.
After checking in at the Delano Las Vegas and resting up a bit, we headed back out.  By this time it was already lunch time, but we decided to check out Eggslut for brunch.
Location
Eggslut Las Vegas is in the Cosmopolitan of Las Vegas on the same level as Momofuku Las Vegas.  It's a small space that has some bar seating though it looks like more of a takeout spot.  And while there are some tables and seats scattered throughout the vicinity, they fill up fast.  So come early if you're coming for breakfast, take your food back to your room if you're staying here, or better yet, come in the afternoon when it's deserted.
The Food
If you couldn't already tell by the place's name, just about every one of Eggslut's menu items has eggs in it.  And most of the menu is composed of sandwiches, with the Fairfax being their signature one.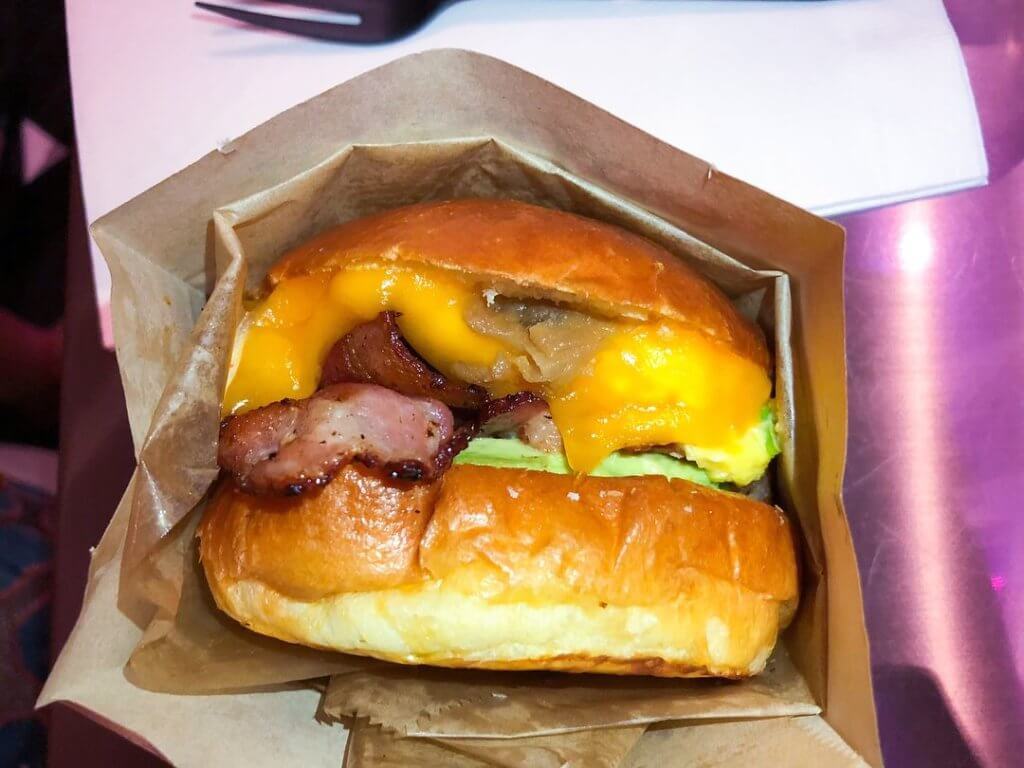 The Fairfax is a brioche bun stuffed with soft-cooked scrambled eggs, cheddar cheese, Sriracha mayo, and caramelized onion.  We upgraded ours with bacon and avocado because, why not?  And while the sandwich is good, it isn't something that blew my mind.  Besides, I felt like it was a little underseasoned.
A few days later I decided to come back for an afternoon snack and to give the Slut a try.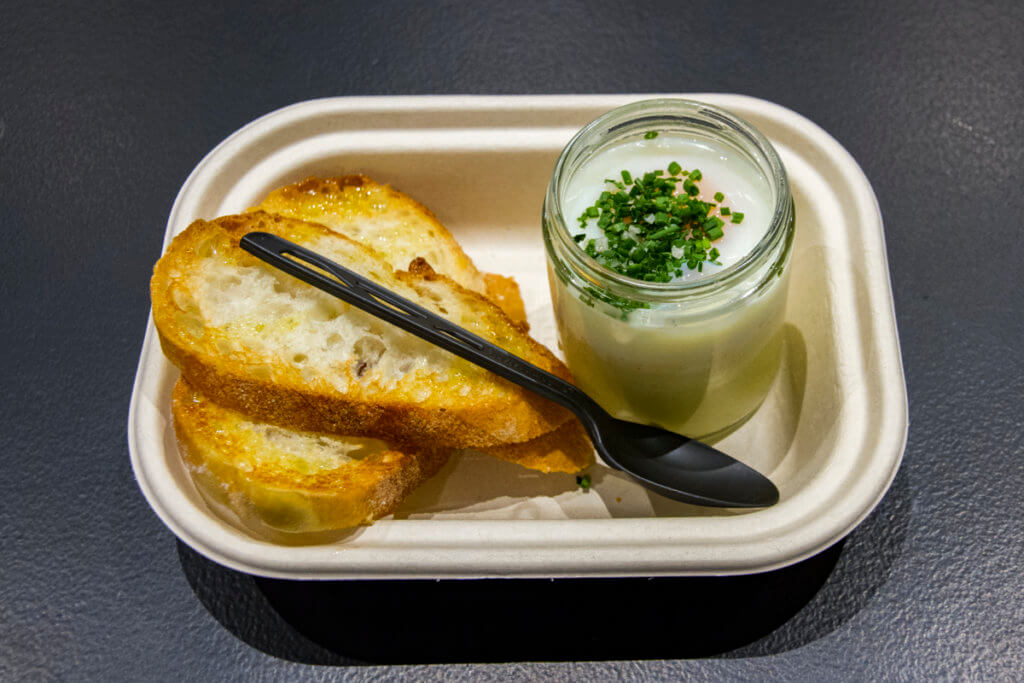 Served with toasted baguette, the Slut is a coddled egg over whipped potatoes, which is topped with chives and gray sea salt.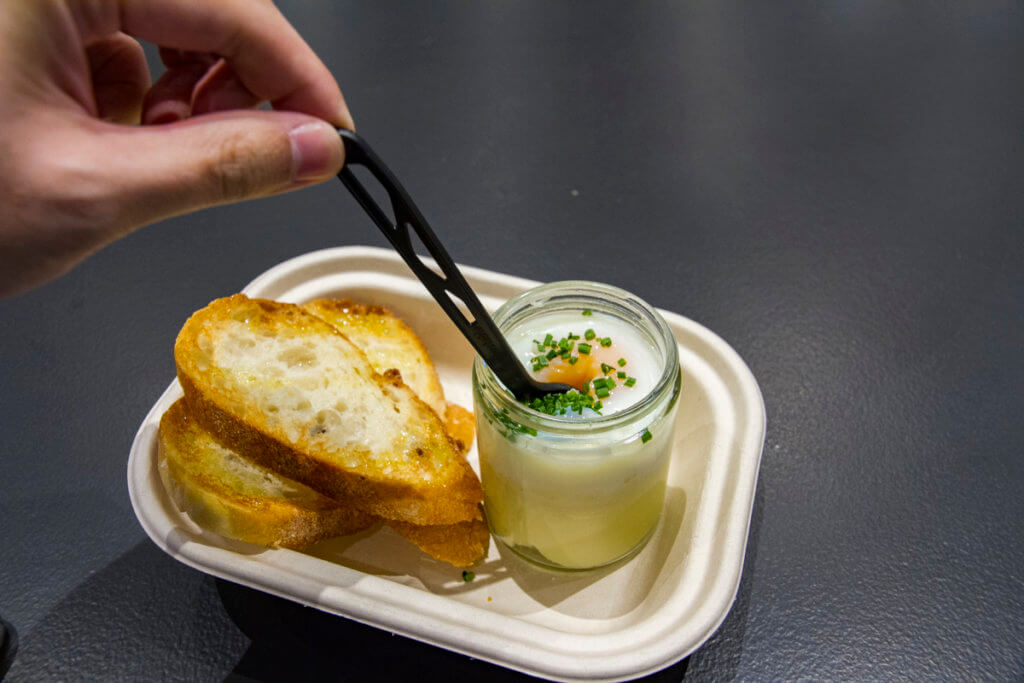 To eat it, they recommend you mix up all the contents of the jar and spoon it onto the toasted bread.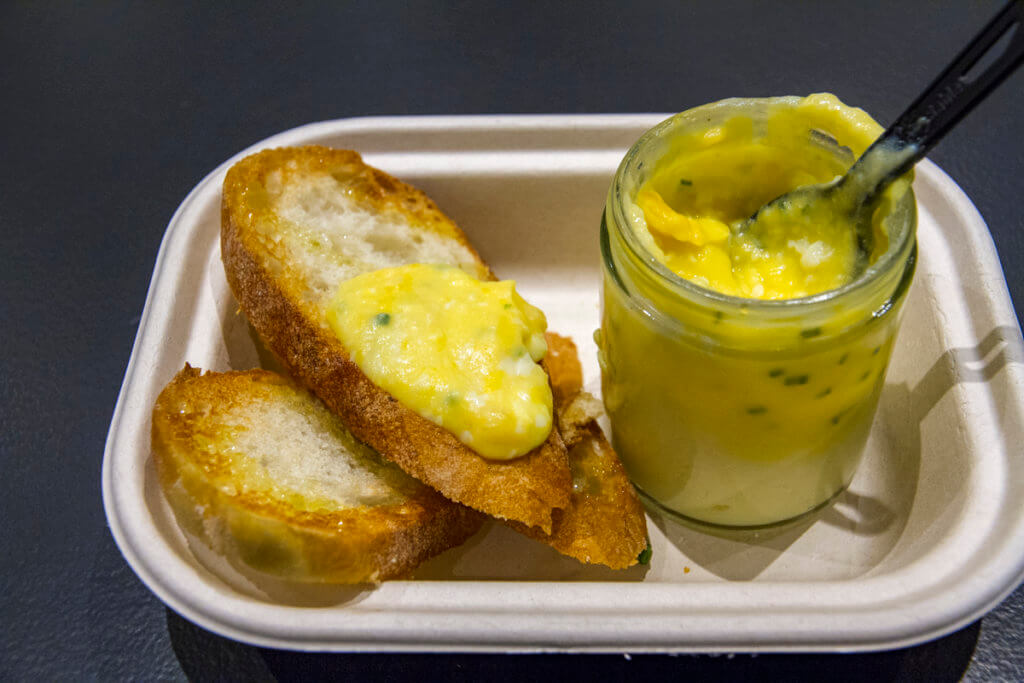 And like the Fairfax, the Slut is good, though nothing mindblowing either.  Again, like the Fairfax, the Slut needs more salt.  In fact, it would be better if a side of flaked sea salt is provided to add yourself.
Eggslut Las Vegas, Final Thoughts
The food at Eggslut is good, definitely stuff I'd eat again.  Would I wait 20 minutes in line again?  Nope.  Neither would I go out of my way for it.  And, I think the reason I feel this way is the fact that I can make much of this stuff at home.  In fact, after returning home, I've made something similar to the Fairfax a few times already.  That, and both dishes I've had here, as I mentioned earlier, were under seasoned, in my opinion.
Las Vegas 2018